Ante post betting is when you wager in a horse racing market before final declarations for the race in question have been made. Sometimes called futures betting, it's a medium to long-term investment that comes with no guarantee of a run for your money.
In this expert guide to ante post betting, we run you through everything you need to know about such wagers. This tells you all about betting ante post, including tips, suggestions and ideas for turning a profit. Any bookies that let you bet weeks or months in advance is considered one of the ante post betting sites available to punters in the UK.
What Is Ante Post Betting?
Ante Post is betting on an event or events ahead of the final declarations, after which the official betting odds market is opened. There is no limit on how far ahead of the event you can bet, as long as your bookmaker offers the bet.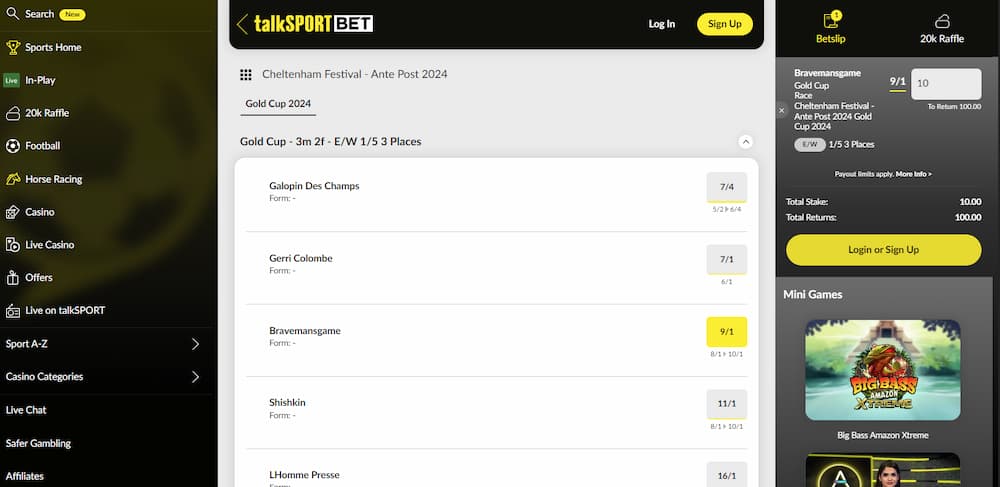 When betting on an entire competition, these bets, while still qualifying as an ante post bet, can be known as outright betting or even future betting. While the term "post time" comes from horse racing, which is a very popular sport for ante post wagering, punters are able to place these bets well in advance of events in just about any other sport that you can think of.
Ante Post Betting Rules
Every bookmaker will have its very own ante-post betting rules distinct to itself so it's vital that you familiarise yourself with them before staking your money on an ante-post bet. However, outside of knowing how betting odds work, you might benefit of knowing the general rules.
In the case of an event being postponed, ante posts will, for the most part, stand and not be eligible for a refund. Should your horse withdraw from the race, you bet will be deemed a losing wager. The reason behind your horse's removal from the field does not matter, whether it was an injury or simply a last minute decision, you will not be eligible to have your stake refunded.
If the race is run on a different date than it was originally supposed to, but at the same course, the ante post wager will stand, just as it will if entries for the race are not re-opened. However, there are certain circumstances where an ante post bet can be declared void. These are:
The race has been declared void.
If there has been a moderation to the race's conditions after the acceptance of ante post bets.
If the ruling authority have abandoned the race.
Should your ante post selection be balloted out.
If there has been a change to the venue, track or surface.
Ante Post Betting On Horse Racing
Generally speaking, ante post odds are published or generated on request early for the biggest races in the sport. Your typical 17.30 at Haydock Park on a Thursday afternoon will not draw the same interest or excitement as, say, the Ascot Gold Cup or the King George VI Stakes.
So, for most of the year you can get prices at ante post for any of the five classics of the flat season or the biggest and most significant national hunt events. Make no mistake, bookies pay very close attention to the emergence of young horses and will price them up accordingly, even for ante post markets.
While there are clear risks, one of the key advantages of ante post wagering on horse racing is that you can pick up excellent value on the odds before the market really starts to move. The idea being that a horse you fancied perhaps a year ahead of schedule, might be far down the betting order when you placed your ante post bet, but could lead the betting and be favourite by the time they all line up on race day.
Grand National Ante Post Betting
One of the biggest horse racing days in the United Kingdom, the Grand national takes place in early April each year at Aintree racecourse in Liverpool, England. At any point in the year, you can pick up Aintree ante post betting odds on this race which is run over four miles and two and a half furlongs. Up to two-thirds of the UK's adult population get involved with Grand National ante post betting and gambling on the big race on the day, so it is a big deal.
All you need to know about Grand national betting
Cheltenham Festival Ante Post Betting
The highlight of the British national hunt season is the four day Cheltenham Festival which runs in mid-March from Tuesday through Friday. The absolute biggest event of the week is the Cheltenham Gold Cup which is arguably the most prestigious jump race in the sport. Of course, there are many other highly regarded races at the festival, many of which are Group One, and ante post wagering is available for these all year round.
Cheltenham Festival betting guide
Ante Post Derby Betting
Dating back to 1870, the Epsom Derby is race that takes place over a distance of one mile, four furlongs and six yards on Epsom Downs in Surrey on the first Saturday of June each year. The race is held the day after the Oaks, a fillies only event. Both are considered to be classics, of which there are five in the UK flat racing season. There are many races that take place during the season that provide pointers for how well a horse may do when the big race comes around. These are especially handy when drafting your ante post wagering selections.
The Biggest Ante Post Meetings And Races
The UK is one of the most horse racing obsessed nations in the world. Few countries have as much of a horse racing culture as Great Britain as proved by the sheer vast amount of horse racing events taking place all year round. From highlights of the British summer, where you can enjoy Ante post betting Royal Ascot, to festive distractions, such as the Welsh Grand National, to the heralding of spring at the Cheltenham Festival, there is always a big event in the world of horse racing on the horizon.
The biggest events to bet ante post on in both national hunt and flat racing seasons are as follows:
| | |
| --- | --- |
| Event | Date |
| Cheltenham Gold Cup | March |
| Scottish Grand National | April |
| Grand National | April |
| Newmarket Guineas Festival (1,000 and 2,000 Guineas) | May |
| The Epsom Oaks | June |
| The Epsom Derby | June |
| Royal Ascot | June |
| Glorious Goodwood Festival | July |
| St Leger Stakes | September |
| British Champions Day | October |
| Cheltenham November Meeting | November |
| Tingle Creek Chase | December |
| King George VI Chase | December |
| Welsh Grand National | December |
​
Ante Post Football Betting
Football ante post betting works best for tournaments, especially the bigger mega international tourneys that go off every few years. Take the FIFA World Cup 2022. South America was allotted a maximum of five teams that could qualify for participation making it highly unlikely that Brazil and Argentina – two of the most well backed teams at any World Cup – would not qualify.
The top goal scorer market is another one that works well with ante post wagering but, again, know that injuries and other variables could ruin your chances. Still, that is a chance that you must be prepared to take if you want to make an ante post wager on the football.
Ante Post Greyhound Racing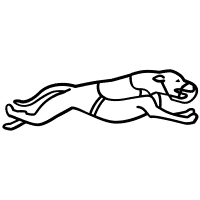 One of the reasons why ante post wagering is so popular in greyhound racing is that, for the major races. These races are very often the result of a series of heats through which the final six dogs qualify. Obviously, by the time the field has been whittled down to the final six, the odds on these runners will have dropped considerably. If you back a dog before the first heat, you are far more likely to get better value odds than on the final night some weeks later.
Important Ante Post Terms & Conditions
When it comes to ante post wagering, each betting site will have its own terms and conditions. In general, these are that bets classed as ante post are made prior to the final declaration stage. In horse racing, this is usually 48 hours before a flat race's post time and 24 hours for a national hunt race. Bets made after this are considered to be Non-runner. No Bet, after which any withdrawals will be subject to Rule 4.
If a horse race is postponed to another day, ante post bets will stand. But in the following circumstances, they will be void. Ante post bets will be deemed void if the race is abandoned or itself declared void. If the venue is moved or the surface altered then the bet is void, just as it will be if your pick has been balloted out.
As for greyhound events, from the semi-final onwards all bets placed are likely to be settled on an early price Non-runner, No Bet basis. Ante Post bets are accepted all in, whether they are run or not and refunds will not be made available if a selection does not take part.
How to calculate your ante post bet payout
For a back bet
Back betting is where bettors put their money on something to happen. Such as team, player, horse or a dog winning a nominated event.
In the example below, we have placed an ante post bet for the 2024 Cheltenham Gold Cup. Here we have backed a horse to win. We can already see the potential payout is £100.00.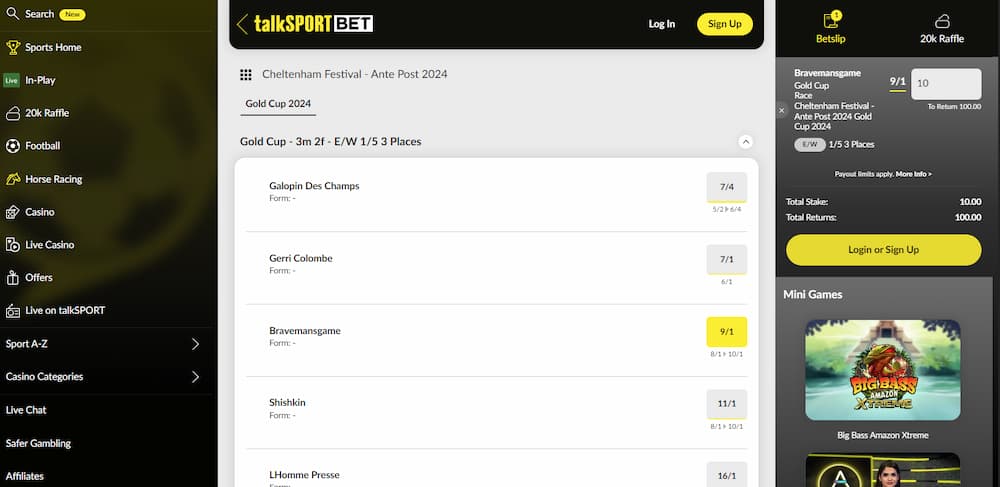 For a lay bet
In contrast, lay betting means placing a wager on something not to happen. This can also be made ante post, although it is far less common.
Key Benefits Of Ante Post Bets
Ante post bets allow punters to back their selections at better odds than might be available closer to the event.
These early future bets also help to create a prolonged sense of excitement.
They also allow bettors to smugly show off their betting prowess. And of course to give them bragging rights for getting a winning selection right well ahead of time.
4 Ultimate ante post betting tips
Wagering so well ahead of time can be risky and there is no real way that we can guarantee that your bet will be successful. There are, however, ways that you can improve your chances of success. Especially for the riskier markets such as horse racing. Here, you may want to develop strategies to heighten the likelihood of a win.
Tip 1: Follow The Form
In any sport form is critical. When you are looking at major horse races there are usually a number of races that can help us. Take the Cheltenham Gold Cup for example. On Boxing Day, the King George VI Stakes takes place at Kempton Park. This race has provided many a useful pointer for the Gold Cup at Cheltenham. The Savills Chase at Leopardstown is another.
Form applies to all other sports too, especially induvial sports such as golf or tennis. Again, odds are available all year round for the main events such as Wimbledon or the Open Championship. For the French Open in tennis, we know that, if injuries allow, Rafa Nadal is almost unplayable on that surface. Save for his well documented fitness issues, he makes a great ante post bet in terms of likelihood of success. The trouble is that the bookies know this too and he will be an extremely short price.
Tip 2: Keep Up With The Latest News
The more informed you are when you place your ante post wager, the higher the likelihood of profiting from it. While this bettors' strategy is similar in principle to following the form. It actively encourages your knowledge base to be widened to even more factors. Fitness, trainer change, nosebands or blinkers being added to a horse are all things that can have an affect on the outcome of a horse race.
In football, a change of manager can have a drastic impact on a player's form. As can a tweak of the system that a team usually plays. In Golf, the weather can have a huge impact on player form as well. Has a player – snooker player or darter perhaps – recently had surgery that could impact their performances at an upcoming championships? Make sure you know everything you possibly can before handing over you hard earned money.
Tip 3: Consider The Risks
There are many risky factors to consider when making an ante post wager. Don't ignore them, embrace them and consider the worst possible outcome. If you are betting on a team to win the English Premier League, give some thought. What might happen if they lose their best player for the entire campaign? Remember how Liverpool won the 2020 Premier League at a canter? One year on and they lost Virgil van Dijk and his partner at centre half, Joe Gomez. The team couldn't string two wins together. The bookies will have had a field day with that one! In contrast, Manchester City and Chelsea have much deeper benches and might well have coped better in those circumstances.
Tip 4: Keep An Eye On The Market
While ante post odds can thin nearing the event's start time, they can also float out and widen too. By keeping a watchful eye on the market, you are looking to make an ante post bet on. Now the potential selection is priced and you can catch the best price. If the selection's odds are starting to shorten it means that others have also taken a shine to them. You might want to jump in and claim those odds while you can. Waiting longer to place your ante post bet also allows the risk to shorten too as you have given yourself more time for fitness and form to be revealed.
What Makes a Good Bookie For Ante Post Betting?
When choosing a betting site to bet ante post with, there are many important factors to consider. That's why you can use a number of critical criteria when selecting which betting sites. These are  the criteria we would use to find a good ante post betting site.
Our Tips:
Safety – Not the only thing to look out for by any means, but by far and away the most important. Safe betting comes as an absolute must and only recommend betting sites that employ back to back encryption as standard. This is especially true when betting ante post. You want to know that your longtime investment is safe.
Markets – The biggest online bookmakers are capable of covering just about any event in the world in the highest detail.  Many of these offer ante post opportunities for most events in any sport, as far in advance as you require.
Odds – The whole point of betting is to enjoy yourself and enhance your enjoyment of certain events. But the other side of betting is to make a profit and to make the highest return on investment. To do this you will need to squeeze as much value out of a betting event as possible.
Social Media – Online bookmakers tend to take their request a bets from customers through their social media channels.  So, if your ante post bet is something that requires using a bookmaker's request a bet service. You will want to find a betting site with very good social media team that makes the whole process nice and easy.
Usability – Having a decent sportsbook is all very well and good. But to really work as a betting site in this day and age. Online bookmakers must create user friendly products, for mobile and desktop, and put these at the centre of their business.
Other Betting Guides
On Where to Put a Post Ante Bet
You may still have many more questions, which is fine – no one is a master in one fell swoop, or one guide read. As a start, familiarize yourself with what bookmakers are available in the UK and what they offer. If you go to the first page of Safebettingsites.com you can find many useful links and reviews that will be a good start at finding the best betting sites and their offering.
Conclusion
At the end of the day, ante post wagering can be risky. Whether it is worth the risk depends on how you feel towards risks versus the confidence in your pick. Is it an almost sure thing or a long shot punt on a bettor's hunch? And while betting this way can be risky, it can also generate fantastic value too.
Plus, there are ways to minimise the risk such as doing your homework. Observing the market and exercising caution rather than just letting luck do its thing.  Do all this and don't bet more than you can afford to lose, and you can have a real chance of making ante post betting work for you.
FAQ
Can I cash out on Ante Post bets?
Yes, you can. Online bookmakers will generally accept requests to back out of a bet made ante post.
What Happens If My Pick Runs In A Different Race?
In this case, you will loose your stake as the bet will be deemed a loser.
What Happens If The Race Gets Abandoned?
In the case of a race's abandonment, bets will be voided, and the stake will be refunded, provided the race did not take place at the same venue on another day.
Are Ante Post Bets Covered By Best Odds Guaranteed?
No, the price you accepted when you placed the futures bet is the price you keep, regardless of what the starting price ends up being.
Was this article helpful?