Lay betting is when you wager on a particular outcome to a sports event not happening. It is essentially a bet where you want your selection to lose. You don't have to name the winner as an alternative, just to get your pick beaten.
Most punters have heard of lay bets, at least in passing, on betting exchanges like Betfair and Smarkets. So what is lay betting and how can you use it in your wagers? When is the correct situation for when to place a lay bet?
We will try to iron out the terms and situations, on what is back and lay betting as well as in how it applies to certain sports as what is lay betting in football. By the time you have read through this article, you will be perfectly sure on when to use lay and back betting and how to use it to your advantage.
Lay Betting Explained: What is Lay Betting and How it Works
When you place a lay bet, you are betting against another person betting the opposite way. So instead of betting on a set odds with a lot of other players, you use a betting exchange in peer to peer bets. Lay betting sites are different to traditional bookmakers. With traditional betting, you bet on something to happen. For example, you might bet on Chelsea to win the EPL. This is known as 'back' betting, as you are 'backing' something to happen.
So in short, lay betting is precisely the opposite – you are betting on something NOT to happen. So, you could bet on Chelsea NOT to win the EPL. This is known as 'lay' betting as you are 'laying down' (i.e. 'setting') the odds of the event.
Lay Betting in a Betting Exchange
Lay betting is available on a variety of betting exchanges online today. The betting exchange acts as an intermediary between customers which makes it a betting exchange, rather than a bookmaker. Here, punters can both back and lay bets. The different options are split into two boxes, with blue traditionally being back, while pink is lay.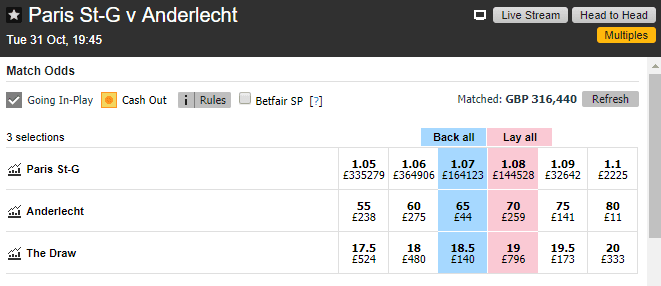 Using the example above, you will be able to see that it is possible to place lay bets on PSG not to win, Anderlecht not to win or the match not ending in a draw. You will notice other prices available (in white). These are the prices that others have placed a back or lay bet at, but they are not the most popular prices (the most popular prices are those in blue and pink). So, you could lay at a different price if you want to, but your liability will be greater if you lose.
Odds Awareness
Just in case you are wondering, the amount of money below the odds is the amount of liquidity available at that price (the total amount of money to be paid by the people if they lose their bet). This is only important really when the liquidity is small, for example, you cannot place a back bet to win £100 if only £50 of liquidity is available. You can still place your bet but if enough liquidity is not raised, then your bet will be reduced in line with the liquidity available when the event begins.
In theory, you can offer any odds when placing a lay bet, but if your odds are too outlandish then no one will back your bet and your bet will not be accepted. For example, you could offer odds of 100/1 that Grimsby Town will NOT beat Liverpool in the third round of the FA Cup, which is the same as saying it is 100/1 that Liverpool will beat Grimsby. No one with odds awareness would take such a bet.
Differences
Just like spread betting, you should always be aware that your losses could be much greater than your stake. All betting exchanges will provide you with a lay betting calculator so you can work out your liability and therefore your potential losses.
Having selected your preferred option, which in this case will be PSG not to win, it is then time to choose your stake.

Unlike with a traditional bookie, this is the amount you will make available for others to bet on. Stake x (Lay Odds – 1) = Liability is a good formula to keep in mind here. So, 1.08 – 1 = 0.08. This means that a £100 stake would result in an £8 loss if the bet loses.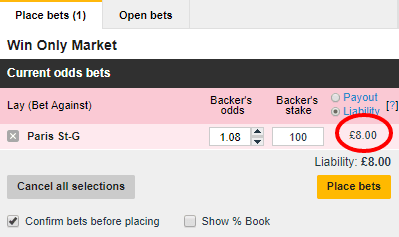 Having confirmed your bet, the money will go into the relevant market, which will then be available for other punters to match. In the event of your lay bet winning, you will receive £108 (including your stake). However, should the back bet come out on top, you will be down £8 in liability. This should answer the question what is lay betting system in a nutshell.
The 'commission' aspect comes via the difference in the prices. For our £100 bet, a winning back bet would return £107, while a losing lay bet would pay £108. The winning bettor receives £107 of that £108, with the £1 difference going to the exchange. The exchange also charges a commission on all winning bets. This can be a fixed amount, or vary depending upon the number of bets you have placed at the specific site.
How to Find a Good Betting Exchange for Lay Betting
When comparing betting exchanges you should consider a whole host of factors. Some are specific to what is lay betting, while others are more generic and concerned with the standards set at the site overall.
Safety – Safety is paramount for any type of betting site or exchange. It is a good rule of thumb to stay with operators that are licensed in the UK by the United Kingdom Gambling Commission. They all have a host of security measures in place too, ensuring the safety of their customer's details.
Markets – Betting exchanges are unlikely to offer as many markets as a traditional sportsbook. However, there are sites that offer a host of sports markets, ranging from football and horse racing to golf and politics.
Commission – With punters at lay betting sites acting as bookmakers themselves, the commission is what is important, rather than odds. Generally, punters will pay anywhere between one and five percent commission on winning bets.
Promotions – Betting promotions are not so common at betting exchanges, however, some lay betting sites will still offer bonuses and free bets from time to time.
Mobile – Lay bets should be available to mobile customers too. Whether it be through a browser site or dedicated app, lay betting sites must score highly in this area too.
Support – Understanding what is lay betting can be tricky. As such, support may be required more often than normal. A good site offers support over the phone, via email and through live chat, 24/7.
How Back and Lay Bets Work
Before signing up at a lay betting site, it is important that you understand the difference between back (i.e. traditional) and lay bets. A back bet is when punters stake on a particular outcome occurring, such as Arsenal beating Everton in the EPL's next round of matches.
For popular back betting markets, your betting exchange may well match your bet against a host of opposing customers. Punters are not betting against a bookie, but against another user. Meanwhile, a lay bet involves punters effectively acting as the bookmaker.
Odds are offered on an outcome in which the punter thinks will NOT occur. The site 'exchanges' your bet with someone placing a back bet, which is why it is called a betting exchange.
What is the Lay Bet Liability?
We briefly touched on lay bet liability above. However, it is vital that you have a good grasp of this concept before progressing. With traditional sports betting, potential losses are determined by your stake. However, at lay betting sites, the potential payout is known as the liability.
Punters must think of themselves as the bookie. So, if the back bet wins, you will have to pay out the winnings. Taking an example from the horse racing betting scene, should you place a lay bet on a horse at 3.00 and the back bet sits at £20, your liability will be £10.
Why is There Commission on Lay Betting?
You will by now have recognised that lay betting sites charge a commission on winning bets. This is ultimately how they make their money. This is because unlike a traditional bookie, lay betting sites do not receive funds from losing bets – every bet has a winner, not matter the final outcome.
Betting exchanges are becoming increasingly popular, due to the fact that even with commission taken into account, they regularly return more profit on winning bets.
Commission Charged by the UK's Leading Betting Exchanges
| | |
| --- | --- |
| Exchange | Commission |
| Smarkets | 2% |
| Matchbook | 2% |
| Betdaq | 2% |
| Ladbrokes Exchange | 2% |
Several of these betting sites have offers with either a limited time of no commission or cash back on your commission.
Difference Between Lay Betting Sites and a Sportsbook
A lay betting site or betting exchange is different to a traditional bookmakers or sportsbook. Those operating at a sportsbook will place bets on odds that are determined by the bookie. Such platforms come with a profit margin, with the popularity of markets often determining prices. A bookie also typically offers no back and lay betting – just traditional betting.
Punters stake on markets set by the bookie. Liquidity determines the odds at betting exchanges. The higher the liquidity, the more competitive the odds. Meanwhile, as we have already mentioned, understanding how lay betting works includes understanding about the commission charged on winning bets. The Sportslens page on betting sites UK does a solid job of explaining the difference between lay betting sites and traditional sportsbooks.
| | | |
| --- | --- | --- |
| Criteria | Lay Betting Site | Sportsbook |
| Choose own odds | ✔️ | ❌ |
| Back bets | ✔️ | ✔️ |
| Lay bets | ✔️ | ❌ |
| Restrictions | ❌ | ✔️ |
| Liquidity issues | ✔️ | ❌ |
How to Profit from Lay Betting. Lay Betting Strategy & Lay Betting Tips
When using lay betting sites, it's not just about being able to answer the question 'how does lay betting work?' – it is just as important to have a specific strategy. In order to help you get the most from your lay betting, follow the lay betting tips given below.

Such tips are useful for both beginners and experienced punters.
1: Recognise the 'Liability'
As already mentioned, your liability concerns the amount you could lose when placing a lay bet. Compared to a conventional bet where you will lose just your stake when unsuccessful, those placing lay bets can lose much more. As a result, punters must weigh up the risks with the potential rewards. Use the site's lay betting calculator to know how much you could lose.
2: Develop Your Strategy
Be sure to have a long-term lay betting strategy in place before starting. Doing so will help you to maximise profits and minimise losses. Some punters may choose to place a host of lay bets on the same sporting event in an attempt to offset potential losses. Meanwhile, always remember to collect data along the way in order to help you set odds.
3: Understand the Market
Lay betting is popular in part due to the flexibility it offers punters. Those with a good knowledge of a particular sport or market stand a decent chance of making money. For those with less prior knowledge, looking at recent results, head-to-head records and player availability will stand you in good stead.
4: Consider Matched Betting
Matched betting is a method used by an increasing number of punters. Here, lay bets are used to cancel out the risk involved with placing a back bet. The risk is removed by placing both a back and lay betting wager against the same outcome. In order to utilise this method, two or more betting exchanges or bookies must be signed up with. The first bet is regarded as the qualifying bet, which will be used to place future bets.
5: Understand the Odds
Lay betting sites often use decimal odds. While they can be transferred into fractional prices, it is often easier to stick with decimal. Decimal odds are more accurate and offer more transparency. In order to convert decimal odds to fractional odds, subtract 1.00 and then find the nearest whole integers. For example, 3.75 – 1.00 becomes 2.75/1 or 11/4).
Other Betting Guides
If you are not quite sure if lay betting is for you, or whether you wish to look at some alternative betting methods, be sure to check out the guides below. Each guide aims to educate punters. This could be be surrounding a specific type of promotion or bookmaker feature.
On Where to Place a Lay Bet
You may still have many more questions, which is fine – no one is a master in one fell swoop, or one guide read. As a start, familiarize yourself with what bookmakers are available in the UK and what they offer. If you go to the first page of Safebettingsites.com you can find many useful links and reviews that will be a good start at finding the best betting sites and their offering.
Bottom Line on Lay Betting
Having read this article, you will have gained an insight into the workings of lay betting, as well as exactly how this type of betting works. It should come as little surprise that betting exchanges are now reasonably popular, with both back and lay betting opening up a host of additional opportunities for punters. So, for those who thinks it looks to be something right up their alley, be sure to check out some lay betting sites and see if this might be for you.
FAQs
Which are the best lay betting sites in the UK?
Despite not being as common as traditional bookmakers, a host of lay betting sites are available in the UK today. Known as betting exchanges, the likes of Smarkets and Betdaq are regarded as being the best in the business.
What is the difference between lay and back betting?
In simple terms, a lay bet involves punters taking on the role of a bookmaker and betting against a particular outcome. Meanwhile, a back bet involves staking on an event occurring, such as a football team to win a match.
Do I have to pay commission on all bets?
Customers at betting exchanges will pay commission on all winning bets. The commission rate can be anywhere from two and five percent, which will depend on the operator and what type of customer you are.
Are promotions available at lay betting sites?
Yes. While not being as common as on online bookie sites, they are available to both new and existing customers from time to time. However, not all betting exchanges will offer a welcome offer, as you will see from the table at the top of the page.
Are lay betting sites legal in the UK?
Yes. Our recommended betting exchanges are nothing but legal. Each is licensed and regulated by the UK Gambling Commission. Meanwhile, they are all safe to use on desktop and mobile thanks to a host of security tools.
Was this article helpful?