SP is the abbreviation for the Starting Price of any horse for a race. These are the final odds displayed on a bookmaker's betting show before the off. A horse is also said to have been returned (from running on the track) at that price. Get the complete answer to what does SP mean in betting terms below as we explain the concept of starting prices in full.
What Does SP Mean on Horse Racing Bets?
There is a starting price, abbreviated to SP, for every single horse that runs under the Rules of Racing in the UK and Ireland. These are the final odds before a race is off. This is sometimes expressed as the price a horse is returned at from the track. It really is that simple. When you're asked what does SP mean in betting next time, you can tell all your friends that it's gambling shorthand for the starting price of a racehorse.
How is SP Calculated?
You may understand what does SP mean in horse racing but not be aware how online bookmakers decide on and determine it. Back in the days before the internet, the traditional method was more or less a median average of on-course bookies' prices from the rails and in Tattersalls enclosures at race tracks up and down the country. How times have changed.
To ask what does SP mean on betting on horse racing and how it's calculated are two different things. Before we explain in full, getting your head around why starting prices exist can be helpful. When placing a fixed odds wager on horse racing betting sites or at the course, you have the option of taking the price offered before a race or SP instead.
Calculating the starting price on horse racing events used to involve taking the sample of bookmaker odds from the track and splitting the list in half based on the prices. Ignoring the extremes at either end, the shortest odds from the half containing the biggest prices was taken for SP.
Since the development and growth of exchange betting, however, off-course bookmakers and such sources have become more important. This is because fewer people bet in person with bookmakers on track. It's easier and more convenient for punters to wager online or on mobile at their leisure.
On-course betting became impossible during the COVID-19 coronavirus pandemic. When horse racing resumed in the UK behind closed doors, a new system for calculating SP betting odds was needed and has remained a factor in the process ever since. This, according to the Daily Mail, involved eight major off-course betting operators being used to generate an official starting price. Input from off-track digital betting is now a key part in determining SP.
Why is the Starting Price in Horse Racing Important?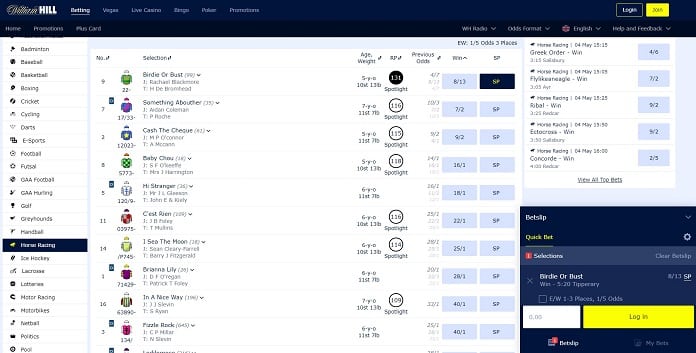 If you opt for the starting price, this can be better or worse than the horse racing odds available in the hours and minutes leading up to the race. SP exists so that those who wagered on the race before the opening show board prices and after ante post betting markets closed can still get a bet on. Its importance remains because of a widely available deal for punters online.
We are of course talking about Best Odds Guaranteed that ensure your wagers pay out at the starting price if it's bigger than what you took. As the final odds available before the race, you want a bigger SP than what was available when your bet was struck in this scenario. That's because a larger starting price equals greater profits and returns if you back a winner.
When Should You Use SP Betting
There are scenarios where taking the starting price on horse racing events is better than going into a market for actual fixed odds. The most obvious situation is when a disparity between the betting exchanges and prices offered by online bookies exists. This is an indicator that, if you hold your nerve where the horse is weak in the peer to peer betting markets, SP will be bigger than the fixed odds price available.
Any runner drifting doesn't necessarily mean it won't win the race. And it's not always about that with SP betting either. You may want to get an each way bet on the horse and need the fixed odds to reach a certain threshold with bookmakers before you can break even and it makes sense to do that. Biding your time and being patient can be a virtue when betting.
With so many punters, both professional and casual, waiting until the last minute before placing their wagers, this makes sense. You probably don't want to take SP if odds for that horse in the exchange betting market are shortening all the time, however, so it's best used when you want to back a drifter despite market opinion being against you.
Factors That Influence SP
Knowing what does SP mean in betting is all well and good, but to take your appreciation of it further you need to understand what influences these final odds. Well, it turns out quite a lot actually:
Exchanges – Both on-course and online bookmakers follow betting activity on the exchanges very closely, so their influence on the starting price in horse racing cannot be understated.
Going – The ground underfoot on the track plays a part in every runner's chances. That can filter into the SP if conditions range from ideal to unsuitable for certain horses.
Jockey Form – Sometimes, there's just no denying those in the saddle when they've got a good book of rides. Think Frankie Dettori and his famous Magnificent Seven at Ascot all those years ago.
Non-Runners – If a horse is withdrawn from a race following final declarations and has odds of 14/1 or less, then that circumstance effects the prices of all other horses. This is because Rule 4 deductions, as outlined by Tattersalls Rules on Betting, apply. Imagine if the favourite (and shortest price runner) comes out of the race. The SP of those remaining runners is bound to be impacted.
Other Market Movers – Traditional bookmakers will always be on a percentage over the total market, but should still try to balance their book. If one horse is popular in the betting late on, then they may push out others to a larger SP to compensate.
Stable Form – Should a trainer be sending out winners left, right and centre from their yard, then punters and traders alike soon cotton on. It may influence the SP of their next runner, just like with jockeys above.
Tipsters – If respected industry experts put a horse forward, then punters who follow such tips will back it. This will be reflected in the starting price.
What Bookies Offer SP?
All fixed odds bookmakers, be they on-course, in shop or online, must give you the option of taking the starting price in regular horse racing markets. Such rules don't apply to Tote betting pools as you can't get a price in advance with them. So with that, you can have the pick of the litter and just select one of the bookies that suits your personal preferences when looking for betting on starting price in horse racing.
What Does SP Mean in Betting FAQs
How can I beat the starting price for a horse?
Should I take SP or advertised odds in advance?
Can you make money betting at SP?
Why should I take a starting price?
Does Best Odds Guaranteed work alongside SP?
Was this article helpful?