The trixie bet in horse racing is one of the combination and system wagers available to punters in the UK on this sport and others. Comprised of three Doubles and a Treble on the same betslip, this is for when you want to put three horses together. If you want to know what the trixie bet meaning is, then there it is. We have the answer for you. If horse racing betting is new for you, get trixie betting explained in full to you below.
What is a Trixie Bet?
A trixie bet is a system or combination wager like the Yankee Bet consisting of four bets from three selections, it includes three doubles and one treble. There is a specific trixie bet meaning that sets it apart from other bet types like accumulators or the many "Lucky" bets you can place. It is four wagers in one using three selections. These are three doubles and a treble.
When asking what's a trixie bet to someone, the answer is usually for horse racing betting sites only. You can apply the trixie bet system to other sports, however. Comprehending the wager is one thing but knowing how it works in practice is quite another. So, just what is a trixie bet in horse racing gambling?
How Does a Trixie Bet Work?
While we have the answer to what is a trixie bet on horses above, there are some basics you must understand. It comes in handy when to figure out when to use a patent bet or a trixie.
As doubles and trebles can be multiples in their own right, the trixie simplifies betting on these in combination. That only applies if you are betting around the same three horses or outcomes, though. This table shows a typical horse racing trixie:
| | |
| --- | --- |
| Trixie Part | Outcomes Involved |
| Double 1 | Horses A and B |
| Double 2 | Horses A and C |
| Double 3 | Horses B and C |
| Treble | Horses A, B and C |
For each part of the trixie bet and there are four of those as above, odds from individual outcomes become multiplied together. Both legs of a double bet must win for that to be a winner. If all three horses win, then trixies payout the full amount from all four wagers. Should just two outcomes be successful, then three bets lose but you still get a return on the double that was a winner. The total stake involved is four times a standalone wager. Your unit stake is therefore quadrupled. A £5 trixie therefore means £20 of bets in total.
The Horse Racing Trixie Bet Explained
When figuring out what's a trixie bet on horse racing, it is also useful to have an example. We can oblige there. Let us say you felt confident about three particular National Hunt horses in the latest Cheltenham betting on the next season's festival. Rather than back them individually, you decide to combine them on the same betslip as a trixie like this: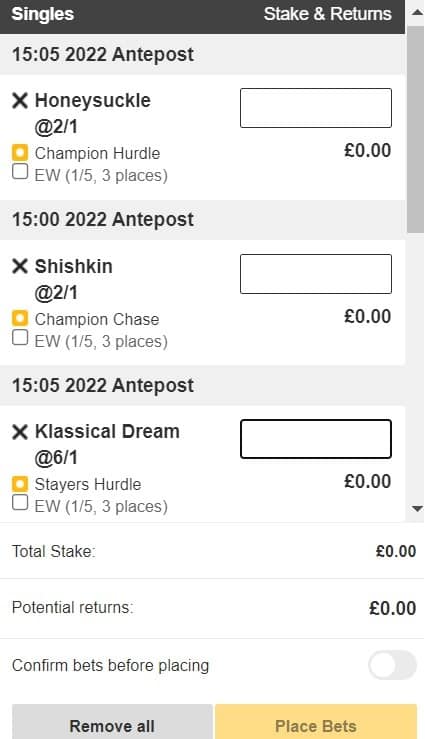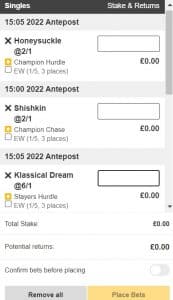 Every bookie's slip looks slightly different. You will have the option of placing your wager as a trixie somewhere, though. It may be on a separate tab to standard bets, or you just need to scroll down and find where it is on the betslip like so: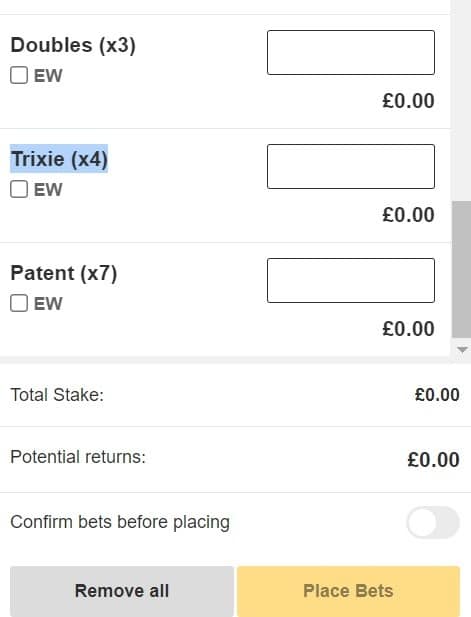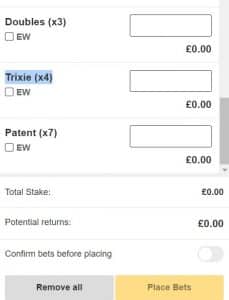 Once you have found the trixie bet option, and all of the best betting sites in the UK will have this, now enter your unit stake as below. As you can see from this particular example, even a small bet can generate big returns and profit if all bets that are part of the trixie come off: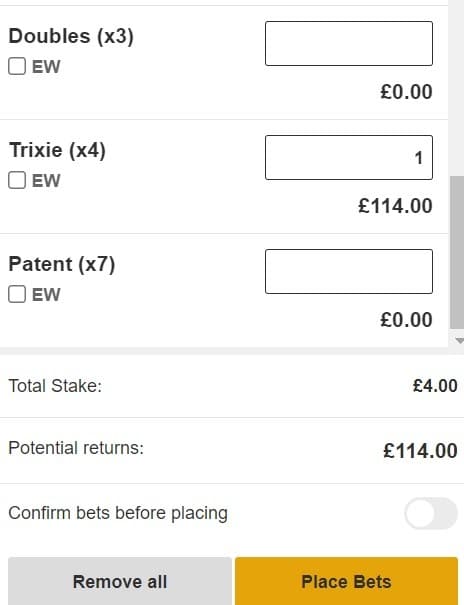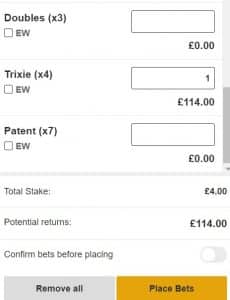 You should also have the option of making this wager into an each way bet if you so wish. When you are happy with your trixie, hit Place Bets as above and the bet is on! If someone asks you what is trixie bet in horse racing, you should now be able to guide them through it as we have.
Why Place a Trixie Bet?
Now that you understand the whole idea behind a trixie bet now, but the bigger question is: why bother with them? We shall look in detail later about when is the right time or scenario to place such a bet. This type of wager has certain advantages over other horse racing punts you could take. As with any form of gambling, however, there are slight drawbacks. We want to be honest with you about the upsides and disadvantages, as that helps get the trixie bet explained to you:
Pros:
Short-price selection odds multiplied together
Better value than backing single outcomes
You can put trixies on each way
Wager still gives returns if all legs don't win
Less complicated than other system bets
Cons:
Two or more legs must win for bet to payout
Returns could be less than total stake
Trixie Bet Calculator
A key part of appreciating how does a trixie bet work is being able to calculate what you stand to gain from such wagers. As trixies are more complicated than other bets, figuring out how much you get back can be difficult. That is where bet calculators come in. These show you exactly what you will get if either an entire trixie pays out or there is some return on offer.
You can find betting calculators for trixies out there among British bookies like BetVictor sportsbook. You can usually customise them and choose between fractional and decimal odds, depending on your preference.
If you have put a trixie on with free bets bonuses, then this is usually but not always factored that into the calculator too. It makes it easy to view total returns and profit, while the hitting Full Bet Breakdown shows you in detail what you stand to gain.
When a Trixie Bet System is Best to Use
Every wager has its time and place. The short answer to what's a trixie bet for is betting on three horses you really fancy but aren't sufficient value to gamble on individually. Taking a punt like this is something that you should consider for both ante post betting and when wagering on the day. The name of the game is always gamble when the odds are in your favour.
One of the pluses to waiting until the day with trixies is that your bet should be covered by the best odds guaranteed. That way, you will receive the starting price (SP) if your fancied horses drift and get returned at bigger odds than you took. However, the bookies have become wiser to the liabilities posed to them by accumulators and system bets in general.
It may be better for you to do your Royal Ascot betting, for example, in advance and get your trixie on early. Field sizes can cut up, even between penultimate and final declarations. This may be due to a change in the going conditions or the presence of a much superior horse scaring off competition.
Developing a good sense of when to put a trixie on and when to use different sorts of horse racing wager is all part of your learning curve. It is what separates a novice punter from a seasoned gambler. The key takeout here is not so much the trixie bet meaning but finding the right horses to combine in the wager.
Trixie Betting Offers in the UK
Do you have questions about what a trixie bet offer is? Well, it's any bookmaker promotion or deal that works in conjunction alongside trixies. Some offers will specifically exclude the trixie and other combination or system wagers from being compatible, which is a real shame. When looking for offers that are compatible with trixie bets do try to keep an eye out for acca promotions and each way offers – but be sure to always read up in the terms if trixie bets are allowed as some bookies tend to exclude them.
Trixie Betting in Other Sports
While the focus has been on answering what is a trixie bet in horse racing here, that sport alone does not have a monopoly on the wager. As betting on other sports has developed and become more sophisticated, trixies now appear as a potential wager in them. The main example of this has been on football betting sites that have seen an explosion in growth and interest over the last 20 years.
An even more recent innovation is placing trixies across multiple sports. This is perhaps the true test of your punting mettle. Most gamblers have an area of specialty, like horse racing, golf betting or boxing, so trying to find winners across various disciplines is a real challenge.
Speaking of the noble art, the only way to find value on a pay-per-view card may be combining your fancied fighters all to win in a system bet like a trixie. In sports where contests are between individuals, it is harder to find outcomes in the betting that are odds against unless you side with the underdog. The point is there is a lot more to trixies than just horse racing if you look carefully.
On Where to Place a Trixie Bet
You may still have many more questions, which is fine – no one is a master in one fell swoop, or one guide read. As a start, familiarize yourself with what bookmakers are available in the UK and what they offer. If you go to the first page of Safebettingsites.com you can find many useful links and reviews that will be a good start at finding the best betting sites and their offering.
The Last Word on Horse Racing Trixie Bets
When asked what is a trixie bet on horses, you should be now have the answer. Trixies are a system bet that combine three doubles and one treble together using the same three selections. Although traditionally a horse racing wager, it is now possible to place this bet on other sports.
You unit stake quadruples because there are four separate wagers comprising the bet. Not all have to win for you to get a return, but two out of the three selections must in order to receive something. Ideally, all three picks should be winners. That way you can turn plenty of profit off relatively small stakes. That is what sets the trixie apart from other wagers, so why not try one for yourself?
FAQs
What's a Trixie Bet?
A trixie is a popular combination or system bet placed traditionally on horse racing. It is made up of three doubles and a treble based on three selections.
Is a Trixie a Good Bet?
In the right circumstances, certainly. Trixies need to offer value when taking the whole wager into consideration. This is a good bet to look at when backing individual outcomes as singles do not represent value.
How Many Winners Do You Need in a Trixie?
Ideally, all three selections you made in your trixie will win. This guarantees the maximum payout. However, you still get a return from your wager if just two selections are successful.
What is the Difference Between a Trixie and a Patent?
While patents include the three selections as standalone singles, these do not appear in trixies. Where a patent is seven bets on the same slip, a trixie has just four and is concerned with multiples, i.e. doubles and trebles, only.
Was this article helpful?