A Tricast bet, also known as a Trifecta bet, is an exotic wager exclusive to horse racing where you pick three horses to finish first, second and third in a set order in the same race. There are different versions of this too. You can learn all about what is a Tricast bet in horse racing, how the wager works, variations of this type of bet and plenty more besides. Our experts have all the details so you understand it all. Without further ado, get the Tricast bet explained to you below.
What is a Tricast Bet?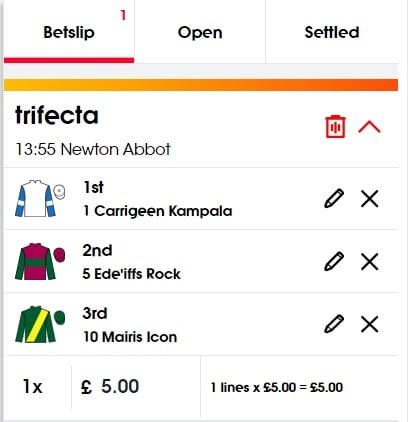 Called Trifecta when betting on the Tote, the Tricast is an Exotic wager you can place through pari-mutuel betting pools, which can be accessed from some online bookies, for the sport of horse racing. To recap, it involves picking out three horses from the same race and wagering on them to finish first, second and third in a set order.
This is also called a Straight Tricast bet. As noted above, other variants exist but we'll deal with those later. You must have the correct finishing order in order to receive a payout or dividend from the Tote on a Trifecta or fixed odds bookmakers with a Tricast.
How Does a Tricast Bet Work?
Now that you know the basics concerning what is a Tricast bet, let's look at the wager in more detail. Grouped together with Forecasts (or Exactas), Quinellas and Superfectas as Exotic bets available through the Tote and other pool betting services, Trifectas works quite differently to the regular fixed odds bets offered by horse racing betting sites in the UK and beyond.
If you want to know how to put a Tricast bet on, then the first thing to remember is you won't know the prices beforehand. While the Tote promises to match SP with its standard win betting, Exotic wagers like the Trifecta have their dividends calculated based on the share of market interest other punters have on the individual horses winning and finishing placed in the pool. That can only be done after all Tote bets are taken and the total amount of amount gambled is known.
You can if you wish, and indeed it's recommended, to use the regular fixed odds betting market as a guide for the implied probability of runners winning or placing in a race. This is in the absence of being able to take a price on the Tote before. With Tricast betting, simply select the three horses you think will finish first, second and third, and add then specify the order in which you think they'll come home past the post.
If you're right about the first three, then you'll receive a return, called a dividend from the Tote. Their Tricast bet calculator sees them multiply the final odds for a win on the successful horse to the prices for the two placing second and third. They work all this out for you with a Trifecta returned dividend paying plenty more than standard win and place wagers or Forecasts / Exactas.
Pros & Cons of Tricast Betting
Whether you use the Tote terminology and refer to it as Trifecta instead, you're well aware what is a Tricast bet by now. Like all Exotic wagers, there are some advantages and downsides to taking this type of punt. Getting your head around the Tricast bet meaning is one thing, but appreciating the plus side and negatives relating to any form of gambling is important. Here are both sides of the coin with Trifectas:
Pros:
Bigger dividends than win and place bets
Some horses pay better odds on the Tote
You can reverse, wheel and box Trifectas
Cons:
Harder to pull off than win and place bets
Straight Tricast bet must be exactly right
You don't know what you win in advance
What is a Combination Tricast Bet?
We promised you we'd talk about variations of Trifectas, and the most common of those is the Combination Tricast. Also known as a Reverse Tricast bet, this is where you pick out three horses to finish first, second and third in the same race by with any order than a specifying one. You'll have a greater outlay with your unit stake multiplied by six to cover all the different permutations, what they call lines on the Tote, with horses A, B and C as follows:
When you go in for combination Tricast betting, you must accept that only one finishing order will be right. You therefore write off the other five permutations which are losers as losses against the profit made from the correct 1-2-3. Deducting these from your winnings mean the returned dividends needs to pay at least six times the unit stake for it to be worthwhile. You can't know that in advance, however, because of how Tote pool betting works on Exotics like Trifectas.
The Reverse Tricast bet thus needs careful management and use by punters. Unlike a full cover wager on fixed odds, for example, you can't still make money in spite of a losing outcome as you know going in that there can only be one completely correct finishing order for the first three. Covering permutations which include certain losses is much less appealing, yet some punters still take up this option.
Different Types of Tricast Bet Explained
It's not just about combination Tricast bets when it comes variations of the Tote Trifecta. There are other ways of approaching this Exotic wager. The question is no longer what is a Tricast bet in horse racing but, rather, what other options are available? You can either use Boxed Trifectas or Wheel the wager around a central selection or picks, depending on the strategy in question.
Boxed Trifecta
For greater flexibility than a Straight Tricast bet, punters can try the Boxed Trifecta out for size. You can made more than three runners getting in the first three here, but the more selections you make the greater the outlay and higher the multiple of your unit stake in total gambled.
If, for example, you select six different horses to fill the first three spots in a race in any order, then you cover a massive 120 different combinations. A £1 Boxed Trifecta would see you stake £120 in total, so the returned dividends paid on the Tricast need to be pretty large for you to make a profit. There are 119 losing outcomes that such a wager covers.
Trifecta Wheel
Alternatively, another variation of Tricast betting sees you put a Wheel wager on. The concept here involves core central selections that you feel strongly about. An ideal scenario in which to use a Trifecta Wheel is when you're confident about the winner, but not so sure about the placed horses. This can eliminate some of the guaranteed losing permutations from a Boxed Trifecta and reduce the hit to your profits as a result.
Let's say you fancy horse A to win and B to come second, but believe horses C and D both have claims of filling third place. A Trifecta Wheel here could you see you put on just two lines as ABC and ABD, rather than many more by boxing your bet. This kind of Tricast betting system has obvious advantages over other variants of the Exotic. Less outlay means more potential profit, but on the flip side you cover less bases and the margin for error is greater.
The Best Tricast Betting System
It's a rare enough thing for horse racing tipsters to be right about the Trifecta, because they're making picks on such a competitive and unpredictable sport with lots of variables. Anything can happen out there on the track. Experts do give shortlists of three on big field races, and there's no shame in them having multiple attempts if we're dealing with a major handicap like the Grand National at Aintree or Cesarewitch on the Flat at Newmarket.
These probably aren't the races where any serious Tricast bet can be placed, though. Follow our experts' advice and limit yourself to a particular scenario when employing this particular system works. Such a helpful hint should aid you in making better choices and informed decisions when you want to take a punt on the horses. This is when Trifectas are best suited from a gambling perspective:
When Three Horses are Clearly Superior to the Field
If the Straight Tricast bet is no use to in wide-open handicaps with lots of runners, then it's a tactic that can be your friend in conditions races with smaller fields. In such events, it's not official ratings that determine weight carried but past performances at this level or in a higher grade. Penalty structures exist, meaning horses must carry more than others if they have won so many races or a certain calibre of race within a set time.
Using official figures and the conditions set out, you may find on occasions there are three horses that are clearly better than the others. While horses don't always run up to their rating, it's a piece of key data you have available to you when predicting what you think will happen out there on the track. If three runners look clearly superior to the others on paper and based on official handicapping assessment, then the Trifecta looks a good shout.
Best Bookie for Tricast Betting
While other bookmakers do provide the Tricast bet as an option, the home of the Trifecta is the Tote. All other major bookmakers' betting pools in the UK feed into this dedicated service. It's because of the Tote that we even have Tricast betting in the first place which is worth to remember. However, Tote does not come with a complete selection of sports to bet on and is highly specialized. So if you want an all-round bookie, you should look at other options.
FAQs
How to place a Tricast bet?
Should I place a Tricast bet on the Grand National?
How are Tricast dividends formulated?
What's the difference between a Straight Tricast and Combination Tricast?
How do you pick winning Tricasts?
Are Tricasts and Trifectas the same thing?
Was this article helpful?