Spreadex Sports Review September 2023 – Pros & Cons Revealed
Overview
Spreadex Sports is an online sports book that has very few parallels. That's because what it offers is based upon spread betting, rather than the normal fixed odds betting. With fixed odds betting, you are betting on something happening or not. With spread betting, you are betting on the scale of something happening, such as the number of goals scored in a football match, or the number of points scored in a complete game of tennis.
The more right you are when you place a spread betting bet, the more you win. Conversely, the more wrong you are, the more you lose. Fortunately, like all sports spread betting sites Spreadex puts measures in place that limit your losses should you make a betting blunder.
Read on to learn more about Spreadex. Note, there's a Spreadex casino site too but that's out of scope as far as this Spreadex review is concerned.
#1 UK Sports Spread Betting Platform
Bet £10, Get £40
No minimum deposit requirements
Excellent platform for in-play betting
Best Odds On All Premier League Matches
9.5
Visit Site
Plus Best Odds On All Premier League Matches (fixed odds Match Odds, pre-match v top 5 bookies on Oddschecker). Join and place a £10 fixed odds bet at odds of 1/2 or greater. Qualifying bet cannot be placed in-play or cashed out early. 18+ begambleaware.org. Spread betting losses can exceed deposit.
What is Spreadex?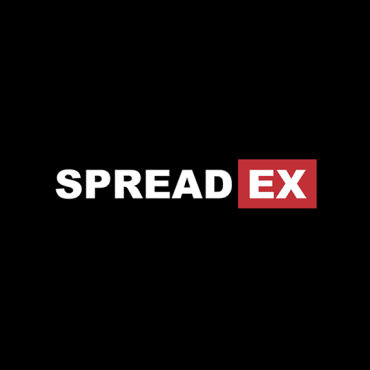 Spreadex was actually set up by a spread betting fan who wanted to make spread betting more accessible to the masses. His name is Jonathan Hufford, a businessman who had the desire to open up his own business. That he did, creating Spreadex in 1999. It wasn't though until 2006 when the Spreadex sport betting platform became available, with a financial spread betting platform following shortly afterwards.
Countless punters fell in love with the concept of sports spread betting, but others were not so enamoured, given that getting something badly wrong in the spread betting world can lead to sizeable losses. For them, in 2010, Spreadex expanded to create its own fixed odds betting platform. Both sides of Spreadex now sit in tandem with one another.
Is Spreadex Sports Safe?
There are three main concerns that people may have when using any sports betting site, and those can be summarised as follows:
Is my sensitive data kept secure?
Will any destructive gambling habits be recognised?
Can I lose heaps of money using a spread betting site?
The happy news is that Spreadex has you safely covered in all three ways. The site uses advanced encryption techniques to make sure all information you send to the site is secure and cannot be intercepted and used by nefarious third parties. In addition, as this site has a UKGC licence it is legally obliged to monitor players' accounts and take steps should any of their site users be losing too much money, or too frequently.
Finally, many people are put off spread betting because you can end up losing more money than your original stake. There's the tale of the man who for his first-ever spread betting bet gambled on a football match between Aston Villa and Nottingham Forest to have less than two goals. In the end, the teams played out a staggering 5-5 draw! 'Stop losses' are a way of preventing you from facing a week on bread and water if your betting prediction proves to be incredibly inaccurate. They 'cash out' your bet at a specific stage so you limit your losses. This also means that your potential winnings are limited too.
Spreadex Sports Sign Up Offer
All you need to do to get a bonus worth up to £40 at Spreadex is to place a £10 fixed odds bet at minimum odds of 1/2. You will then get 2 x £10 free fixed odds bets, 4 x free £5 spread bets. Those currently punching in those numbers into their calculators trying to work out how that totals £40.
All free spins are worth 10p, will be on the insanely popular NetEnt slot Starburst, and come with no wagering!
All free bets and spins expire within 28 days, and this amazing deal, sadly, is for new customers only. Free bet stakes are not returned with any winnings.
| | | | | | |
| --- | --- | --- | --- | --- | --- |
| Spreadex offer | Offer description | Wager requirement | Min qualify odds | Offer expiry | Min deposit |
| Welcome offer | Bet £10 to get £40 | None | 1/2 | 28 Days | £25 |
Ongoing Promotions at Spreadex
There's not a scarcity of ongoing betting promotions at Spreadex. You will find several new promotions that change with what market is active at the moment.
There are however one that does not change, but is a permanent fixture.
Refer and Earn – If you've got a friend who hasn't got an account at Spreadex, then you can get a bonus if you manage to persuade them to open one. Each confirmed referral you make will see you rewarded with a £100 total goals spread bet that comes risk-free. Your friend will also need to place five sports spread bets (min stake £2, win/lose capacity £20). Any losses incurred using your £100 total goals bet will be refunded to you as real cash.
Spreadex Sports Expert Analysis
While we here at SafeBettingSites do prefer the 'comfort' of fixed odds betting, we do feel that expert bettors may find the potential advantages of sports spread betting exciting. If you really, really know your sports (and one single sport in particular) there are genuine potential benefits with spread betting, as you can put this expertise to excellent use. If, however, you are more of a casual bettor, then it is perhaps better you stick to fixed odds betting, which of course you can still do at the Spreadex sportsbook!
Which Sports Can I Bet on at Spreadex?
The number of sports available to bet upon varies daily with Spreadex football and horse racing being the most popular. Basically, if any sport is suitable for spread betting, then the likelihood is it will be made available at the Spreadex sports betting site. Other popular spread betting markets include cricket, tennis, snooker, basketball, baseball, greyhounds, ice hockey, volleyball, table tennis and eSports.
Most matches or competitions that are available for spread betting are available for fixed odds betting too. The big events have their fixed odds displayed beside their spread betting prices, but for some you have to enter the event's dedicated page and click the 'Fixed Odds' button. To switch back to buy and sell prices just click the 'Spread Betting' button.
Spreadex Sports Odds
Naturally, Spreadex is more about prices than odds. This sports betting site only has one main rival in the UK world of spread betting, so it is difficult to work out how 'fair' the spread betting prices are. Via our analysis, we have found that the prices offered by Spreadex are perfectly reasonable. Obviously this company has to take care in setting their spread prices as if they set them too low or too high, wily punters can take advantage.
If you're a dedicated fixed odds bettor then you'll be delighted by the prices offered by Spreadex. We all know that the odds offered by all bookmakers do not vary that much across the board, but the odds offered by Spreadex stand at the more generous end of the market.
Bet Limits
You can set loss limits at Spreadex – indeed if you are a new sports bettor at the site then these limits are set for you automatically. Loss limits prevent you from losing too much money if your buy or sell 'bet' goes badly wrong. They also stop you winning over-the-odds if your bet goes wildy right, but that's only fair.
With some spread betting markets your stake can be as little as a penny. You have to remember though that with spread betting you can win or lose much more than your stake.
There's one real plus point for Spreadex here – this sports book does not put any limits on the amount you can win from them, unlike other UK bookies. They don't put a limit on how much you can lose too, so beware!
In-Play Betting
One of the most exciting aspects of sports spread betting is in-play betting. Just like financial markets the buy and sell prices offered by Spreadex fluctuate while the event is taking place. For example, the site may alter prices during a game of football for total goals if the game reaches the 80th minute and remains nil-nil. If you feel there's going to be a glut of goals in the last ten minutes then you need to get in on this bet.
Note that when you buy or sell you buy at a specific set price. No matter how much the price changes the price you bought or sold at remains fixed.
In-play betting is offered for most markets, but not all of them. In-play betting is offered for fixed odds markets too.
Additional Features
In 2021 Spreadex Sports live streaming was added to the site by the company signing a deal with Eurosport. This added plenty of live streams to the site's additional features, but don't expect live coverage of top EPL games, major sporting events such as the US open or Superbowl or any game that's on Sky or BT Sport.
You will though be able to follow sports such as tennis, snooker and greyhound racing. There is no Spreadex Sports live streaming of horse racing though. To watch any stream, all you need to do is use your Spreadex login at the site.
One other live feature is that the site will tell you where you can watch the leading events that Spreadex is offering prices on. Just click on the 'In-play soon' button to see the details. The main broadcasters covered are Sky, BT Sport, Amazon and FOX Sports.
Customer Service
We used Spreadex customer service (live chat) without logging in and found the responses to be immediate. This is obviously a dedicated support service as the person dealing with our query knew precisely what we were asking about, and the answers we received were completely satisfactory. It bodes well for any online sports book where support is so good and so speedy.
The full support options here are as follows:
Live chat: available 24/7
Phone: 01727 895 000
Email: info@spreadex.com
Mail: Freepost RRRS-GTBG-HGZB
How to Get Started at Spreadex Sports
Getting started with Spreadex is not difficult, and you only need one account to access their spread betting and fixed odds betting options (and the Spreadex casino). Here is our step-by-step review of the entire process:
Step 1: Visit the Spreadex Website
Click on the link provided above which will take you to the Spreadex site. From there, click on the "Join " button, located at the top-right hand corner of the screen.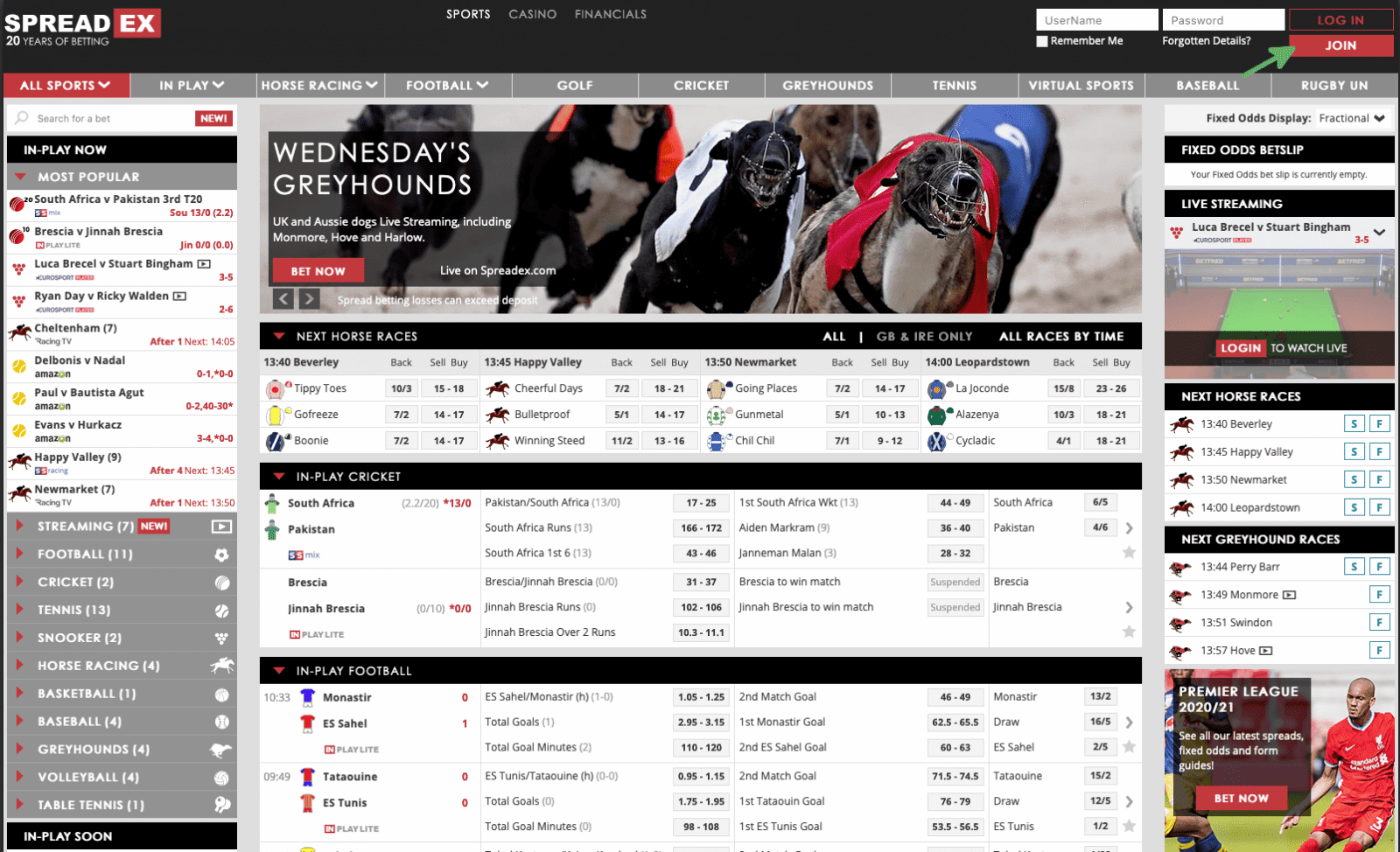 Step 2: Sign Up
Complete all fields on the 'Create your Account' form. You will need to enter your title, full name, email address, county of residence and nationality. You will also need to select a username and password. When you click on the 'terms and conditions' checkbox a page will pop up with the T&Cs. Click that you accept them and you are good to go.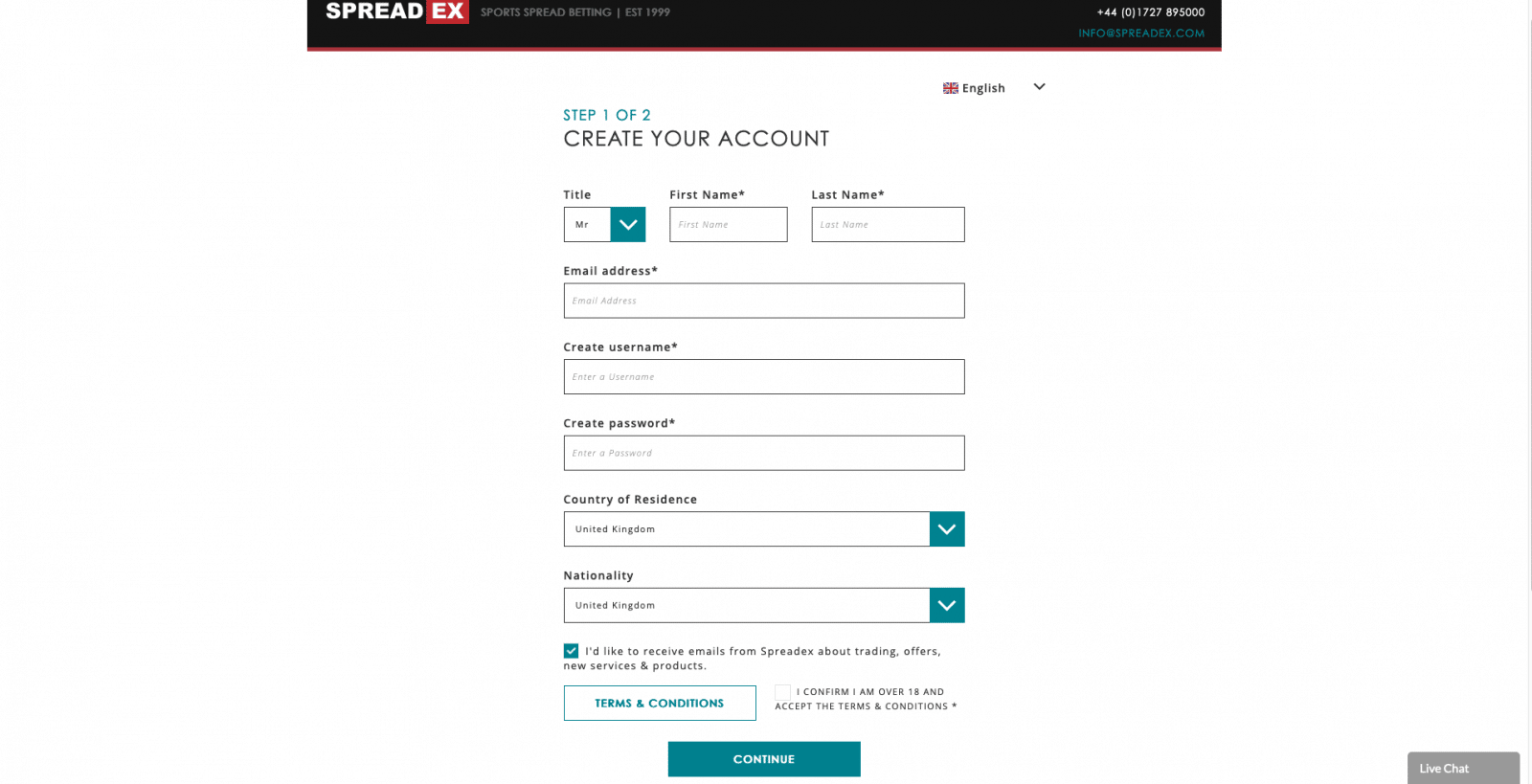 Step 3: More Info
The next step requires you to fill in more details, as shown below. You will also need to choose a security question and answer at this stage. Make sure your choices are easy to remember as you might need them should you forget your password.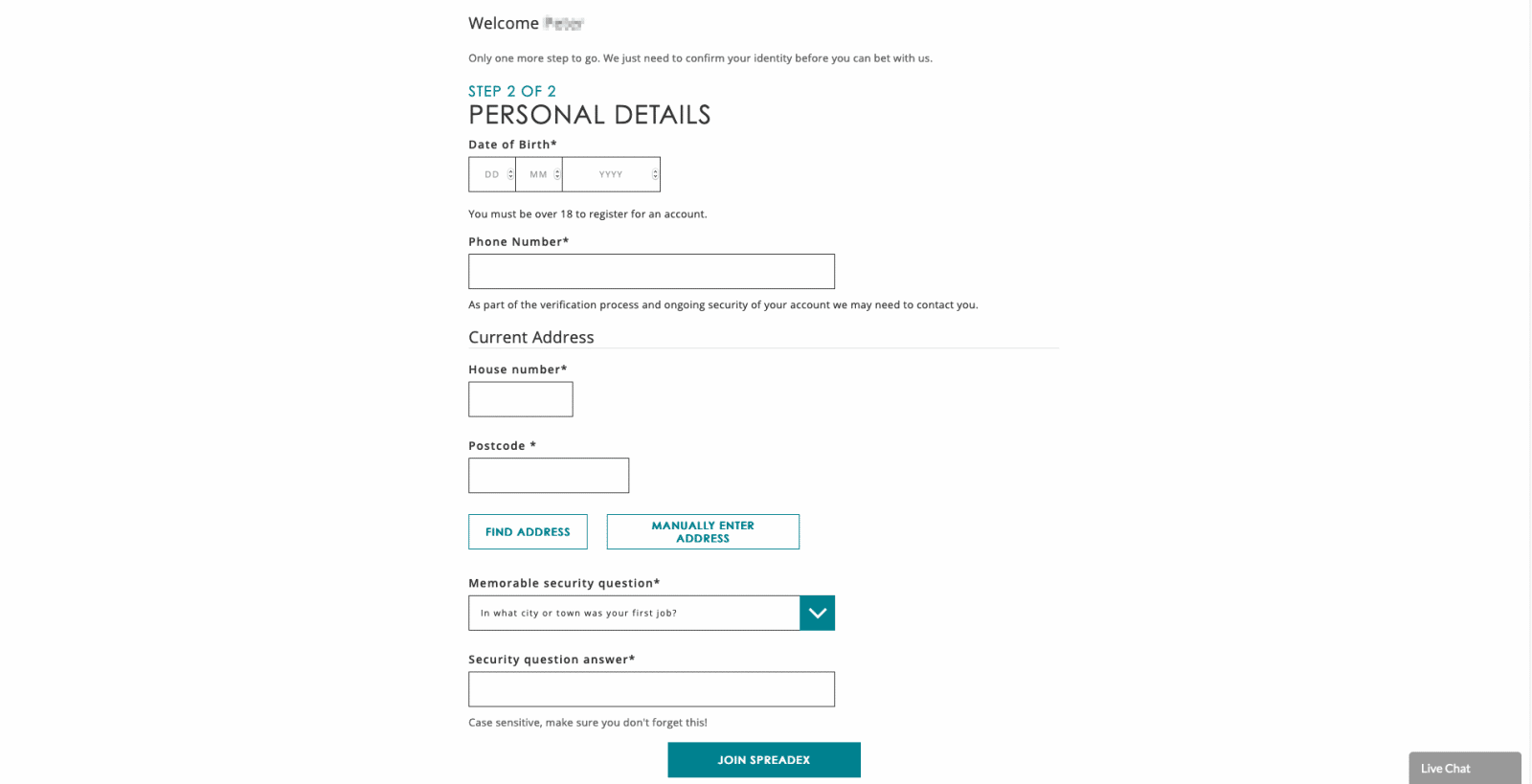 That's it! Once you have clicked the 'Join Spreadex' button your account should be good to go and you can now use your Spreadex login. Please note that your spread betting account will not be activated immediately, just your fixed odds betting account. You will have to activate your spread betting account yourself, and Spreadex should give you a call to ask whether you understand about spread betting, and the important differences between spread betting and fixed odds betting. Only then will your spread betting account be approved.
Spreadex Sports Mobile Betting App
While the Spreadex betting site is fine in itself, many people may prefer the convenience afforded by the Spreadex betting app. This useful tool marries all the functionality of the Spreadex site with the convenience of using your mobile device.
To get the Spreadex Sports mobile betting app on your phone or tablet, head to the Spreadex site using your usual mobile browser. If you scroll down to the bottom of the page you will notice links for the iPhone app and the Android Spreadex Sports app. Click on the links to be sent through to the Apple App Store or Google Play, as appropriate. You can also of course search directly at either of these stores for the Spreadex Sports app.
Spreadex Payment Methods
Like all online bookmakers, you won't get far without getting money into your account. With the fixed odds betting side of things, you can always use your full deposit(s) to place your bets. With spread betting, you can only place bets so that your potential losses are covered by the amount currently in your Spreadex cashier account. This means the value of your 'wager' will be a fraction of the money in your account.
Spreadex accepts a decent range of payment methods although there is a notable absence of eWallets, and you can find all the important details listed below:
| | | | | |
| --- | --- | --- | --- | --- |
| Banking Method | Fees | Min Deposit | Min Withdraw | Withdraw times |
| Debit Cards | Free | No min | No min | 1-3 days |
| Credit Cards* | Free | No min | No min | 1-3 days |
| Pingit | Free | No min | Not available | N/A |
| Bank transfer | Free** | No min | No min | 1-3 days** |
| Cheque | Free | No min | Not available | N/A |
*Credit Cards cannot be used to fund fixed odds betting, due to UKGC regulations.
**You can request an instant CHAPS payment, but there's a £25 fee involved.
Spreadex Pros & Cons
There's plenty to approve of about the Spreadex sport bookie, but not everything is perhaps as you might expect. Here are the main positives and negatives from our experience at the Spreadex sports betting site.
What We Like:
Very generous welcome offer for spread betting
Good guides about spread betting for newbs
Spreadex sports mobile app is fab!
Customer care is exceptional
Some sports live streaming available
Decent offer for fixed odds betting too
What We Don't Like:
Lack of payment options
Site could do with an ungrade
Spreadex Review Bottom Line
If you want to get involved in sports spread betting, the dispiriting news for you is that you do not have many choices when it comes to a sports spread betting site. If, however, you choose Spreadex, then you don't have to worry about a poor experience, or poor support.
Spreadex is excellent, and with the fixed odds betting options we would go as far as to say we'd recommend it as a fixed odds betting site too. Casual bettors may find the site to be too 'business-like', but for people who take their sports betting seriously, we cannot recommend Spreadex highly enough.
Why not sign up now and investigate the potential higher rewards (and – admittedly – higher risks) with Spreadex sports spread betting? If you like slots and table games, why not check out the Spreadex casino too?
Spreadex Review FAQs
Why doesn't Spreadex accept eWallets?
We are not sure. It could be that people usually treat eWallets more casually than bank accounts, and may be encouraged to gamble more if using an eWallet account. Also, fraudulent eWallet accounts are easier to open than fraudulent bank accounts.
How come I can use a credit card at Spreadex?
The UKGC ban on credit cards only covers fixed odds betting. You can use a credit card for Spreadex sports spread betting, so you can't fund your fixed odds account at Spreadex with a credit card.
I bet £1 on a spread bet at Spreadex and lost £3! How come?
If you make the wrong decision with a bet at Spreadex you can end up losing more than your stake. If you bet on a Spreadex football match having less than two goals and it ends up a 3-3 draw, then you pay a ratio of by how much you were wrong.
What is a 'stop loss' ?
Most spread bets will be offered with a stop loss and if you are new to Spreadex, they will be applied automatically. They are the point at which you bet is stopped, should you run the risk of losing too much money because your forecast was badly inaccurate. Your potential winnings are limited too.
Is Spreadex licensed?
Yes, the fixed odds side of Spreadex is licensed by the UKGC. As spread betting is seen as financial trading, that side of Spreadex is regulated by the Financial Conduct Authority.
Can I bet on credit at Spreadex?
Yes, you can apply for a credit account at Spreadex to use for spread betting only - you cannot use it for fixed odds betting. Note that the approval of a credit account at the discretion of Spreadex, and is unlikely to be approved for new accounts.