XtremeWin Review UK 2023 – Odds and Markets + £30 free bet
Overview
There's another new kid on the block for 2022 and it's XtremeWin. Our exclusive XtremeWin review will educate you all about this amazing new sportsbook with an attached casino. As soon as you land st the XtremeWin UK site you'll be impressed – both by what this excellent site has to offer in terms of sports betting and casino play, and the site's obvious commitment to responsible gambling. Without further delay let's get into our XtremeWin review, which will examine every aspect of this site to the (e)xtreme!
Sadly, XtremeWin closed its operations in the UK on the 12th of July 2023. But, worry you not, we've put together the best UK Free Bet offers for you to chose from in December 2023
Who are XtremeWin?
XtremeWin have no problems being up front and honest about who they are, which is Xtremely (okay, that's the last one) reassuring. The UK-facing side of XtermeWin is operated by Vivaro Limited, which is a well-known gambling operator that's registered in Malta. XtremeWin UK runs under the Vivaro gambling licences, which were granted in 2016 (sports betting) and 2017 (casino).
If you are a seasoned online gambling enthusiast then the name of Vivaro Limited may be ringing a few bells. The company has in the past run several online casino sports books, including BetBull, M88, Laba360 and STSBet. They are a white label provider too, meaning that they will allow their software to be used to create other gambling sites. Of those sites VBet is perhaps the most well-known, and others include the UK-facing side of international betting firm Dafabet.

Is XtremeWin Safe?
This XtremeWin review has already established that XtremeWin has the properly UKGC licening in place. These licences have been running for a number of years, and plenty of well-established names (including those listed above) have run online casinos and sportsbooks covered by them. We have checked out Vivaro Limited's record, and we found it to be unblemished. We have no doubt then that XtremeWin UK is a completely legal entity, so you have absolutely no worries there.
XtremeWin can also boast some impressive aspects of commitment towards responsible gambling. The site has a dedicated section which explains how you should approach your gambling, and how you can deal with the problem if you feel your gambling is getting out of hand. The site also lists links to independent organisations that can help you with any gambling problems should you encounter them, including GamCare, Gamblers Anonymous, and BeGambleAware.
XtremeWin Sign Up Offer
Our XtremeWin review will now reveal there is an exclusive welcome offer at the XtremeWin UK site and it's pretty extreme. You only need to make a £10 deposit at this site and you will receive £30 in free bets, which of course is a triple advantage. To get your hands (or paws, as the mascot of XtremeWin seems to be a grizzly bear) on this tip-top deal you will need to make your deposit using the promo code 'XTREME30'.
You do not have to place a bet using your deposit as just the deposit will do. Once your deposit has been made and your account has been verified, you'll get your £30 sports betting bonus which you will have 30 days to use from its award. The only real caveat with this bonus deal is that the maximum you can win from your bonus is £100, which is still pretty impressive. The minimum odds on which you can use your free bet is 1.80. You cannot use the free bet money on system or chain bets, or on other products (i.e casino or poker) that are available at the site.
We've seen plenty of bonuses in our time reviewing sports betting sites through the years and we have to admit that this is one of the most generous that we have ever seen. As is usual though, your bonus is not withdrawable, but you can withdraw any winnings that you make from it.
This is not the only welcome bonus or promotion available at XtremeWin – indeed there are plenty available. We have summarised them all in the table below:
| | | | | | |
| --- | --- | --- | --- | --- | --- |
| XtremeWin offers | Offer description | Wager requirement | Min qualify odds | Offer expiry | Min deposit |
| XtremeWin Welcome Offer | Deposit £10 Get £30 | No wagering | 1.80 | 30 days | £10 |
| XtremeWin Welcome Offer | Deposit £10 Get £20 | No wagering | 1.80 | 30 days | £10 |
| XtremeWin Easy123 | Deposit £10 Get £20 + 30 Free Spins | x35 on free spins winnings | 1.80 | 30 days | £10 |
| XtremeWin New Bonus | Deposit £10 Get £30 | No wagering | 1.80 | 30 days | £10 |
| XtremeWin 10 Free Spins | Deposit £10 Get 10 Free Spins | x35 | N/A | 30 days | £10 |
| XtremeWin 20 Free Spins | Deposit £10 Get 20 Free Spins | x35 | N/A | 30 days | £10 |
| XtremeWin 30 Free Spins | Deposit £10 Get 30 Free Spins | x35 | N/A | 30 days | £10 |
| XtremeWin 100% up to £200 | 100% Casino Deposit Bonus up to £200 | x35 | N/A | 30 days | £10 |
As there are so many bonuses on offer, we can't really detail the full terms and conditions of all of them. We therefore implore you to check the T&Cs of the particular welcome bonus that you choose to take.
XtremeWin Review: Top features, Markets & Odds
Now that our XtremeWin review has given you all the information about all the welcome bonuses available at this site, it's time to dig a little deeper and look out what this sports betting site can truly offer you. If you want to learn everything there is to know about XtremeWin, then keep reading our exclusive, detailed XtremeWin review.
What Sports Can I Bet on at XtremeWin?
The easy answer to this question is 'all of them', but that's not 100 percent true, so we are going to say 'most of them'.
The key sports available at XtremeWin are football (of course), tennis, volleyball, table tennis, badminton and baseball, which is quite the eclectic mix! In truth, most sports are available to be wagered upon at the site, including all the popular UK sports such as snooker, darts and both rugby codes. Even weird and wonderful sports such as kabbadi can be bet on at XtremeWin.
If you keep going through the menus at the XtremeWin sports betting site you'll eventually get to competitive video game betting. All the usual eSuspects are here: Counter-Strike: GO, Dota 2, League of Legends, Overwatch, Rainbow Six, Rocket League and StarCraft 2.
If you've been paying attention when reading this XtremeWin review you'll notice a couple of notable names missing from our list of sports – horse racing and greyhounds. The reason why they are missing from our list is quite simple – they aren't available to be wagered upon at the XtremeWin sportsbook.
XtremeWin Odds
There's no such thing as 'best odds guaranteed' at the XtremeWin sportsbook, but as there's no horse racing available (and most sites only offer 'best odds guaranteed' on horse racing) that's understandable. We compared the odds at XtremeWin against those at other leading sites, and found them very comparable.
As an example we checked the odds at XtremeWin for that weekend's big EPL clash: Manchester United v Newcastle United. The odds given were 1.95 for a Red Devils win, and 3.60 for a Magpies win. The best odds we could find elsewhere were 2.03 for Manchester United, and 3.80 for Newcastle, so only a neglible difference.
XtremeWin Limits
The minimum deposit limit at XtremeWin is only £5, but remember that in order to receive any welcome bonuses you have applied for the minmum deposit is always set at £10. There are no fees.
The minimum accepted bet is £0.10. The maximum bet, as well as the maximum you can win differs by sport and you can check out this information in the site's terms and conditions. For example with football the maximum you can win in a single day is £100,000 for most leagues but only £25,000 for other leagues. The upper limit for most sports is also £25,000.
In-Play Betting
There are a good number of in-play markets at the XtremeWin sports betting site, and in-play betting has its own section at the main sports betting site. Here you will see a list of all football games that are currently taking place, with football given priority. Basketball, tennis and volleyball are all highly popular markets when it comes to live betting at XtremeWim.
If you click on any event you will see the live markets that are available, plus all the wagers that you can currently place. The odds are updated every 20 seconds or so, so if you want to place a live bet get in quick before the odds change to a value that's less beneficial.
Live Streaming
No live streaming is available at the XtremeWin sports betting site, and that goes for all sports, events and markets. The site does offer 'Match Tracker' software which is supposed to present a graphical representation of the state of play, we we could not get that to work, and we tried on multiple browsers. We think this was because XtremeWin have set their security protocols up incorrectly, so hopefully that's something that can be easily fixed, and soon.
Other Features
There are no real 'other features' available at XtremeBet, which is a bit of a disappointment. There is not even a Bet Builder.
The only 'other' option we could find was a section for virtual sports, which are video versions (not eSports) of sporting events that you can place bets on. The three software providers available in the eSports section are BetConstruct, Leap Gaming and Betradar, and a full list of the games on offer can be found here:
Virtual Tennis, Virtual Football, Penalty Kicks, Virtual Football League, Drag Racing, Virtual Cycling, Virtual Horse Racing, Virtual Greyhounds (BetConstruct).
Virtual Racing, Virtual Football, Virtual Tennis (Leap Gaming).
Bundesliga, EURO 2020, Champions Cup, World Cup, Nations Cup, Asian Cup (all football), basketball, tennis, MLB (baseball), horses, dogs (Bet Rader).
There are plenty of events to virtually bet on, so you'll never be short of a bet if you can't wait for your next real event.
Customer Service
Live chat support is available, but the site does not indicate what times live chat support can be used. We used the live chat and we were put through to a support representative immediately … although we think our initial responder was a bot. It only then took a further minute for a real person to respond, and two minutes for our query to be answered. The answer we got was accurate, and had more detail than was actually asked for, which is good news.
The other way of contacting this sports betting site is by email at support@xtremewin.co.uk.
XtremeWin review – How to Get Started And Claim Your XtremeWin Free Bet
You should not have too much trouble opening a sports betting account at XtremeWin, but just in case you've never opened a sports betting account before we are going to walk you through the process. The first step is to click the button we have thoughtfully provided below.
Step 1: Visit XtremeWin
Once you have clicked the magic button, the screen below is what will greet you.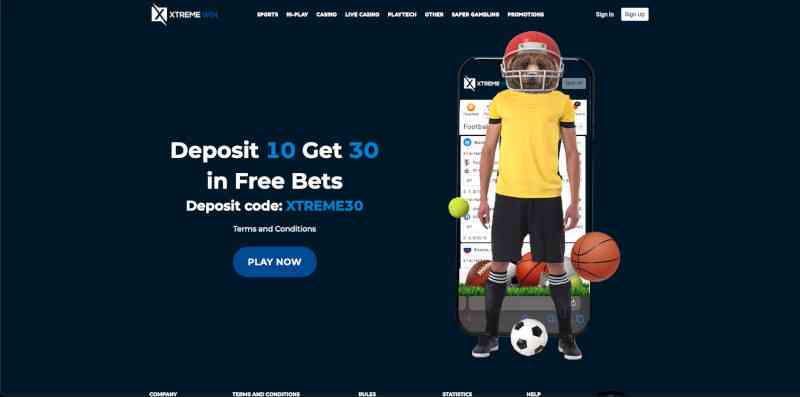 The button 'Sign up' is the next button you will need to be pressing.
Step 2: Sign Up
As you will have probably guessed, there's quite a bit of form filling involved when you open an account at XtremeWin, and the screenshot below displays the first form that you will encounter.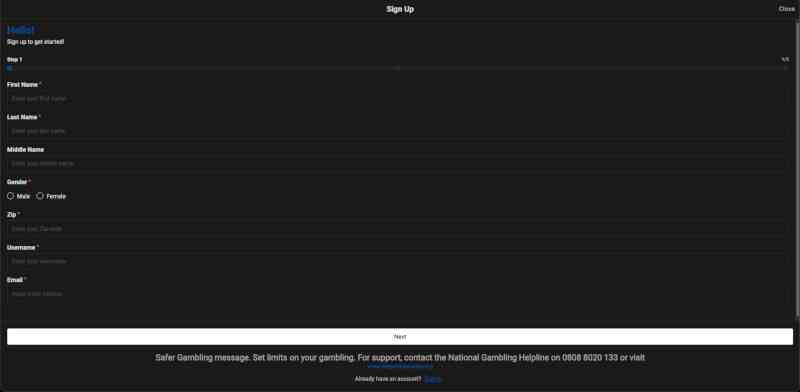 Just fill in all the required information, accurately. Once you have completed all three pages, then your XtremeWin account has been created, and you are free to start betting at the site.
Step 3: Deposit Funds
Now for a bit of a bombshell … XtremeWin ONLY seems to accept eWallet payments! However, if you use the 'SafeCharge' option you'll be able to use your debit card. If you want to make an eDeposit at the XtremeWin site, then you'll need an ecoPayz, Skrill, Neteller, MuchBetter or Trustly account.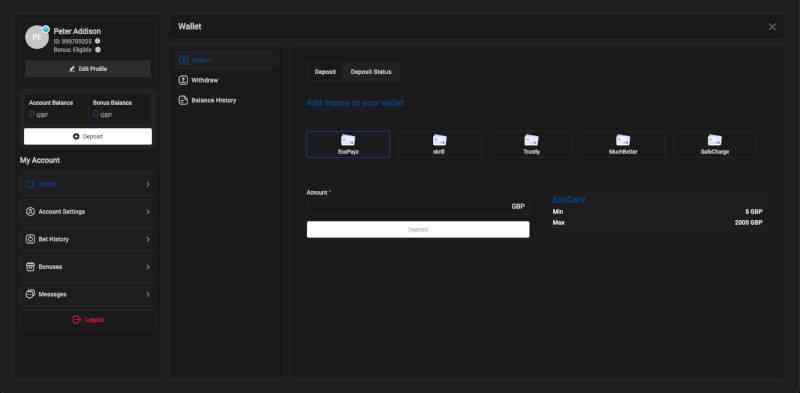 Don't worry about your bonus code just yet. Just make your deposit (of at least £10) and make sure it has cleared. Then, go to the bonus section at the cashier and enter your chosen bonus code (we recommened 'XTREME30') in the box. All being well, you should then be awarded your bonus money. Contact support if you don't get it.
Step 4: Place Your First Bet
You can use your deposit at XtremeBet or your bonus cash to place your first bet (minimum odds of 1.80) at the site. Just go through all the sports and markets until you find one that interests you. Click on the odds of the outcome that you want to bet on to transfer it to your betting slip. Set you stake and confirm your wager – your bet is now set!
XtremeWin review – Betting App
There are no betting apps available at XtremeWin, and that goes for both Android and Apple users. There's no need to be disappointed though if you prefer to place bets using a mobile device, as the site functions perfectly well on any mobile device.
To get upwardly mobile with XtremeWin just pop open a browser and navigate your way to the site just as you would on your deskop PC or laptop. The clever software will recognise that you are viewing the site on a mobile site and reconfigure itself accordingly. The XtremeWin site does look very good on mobile, and it very easy to use. You'll soon be placing your XtremeWinning bets on your phone or tablet with ease.
XtremeWin Bonus Code
XtremeWin is Xtremely hot on bonus codes. There's an XtremeWin promo code for every XtremeWin new customer offer, and because we are so good to you, we have listed all the XtremeWin sign up bonus codes below:
XTREME30 – deposit £10 get £30 in free bets
XWIN200 – 100% bonus up to £200
XTREME20 – deposit £10 get £20 in free bets
NEWBONUS – deposit £10 get £30 in free bets
EASY123 – deposit £10 get £20 in free bets + 30 free spins
XWINMS5 – get five free spins
XWINMS10 – get ten free spins
XWINMS20 – get twenty free spins
XWIN10MS30 – get 10 free spins + 100% bonus up to0 £500 + 30 free spins
We don't have time to list all the details of these XtremeWin promo code offers, but as with any XtremeWin new customer offer or XtremeWin free bet check the T&Cs. You can check out other bonus code offers available f0r the best sports betting sites below.
Betting Promo Code & Free Bet Codes
All
£30 Free Bet
New!
Paypal
£5 Deposit
Derby betting
Each Way Bet
Enhanced Odds
Free Spins
Live Streaming
patent bet
Placepot bet
Trixie
Yankee bet
Cash Out
£25 Free Bet
£50 Free Bet
New Free Bets
£10 Free Bet
£20 Free Bet
£40 Free Bet
More Filters
XtremeWin Casino
You've probably noticed the mention of 'free spins' in all the XtremeWin promo code offers above, so you've maybe deduced there's a strong chance that XtremeWin has a casino attached. Well, if so give yourself a pat on the back as you are one hundred percent correct!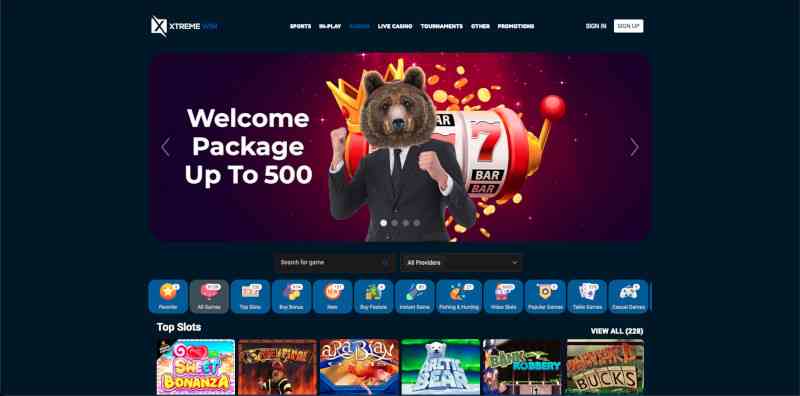 The XtremeWin casino is massive – over 9,000 (yes, 9,000!) games including nearly 7,000 slots! That's a lot of slots. It's an Xtreme number and really does put the XtremeWin casino towards the top of the slots. Providers listed here include Microgaming, PragmaticPlay, Quickspin, Habanero and NoLimit City. It's an extensive list, but we noticed but NetEnt and Play'n GO are missing from it, which is a shame.
There's over 1,000 table games too, with fantastic coverage for roulette and blackjack, including multiple tables at the XtremeWin live casino. The overall gaming list available at the XtremeWin casino can be filtered by provider, and there's a handy search function too. Excellent stuff!
XtremeWin review – Payment Methods
Now here's something about XtremeWin that we're Xtremely unenthusiastic about – the site does not seem to accept debit cards! This must be a real hinderance to them and we're puzzled as to why this is not the case. The only payment options seem to be eWallets, and we've listed them in the table below.
| | | | | |
| --- | --- | --- | --- | --- |
| Banking Method | Fees | Min Deposit | Min Withdraw | Withdraw times |
| ecoPayz | None | £5 | £10 | 2-3 days |
| Skrill | None | £5 | £10 | 2-3 days |
| Trustly | None | £5 | £10 | 2-3 days |
| MuchBetter | None | £10 | £10 | 2-3 days |
| SafeCharge | None | £10 | £10 | 2-3 days |
| Neteller | None | £5 | £10 | 2-3 days |
So, to make a deposit (or withdrawal) here you need an account at one of these eWallets as no other payment methods are available. You may have noticed 'SafeCharge' and wondered what that is. Well, it is a way of paying via your debit card! XtremeWin should make that a lot clearer!
XtremeWin review – Pros & Cons
If you're the kind of person who likes to flick through reviews to get a sense of what the site is all about, then this section is for you! We've gone through our XtremeWin review and picked out what we like best about this site, and what gets our goat. You can find our hits and misses listed below, if you can't be bothered to read our XtremeWin review in full!
What We Like:
XtremeWin Bonus Codes – There are no less than nine separate XtremeWin new customer bonuses available, which is an excellent array of choices. This means you can select a bonus that's suitable for you – sports, casino or a little bit of both.
XtremeWin App – Okay, so it's not an app as such but the mobile version of XtremeWin is very good indeed. It's a very nice design and Xtremely easy to use!
Xtreme Win – Just wow! An online casino with over 9,000 games? If you think that's insufficient, then it must be Xtremely hard to please you!
Responsible Gambling – The care that XtremeWin takes of its customers cannot be knocked, with an extensive section on responsible gambling and reminders and options about deposits and playing time a definite feature.
What We Don't Like:
No debit cards? – Oddly, even though the FAQs section at XtremeWin says that they accept Visa and MasterCard, the cashier section has no options for either. You have to select 'SafeCharge' and then put in your card details. This is not made clear at all at the site and we think it could be made to be a lot clearer.
No XtremeWin App – Okay, so we've already listed 'XtremeWin App' among the pros, but that's web-based version. It would be nice if there was a downloadable XtremeWin app too, and we're hoping that an app will be available soon.
Site design – Some aspects of the site don't seem to function correctly. For example, we were looking at bonus code details and ended up on the French version of the site! A code review might be in order!
Final thoughts on XtremeWin
We were Xtremely impressed with many aspects of the XtremeWin site. The software is easy to use on both desktop and mobile, and there are plenty of sports betting options for all markets. The online casino is really impressive too, with over 9,000 games in total including around 7,000 slots. There really is plenty to admire about this sports betting and casino site.
Not all is rosey though – we didn't like the 'mystery' of making Visa or MasterCard payments for a start. Some aspects of the site design could do with a makeover too.
Overall, XtremeWin is a winner, though. Why not complete your XtremeWin sign up today and see if you can become an XtremeWinner at this top class sports betting site?
FAQs
Is XtremeWin safe and secure?
Yes, we are happy to state that XtremeWin is a safe and secure online gambling site, with proper licensing from the United Kingdom Gambling Commission.
What are the best features available at XtremeWin?
The site is very easy to use, both on desktop and mobile. Also, the online casino available at XtremeWin has over 9,000 games, including 7,000 slots.
What are all the payment methods are available at XtremeWin?
Our XtremeWin review writer thought that debit cards were not accepted, but after using live chat found that they were via the 'SafeCharge' option. Ewallets such EcoPayz, Skrill and Neteller are available too.
Is there a XtremeWin welcome offer for new customers?
There are plenty of XtremeWin new customer bonuses, but the one we recommend the most is the 'deposit £10, get £20' in free bets using the XtremeWin promo code XTREME30.
Is there a sports betting XtremeWin app available?
No you do not. All these options are available via the XtremeWin site using just the one account. Do not open more than one account at XtremeWin
Where will I find the leading XtremeWin promo code details and XtremeWin new customer offers?
If you keep an eye on our site, then any details about new XtremeWin sign up bonus deals and XtremeWin new customer offers can be found if they are released.