Handicap betting is a market that the bookmakers offer on popular sports where they give the favourites a pretend deficit to overcome and the outsiders an imagined advantage set by traders. You then wager around teams or individuals winning, or avoiding defeat by the margin or threshold in question. If you find yourself wondering what is handicap betting, then it's a device to increase the value of wagers in lopsided games.
Long favoured by regular punters in the UK, handicap betting is worth explaining in more detail. Our team of sports betting industry experts outline exactly what it is, including Asian handicap betting and other variants, discuss how it all works and when best to use it. We can look at where markets on handicap betting are best utilised. 
What is Handicap Betting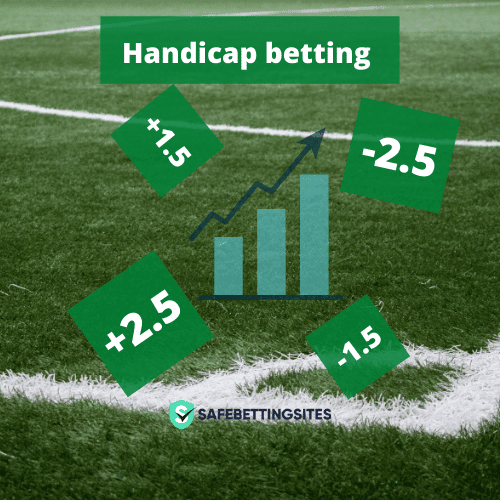 Handicap betting is a form of wagering that involves one team or player being given a deficit, a handicap that they must overcome during the match. Handicaps are used by bookies in order to effectively level the playing field when two mismatched opponents go head to head. In the event of two unevenly matched teams going up against each other, punters may find that the odds on offer are not too appealing, which is where handicap betting markets can be so useful.
For example, in the event of Premier League champions Liverpool having been drawn at home against Hull City in the FA Cup, a handicap of a certain amount of goals will be given, based on the fact that the Reds would be the overwhelming favourites for victory. Handicap betting markets are now available surrounding almost every sporting encounter, however, not just in cases where there is a clear favourite and underdog.
When to use Handicap Betting
This form of wager is used in order to gain increased value when betting on favourites generally speaking. In theory, the greater the handicap given, the greater the potential earnings will be. However, while this strategy is used by many punters today, there are a number of factors to consider before getting involved for yourself. Punters must anticipate how sporting encounters may play out in order to be successful. For example, a football team may take the foot off the pedal after going two goals clear, making a low Asian handicap bet an appealing option.
Meanwhile, it is also advised to expect the underdog to perform better than expected. Staking on them with a plus handicap allows for a profit even if they go on to lose or draw the encounter. Meanwhile, it is also now possible to use handicap betting when it comes to ante-post outright markets, such as wagering on the Premier League or Six Nations. An example of this is betting on Liverpool to finish top of the standings with a -10 handicap.
Tips on Optimising Your Handicap Betting
Below are some of our top tips when it comes to handicap betting, designed to give punters the best possible chance of beating the bookies:

Do Your Homework – Be sure to check out recent results between the two teams or players in question. Head to head records are a good indicator as to what may happen this time around too.
Form – Has the football team in which you are looking to place a handicap bet on been in good form of late? This is another question which should be asked before staking on a handicap market.
Player Availability – With handicap markets generally surrounding team sports, be sure to check out any potential injuries or suspensions that may effect the starting line-up. 
Asian Handicap – Check out the variety of Asian handicap markets offered by your selected bookie. Take advantage of them where appropriate in order to mitigate potential losses and claim half-wins. 
Bet Type – If you are convinced that the underdog will actually do better than expected, take advantage of plus handicap markets, rather than draw no bet or double chance options. 
Odds Comparison – Prices online can vary greatly, especially when it comes to handicap betting. So, take advantage of odds comparison platforms to ensure that you are utilising the best odds around. Also, remember that you can sign up on more than one betting site. 
Know Your Handicap Betting Types
Today, there are a variety of different options available to punters when it comes to handicap betting, with the following being among the most popular markets:
Asian Handicap Explained
What is Asian handicap? As the most popular form of handicap betting, Asian can appear a little complicated at first. While general handicap betting generally concerns whole numbers, +1 or -2 for example, Asian handicap can involve other decimals, such as -0.5 or +1.5. In sports where a draw is possible, including football, hockey and rugby, Asian handicap markets can be especially useful.
Split/European Handicap Explained
Split handicap betting effectively means sharing your stake between two outcomes. For example, should Chelsea be +2.5, +3.0 for their upcoming Premier League match against Arsenal. Half the stake will go towards +2.5 and the other half to +3.0. So, if Chelsea lose by three goals, the bet will be considered a push, while the +2.5 bet will lose.
Handicap League Explained
Here, punters are betting on a team's performance throughout the entire season. Bets must be made before the opening fixture takes place, with successful bets not paid out until the season's end. Betting customers are staking on which team will earn the highest number of points. For example with options such as Manchester United +16 and Aston Villa +50 being available.
Below are some of the top betting sites for Asian handicap betting, including what they offer in terms of a welcome offer:
What are the Best Markets for Handicap Betting
While football is the first sport most punters associate with handicap betting, there are several others. For example, there are a number of other disciplines which now cater to this form of wagering. Below are some of the most popular handicap betting sports markets:
Tennis – A host of tennis handicap bets are now available. On top of betting on the outright match winner, both game and set handicaps are available. For example, betting on Novak Djokovic to win his upcoming match at Wimbledon by +1.5 sets. 
Golf – Both match and round handicap markets are on offer surrounding golf. Golfers are individually given a handicap based on their likelihood of winning the event. 
Basketball – Similarly to football, punters can bet on basketball games with a handicap too. These bets tend to revolve around the margin of victory.  You could potentially bet on the Boston Celtics to beat the Toronto Raptors at +6.5 points. 
Rugby – Whether it be Union or League, handicap markets are also available when it comes to rugby. Here, teams are again given a handicap based on their likelihood of victory in an upcoming match. For example, Leinster could be available to back at -8 to beat rivals Munster.
How to Evaluate Handicap Betting Sites
Do not take selecting your bookies lightly, there are a number of factors to take into consideration. So, let's take a closer look at what separates the best handicap betting sites from the rest.
Our Criteria Tips
Safety – Security and reliability are the most important things. Make sure the bookie is licensed and regulated by the Gambling Commission or equivalent. 
Markets – Handicap markets, including Asian handicaps, should be available surrounding a host of sports. Including football, tennis, basketball, and American Football, among others. 
Odds – Betting sites should ensure that they offer attractive prices in this area. Otherwise, customers will stick to simpler markets. 
Live – Wagers on handicap should still be available after kick-off, the opening serve, or the tip-off. Live betting is now hugely popular, with the leading bookies recognising this. 
Mobile – You should also be able to easily locate the handicap markets using your mobile device. Whether it be through dedicated betting apps or their mobile site, this is a must for any respected bookie today. 
Bonuses – While this does not concern handicap betting specifically. It is always nice to be in a position to claim bonuses and free bets. 
Usability – There is no point in offering handicap markets if they are near impossible to access. The top handicap betting sites ensure that their interface is easy to use, while also being quick.
On Where to Bet on Handicaps in the UK
You may still have many more questions, which is fine – no one is a master in one fell swoop, or one guide read. As a start, familiarize yourself with what bookmakers are available in the UK and what they offer. If you go to the first page of Safebettingsites.com you can find many useful links and reviews that will be a good start at finding the best betting sites and their offering.
Bottom Line: Handicap Betting  Summarised
As with all bet types: BTTS, Draw No Bet (or anything else), you would be well served by knowing the ins and outs of handicap betting before placing a real-money wager at a sports betting site, and, it is our hope that having read through this article, you should now have an established base of how it works and how it can be an effective tool for getting more value out of your sports wagers.
To summarise, just remember that if you are searching for greater value when there is a clear favourite and a clear underdog, the handicap markets are where the best action is. 
FAQ's
What is handicap betting?
Handicap betting is a method used by bookies in order to even the playing field between opponents ahead of events. Bookies give one team or player a handicap, which they must then overcome for the bet to be successful.
What is Asian handicap betting?
Asian handicap markets effectively make draws null and void, with only a win and loss being possible as a result. Asian handicap markets offer options such as +0.5, -2.5 and +3.0.
Which is the best betting site for handicap betting?
All of the betting sites listed on this page perform well when it comes to handicap betting. Therefore all are likely to appeal to punters, with the best for you being one which best suits your strategy and demands. As with all betting sites at safebettingsites.com, all of our recommended bookies are 100% safe, legal and trustworthy.
Is handicap betting available on all sports?
Handicap markets are appearing surrounding an increasing number of sports. Football, American football, rugby, basketball and even Esports are now available, however this will differ from bookie to bookie.
Can I use bonus funds on handicap betting markets?
This will depend on the terms and conditions set by the bookie itself. However, in most cases, punters receiving a bonus or free bet will be able to use such funds on handicap markets. Be sure to look into this further before staking, as you may lose funds if you are not careful.
Can I back a draw with European handicap markets?
Yes. Unlike Asian handicap markets, punters here can bet on three possible outcomes, win, lose or draw.
Was this article helpful?