Over the last decade, football betting online has hit new highs. Both new and established football betting sites such as Bet365, William Hill, Betfred and Paddy Power now offer football fans the chance to bet on any aspect of the global game that it is possible to wager upon.
This is where SafeBettingSites becomes your football betting wingman. Want to know the best and safest sites to place a punt on Manchester City doing the UCL/EPL double, or Harry Kane netting a hat-trick for Three Lions FC against Germany? We'll tell you where you should be loading pounds into your betting account via Visa or PayPal and safely placing your bets.
As a bonus, we'll take a look at some new football betting sites too.
All
Cash Out
New!
Paypal
EURO 2020 Specials
£5 Deposit
Enhanced Odds
More Filter
Best 10 Football Betting Sites in the UK: A Closer Look
If you're in the UK, then when it comes to online bookmakers there is one thing you can be sure of – if a site is an online bookmakers, then it's an online football betting UK sportsbook too. Any sportsbook that fails to take football bets is one that is doomed to failure!
Since the advent of online bookies football has overtaken horse racing as the number one sports betting pastime in the UK. There are countless football betting websites at which you can bet on the glorious game, and below you'll find ten of the best in 2022 for all your football betting UK needs.
Football Betting Online: How We Rank the Best Football Betting Websites UK
There are numerous things to consider when aiming to rank the best bookies for football available to punters. Below is a breakdown of our primary criteria.
Key Features of the Best Online Football Betting Sites
Here, at a glance, are the most important features of the best football betting sites and which of the entries in our top 15 list have them.
The Best New Football Betting Sites
Many of the sites featured here have been around for a while, but new football betting sites that appear should not be dismissed out of hand. Many offer something a little different to their experienced competitors, and some come with fresh ideas that are really worth investigating.
Here is what feel are five of the new best online bookmakers for football available today in the UK.
Bet £10 Get £30 Free Bet
Good number of football in-play markets
Generous welcome offer
Football-specific ongoing promotions
9.5
Claim Bonus
New customers only. Minimum deposit and bet of £10, at odds of 1/5 per multi selection. 10x wagering the winnings. Wagering occurs from rreal balance first. Wagering requirement is calculated on bonus bets only, wagering starts from real funds. Max conversion: £20. Valid for 7 days from issue. Excluded Skrill deposits. Full terms apply.
Deposit £10 Get £30 in Free Bets
Newly launched UK bookmaker
Best possible price promise
Tips & social features: follow the biggest winners
9.7
Copy
Claim Bonus
New UK, IE & Malta users only. Min. £10/€10 first deposit only using Debit Card or Trustly. Free bets expire in 90 days. T&Cs apply.
The Best Football Betting Tips & Strategy
Get the most out of your football betting is not easy. Using the leading betting websites is one good tip, as you're guaranteed the best football betting odds and so will get the most money back for your football betting predictions. If you want to make money betting on football though, successful football betting systems are the way forwards.
Here are five tops tips to help you get the best football betting sites UK experience:
Tip 1: Select the Correct Football Betting Offer
While most betting offers are aimed at newbs, the better football betting sites such as William Hill keep established punters happy too with ongoing promos each and every week. Free bets, no-risk bets, enhanced odds, deposit bonuses, acca bonuses, boosted deals – there are plenty of deals any cunning football bettor can use to enhance their profits as long as they keep an eye on the numerous deals championed weekly by SafeBettingSites.
Tip 2: Use Price Boosts and Enhanced Odds
If you want to limit your betting profits then what you need to do is to stick to a single sports betting site and place your bets there. All the leading football betting platforms are in direct competition with one another for your custom, meaning they will make tempting offers to encourage you to bet at their site. Platforms such as PaddyPower often offer price boosts that will max out the chances that you'll make money betting on football, so make sure you shop around for the best prices and odds before placing any bet.
Tip 3: Try Lay Betting
Say Liverpool are playing West Ham and you fancy Jurgen Klopp's boys to smash the 'ammers, no problem. The issue here – the odds of this happening will be tight. Instead of backing Liverpool to win, you could back West Ham not to win and you might find the price of this result is potentially more profitable than Liverpool winning. Lay betting (as this is called) is generally available at betting exchanges, but you can create your own lay bets at fixed odds football betting sites such as STS by opting for double chance as opposed to a straight win. Learn all about lay betting in our comprehensive guide.
Tip 4: Goliath Bets and Football Betting Accumulator
Goliath bets or system bets cover all possibilities from a range of single betting selections. A 'Heinz' for example has 57 bets from six selections – one acca, six 5-folds, 15 4-folds, 20 trebles and 15 doubles. The more bets that are winners, the more you will win and you can hedge your goliath bet further by covering the six singles too.
Accumulators (or accas) are more risky in that all bets in your acca are linked – the winnings from Bet A become the stake for Bet B, and so on. All bets in your acca must be winners else your overall bet loses. You can enhance your acca with acca boosts from sites like William Hill where your winning are boosted – up to £20 for a minimum of three selections. You can also take acca insurance where you acca stake is returned as free bet cash should your acca fail by one selection.
Tip 5: Use the Kelly Criterion
Originating in the world of financial spread betting, the Kelly Criterion when applied to football betting maximises your profits while maintaining your bankroll. You are much more like to make money betting on football by using such a football betting system as opposed to simple flat betting, or varying your stakes based on the price.
The easiest way of explaining the Kelly Criterion is to work through an example:
You fancy Everton to beat Newcastle in the EPL, for which Spreadex is giving you odds of 1.74 (you must use decimal, not fractional odds). A football betting form guide suggests that Everton have a 61% chance of winning. To calculate the value of your bet you multiple the probability (0.61) by the odds (1.74) and subtract 1 (0.61 * 1.74 = 1.0614 – 1 = 0.0614. If the result is greater than zero, you move onto the next step.
In step two you take the result from step one and divide it by the odds minus 1. In our example, this is 0.0614 / (1.74-1), which equals 0.083. This is the percentage of your daily bankroll you should risk. If your daily bankroll is £100, then £100 x 0.083 = £8.30, which is your stake.
If your bet is successful, then your winnings would be £8.30 x 1.74 = £14.44.
Tip 6: Follow Football Betting Tipsters
There are several sites where you can get football betting tips from successful betting tipsters who have proven track records of football betting successful. Some sites are free, and you can even enter football tipping contests there without risking your own cash. The best football tipsters charge money though, although most offer their first few tips free – if you want to continue with them after a handful of successful tips you will need to pay them.
Until you become a successful betting tipster yourself, if you want to maximise you chances to make money betting on football, then following those whom have done so is an excellent starting point.
Value Football Betting
The best way to make money with football betting is via value football betting. This is where you bet on the value of the bet as opposed to the price. Sports betting companies do not always get it right, and assessing bets that have added value is a skill that successful footballer bettors develop.
For an example, at the tale end of the 2020-21 season Luton in mid-table were playing relegation-threatened Rotherham in the Championship. Many bookies offered longer than usual odds on Luton who would normally be expected to win easily. The bookies criteria – that Rotherham, fearful of the dreaded drop, would up their game against a Luton side with nothing to play for. Thousands of football bettors took a value bet on a Luton double chance at a decent prices, and were 'quids' in when the game finished 0-0.
Finding value bets takes time and effort, but the more you know about football and football betting, the easier they will become to spot.
Football Handicap Betting
If you enjoy betting on the actual score of football matches (which is extremely hard to get right) you are probably going be more succesful with handicap betting. Handicap betting is a way of prediciting the margin of victory between two teams, but usually generates better odds and therefore potentially better winnings.
For example, say you think Liverpool are going to beat Arsenal 2-0. If you bet on this and the game finishes 3-1 then you correctly predicted the margin of victory but not the result, so your bet is a loser. The handicap (in this example offered by PaddyPower) you could have chosen would have been:
Liverpool (-1.5) vs. Arsenal (1.5).
This handicap means that if you back Liverpool you need to take 1.5 goals off of their actual score, and if you back Arsenal you can add 1.5 goals to the final score. As you were backing Liverpool, the final handicap score would be 1.5-1 if the game finished 3-1, and 0.5-0 if the game finished 2-0 meaning your bet would have won either way.
You can make money with football betting with a greater chance of success if you choose handicap betting over correct score or winning margin betting, and indeed even 1×2 betting itself.
Live Football Betting
The internet has made live football betting a possibility. Live betting is a 'catch-all' term for betting on any aspect of a football game that has already started. You can bet on the eventual winning team of course and any typical pre-game market once the match has kicked off, but dozens of new football markets open up with live football betting options.
Potential live football betting markets offered by sportsbooks such as STS include the scorer (team or individual) of the next goal, whether the next card shown will be red or yellow (or no further cards shown), the next substitution (team making it, player coming off, player coming on), whether a specific player will be booked/dismissed/score/create an assist, and so on. Basically, if it can happen during a game and can be measured, then you can probably bet on it.
Genuine football experts (and in particular, follows of a particular team) usually end up well in profit because of live football betting.
Virtual Football Betting
Even though there's a pro football game taking place every minute of every day somewhere on the planet, that's still not enough for some people. Others enjoy the thrill of betting on football but not the length of time a football match takes. For both these types of people, there's virtual football.
Virtual football is software-based soccer where games only last 90 seconds or so (you only see the virtual video highlights, not the full game) and then there's only a 90 second wait until the next match. With most virtual games you can only bet on 1×2, but at some sites – such as William Hill – you can bet on the correct score, total goals scored, under/over 2.5 or 1.5 goals or BTTS yes/no.
Complex algorithms determine the result of the game based on form and team strength but shock results can happen too, just as with real football. Virtual Football betting is an excellent way of entertaining yourself while waiting for your bets to come in or if you want to practice predicting the outcome of games, but heaping large amount of money on virtual football is not a good idea. You're more likely to make money betting on football by betting on actual matches.
Spread Betting Football
Spread betting is a complicated aspect of football betting so if you are interested in spread betting football after reading this introduction please refer to our spread betting guide. We recommend you use Spreadex for football spread betting, and to read the football betting guide available at this excellent sportsbook.
Spread betting rewards your football knowledge with profit, with the chance you will lose more than your stake if your prediction is inaccurate. Your losses though are protected by a feature called 'stop-loss' which limits the amount of money you lose should you otherwise be looking at substantial losses. This limits the amount of money you can win, too.
For an example, let's take a look at England's opening game in the 2020 Euros against Croatia at Spreadex. The sell price offered is 0.75, and the buy price is 0.95. These prices are the margin of an England win. You think England will win quite handsomely so you buy at 0.95 for a £10 stake.
Let's say that England won 3-0. The margin is therefore three, so your winnings are (3-0.95) * 10 = £21.50.
However, let's say that England have a typical nightmare and lose 2-0. The margin is minus two, so your 'winnings' are (-2-0.95) * 10 = -£29.50 or a £29.50 loss.
Let's keep going and say England have an utter collapse with Jordan Pickford and Harry Maguire being send off in the first five minutes and Declan Rice at half time. They end up losing 6-0. Your 'winnings' are (-6-0.95) *10 = £69.50 for a £69.50. This is why care should be taken with spread betting on football, and stop-losses always used.
Spread betting extends far beyond margin of victory and can include total goals scored, booking 'points' (10pts for a yellow, 25pts for a red) and even the totals of the shirt numbers of the competing players. If you really know your football, then spread betting offers perhaps your best chance of turning that knowledge into cash.
Popular Football Betting Competitions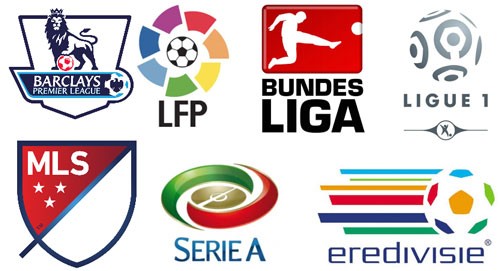 In today's ever accessible world of online betting, punters can bet on leagues from all around the globe. From a UK perspective, below you will find listed the most popular sports leagues and competitions to bet on.
England Football Betting:
EPL football betting on the Premier League is by far the most popular, followed by football league betting on the EFL Championship, League One and League Two. There are the leading cup competitions too, the FA Cup, the Football League (Caraba0) Cup, and the EFL (Papa John's) Trophy. The highest tiers of non-league football in England are the National League, the National League North and the National League South.
EPL Football Betting:
EPL Odds & Teams for 2021/22 @ William Hill: Manchester City 4/6, Liverpool 11/2, Chelseas 6/1, Manchester U 13/2, Leicester C 33/1, Tottenham H 40/1, Arsenal 66/1, Leeds U 100/1, Everton 100/1, West Ham U 125/1, Aston Villa 200/1, Wolves 250/1, Southampton 300/1, Brighton 400/1, Newcastle U 500/1, Burnley 750/1, Crystal Palace 750/1, Brentford 1,000/1, Norwich 1,000/1, Watford 1,000/1.
Football League Betting:
EFL Odds for 2021/22 at Bet365 (six leading prices only):
Championship: Fulham 11/2, West Bromwich A 15/2, Sheffield U 8/1, Bournemouth 10/1, Swansea C 14/1, Cardiff C, Nottingham Forest & Stoke C all 16/1.
League One: Sunderland 13/2, Sheffield W 7/1, Ipswich T & Portsmouth both 11/1, Charlton A 12/1, Rotherham U and Oxford U both 14/1.
League Two: Salford C 13/2, Bristol R 11/1, Bradford C, Exeter C, Forest Green R, Leyton Orient & Mansfield T all 14/1.
Scottish Football Betting:
The majority of betting on Scottish football is done via the Premiership. The other leagues in Scotland are the Championship, League One and League Two. The major non-league competitions are the Highland League and the Lowland League, and Scotland has an FA Cup and League Cup too.
European Football Betting:
France: Ligue 1, Ligue 2. Cups: Coupe de France, Coupe de la League (currently suspended). Germany: Bundesliga, 2. Bundesliga. Cups: DFB-Pokal. Spain: La Liga, La Liga Segunda Division. Cups: Copa del Rey. Italy: Leagues: Serie A, Serie B. Cups: Coppa Italia.
Outside of the top five European countries, leagues that are also popular among football bettors in the UK are Eredivisie in Holland, MLS in the USA, Jupiler League in Belgium, Primeira Liga in Portugal, Super Lig in Turkey, as well as the each of the top divisions in Denmark, Sweden and Norway.
International Club Tournaments
Since the 1950s and the decreasing expense of foreign travels, the leading clubs on each continent have been able to compete in international tournaments. These have become some of the biggest money-spinners in football, for both teams and football bettors. Below you'll find the leading international club tournaments for most continents.
Europe:
The UEFA Champions League (UCL), the UEFA Europa League, the UEFA Europa Conference League.
South America:
Copa Libertadores, Copa Sudamericana.
Africa:
CAF Champions League, CAF Confederation Cup.
Asia:
AFC Champions League, AFC Cup.
North & Central America:
CONCACAF Champions League, CONCACAF League.
Oceania:
OFC Champions League.
International Team Tournaments
All football-playing countries in the world have a national football team, and there are a range of international team tournaments that football bettors can both enjoy watching and placing wagers upon. The number in parenthesis is the frequency of each tournament.
Global:
FIFA World Cup (4 years).
Europe:
UEFA European Championship (4 years), UEFA Nations League (2 years).
South America:
Copa América (4 years).
Africa:
Africa Cup of Nations (2 years), African Nations Championship (2 years).
Asia:
AFC Asian Cup (4 years), AFC Solidarity Cup (4 years).
North & Central America:
CONCACAF Gold Cup (2 years), CONCACAF Nations League (4 years).
Oceania:
OFC Nations Cup (4 years).
How to Get the Best Football Betting Odds
Many sites claim they have the 'best odds guaranteed' when it comes to football betting and all types of sports betting, but what does this mean? It means that if – you can be bothered – if your winning bet had more competitive odds at a different site, you can contact your sports book and claiming the extra.
In truth football betting odds vary little across sites. Most sites use third party companies to calculate their odds, and as many sites use the same companies, that means the odds are identical across many sports books. Some sports books may 'tailor' their odds to be different, but variations are tiny.
Odds are carefully worked out the preserve what's known as the betting margin. This means that the sports book will always come out on top, no matter how much is bet. Let's say Porto are playing Chelsea in the UCL. Porto are 17/4 (5.25), the draw is 12/5 (3.4) and Chelsea 4/5 (1.8). The betting on football margin is calculated by dividing 100 by each given decimal odds and adding the result. In this case this adds up to 19 + 29.4 + 55.6 = 104, giving the bookies a 4 percent advantage. Most sites will maintain a betting margin of between 3 and 5 percent.
Of course, if everyone backs Chelsea and Chelsea win, then the bookies would lose a substantial amount, so bookmakers hope for a standard distribution across all outcomes and also hope that lots of people back the underdog.
The bookies are not always right (such as when they offered odds of 5,000/1 on Leicester City winning the 2015/16 EPL) but 99% of the time they are. You might getting better odds at a sports betting exchanges as such sites make money from commission, and not losing bets.
The Most Popular Football Betting Promotions
All online football betting sites are in a battle for each football bettor's custom, and the one step they all take is offering some manner of welcome offer for new customers. This acts as an incentive to get people to complete a sign up at the football betting site.
Here is a quick run-down of the most popular football betting promotions.
Welcome Bonus
The welcome offer bonus, as offered by STS for example, matches your first deposit with the same amount of bonus cash. For example, if you made your first deposit at STS for £30, then STS will hand you £30 in bonus cash too. There are always minimums and maximums for this kind of offer – at STS the min deposit is £10, and the max is £40.
Bonus cash is cash you cannot withdraw, but you can place wagers with it. You may have to meet wagering requirements too, and if a bet made with bonus cash wins, typically you only get your winnings and not the cash. Check that T&Cs apply with any offer to make sure you're aware of what you need to do, and how to max out your options.
Free Bets
Free sports bets are another common promo. 2kBet has an offer of a £30 free bet, which is awarded to you should be make a £10 min deposit, followed by a minimum £10 wager.
Free football bets can be – like the one at 2kBet – a single stake, or they may be split. There may also be rules about the minimum odds you can use your free bet cash on, so check T&Cs.
You'll find your free bet cannot be cashed out, and free bet stakes are not returned when your qualifying bet settles, whether you win or lose. Some sites offer a risk free bet – if your first bet loses then your stake is returned as bonus cash.
Cashback on Losses
This offer is one used by QuinnBet. No matter how much you wager on your first day at QuinnBet, the site will hand you back 50 percent of your losses up to a max of £25. All losses are return as free bets (see above).
As ever, this type of offer is covered by 'T&Cs apply', so make sure you go and check them out.
Double the Odds
Offered by Grosvenor Sport and others, your first qualifying bet at a site offering this deal wins double what you would have won if your first bet is a winning one.
It's not all good news though – all money paid in excess of what you would have won is paid as free bet cash (see above).
Don't forget to check out the best football betting offers available to the UK punters
Bet On Football: The Most Popular Football Betting Markets
Everybody knows the most basic football bet imaginable – you bet on the outcome of a game. It may take extra time or penalties, but eventually every game of football will have one of three outcomes – Team A will win, Team B will win, or the game will result in a draw. Despite the massive amount of betting options available via every single game, the majority of money is pumped on each game's '1×2' factor, where '1' is a home win, '2' is an away win and 'x' is the dreaded draw.
However, there is always a huge number of betting options available beyond the simple 'home/away/draw' factor of any match. If you really know your football, then you can use your glorious game grey matter to give yourself a substantial advantage when it comes to placing your football bets.
Here is our complete guide to some of the most popular sports betting options usually available for any football match that you are thinking of betting on.
1X2
We've already gone through this one – the most basic bet possible. Real Madrid are playing Barcelona at the Bernabeu. Your choices are '1' (Real Madrid as the home team to win), 'X' (a draw), or '2' (Barcelona as the away team to win).
You need to be careful with knockout (i.e. cup) matches. Some sports books will declare the result to be over after 90 minutes (which includes time added on by the referee for stoppages). If the game goes to extra time and even penalties, then as far as the sports book is concerned, these minutes never happened! If a game is tied at 1-1 at the end of full time then the result is a draw, even if the game goes on and a team wins it in extra time or via penalties.
Visit STS for 1×2 markets.
Both Teams to Score (BTTS Yes/No)

With BTTS 'yes' you are betting on neither side to keep a clean sheet by the end of full time. If either side fails to score, or if the game ends goalless, then your bet is a losing one. With BTTS 'no' you are betting on the complete opposite – that one team will keep a clean sheet or that the game will end 0-0.
BTTS 'yes' is good when two high-scoring teams with leaky defences are playing each other. BTTS 'no' is good when two low-scoring teams with tight defences are playing each other.
Don't fall foul of the '90 minutes' rule. If games that have the potential for extra time your bet will be deemed settled at the end of full time, no matter what happens in extra time if it is played.
Visit 2kBet for BTTS Yes/No markets.
Over/Under 2.5
Here you can bet on the total number of goals that both sides playing a match will score. The most common price offered is for under 2.5 goals (so 0, 1 or 2 goals in total) or over 2.5 goals (3 goals or more). It doesn't matter which teams scores the goals – Liverpool beating Everton 3-2 is five goals, and Leicester City beating Crystal Palace 5-0 is five goals.
You can get prices from the best football betting sites for most under/over totals, from over/under 0.5 goals to over/under 5.5 goals and beyond. Most football sports bettors tend to bet on over/under 2.5 goals as the average number of goals per game in football matches since the mid-1960s (when football became as much about defence as it was about attack) is around 2.5.
Again, take care with the '90 minute' rule for games with the potential to go to extra time. In such games, goals scored in extra time do not contribute to the over/under total. Penalties in a penalty shoot-out certainly never do!
Visit QuinnBet for Over/Under 2.5 markets.
Double Chance
Why have one chance, when you can have two? The double chance bet is a mystery to some, but it's a very simple bet. It's an extension of our old friend the '1×2' bet, except that you are combining two of the possible outcomes.
Say Chelsea are playing Arsenal. You can bet on Chelsea to win or draw, Arsenal to win or draw, or even Chelsea or Arsenal to win. What you are actually betting on is one of the three possible outcomes not happening (respectively, Chelsea losing, Arsenal losing or a draw).
You're tired of hearing us explaining this, but double chance bets are usually settled at the end of 90 minutes. What happens in extra time or penalties may not count.
VIsit Betfred for Double Chance markets.
Draw No Bet
If you come from America then you will know all about how they hate draws, or 'ties' as they call them. Baseball games will keep going until someone wins, and the MLB record is 26 innings as opposed to the usual 9 (and even then the game ended tied as it was too dark to play, this being 1920).
You can pretend you have the American disdain for the tie by using the 'draw no bet' or 'DNB' option. Your options are to bet on Team A to win, or Team B to win. You cannot bet on a draw. If the game you bet on does end in a draw, then you get back your stake.
Beware of the 'after 90 minutes' rule because yadda yadda yadda …
Visit NetBet for Draw No Bet markets.
First Goalscorer
A simple one this – you bet on the first goalscorer in a match. If your chosen player scores the first goal of the game (not just the first goal for his side) then your bet is a winning one. As usual, only goals scored during normal play count, if a game is goalless going in extra time, then all such bets lose.
One more oddity – own goals don't count, at all. If you bet on Harry Kane to score for Tottenham against West Ham and somehow he sticks one past his own 'keeper, then it doesn't count. However, if he then goes on to score the very next goal, your bet wins! Stranger things have happened – defender Chris Nicholl once scored all four goals in a 2-2 draw, two for his own side Aston Villa, and two for opponents Leicester City.
Visit BetVictor for First Goalscorer markets.
Anytime Goalscorer
Same as first goalscorer except that the player you back must score a goal at any time during the game in order for your bet to be a winner. Again, own goals do not count, neither do goals scored in extra time and definitely not during a penalty shoot-out.
One thing to note – since the introduction of VAR some online bookies will payout on 'anytime goalscorer' if your backed players scored a goal that is awarded by the match referee, but then subsequently ruled out by VAR.
Visit FansBet for Anytime Goalscorer markets.
Last Goalscorer
Just like the two bets above except that you are betting on the player who will score the final goal of the game. Own goals do not count, and neither do goals scored in any played periods of extra time, or penalties.
Visit Paddy Power for Last Goalscorer markets.
Correct Score
Usually considered one of the most difficult bets to get right, the correct score bet can pay real dividends if you have a real 'hunch' about a game. Go to the match tab on any football game and a range of correct scores is always available, and the prices attached to them. You'll note that the prices are usually generous, because it's such a difficult aspect of a game to get right.
If the score you think's going to happen isn't available, then contact the online bookies directly. Note that for knockout matches such as those in the UCL, the 'correct score' is typically the score before any extra time is played, if extra time is necessary.
Visit Grosvenor Sport for Correct Score markets.
Half Time/Full Time
A bet on the 'result' at half time, coupled with the actual final result (not including any extra time if it's a knockout match). There are three possible half time 'results' (home/draw/away) and three possible full time results (home/draw/away), making a total of nine possible outcomes.
If you are feeling adventurous you can also predict the exact score at half time and couple it with the exact full time score (not including any extra time). The returns will be high if you get it right.
Visit STS for Half Time/Full Time markets.
Asian Handicap
Asian Handicap is bizarre term for what some people call 'the spread'. This is not to be confused with spread betting which is something else entirely.
An Asian Handicap is an artificial handicap given to the team that you are backing. Typically, this will be -1.5 for the favourite, and +1.5 for the underdog.
Say you are betting on Man City against Borussia Dortmund in the UCL. Man City are favourites and have an Asian Handicap of -1.5. If you back them and they win 1-0, then your bet loses as with the handicap that score becomes -0.5-0, which is a loss.
If you backed Dortmund then with their handicap and a 1-0 loss to City the score becomes 1-1.5, which means your bet won!
The typical Asian handicap is -1.5/+1.5 although other handicaps are available.
Visit Spreadex for Asian Handicap markets.
Goal Line
A bet that's popular in North American markets that is also becoming more popular in UK markets. The typical Goal Line value is 3.0, and you can bet on their being over 3.0 goals, or under 3.0 goals in the game. This is the total number of goals that both sides score. In this case the site will return your bet if the teams score three goals in total.
Other Goal Line values should always be available, from 0.5 all the way up to 5.0.
Visit Spreadex for Goal Line markets.
Learn Football Betting Strategy
Looking for the top online bookmakers for bets on the Premier League, Champions League and more? Then read on, as we give you the lowdown on most popular football leagues in the UK, our top football betting tips and football betting strategy on each league. In addition, to get you started, we highlight the best deals and promotions.
Bottom Line
To summarise, there are no shortage of UK football betting sites, though they're not all as good as each other. The ten listed above not only fit the bill in terms of the betting on football that they offer, but they're also the best betting sites for football when it comes to safety and security, which as far as we're concerned, is of critical importance.
Bet £20 and Get it Back if it Loses
Bet £20 and Get it Back if it Loses
£30 in free sports bets
£10 bonus for Ted Games
Free bets valid for 30 days
9.4
Use bonus code
Copy
Collect Bonus
New customers only. Place your FIRST bet on any Football market and if it loses we will refund your stake in CASH. Max refund for this offer is £20. Only deposits made using cards will qualify for this promotion. T&Cs apply.
FAQs
What is 'Cash Out'?
'Cash Out' allows punters to secure a profit before the outcome of an event is decided. For example, say you'd placed a £10 bet on Tottenham to beat Arsenal at odds of 2/1. In the 88th minute, Tottenham are leading by a goal to nil, but Arsenal are knocking on the door, leaving you with doubts about Spurs' ability to hold on. At this stage, you can take advantage of the 'cash out' option. You decide to take the offer and secure the profit. It's not quite what you'd get in the event of a Tottenham win at full time, but by cashing out, you've avoided a tense finale. If Arsenal go on to equalise moments later, then this means that had you not cashed out you'd be left with nothing but a losing bet. 'Cash Out' essentially offers punters the chance to win before the event is finished, thus avoiding last-minute heartbreak.
How do I receive my free bet?
To receive a free bet, you must meet the requirements set out by the bookmaker offering the free bet. To be sure, check the free bet criteria and terms and conditions before depositing or betting on football to obtain a free bet.
An accumulator bet - an explanation?
An accumulator bet involves grouping together several single bets. Let's say you bet on three teams to win at odds of 11/10, 5/4 and 6/4. Now, a winning £10 bet on either of those three teams as a single would return £21, £22.50 or £25. A winning £10 bet on each would return £68.50, though your total stake would have been £30, as this is three separate bets. A winning £10 bet on the three teams together in an accumulator would instead return £118.12. This is because each leg of the accumulator is multiplied as follows: £10 x 11/10 x 5/4 x 6/4 = £118.12
Please explain a handicap bet?
A handicap bet is where you bet on a team to start with either a disadvantage or an advantage. For example, if you bet on a Manchester United -1, then they will need to win by two clear goals to yield a return. Reversely, were you to bet on Manchester United +1, a draw would see profit secured.
How many football betting sites should I use?
In short this is down to the individual and their own football betting UK strategy. You may prefer to have just one account. Alternatively, you may choose to have several. Having several does have clear advantages as it allows punters to shop around and ensure that they take the best football betting odds on offer.