With people always looking to get the upper hand when it comes to placing sports bets, many of them turn to the advice of tipsters. These are people who provide insights into certain sporting events and giving their so-called expert advice on what they think will happen. This guide will look through everything you need to know about tipsters, including the best betting tipsters to follow, what to avoid, and much more. 
Register with 10Bet to claim your welcome sign-up bonus
50% Welcome Offer Up To £50
50% Welcome Offer Up To £50
Has been in operation since 2003 - over 20 years!
Up to 100% boost on winning accumulators
Clean & tidy site, looks great on mobile devices
9.8
Use bonus code
Copy
Visit Site
New bettors; Code PLAY10; Wager deposit & bonus 8x; Max qualifying bet stake=initial bonus; Valid 60 days; Min odds, bet and payment method exclusions apply; T&C apply; 18+
Top Betting Tipsters to Follow in 2023 
There are countless tipsters out there today. It can be a bit overwhelming when you are trying to narrow down the different options. Everywhere from social media to blogs, media sites, podcasts, and newspapers you will find people providing the likes of sports betting tips. However, there are some that consistently stand out from the crowd when it comes to gauging the best betting tipsters in the game today. We have compiled a list of some of the leading individuals when it comes to betting tips:
1. SafeBettingTips (Telegram)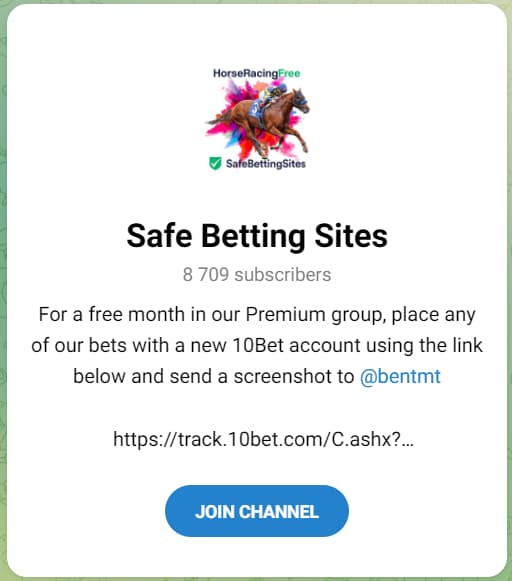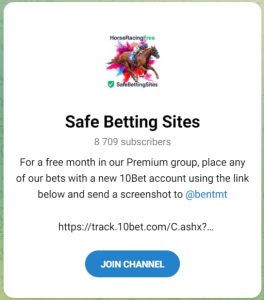 If you are looking for a respected Telegram betting tips channel, then SafeBettingTips could be for you. As the leading information site in the UK for sports betting, you can get access to a huge range of tips from industry experts, covering a range of sports. The main areas of focus are providing the best football betting tipsters and horse betting tipsters, but you will find plenty of other tips. There is also a VIP section that allows you to get access to an even further range of sports betting tips. This is definitely a channel to check out for fans of free betting tips.
2. TipMan Tips


TipMan Tips boast a very impressive 7 year profitable history. They are the UK's largest subscription based tipping service and betting community, with over 2000 members. TipMan provide daily tips on Racing and Football and every tip is posted with an advised stake. Every tip given is tracked live on their site with transparent profit/loss statistics. Members also get access to their InPlay Bot and Football Statistics software included in their subscription.
TipMan Tips are offering new members a free 30 day trial which you can claim here and can cancel anytime.
2. Geordie Tipster (Twitter)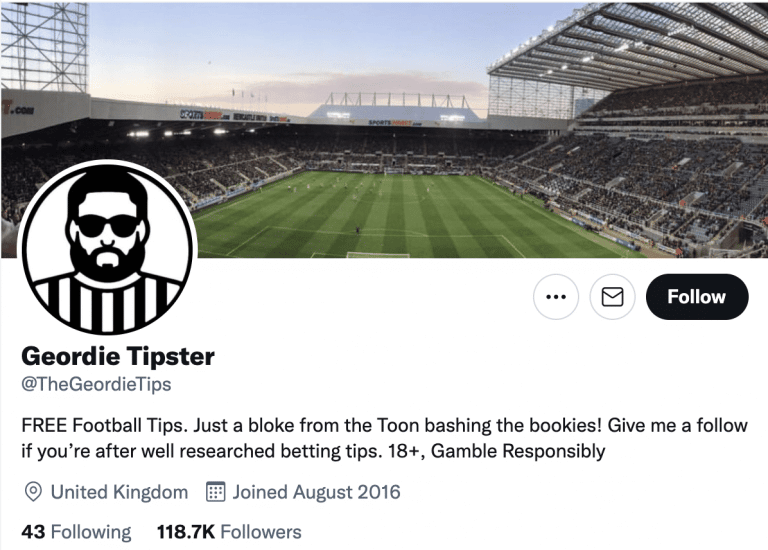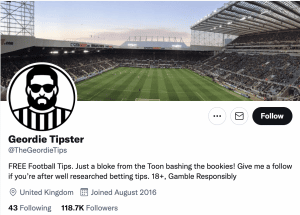 The Geordie Tipster always makes sure that followers are kept entertained with tons of good banter, being one of the best betting tipsters on Twitter. There is also always a great collection of football tips to check out. There is more of a focus on the bigger leagues rather than lower league football. This is usually something that more casual punters enjoy rather than having bets on games in obscure leagues.
3. Andy Robson Tips (Twitter)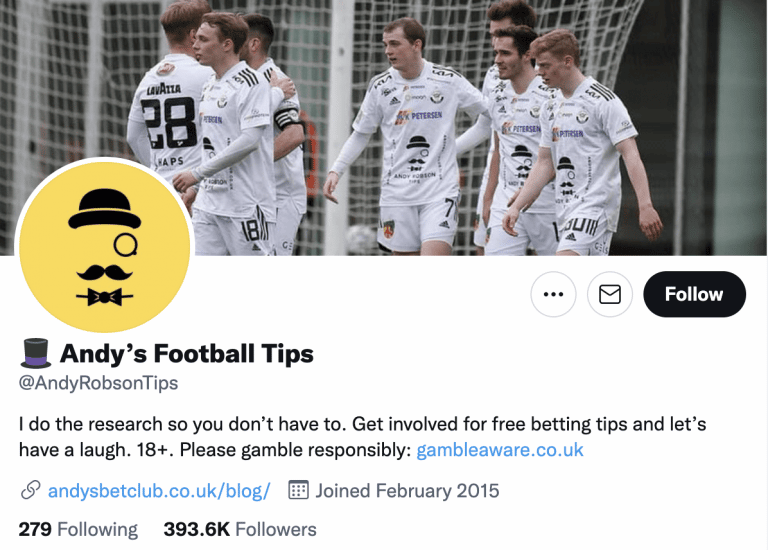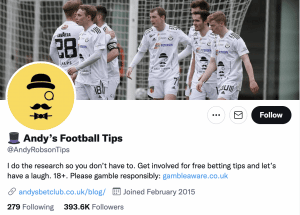 Andy Robson started out in 2015 by simply posting his own betting tips to his Twitter page. Over time, he has amassed more than 390,000 followers. One of his particular areas of focus is on in-play football betting. There are also challenges on a regular basis that keeps things fresh, as well as different types of exclusive betting offers from time to time. Fans of football accumulators will also be well looked after by Andy Robson Tips.
4. Mark O'Haire (Twitter)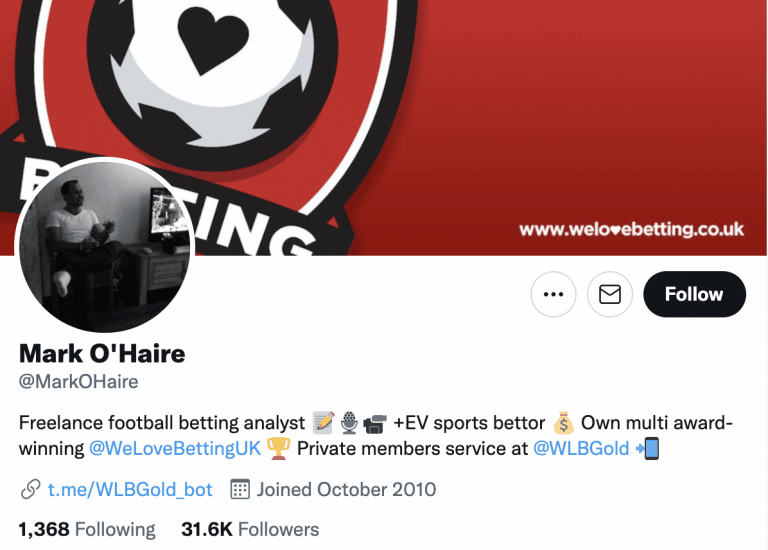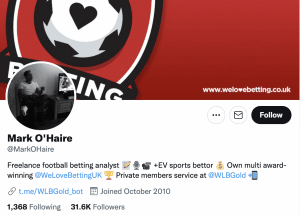 Mark O'Haire is a football statistician by trade for bookmakers and he has leveraged this knowledge and experience to good effect. He clearly knows what he is talking about and has many years of direct experience in the betting industry to back up his tips. While he does not have as big of a following of certain tipsters, for those people who prefer taking a more analytical approach to proceedings, he is well worth checking out.
5. James Murphy (Twitter)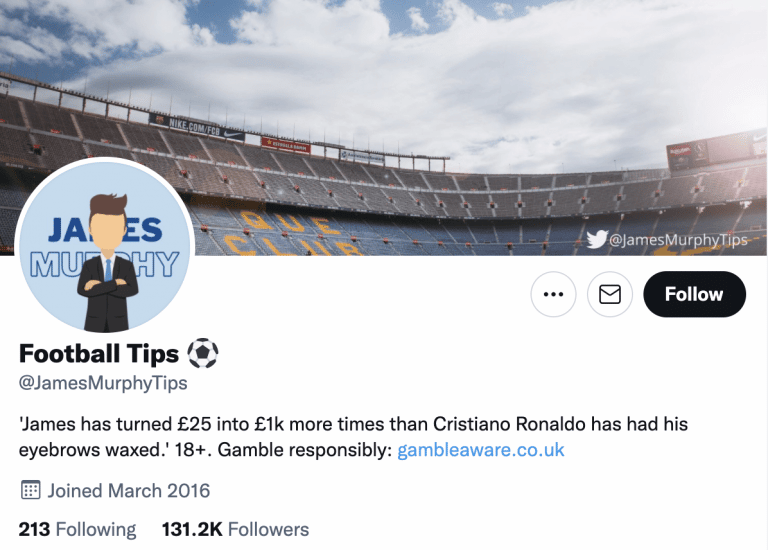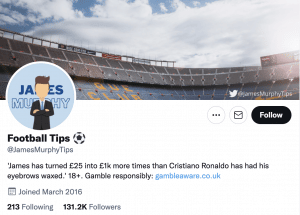 James Murphy had been running his successful Twitter account for some time. One of his claims to fame is his ability to repeatedly turn just £25 into £1,000 again and again. He likes to bring some humour to proceedings also, which adds to the entire experience. With a main focus on football betting, he consistently delivers. Accumulator fans are always kept updated with fresh multiples bets and he certainly gets a good percentage of wins for these punters.
6. Betfair Blog (Website)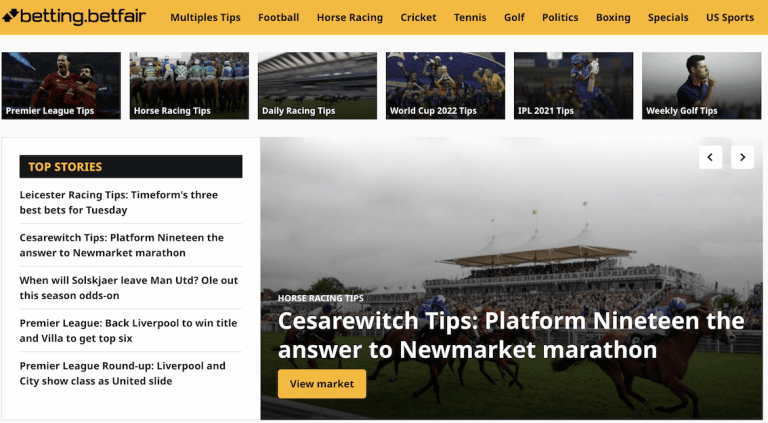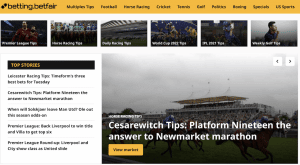 Many leading bookmakers will offer certain forms of sports betting tips to users. While sometimes this is more of a token gesture that they do not take too seriously, Betfair certainly delivers in spades. It has a top-tier range of betting tipsters available as part of its blog. These often come from experts in the respective sports. The main sections will be for football, horse racing, and golf. However, everything from tennis betting tipsters to golf betting tipsters will be available for you to see. The blog is particularly useful for bigger sporting events that capture the audience of a wide range of bettors.
How to Select the Best Sports Betting Tipsters
There are a few different variables that have to be considered if you are gauging the quality of a given tipster. You want to be able to quickly filter down the options. This means getting rid of the subpar tipsters, leaving you with the best betting tipsters in the game. Here are some of the areas we look at when assessing the merits of a given tipster:
Consistency


Naturally, you are going to want to stick to those tipsters that have been able to consistently show over the long run that they can offer profitable tips. Some people can have short-term bursts of success but they fail to keep it up. There are also some of the best betting tipsters UK who go through rough spells but usually manage to bounce back. You want to stick usually to those tipsters that have a long track record of rewarding their followers with great tips.

Strike Rate


One of the quantitative ways to gauge the quality of a tipster is to look at their strike rate. This will include metrics like stakes, losses, earnings, and the cumulative success rate. A big concern is that tipsters might fiddle the records over time. This could be through the inflation of odds, not counting loser bets, and so on. This is why some people keep their own records of the success of a given tipster in their own spreadsheet. You only want to deal with reputable tipsters who are fully transparent about their wins and losses.

Proper Explanations


There will be some tipsters that do not really provide an explanation regarding their tips. They just post the selection and the stake size you should place. What you want from a tipster is to be able to back up their selections with the reasoning that makes sense. This means that they use data and information in order to showcase why it is a smart and calculated wager rather than just throwing a dart at the board with your eyes closed.

Consider their Motives


When it comes to dealing with tipsters, you need to figure out what is in it for them when providing tips. There will be some tipsters who are affiliated with renowned or new betting sites and they will earn affiliate commission on the losing bets of people they refer to these platforms. Others will be charging for their services and be looking to provide the best tips in order to keep people consistently paying a subscription for the service. The bottom line is that you want to make sure that the intentions of a given tipster are upstanding. If you cannot determine if they are or not, then it is usually best to move on.
Are Betting Tipsters Free?
There are countless betting tipsters on the market today who will provide their tips for free to their audience. Whether this is through their personal website, social media, and so on, there will be tipsters who like being fully transparent with everyone.
By providing these free betting tipsters tips, it allows the audience to keep a detailed record of the results of these tips and gauge for themselves if this tipster is someone to follow. Many leading websites will provide free betting tips from experts and past legends of the given sport. Therefore, you can often get access to the highest quality tips through these free sites. However, there are also some betting tipsters who will charge for their premium tips. This means that you will usually have to have a monthly subscription order to regularly get sent these tips.
The idea behind these paid services is that the tipsters have a superior track record of success than those people who given them out for free. However, this is not always the case. This is why you have to be very careful when you are thinking about paying for betting winning tips. You want to see what people are saying about this tipster. This includes seeing what the opinions of past and current success might be. This informant can often be found on the likes of social media and internet forums.
By doing a bit of research, you might be able to spot some red flags about a given tipster who charges for their tips. With so many great experts providing their tips for free, it is becoming harder and harder to justify paying a subscription to get access to sports betting tips.
Types of Tipsters to Avoid
Like anything, there are going to be good tipsters, average ones, and poor ones. While not all of the poor ones are nefarious with their motives, there will be some that you come across who have negative motives. Some people just like the process of giving out tips and might not actually be very good at doing so.
1. Poor Knowledge
With social media, anyone can set up a profile and start providing tips. This is why it is vital that you do your due diligence before committing to the tips from a given tipster. Therefore, you want to steer clear of those people who are just providing tips as a hobby and do not have much success in this department. Their track records might be poor and not have much of a follower base.
2. No Background Information
Then there are those tipsters who provide tips without giving much background information as to why they are making these bets, It can be difficult to understand the reasoning behind a given selection when this occurs. To be confident in a tipster, you need to understand what they are thinking when it comes to a particular selection. Otherwise, you are nearly better off just choosing the bests yourself and forgetting about using a tipster.
3. Lack of Transparency
There are those tipsters who will consistently provide tips, but they will not be transparent with their success rate. They might not have any sort of resource that allows you to take a look at their history of tips and their success rates or this information might be inaccurate. You want to be able to see an accurate representation of the success of their tips or you will likely need to look elsewhere.
4. Shady Intentions
Then there are those tipsters who do not overly care if you win or lose. There are some who will have relationships with bookies that will see them earning a commission if the person they refer loses their bets. Therefore, the incentive in this case for the tipster might not be the provision of profitable bets but in having the people following the tips to lose. There is a conflict of interest there that can be hard to ignore.
5. Big Follower Base Doesn't Mean Good Tips
Finally, there are people who might have a lot of followers on social media, but this does not mean that they are going to be good tipsters. This social proof will often lead to people trusting them. However, people are easily able to pay to get followers or they might run giveaways that require people to follow the page in order to enter. Therefore, the size of a tipster's follower account is not going to be indicative of them being a good tipster. While some of the best betting tipsters have big followings, there is no strong correlation in this regard.
How to Follow Our Betting Tips
If you are looking to follow some great sport betting tips, then you can check out our Telegram channel. There are more and more people now using Telegram in order to get access to betting winning tips. While there are many betting tips-related Telegram channels out there, only some of them are worth following.
The SafeBettingTips telegram page provides you with up-to-date tips on the leading sporting events that are taking place on a given day. This includes tips for the likes of football matches and horse racing. Our team of reputable tipsters focuses on providing tremendous value to the readers. There is also the option to get access to VIP tips. This gives you access to a huge range of perks, so the Telegram channel is well worth checking out.
Final Words
The top betting tipsters out there today provide you with a great way to place bets that are based on good reasoning. While you are not going to be guaranteed to have winning bets, you are putting yourself in with a strong chance of being successful when you solely deal with the best betting tipsters in the space. Now that you have a good idea as to what to expect when it comes to following these types of tips, you can get started placing wagers today.
Register with 10Bet to claim your welcome sign-up bonus
50% Welcome Offer Up To £50
50% Welcome Offer Up To £50
Has been in operation since 2003 - over 20 years!
Up to 100% boost on winning accumulators
Clean & tidy site, looks great on mobile devices
9.8
Use bonus code
Copy
Visit Site
New bettors; Code PLAY10; Wager deposit & bonus 8x; Max qualifying bet stake=initial bonus; Valid 60 days; Min odds, bet and payment method exclusions apply; T&C apply; 18+
FAQs
Are all betting tips free?
Where is the best place to find betting tips?
What is the biggest warning sign when it comes to bad tipsters?
What sports do tipsters provide tips for the most?
Can you get exclusive offers from tipsters?
Was this article helpful?