The Treble bet is a multiple wager and involves putting three selections on different sports event together on the same betslip. As the odds for each leg get multiplied together, it yields bigger returns and profits than backing the outcomes individually. Now that you know what is a Treble bet when you wager on sport, we're going to explain it in more detail. Our experts walk you through it all from how Treble betting works to different types and variants, and more besides.
What is a Treble Bet?
Let's get down to business. The Treble bet meaning is it's a type of multiple wager offered by online bookmakers containing three selections from different events put together. Why bet on them individually when you can take this approach instead? We'll come on to all that later. Just remember the basic core principle at the heart of Treble betting of three bets on separate outcomes all in one.
How Does a Treble Bet Work?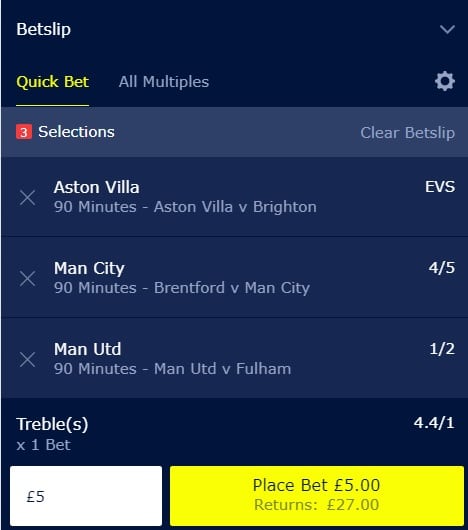 Now that you've had the Treble bet explained to you, it's time to take a look at how it works. As you combine three selections into one wager, the prices taken get multiplied together. Just think of Trebles as being like Doubles but with an additional leg. All three parts of the wager must be winners for the bet as a whole to pay out. Getting one or two legs up in a straight Treble means you lose.
That's a key aspect of understanding what is a Treble bet really. You can only win from it if all three elements are successful. As you'll soon come on to realise, there are ways to mitigate the risks attached to Treble betting but first working through an example should prove useful. Let's say you want to back three teams in the football betting to win their respective matches together.
Those three sides are Liverpool (2/5), Manchester United (1/2) and Manchester City (10/11). Each team enjoy odds-on favourites status for their games, so you can't even double your money by betting on them individually. Multiplying their odds together in a Treble bet, however, and the total combined price is 3/1. There's more value in doing this, and that's why punters put multiple wagers like betting Trebles on.
What is an Each Way Treble Bet?
Particular sports and markets come with the each way betting option available. That means in those situations you can, if you wish, give your Treble this additional protection. You do need the prices available to be above or at least on a certain minimum odds threshold to make this worthwhile, though, by breaking even and do have a greater outlay on the wager.
An each way Treble bet sees the unit stake double to cover both the outright win and place parts of a wager. What constitutes being placed is relative to particular terms laid by the bookmakers. This may be based on the number of runners if it's horse racing betting, or the type of event or market.
A fraction of outright odds pay for being placed, but again whether that's half, a third, a quarter or a fifth is down to who you're betting with and specifically what on. The best way of having each way Treble betting explained to you is again working through an example.
Looking at an Each Way Treble
Let's say you back three horses at 5/1, 11/2 and 13/2. A straight Treble at those prices works out at 291.5/1. You don't need to wager much to make a tidy profit, but the implied probability of all three winning is tiny at a small fraction of less than one per cent.
Backing the three selections each way at terms of a fifth of outright odds for three places by doubling a small unit stake can still see you make a good return, even if the horses finish second, third and second respectively.
Getting Evens, 11/10 and 13/10 for them to be placed works out at 8.66/1. The implied probability here is a shade over 10 per cent. That's more likely to come off than a straight win Treble. You've got a greater chance of pulling this off.
By placing an each way Treble bet, you can still come out with plenty more money than you started with. The risk of losing is reduced somewhat, although not entirely, and that explains why many punters prefer wagering this way. One final thing you need to understand about what is a Treble bet each way is that a combination of winners and placed selections are settled as the outright win Treble losing, but the bookies paying out on the place part.
Pros & Cons of Treble Betting
We always want to be upfront and honest with you about gambling matters. The truth is that there's an upside to the Treble bet but also some drawbacks. It's no different in this regard than any other wager or betting type. All punts you take have risks and rewards attached to them. Taking a balanced approach, here are the positives and disadvantages of betting Trebles:
Pros:
Big wins off small stakes possible
Full cover and each way options
Less risky than an accumulator
Cons:
All three legs must win or place for a payout
Mitigation methods aren't totally effective
Unlikely to receive acca insurance cover
What is a Treble Bet in Football?
A football Treble bet has become pretty popular with punters. There's a simple reason why. You can get better odds by combining three fancied teams into a single wager. The rise of betting Trebles is part of the wider trend involving football accumulators and other multiples. One of the major pluses here is you're not just tied in to the 1X2 match result betting.
Plenty of other options exist for your football Treble bet if you want to use them. Markets to consider include combining the result with Both Teams to Score, Over / Under betting, Goalscorers, Double Chance and Correct Score. That's just for starters. As betting becomes more and more sophisticated in general, the choice widens further.
We've already seen the growth of markets like Draw No Bet, handicaps, Scorecasts and Wincasts among others. There are also other variations of win betting such as Win to Nil, Win from Behind and Win Both Halves available if you want to increase the odds for your selections in a Treble even further. The world is your oyster.
What is a Treble Bet in Horse Racing?
If you can find three runners you fancy across the card at a horse racing meeting, then it makes sense to put them together as a Treble. If there are more than four runners in each of the individual races and the prices available are bigger than 4/1 or 5/1, then an each way bet should come under serious consideration.
Getting a horse placed at those odds mean you should break even if the fraction of the outright win market is a quarter or a fifth. Each way betting Trebles are certainly desirable if possible on horse racing because of the greater number of variables and potential outcomes to an event. Unlike football or other team sports, there are more than thee possible results.
That is part of the challenge with betting on horses. The competitive nature of races means that Treble betting is difficult to pull off, but so satisfying when you can get three winners together. It should be reflected in what you could win and total returns as well, so keep that in mind.
Different Types of Treble Bet Explained
Besides straight win and each way Treble bets, you do have some other options available to you in terms of wagers. These are called full cover bets or combination and system wagers that take the three selections from Trebles and put them together with Doubles and Singles, respectively. You unit stake increases several times, but so can your profits. Such wagers are less risky than simple Treble betting and you can learn more about these on related pages:
Patent Bet – Seven bets in one: a Treble, three Doubles and a Single.
Trixie Bet – Four bets in one: a Treble and three Doubles.
Treble Betting Strategy
A Treble has its uses. Knowing when those are is all part of the process of becoming a more seasoned punter. We've got some advice from our experts relating to this. Follow these Treble betting tips and you should make more informed choices when taking a punt:
Look at Tipster Picks & Selections
There are lots of so-called experts out there making predictions. Those tipsters with a decent track record of sourcing you winners in their respective fields and areas of expertise are obviously worth following. They may on any given day provide enough selections for you to put a Treble bet on. These picks are at least worth a second look.
Any betting Trebles tips out there that are well-reasoned and argued, based on the available information and data, could be worth investing in. Just prepare yourself for the fact that there are no guarantees with following tipsters blindly. They are as fallible as the rest of us, and won't get everything right all of the time. So long as they're profitable and correct more often than not, then you'll be fine.
Mitigate Risk with a Trixie or Patent
The obvious Treble betting strategy to follow is to try and reduce the risks attached to needing three separate winners. You can manage this with an each way bet, if circumstances allow for one of those to be placed. If that's not possible, though, a greater unit stake outlay on full cover bets is the only real way to mitigate potential losses.
Trixies and Patents each contain a Treble bet in them, but alongside the same picks as Doubles and Singles. If you're confident about two legs of the wager, then a Trixie looks the wiser choice. Should that feeling only be there on just one bet, then the Patent is your best course of action. You want to get something back from the bookies, even if the full Treble isn't a winner.
Put Three Short-Price Favourites Together
A common denominator and aim shared between all punters is the desire for value betting opportunities as often as possible. With a short-price odds-on favourite, chances are you won't feel that's worth a wager. If you can't double your money betting on something, then many rightly ask what's the point of backing such outcomes.
Owing to the multiplication of the prices involved, betting Trebles do quickly add up to more attractive gambling propositions. Three selections at Evens put together works out at 7/1, which is much more worthwhile investing in. Combining short-price favourites that the market expects to win together thus makes a lot of sense.
The Bottom Line
The Treble bet is common currency for both online bookmakers and High Street betting shops all around the UK. Firms literally take hundreds of this particular wager every single day. We hope you had use of this article and now know how to best use a treble and might even have peaked your interest enough to include it in your next bet.
FAQs
Can Treble bets be placed across different sports?
Is it worth doing Treble bets?
How to work out a Treble bet?
Are betting Trebles profitable in the long run?
What are the disadvantages of a Treble bet?
Can you cash out Treble bets?
Was this article helpful?