Doubles are where you put two bets on different sports events together as one wager and the odds get multiplied by one another as a result. That's all there is to it. No need to scratch your head any longer wondering what does Doubles mean in betting circles? Our experts are here to teach you all about it. Get the Double bet explained in full, so you understand completely how it works and when to use this type of wager. We start, as ever, with more information on this popular bet.
What Does Doubles Mean in Betting?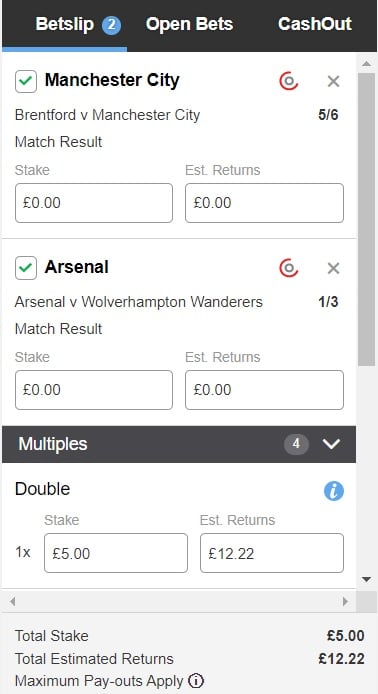 So, exactly what does Double mean in betting terms? This is the simplest form of the multiple bet types. To recap, a Double bet contains two selections from different events put together in the same wager. This is placed as one bet with a single stake. You can, if you wish back the separate outcomes differently on online betting sites, but sometimes it makes more sense from a gambling perspective to combine them.
How Does A Double Bet Work?
Now that you've had the basics of Double betting explained to you, let's dig a little deeper. As you put two bets from separate events into one wager here, that means the odds are multiplied together. That is what you must do if you want to work out a Double bet and what it's worth. Both legs must win for the wager to payout, so one success isn't enough.
A key part of getting your head around what does Doubles mean in betting is understanding the practicalities of it. For example, you want to bet on two players fancied in the latest tennis betting to win their respective matches. Let's say Rafael Nadal and Carlos Alcaraz at 8/11 and 10/11, respectively. Both men are odds-on to win, so multiply their prices together.
You can use a free bet calculator to help you, but this works out at 23/10, a price between more traditional fractional odds of 9/4 and 5/2. Provided both players do the business on court, you stand to gain a bigger return from a Double bet than if backing these outcomes individually as win singles.
What is an Each Way Double Bet?
For certain sports and specific markets, you can also put each way Doubles on. These are great because two placed selections put together are settled as a winner. While the unit stake, well, doubles, compared to a straight win Double, to cover both the outright and placed part of the wager, this mitigates some of the potential for loss.
You'll need to look closely at the place terms as to what does Doubles mean in betting each way and if it's worthwhile. A fraction of the outright win odds are available, but you ideally want to at least break even from the placed part of the wager. The number of places offered may depend on the number of potential outcomes you can bet on or the type of event in question.
An each way Double bet on horses at 5/1 and 6/1 where a fifth of outright odds pay on three places works out at between 44/1 and 45/1 if both win. This is because you receive returns from the bookies on both outright victory and running into a place at Evens and 6/5, respectively.
If you get a winner and a placed horse from your each way Double, then the payout is 34/10, between 100/30 and 7/2. This is because the straight win Double bet is a loser, but both runners made the frame and were placed. You'll receive the same return if both horses finish second.
Pros & Cons of Double Betting
Just to rubber stamp your understanding of what does Doubles mean in betting terms, it's instructive to look at positives and downsides of this wager. No form of gambling is perfect or risk-free; so, in the interests of balance, these are the advantages and drawbacks of Double betting today:
Pros:
Can put this bet on each way sometimes
Easiest of the multiple bets to pull off
Low risk compared to accumulators
Odds multiplied creating bigger profits
Cons:
Both legs must win and/or place for a payout
Doesn't cover individual outcomes as winners
Each way betting doesn't totally mitigate risk
No acca insurance deals for Double bets
What is a Double Bet in Football?
The beautiful game is a national obsession in the UK, so a spot of Double betting on two fancied teams is commonplace now. Punters will probably go further than that, placing football accumulators on the sides they fancy to win with Saturday the busiest day when most matches take place. Any number of markets on different games can be combined as Doubles if you want to.
It's not just about the regular 1X2 match result betting these days either. As punters seek more value betting options, your Double wagers can go way beyond this. These are some of the markets that you may want to consider to include together just to mix things up and open up new gambling avenues for you:
Asian Handicaps – Bet on handicap markets with the draw taken out.
Both Teams to Score – Wager on the two sides grabbing a goal in the game.
Correct Score – The precise final full-time scoreline between two teams.
Double Chance – Betting on two of the three possible outcomes from a match together.
Draw No Bet – Get legs of your Doubles voided in the event of a game finishing level.
Goalscorer Betting – Choose from a player to score anytime, first, last, next, twice or more and a hat-trick.
Handicap Betting – Bet around imagined deficits for favourites and fictional advantages for underdogs in goals.
Over / Under – Markets based around there being more or fewer goals / corners / cards than certain thresholds. 
What is a Double Bet in Horse Racing?
While football is the most popular betting sport today, Doubles wouldn't exist if it wasn't for horse racing. Still more intricately tied to gambling than anything else, UK Gambling Commission industry statistics from November 2022 found between a quarter and a third (£768,500,000) of the Gross Gambling Yield for remote betting (£2,400,000,000) came from people wagering on the horses.
Double betting plays its part in those huge volumes of money staked on the races every single year. Putting two horses that you fancy together is a great option for punters. This sport allows each way betting, provided there are more than four runners in a race, so that acts as an extra incentive to do so.
Given the highly competitive nature of high-profile races and big field handicaps, a Double bet on horse racing could prove really lucrative off a small stake. That's a big plus with them. If it's your lucky day, then winning Doubles may come your way, but remember the risks attached with betting on a sport like horse racing with so many variables and factors to consider.
Double Betting Strategy
Just like any bet, there's a right time and place for Doubles. Knowing what some of these scenarios are can help you to make better decisions when wagering. Our experts have some Double betting tips that you should follow. While we can't promise that the below advice always leads to winners, it does more often than not:
Combine Two Short-Price Favourites
We've established that there's little value in backing certain short-price and odds-on favourites on their own as win singles. With the latter you cannot even double your money, but what about putting them together in a Double? Implied probability suggests that both selections have a better than 50 per cent chance of winning, so it's worth the risk combining these fancies together.
If the market expects both football teams, horses or whatever sports outcome you're betting on to be successful, then the only way to get odds-against here is a Double bet. This is because the short prices are multiplied together when calculating potential returns. You owe it to yourself to look into any possible ways of creating better value when taking a punt.
In-Form Trainers & Jockeys
Next among our recommended Double betting strategy and advice is some horse racing specific help. Looking through a jockey's book of rides at a meeting, they may have more than one live chance. It's just the same with a trainer and runners from their stable. If the first fancied horse for that rider and yard chronologically on the day wins, then chances are the bookies will shorten other mounts and entries up.
That is the nature of gambling, as betting traders insure against Double bets and other multiples that shrewd punters have had in advance. It can often pay to check which jockeys are riding well and stables sending out winners. You don't want to miss out on any gambles that develop, so you need to strike first if you think certain riders and trainers are in for a good day at the races.
When You Think Two Outcomes Will Get Backed
Longer term punters, who use the ante post betting on horse racing or pre-season markets for football in their quest to find value know that decisive choices can be fruitful. If there are two outcomes that look sure to shorten based on what happens next, then it makes sense to put those bets together. If nothing else, it leaves you in a strong position with something to bet around for the future.
The best of our Double betting tips does require you to second guess or at least anticipate what will happen. If a horse wins a recognised trial for a big race, then their ante post odds will come in for that event down the line. Similarly in football matches or other team sports, the outcome of a big game determines the prices offered to win the league, cup or competition for the team successful on the day. A small Double on future events or outright market could be a worthwhile investment.
Which Bookies are Best for Double Betting?
Any bookmaker worthy of the name should let you put Doubles on. Whether that's in a betting shop or using an online sportsbook, taking these particular wagers is just like breathing to them. Some bookies have better odds and reputations for Double betting than other, so check out four or five of the best in the UK and pick one or two that suits you the best.
FAQs
How to work out a Double bet?
What are the advantages of Double betting?
What is a running Double in horse racing?
Are Double bets more profitable than singles?
How much does a Double cost?
Was this article helpful?