The patent bet in horse racing is a type of combination and system wager where you take three selections and place them as three singles, three doubles and a treble together on the same betslip. You can learn how to work out a patent bet with this article. From how to work out a patent bet to what it is and how the wager works in practice, we've got the lowdown on it all. We make sure that you get the patent bet explained to you in full below.
What is a Patent Bet?
For newcomers to gambling, you need to know the patent bet meaning so you understand what you're getting into. The official patent bet definition is a combination or system wager with three selections made up of seven bets on the same slip as follows:
3 singles
3 double bets
1 treble
Now, when someone asks you what's a patent bet wager, you know the answer. It is most popular on horse racing betting sites but can also be used for other sports. More on those later.
How Does a Patent Bet Work?
With the patent bet meaning understood, it's time to look at the mechanics of the wager. Remember, this is seven bets in one. First, you find three horses to back and add them to the betslip like so: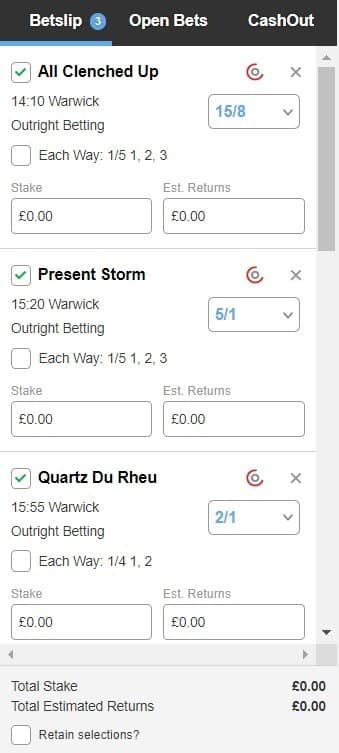 Next, scroll down the betslip and find patent among the options for multiples, system and combination wagers. Enter your stake but, as per the patent bet definition outlined above, this is multiplied by seven. In our example here, a £5 patent costs £35 in total: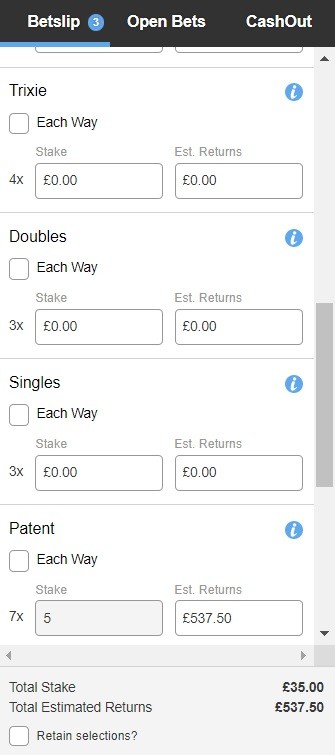 The Patent Bet Explained in Practice
So, just how does a patent bet work on horse racing? There are seven wagers in one here, so the unit stake multiples to reflect that. The great thing about the patent bet is its versatility. So long as just one leg of the wager wins, you receive a return on it. If two legs win, then profit is virtually guaranteed as three of the seven bets – two singles and a double where the betting odds of two horses multiply together – were successful. Should all three selections win, then you get the full amount possible.
The table below shows the combinations that go into a straight horse racing patent:
| | |
| --- | --- |
| Part of Patent | Horse combinations |
| 3 singles | A, B, C |
| 3 double bets | AB, AC, BC |
| 1 treble | ABC |
What is a Patent Bet in Horse Racing – Pros and Cons
The patent is no different to any other wager in as much as there are upsides and drawbacks to it. You need to know what they are so you can decide if putting this type of bet on through one of the best betting sites suits the way that you gamble. We asked our horse racing experts for a list of the pros and cons relating to the patent. You can see those below:
Pros:
Not all legs need to win for a profit
Get a return even if just one leg wins
Versatile wager that can be permed
An each way patent bet is allowed
Odds multiply for doubles and treble
Cons:
Unit stake multiplied by seven
Rule 4 deductions still apply
Non-runner selections void legs
Returns can be less than total stake
The Each Way Patent Bet
As noted in the pros and cons above, an each way patent bet is something you can do on the horses. All you have to do is tick the each way bet box on the betslip. That results in the unit stake doubling again, however, so you now place 14 bets instead of seven. The advantage here is that you mitigate the potential for legs losing in a normal patent as they are win only. By going each way, you have the horses being placed covered too.
You must consider carefully the prices of the horses included in an each way patent bet so that if horses only place you can at least break even rather than get a return that is less than what you forked out for the wager. Place terms are different depending on the number of runners and type of race the horses compete in. It may be simpler to just play your patents straight and stick to win only until you gain experience of horse racing betting.
A Permed Patent Bet
It is also possible to place what they called a permed patent bet too. This is where you have more than three selections included. The consequence is that your unit stake again increases. There may be four, five or even six selections included as you seek singles, doubles and a treble. If there were four, for example, then the total stake for a normal patent would be multiplied by four as 28 wagers make up the bet. The table below shows you how many bets go into permed patents:
| | |
| --- | --- |
| Number of Selections | Bets in Permed Patent |
| 4 | 28 |
| 5 | 70 |
| 6 | 140 |
Putting on a permed patent bet is only advisable if you are hugely experienced with betting and know what you are doing. It is a perfect wager for races where one leg of the patent is a particularly competitive event. Strong cases can be made for two or more horses winning. You should consider very carefully whether or not betting on such a race in a patent is smart strategy in the first place, though.
Patent Bet Calculator
While it is important that you know how to work out a patent bet when you place it, help is at hand. Many of the leading British online bookies have a patent bet calculator you can use instead. They include the William Hill bet calculator patent service: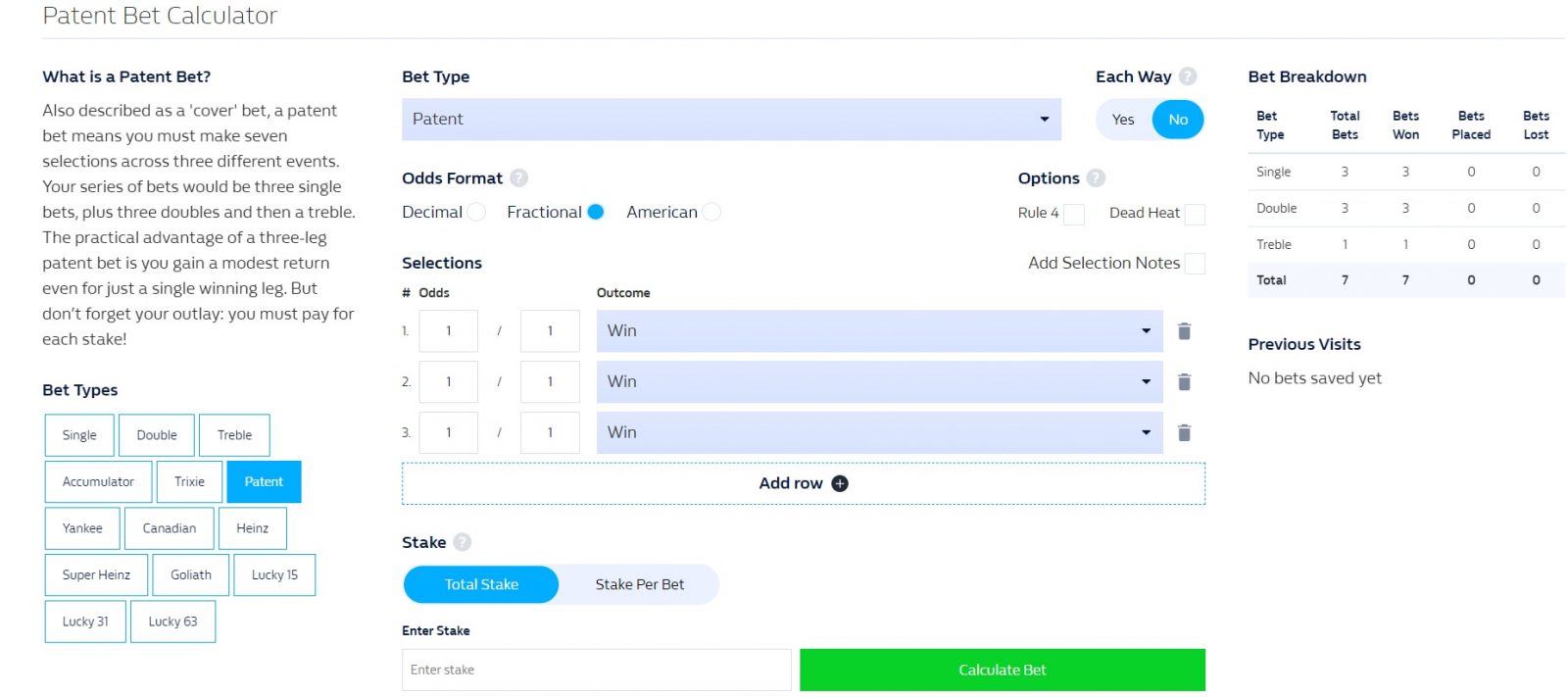 What makes this patent bet calculator better than ones on other sportsbook is how easy it is to use. All you have to do is click the each way slider if you have done an each way patent bet wager. The bet breakdown on the right-hand side displays whether each leg has won, placed or lost based on the results you input.
The patent bet calculator service even lets you toggle between the total stake and unit stake with the stake per bet option. You can even change up the odds format, and include Rule 4s and dead heats.
What is a Patent Bet in Football and Other Sports?
You may be wondering what is a patent bet in football and whether or not you can put these wagers on for other sports. The answer to the second question is yes. Patents aren't just for horse racing but on football betting sites and available for many other popular gambling sports too. If you think about it, the patent can work just fine on any sport.
Say you wanted to back three fighters on boxing betting sites to win their next bouts. It is perfectly possible to do this as a patent. The same rules apply apart from not having an each way option. Your unit stake multiplies by seven and you get a return if just one boxer wins.
There many be three tennis players you fancy in the Wimbledon betting to win their matches on a certain day of the grass Grand Slam. Again, why not combine them in a patent? This gives much more flexibility than a treble where all three must win for the wager to pay out.
You may even be able to put patents on across different sports. That leaves endless possibilities of how to approach betting, especially if you find three fancied outcomes on any given day.
Patent Betting Tips
Once you know what's a patent bet and how it works, then it's time to think about strategy.  We asked our experts for their top patent betting tips so you can get the most out of this type of wager:
Choose Legs That are Value on their Own
What makes patent great is that you get a return if just one leg wins. However, if that single wager is at a short price, it may not be enough to make an overall profit. You have to ask yourself if there is any sense in including that, then, when a trixie bet may be more appropriate. Always include legs in a patent that are value as standalone bets.
Use Permed Patents Sparingly
The table in the section on permed patents above illustrates just how easy it is for the unit stake to spiral out of control on such wagers. If, for example, you went for a permed patent with six selections in it, you would be placing 140 different individual wagers as 20 separate patents. Even to £1, that is £140 in total wagered. Use permed patents sparingly.
If You Go Each Way, Check Place Terms
For those who know what each way betting is and like it, the each way patent is a superb option. Provided the horses included in it all at least break even if they place. This is determined by their price. In races where a quarter of outright betting odds are available for place, the threshold for this is 4/1 (5.00). However, in other events where only a fifth of the price pays out on the places, this increases to 5/1 (6.00). Be aware of this before putting on an each way patent.
On Where to Place a Patent Bet
You may still have many more questions, which is fine – no one is a master in one fell swoop, or one guide read. As a start, familiarize yourself with what bookmakers are available in the UK and what they offer. If you go to the first page of Safebettingsites.com you can find many useful links and reviews that will be a good start at finding the best betting sites and their offering.
The Last Word
So, you know what is a patent bet in horse racing now. Seven bets in one made up of three singles, as many doubles and a treble. You can go each way or add more selections by perming your patent. It is a remarkably versatile and handy bet with its uses. Why not try it for yourself?
FAQs
Is a patent a good bet?
Yes, patents can make for a good bet if you can find three selections. They are all on the same betting slip too.
How is a patent bet calculated?
Returns from the three singles reflect the prices. For the three doubles, you multiply odds for leg to leg for each bet separately. The treble is then all prices multiplied together. These returns are all added to each other.
How many bets in a patent?
Traditionally, there are seven bets in a patent. However, you can add selections and place a permed patent. An each way patent is also an option. This has 14 wagers in it.
What's the difference between a trixie and a patent?
The difference between a trixie and a patent is the trixie doesn't have the singles in it, leaving four bets instead of seven. Three doubles and a treble.
Was this article helpful?