Iowa became the 11th U.S. state to introduce legal sports betting for its residents in 2019. It was also the first in the upper Midwest to venture into this scene too, and once it was legalized, it did not take Iowa long to get it up and running. And while it is true that residents of the state were required to visit a brick-and-mortar casino to register for mobile sports betting, this is no longer the case. As it happens, 18 months later, players were granted the ability to register from a mobile device or computer instead.
Whatever the case may be, bettors in Iowa will now be approaching their second full year of having legal online sports betting opportunities. So, how has sports betting in Iowa been progressing and what are the best licensed sports betting platforms for its citizens? We will be taking a look at this right here, as well as a deeper look into the laws surrounding online sports wagering in The Hawkeye State. So, if you have an interest in betting on options like the NBA, NHL, NFL and so on from Iowa, find out the best places to do this right here.
Top Iowa Sports Gambling Sites
What to Consider When Accessing Iowa Sports Betting Sites
Because Iowa now has a legal sports betting scene, it is important to consider certain things when selecting a sportsbook to bet at. Each of them has its own sports betting app for you to potentially download, but you will need to check into all features of the sportsbook before signing up. Make sure that it caters to your specific needs and preferences. So, if you are looking to engage in online gambling in Iowa, check into the specifics that you need to consider below before joining:
Official License
It is important to know that if a sports betting site is legally operating in Iowa, it should have a license to do so. All 19 of the casinos based in Iowa have acquired licenses to provide sports betting to their customers. Sports betting in the state is regulated by the Iowa Racing and Gaming Commission, and all official sites must possess a license from the regulatory body to provide their services to Iowans.
Strong Level of Sports Betting Markets
Anyone signing up to an online sportsbook is doing so because they want to place sports bets, right? Well, it is better to have a large range of betting markets, rather than a small few choices to select from in this area. Therefore, sports bettors should be able to choose from betting on popular American sports like the NBA, MLB, NFL and so on, as well as international events from sectors like golf, soccer, tennis, cricket and others. The best platforms will provide a variety of sports and events for you to wager on.
Excellent Promotions
Accessing a Iowa sports betting site should not only allow you to place bets on your favored events, but should also allow you to claim various rewards, too. Iowans should be able to not only receive a welcome offer to start off on the right foot, but ongoing promotions as well. These include odds enhancements, insurance on parlay bets, free bet options and more.
High Levels of Security
While possessing a gambling license does allow an operator to provide its sports betting services in the state of Iowa, a sportsbook also needs to keep your personal data secure. This means that it should utilize high-quality data encryption technology, a secure server and more. Doing so will ensure that your details are not exposed to any third parties.
Support for Numerous Payment Methods
Before you can make any bets or claim any rewards, you will need to make a deposit into your sports betting account. Betting sites should allow you to do this through a number of different methods, rather than just one or two. All of the licensed casinos in Iowa accept card payments, so their online sportsbooks should also accept such. E-wallets, bank transfers and more are usually able to be found in action at such, too.
Top-Quality Customer Service
We cannot say that your experience will be completely without problems or that you will not have questions. Sometimes, we as sports bettors run into issues or find that we need a little more information about something. This is why we look to the site's customer support team for a bit of extra help. Where the Iowa online sports betting scene is concerned, all sites should offer their players the opportunity to contact an advisor and receive a dedicated and informative experience.
A Closer Look at the Top Iowa Sports Betting Sites
We mentioned a few Iowa sports betting platforms earlier, and these have been marked as the best to be operating in Iowa right now. But why are they considered the best? What features do they contain to put them in such a position? Well, we are about to take a closer look at everything they include. From the sports and promo options available to you, through to the customer support and mobile functionality. Join us to find out more about the top sites in The Hawkeye State.
1. DraftKings – The Best for Its Excellent Mobile App Functionality (Welcome Bonus: 20% Up to $1,000)
Everyone will probably know of DraftKings for its introduction to the online world as a daily fantasy sports (DFS) platform. Of course, this gave it quite the opportunity to check out the U.S. sports betting scene, even before it was made a legal option by the Supreme Court. Fortunately, it has built on this knowledge to create a fantastic online sportsbook. The mobile app that Iowans can download has excellent functionality, giving you the opportunity to sign up and place bets from any location within state lines. DraftKings is also known for its stellar reputation, and for offering a wide range of betting options to its members. The site started operating in Iowa in February of 2020, making it the sixth US sportsbook to launch there, and it even allows deposits to be made through PayPal. Plus, there is up to $1,000 available from its welcome offer.
What we like:
Excellent mobile app layout and functionality
Wide selection of different bet types
Comes with a stellar reputation
Quick withdrawal process
What we don´t like:
Limited hours for customer support
2. BetMGM – The Best for Its Well-Known Reliability (Welcome Bonus: Risk Free Bet Up to $600)
If you have a preference for playing at Iowa sports betting sites with a good reputation behind them, then BetMGM is probably the best to go for. Not only does it have a risk free bet of up to $600 available for you to claim, but it also provides betting on a great choice of sports. This includes possibilities on NBA, NHL, college events, golf and much more. BetMGM has perfectly honed its craft over its years of operation, and it is this that stands out to bettors. The mobile app operates perfectly with Android and iOS devices, ensuring that a wide U.S. audience is reached. The platform launched in Iowa in January 2021, and it brought its Rewards program along with it for you to benefit from.
What we like:
Highly trusted brand
Has a presence in more states across the U.S. than others
Live streaming available
Good choice of sports to bet on
What we don´t like:
Limited on some of its wagering options
3. FanDuel – The Best for Its Speedy Withdrawal Process (Welcome Bonus: Risk Free Bet Up to $1,000)
The FanDuel app went live in Iowa in September of 2020, making it one of the more recent additions to the Iowa sports betting competition there. Bettors have the ability to benefit from some of the best odds and prices in the industry when accessing this platform. Perhaps its greatest perk is the fact that it provides you with ultra-fast withdrawals, and there are numerous payment methods on hand to utilize. FanDuel, like DraftKings, is well-known for its dedication to DFS, and this is what it was providing several years before sports betting became a focus for it. The knowledge it has gained over those years though has certainly helped it to provide intriguing content for Iowa online sports betting.
What we like:
Fantastic, competitive sports betting odds
Allows you to engage in live betting
Provides swift withdrawals
Excellent risk free bet to start off with at the site
What we don´t like:
May not provide as many sports as some other platforms
4. PointsBet – The Best for Its Selection of Inviting Promotional Offers (Welcome Bonus: 2 Risk Free Bets up to $2,000)
The PointsBet brand offers an inviting online sportsbook for anyone to access. Featuring a stellar design and a variety of sports for you to enjoy betting on, it is a great choice for those who have a passion for receiving bonuses and other betting promotions. As mentioned, there is a welcome offer of 2 risk free bets up to $2,000 on hand. That is something that all newcomers can claim, but other promotions allow you to obtain free bets from certain sports, receive parlay boosters and more. PointsBet also has a great in-play sports betting section, which allows you to access events currently playing out and bet on them. With a blog also being available to access for up-to-date stats and previews, this is one sports betting site not to miss out on.
What we like:
Intriguing and unique form of sports spread betting
Great selection of promo rewards
Well-designed online site
PointsBet blog for additional information
What we don´t like:
Can potentially end up costing bettors a fortune
5. BetRivers – The Best for Its Excellent Customer Service (Welcome Bonus: 100% Up to $250)
Owned by Rush Street Gaming, BetRivers launched as a Iowa sports betting site in January of 2021. Partnered up with the Wild Rose casino, BetRivers has an intriguing welcome offer, that does not incorporate risk free bets. Instead, it sticks with a traditional 100% bonus up to $250 for you to claim as a new bettor. To combine with this, BetRivers has one of the most intriguing loyalty reward schemes for you to enjoy. Known as the iRush Rewards program, this grants you points every time you place a bet. This can be then used to buy bonus cash, odds boosts, wheel spins and other perks. The brand is also known for offering excellent customer support, so if you ever need assistance, the team is ready and willing to provide help.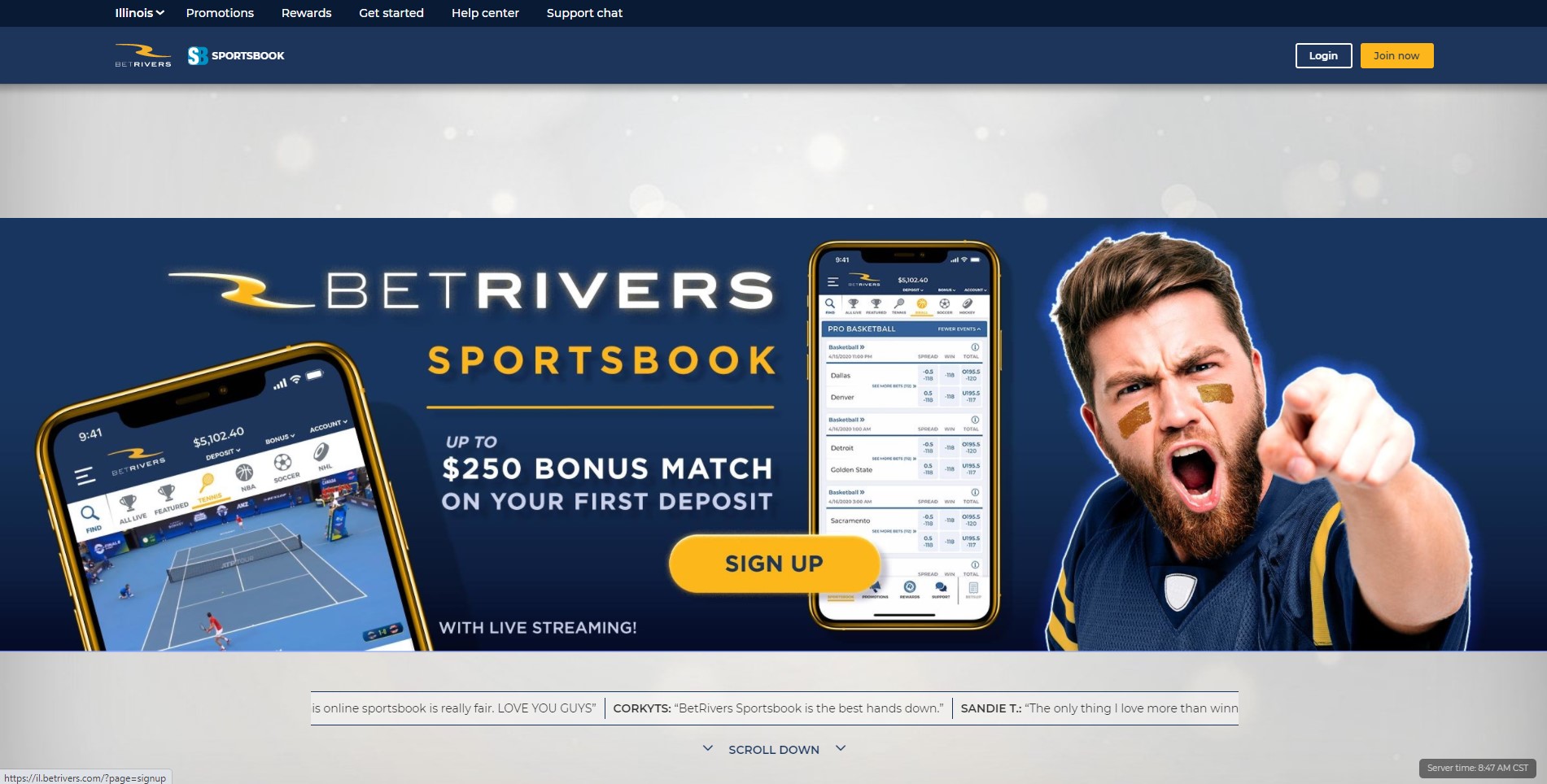 What we like:
Top-quality customer support
Fantastic rewards program
Easy wagering requirements to clear
Good range of in-play betting options
What we don´t like:
Fewer ongoing promotions to claim
Is Online Gambling Legal in Iowa?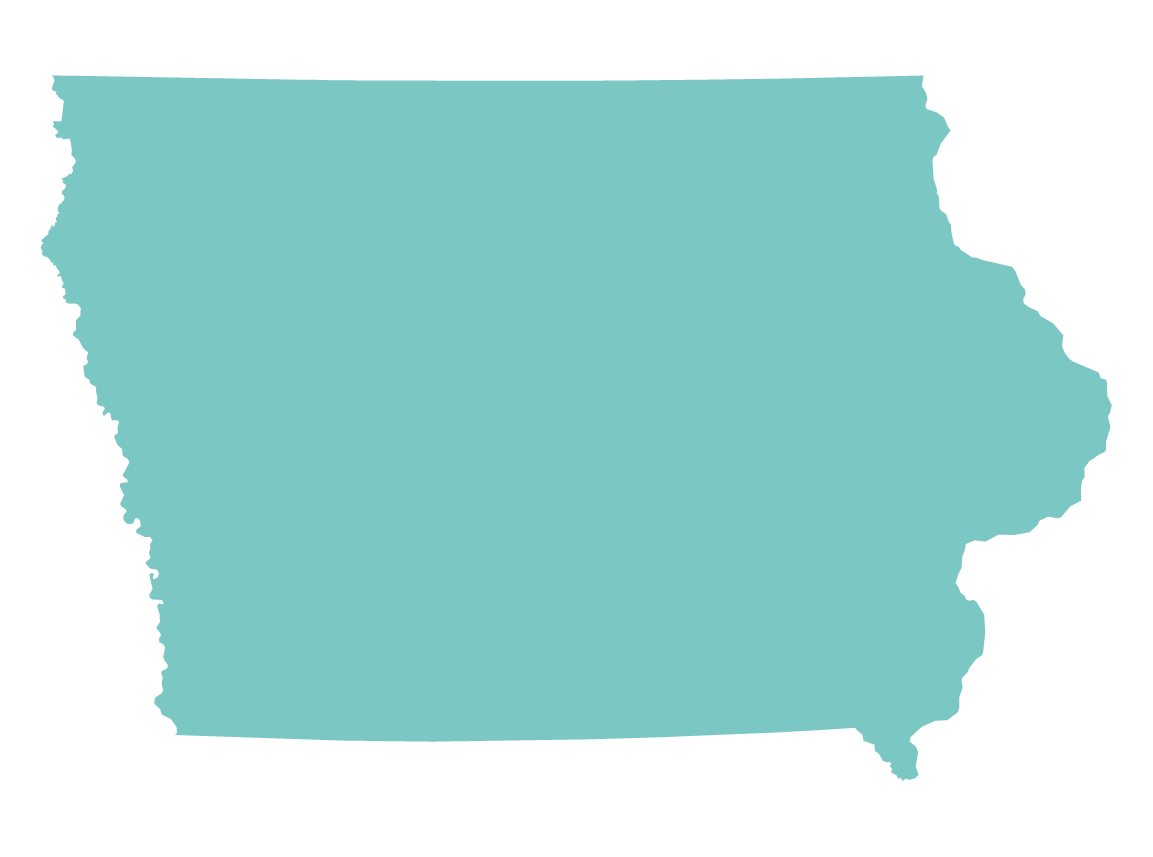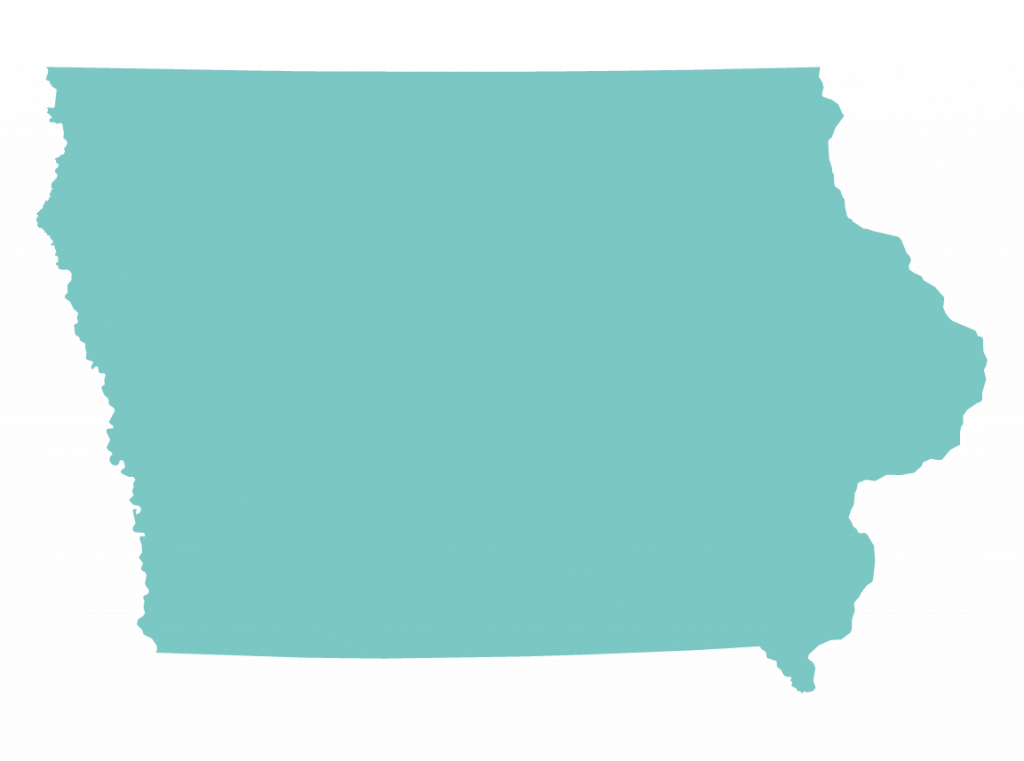 Iowa is, as of 2019, a full-service sports betting state, providing both online and retail sports betting opportunities to residents. It was in May of 2019 that Senate File 617 was passed into law, and Iowa hosted its first sportsbook launches just three months later. It is a fairly straight forward affair to involve yourself in sports betting in Iowa now, considering that remote registration is also available. This was not the case in the beginning, when prospective players had to visit one of the land-based casinos to register for mobile sports betting.
As long as you are physically in state lines, you can access Iowa sports betting. The state of Iowa does require anyone looking to place sports bets to be of age 21 or over. Of course, you must also not be on the state's exclusion list. Operators looking to provide their sports betting services in The Hawkeye State must partner up with a land-based casino. Each retail sportsbook has the possibility of partnering with up to two online brands. Because the Iowa gambling laws are so easy to follow, this has led to several big-name launching within.
A Swift Turnaround in Sports Betting Launch
One of the most impressive parts about the Iowan introduction to sports betting is how quick everything was setup. From the bi-partisan legislative passage in April of 2019 through to Gov. Kim Reynolds placing her signature on the bill a couple of weeks later, and then onwards to the launch of the very first wagering in August, Iowa pretty much sped through with implementing legal sports betting. As it happens, residents of the state were able to kick-off their betting actions when the Iowa Hawkeyes faced off against the Redhawks of Ohio.
In total, it only took three-and-a-half months for the state to launch its sports betting opportunities. If you compare that with both Illinois and Tennessee, where legislation was passed through at around the same time, their rollouts took a lot longer to take place. More than half a dozen casinos started taking sports bets at noon on August 15, 2019 though, and several others went live with their options in the proceeding weeks.
Furthermore, Iowa took its own route towards its legal sports betting possibilities, when it chose to launch mobile sports betting apps at the same time as retail sportsbooks. Until that time, states had launched the latter of these prior to the former, but Iowa opted to go with both at once.
The Iowa Racing and Gaming Commission administrator Brian Ohorilko claimed that Iowa was able to setup its sports betting scene so swiftly due to the fact that preparations began once the US Supreme Court overturned the PASPA law. With such plans in place, online gambling could take off quicker than in those states where such had not been thought about beforehand. At the same time, Iowa forged relationships with other states that already had legal sports betting, learning from their rules and laws.
Certain Specifics Surrounding the Iowa Sports Betting Bill
Once the sports betting bill in Iowa was unveiled, it received quite a lot of praise. This came quite heavily from the American Gaming Association. It said that the state had set up reasonable tax rates, mobile wagering options for iOS and Android users, strong consumer protections and provisions for responsible gambling. In order to actively offer legal sports betting in the state, operators have to agree to certain things. These include:
Payment of $45,000 for a license and then a $10,000 renewal fee each year.
6.75% tax rate on sports wagering revenue.
Two skins allowed per license held.
Remote registration introduced as of January 1, 2021.
Mobile apps utilize geolocation to ensure players are within Iowa borders.
No integrity fees in place.
Licensed Iowa Sports Betting Partnerships
So that a sports betting operator can provide its services online in The Hawkeye State, it must partner up with a land-based establishment. This has led to numerous partnerships coming to fruition, and has also led to the state having multiple online sports betting sites being readily available. All 19 of the Iowa land-based casinos now provide legal sportsbooks, and these are part of partnerships with the following brands:
| | | | |
| --- | --- | --- | --- |
| Online Sportsbook | Casino Partner | Location | Online Launch Date |
| William Hill | Isle of Capri | Bettendorf | August 2019 |
| William Hill | Isle of Capri | Waterloo | August 2019 |
| William Hill | Lakeside | Osceola | August 2019 |
| William Hill | Prairie Meadows | Altoona | August 2019 |
| Elite Sportsbook | Grand Falls | Larchwood | August 2019 |
| Elite Sportsbook | Rhythm City | Davenport | August 2019 |
| Elite Sportsbook | Riverside | Riverside | August 2019 |
| Q Sportsbook | Q Casino | Dubuque | November 2019 |
| PointsBet | Catfish Bend | Burlington | November 2019 |
| Hard Rock Sportsbook | Hard Rock Sioux City | Sioux City | December 2019 |
| DraftKings Sportsbook | Wild Rose: Clinton | Clinton | February 2020 |
| DraftKings Sportsbook | Wild Rose: Jefferson | Jefferson | February 2020 |
| DraftKings Sportsbook | Wild Rose: Emmetsburg | Emmetsburg | February 2020 |
| theScore Bet | Ameristar | Council Bluffs | February 2020 |
| Caesars/Unibet | Harrah's Council Bluff | Council Bluffs | TBD |
| Caesars/Unibet | Horseshoe Casino | Council Bluffs | TBD |
| BetMGM | Diamond Jo | Dubuque | January 2021 |
| FanDuel | Diamond Jo – Worth | Northwood | September 2020 |
| BetRivers | Wild Rose | Jefferson | January 2021 |
| TBD | Casino Queen Marquette | Marquette | TBD |
Bonuses Available for Sports Betting Iowa Players
Registering for an account at an Iowa sports betting site is a simple process to undertake, and you should also know that this will open you up to a variety of bonus rewards, too. Different platforms provide different perks, so you should generally check the promo page to find out more about a specific sportsbook. Be sure to check into the wagering requirements of each reward as well, which can be found in the T&Cs relating to it. Some of the options available to Iowa sports betting fans include the following:
Risk Free Bet
Upon registering for an account at an Iowa sports betting site, you may find that there is a promotion for a risk-free bet. These can often cater to newcomers, but also reward regular bettors as well. Anyone opting to receive such can essentially place a wager and if it loses, the site refunds your stake. One of the best sites for its risk free bets is PointsBet, which offers 2 of these to newly registered and depositing players.
First Deposit Match Bonus
While bonuses of this variety are frequently associated with casino platforms, some sportsbooks do also offer them. As an Iowa bettor, you may also find a few sportsbooks providing such. Essentially, the first deposit that you make is matched by a percentage bonus. One of the best for this is BetRivers, which has a 100% bonus up to $250 on offer. So, if you deposit $250 at the platform, you get another $250 on top from this reward.
No Deposit Bonuses
These rewards are not as frequently seen as many others, but they essentially require you to simply register for an account at a site. From there, you must verify your details and then the sportsbook will grant you a no deposit reward. This generally exists as something minimal, like $10 for example. That is credited to your account and allows you to experience a few bets without making a deposit first.
Odds Boosts
Most often given for parlay bets when there are multiple selections included, odds boosts will essentially allow you to benefit from receiving better odds on events. Should these be winning bets, the payout for them will be better than the norm. If you want to register at a sportsbook with such promotions, then BetMGM is a great platform to go to and experience such.
Insurance
Again, frequently handed out on parlays, insurance promotions cover you for a single losing leg of a selection of bets. Therefore, if you select five NFL games to wager on and one of them does not finish in the team winning that you expected to, the insurance covers this up to a stated amount. One of the very best platforms for its insurance promo is FanDuel, so be sure to check it out.
How to Register for Iowa Online Sports Betting
Even though Iowa rolled out its sports betting options swiftly, this does not mean that signing up is a difficult process. Everything was well thought out, ensuring that you can sign up for an account and benefit from doing so quickly and easily. Simply follow the steps below to get yourself involved in sports betting in Iowa:
Step One: Decide Upon the Sportsbook You Want to Join
With all 19 casinos providing online sportsbook opportunities, you may wish to check through each one to find the best one for you personally. Of course, we would always recommend checking out the best ones that we have noted earlier on. They have the greatest features for Iowans to enjoy.
Step Two: Download and Install the Mobile Sports Betting App
Online sports betting is only accessible in Iowa from a mobile device. Therefore, you need to use your iOS or Android device to download the relative app from your chosen platform. This should be easy to do and then install afterwards. After this moment, you will see the icon for the sportsbook on your handset's home screen. This provides easy access to Iowa sports gambling.
Step Three: Register Your Details
So that you can proceed with depositing funds and placing sports bets, you need to register for an account. Generally speaking, the registration process is a simple one, taking no more than a couple of minutes. You will be required to input certain information about yourself and then verify the account details afterwards.
Step Four: Deposit Money
Be sure that you have signed up to an online sports betting site that supports your favored method of depositing. After you have created your account, you can easily visit the cashier page, select that banking method and make a deposit. Take note of the minimum and maximum deposit amounts at your chosen sportsbook, too.
Step Five: Place Your Bets
With money in your betting account, you can visit the sports betting lobby and access everything that is available there. Iowa also allows you to bet on local sports teams just like New Jersey, Colorado and some other states. So, prepare yourself for some exciting bets on the Iowa Hawkeyes and so on.
Available Sports Betting Markets in Iowa
Iowa is a great state to reside in if you are interested in accessing sports betting. This is not only because multiple sportsbooks are available to register at, but also because a variety of sports bets can be placed within. One part of this that must be mentioned is that the state supports live betting (also known as in-play betting). Not all U.S. states have allowed their players to access such, making Iowa quite the inviting location. In-game bets include both updated bets and proposition bets.
A large range of popular sports betting options can be found at Iowan sportsbooks, too. Legal options that you can involve yourself with include:
Parlay bets, allowing you to tie together several individual wagers into one.
Moneyline bets, giving you the chance to bet on a specific team or player to win.
Total bets, which sees you bet on the total score of the game in question.
Spread bets, offering you the opportunity to wager on the gap between one team's score and their opponents'.
Round Robin, giving you the possibility of laying several parlay bets at the same time.
Teasers, which operate in the same way as parlays, but individual elements are restricted to totals bets or spread bets.
Futures bets, for wagering on future sports events.
Iowa is not really home to any major professional sports teams. Other than the university team of the Iowa Hawkeyes, there are few teams that stand out so much. This does not mean that residents of the state do not have their favorites from other states to wager on in various sports. Of course, options like the Super Bowl remain at the forefront of many Iowans wagering favorites. Loyalty to specific teams is usually given to those from neighbouring states such as the Chicago Bears, Minnesota Vikings and Green Bay Packers
It is important to note that while betting on college sports events is provided, Iowa does not allow this to occur in live betting circumstances. Therefore, you cannot make proposition bets and can only place pre-match bets on such events. That being said, all of the USA's major sports can be found as legal betting options in Iowa, including the MLB, NBA, NFL, NHL and NCAA.
Iowa also offers 19 land-based casinos and racinos to its residents. The largest of those is the Prairie Meadows Racetrack in Altoona, a suburb of Des Moines. Horse racing events take place at this establishment, while casino gaming is also accessible. A variety of off-track betting locations for horse racing fans can also be used to place wagers on such. These include the Catfish Bend Casino, Harrah's Casino, Casino Queen and Lakeside Hotel & Casino.
Betting Apps for Iowans to Use
It is a necessity for anyone within Iowa who wants to partake in sports betting to have a mobile device for this. All sportsbooks therefore provide betting apps to their registered members, and these are frequently available to both Android and iOS users. Naturally, these remains as the primary two operating systems in use today, so the reach of sports betting within state lines is vast due to this.
Prior to January 2021, potential sports bettors had to visit land-based establishments to proceed with in-person registration before being able to use the apps. However, it is now possible to download them directly to your smartphone or tablet and proceed with remote registration in all cases. Through these apps, you can then proceed with sports betting activities from any location once signed up.

Free Bet Deposit Bonus up to $1,000
Free Bet Deposit Bonus up to $1,000
The Leading Sports Book in the US
All US Sports Covered + Global too
Legal in a Dozen US States
9.7
Claim Bonus
New customers only. Minimum deposit and bet of £10, at odds of 1/5 per multi selection. Free bets paid out in the form of 4x £5 tokens, which are valid for 7 days. Stakes not returned and no cash outs are available.
Risk-Free Bet up to $1,000
Risk-Free Bet up to $1,000
Sportsbook Now Live in 8 States
Play Daily Fantasy in 43 States
America's Most Powerful Sports Betting Brand
9.8
Claim Bonus
New customers only. 21+ to claim all sports betting offers. You must be resident of a legal betting state and within state lines in order to place a sportsbook bet. See FanDuel website for legal states.
$25 Free + 100% Bonus up to $1,000
$25 Free + 100% Bonus up to $1,000
Fantastic Mobile Betting Platform
Many Diverse Betting Markets Available
Earn $25 Absolutely Free
9.2
Claim Bonus
The Bottom Line
It is clear to see that Iowa knows what it is doing when it comes to sports betting. The state took action when it saw that the U.S. Supreme Court was overturning the PASPA law, and already had certain plans in mind as to how best to regulate and provide legal sportsbooks to its residents. It introduced a very healthy tax rate for sports betting revenue, launched both retail and mobile sports betting at the same time, and remains in operation as one of the most inviting states for such activity. With popular brands like FanDuel, DraftKings, BetMGM, William Hill and more operating within, it is likely that Iowa will remain at the peak of the sports betting sector in the United States.
Sports Betting in Iowa FAQs
Who Can Place Sports Bets in Iowa?
Legislation states that all gamblers must be of the legal age of 21 to place sports bets in Iowa. A valid piece of identification will usually be required so as to verify your age after signing up to a sportsbook. Regulations also require anyone winning in excess of $1,200 to provide their social security number to the site.
What Payment Methods Do Sportsbooks in Iowa Support?
The supported payment methods will differ from platform to platform. However, some of the more common options include online bank transfers, PayPal, credit and debit cards, and eChecks.
Does Iowa Provide Any Other Type of Online Gambling Options?
At the moment, no. Sports betting is the only legal form of online gambling that you can participate in from within Iowa borders. Therefore, if you are looking for casino gaming or poker, you will need to visit one of the land-based establishments or visit an offshore site.
How Good is the Tax Rate in Iowa?
Iowa actually has one of the lowest tax rates for sportsbooks at 6.75%. This is significantly lower than states like New Jersey, which has its own thriving sports betting industry, too. And with the licensing fee being $45,000 per casino, it was low enough to convince all of them to take up the option of providing online sports betting.
Can I Bet on Daily Fantasy Sports in Iowa?
Yes, the bill that was signed into law in 2019 by the governor also legalized DFS. DraftKings, which is known for its DFS options, was the first operator to receive a sports betting license once the state legalized such, too. FanDuel was not far behind in this respect.