West Virginia officially launched online sports betting in 2020, allowing bettors within state borders to enjoy placing wagers from a mobile device. And as it happens, The Mountain State was actually one of the earliest of the U.S. states to adopt sports betting after the PASPA law was overturned. With the passage of the sports betting bill – Senate Bill 415 – in 2018, West Virginia had five venues poised and waiting to introduce retail sports betting for visitors. The Hollywood Casino at Charles Town Races (owned by Penn National Gaming) took the state's first wagers in August of that year, starting things off in time for the football season.
WV sports betting has since grown considerably, and thanks to the latest introduction of online wagering, it has taken things to the next level. Following in the footsteps of other states like New Jersey and others, The Mountain State is becoming one of the best locations for enjoying sports betting. Of course, this has led to various US online sportsbooks opening their doors to WV residents. And we are here to provide some information on the best West Virginia online sports betting sites, as well as details about the legislation surrounding the industry within state borders.
Top Sites for Sports Betting in West Virginia
What to Consider When Choosing a WV Sports Betting Site
Signing up to an online sportsbook should not be something that you do haphazardly. Sports wagering is something that you should take seriously, and therefore, you should find a mobile app from a site that caters to your preference. At the same time, you should consider a few standard features. These features should be considered when it comes to online gambling in general, and they should assist you with locating the best online betting site for you.
Great Choice of Sports Betting Markets
Why sign up to an online sportsbook if it is not going to provide you with access to a wide range of sports? And we are not solely talking about the major sports here, but the larger picture. This includes options like the NFL, NHL and college sports, but also international options, like tennis, golf and cricket, for example. These should also provide favorable odds for you to wager on.
Inviting Promotions
It is not uncommon for an online sports betting site to provide special offers to its players. Different sporting events will sometimes have specific promotions attached to them, too. What we always recommend to bettors is to find a platform that not only allows you to claim a reward on your first deposit, but one that caters to you in this respect as you continue playing.
An Official License
It is important that you are placing bets at a legal and regulated online sportsbook. The Mountain State has a few of these for you to access, and they all have licenses from the West Virginia Lottery Commission. Without one of these, the sportsbook will be operating offshore and is not specifically a legal site within state borders.
Support for Numerous Payment Methods
From the moment that you make your first deposit and onwards, the likelihood is that you will want to do this with a payment method that you prefer using. This means credit cards, bank transfers and so on should be supported through your iOS or Android mobile betting device. The sites that we recommend frequently feature multiple payment methods for you to use.
Perfect Customer Support Options
When you need help, it is never ideal to have to wait around for it. This is why the sportsbooks that we recommend frequently have 24/7 support on hand through a variety of methods. This is important so that you can get back to sports betting as soon as possible. WV sports betting does provide this in many instances, so you should be able to benefit from it wherever you register.
Top-Quality Security
The final feature to watch out for when checking out an online sportsbook is to ensure that it keeps you and your details safe and secure. This means that it should utilize a secure server with exceptional data encryption technology. Without such, your personal information could be exposed to third parties. All legal sports betting sites should make you feel comfortable with the level of security.
A Closer Look at the Top Sites for Sports Gambling in West Virginia
So that you are aware of what we consider to be the best online sports betting WV sites, we are delving into them in a more in-depth way. As it happens, we have reviewed each and every one of them, ensuring that we are providing you with the relevant information. What is it about those platforms that make them the best? And how can you as a West Virginian benefit from signing up to bet at one or more of them? Take a closer look at these top West Virginia sportsbook apps.
1. FanDuel – The Best for Its Wide Selection of Sports Betting Markets (Welcome Bonus: Risk Free Bet Up to $1,000)
FanDuel is quite the platform of renown already, thanks to it starting out as a daily fantasy sports (DFS) site. As it happens, the FanDuel sportsbook was the first one to launch in West Virginia, uniting with The Greenbrier casino to do so. The platform features a variety of sports markets for you to wager on, as well as an exceptional welcome offer of up to $1,000 for you to benefit from. FanDuel also accepts deposits through most major credit cards and also allows eCheck transactions. The site caters to those who wish to bet on baseball, MMA, basketball, college football, soccer and several others. It is also held in high esteem for its dedication to responsible gambling practices.
What we like:
Fantastic selection of sports to bet on
High level of dedication to responsible gambling protocol
Inviting welcome offer
Support for various payment methods
What we don´t like:
Could do with a bit more effort in its customer support
2. BetMGM – The Best for Its Diverse Selection of Betting Options (Welcome Bonus: Risk-Free Bet Up to $600)
The BetMGM brand is one of those that stands out amongst the masses, primarily due to its longevity in the industry. Downloading the mobile app for this platform will allow you to experience a diverse collection of betting options and a strong choice of sports. It became the third sportsbook to launch in WV, providing its services from January 2020. The welcome risk-free bet will get you off to a great start there, and multiple supported payment methods make it even more appealing. West Virginians can also apply for the prepaid BetMGM Play+ card, which can be funded via a Visa or Mastercard. The platform utilizes 128-bit SSL security as well, making this a great sportsbook to join.
What we like:
High level of security
Excellent, long-running brand
Fantastic selection of betting options
Accepts multiple payment methods
What we don´t like:
No live chat customer support
3. DraftKings – The Best for Its Great Choice of Promotions (Welcome Bonus: 20% Up to $1,000)
Alongside FanDuel, DraftKings is one of the most well-known DFS providers in the USA. In more recent years though, it has taken to providing sports betting services in various states. West Virginia is also able to benefit from its options, and it launched in the state just a couple of days after the FanDuel platform. DraftKings excels in its range of special offers, including the 20% welcome bonus up to $1,000 for you to claim. The mobile app is easy to download and install, and a good selection of sports can be found at the platform. It also provides excellent customer support around the clock, ensuring that you can obtain assistance whenever you need it.
What we like:
Exceptional selection of special offers
Inviting platform design
24/7 customer support
Perfect mobile app functionality
What we don´t like:
Could improve its odds a little
4. Betly – The Best for Its Focus on American Sporting Events (Welcome Bonus: 100% Risk-Free Bet Up to $100)
As the newest addition to the WV sports betting scene, Betly has united with the Mardi Gras, Wheeling Island Casino establishment so that it can provide online sports betting to residents of the state. It has quite the exceptional and unique local design to it, and the major focus for it is on American sports leagues, such as those in the NBA, NHL and NFL. Betly also offers its users the chance to engage in live betting and has a section that features a couple of exciting promotions. It does lack a little bit when it comes to international sports, so anyone wanting to engage in events that are not quite as popular in the U.S. may find that this is not the site for them. However, as quite a new start-up, Betly is well on its way to being something big.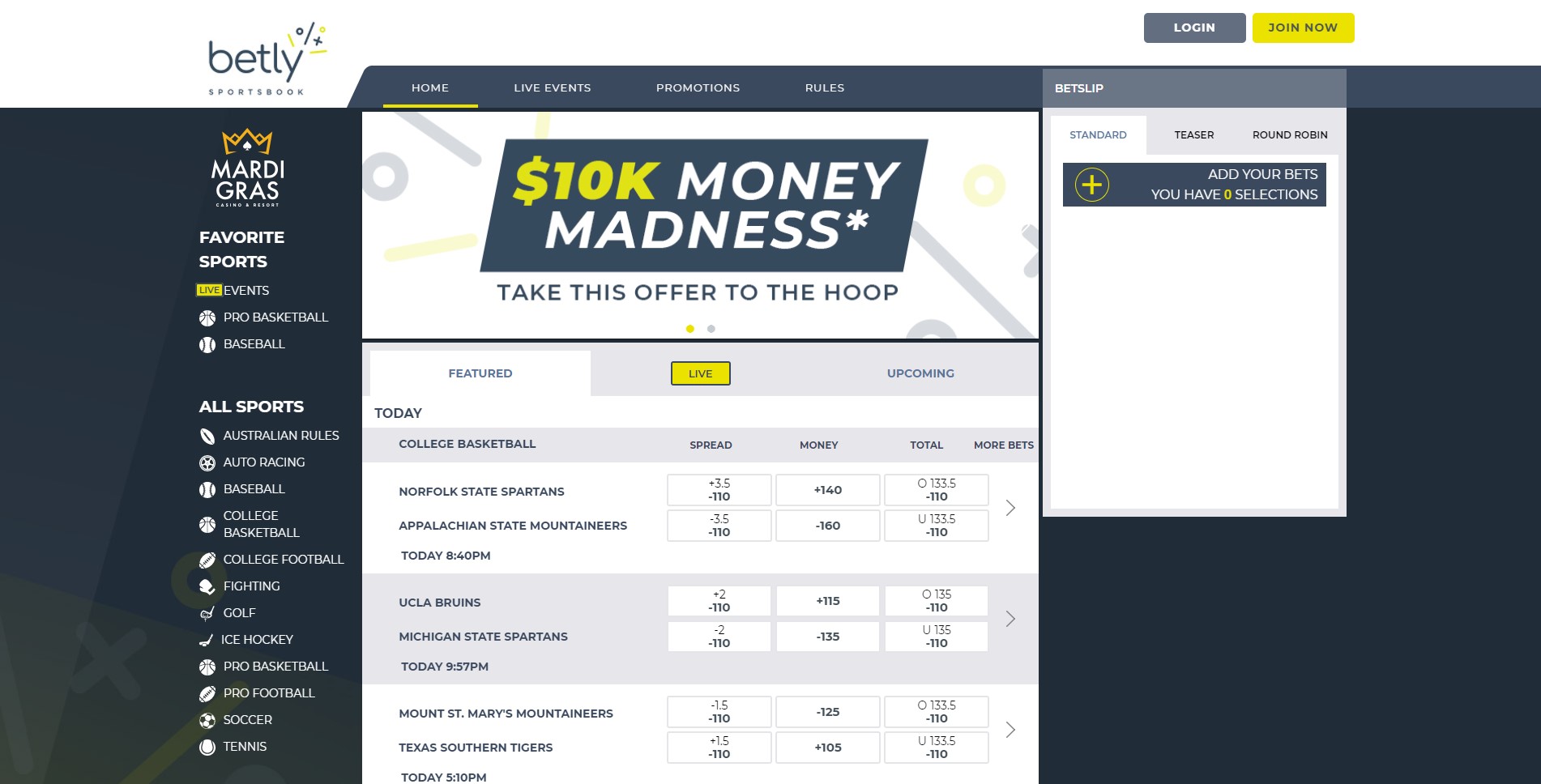 What we like:
Great welcome offer
Prime focus on American sports leagues
Inviting and unique platform design
Accessible solely to West Virginia residents
What we don´t like:
Fewer international sports available
WV Sports Betting Regulations and Legal Status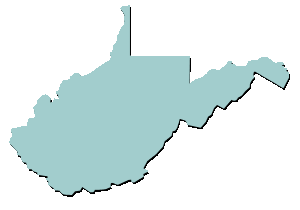 While it is true that New Jersey has held a lot of the recognition for getting the PASPA law overturned by the U.S. Supreme Court, West Virginia lawmakers should receive some credit, too. They were outright in their determination with the fight for legal sports betting across the United States. It is likely due to this that West Virginia was also one of the very first states to legalize the sports betting sector once the federal restriction was no longer valid.
In a similar vein to New Jersey, West Virginia already had a law in place to legalize sports betting within state lines. Therefore, by the time the Supreme Court opted to overturn the PASPA law, it was able to proceed onwards with the necessary bill. As it happens, SB 415 was actually produced and passed in March of 2018. That is a full two months before the decision was made to cancel the PASPA law out. West Virginia therefore became the first state to legalize sports betting in 2018. Pennsylvania became the first to do so in 2017.
Governor Jim Justice allowed the sports betting bill to become an official part of West Virginia law without him applying his signature to it. Rules in the state suggest that any bill that is not signed but has no debate against it will automatically become law after 30 days.
Through that law, the state's five casinos (including the one owned by Gov. Justice himself) were able to apply for a sports betting license in order to provide retail sportsbooks and online platforms, too. The casinos themselves were only able to have a single retail sportsbook, but the West Virginia legislation dictates that they are able to introduce up to three online skins as well. For the time being, none of them have exhausted their allotted number of skins, either.
The Restrictions to Take Note of in West Virginia
The primary restriction for licensed operators, other than the maximum of three online sportsbook skins, surrounds high school wagering. This is not permitted within West Virginia at all, which is a law that falls in line with various other states. At the same time, eSports wagering is permitted, but only if all participants in the video game events are at least 18 years old.
Regulations do not restrict you from betting on college sports, and this includes teams and events that take place within West Virginia, too. Of course, West Virginia does not have any major league sports teams to speak of, but teams like the NCAA Mountaineers (both football and basketball) and MiLB Black Bears for example, are also fair game.
From Land-Based to Online
Once the sports betting bill was passed through in 2018, it did not take long for the first retail sportsbooks to spring into action. The Hollywood Casino at Charles Town Races took the initial WV sports betting wagers on August 30 of that year. It was only a few weeks later that the FanDuel sportsbook opened within The Greenbrier for bettors to access.
While the West Virginia Lottery Commission did try to get both retail and online sports betting launched at the same time, this did not come to fruition. It was in late 2018 that the first mobile sportsbook opened its doors in the form of BetLucky, operating for the two Delaware North properties within the state. Unfortunately, due to certain technology disputes with then-partner Miomni, the app closed soon after and is unlikely to bring its services back to residents of The Mountain State.
It was several months later that the mobile sports betting scene sprang back into action with the launch of the FanDuel sportsbook betting app. This came about in August 2019, and this marked the third U.S. state where FanDuel's mobile app provided its services. DraftKings was not far behind in its mobile app launch, followed by BetMGM in January of 2020. Betly then came to prominence in more recent times, allowing bettors to place bets from mobile devices within West Virginia borders. The William Hill brand also found itself opening virtual doors in the state at around the same time.
Facts and Figures for Licensing
The law permitting casino and racetrack licensees the chance to apply for sports betting licenses also dictated that a $100,000 application fee was required. Those licenses should also be required every five years for the same cost.
Further to this, West Virginia law states that a 10% tax on all operators' gross sports wagering revenue should be paid. That law does not include the "integrity fee" that many professional leagues spent their time pushing for prior to sports betting's legalization.
Licensed West Virginia Online Sports Betting Partners
As noted, the casinos and racetracks in West Virginia were the only establishments able to apply for sports betting licenses within. This is how brands like the DraftKings sportsbook and others have managed to provide their services within state lines. The partnerships struck between the casinos and sports betting operators ensure that residents get the chance to enjoy placing sports bets. West Virginia has four racetrack casinos and a single commercial casino, the majority of which have all united with sportsbook operators. These partnerships are as follows:
| | | | |
| --- | --- | --- | --- |
| Online Sportsbook | Casino Partner | Location | Launch Date |
| FanDuel Sportsbook | The Casino Club at The Greenbrier | White Sulphur Springs | August 2019 |
| DraftKings Sportsbook | Hollywood Casino | Charles Town | August 2019 |
| BetMGM | The Greenbrier (skin) | White Sulphur Springs | January 2020 |
| William Hill | Mountaineer Casino | New Cumberland | September 2020 |
| Betly | Mardi Gras | Wheeling Island | September 2020 |
Sports Betting WV Bonus Options
When accessing WV sports betting sites, you may find that there are various bonus options that you can benefit from. These work towards providing you with an enhanced sports betting experience. These sports betting West Virginia bonuses come in different formats, so it would be ideal to learn a little bit more about them before claiming such. It is also necessary to inform yourself on the wagering requirements for each bonus prior to receiving it. These can always be found in the terms and conditions. Some of the popular bonus rewards include:
Deposit Match Bonus
Sites do tend to reward players once they have made their first deposit more often than not. A deposit match bonus is basically what its title suggests – a match of the amount that you deposit into your account. Let's say that you decide to make a deposit of $100 and the match bonus is 100%, then you would get an extra $100 on top, starting your WV sports betting journey off with a total of $200. The DraftKings site has a 20% up to $1,000 welcome bonus that you can claim as a newcomer.
Parlay Insurance
A parlay bet is one that you combine multiple singles bets into one large wager on your bet slip. Because this contains multiple legs or events, it poses a bit more of a risk. Usually, if just one of them fails, then you lose your wager. Fortunately, if a site offers parlay insurance, a failing bet on an event would be covered by this, resulting in you getting your stake for it back. The BetMGM site has some excellent parlay insurance offers to benefit from.
Risk Free Bet
Bets without any risk will always be an appealing notion. Fortunately, a couple of WV sports betting sites incorporate such promotions into their sites for you to benefit from. A risk free bet will allow you to make a wager and then if it is a losing one, the site refunds you the amount staked. FanDuel's welcome offer provides a risk free bet to you worth up to $1,000, which is a monumental way to start off your sports betting journey.
Odds Boost
One final promotion to make mention of is the exciting odds boost options that some platforms offer. As the title suggests, you will see odds on specific sporting events boosted to provide better payouts should you place a winning bet on such. It is imperative to keep checking back on the sportsbook's promotions page to find out the latest odds boosts. The DraftKings platform frequently provides inviting odds boosts for you to take advantage of as a member.
Signing Up for a West Virginia Sports Betting Account
To access West Virginia sports betting online, you need to download one of the mobile apps. This is a simple process to undertake, and you must then proceed through a few additional steps to open your account. To go ahead with placing a bet on sports, we recommend that you follow this brief guide on opening an account.
Step 1: Seek Out Sports Betting Apps That Cater to You
While it is true that West Virginia does not have a huge number of online sportsbooks that you can access, it is still imperative to seek out one that works for you. They all come with their own features, benefits, promotions and so on. And you will need to be aware of all of this before selecting one to join. Check out our reviews above for our recommendations on the best WV sports betting sites.
Step 2: Download the Betting App for Your Mobile Device
Each respective sportsbook should provide you with a link to its relevant Android and iOS mobile app. You can then proceed with downloading the one that caters to your device specifically, and upon doing this, the app should install automatically. From there, you can simply tap on the app and load the sportsbook up on your device.
Step 3: Go Through the Registration Process
All online betting platforms, like online casinos and such, require users to go through a registration process. This opens a sports betting account up for you and will require certain details to be entered. You will need to input your name, address, email address, age and so on at this stage. The whole process should only take a couple of minutes for you to complete, though.
Step 4: Make a Deposit
You will then be able to visit the sportsbook's cashier page and make a deposit into it with one of the supported payment methods. Be sure to check what the minimum deposit requirements are for your chosen WV sports betting platform. Furthermore, if there is a deposit bonus on offer, check the terms surrounding the reception of this.
Step 5: Bet on Sports
Now that money is readily available in your sports betting account, you can use it to place your favored sports wagers. Visit the lobby and check through all the available sporting events and their odds before proceeding with the bets.
West Virginia Online Sports Betting Markets
West Virginia is a fairly liberal state when it comes to the types of sports bets you can place, as well as the markets that are available. Unfortunately, West Virginia is not home to any professional sports teams, with the West Virginia Mountaineers college team being the most popular football team. This does not mean that there is little interest in sports betting, though. Various nearby cities within other states play host to some major sports teams. They include the Philadelphia Eagles and Flyers of Pennsylvania, the Baltimore Ravens and Orioles of Maryland, and the Cleveland Browns and Indians of Ohio.
With this being the case, West Virginians are likely to support one of those nearby teams and will potentially turn to WV sports betting sites to bet on sports within those sectors. For this reason, markets like the NFL, NBA, MLB, NCAA and NHL are readily accessible. At the same time though, international sports, such as Australian rules football, cycling, boxing, golf, soccer and table tennis are also accessible at online sportsbooks.
You will also be able to place various different sports bets within West Virginia. The legal sports betting options on mobile apps include:
Spread bets
Moneylines
Totals
Futures
Propositions
Live betting
Parlays
Teasers
Round Robins
One of the best parts about WV sports betting regulations is that live betting is possible to bettors. Therefore, if you have an affinity with wagering on sporting events while they are playing out, the available sportsbooks will allow you to do this. As noted earlier, the only real restriction when it comes to the available markets are on high school sports events.
Sports Betting in West Virginia Mobile Apps
Online sports betting in West Virginia must take place through a mobile device. This requires you to download and install one of the apps from the site you would like to become a bettor at. Because Android and iOS operating systems are the primary and most-used, sportsbooks will offer options for both of these. You can download one of these betting apps and then remotely register for an account through it too, meaning that you do not have to visit one of the retail sportsbooks for this.
Therefore, if you ever want to bet on the Super Bowl or NHL for example, you can do this from home or any other location. As long as you are within West Virginia borders and the geolocation technology can confirm this, you have free reign.
Risk-Free Bet Up to $1,000
Risk-Free Bet Up to $1,000
Superb Selection of Markets
Super Chunky Welcome Bonus
Play Fantasy Sports Too!
9.8
Claim Bonus
Risk-Free Bet Up to $600
Fantastic Mobile Betting Platform
Many Diverse Betting Markets
Available Earn $25 Absolutely Free
9.8
Claim Bonus
Free Bet Deposit Bonus up to $1,000
Free Bet Deposit Bonus up to $1,000
The Leading Sports Book in WV
All US Sports Covered + Global too
Fast and reliable payouts
9.7
Claim Bonus
The Bottom Line
It is clear to see that WV sports betting has come a long way since it was first introduced in 2018. Starting out with retail sports options and then progressing through to the online versions, the state has welcomed sports betting with open arms. Then again, when regulators had a bill for it ready prior to the overturning of the PASPA law, it can only be expected. Further to this, while West Virginia currently only has five online sportsbooks on hand, it is thought that more will add their names to the list in due course. The Golden Nugget brand has secured a deal with Greenbrier for an online skin, though further details on this have yet to be announced. Others that could be introduced to the state include Caesars, BetRivers and PointsBet.
West Virginia Sports Betting FAQs
Are There Any Other Sportsbooks Active in West Virginia?
The sites that we have listed here are all licensed to operate in West Virginia by the Lottery Commission. Any other platform that you find providing online sports betting options will be based offshore and are considered riskier to sign up to and bet at.
Can I Bet on the West Virginia Mountaineers from Within State Borders?
Yes. The WV sports betting regulations allow you to bet on college sports events. Therefore, the Mountaineers and other college teams can be wagered on easily.
Can I Access DFS as Well as Sports Betting in West Virginia?
Yes. Both FanDuel and DraftKings operate legal sports betting within state borders in both retail and online setups. Furthermore, they both provide daily fantasy sports for you to access from within West Virginia.
Why Is It Not Possible to Join BetLucky Anymore?
BetLucky was the first online sports betting site to begin operating in West Virginia. However, it did not take long for issues to arise with. The site unexpectedly went offline and parent company Delaware North issued a statement about the halt of its services. This came about due to a dispute between its platform provider, Miomni, and a third-party provider.
Do I Have to Reside in West Virginia to Play at the Sportsbooks?
No, you do not have to be a resident of The Mountain State. As long as you are in state lines and are age 21 or over, then you can access the state's various sportsbooks from a mobile device.