With the introduction of a new law in 2019, Colorado became the 19th U.S. state to legalize online sports betting. And while some may not be so impressed by that number, it could actually be the case that sports betting in Colorado has one of the best setups available. The first legal sports bets in the state were placed on May 1, 2020, thanks to the launch of four separate Coloarado sports betting apps from brands like BetMGM and FanDuel. This led to the Centennial State kicking off its mobile betting scene in the best way possible.
Of course, things were not specifically helped by the worldwide pandemic that hit in 2020. However, this did not stop various brands launching their own sportsbook app throughout the year. It is now the case that several legal Colorado sports betting sites exist for you to join. But which one should you register at and place bets? Well, that is precisely what we are here for – to give you some guidance on the various Colorado gambling laws and the sportsbooks you can join.

Free Bet Deposit Bonus up to $1,000
Free Bet Deposit Bonus up to $1,000
The Leading Sports Book in the US
All US Sports Covered + Global too
Legal in a Dozen US States
9.7
Visit Site
New customers only. Minimum deposit and bet of £10, at odds of 1/5 per multi selection. Free bets paid out in the form of 4x £5 tokens, which are valid for 7 days. Stakes not returned and no cash outs are available.
9.8
Visit Site
100% Up to $150 Welcome Bonus
100% Up to $150 Welcome Bonus
9.6
Visit Site
Risk-Free Bet Up to $1,000
Risk-Free Bet Up to $1,000
9.6
Visit Site
2 Risk Free Bets Up to $2,000
2 Risk Free Bets Up to $2,000
9.5
Visit Site
9.4
Visit Site
Risk Free First Bet Up to $500
Risk Free First Bet Up to $500
9.4
Visit Site
What to Consider When Choosing a Colorado Sportsbook
You need to introduce a bit of skill and know-how when it comes to choosing a sports wagering site. There is no point in picking a platform to bet at out of thin air. Each of the different sports betting sites has something unique to offer in comparison to its competitors. That is why it is important to check into as many as possible before you make a registration. In all circumstances though, it is key to stay alert for a few specific features. These considerations include the following:
A Great Choice of Betting Markets
What is the point in signing up to an online sportsbook through your mobile device if it only has a few markets for you to bet on? You need one that has a great range of professional sports, both local and international. This should be the same regardless of whether accessing the options through a retail sportsbook or a mobile app.
High-Quality Security
You need to feel safe and secure in the sports betting site that you have joined. Finding one that provides some of the best security features is therefore paramount. When it comes to Colorado mobile sports betting, this is definitely a key factor to seek out. Ensure that a secure server is in use and that all transactions occur in encrypted format. This way, all of your personal details are kept safe and hidden away.
Excellent Customer Support
There is usually always a way to speak to someone at an online sportsbook. However, it is the quality of this assistance that you need to be sure of before joining. Gambling in Colorado should be a fun and easy process to undertake. If you do hit any bumps in the road though, you need to be sure you can seek out the help that you need. This means that customer support through email, live chat, telephone and even social media should be provided by the site.
An Official License
Online sports betting in the Centennial State is regulated by the Colorado Division of Gaming. Therefore, if the platform does not have an official license from this regulatory body, it is likely not operating within the state's legislation. If a site is accessible in Colorado, then it should have an official license from the Division of Gaming to ensure everything is operating within legal regulations.
Support for Multiple Payment Methods
Depositing and withdrawing at CO sports betting sites is going to be an integral part of using such platforms. This is why it is quite imperative for them to provide more than one supported payment method. Whether you are using a credit card, an e-wallet like PayPal, a bank transfer, cryptocurrency or something else, these sites should allow you to do so easily. A sportsbook should be catering to you in as many ways as possible.
Excellent Promotional Offers
Signing up to an online sports betting platform should not solely be about accessing the different markets, though. These sportsbooks should also provide compelling promotions and rewards, just like Colorado casinos do. And this is also something that should be available through a sportsbook app, rather than just online or at a retail location. Promotions should include bonuses, free bets, cashback, enhanced odds and more.
A Closer Look at the Top Colorado Sports Betting Sites
The sports betting Colorado sites that were mentioned earlier must have something that makes them stand out from the rest. So, what is it about them that we consider to be their best features? Well, join us as we take a closer look at the top platforms and the Colorado mobile sports betting options that they provide to you.
1. DraftKings – The Best for Its Plethora of Lines and Markets (Welcome Bonus: 20% Up to $1,000)
The DraftKings brand has been around since 2012, initially starting out as a provider of daily fantasy sports. However, it started operating an online sportsbook as well, and this launched in New Jersey in 2018. It took the development team one year to create, and this is evident by how impressive it is from the first moment. It is this sports betting platform that has also been made available in Colorado. Anyone signing up to the sportsbook can expect to access multiple sports markets and excellent odds. Live betting is also accessible within Colorado, and DraftKings provides you with access to such options for this, too.
What we like:
Live betting accessible
Huge selection of sports for betting on
Exceptional user interface
Speedy payouts process
What we don´t like:
Fewer supported payment methods
2. BetMGM – The Best for Its Strong Welcome Bonus and Ongoing Promotions (Welcome Bonus: Risk Free Bet Up to $600)
The BetMGM platform is powered by the well-known Borgata brand, and it has been growing significantly ever since introducing its sportsbook, poker room and casino to New Jersey. Colorado residents are also able to benefit from its mobile betting app, ensuring that exciting sports wagering can occur from any location within state lines. The welcome offer allows you to engage in some risk-free betting, with up to $600 provided should the first wager lose. BetMGM also has a wonderful layout for you to navigate through, ensuring ease of access to your favorite sports and odds. You can also enjoy in-play betting at the site, giving you a thrilling in-the-moment experience.
What we like:
Established and trusted brand
Great promotions available
Impressive collection of bets on hand
Inviting boosted parlays feature
What we don´t like:
Difficulty in locating customer support
3. Sportsbetting.com – The Best for Bonus Playthrough Requirements (Welcome Bonus: 100% Up to $150)
Even though the Sportsbetting.com brand may be newer to the block than some other mobile apps, it is not about to be left behind. The inviting welcome bonus is one great part about it, but this also has minimal wagering requirements of 1x to complete, which is excellent. Something else that stands out about this site is that it provides news articles, game previews and predictions for you to benefit from. Customer support is on hand 24/7, so you can always find the assistance that you need. At the same time, Sportsbetting.com is the official data provider for the NFL, giving it a link to a popular professional league. Add its prevalent social media presence and this is one sportsbook not to miss out on.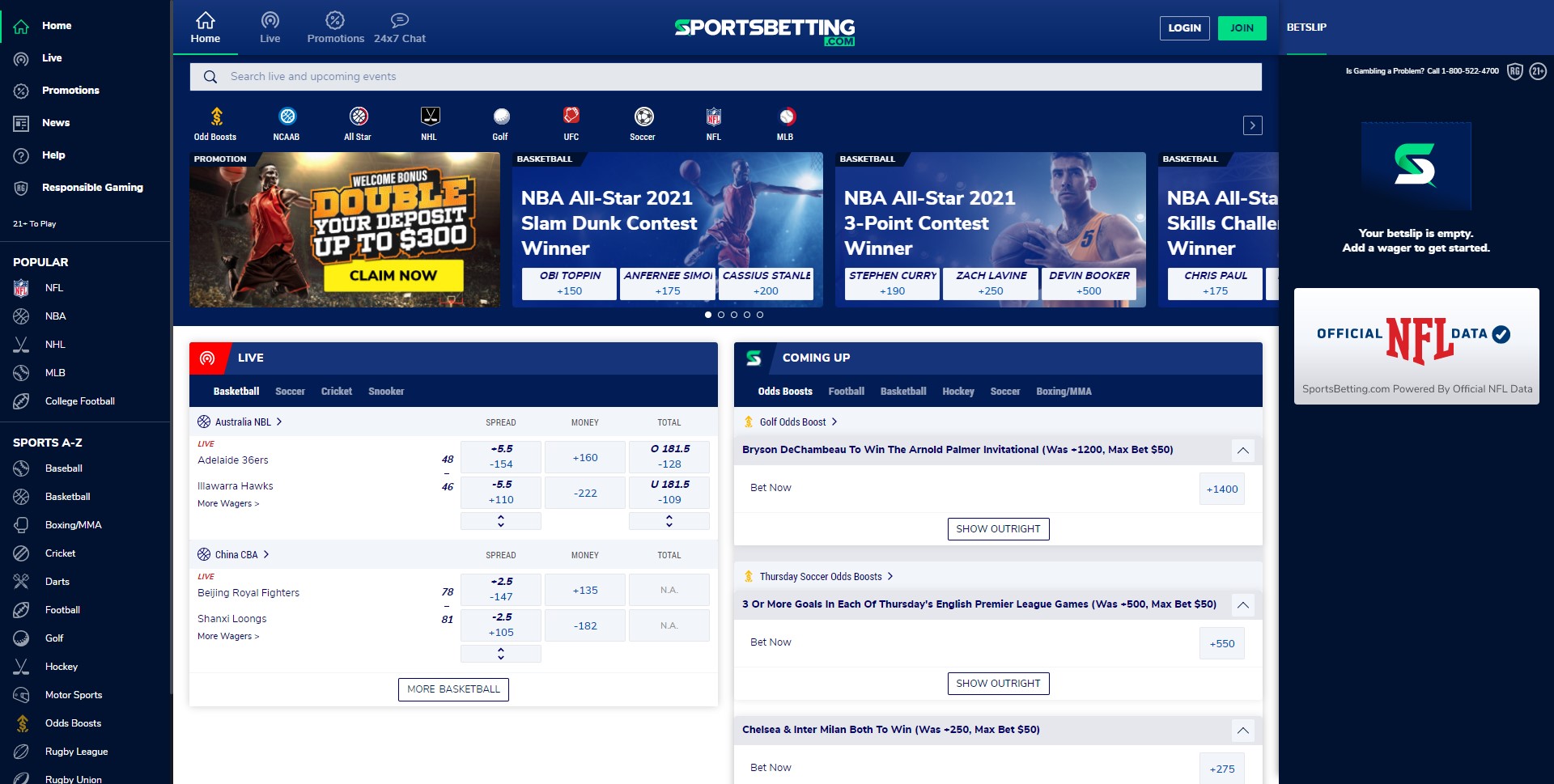 What we like:
Ideal user interface for easy navigation
Excellent bonus playthrough requirements
24/7 customer support
What we don´t like:
Still relatively new to the scene
4. FanDuel – The Best for Its Wide Range of Sports to Bet On (Welcome Bonus: Risk-Free Bet Up to $1,000)
FanDuel is one of the biggest names in the sports betting scene, and with it now being accessible to Colorado residents, it is continuously growing. With a wide range of sports for you to bet on as well as its popular DFS section, there is plenty to do at FanDuel. The slick user interface and bet slip make the process of betting an easy one, and you can proceed with the registration process quickly, too. Customer support stands out as being a great feature, as advisors will be able to provide you with top-quality assistance, despite it not being available 24/7. And with the initial risk-free bet of up to $1,000 being on hand, this could perhaps be one of the best Colorado sports betting sites to join.
What we like:
Excellent customer support
Huge choice of sports to bet on
Slick user interface
Speedy registration process to go through
What we don´t like:
Support is not available 24/7
5. PointsBet – The Best for Its Great Selection of Ongoing Promotions (Welcome Bonus: 2 Risk-Free Bets Up to $2,000)
With a large variety of sports to select from for betting on, great bonus options to benefit from and some inviting payouts to experience, PointsBet is a great Colorado sportsbook. The site has a wonderful design, ensuring that you know you're playing at PointsBet, and it offers some compelling ongoing promotions alongside. Parlay boosts will ensure that you can get the most out of placing multiple bets in one go, while the inclusive blog will allow you to see data and information on upcoming games and events. PointsBet also allows you to engage in its Name a Bet, allowing you to request a specific bet from the team. And with live betting also being available at the sportsbook, it has plenty to keep you occupied with.
What we like:
Large range of sports markets
Great promotions to claim
Live betting available
Name a Bet function
What we don´t like:
Potential for large losses to occur
6. BetRivers – The Best for Its Full Live Betting Options (Welcome Bonus: 100% Up to $250)
The BetRivers platform is a mobile app created by Rush Street Gaming, and it brings an exciting and well-designed sports betting site to Colorado residents. That is quite the achievement considering it has only been available since 2019. The welcome offer allows you to benefit from up to $250 in bonus funds to use on sports betting. Its mobile app caters nicely to both Android and iOS users, ensuring that you can always bet on the sports you want from anywhere. At the same time, it provides a large suite of live betting opportunities for you to engage in, so you can get that in-game action. And to top everything off, the BetRivers rewards scheme is perhaps one of the best in the world. With multiple levels to work your way through, it is something delightful to experience.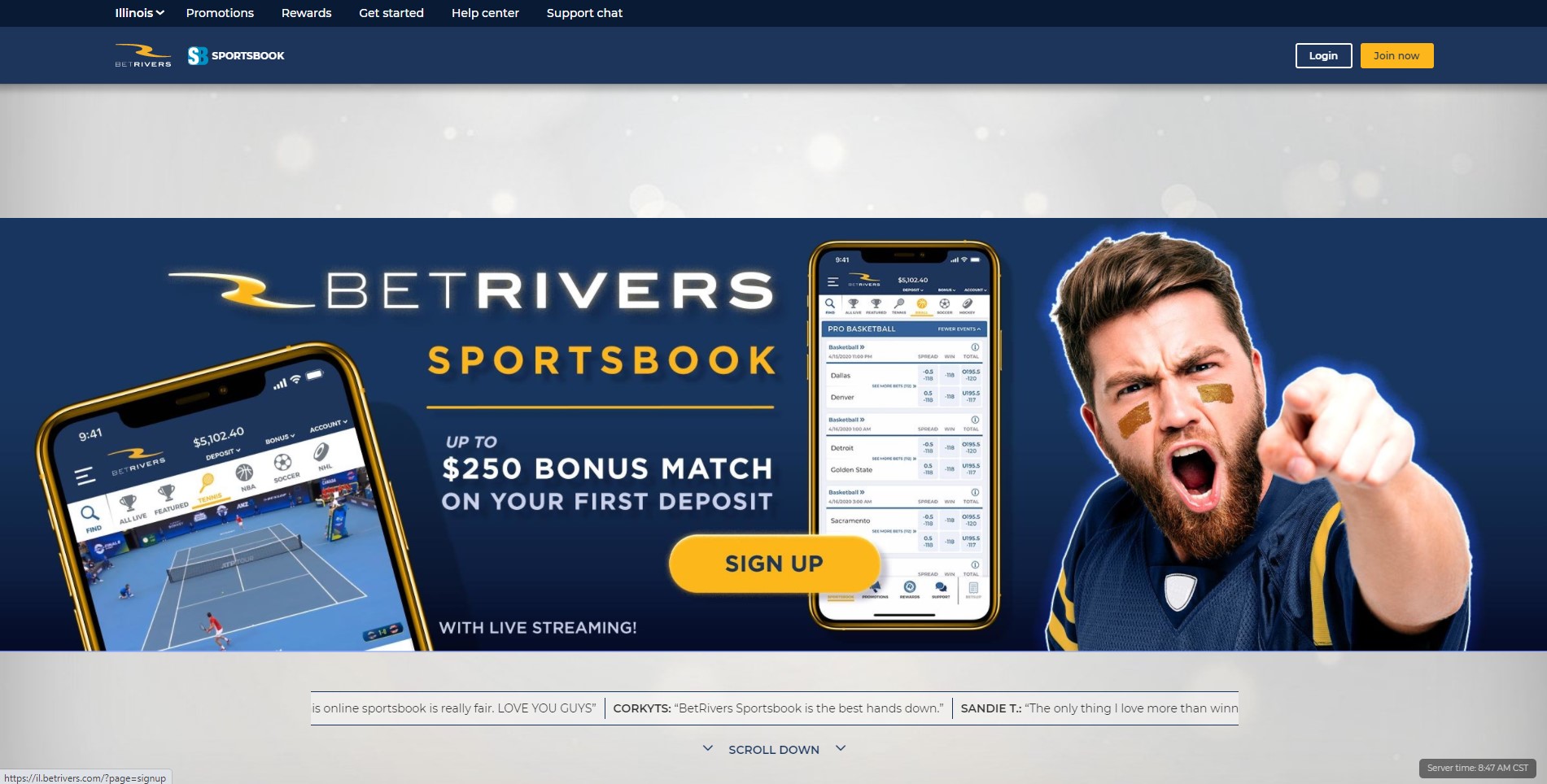 What we like:
Excellent range of live betting options
Easy-to-clear deposit bonus
Top-quality loyalty scheme
Support for numerous payment methods
What we don´t like:
No 24/7 live customer support
7. FOXBet – The Best for the Ability to Create Unique Custom Bets (Welcome Bonus: Risk-Free First Bet Up to $500)
Everyone has probably heard of FOX Sports, so this sportsbook should sound quite familiar from the get-go. And once you understand how well it operates, you will likely want to know more about it. Once you become a member, you can proceed with depositing and then creating your own unique custom bets. Throw in a good selection of promotions to benefit from alongside and you will be off to a great start at the site. In fact, you get up to $500 in a risk-free bet as a new player at the sportsbook. The mobile app has some impressive speed behind it too, ensuring that you never miss betting on your favorite sports. Everything has been designed so as to cater to your needs, and this is what makes FOXBet so impressive.
What we like:
Unique customer bet creations
Responsive mobile app
Plentiful online promotions
Great range of betting options
What we don´t like:
Limited customer support features
Is Sports Betting Legal in Colorado?
To put things simply, yes, sports betting is legal within Colorado since 2020. It was at this time that it became the 19th state to introduce a legal sports betting sector to residents. And it was not introduced solely for people to enjoy betting, either. Instead, the Colorado gambling laws dictated that revenue from sports betting would primarily go towards funding its water projects.
It is prominent to go back to 2018 though, which is when the United States Supreme Court repealed the Professional and Amateur Sports Protection Act (PASPA). Due to this move, each U.S. state was able to introduce its own sports betting laws. Colorado was keen to enact such, and just under two years later in a November 2019 election, state voters passed a bill through by a narrow margin. Proposition DD thereby led to legal sports betting becoming a part of The Centennial State.
Swift Sports Betting Launches in CO
It did not take long for online sports betting Colorado sites to go live, either. Six months later, brands like DraftKings, FanDuel, BetMGM and BetRivers all opened their virtual doors. By November of 2020, more than a dozen other commercial sportsbooks had launched their operations within Colorado. Even a tribal sportsbook operator opted to get involved in the scene, while retail sportsbooks began accepting legal sports bets throughout Colorado, too.
As it happens, regulators have taken quite the permissive approach to Colorado gambling when compared with various other locations in the United States. Few barriers have been placed in the way of those looking to involve themselves with sports betting apps. It is this that has led to the growth of Colorado's sports betting scene too, with the state posting inspirational figures in 2020, despite its relatively small population.
Even though sports betting in Colorado launched in the midst of the worldwide coronavirus pandemic, thereby halting many major sporting events, Colorado sportsbook sites brought in $25.5 million in revenue in the first month. By September of the same year, the Department of Revenue announced that income had increased to more than $200 million, and the trend continued throughout 2020. By 2024, it is predicted that the state's annual revenue from sports betting will hit between $6 billion and $8 billion.
Lawmakers in Colorado have actually learnt from the experience of being one of the first states to legalize recreational marijuana. Due to this, it was able to take that permissive stance to Colorado gambling, both online and offline. Remote registration is allowed, meaning that you do not have to go to one of the land-based US sportsbooks to sign up. States like Iowa and Nevada do not have such privileges. Of course, the sports betting apps need to verify your location as being inside state borders.
Colorado Sports Betting License Fees Amongst Lowest in USA
When it comes to the official sports betting licenses, there are three categories available in Colorado. A master license can be issued to existing CO casinos, with all sportsbook operations being tied to this license. An operator license is provided to land-based operators providing their services to master license holders at on-site premises. And internet sports betting licenses are offered to those giving individually branded online sportsbooks. The licensing scheme also means that brands like DraftKings and FanDuel have to partner up with a Colorado casino to be able to launch within.
Licensing fees in Colorado are also among the lowest within the USA. A master license is taken for $2,000 while the other two incur a charge of $1,200. When you compare this with states like Pennsylvania and Illinois that have charged up to $10 million and $20 million for such, Colorado is a much better bargain for operators. With a low tax rate of 10% in place as well, the Colorado gambling laws are some of the most favorable across the nation.
Licensed Colorado Sportsbook Partners
Because it is necessary for Colorado mobile sports betting operators to pair up with land-based casinos, various partnerships have sprung up across the state. However, it is this that has led to the possibility of the FanDuel sportsbook Colorado site and others to become available within. As things stand at the moment, mobile betting is able to take place due to the following and upcoming unisons between companies:
| | | | | |
| --- | --- | --- | --- | --- |
| Online Sportsbook | Casino Partner | Location | Software | Launch Date |
| FanDuel | Golden Gates | Black Hawk | IGT/GAN | May 2020 |
| DraftKings | Golden Gulch | Black Hawk | Kambi | May 2020 |
| BetRivers | J.P. McGills | Cripple Creek | Kambi | May 2020 |
| FOXBet | Lady Luck | Black Hawk | TSG | May 2020 |
| BetMGM | Midnight Rose | Cripple Creek | ROAR Digital | May 2020 |
| PointsBet | Double Eagle | Cripple Creek | PointsBet | November 2020 |
| William Hill | Lady Luck; Isle Casino | Black Hawk | William Hill | September 2020 |
| BetMonarch | Monarch Casino | Black Hawk | Stadium Tech | May 2020 |
| SBK Sportsbook | Bronco Billy's | Cripple Creek | Smarkets | June 2020 |
| Sky Ute Sportsbook | Sky Ute Casino | Ignacio | US Bookmaking | June 2020 |
| Circa Sports | Century Casino | Cripple Creek | Stadium Tech | July 2020 |
| Bet Wildwood | Wildwood Casino | Cripple Creek | Amelco | July 2020 |
| Elite Sportsbook | Red Dolly | Black Hawk | GVC | August 2020 |
| theScore | Jacobs Entertainment | Black Hawk | Bet.Works | September 2020 |
| Betfred | Saratoga Casino | Black Hawk | Playtech | September 2020 |
| Sportsbetting.com | Johnny Nolan's Casino | Cripple Creek | Carousel | September 2020 |
| Barstool Sportsbook | Ameristar Black Hawk/Penn National | Black Hawk | Kambi/Penn Interactive | TBD |
| BetAmerica | Bronco Billy's | Cripple Creek | SBTech | TBD |
| Superbook USA | The Lodge | Black Hawk | Miomni | TBD |
| WynnBet | Bronco Billy's | Cripple Creek | Scientific Games | TBD |
Available Bonuses on Live Betting Apps in Colorado
When you sign up to an online sportsbook in Colorado, you can also look forward to receiving bonus offers. These are available to both newcomers and frequently to regular bettors, too. It is important to know exactly what these rewards are before you complete your registration. The competition for customers is high in Colorado due to the large number of sportsbooks on hand. So, the offers available reflect their intent to have you sign up. Bonus offers take several forms, such as:
Free Play Bonus
This will provide you with a minimal amount after you register for an account. It allows you to experience the sports betting opportunities with $10 – $20. This one is also one of the rarer bonus offers, but it can provide a great insight into what you can expect once you make a deposit at the sportsbook.
First Deposit Match
You will receive a percentage match of your first deposit made. This often comes in the shape of a 100% up to… reward. From this, you can extend your initial sports betting experience beyond the amount which you deposit first off. It is important with these rewards that you check into the full terms and conditions relating to it, too. Those terms will dictate the wagering requirements that you need to adhere to. We discovered that one of the best sites for playthrough requirements is Sportsbetting.com, which has a 1x wagering rule on its welcome offer.
Risk-Free Bets
From such an offer, you can place a wager and if that first bet is not a winning one, you will be refunded. Essentially, you cannot lose with such a reward, and newcomers can benefit from these frequently. One of the best Colorado sports betting sites for this is PointsBet, which grants you two risk-free bets up to $2,000 altogether.
Enhanced Odds and Parlay Boosts
Once you become a regular player, you can seek out the enhanced odds on certain events. Parlay boosts will provide you with exceptional boosts to the payouts that you can gain from creating an accumulator wager. Check out the BetMGM sportsbook for this, as there is plenty to enjoy about its ongoing promotions.
Insurance Promotions
One final sports betting promotion that can be of great help is the insurance on parlays. This covers you if one of the bets that you make within your multiple is a loser. Essentially, you receive your stake back up to a certain amount for that losing leg. The FanDuel sportsbook Colorado has such rewards for you to benefit from.
How to Register for an Account at a Colorado Sportsbook
The sign-up process at an online Colorado sports betting site should be a simple enough process. And if you visit one of our recommended platforms, this is definitely going to be the case. However, to make this an easy process for you, we have a step-by-step guide that you can follow below.
Step 1: Choose Your Favorite Sportsbook
Because Colorado gambling laws are quite liberal, numerous sites have set up shop within the state. Therefore, Colorado residents have their pick of a great bunch. As noted, we have a recommended selection, including the DraftKings sportsbook, FanDuel, BetRivers, FOXBet and so on. Simply choose whichever one caters to you the most after researching it.
Step 2: Download the Mobile App
In order to engage in online gambling, sports betting sites in Colorado must provide a mobile app. So, once you have chosen the site that you want to bet at, you just need to download the relevant app for your device. A sports betting operator should ensure that it provides apps for both iOS and Android devices and downloaded apps should install automatically afterwards.
Step 3: Register for an Account
Prior to placing any bets, you need to complete the sign-up process. Most sites provide an easy registration process to go through, with some basic information required. This means you should enter details like your name, address, phone number and email address, amongst others. It should take no longer than two minutes.
Step 4: Make a Deposit
Once you have opened your Colorado sportsbook account, you need to make a deposit into it. Different online betting sites accept different payment methods. Therefore, select your preferred option and proceed with a deposit. Take note of the minimum deposit rules and also of any specific bonus codes needed for claiming a welcome offer from the site.
Step 5: Proceed with Betting
Now that you have funds in your account, you can go ahead and place your favored bets. You can even bet on local professional sports teams in the state of Colorado, meaning that you have the ability to wager on the Denver Nuggets, the Denver Broncos and so on.
Available Markets and Sports in Colorado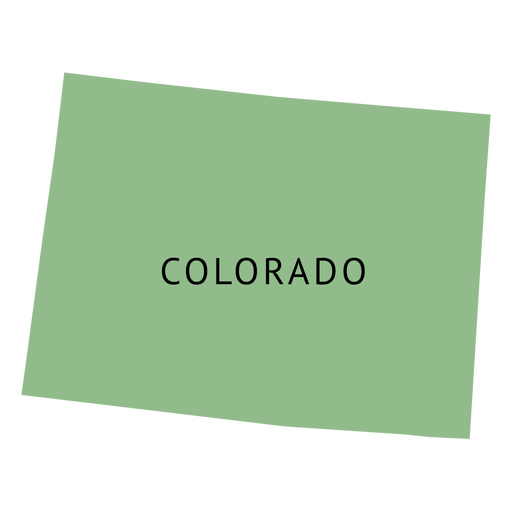 Colorado does have quite the inviting sports betting industry, and as long as you are physically located in the state and of age 21 or above, you can access it. Only a small number of restrictions are in place beyond this. The Colorado Division of Gaming maintain a detailed register that lists the approved events for sports wagering. eSports betting is something that this list features, meaning that you can bet on the outcome of CS:GO, League of Legends and so on.
One restriction though is in relation to college sports. However, this only applies to live betting, so you can still place pre-match bets on these events. Therefore, games taking place between Colorado universities are fair game as long as the wager is placed before the event takes place. So, if you are a fan of the Falcons or the Rams, it is all fair game.
Colorado gambling laws do dictate that you cannot bet on high school sports, though. Furthermore, you cannot bet on political outcomes, so the Presidential Election for example is a big no-no. Other than these few restrictions, sports betting is quite the open book. What types of wagering can you engage in from within Colorado, though?
Well, almost all popular online betting types are accepted within The Centennial State. These are available at retail sportsbooks and via mobile betting apps, and include:
Straight bets, including moneyline, spread and over/under
Parlays and accumulators
Pleasers and teasers
Player and championship futures
In-play betting
Prop bets and exotics
It is great to see that Colorado lawmakers have also made it possible for bettors to engage in live betting. A selection of live betting apps can therefore be put to use for this, giving you a much more in-the-moment experience of the games taking place that you are wagering on. This is not something that all states offer, making Colorado's scene even more inviting.
Colorado Sportsbook App Details
Mobile betting apps are extremely popular within the United States, so it is little wonder that they became a part of the laws legalizing sports betting. The apps are easy to install and understand and cater to both Android and iOS devices. This gives them a far scope to reach users of different handsets.
They do make it easier for you to place remote bets, saving you from having to visit land-based establishments to do so. This has been quite the saving grace for Colorado during the closures thanks to the pandemic. You can place bets, deposit, withdraw, manage your account and more through your mobile device.
Free Bet Deposit Bonus up to $1,000
Free Bet Deposit Bonus up to $1,000
9.9
Claim Bonus
100% Up to $150 Welcome Bonus
100% Up to $150 Welcome Bonus
9.6
Claim Bonus
Risk-Free Bet Up to $1,000
Risk-Free Bet Up to $1,000
9.6
Claim Bonus
Sports Betting in Colorado Sponsorships
It did not take long for various professional sports teams to note their interest in the burgeoning sports betting scene. While many partnerships could still be in the works for the future, one deal has already gone through that will see a college team unite with a Colorado sports betting site. Let's take a closer look at that sponsorship deal and who is benefitting from it.
College Sports
In September 2020, it was announced that the Colorado athletics department had agreed to a five-year sponsorship deal with PointsBet. This deal meant that the state's athletics department would benefit from a great financial boost, even if employees of CU could get into trouble should they choose to become players at PointsBet. As part of the CU sports sector, the Colorado Buffaloes get to benefit from this deal, too. The deal is certainly one that will cater to both the CU and PointsBet at the same time.
The Bottom Line
It is always quite inspiring to see a state that has utilized knowledge and past experience to create a compelling sports betting scene. Colorado has certainly done that, with its affordable sports betting licenses and low tax rates. Of course, the beauty behind it is that the revenue from it is going to a good cause for the state's water projects. When you throw in the fact that it also has quite the liberal mindset on what you can and cannot wager on within the state of Colorado, it stands out perfectly. Sporting events may have been cancelled for a majority of 2020, but CO has displayed that this does not matter. And long may that continue for The Centennial State.
Colorado Legal Sports Betting FAQ
Can I Bet on National Sports Teams in Colorado?
Yes, you absolutely can. The sportsbooks that we recommend, and various others, allow you to access sports wagering on the NFL, NHL, MLB, NBA and even college sports (provided they are pre-match bets). You can even bet on local teams, such as the Denver Broncos and so on.
Where Are Most of the Retail Sportsbooks Located?
The majority of retail sportsbooks in Colorado can be found in casinos located in Black Hawk, Central City and Cripple Creek. You can visit these establishments to register for a sports betting account, but you can also do that remotely through a mobile betting app.
Why Can I Not Bet on High School Sports?
As part of the CO sports betting laws, high school sporting events are not able to be wagered on. You can still bet on college sports in pre-match conditions, but high school sports are not available.
Can I Use Colorado Betting Apps in Other Areas of the United States?
No, you will need to be located within state lines to use them. A few other states do have their own betting apps, such as Pennsylvania and Nevada for example, but to use the Colorado mobile betting apps, you need to be within CO.
Is Sports Betting 100% Legal in Colorado?
Yes, it is. Sports bettors can access multiple different sportsbooks, and this has been the case since the first ones were launched in May 2020. Colorado was the 19th state to introduce legal online sports betting from mobile devices after a ballot referendum in late 2019.