Gone are the days where bets had to be down before the event had started. In today's ever-growing gambling world, live betting is very much in the foreground. Betting on a team to come from behind and win, betting on the scorer of the next goal, the winner of the next set, the winner of the race, punters can now place bets during an event. Live betting sites have become an integral and hugely popular piece of the online betting puzzle, especially in the UK, and so much so that many punters only bet live as opposed to pre-event.
Top 15 Live Betting Sites 2023
Our Recommended Live Betting Sites
All
Cash Out
Derby betting
Enhanced Odds
Live Streaming
patent bet
Paypal
Placepot bet
Trixie
£30 Free Bet
Each Way Bet
Yankee bet
£20 Free Bet
£5 Deposit
Free Spins
£50 Free Bet
£10 Free Bet
New!
$60 Free Bet
£5 Free Bet
New Free Bets
£25 Free Bet
Free Bet
More Filters
How we rank live betting sites
There are several things to consider when compiling our rankings for live betting today. The criteria used for selecting top In-Play betting sites is below. Not only can you wager In-Play, but you can also watch matches, follow live stats, and even cash out in the middle of the action.
It means you won't miss anything with live betting opportunities. Thus, if you want to get in on the action, you should look for sites that offer many tools to help you with your In-Play betting experience.
In recent years, live sports streaming has transformed online betting. It has also driven In-Play betting to the forefront of the business. Each year, betting sites with this function allows you to live stream and wager on thousands of athletic events. Football, basketball, hockey, tennis, and various other sports are available via live streaming sites. Watch live sports and place bets in real-time using your computer, smartphone, or tablet. Most sites offer live streaming applications that can be downloaded and installed to guarantee you obtain the most up-to-date odds as well as live broadcasts as soon as possible.
The live streams feature games from the most prestigious football leagues in the Europe, Brazil, Australia and the United States. You can watch live matches from the English Premier League, Serie A, La Liga, and the Bundesliga, among other leagues.
Live Streams feature provides every match of the season in a full live stream with In-Play betting markets in American sports such as the NHL and NBA. In addition, matches from some of the world's largest international sporting competitions, including the Cricket World Cup, Wimbledon, Africa Cup of Nations, and Copa America, will be shown! The live stream feature is available to players logged in and have their accounts funded. Bet365 is a stand out bookmaker for live stream coverage.
The Cash-Out function allows you to cash out on a current wager before the outcome is determined, enabling you to keep a portion of your profits or minimize your losses.
As an example: Assume you've placed a £1 live bet on Fulham to win versus West Brom at odds of 1/1, with a payback of £2 if you win. Fulham leads 1-0, but West Brom control the game and pushes for a goal with 10 minutes remaining. The equalizing goal appears to be unavoidable, and your wager seems to be in jeopardy. The Cash-Out option allows you to guarantee your bet with a payback of, say, £1.60 by cashing out your live bet rather than waiting for t he match to end. The Cash-Out function simply allows you to safeguard a portion of your earnings by hitting the 'Cash Out' button. The funds will be added to your account instantly.
Similarly, you may limit your losses by using the Cash Out function. Assume your bet is the same as the one before, except that West Brom leads 1-0. You don't think Fulham will be able to turn things around and win the game due to West Brom's dominance. Instead of losing your total wager, you can choose to cut your losses and accept our offer by hitting the 'Cash Out' button and receiving a portion of your investment back. Check out Kwiff's cash out options.
When betting In-Play, Visualisation serves as the scoreboard. This tool allows you to visualize the game. In football, for instance, you can see where the ball is on the field, how it's going, which team has possession of the ball, if there's an attack or even a hazardous attack, as well as match numbers.
The visualization shows you all you need to know to make an informed wager. It displays the number of shots on target and off-target, the number of cards issued throughout the game, the number of corners, the match minute, and, of course, the score. The visualization also includes a heat map of the pitch, which shows where the most activity has occurred. Vbet is our favourite bookie when it come to site design.
Although time is essential in live betting, players want to spend as little time as possible waiting for the betting site to process any payments, particularly deposits. We feel compelled to emphasize the significance of having your account information in order and validated so that any transactions may be completed without the need for time-consuming inspections. We highly rate 10Bet for fast payouts.
Another essential feature of the best in-play betting services is the time it takes to update the live odds, particularly after vital moments in the game. Most betting markets are frozen at certain times, and all betting is halted until the odds are refreshed. The faster this processing time is, the smoother everyone's live betting experience will be.
For example, if a football club is handed a penalty, a market is typically established to wager on whether the penalty will be scored, saved, or off-target. Because the period for this to occur is so short, betting companies will aim to get their odds out there as soon as possible, giving players the most opportunity to place their bets.
Key Features Of The Best In Play Betting Sites
| | | | |
| --- | --- | --- | --- |
| Bookmaker | Live Streaming | Live Cash Out | Mobile App |
| bet365 | | | |
| 888Sport | | | |
| Betfair | | | |
| Paddy Power | | | |
| BetVictor | | | |
| William Hill | | | |
| Betfred | | | |
| Coral | | | |
| Kwiff | | | |
| Ladbrokes | | | |
What is live/in-play betting?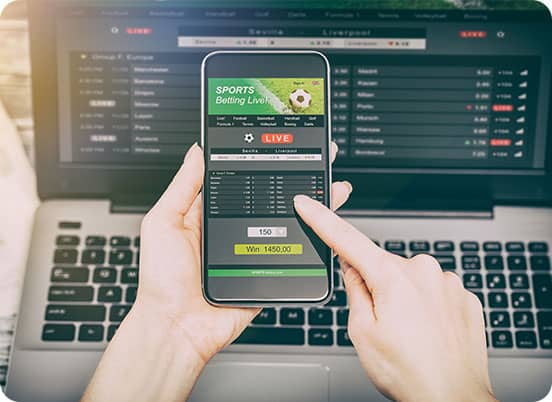 Live betting, or in-play betting as it is commonly known in the UK, is betting on an event that has already started. This might mean betting on which team scores in the next ten minutes of a football match, betting on which way the next goal goes, or the next corner.
It might mean betting on the winner of the next game of a tennis match, or the winner of the set. It could mean betting on the number of runs to be scored in the next over in cricket, or a wicket to be taken in the next however many overs. The possibilities when it comes to live betting are almost endless.
How does live betting work?
We previously said in our introduction that it involves betting on sporting events as they are taking place. That's about all there is to it. In every other aspect, it is basically the same as traditional sports betting. You have various bets and betting markets to choose from, and you must make your picks based on your predictions. When you place a bet, you accept fixed odds. You will be compensated if your decision is accurate. If it isn't, your stake is forfeited.
We believe there are two subtle variations with live betting that must be addressed. To begin, there are various additional types of bets available. Second, the odds are constantly fluctuating. Let's take a closer look at these differences.
Additional Betting Markets
Some of the bets placed during a sporting event would be impossible to place with traditional betting. Consider goal scorers in a soccer match. You may place a bet on which player will score first using traditional betting. That market is decided after the first player scores.
With Live Betting, You can Place Wagers On Which Player Will Score Next
When betting on who will score next, the market is closed as soon as a player scores. As soon as one shuts, another one opens for the next player to score. This method is repeated every time a player scores throughout a match.
This is only one example of a live betting market. There are a plethora of others as well. Here are a few more you'll come across while betting on soccer.
Next Team To Score
Time Of Next Score
Next Player To Get Booked
Time Of Next Booking
Form Of Next Set Piece
Team To Win Next Corner
Although similar markets exist for other sports, there is also a broad array of various markets offered. In the NFL, for instance, you may bet on how long an upcoming drive will go, as well as whether it will finish with a field goal, a touchdown, or a turnover. In tennis, you may bet on who will break serve next or win the next set. You may bet on which bowler will take the next wicket or how many runs will be achieved in the next over in cricket.
To be honest, if we tried to list all the different live betting markets for all of the other sports, we'd be here forever. As a result, we will not do so. Just keep in mind that there is a myriad of choices. Take a look at the screenshot below to see what We mean. It displays the various live betting markets available for a single tennis match.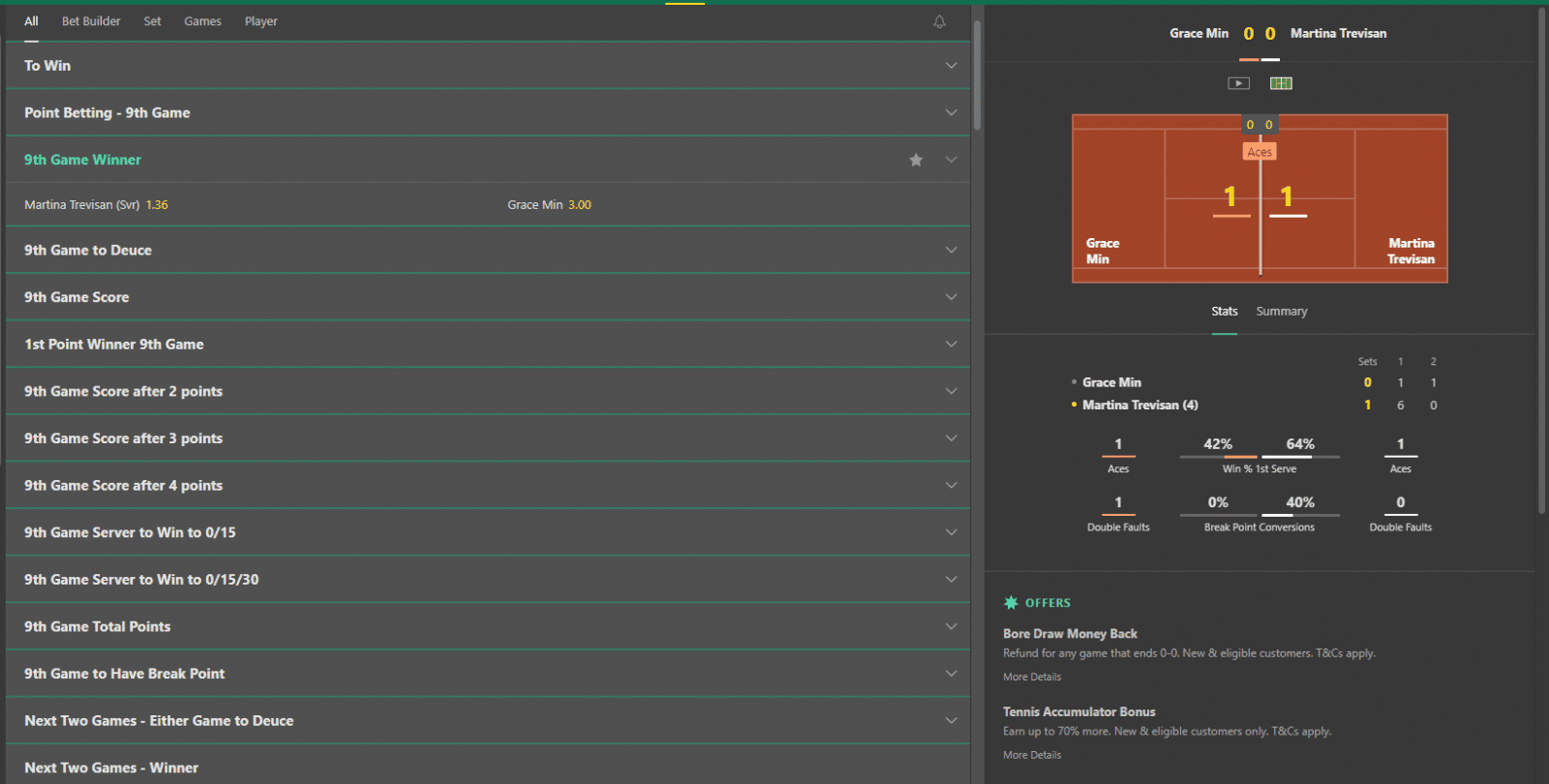 We should also mention that the majority of the pre-event betting markets are also available throughout the event. For example, live betting allows you to wager on the game's winner or the final score in soccer. The primary difference is that the relevant odds fluctuate throughout the event depending on how the action unfolds.
Constantly Changing Odds
The odds for a traditional betting market frequently change as the event approaches. This is sometimes due to a substantial shift in circumstances. Assume at Manchester City are set to play Liverpool. The odds before the game may set Manchester City as EVS favourites, with Liverpool at 3/1.
As of right now, City are favourites in this matchup. However, suppose it was revealed that Kevin De Bruyne and Raheem Sterling would miss the game through injury. We could see the market move to price City at 17/10 and Liverpool at 2/1.
Following the current news, we can see that City remain the favourites, but not by nearly as much. The bookmakers' view has shifted due to the new information, and they now give Liverpool a far higher probability of winning the game.
How are live betting odds calculated?
For the outsider, the process of calculating live betting odds looks to be complex. However, it is quite straightforward for firms to price up events in play. Live betting sites tend to use algorithms to calculate live betting odds. By considering the prices on offer prior to the event beginning and then factoring in what is happening live, in play odds are born.
The prices on offer then change over time depending on what is happening or how much time has elapsed. For example, in a football match, the longer the game goes on at 0-0, the greater the price of either team winning becomes, while the price of the draw decreases.
NOTE: This is not to say that live betting sites don't use manual traders, because they do, especially for events that don't move so fast, such as cricket. During a cricket match, traders have more time to assess, calculate and re-set the odds, whereas in football for instance, things tend to move very quickly.
In general, live betting odds tend to be less profitable or more on the stingy side that pre-match odds, as less time is afforded to the traders that are tasked with putting the finishing touches on prices. As a result, the profit margin built in by online bookmakers tend to be greater when it comes to live betting.
This is essentially betting sites covering themselves to a slightly greater degree. Thankfully, because odds move quickly in play, there are still occasions where players can jump slight errors and obtain prices that are greater than they normally would be.
Most popular sports for in-play betting
It is safe to assume that you can wager live on almost every professional football league in the globe. Bet365, for example, offers some of the most unpopular sports markets, although the most popular leagues are the English Premier League, Italian Serie A, Spanish La Liga, UEFA Champions League, French Ligue 1, German Bundesliga, and UEFA Europa League.
When it comes to tennis, the bookies offer a full In-Play service for Wimbledon, the French Open, the US Open, the Australian Open, and bets on ATP and WTA Tour events. Hundreds of games are frequently being covered In-Play at the same time. The picture with horse racing betting is more complex with in running markets available on the exchanges, but here are the other popular sports you can enjoy live betting on right now:
Football betting in play
A football match lasts 90 minutes, which means there is a large window of opportunity for making bets. You might place an In-Play wager on the Full-Time Result, Final Score, or other markets that will be resolved at half-time. However, some markets are volatile and allow you to win or lose in a short period.
Customers may anticipate a wide variety of In-Play betting markets for every Champions League, Bundesliga, or Premier League match. There is, however, significant coverage of football leagues from all around the world. Sometimes a bettor just wants to wager on what's going on right now, and bookmakers strive to have live markets available.
How much information a bookmaker can obtain determines the amount of In-Play betting markets available for a football match. In general, the more high-profile a game, the greater the amount of betting markets accessible. We recommend bet365 for your football betting in play because they offer larger markets.
In-play cricket betting
In-Play betting is the clear winner for a Test Match, especially since the match can last up to five days. There will be regular opportunities to bet on the match's winner, as well as shorter-term markets such as Next Batsman Out, Method of Next Wicket, and Over / Under Innings Total.
If you're betting on a Test Match, an ODI, or a T20, you can typically wager on the outcome of each over in terms of how many runs will be scored, whether a wicket will fall, and who will bowl next. The bookmakers attempt to establish markets from every available perspective. Kwiff is the recommended bookie for in-play betting because their odds rarely fluctuate, unlike other bookies.
Tennis in-play betting
Tennis events are held virtually every week of the year by the ATP and WTA, which means there are everyday possibilities to wager In-Play on this sport. Whether the first round or the final, you should find a large selection of accessible markets, with bookmakers ramping up their coverage for Wimbledon, the French Open, the US Open, and the Australian Open.
Players may generally bet on Match Winner, Correct Set Score, and Handicap betting, as well as short-term markets such as Next Game Winner or even Next Point Winner. You may also wager on the Game Score and the Set Score. SpreadEx is the recommended bookie for Tennis in-play betting due to its wide array of betting options for markets.
Snooker betting in play
Snooker betting is quite popular, especially when a match is in progress. This implies that the odds are continually changing, and punters may benefit by placing winning bets depending on what they observe.
It is always crucial to note that the odds are typically dependent on the traders' beliefs and their stakes on each participant. So, when a match begins In-Play, a well-backed favourite may be odds-on, but if that player is acting strangely, you can back his opponent after analysing the scenario.
When it comes to snooker, there are a plethora of In-Play betting options available. You may wager on the Next Frame, Race to 20 Points, and even the Next Colour Potted. However, keep in mind that many of these live markets are entirely random, and the house edge means you will most certainly lose money over time. Quinnbet is the recommended bookie for Snooker in-play betting as they provide good money management for all markets.
Darts in-play betting
It always pays to examine the form and figure out which players are performing well. Don't be scared to stand up to a favourite. They are not sure to win simply because they are trading at short odds. A big-name player may stay at 1.50 (1/2) to win their match simply because people follow the money. This shows you how the betting on darts matches frequently changes momentum.
It's recommended opting for bookies that allow you to Cash Out, such as bet365, Paddy Power, or 888sport, especially if you're betting In-Play on the action. If you get yourself into a profitable position, you have the option of walking away with some money regardless of what comes next.
Live betting pros and cons
In play betting is a massive part of the modern gambling world, there can be no denying that. As with anything, there are some good things about live betting and live betting sites, but there are also some not so good aspects. We've broken down the pros and cons below.
Pros:
New opportunities – most of the pre-match markets, plus new markets available in play.
Excitement value – betting as the action unfolds can add to the excitement. Waiting to strike, getting the timing right etc.
Potential for greater odds – If punters are willing to wait until some of the action has unfolded, then they're likely to get a better price that if they'd bet pre-match. For example, when live football betting, if 30 minutes of the match has taken place and the score remains 0-0, the price of the selected team will almost certainly be larger than it was prior to kick-off, even more so if the chosen side has fallen behind to an early goal.
Cons:
Can be tough to get right – live betting can be tricky, it's fast paced and requires no shortage of concentration, time, and effort.
Time delay sometimes an issue – the time delay can cause problems. Upon watching the action, punters can go to place a bet and find that they're too late, because the market has been suspended 10-15 seconds before anything significant has happened on screen. 
In-play Betting With Cash Out
Cash-out and live betting go hand in hand; most bets are cashed out in play by punters, and if you utilize these tools properly, you may maximize your earnings and reduce your losses.
As an illustration of managing risk, suppose you bet on Arsenal to win 2-0 over West Ham, and the score is 2-0 with ten minutes remaining in the game. West Ham has gained traction in the game, and you believe there is a good chance they will get one back. Cashing out at 80 minutes will offer you the majority of the money you would have won if you had allowed your stake to run its course, but with the assurance that you will not lose everything if another goal is scored.
Similarly, using the previous illustration, suppose it is 1-0 Arsenal after 80 minutes, and you are watching the game and believe Arsenal will not score again. If you cash out at this time, you will at least get some of your investment back, rather than losing it entirely if the game ends 1-0. Of course, if the Arsenal score a second goal, you'll be kicking yourself. Cashing out is a lot of fun and gives you greater control over your bets. Since they are incredibly flexible, Betfair is the best bookie with the best cash out option.
Our Top 5 Best In-Play Betting Strategies
1. Watch The Event You're Betting On
The secret to winning in live betting is to pay attention. It may seem simple, but always keep your attention on the event you are observing. Look for tendencies in the players, such as performing poorly, well, or succumbing to injuries that may impair their effectiveness. All of these might be elements that impact the result of an event.
2. Always Bet With A Plan in Mind
Keep in mind that in-play betting is a high-speed game. You'll have to think quickly. To that end, why not plan a few backup bets in case something completely unexpected happens? Of course, you wouldn't place money on these until the event occurs, but it's never a bad thing to be prepared.
3. Do Your Pre Match Research
Of course, the key to preparation – and this also applies to pre-match betting – is to conduct your research. Examine injuries and recent and current forms, look out for when teams perform well at specific stages of the match or which golfers are sluggish to get going on day one. Furthermore, keep in mind that the favourites are favourites for a reason.
4. Take Time To Look For Stand Out Odds
The bookies are astute, and they know how to provide the most excellent odds on the top performances and the most likely winners. As a result, if the favourites fall behind, bet on them. If Michael van Gerwen loses the first set of a darts match, he will almost certainly win the game by the finish — depending on the opposition. The same idea would apply to Novak Djokovic in a tennis match, especially playing on clay. This allows the odds on these ordinarily short-priced favourites to wander somewhat, exposing some value for you to take advantage of.
5. Don't Be Afraid To Follow Betting Tips
Betting tips are primarily for pre match events, although there are some betting tipsters that are specialise in in-play bets. Although a lot of these tipsters offer free services through social media or Telegram betting channels, there are some that charge for their services. If you're unsure on in-play betting, then looking at a tipster might be a good way to get started.
The Best In Play Betting Apps
Placing bets on a mobile device is popular these days, and many bookies provide it. Mobile betting may be done in two ways: through a mobile website or through a mobile app. Coral was the first bookmaker to provide mobile betting, while Betfair had the first official mobile app.
Several other bookies have now launched mobile applications, and they now even offer unique bonuses to mobile app users. Technology has enabled many innovative features to be available on mobile devices, and bookmakers have quickly included them on their platforms. Bet365, Kwiff, and QuinnBet are the best bookies we recommend for in-play betting mobile apps.
Top Mobile Apps For In Play Betting
All
Cash Out
Derby betting
Enhanced Odds
Live Streaming
patent bet
Paypal
Placepot bet
Trixie
£10 Free Bet
£20 Free Bet
£5 Deposit
Each Way Bet
Free Spins
New!
Yankee bet
£25 Free Bet
More Filters
Bet £10 & Get £30 in Free Bets for new customers at bet365
Bet £10 & Get £30 in Free Bets for new customers at bet365
All feature races eligible
Applies to win and each-way bets
Available to new and existing customers
9.4
Download App
Min deposit requirement. Free Bets are paid as Bet Credits and are available for use upon settlement of qualifying bets. Min odds, bet and payment method exclusions apply. Returns exclude Bet Credits stake. Time limits and T&Cs apply.
Bet £10 Get £20 Surprise Bet
Bet £10 Get £20 Surprise Bet
Boosted bets
iOS and Android mobile apps available
Football & other win draw win options
9.8
Download App
New customers & 18+ only. Min. deposit of £/€10. Qualifying real money bet of £/€10. Min odds greater than or equal to 1.5 required. E/W bets excluded. Offer credited within 48 hours. Additional T&Cs apply. Please gamble responsibly

Get 50% Back As A Free Bet Up To £35 + 10 Free Spins
Get 50% Back As A Free Bet Up To £35 + 10 Free Spins
Free bet worth 5% of your total bets
Min odds of 6/4 needed
1x free bet available daily
9.5
Download App
To activate this promotion you must deposit and stake a minimum of £10. You must place a minimum of 5 rounds during the qualifying period and 4 of these rounds must be at least half the value of your highest placed wager. T&Cs apply | 18+ New UK Customers Only | BeGambleAware.org
Expert live betting tips
For most, live betting is a bit of fun. By throwing into the mix the potential of a small financial reward, it can be an excellent way to enhance the viewing experience when watching your favourite sport. However, for some live betting is more of a serious hobby, or even a serious financial pursuit. If you are somebody that is interested at having a real go at live betting, and your goal is to grind out a profit over time, then there are a few things to be aware of. See below for our expert live betting tips.
Learn
Nowadays, there's lots of great live betting information that's freely available. Put the time in and learn about live betting. Learn from experts, check out their in play betting tips, find helpful info, of which there is lots, harness this info, and use it to improve your in-play betting.
Don't hesitate
Sometimes you've got to pull the trigger. In other words, once you arrive at the decision to place a bet, if it's in play, strike quickly, as things can change rapidly when it's live.
Value
Learn about value, learn how to identify value pre-match, then apply the same principles when betting live. For example, in football, if a price is deemed to represent value prior to the match beginning, then, the price 10 or 15 minutes in, so long as nothing drastic has happened, is likely to represent value too.
Specialise
As is the case with pre-match betting, it is important to specialise when betting in play. There are too many different markets and too much going on to try and attack on all fronts. Narrow it done. Select a certain are and focus on that. Your niche may be identifying 'Over/Under' bets in play, or perhaps is back favourites that go a goal down.
Keep a record
Record your bets. It sounds simple, but you'd be surprised of how positive an effect recording each and every live bet that you make has. Break it down, track not only results, but sport, bet type, odds, league, etc, etc. Tracking your progress in this way allows you to see where you're performing well and where you're not. This can help to fine tune the process going forward.
Bet £10, Get £40 In Free Bets
Bet £10, Get £40 In Free Bets
Bet Builder, BetFeed & BetFinder tools
Large number of in-play football markets
Live football streaming available
9.3
Use bonus code
Copy
Claim Bonus
Min deposit £10 with promo code: GET40 • A qualifying bet is a 'real money' stake of at least £10 using Bet Builder • Min odds 2/1 (3.0) • Free Bets credited upon qualifying bet settlement, expire after 3 days and valid for football markets only • Free Bet stakes not included in returns • Withdrawal restrictions, payment methods, country & full T&C's apply.
Final thoughts
Live betting is now very much the norm when it comes to online betting, especially in the UK, as is reflected in the fact that there's no shortage of live betting sites. Not all these sites are as good as each other, which is why we've taken the time to whittle it down to the best ten. Live betting can be great fun. Watching your chosen sport, waiting for the right time to strike is a thrilling experience, while if you're willing to work at it, it can also become a more serious pursuit.
FAQ
Is live betting available at all bookmakers?
Why should I bet in-play?
Can you use free bets in play?
Which are the best live betting sites?
Do all live betting sites offer a live streaming service?
Are there any sports that can't work for live betting?"
Is there a delay on live streams?
Which sports are best for live betting?
Was this article helpful?