Gone are the days where bets had to be down before the event had started. In today's ever-growing gambling world, live betting is very much in the foreground. Betting on a team to come from behind and win, betting on the scorer of the next goal, the winner of the next set, the winner of the race, punters can now place bets during an event. Live betting sites have become an integral and hugely popular piece of the online betting puzzle, especially in the UK, and so much so that many punters only bet live as opposed to pre-event.
Top 10 Live Betting Sites 2023
Our Recommended Live Betting Sites
All
Cash Out
Derby betting
Enhanced Odds
Live Streaming
patent bet
Paypal
Placepot bet
Trixie
£30 Free Bet
Each Way Bet
Yankee bet
£50 Free Bet
Free Spins
£20 Free Bet
£5 Deposit
More Filters
How we rank live betting sites
There are several things to consider when compiling our lists. The criteria used for selecting the top five betting exchanges can be seen below.
Safety – First and foremost, safety is what we're concerned with. Live betting sites must ensure that they've implemented measures to keep their players safe, while they must adhere to regulations and treat players fairly. Only those sites that fit the bill in this area feature in our top 10.
Markets – Options are key. The more markets on offer, the better. To rank highly, live betting sites must offer a wide variety on in-play markets.
Promotions – Another important factor to consider is bonuses. Live betting sites can offer customers in-play prices boosts or free bets, as well as other promotions. Those that are known to do so can be found in our list.
Odds – Sites must also offer competitive live betting odds. Those firms that offer poor odds or are consistently moving the price of in-play markets slower than those around them simply don't make the grade and are thus not recommended.
Features – This is key. Lots of markets can be on offer, odds can be competitive, but if the site is difficult to navigate or prone to faults, then players will be left unsatisfied. Only live betting sites that feature a slick, modern design, and are easy to use, feature on this list.
Usability – The features that a site has to offer are not to be overlooked when ranking live betting sites. Cash out is a big one, while stats and content are important too. Live streaming is perhaps the biggest feature to consider when looking at live betting sites. Those sites that feature a live streaming service that covers a plethora of fixtures and is easy to use will undoubtedly rank highest.
What is live/in-play betting?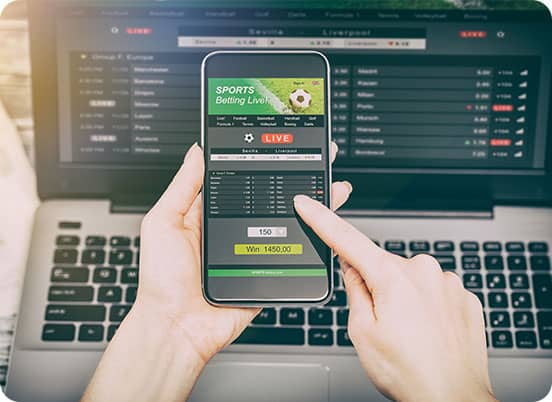 Live betting, or in-play betting as it is commonly known in the UK, is betting on an event that has already started. This might mean betting on which team scores in the next ten minutes of a football match, betting on which way the next goal goes, or the next corner.
It might mean betting on the winner of the next game of a tennis match, or the winner of the set. It could mean betting on the number of runs to be scored in the next over in cricket, or a wicket to be taken in the next however many overs. The possibilities when it comes to live betting are almost endless.
How are live betting odds calculated?
For the outsider, the process of calculating live betting odds looks to be complex. However, it is quite straightforward for firms to price up events in play. Live betting sites tend to use algorithms to calculate live betting odds. By considering the prices on offer prior to the event beginning and then factoring in what is happening live, in play odds are born.
The prices on offer then change over time depending on what is happening or how much time has elapsed. For example, in a football match, the longer the game goes on at 0-0, the greater the price of either team winning becomes, while the price of the draw decreases.
NOTE: This is not to say that live betting sites don't use manual traders, because they do, especially for events that don't move so fast, such as cricket. During a cricket match, traders have more time to assess, calculate and re-set the odds, whereas in football for instance, things tend to move very quickly.
In general, live betting odds tend to be less profitable or more on the stingy side that pre-match odds, as less time is afforded to the traders that are tasked with putting the finishing touches on prices. As a result, the profit margin built in by online bookmakers tend to be greater when it comes to live betting.
This is essentially betting sites covering themselves to a slightly greater degree. Thankfully, because odds move quickly in play, there are still occasions where players can jump slight errors and obtain prices that are greater than they normally would be.
Most popular sports for in-play
Most sports lend themselves to live betting, but those that are winning the race for popularity in the UK are football, tennis, cricket, and golf. Football and tennis tend to be the sports that offer the most live betting markets. If you can think of something to bet on during either a football or a tennis match, then there's almost certainly a market that'll feed your appetite.
Snooker and darts are also popular among certain groups of live bettors, while Rugby is another sport that attracts an in-play crowd. Live horse racing betting is an option too, though that is more the preference of serious in-play traders, as opposed to casual bettors.
Live betting pros and cons
In play betting is a massive part of the modern gambling world, there can be no denying that. As with anything, there are some good things about live betting and live betting sites, but there are also some not so good aspects. We've broken down the pros and cons below.
Pros:
New opportunities – most of the pre-match markets, plus new markets available in play.
Excitement value – betting as the action unfolds can add to the excitement. Waiting to strike, getting the timing right etc.
Potential for greater odds – If punters are willing to wait until some of the action has unfolded, then they're likely to get a better price that if they'd bet pre-match. For example, when live football betting, if 30 minutes of the match has taken place and the score remains 0-0, the price of the selected team will almost certainly be larger than it was prior to kick-off, even more so if the chosen side has fallen behind to an early goal.
Cons:
Can be tough to get right – live betting can be tricky, it's fast paced and requires no shortage of concentration, time, and effort.
Time delay sometimes an issue – the time delay can cause problems. Upon watching the action, punters can go to place a bet and find that they're too late, because the market has been suspended 10-15 seconds before anything significant has happened on screen. 
Expert live betting tips
For most, live betting is a bit of fun. By throwing into the mix the potential of a small financial reward, it can be an excellent way to enhance the viewing experience when watching your favourite sport. However, for some live betting is more of a serious hobby, or even a serious financial pursuit. If you are somebody that is interested at having a real go at live betting, and your goal is to grind out a profit over time, then there are a few things to be aware of. See below for our expert live betting tips.
Learn
Nowadays, there's lots of great live betting information that's freely available. Put the time in and learn about live betting. Learn from experts, check out their in play betting tips, find helpful info, of which there is lots, harness this info, and use it to improve your in-play betting.
Don't hesitate
Sometimes you've got to pull the trigger. In other words, once you arrive at the decision to place a bet, if it's in play, strike quickly, as things can change rapidly when it's live.
Value
Learn about value, learn how to identify value pre-match, then apply the same principles when betting live. For example, in football, if a price is deemed to represent value prior to the match beginning, then, the price 10 or 15 minutes in, so long as nothing drastic has happened, is likely to represent value too.
Specialise
As is the case with pre-match betting, it is important to specialise when betting in play. There are too many different markets and too much going on to try and attack on all fronts. Narrow it done. Select a certain are and focus on that. Your niche may be identifying 'Over/Under' bets in play, or perhaps is back favourites that go a goal down.
Keep a record
Record your bets. It sounds simple, but you'd be surprised of how positive an effect recording each and every live bet that you make has. Break it down, track not only results, but sport, bet type, odds, league, etc, etc. Tracking your progress in this way allows you to see where you're performing well and where you're not. This can help to fine tune the process going forward.
Bet £10, Get £40 In Free Bets
Bet £10, Get £40 In Free Bets
Bet Builder, BetFeed & BetFinder tools
Large number of in-play football markets
Live football streaming available
9.8
Use bonus code
Copy
Claim Bonus
Min deposit £10 with promo code: GET40 • A qualifying bet is a 'real money' stake of at least £10 using Bet Builder • Min odds 2/1 (3.0) • Free Bets credited upon qualifying bet settlement, expire after 3 days and valid for football markets only • Free Bet stakes not included in returns • Withdrawal restrictions, payment methods, country & full T&C's apply.
Final thoughts
Live betting is now very much the norm when it comes to online betting, especially in the UK, as is reflected in the fact that there's no shortage of live betting sites. Not all these sites are as good as each other, which is why we've taken the time to whittle it down to the best ten. Live betting can be great fun. Watching your chosen sport, waiting for the right time to strike is a thrilling experience, while if you're willing to work at it, it can also become a more serious pursuit.
FAQ
Is live betting available at all bookmakers?
Live betting is now hugely popular in the UK, so much so that you'd be hard pushed to find an online provider that does not offer live betting. However, that's not to say that they're all much of a muchness. How good the live betting offering is will vary from bookmaker to bookmaker. Our top ten list details the best live betting sites.
Can you use free bets in play?
Absolutely. Unless conditions of the free bet stipulate otherwise, which is rare, free bets can and often should be used in play. To use a free bet when live betting, players simply need to select their bet, before either checking the free bet box or selecting free bet from a drop down in the bet slip.
Do all live betting sites offer a live streaming service?
Most live betting sites, at least good ones, offer a live streaming service. The quality of the live streaming service is a different matter altogether. Some sites offer live streaming but cover only a small amount of action, while some sites cover certain sports/leagues in great depth but scrimp on others. Sites such as betfair, bet365, PaddyPower, William Hill, Coral and Unibet offer a wide range of live streams on a wide range of sports.
Is there a delay on live streams?
Yes. The pictures broadcast by live betting sites will typically be delayed by 10 seconds or so. This is why markets tend to be suspended shortly before decisive action takes place on the stream.
UK's Best Live Betting Sites 2022
Was this article helpful?