Now that sports betting has begun moving online, betting on tennis is an increasing trend across many of America's most prestigious sportsbooks and apps. It's a trend that's only going to get more popular, too. In fact, over a million Americans visited the nation's best tennis betting sites to cast wagers during last year's US Open.
Betting on the sport of kings might not quite be at the level of NFL or NBA betting in the US just yet. Globally, however, it is the third most wagered upon sport, behind just soccer and horseracing.
So, to help American bettors overcome the odds on their way to profits at the sportsbook market, our team has sifted the internet of all tennis betting sites and put together this useful listing of the very best tennis betting sites and apps available in the US.
To avoid any unforced errors, we've also highlighted the pivotal pros and cons of each sportsbook to help you make the right selection for you.
Top Tennis Betting Sites
(in alphabetical order)
By virtue of the fact it's based in Las Vegas and has its own promotion company for the sweet-science, BetMGM is much better-known for boxing than it is tennis.
That said, BetMGM has a very deep market of tennis betting options. The sportsbook also features highly competitive odds, offers live-streaming, and provides bettors with up-to-date tennis stats. Said stats are easy to access from the sportsbook pages.
In short, this site was a lot better for tennis betting than we perhaps expected.


What we like:
Live betting offers an incredibly deep market, including set breaks, tie breaks, and many more
Offers live-streaming service of tennis matches
Up to date stats for all tennis players (form and head-to-head) easily accessible from sportsbook
The sportsbook broadcasts up to the minute odds and provides quick access to parlay betting (see above image)
Highly competitive odds and lines
Very generous onboarding bonus for new users
What we don´t like:
App and online sportsbook not as aesthetically pleasing as competitors
Bet Rivers offers bettors very fair tennis odds and an enjoyable experience courtesy of its well-reviewed website and app.
Certainly, one of the top sportsbooks for promotions and bonuses, Bet Rivers gifts Thursday Profit Boosts, odds boosts, and enhanced parlay pay-outs.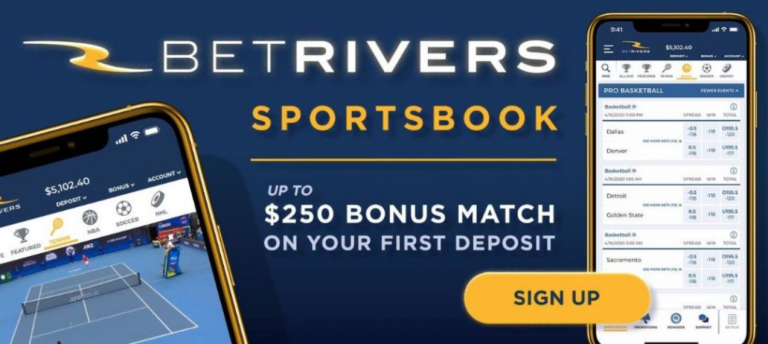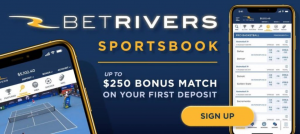 What we like:
The online blog features plenty of tips for newcomers to tennis betting online
Offers live-streaming service of tennis matches to users
Offers an Early Buy-Out option, enabling anxious gamblers to cash out before the match's conclusion
Competitive odds and lines for both match bets and futures markets
Generous onboarding bonus for new users and constant supply of promo codes and bonuses for registered bettors, including the much-vaunted iRush Loyalty Rewards Program.
What we don´t like:
The sportsbook can be tough to access out of states it's licensed to operate in due to firewall
Lacks the market depth and volume of tennis competition provided by competitors
DraftKings is still probably best known for fantasy sports and its enduring partnership with the UFC, but the site and app contain all the various tennis betting options required, and then some! The DraftKings's tennis betting market is deep, featuring tons of prop bets and, thus, variety for its betting clientele.
DraftKings is also the most accessible sportsbook in the USA, available in more states than any of its competitors.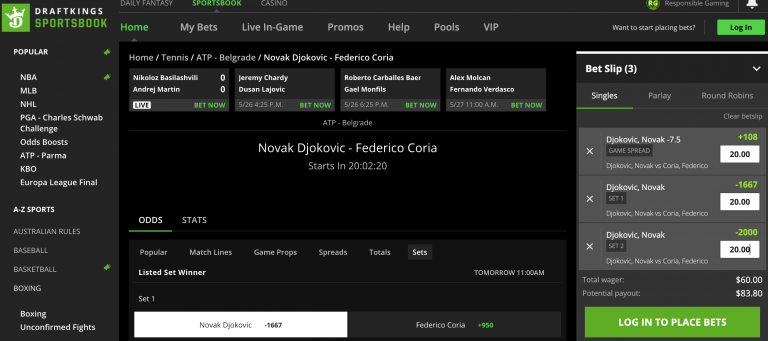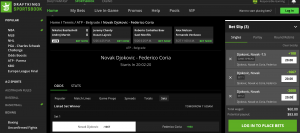 What we like:
Competitive odds and lines for tennis betting
Deep market optionality for tennis bettors, featuring match lines, spreads, totals, and sets (among others) in match bets, futures, and live settings
Detailed stats for all tennis players in just one click on the sportsbook and app
Round Robin (multiple parlay betting feature)
Offers money back feature on parlay betting
DraftKings.Live does stream some tennis tournaments
What we don´t like:
DraftKings is regularly beaten for value on tennis lines and spreads
Doesn't void bets for change of surfaces (grass to clay, for example)
Fan Duel's site and app are among the most comprehensive in terms of tennis betting optionality.
The app and website look great and are simple to navigate. On top of that, FanDuel offers some of the best bonuses available on the market to newcomers. In May, for example, prospective tennis bettors were offered a $500 risk-free bet to wager at the Roland Garros Invitational (French Open).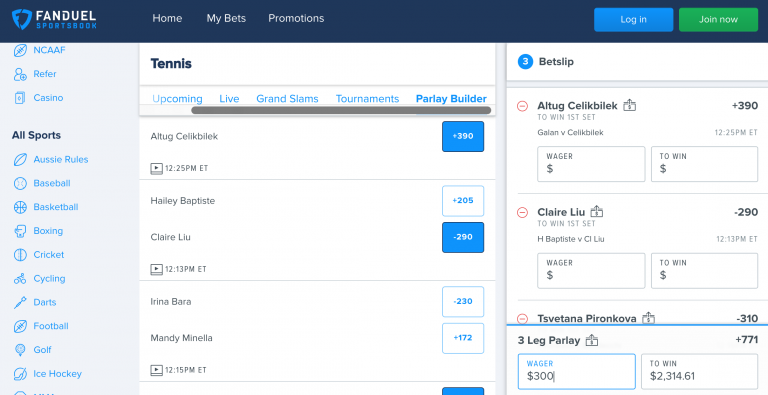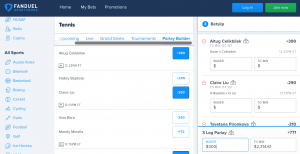 What we like:
Deep and varied market for the vast majority of tennis competitions in the calendar
Great looking, stylistically modern site and app that's easy to navigate
Up to the minute tennis odds and lines
Parlay betting feature for all tennis competitions (see image above) and multisport parlay insurance
Live-streaming of tennis tournaments
FanDuel offers very competitive bonuses and rewards, including a $500 wager on the French Open for tennis fans and a $1,000 sign up bonus during May 2021
What we don´t like:
Other sites offer better tennis odds at the lesser-known events
Doesn't void bets when agreed playing surface is altered
The New Jersey-based site isn't as aesthetically pleasing as some of the competition and does portray a casino feel, which goes against the virtues of real sports betting. That said, Golden Nugget's online sportsbook has plenty of unique optionalities, including Golden Lines (daily odds boost), Parlay Boost, and Match Tracker.
Golden Nugget offers competitive tennis odds and lines for match play and futures. That said, the sportsbook doesn't compete with some of the other major names on this list when it comes to live tennis betting online. This is particularly evident at the smaller events. There were very few props available for matches at the ATP Parma, for example.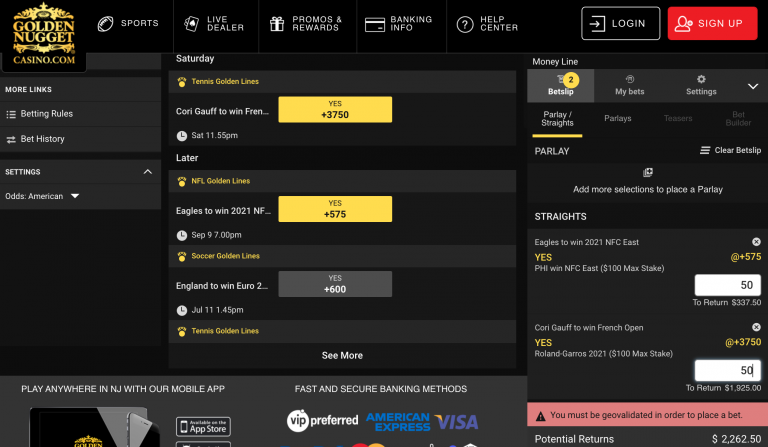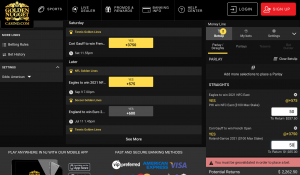 What we like:
Up to the minute Vegas scores and odds on tennis
Deep market with prop betting available on match bets and futures
Odds boost across multiple sports (including tennis) with Golden Lines (see image above)
Gift some of the best tennis odds on the market
What we don´t like:
App and site more difficult to navigate than some of its competitors
Live-betting unavailable for all events (Challenger Parma and French Open Women's Qualifiers, for example)
No live-streaming of tennis matches
Due to its prestigious place at the summit of the sports broadcasting world, FOXBET is rapidly growing in popularity among American bettors.
The up-and-coming sportsbook has all the markets you'd expect to see open for major tennis competitions: moneylines, set winner, tennis handicap betting, etc. FOXBET's app is also fun and simple-to-navigate, which is great for newcomers to the hobby.
Because of FOX's close ties with practically all major sports, the site and app are also a great place to research your favorite tennis stars before casting bets.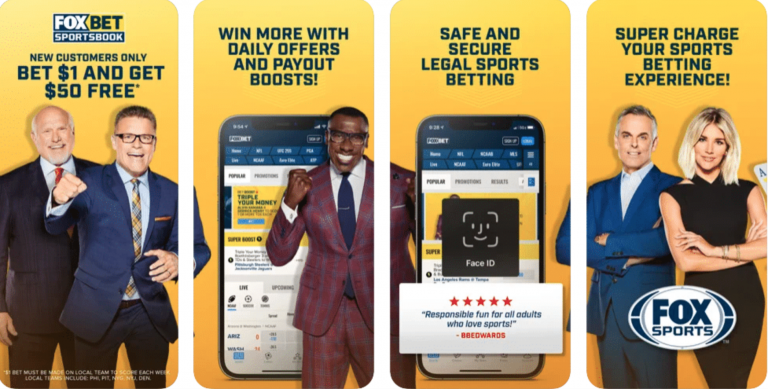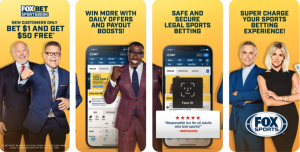 What we like:
One of the world's most reputable sports broadcasters
Dozens of wagers and even more prop betting options
Superb glossary of tennis terms, news, and coverage via the website, helping to make betting easy for newcomers
Offers tennis live streaming service
Provide early odds for future events, giving bettors a chance to gain an advantage
Generous sign-up bonus and tons of promos and odds boosters throughout the calendar year
What we don´t like:
Tends not to offer the very best tennis odds
Customer service reported as being slow to respond
PointsBet is famed for its unique approach to tennis spread betting. But the site's partnership with sports broadcasting heavyweight NBC also gives it a competitive edge.
The Genius Sports Streaming service features many of the world's biggest tennis matches and is a great feature for tennis bettors, too.
PointsBet also offers up a truly deep tennis betting market with tons of optionality on prop bets, etc. Stylistically, the site could be improved (casino-like) but – with some of the best odds available on the market (not including Djokovic) – it's a great place to visit to wager on the tennis.


What we like:
A multitude of betting options and wagers for short- and long-term tennis bets, providing tons of optionality.
Provide early odds for future events, giving bettors a chance to gain an early advantage. Users can bet as far ahead as next year's Australian Open, for example
Cash-out option clearly listed next to practically all major tennis matches
Vey competitive tennis odds and lines, often better than those found on more popular sites
PointsBet implements Genius Sports' Streaming product, which displays updated tennis odds and data along with live video of sporting events, including soccer and tennis.
What we don´t like:
Many bettors have reported issues with bonuses, i.e. bonuses mysteriously vanishing once they sign up
App has been known to crash on occasion
[/list][/column][/row]
Twinspires has one of the most attractive-looking sites and apps for tennis bettors to enjoy. The graphics for live-in-play tennis betting look fantastic. Such attention to detail gives the site a video game-esque kind of feel, which we certainly enjoyed.
Twinspires also feature highly competitive tennis lines and odds, among the best on the market in fact (see below).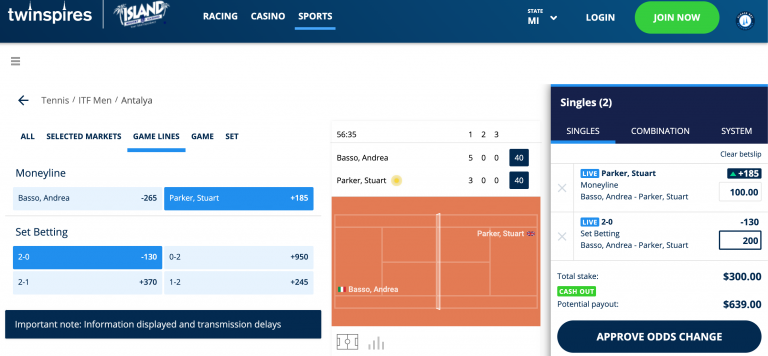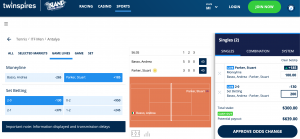 What we like:
Enjoyable graphics for in play tennis betting (see above)
Variety of betting options available, including parlay betting
Tennis odds are competitive, especially when betting on the big favorite. For example, Novak Djokovic at -5000 to win vs Federico Coria at the ATP Belgrade is a much fairer wager than at the -10,000 many competitors have listed
Some interesting and creative options on the prop betting market for tennis: total number of tiebreaks, for example
Fantastic sign-up offers and promotions
What we don´t like:
Live-streaming of horseracing but not tennis matches
One of the very best live tennis betting sites, William Hill provides its bettors with a slick, in-depth betting experience. Along with a mountain of optionality for tennis odds and lines, the sportsbook provides a plethora of stats for pro-bettors to get their teeth into as well.
We particularly enjoyed the live-text commentary for the major tennis action, too.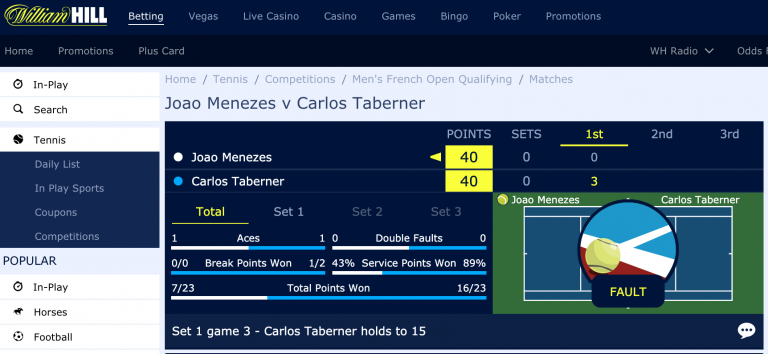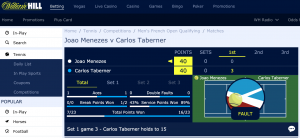 What we like:
Sportsbook offers the most live, in play tennis betting  odds and lines online, including Race To, which is where the bettor can wager on the first player to reach a set amount of points
Site and app are easy to navigate and contain fun graphics for live-tennis
Easy to build parlay bets for all sports, including tennis.
Live text commentary feature for all major tennis matches
Offers live streaming service to all signed up users with tennis listed as one of many sports available
What we don´t like:
Sign up offers and promotions are under-par
Tennis Betting Tips
There are numerous ways a bettor can wager on a game of tennis. A complete understanding of all the different props and markets available can be the difference between success and failure for many. Several of the sportsbooks listed do offer free tennis betting tips (Twinspires and FOXBet, for example). But, for your convenience, we've taken the liberty of listing the vast majority of available options below:
Tennis Match Play Bets, Futures Bets, and In play Bets


When wagering on tennis, bettors have three potential routes to begin on.
Futures: in the above image courtesy of the excellent FanDuel, you can see it's possible to bet on the Australian Open, which doesn't even take place until early 2022. Such speculative future betting is known as a 'future.'
Match bets: this is the opposite of a futures bet, in that you bet on the result of a match/tournament that is about to start. At the time of writing, the French Open which begins on Friday 30 May 2021 is the closest short-term betting option.
In-play bets: this is when a bettor casts bets via a sportsbook whilst the actual tennis game is underway and the market is very live!
Betting On The Match-winner


The simplest way to place a bet on the sport of kings is to check out the tennis betting odds and place a wager on the winner (or loser of a match). It's a two-way market, so, of course, you stand a solid chance of winning a small sum if your guy or girl emerges victorious at the end of play.
Betting On The Set-winner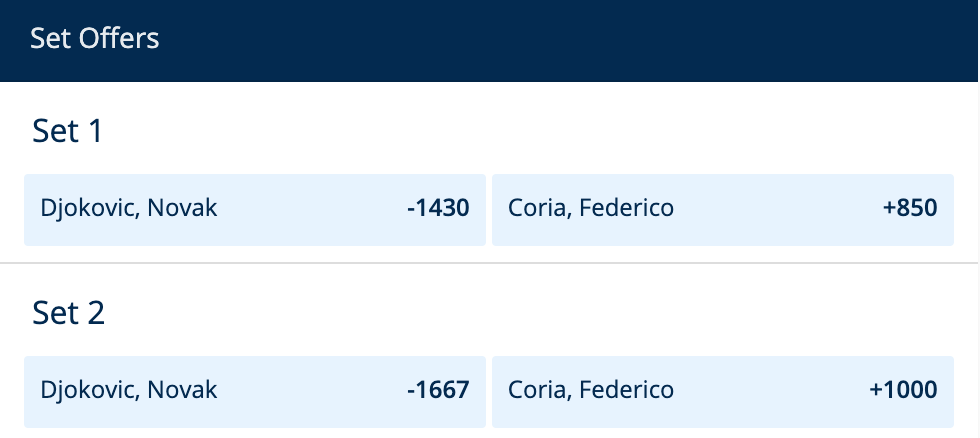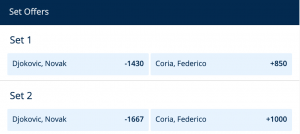 As you'll likely already know, a tennis match is split into sets – usually just three sets, but five for the men at major tournaments such as the US Open or Wimbledon. All the aforementioned sites offer this betting market for tennis.
Betting on the set winner means exactly what it says. You might fancy Rafael Nadal to beat Roger Federer on clay. But you may also have a hunch that the Spaniard will have to come from behind to do so. In which case, you can bet on Federer to win the first set but Nadal to win the match, and so on.
All the aforementioned sites offer this betting market for tennis. It's worth mentioning, however, that especially in live tennis betting scenarios, the odds will tumble significantly should one of the competitors break his/her opponent's serve, so try to get your set bets in nice and early when betting on the set winner.
Handicap Tennis Betting


All the sportsbooks featured above place a handicap on the perceived underdog, that the betting favorite has to overcome.
The result of the handicap is calculated by adding up all games won by a player and then applying the handicap. So, say Novak Djokovic beats Dominic Thiem 7-6 6-7 6-5, Djokovic would have won 19 games to 18. If a bettor wagered Djokovic would win with a handicap of -1 (19 vs. 18 games) then they win, and so on.
Handicap betting in tennis is a tried and tested way of making profits and all the sportsbooks listed offer this feature at major events.
Totals (over/under)


A favorite tennis wager for bettors the world over, this type of betting takes into account the total sum of sets, or games, of both players. The bettor simply has to predict whether a specified number will be surpassed or not.
In the above example courtesy of Pointsbet, bettors simply cast bets based on whether or not they believe that Alex Molcan vs. Fernando Verdasco will go over/under 17.5 games. In this sense, it's basically like playing a game of blackjack at a casino.
Correct Score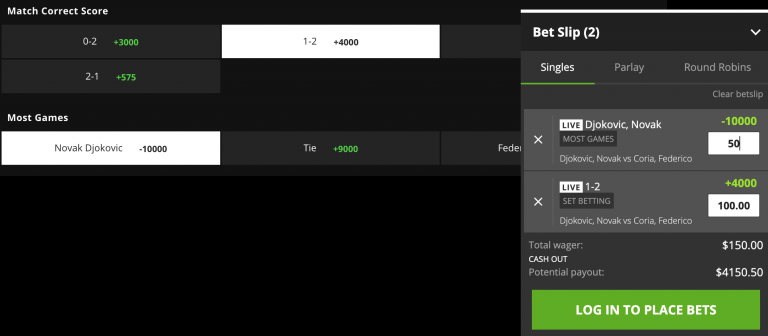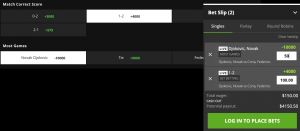 Bettors can also try to guess the correct score of a game or match. This feature is most commonly found under prop bets, such as in the DraftKings example above. Guessing the correct score can be highly lucrative. But it is a much tougher and thus riskier choice than a simple wager on the moneyline, for example.
Winning Margin
Usually listed either as an exact figure or within a range, to bet on the winning margin is simply when the bettor predicts by how many games or sets a player wins or loses by (6-0, 6-5, etc). Winning margin bets tend to be offered as a parlay bet alongside guessing the winner of the match.
Tiebreaks


Oftentimes, elite tennis players cannot be separated in a game and thus a tie break is needed. For bettors, this means a chance to predict whether or not a tie-break will be necessary or, as in the DraftKings example above, how many tie-breaks will be required, usually with decent odds.
Some of the other prop bets available to those betting on tennis are as follows:
betting on the correct score after X amount of games
wagering on a player not winning a set/wagering on a player winning all sets
betting on whether or not the game will go to deuce.
There are many more prop bets to explore – just take a quick look around your sportsbook of choice to spot some of the other lesser-known tennis props and markets.
Tennis Betting Rules: How Do Disqualifications, Injuries, And Changes To Playing Surface Affect Tennis Betting?

It's also worth noting that sportsbooks have slightly different tennis betting rules regarding in-game disqualifications, injuries, and even changes to the agreed playing surface (which does occasionally happen).
Tennis Retirement Betting Rules 


Disqualified prior to the match/ tournament
If a player is disqualified during the lead-up to a tournament, all bets are voided. This is universal across all ten of the sportsbooks referenced on this page.
Disqualified/Injured during the match
If a player retires injured or is disqualified during the match itself, the tennis retirement betting rules vary from one sportsbook to another.
Some sites, such as PointsBet, offer a partial form of insurance for their bettors should the injury or disqualification occur very early on.
PointsBet, for example, has a clause which states:
"If the first set has not been completed (at the time of the retirement or disqualification) then all bets relating to that individual match will be void."
Other sites refuse to void the bet, and other sites still void all bets if the game is left unfinished (see Twinspires image above).
It's certainly not uncommon for a tennis player to retire injured. Case in point, Australian tennis star and women's world No.1, Ashleigh Barty, was forced out of the second round of the 2021 French Open due to injury. Some bettors lost money on the unfortunate incident and some didn't. As such, it's crucial to know which site does what before surrendering your money.
For a complete listing of each sportsbook's stance on such a variable as player retirement due to disqualification or injury, we've created the useful table seen below.
Tennis Retirement Rules (match betting and correct score)
| | | | |
| --- | --- | --- | --- |
| Sportsbook | Bets voided if retirement happens before the end of the first set | No bets voided | All bets voided |
| BetMGM | X |   |   |
| BetRivers |   |   | X |
| DraftKings |   | X |   |
| FanDuel |   | X |   |
| Golden Nugget |   |   | X |
| FOXBet |   |   | X |
| PointsBet | X |   |   |
| Twinspires |   |   | X |
| William Hill |   |   | X |
Change Of Surface
Very occasionally, there is a change of surface announced during the build-up to a tennis match, which can have quite an impact on the result. Nadal vs. Federer on clay, for example, is quite a different proposition to Nadal vs. Federer on grass.
This change of court surface tends to come about due to weather-related or refurbishment issues. Should this variable comes to pass, the majority of sportsbooks have similar policies in place. Sportsbooks tend not to void bets/ offer refunds if the match is switched from outdoor to indoor (and vice versa) since it doesn't tend to make much of a difference to the result.
If the playing surface is altered from that which the bettor wagered on, however (i.e. clay to grass), some of the sites listed today will void all bets. But not all: DraftKings and FanDuel are good examples of sites that do not void bets when the agreed tennis playing surface is altered.
Pointsbet (and most other sportsbooks we've come across) is much fairer in its assessment of this particular eventuality, stating on its website:
"In the event of a change of venue or from outside to indoor court and vice versa, all bets will stand, if there is a change of surface (from hard/carpet/clay/grass to a different type of surface) all bets will be void."
Conclusion
It's wise to check your sportsbook of choice around the time you are planning to cast a bet to get a more complete picture of the site's tennis retirement betting rules. At present, the rules on disqualifications, injuries, and court changes are similar across the board. But there are some notable discrepancies regarding player retirements and playing surfaces. Such rules are subject to change too, so always do your homework before you get your purse or wallet out.
Free Tennis Betting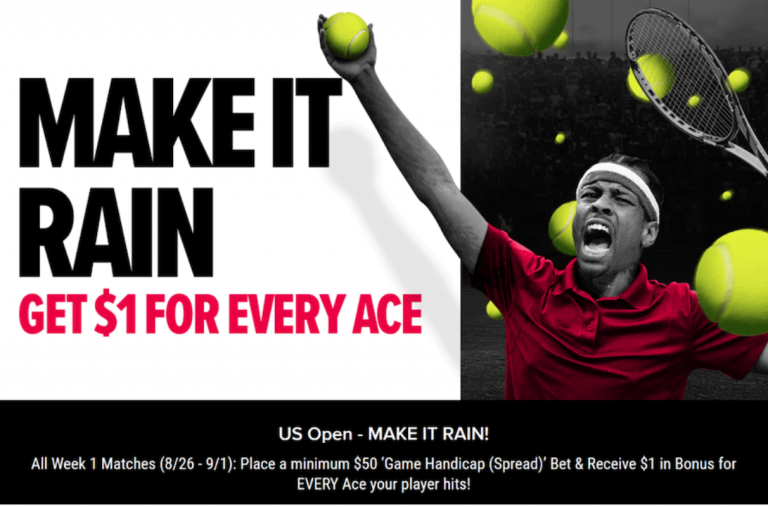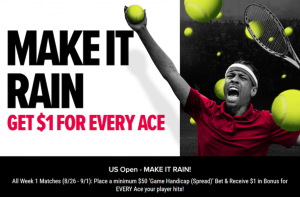 Less of a tip on how to bet; more something to be aware of: most sportsbooks worth their weight in salt will offer promotions and bonus codes during the build-up to the major tennis events, so simply keep an eye out for them and get ready to place some enjoyable free wagers at the best tennis betting sites.
After trolling the internet for hours, the best tennis-related bonus we came across was from FanDuel (see below). In preparation for the French Open at Stade Roland Garros that gets underway in May, FanDuel promises $500 worth of free tennis betting to anyone joining the sportsbook.
In truth, FanDuel is likely offering something similar to NHL, MBL, NFL, and every other sports fan, too. But, it's always nice to know your sport of choice is appreciated.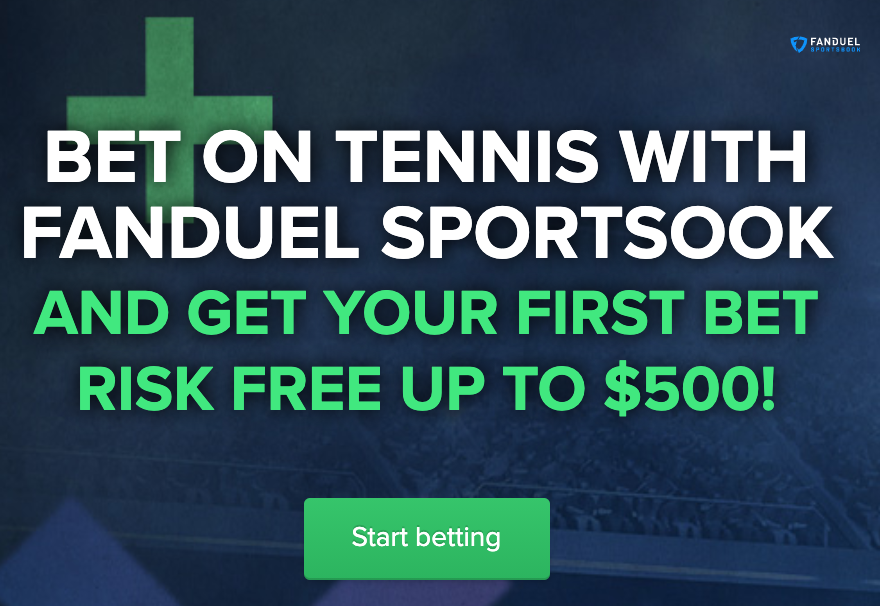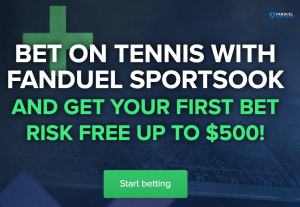 Tennis Betting Strategy
As with all sports betting, there isn't one best tennis betting system to utilize. If there were, we would all be millionaires and your favorite sportsbooks would have gone broke long ago.
That said, there are a couple of tennis betting systems that professional gamblers like to employ at the bookmakers, and there are certainly people out there who have made quite the life for themselves via tennis betting for a living. That said, many of these experts are seasoned tennis-betting veterans. They are referred to as 'courtsiders,' meaning they actually attend the games in person to beat the bookmakers to the latest odds.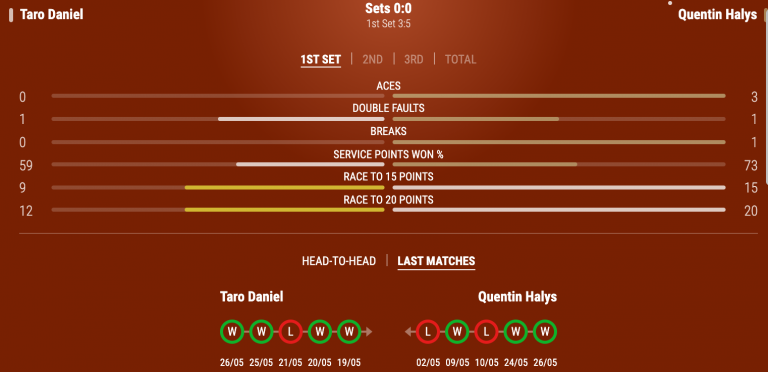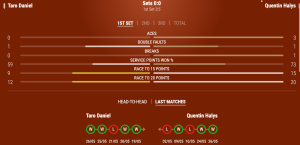 Nonetheless, below are a few of the most favored tennis betting strategies:
Don't Skimp on the Research! – In the world of fast-paced, high-octane sportsbook gambling, there is no substitute for good research, and tennis is no different. All the best gamblers and certainly anyone relying on tennis betting for a living have learned to closely follow and understand stats and form correctly. As a simple example, back in 2015, a quick peek at Rafael Nadal's record on clay during his career may have spurred bettors into action because the Spaniard was deemed almost unbeatable on that type of surface at the time. Further investigation, however, would have highlighted the fact that Nadal's form on grass had been torrid heading into the clay season and that he was carrying a wrist injury. Cover all your bases! Pay the research due diligence before you wager a bet. Visiting tennis betting forums from time to time is a good way to stay on top of the latest news, too.
Get To Know Your Tennis Players – Some players openly struggle with motivational issues at the smaller tournaments, at best using them to hone new skills garnered in training, and at worst treating these smaller events like some kind of all-inclusive holiday, with a fully stocked minibar. Don't just research the form and stats in preparation for your bet – make sure you know your player inside and out before laying down your hard-earned dollars.
Situation Management when Live-Betting on Tennis – Most of you will know the likes of Roger Federer, Venus Williams, and Novak Djokovic, and, of course, each is a phenom at the game of tennis and feature heavily in tennis betting lines. However, with reference to the live tennis betting market, it's important not to get carried away by the name and to stick to the stats regarding how a specific player handles a particular situation out on the court. The best example I can give you of this is famed Japanese tennis player Kei Nishikori. Nishikori has struggled to make it past the quarters of major tournaments throughout his career. But his mid-2010s deciding-set/ tie-breaker record was at 78.9% at one point, putting the Japanese star ahead of the greatest names to have ever played the game: Novak Djokovic (74.1%), Bjorn Borg (74.7%), Pete Sampras (68.0%), and so on. For about five years, betting on Nishikori to win a tie-breaker was easy money and at good odds to boot. If you didn't know that Nishikori was brilliant on set-point, chances are you'd bet against him and lose. Put simply, when tennis betting online, it pays to know these things.
Don't Be Sentimental when Betting on Tennis – Novak Djokovic is 13-6 vs. Roger Federer in tournament finals, which gives him a better than 2:1 record against the Swiss legend. You'd never know it when it comes to the big game though: Federer continues to lure bettors into a frenzy whenever he faces Djokovic and the amount of money cast on both sides is reportedly about even. Considering the 2:1 record Djokovic possesses over Federer, the Serbian's odds are usually pretty good, too. Everyone loves Federer, but unless you have a specific reason to bet on him vs Novak at the next US Open (such as those mentioned above), don't! Great as he is, Federer has beaten Djokovic just once in his last seven attempts.
Open Up Multiple Accounts – If you're serious about betting on tennis for a living, you're going to need the best tennis betting odds on offer… all the time! To regularly obtain the best possible tennis lines and odds, it's advisable to open multiple accounts with as many tennis betting sites as possible. Again, it's like day trading for a living: few traders I know operate solely with one broker: some brokers (sportsbooks) are slower to react than others, some offer better value for X than others, some even make mistakes (it does happen). If you're serious about having a consistently profitable tennis betting strategy, think like a day-trader, and don't be afraid to branch out and set up multiple sportsbook accounts to aid your success.
Get yourself to the Live Tennis Events – As mentioned in the introduction, most people who are able to do tennis betting for a living make their way to live events. They do this because, in many ways, live sports betting is akin to day-trading on the stock market. True value never lasts long, and the bettor/trader needs access to the information as soon as possible in order to make better decisions. Unfortunately, there is a delayed response time of a few seconds-minutes at even the premier live tennis betting sites. This, of course, can be problematic for bettors hoping to gain an advantage at the market. Think of attending the US Open as the spiritual counterpart to working on Wall Street during the mid-1990s, because it is. If you're planning on tennis betting for a living, being among the first people to notice that Nadal's wrist appears hurt again, or that Andy Murray is going into another one of his terrible moods can help you to get ahead of the oddsmakers and win some serious money when tennis betting online.
Betting On Tennis Events

By far the most popular tennis tournaments for bettors are the four Grand Slam events that take place – by and large – quarterly, throughout the year.
The Grand Slam events in the tennis calendar are as follows (click the embedded links to begin open tennis betting online with some of our favored sites):
There are numerous other highly popular tournaments that take place throughout the year too, notably:
ATP Tour Masters 1000: Canadian Open, Italian Open, Indian Wells Masters, Miami Open, Monte-Carlo Masters, Madrid Open, Cincinnati Masters, Shanghai Masters, and Paris Masters.
ATP Tour 500: Rotterdam Open, Rio Open, Dubai Tennis Championships, Mexico Open, Barcelona Open, Queen's Club, Halle Open, European Open, Wahington Open China Open, Japan Open, Vienna Open, and Swiss Indoors
WTA Premier: Twelve premier womens' events that take place around the world at differing locations
ATP 250: 39 tournaments that took place across the globe throughout the year
ITF: International Tennis Federation tournaments, including the Davis Cup, Fed Cup, Hopman Cup, and Olympics/ Paralympics
A helpful side note: do bear in mind that the numbers succeeding the event (i.e. ATP 500) indicate the total number of points it's possible for the winners of the singles events to amass. Grand Slams are worth 2,000 points, the ATP Tour Masters titles are worth 1,000 points, and so on.
It's worth mentioning solely because the best players don't tend to appear at the lower-ranked tournaments. This, in turn, makes it harder for newcomers to tennis betting online markets to wager knowledgeably on the outcome. You might prefer to wait for the stars to shine at the bigger tournaments…
Tennis Betting Odds For Upcoming Grand Slams (Naomi Osaka & Novak Djokovic)
Just to give our readers an idea of the marginal difference in tennis betting lines and odds at the major sportsbooks, we've made a table of comparison below featuring four of our preferred options: DraftKings, FanDuel, PointsBet, and Twinspires.
It's important to remember that players are given different odds at different times, on different platforms and that these odds fluctuate constantly, especially when future betting is concerned.
Naomi Osaka Odds Across all Four Tennis Grand Slams in 2021/2022
| | | | | |
| --- | --- | --- | --- | --- |
| Sportsbook | French Open | Wimbledon | US Open | Australian Open |
| DraftKings | +1200 | +550 | +450 | No odds listed |
| FanDuel | +1700 | +600 | +470 | +350 |
| PointsBet | +1400 | +600 | +400 | +350 |
| Twinspires | +1200 | +550 | +450 | No odds listed |
As you can see in the table above, FanDuel is the sportsbook offering the very best tennis odds on Japanese sensation Naomi Osaka. Her US Open tennis betting odds, in particular, come out way ahead of the competition.
Remember, FanDuel's top prices here don't necessarily dictate that the tennis betting site will come top for every tennis line or odd for every player. But, where Osaka is concerned, FanDuel is the place to go if you wish to cast a future bet on the young star.
An identical table of comparison can be seen below for men's singles legend Novak Djokovic.
Novak Djokovic Odds Across all Four Tennis Grand Slams in 2021/2022
| | | | | |
| --- | --- | --- | --- | --- |
| Sportsbook | French Open | Wimbledon | US Open | Australian Open |
| DraftKings | +400 | +140 | +125 | No odds listed |
| FanDuel | +410 | +150 | +125 | +125 |
| PointsBet | +350 | +140 | +120 | +125 |
| Twinspires | +400 | +140 | +125 | No odds listed |
FanDuel currently offers the best odds on Novak Djokovic emerging as Grand Slam champion at tennis's premier events. It's also worth noting that, with regards to the upcoming French Open Finals, bettors wishing to back the Serbian powerhouse for a tournament win should probably avoid Pointsbet: the sportsbook's +350 odds are lagging some way behind some of the competition.
In truth, Pointsbet has tons of good odds, too – just not on Djokovic (most likely because he often wins at the majors). This exercise doesn't show the BEST tennis betting site – the tennis lines and odds differ tremendously from player to player, from event to event. This exercise, more than anything else, just shows the importance of shopping around for the best odds on the night.
Live-Streaming Tennis Sites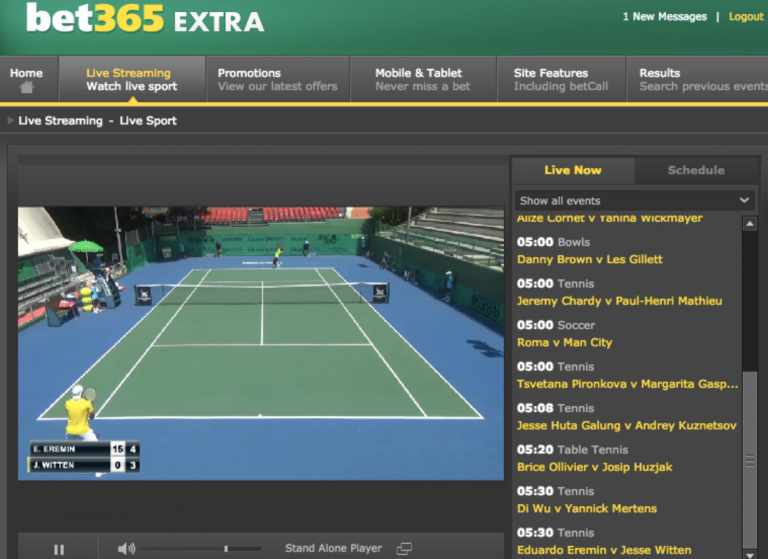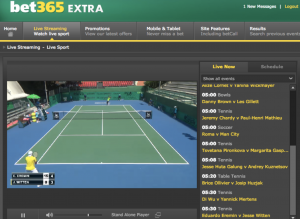 The vast majority of sportsbooks featured here today offer a live tennis streaming service to paying customers. For a complete overview of which of the best tennis betting apps and sites provide live streams, see the table below:
| | | |
| --- | --- | --- |
| Sportsbook | Offers live streaming of tennis | Does not offer live streaming of tennis |
| Bet MGM | X |   |
| Bet Rivers | X |   |
| DraftKings | X |   |
| FanDuel | X |   |
| Golden Nugget |   | X |
| FOXbet | X |   |
| PointsBet | X |   |
| Twinspires |   | X |
| William Hill | X |   |
In Play Tennis Betting Sites


Without a doubt, one of the most popular methods by which to bet on tennis is to do it live, whilst the game itself is underway.
Each of the ten sportsbooks featured on this page enables live tennis betting online and incorporates a multitude of markets, spreads, and prop bets available to bettors who choose to wager in this manner.
That said, some are better than others…
Best In play tennis betting site for optionality
DraftKings is atop the pile when it comes to optionality. A quick peek at the in-play tennis betting markets for Novak Djokovic vs. Pablo Cuevas at the French Open demonstrates this fully. There's moneyline, point-by-point, tiebreak winner, correct score, game spread, first to four games, and countless other options available to bettors wishing to get involved with the proceedings at Stade Roland Garros.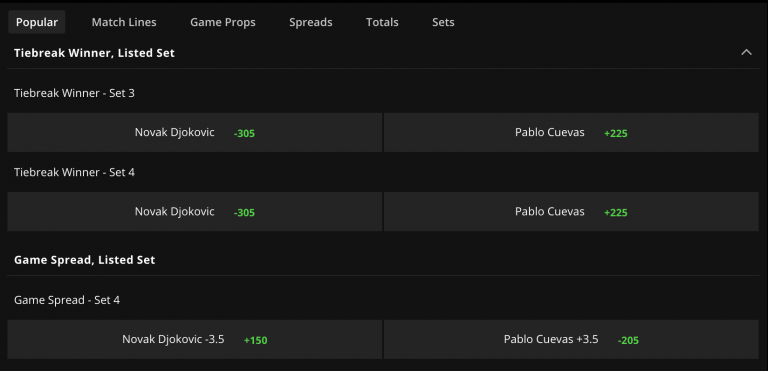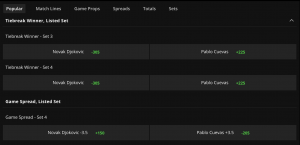 Not to mention some incredibly helpful tools to enable bettors to make better decisions whilst the ball is on the court. We love the inclusion of Global Betting Trends Statistics that Draft Kings offers to its clientele. The favorite/ underdog statistics are great, too, making it easy to see why DraftKings is universally considered one of the best tennis betting sites.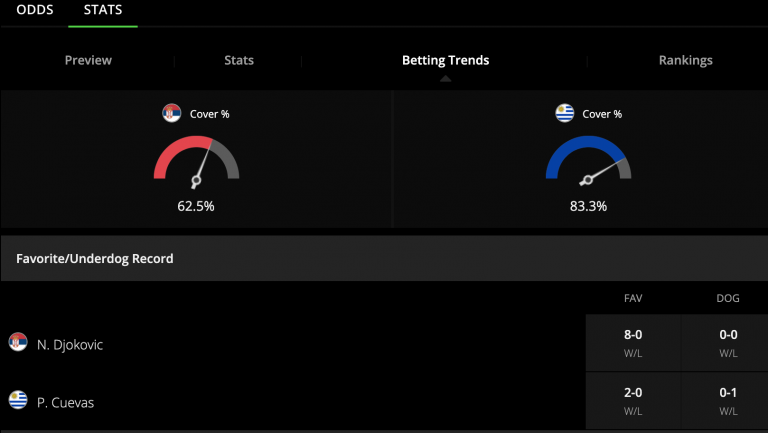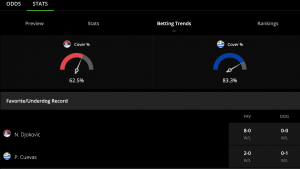 Best Tennis Betting Sites USA – Conclusion
First and foremost, the best tennis betting site or app is the one you feel most comfortable using. Then, it's the one that's actually available to use in your state, and – as mentioned in the 'betting on tennis for a living' section – oftentimes, the best tennis betting site is simply the one that provides the best odds on the night.
We do, however, implore our readers not to stray too far off-court. We firmly believe it's in your best interests to use one of the top 10 legit tennis betting sites featured at the top of our rankings.
Ultimately, we at safebettingsites.com have done the homework so you don't have to, and – with regards to our findings –  the likes of FanDuel, DraftKings, and PointsBet really did absolutely ace the test.
$1000 Welcome Bonus
Up to $1,000 sign up bonus for newcomers
Detailed Stats for All Players Easily Accessible
Offers Markets for Futures, Match Play & Live In-Play Tennis
9.5
Claim Bonus
Risk-Free Bet up to $1,000
Risk-Free Bet up to $1,000
Offers a $1,000 Risk-Free Bet to New Customers
Very Competitive Table Tennis Odds
Deep Market Prop Market of Table Tennis Betting Options
9.0
Claim Bonus
FAQs
What Is The Best Betting Site For Tennis?
The ten tennis betting apps and sites mentioned up-page excel in different areas, so it truly does depend on what you're looking for from your tennis-betting experience. DraftKings probably has our favored app and, along with William Hill, the most optionality. On the other hand, Fan Duel has marginally better odds for the upcoming Grand Slam tournaments... Our hope is that you can now make a better, more informed decision before surrendering your hard-earned $.
What Is the Best Bet In Tennis?
The best bet in tennis is the one that you have spent due diligence researching and one that you can afford to make. Besides that, betting on individual match-winners in the form of a parlay bet can be lucrative. But again, we implore our readers to do their research first and to wager only what they can afford.
How Do You Win A Tennis Bet?
You win a tennis bet by predicting the correct outcome of a game/match/tournament, or by predicting the correct outcome of a prop bet. If you are able to consistently make accurate predictions, you will see a profit.
What Does 22.5 Mean In Tennis?
In tennis betting, 22.5 generally refers to the line set by tennis betting for 'Over/Under' prop betting. The bettor is guessing if there will be more or less than 22 games in a specified tennis match - effectively it's Blackjack for tennis fans.