Bonus codes can provide quite the enhanced gambling experience, whether they are provided on first deposit, first bet, as an enhancer for accumulators or as a risk-free bet. Different platforms offer different rewards, and many of these require a promo code to be activated. One online site that operates in a variety of different states is the FanDuel sportsbook. The question is whether or not the promotions differ from state to state, allowing residents of Indiana for example to receive something alternate to residents of Iowa.
Here, we will have a look at the bonus codes and promotions available as FanDuel offers. Of course, you will be able to benefit from some of these if you have a FanDuel account and reside in one of the states where the platform operates. So, what FanDuel promo code can you benefit from?
First Deposit Bonus up to $500
First Deposit Bonus up to $500
Biggest DFS Brand
Most Slates & Contents Offered
Available in 43 States
9.8
Claim Bonus
What is a FanDuel Promo Code?
The FanDuel sportsbook made quite the splash when it launched its mobile betting app in multiple states. And as more states legalize sports betting within, it is likely that the FanDuel brand will become available throughout more places in the USA. At the moment, residents of New Jersey, Virginia, Colorado, Indiana, Pennsylvania, Iowa, West Virginia, Tennessee, Michigan and Illinois can access the FanDuel sportsbook.
A FanDuel sportsbook promo code is what you can use to receive one or more promotions from the FanDuel platform. In general, the sportsbook has one of the best sign up offers in the industry, and it holds a sizable market share in the United States. The FanDuel sportsbook offer is only available to new users, so you must have just completed your registration and made a deposit to receive it. There is a general FanDuel promo code, which provides a risk-free bet of up to $1,000, and this is wager free. However, are the rewards different for the different state versions of the sportsbook?
FanDuel is best known for providing daily fantasy sports (DFS). However, the online sports betting site that it also offers has obtained a great level of appreciation. You will find that the various FanDuel promo code offers exist as the following:
| | | |
| --- | --- | --- |
| FanDuel Bonus Offer | FanDuel Bonus Description | Bonus Code |
| FanDuel Risk Free Bet | New users get up to a $1,000 refund in site credit if they lose their first bet. | No bonus code required |
| Refer a Friend | Refer your friends to the FanDuel site and receive a $50 sportsbook bonus and $50 casino bonus | No bonus code required. Friends must use the referral link provided |
| FanDuel Casino Promo Code – Play Your First Day Risk Free | Receive 100% back on net casino losses incurred within first 24 hours of play, up to $200 | No bonus code required. |
| FanDuel Fantasy Sports Instant Bonus | New users signup for FanDuel Daily Fantasy Sports and receive an instant deposit bonus of up to $500 | No bonus code required. |
Differences Between FanDuel Promo Code Sportsbook Offers Between States
Different states have different legislation relating to online promo codes, so sports bettors will be able to benefit slightly differently depending upon where they are located. For example, because casino gaming and sports betting is legal in New Jersey, there are offers relating to both of these platforms. However, if you were to look at West Virginia and open a new account at FanDuel, you would not receive any bonus codes for casino gaming.
This means that the refer-a-friend reward would only provide $50 for using on the sportsbook, rather than also having an extra $50 for casino gameplay. The same $1,000 risk-free bet is available to begin with as a newcomer, but there is nothing on hand for DFS fans. Below are the different offers and where they are available:
$1,000 Risk-Free Welcome BetNew Jersey, Pennsylvania, Illinois, Indiana, Colorado, West Virginia, Tennessee, Virginia, Michigan, Iowa.
FanDuel Fantasy Sports Instant BonusNew Jersey, Pennsylvania, Illinois, Indiana, Colorado, West Virginia, Tennessee, Virginia, Michigan, Iowa.
FanDuel Casino Risk-Free First DayNew Jersey, Pennsylvania, Michigan.
FanDuel Refer-a-Friend for $50 Bonus on Sports and $50 Bonus on CasinoNew Jersey, Pennsylvania, Michigan.
FanDuel Refer-a-Friend for $50 Bonus on Sports OnlyNew Jersey, Pennsylvania, Illinois, Indiana, Colorado, West Virginia, Tennessee, Michigan, Iowa, Virginia.
How to Sign Up and Redeem a FanDuel Promo Code Colorado
A promo code for FanDuel sportsbook can only be used once you have signed up for an account at the sportsbook. This is the same case regardless of whichever state you reside in. So, to be able to do this properly, it is appropriate to follow a certain process. We have a step-by-step guide for you to check out below. Through this, you will be able to successfully register for a new account at FanDuel and then redeem a promo code. The general process is the same, but we will utilize screenshots from the Coloradan version of the platform.
Step 1: Register for a Sports Betting Account
The first process that you need to undertake is to complete the registration process. This requires your email address, the creation of a username and password and then some further details as you proceed. It is important to know that you will also be required to enter your social security number. New users can then login with their username and password once the account is created for real money sports betting.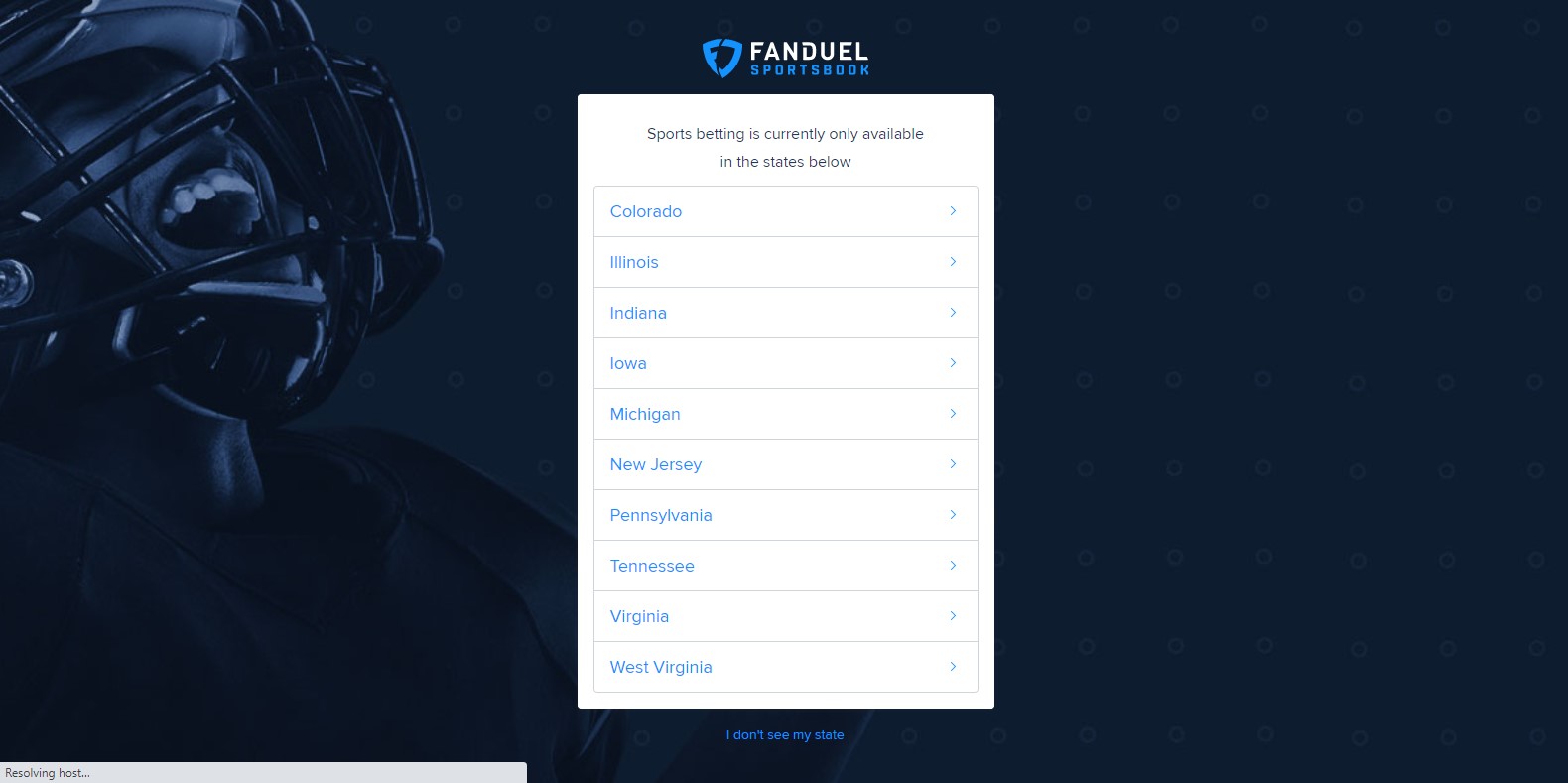 Step 2: Make a First Deposit
You will need to visit the cashier page of the FanDuel site, and there you will see the various different payment methods that the online sportsbook supports. The risk-free bet of the platform will automatically activate once you proceed with your first deposit. Just be sure that you are depositing the minimum amount that the platform requires.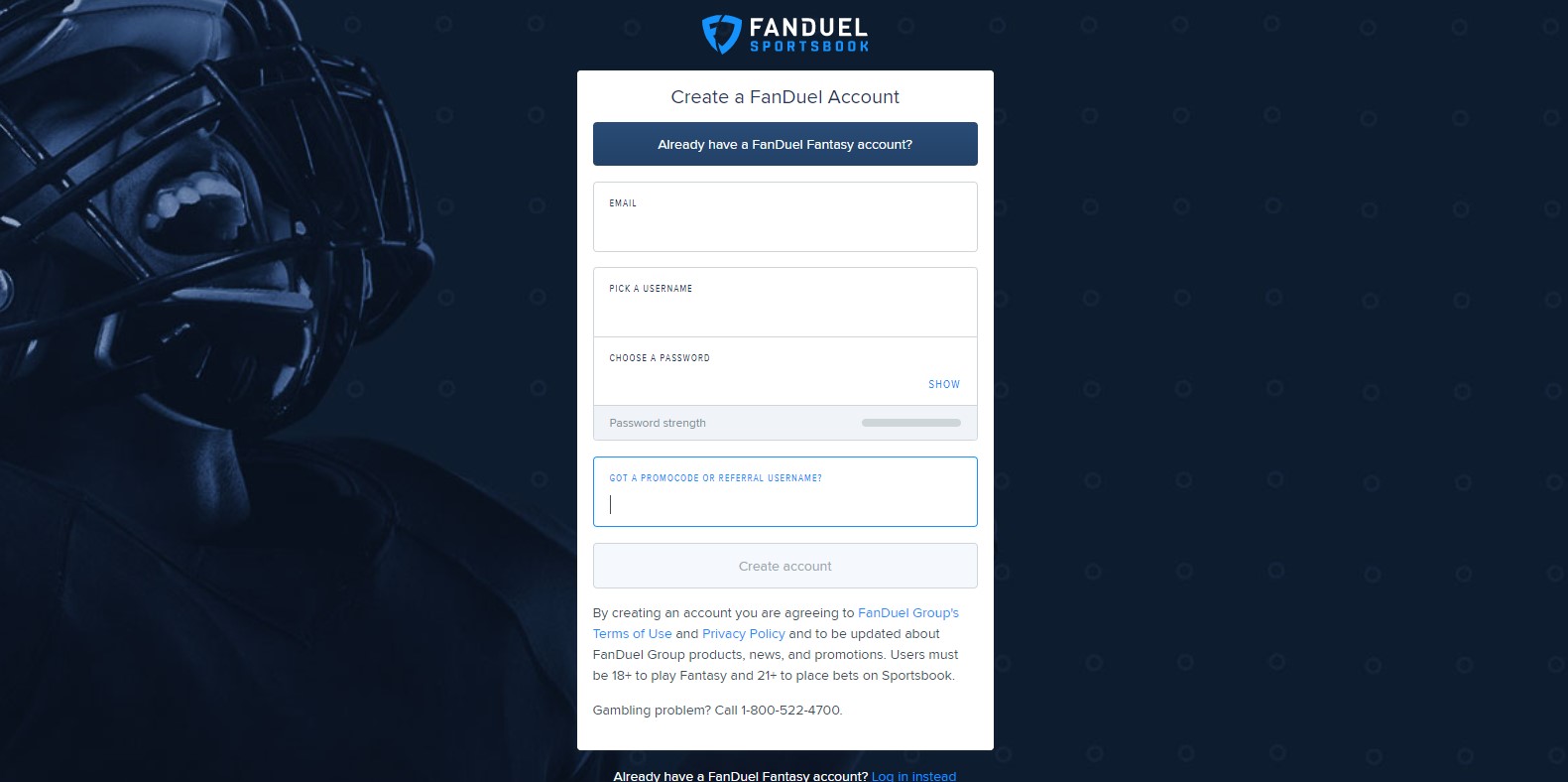 Step 3: Place Your First Wager
So that you receive the risk-free bet, you need to proceed with making your first wager at the site. Once you make your first real money wager of any type on your account, then you will be covered by the welcome offer.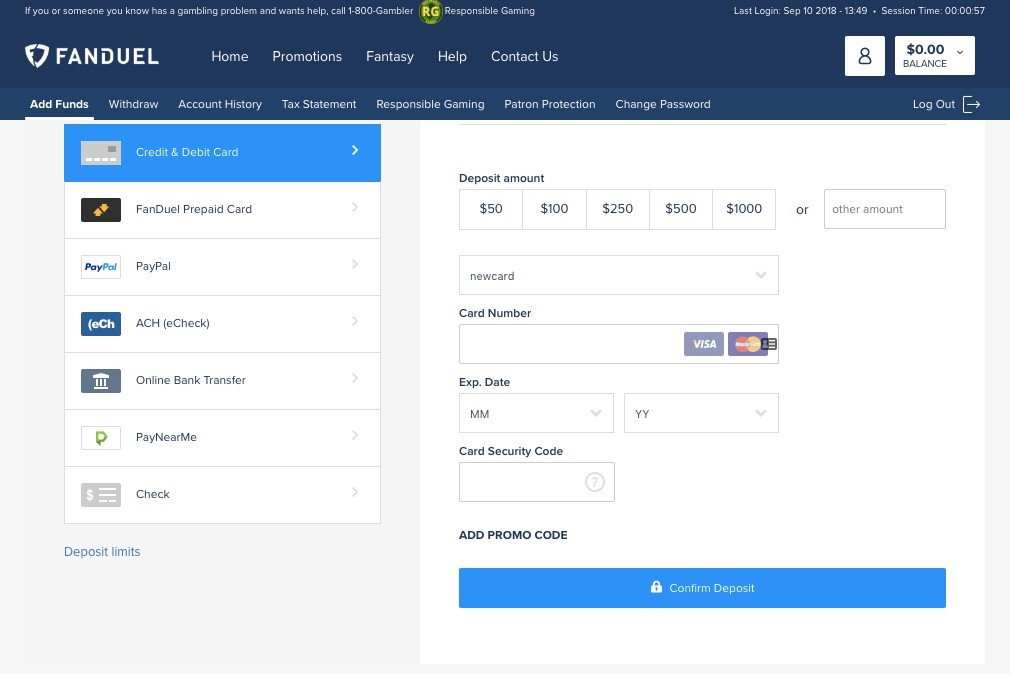 Step 4:  Receive Your Refund
If the first sports wager that you place is successful, then you will receive the winnings from it as normal. Should it be a losing initial bet, then the sportsbook will give you back your stake up to $1,000 at a maximum.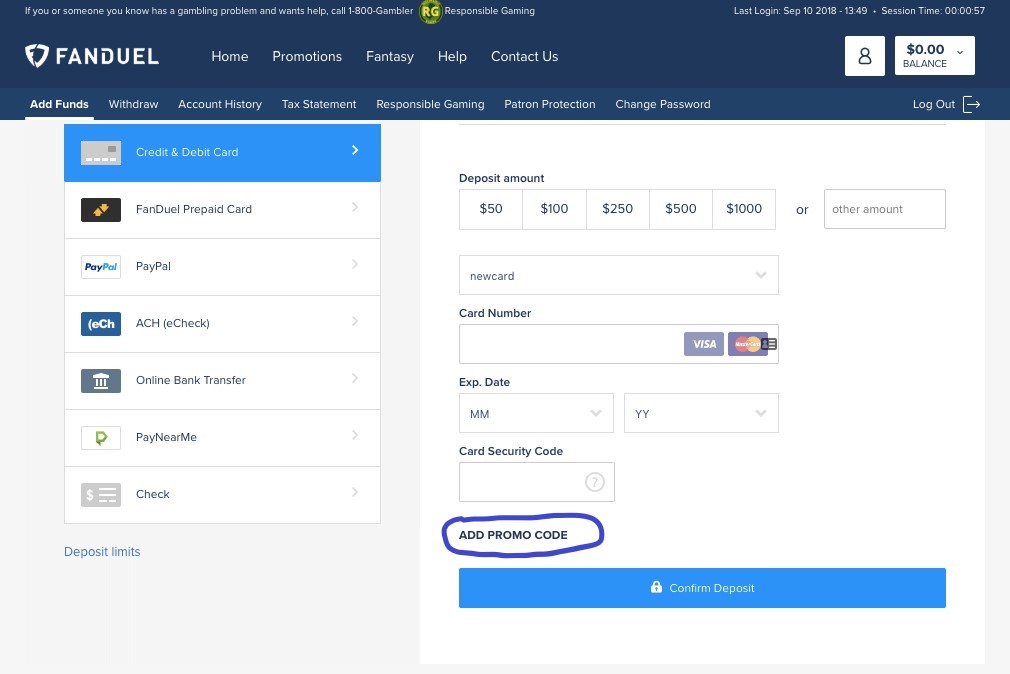 FanDuel Promo Code Benefits – Why Join FanDuel?
FanDuel currently operates as one of the very best online sportsbooks in the United States. There is a reason that it is entering into partnerships with casinos in various states to offer retail sportsbook options and mobile apps. Not only is it one of the largest companies alongside DraftKings, it has a great selection of sports for betting on and also provides daily fantasy sports. A full range of American major sports leagues are also accessible for wagering on, meaning that the NHL, MLB, NBA and NFL are all free game.
As well as that, you can proceed with FanDuel promo code entry to receive a variety of rewards from the platform, as well as receiving the welcome risk-free bet of up to $1,000. One other major benefit of joining the FanDuel sportsbook is that it offers exceptional betting odds, and it is this that has helped it grow to become as successful as it is now.
Current FanDuel Promo Code for New Users
It is always great to receive a new player offer from an online sportsbook, and the FanDuel platform certainly has one of these. As noted earlier on, anyone looking to take advantage of the sports betting side of things can benefit from the $1,000 risk-free bet. This covers your first wager so that if you lose, you will be refunded the full amount (provided it is not more than $1,000 as a maximum).
After you have signed up and made your first deposit, you can proceed with your first bet to benefit from this. At this point, it would be ideal to place a first wager of as high as possible, because you'll be covered by the newcomer offer anyway. This promotion is open to residents from all states that FanDuel operates in, as long as you are physically present within one of those states during the promotion period.
In the event that your first eligible wager on any sport is a losing one, then you will receive a sportsbook site credit which is equal to that amount. If your wager wins, then you will only receive winnings from it, not the promotional refund as well. In a losing circumstance, the promotion bonus will be credited to your account within 72 hours of the outcome. The promotion bonus is not withdrawable from the FanDuel sportsbook, but any winnings you earn from using it are immediately available for such.
Restrictions and Examples
There are no restrictions on the type of bet you can place, the amount that you must wager or wagering requirements. Every sports betting market and all sporting events are available for you to utilize in this circumstance. Therefore, teasers, parlay bets, live betting and so on at fanduel.com are all eligible within the newcomer promotion.
Let's take a look at a couple of examples to further explain the offer for new players. So, you have signed up and deposited at the sportsbook already and you decide to bet on an NBA game for your first wager. The Cleveland Cavaliers are facing the Chicago Bulls and you decide that you're going to back the Cavaliers as the winners. Here are the two possible outcomes:
You place a bet of $200 on the Cavaliers winning with moneyline odds of +126 and the Cleveland team manages to secure the victory. You win $252 from the bet and this is applied to your account as any standard sports betting win would be.
You place a bet of $200 on the Cavaliers winning with moneyline odds of +126. However, the Chicago Bulls manage to secure the victory and your $200 bet is lost. However, because this FanDuel risk-free bet offer is active, you will be given the $200 back as a site credit within 72 hours.
Is the Welcome Offer Available Via Mobile and Do You Need a Bonus Code?
The welcome risk-free bet of up to $1,000 is something that is readily accessible through the site's mobile app. Of course, you will need to have this downloaded and installed on your Android or iOS mobile device(s) to use it. Some states only provide the platform for sports bettors through the FanDuel sportsbook app as defined by law, so it would be very limiting of the platform to only offer the welcome reward through retail sportsbook establishments.
Claiming it requires you to follow the self-same process of signing up, depositing and then making your first wager on your new account. All of the connected terms noted earlier remain effective as well, so you won't be restricted by wagering requirements or minimum bets etc.
There is no need to use a FanDuel free promo code to claim this reward, as is the case with many of the site's promotions. Instead, you automatically qualify for it when you deposit money into your account and then place your first wager. So, if you were thinking that you need to enter FanDuel promo code details to claim the reward, this is not necessary.
FanDuel Promo Code Entry for Free Bets – Are They Available?
It is common for some online sportsbooks to include free bets as special offers. These may sound similar to risk-free bets, but they are actually a little bit different. Risk-free bets cover you and provide refunds should a wager be a losing one. It's sort of like an insurance cover on your wager, to put it simply. On the other hand, a free bet is given to you when you make a deposit of a certain amount or complete some other task.
So, essentially, a platform may request that you proceed with depositing a minimum of $50 to receive a free bet of $15 on top. As with any other promotion, this nicely enhances your user experience, as it gives you something extra to benefit from when betting. As things stand at the moment though, the FanDuel platform does not offer any free bet special offers. It may introduce some such rewards for new customers or existing players in the future, though.
Best Promo Code for FanDuel – the Site's Best Promotions
The fact that there is a welcome offer for newcomers is great, and the maximum risk-free wager of $1,000 is exceptional. However, what about the other perks that are on hand? Does the FanDuel online sports betting site offer anything else for users to benefit from? What sort of payouts can you expect from the special offers? Well, let's take a look at some of the rewards for newcomers and existing sports bettors to claim.
Promotions for New Customers
New players are in quite a good place because online sportsbooks are always wanting to attract such gamers to their sites. This means that they frequently refresh and introduce new rewards for potential newcomers to receive. The sports betting promotions for new players exist at FanDuel in the following options:
$1,000 Risk Free Bet
New users get up to a $1,000 refund in site credit if their first bet is a losing one.
Daily Fantasy Sports First Time Deposit Bonus Up to $500
An instant bonus of up to $500 if provided to new users who make their first deposit at the FanDuel Fantasy site. This operates as a 20% reward on top of your initial deposit.
FanDuel Casino Promo Code
Available to residents of New Jersey, Pennsylvania and Michigan, this FanDuel promo code rewards you with a 100% up to $200 refund on your first-day losses within the casino section.
Promotions for Existing Customers
Existing customers are not left out in the cold when it comes to receiving special offers from the FanDuel platform. There are various FanDuel offers on hand for regular sports bettors to claim, as it happens. These will often enhance potential bets that you will place, such as parlays and spreads, ensuring that you get the very best out of your user experience at FanDuel.
Same Game Parlay Insurance
Place an NBA, MLB or soccer 4+ leg same game parlay and if exactly one chosen leg loses, then the FanDuel sportsbook refunds you up to $25.
NBA First Basket Insurance
Place a pre-match first basket scorer wager on eligible NBA games and if your bet loses, but that same player scores the second or third basket, then you receive a refund of up to $25.
$5 Dinger Tuesdays
Place a bet of $25 or more on an MLB "To Hit a Home Run" prop any Tuesday and receive a $5 bonus in site credit for each home run hit by either team in the game, up to $25.
NHL Parlay Insurance
Place a parlay of five or more legs on NHL games and if you hit all legs except 1, then you'll receive up to $25 back in site credit.
UFC Parlay Insurance
Place a parlay with five or more legs included on UFC 261 with a maximum of one leg per fight. Should one leg fail to be a winner, you will receive a refund of up to $25.
MLB Home Run Challenge
Enter the Home Run Challenge for free every single day. Draft 3 players and get a single point for every home run they hit. Score three points to split a share of the $2K prize pool. Score six or more points and you'll win a share of the bonus $10K prize pool.
Refer a Friend
Refer your friends to the FanDuel sportsbook and you get rewarded if they use your referral link and make a deposit. Receive $50 to use in the sportsbook and if you live in New Jersey, Pennsylvania or Michigan, receive an extra $50 bonus for the casino.
Multi-Sport Parlay Insurance
Place a parlay of five or more legs in any sports and through this FanDuel promo code, if you hit all legs except 1, you'll receive up to $25 back as a refund.
To Summarize the FanDuel Promo Code
As you will probably have guessed by now, FanDuel promo code offers are there for you to have an enhanced sports betting experience. The platform's promotions, which are sponsored by Betfair Interactive US, are plentiful enough, and do differ slightly depending upon the state that you reside in. Potentially if states like Tennessee, Iowa, Illinois and others introduce legal online casino gaming though, the FanDuel casino promo code will be made available there, too. All in all, the FanDuel sign up promo code for a risk-free $1,000 bet (which doesn't require a FanDuel promo code at all), provides an exciting welcome to the sportsbook, and then the promotions for existing customers make things even better.
First Deposit Bonus up to $500
First Deposit Bonus up to $500
Biggest DFS Brand
Most Slates & Contents Offered
Available in 43 States
9.8
Claim Bonus
Other US Sportsbook Promo Code Offers
FAQs
In What States Can I Legally Place Bets at FanDuel?
You can register and use the FanDuel promo code rewards in New Jersey, Michigan, Pennsylvania, West Virginia, Tennessee, Iowa, Illinois, Colorado, Virginia and Indiana. New York also provides the FanDuel sportsbook, but only within the Meadowlands retail sportsbook located upstate.
Is FanDuel a Safe Platform?
Yes, the FanDuel platform is safe and secure. The site uses SSL technology, which protects your information and allows secure information to be passed through the internet.
What Depositing Methods Are Usable at FanDuel?
The FanDuel platform allows you to deposit through a number of different banking methods. ACH eChecks can be used and so can PayPal transactions. Credit and debit cards from Visa and Mastercard are also accepted, while a FanDuel prepaid card is also supported. It also allows online bank transfers to take place.
Is There a FanDuel Rewards Program Available?
At the moment, FanDuel does not have a loyalty program or VIP scheme. There are odds boosts and bet insurance rewards that you can claim at the site, but a loyalty program is yet to be set up.