Boxing is a sport synonymous with betting in America, with Las Vegas the home of gambling and Vegas casinos being host to some of the biggest bouts in history. Now that sports betting is moving online, bettors across the country are starting to look for the best boxing betting sites.
At SafeBettingSites we make it our job to help in this search. Our team of writers have decades of experience in sports betting and have been using online betting apps since they have been legalized in America. We've taken a look at these in order to try to find which are the best legal boxing betting sites so that you can be confident your money is safe and secure when you begin betting on boxing online.
In accordance with our research, the current top 10 boxing sites are listed below.
To begin. we've taken the liberty of giving a brief overview of some of the pros and a few of the cons of each boxing betting site and its app:
Top Boxing Betting Sites
(in alphabetical order)
Stemming from boxing's spiritual home of Las Vegas, BetMGM prides itself on offering up to the minute boxing betting online odds. The recent partnership with DAZN, the online sports subscription streaming platform which is expected to broadcast Fury vs. Joshua in August, helps make BetMGM a major player in the boxing betting arena, especially where live betting is concerned.

What we like:
Long-standing history with boxing
New partnership with DAZN is great for live-betting
Up to the minute Vegas scores and odds
What we don´t like:
App and site not as pretty as some competitors
Bet Rivers typically offers bettors highly competitive odds and lines at the market and a fantastic, well-reviewed user experience both on its website and app.
BetRivers also offers bettors creative promotions throughout the year, including Thursday Profit Boosts, odds boosts, and enhanced parlay pay-outs. The sportsbook also allows its customers to cash out their boxing wagers before the end of the contest by taking advantage of the Early Buy-Out option, too.
For returning users, Bet Rivers also has a loyalty scheme known as the iRush Rewards Loyalty Program that sees returning users pick up points which they can use to place more bets and even gain access to exclusive VIP events.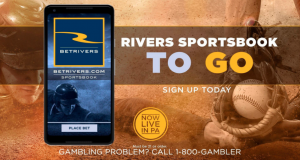 What we like:
Competitive odds for boxing
App and site well-reviewed by users
Offers bettors the chance to buy out early
Enhanced parlay pay-outs
What we don´t like:
Limited availability nationwide
Though historically better known for fantasy sports, DraftKings incorporates a boxing betting market that contains all the various betting options you would hope to see listed for a premier event. The site offers top-rated, competitive odds, a deep market, and plenty of variety for its players.
DraftKings is available in a multitude of states right across the US, making it easily accessible for most fans of the sweet science.
The famed sportsbook also offers a money-back feature on parlay-betting, meaning bettors can throw caution to the wind when betting on less-known combatants on the undercard of a main event.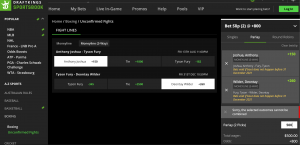 What we like:
Competitive odds and lines
Deep market for boxing bettors
Most accessible online betting site for boxing
Offers money back feature on parlay betting
Offers Round Robin feature (multiple parlay betting) for boxing
What we don´t like:
Other sites much quicker to feature upcoming fights and odds
Fan Duel continues to entice speculative boxing bettors from across the nation with its deep market of boxing betting options. Looking ahead to Fury vs Joshua, Fan Duel offers several betting markets other sites do not. Bettors can cast bets on the first fighter to be knocked down and even whether or not a fighter will come back to win having been knocked down, for example.
Fan Duel's app and website look fantastic and the sportsbook is renowned for offering top bonuses to newcomers – in the month of May, for example, newcomers to the site are offered up $1,000 in risk-free bets!
On top of all this, Fan Duel offers a variety of parlay betting options for America's biggest fights and, much like Draft Kings, Fan Duel also offers bettors parlay betting insurance.
That said, boxing isn't Fan Duel's major focus and, as such, the odds, lines, and even the markets for lesser-known fights do have a tendency to lack in value vs. some of the other major players out there.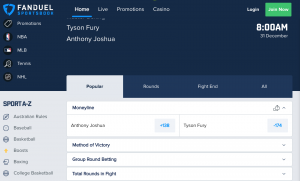 What we like:
Deep and varied market for major fights in the calendar
Fantastic looking site and app that's easy to navigate
Up to the minute boxing betting odds and lines
Offers good promos and bonuses for existing and new users
What we don´t like:
Doesn't always offer the best boxing odds on the market
Markets not as deep for perceived smaller fights
Having made its name in Atlantic City, NJ, and Las Vegas, NV, Golden Nugget, a name just as synonymous with live boxing events as it is boxing betting, offers an enticing rewards program, as well as numerous promotions for returning users.
Golden Nugget's online Sportsbook has several unique features including Golden Lines (daily odds boost), Parlay Boost, and Match Tracker, which is a live in-game betting innovation. The sportsbook generally offers top odds and lines on the market where the biggest boxing action is concerned but can be slow to display odds for bouts and all too often doesn't feature fights that a bettor might like to wager on.
The app isn't as aesthetically appealing as the likes of the aforementioned Fan Duel and Draft Kings, but it's not like that's going to detract from a user's ability to win money betting on elite boxing.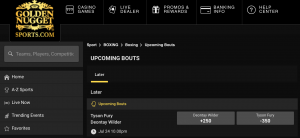 What we like:
Long-standing history with boxing promotions and betting
Offers various unique features: Parlay Boost etc.
Offer some of the best boxing odds on the market
What we don´t like:
App and site not as pretty as some competitors
The site can be slow to list odds for boxing matches (just Fury vs. Wilder 3 up at present) and many fights are not listed at all
Offering a wide range of bets all year round, FOXbet is rapidly becoming one of the major players in the online gambling arena.
All the markets you'd expect to have available on one of America's best-known boxing betting apps are included: that's moneylines, round totals, round group betting, and method of victory, and (unlike others) FOX Bet covers both professional and amateur boxing events, too.
FOX bet aims to provide bettors with an enjoyable platform on which to read news and cast bets. That said, bettors often locate improved odds and spreads elsewhere.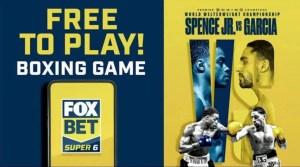 What we like:
One of the world's most reputable sports broadcasters
Covers both pro and amateur boxing
A fairly deep market for boxing bettors
Superb glossary of boxing terms, news and coverage via website
What we don´t like:
Tends not to offer the best available boxing odds
Famed for its unique approach to spread-betting, including — but not limited to – boxing, Points Bet is one of the highest-rated online sportsbooks as voted for by its users.
On top of that, Points Bet is also the major betting partner of NBC Sports and offers a variety of live, in-play options as a result.
Like Draft Kings and others, the Points Bet site and app do, at times, enable prospective bettors the chance to cast bets on unconfirmed fights.
A slight pitfall with regards to boxing, however, is the limited depth of the betting market available on Points Bet. Other sites offer far more optionality.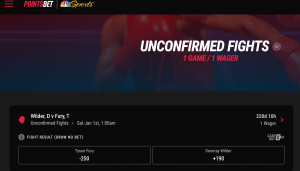 What we like:
Highly rated by users
Famed for unique approach to spread betting
Partnership with NBC Sports enables a multitude of live, in-play betting
Allows bettors the chance to bet on unconfirmed boxing fights
What we don´t like:
Limited market optionality compared to competitors
Though more famous for horse racing than boxing, Twin Spires is another highly trusted boxing betting site.
You can sign up to use Twin Spires to service your boxing betting needs for just $1 and the company is known to offer up to $1,000 in risk-free bets for new bettors.
The app is well-reviewed by users and the Twin Spires edge content pages are packed to the brim with useful tips on boxing bets, upcoming fights, et al.
With all that said, Twin Spires doesn't have much depth to its boxing market though, focusing mostly on simple moneyline bets, which may put off prospective bettors looking for optionality.

What we like:
Attractive promotions and bonuses for newcomers
Well-reviewed and easy-to-use app
Site contains a lot of betting tips and news for boxing
What we don´t like:
Boxing is not sportsbook's main focus and markets tend to be thin as a result
William Hill is Caesars Entertainment and ESPN's sports betting partner, which gives the sportsbook a firm foothold in a boxing market that mostly takes place in Las Vegas. It's also this sportsbook's odds and lines you'll see flicking across your TV screen when watching ESPN. In short, William Hill is now a huge player in the online sportsbook game.
William Hill is quick to act in the online betting boxing market, often providing odds and lines for unconfirmed fights – we are yet to find a site with a deeper, early market for the now unconfirmed Fury vs AJ clash, for example.
This provides shrewd bettors with a chance to exploit those odds as the date of the main event draws nearer and more info comes to light regarding the fighters – as an example, you might learn that one boxer struggles with southpaws or that another is carrying an injury, or struggles at altitude during the build-up, giving you an extra edge in the betting ring.

What we like:
Long-standing history in sports betting
New partnership with Caesars & ESPN is great for live-betting
Up to the minute odds and lines
Very deep market for combat sports, including boxing
Offers bettors the chance to bet on unconfirmed fights
What we don´t like:
App has been reported to experience issues from time to time
How We Rate the Best Boxing Betting Sites
All boxing betting sites listed on Safebettingsites.com are fully legal and licensed in every state which allows legal sports betting. However, some sportsbooks have more features than others and some offer more options for boxing bettors. We have analyzed both the overall features of each sportsbook app but with a focus on boxing betting in particular.
The criteria by which we have judged online betting sites for boxing (and boxing betting apps) are as follows:
Safety & Trust – We only list the most credible sportsbooks in the USA, so it goes without saying that all the sportsbooks mentioned here are fully licensed to operate in their states of choice. We appreciate that new bettors may be tentative about handing over such details as their passport and social security number when signing up to a new sportsbook. But each of the ten aforementioned boxing betting sites is committed to safeguarding personal information, meaning, by law, they cannot and do not pass or sell on information to a third party without express consent. Each of the sportsbooks listed also features heavily and spends a fortune advertising on staple, American TV and radio channels to garner trust. Many of the sportsbooks are in direct partnerships with some of America's leading sports institutions, too: ESPN and William Hill, for example, or Draft Kings and the UFC, and so on. Some sportsbooks are also endorsed by celebrity bettors, which helps to expand brand recognition. The actor Jamie Foxx, who is currently beefing up to play Mike Tyson for his next role, is affiliated with and is an ambassador for Bet MGM, for example. We assure you that these ten sites are 100% trustworthy. But, of course, for more information, we encourage you to visit the boxing betting site of your choice to read on.
Availability in Multiple States – Online gambling is relatively new to the US market, having been legalized as recently as 2013. As such, many of the sportsbooks mentioned currently have plans afoot to expand into new states. That said, we presently rank Draft Kings, Fan Duel, and Bet MGM slightly higher than the competition, simply because these brands are available in more states right now. Many states have pending legislation to legalize open, online sports betting currently in the works, with updates expected in 2022 and 2023. Hawaii is one such state. If you are based in a state that has state-regulated sports betting, fear not: your state's local sportsbooks should still have an abundance of betting lines for boxing… but you'll have to accept the odds attributed to the event via the state's betting platform, which could mean missing out on the very best odds available – that is unless, say, you live in New York but don't mind hopping on a train to New Jersey to use an alternate sports betting site. Be aware too that not every website that's unavailable to American bettors is necessarily illegal. That said, we implore you not to risk casting bets on a dubious sportsbook when there are superior, well-established options available to you, such as the sites listed above. For a more thorough analysis of the legalities of sportsbook betting on a state-by-state basis, I direct you to this highly informative ESPN article written by Ryan Rodenberg.
Withdrawals  It goes without saying that each of the ten sites we've covered today pay out. Nevertheless, some do pay out faster than others. FanDuel, for example, pays out via online banking in 2-4 working days, whereas DraftKings can take between 2-8 days, depending on your withdrawal method. It's always good to know this, especially if you have a limited disposable income and are hoping to use your winnings from a Saturday to make bets on a Monday – some platforms can cause you problems here.
App Functionality Some apps work better than others. Bad apps have a tendency to be slow, the content can be hard to read, they can be tough to navigate, or bogged down in pointless unrelated advertisements for products you don't care about. A good app is the exact opposite and can make for a better overall user experience, so it's a worthwhile exercise to compare sportsbooks (and their apps) on these grounds, as we have done. All the best boxing betting sites and apps will have top-notch web design and a seamless, easy-to-use interface. The site should be fun to explore and loading times should be rapid. If the site you visit to place bets on AJ vs. Fury looks shoddy or is tough or unpleasant to navigate, steer well clear! Fan Duel is a solid example of a sportsbook that has a fast-running, easy-to-navigate app (see above image). That pretty much covers the NEEDS aspect of placing bets on boxing betting sites. So, what kinds of things do bettors WANT?
Odds & Lines Every boxing sportsbook we've ever come across offers odds and lines for bettors to view. The idea being that said bettor checks out the odds and lines (-100/+100, for example) and then makes an informed decision when placing his/her bet. There is more info on odds and lines down in the FAQs at the bottom of the page under the sub-heading of How do People Bet on Boxing? For this section on WANTS, however, I shall just say that you definitely want to see odds and lines before placing a bet and all ten of the aforementioned best boxing betting apps have them!
Markets Available Besides visiting online betting sites for boxing to bet on the actual result of a bout, most bettors seek out better odds by utilizing other available markets. After research, a bettor might learn that both boxers are quick with the jab but lack power and that both have the gas tanks required to go 12 rounds and take the win via the judges' scorecards — in which case they bet on both the victor and for the fight to last the full 12 rounds. Or, in another fight, perhaps one of the fighters is a known power puncher with a penchant for KOing opponents early — in which case, the bettor may bet on both the victor and the round (second round) or round group (between round one and round three). Odds dictate when it's appropriate to do this but the best boxing betting sites usually offer many different markets and methods to bettors to help them make learned decisions.  If a website or boxing online betting app has more of these types of markets available then they rank higher on our list.
At this point, it's our hope that you've a better idea of the premier boxing betting sites and apps available to you. But what about the actual process of placing a wager - how does boxing betting work?
Live Betting on Boxing
On the off chance that you are a newcomer to betting, live betting means that the bettor is placing bets whilst the actual event is in progress. Imagine the favorite to win a fight suffers a huge gash from an accidental headbutt early on – the odds on him winning the contest would be slashed significantly. Live betting enables a bettor to take action and perhaps rectify mistakes during the fight itself.
Most of the very best online boxing betting sites now incorporate live betting and have done for several years.  DraftKings is one  of the most renowned for this kind of in-action gambling.
Boxing Live Streaming
Live streaming of the big fights on boxing betting apps is increasingly on the wane due to the emergence of PPV.
That said, on occasion, some sites such as DraftKings do offer customers who have placed bets within 24 hours of a particular event the chance to Livestream select sports broadcasts – though rarely live boxing, to be perfectly honest.
Nevertheless, certain sportsbooks such as Bet MGM and Golden Nugget, which are intrinsically linked to the live fight game, are still able to stream their own fights from time to time, particularly if said fight is taking place on their own premises, or under their own banner.
Of course, being able to watch the sweet science and cast bets all in one place is highly desirable, so sites that enable users to do this get extra marks.
Boxing Parlay Betting
Every site listed so far offers bettors the chance to parlay bets, with Draft Kings being one such example (see below).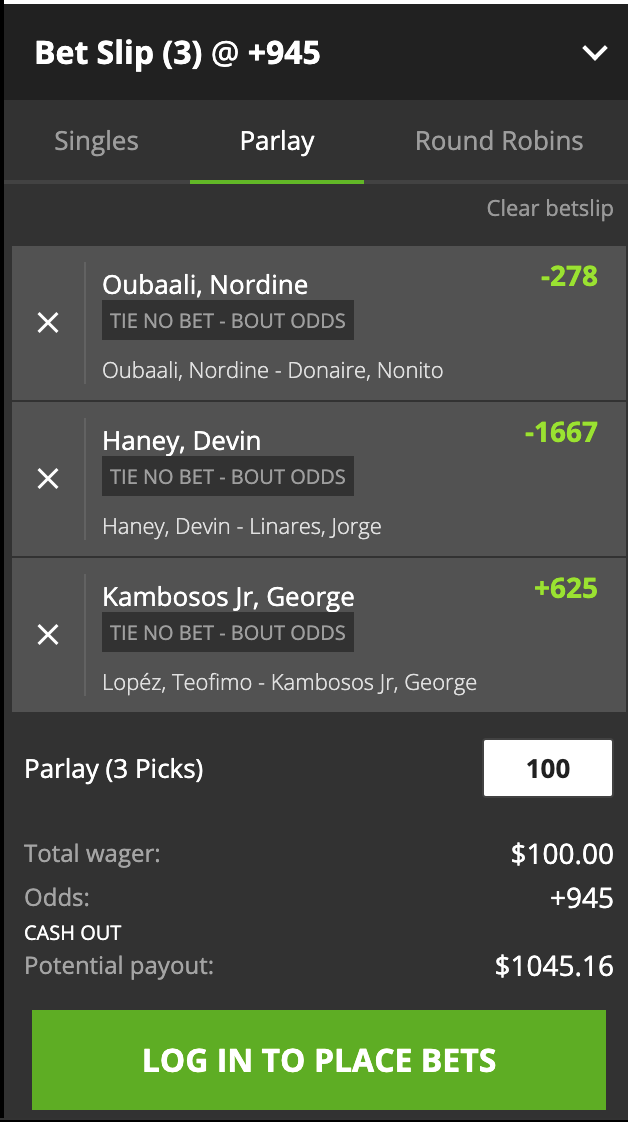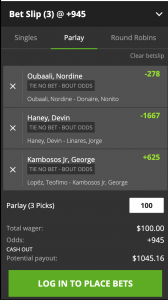 Parlays -- often referred to as accumulators or accas – are when bettors bet on the outcomes of several different contests in order to win more money.
For example, a low-risk bet on Canelo to beat Saunders in May 2021 was unlikely to earn you much money, not unless you were gambling with $1,000s. Parlay betting on Canelo to win via KO and Elwin Soto to stop Katsunari Takayama on the same card earlier that night would have provided a bettor with a much better payout.
Boxing Prop Betting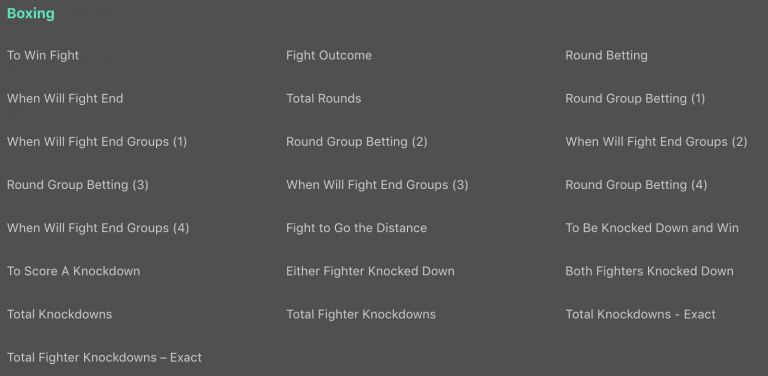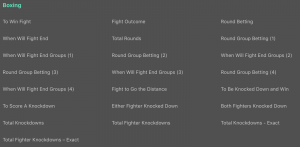 In the boxing world, a prop bet could be the number of knock-downs in a round, or the number of jabs thrown. There are a plethora of other options too, dependent only on the limits of a bookmaker's imagination.
Truthfully, bettors get a better selection of prop bets when wagering on soccer, basketball, NFL, etc. But DraftKings and Twin Spires are good examples of sportsbooks that offer prop betting for boxing bouts, with over/under being the most common prop bet on offer.
Betting Bonuses and Promotions
All online sportsbooks will offer welcome bonuses and promotions to bettors of all sports. However, some will also offer individual bonuses and promotions to boxing bettors. The top-rated sportsbooks that spend the most on advertising and partnerships, such as DraftKings, BetMGM, and FanDuel tend to come out top when it comes to fan activation with these offers.
Usually, on a big fight night, you can expect to see an enhanced odds offer from DraftKings, such as 100-1 for an individual fighter


BetMGM usually offers something similar, with a recent 100-1 on Fury vs Wilder capturing a lot of attention within the boxing betting community, particularly those with a pre-existing penchant for Vegas scores and odds.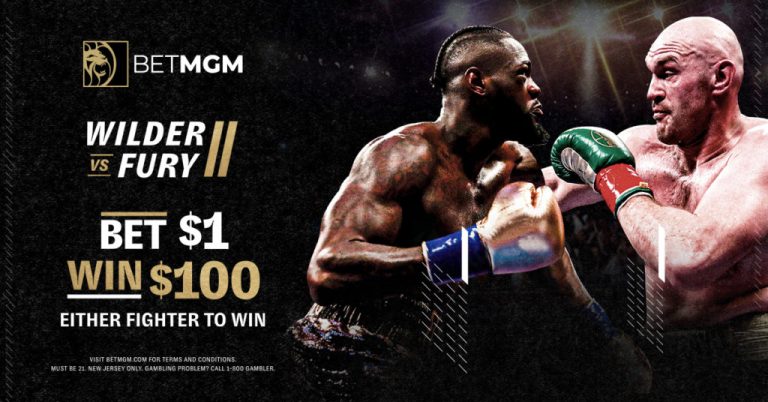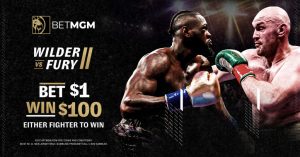 There are also other existing customer boxing betting offers available on fight nights from DraftKings and FanDuel in the form of Parlay Insurance, which is when you are given your stake back if one selection of your parlay fails to win.
Boxing Betting Site Partnerships
A number of America's best boxing betting sites have formed partnerships with some of the boxing world's most famed promotions, apps, and broadcasters.
Such partnerships are forged to increase the levels of trust and prestige garnered by the sportsbook in the public domain – it certainly doesn't hurt to have all that advertising down in the bottom left of our TV screens during the big fight.
Plus, it helps fight fans feel more involved with the event itself since nothing makes a dull defensive masterclass more exciting than having $100 on the line!
A few of the biggest partnerships currently initiated are as follows:
BetMGM and DAZN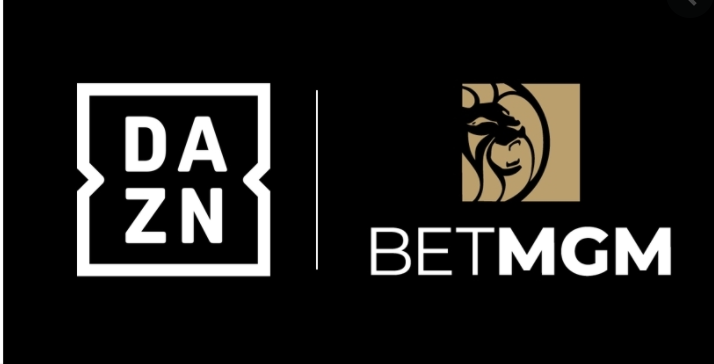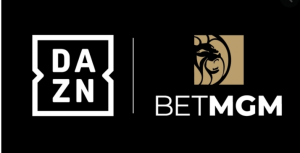 The DAZN boxing app and live-stream coverage is a spritely newcomer to the boxing promotions world. The company just got done broadcasting its biggest promotion to date: Canelo Alvarez vs Billy Joe Saunders on May 8, meaning the DAZN fight schedule looks set to be a force in the boxing PPV arena for the foreseeable future.
DAZN has a partnership with BetMGM, giving the sportsbook exclusive rights to advertise odds across the DAZN website and app.
DraftKings and Triller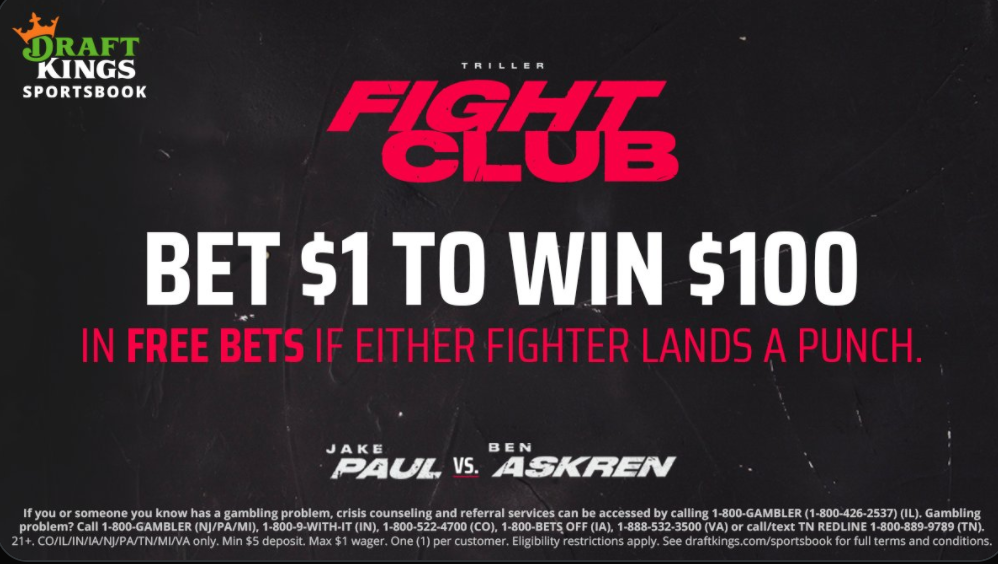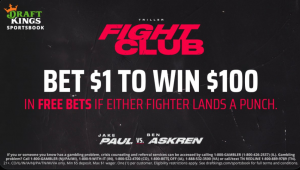 Another example of this kind of bilateral partnership is DraftKings which entered into an exclusive partnership with the American-based video-sharing, social networking, and sports promotion company Triller late last year. It was Triller Fight Club that brought fight fans the Mike Tyson vs. Roy Jones Jr. fight on November 29, 2020.
There are several other partnerships between broadcasters/promotions and boxing betting apps that are currently in progress. They aren't hard to discover since you'll notice an advert for said boxing betting app/ webpage throughout any given PPV or big sporting event that has such a partnership.
Types of Boxing Bet
There are a number of different ways you can bet on boxing, with markets ranging from who will win a fight all the way to how many times each fighter will be knocked down. The most common types of boxing bet you will need to understand and will find at all legal US sportsbooks, are listed below:
Bout betting / outright winner The simplest wager a bettor can make – simply bet on the winner of the fight.
Will the fight go the distance? Not every boxing bout ends in a KO. Bettors can win money on a fight lasting 12 rounds using this market option.
The method of victory Betting on the winning method is quite simply when a bettor bets on both the winner of the fight and the method of victory, namely via KO, TKO, DQ, or via points on the judges' scorecards. DraftKings, for example, offered odds of -121 for Taylor to defeat Ramirez on points after 12 rounds and odds of +350 for Ramirez to defeat the Scotsman via KO, TKO, or DQ, both of which offer a much higher rate of return than simply betting on Taylor (-265) or Ramirez (+188) to win the bout.
Round betting It's also possible to bet on the round in which a boxer's hand is raised in victory. Now, because of the less than 1/12 chance a bettor has of predicting the exact round a pro boxing contest will finish in, round betting boxing is also where you tend to find the most outlandish and – dare I say thrilling – odds. For example, if you are an American who just couldn't stomach the idea of Taylor beating Ramirez in their recent bout, you could have bet on your hometown favorite (and current betting underdog) Jose Carlos Ramirez, to win in the sixth-, or seventh-round with exciting odds of +4000, meaning you would have stood to win a $4000 for the sake of a $100 investment had Ramirez won (which he didn't). I'm backing a loser in the example as these bets are much higher risk; the house is against you here, but such flutters do tend to be more fun and substantially more lucrative on the rare occasions that they come in.
Grouped round betting Betting on the winning group of rounds gives the bettor a slightly better chance of predicting the winning round as, with this method, said bettor is able to select a group of rounds as opposed to just one. The downside here though is that the odds are not as good. Case in point, Ramirez to win in the sixth round on Saturday night is +4000 (as you will no doubt have just read). However, if you cast your bet on the winning group of rounds instead – in this case, DraftKings offers rounds four, five, and six, the odds tumble to +1600, meaning you have more chance of winning less money than if you were to bet on the exact round of victory. When it comes to boxing betting sites, there are a multitude more ways for bettors to cast their bets. But the above-mentioned are certainly the most popular and a great way to start if you are a newcomer to the game.
Over/under rounds This type of wager allows a bettor to pick whether the fight will go over or under a specific number of rounds – for example, if you bet on Fury to beat Wilder in +8 rounds, you win so long as Fury doesn't KO/TKO Wilder prior to the eighth round.
Fight Props As mentioned, it's worth noting that fight props work best when gambling on team sports such as football or basketball – there are just so many more options available. That said, prop betting does feature on the best boxing sites, too. In addition to simply betting on the odds for the victor of a bout, bettors can also get better odds and reap larger returns by betting on fight props which include but are not limited to, the following: winning method, winning round, winning group of rounds, and combinations of the aforementioned in what is known as a group bet.
Key Dates for Boxing Bettors 2021
| | |
| --- | --- |
| Fight | Date |
| Devin Haney vs. Jorge Linares (WBC lightweight title) | 05/29/2021 |
| Nordine Oubaali vs. Nonito Donaire (WBC bantamweight title) | 05/29/2021 |
| Daniel Dubois vs. Bogdan Dinu (interim WBA heavyweight title) | 06/05/2021 |
| Floyd Mayweather vs. Logan Paul (exhibition bout) | 06/06/2021 |
| Teofimo Lopez vs. George Kambosos Jr. (WBA, WBO & WBC lightweight title) | 06/19/2021 |
| Vasyl Lomachenko vs. Masayoshi Nakatani (lightweight bout) | 06/26/2021 |
| Jermell Charlo vs. Brian Castano (WBA, WBC, IBF & WBO super welterweight title) | 07/17/2021 |
| Tyson Fury vs. Deontay Wilder (WBC heavyweight title) | 07/24/2021 |
| Manny Pacquiao vs. Errol Spence Jr. (WBC & IBF welterweight title) | 08/21/21 |
There are several fantastic upcoming boxing fights to mark in the calendar, the most notable of all has to be the third installment of the heavyweight clash between Deontay Wilder and Tyson Fury, which is set to take place on July 24, 2021.
Tyson Fury vs. Deontay Wilder 3: Fury has just one draw on his record from that classic first fight vs. the American power-puncher. But, though Wilder came within seconds of handing him his first loss in that same bout, the man they call the Gypsy King easily dismantled the American in the second contest and has still never been beaten inside the ring.
Wilder has lost just once in his career, in that second bout vs Fury via TKO. But anyone who watched that first encounter at the Staples Center knows that the Bronze Bomber has the power to get Fury out of there if he can connect.
At present, Fury is the moneyline favorite to win the fight, with most sportsbooks setting odds of around -350 and for the Gypsy King to emerge victorious, compared to Wilder's +250
Floyd Mayweather vs Logan Paul: It might not exactly have boxing aficionados salivating at the mouth, but another top chance for bettors to make some easy money is during the upcoming boxing match between Floyd Mayweather and Logan Paul exhibition. The unlikely pair are scheduled to meet in an exhibition bout on June 6 at the Hard Rock Stadium, Miami Florida.
Floyd Mayweather has never lost a professional fight and holds a 50-0 record. Logan Paul, on the other hand, is 0-1-1 having lost to British YouTuber-come-boxer KSI in his most recent in-ring outing – Pro Tip: bet on Floyd!
Boxing Betting Strategy
There isn't one proven boxing betting strategy per se, but let's cast an eye over a couple of the most common and most vaunted methods.
Back the favorite with Moneyline Betting: this one might seem obvious and it does have its perks. As a simple example, there weren't many real boxing fans who expected anything other than a Floyd Money Mayweather win in his bout with MMA combatant the Notorious Conor McGregor a few years ago and Mayweather duly delivered, meaning anyone who bet on a Floyd victory made some money.
That said, there are some drawbacks to this method of betting. Sticking with the same bout, Mayweather vs. McGregor, Money was -2,500 in that particular fight, meaning hopeful bettors had to wager $25 to win $1. Every dog has its day so, though using boxing betting sites to bet on the favorite might be an easy way to make a small sum every once in a while, it's not a great strategy in the long run since, sooner or later, an upset will occur and the bettor will be in for a huge loss.
In a nutshell, betting on the favorite will eventually blow up in your face.
So, I hear you ask, what are some other boxing betting strategies?
Do your research and don't fall foul of sentimentality or nationalism: Amir Khan has been a superb boxer for years but had little chance of winning his bout with Saul Canelo Alvarez a few years back.
Still, savvy promoters in tandem with sportsbooks billed the fight as an upset waiting to happen, which it absolutely was not! Canelo was the clear betting favorite at -500 to Khan's +350. But had you listened to some of the analysts chortling away on TV that week, or failed to watch highlights of Khan's glass chin being exposed time after time, or checked the aforementioned odds, you could have been forgiven for going for 'plucky underdog' Amir Khan on points.
The sensible bettors knew Canelo would be too powerful; knew that Khan's chin was suspect too, and we all laughed our way to the bank with Canelo winning by KO, especially those of us that visited the best boxing sites online to bet on the round or manner of victory (KO/TKO/DQ).
Hedging your bets: this is another popular strategy utilized by experienced bettors which involves casting bets on different outcomes to your original bet in the hope of securing a guaranteed profit, no matter the result.
Hedging is also utilized by traders who buy into an upward trend, only to find the market reverses. These traders then hedge their bets by selling in the same market and taking little gains to counter/cover the original/ongoing loss from the ill-timed order to buy.
Basically, it's just a way of covering your losses on boxing betting sites.
Cashing Out on Boxing Betting Sites


Certain websites and boxing betting apps, such as DraftKings (see above image) and William Hill allow a bettor to cash out. This practice allows you to withdraw your original investment and, oftentimes, a small percentage of the winnings before the big fight you are betting on even concludes.
When boxing betting online, sportsbook clinetel will generally find the option to cash out as a feature of in-play or live betting.
Key Facts and Statistics for Boxing Bettors
As with trading stocks, it is usually considered a better idea to bet on a boxer who is on the up. Of course, there's always a chance of an upset but, generally speaking, a bettor has a better chance of a return on his/her investment when betting on proven winners.
Bettors who visit only the very best boxing betting sites and who have placed bets on the 50-0 Floyd Mayweather over the years, for example, would have made an absolute killing, especially those who also bet on the manner of victory as being via the judges' scorecards – Floyd is by no means a knockout artist, after all!
Of course, there are zero guarantees that Mayweather even beats YouTuber- come-boxer Logan Paul in July. That's just not how it works since without the chance of an upset, the entire sportsbook industry would implode. But you are certainly more likely to see a return on your money by betting on Mayweather to win, plus the round or manner of the victory.
Obviously, you stand a slim chance of making huge financial gains by betting on the underdog, Paul, in this case; each to their own, as they say… but I'll be visiting one of the aforementioned best boxing betting sites to put my money on Mayweather (and queue the biggest shock in the history of the sport when Logan Paul somehow wins).
That said, below is a list of the current boxing champions across all weight classes. If you bet on any one of these men to win, especially when they are set to face off vs. what the best boxing betting sites perceive to be an unfancied opponent, your odds of winning become significantly increased but the odds tumble as a consequence.
Current List of Male Boxing World Champions at all Weight Classes
Name
Weight Class
Title(s)
Record (W-L-D)
Upcoming bout and opponent
Anthony Joshua
Heavyweight
WBO, IBF & WBA
24-1-0
Tyson Fury

14/08/2021

Tyson Fury
Heavyweight
WBC
30-0-1
Anthony Joshua

14/08/2021

Lawrence Okolie
Cruiserweight
WBO
16-0-0
No fight scheduled
Mairis Briedis
Cruiserweight
IBF
27-1-0
No fight scheduled
Arsen Goulamirian
Cruiserweight
WBA
26-0-0
No fight scheduled
Ilunga Makabu
Cruiserweight
WBC
28-2-0
No fight scheduled
Joe Smith Jr.
Light heavyweight
WBO
27-3-0
No fight scheduled
Artur Beterbiev
Light heavyweight
IBF & WBC
16-0-0
No fight scheduled
Dmitry Bivol
Light heavyweight
WBA
18-0-0
No fight scheduled
Saul Canelo Alvarez
Super middleweight
WBO, WBA & WBC
56-1-2
No fight scheduled
Caleb Plant
Super middleweight
IBF
21-0-0
No fight scheduled
Demetrius Andrade
Middleweight
WBO
30-0-0
No fight scheduled
Gennadiy Golovkin
Middleweight
IBF
41-1-1
No fight scheduled
Ryotu Murata
Middleweight
WBA
16-2-0
No fight scheduled
Jermall Charlo
Middleweight
WBC
34-1-0
17/07/2021

vs. Brian Carlos Casanto

Jermell Charlo
Junior middleweight
IBF, WBA, & WBC
34-1-0
17/07/2021

vs. Brian Carlos Casanto

Brian Carlos Castano
Junior middleweight
WBO
170-1
17/07/2021

vs. Jermell Charlo

Errol Spence Jr.
Welterweight
IBF & WBC
27-0-0
No fight scheduled
Terence Crawford
Welterweight
WBO
37-0-0
No fight scheduled
Yordenis Ugas
Welterweight
WBA
26-4-0
No fight scheduled
Josh Taylor
Junior welterweight
IBF & WBA
17-0-0
22/05/2021

vs. Jose Carlos Ramirez

Jose Carlos Ramirez
Junior Welterweight
WBO & WBC
26-0-0
22/05/2021

vs. Josh Taylor

Teofimo Lopez Jr.
Lightweight
WBO, IBF & WBA
16-0-0
19/06/2021 vs. George Kambosos
Devin Hanley
Lightweight
WBC
25-0-0
29/05/2021 vs. Jorge Linares
Jamel Herrig
Junior lightweight
WBO
23-2-0
No fight scheduled
Gervonta Davis
Junior lightweight
WBA
24-0-0
26/06/2021 vs. Mario Barrios
Oscar Valdez
Junior lightweight
WBC
29-0-0
No fight scheduled
Emanuel Navarrete
Featherweight
WBO
33-1-0
No fight scheduled
Leo Santa Cruz
Featherweight
WBA
37-2-1
No fight scheduled
Gary Russell Jr.
Featherweight
WBC
31-1-0
No fight scheduled
Stephen Fulton
Junior featherweight
WBO
19-0
No fight scheduled
Murodjon Akhmadaliev
Junior featherweight
IBF & WBA
9-0
No fight scheduled
Brandon Figueroa
Junior featherweight
WBC
21-0-1
No fight scheduled
John Riel Casimero
Bantamweight
WBO
30-4-0
14/08/2021 vs. Guillermo Rigondeaux
. Nayou Inoue
Bantamweight
IBF & WBA
20-0-0
19//06/2021 vs. Michael Dasimarinas
Nordine Oubaali
Bantamweight
WBC
17-0-0
29/05/2021 vs. Nonito Donaire
Kazuto Ioka
Junior bantamweight
WBO
26-2-0
No fight scheduled
Jerwin Ancajas
Junior bantamweight
IBF
33-1-2
No fight scheduled
Roman Gonzalez
Junior bantamweight
WBA
50-3-0
No fight scheduled
Juan Francisco Estrada
Junior bantamweight
WBC
42-3-0
No fight scheduled
Junto Nakatani
Flyweight
WBO
21-0-0
No fight scheduled
Sunny Edwards
Flyweight
IBF
16-0-0
No fight scheduled
Artem Dalakian
Flyweight
WBA
20-0-0
No fight scheduled
Julio Cesar Martinez
Flyweight
WBC
17-1-0
No fight scheduled
Elwin Soto
Junior flyweight
WBO
19-1-0
No fight scheduled
Felix Alvarado
Junior flyweight
IBF
36-2-0
No fight scheduled
Hiroto Kyoguchi
Junior flyweight
WBA
15-0-0
No fight scheduled
Kenshiro Teraji
Junior Flyweight
WBC
18-0-0
No fight scheduled
Wilfredo Mendez
Strawweight
WBO
16-1-0
No fight scheduled
Rene Mark Cuarto
Strawweight
IBF
19-2-2
No fight scheduled
Knockout CP Freshmart
Strawweight
WBA
21-0-0
29/05/2021 vs. Siridech Deebok
Panya Pradabbsri
Strawweight
WBC
36-1-0
No fight scheduled
It's also highly advisable to consider the following before casting a bet:
Injury news - some boxers sustain injuries during camp.
Age of fighters - it might be a big name, but is the fighter past her best?
The boxer's past five fights - form.
The location of the bout - some boxers struggle at altitude or historically have issues when fighting abroad, for example.
Conclusion
In conclusion, though, ultimately, the best boxing betting site is the one you feel most comfortable using; one that's legally available to use in your state or territory, and, oftentimes, the one that provides the best odds on the night, bettors could do a lot worse for themselves than to visit one of the top 10 legit betting sites boxing their way to the top of our rankings.
$600 Welcome Bonus
America's Most Recognisable Casino
Host of Many Huge Boxing Fights
Partnered with DAZN for Live Betting Odds
9.3
Claim Bonus
 FAQs
Where can I bet on boxing?
So long as your state has deemed making bets on boxing betting sites legal, you can cast your bets online at any on the aforementioned best boxing betting sites reviewed up page, or by simply paying a visit to your local bookmakers.
Is betting on boxing legal?
Betting on boxing is entirely legal in many American states. That said, there are several member states in which regulated sports betting is still considered illegal: Utah and Hawaii, for example.
What is the best betting site?
It's hard to answer this question simply because there are so many independent variables: some sites have better deals than others for certain events, or, one site could be absolutely beloved in the state of New York but entirely illegal in Montana, and so on… Our hope is that after having read through our best boxing betting sites reviews and comparisons detailed further up the page, you the bettor will be able to figure this out for yourself based on where in the US you are located; what kinds of bets you hope to wager, and which sites/APPs offer the best odds for the bout of interest.
How do people bet on boxing?
The most common way to bet on boxing events is to visit one of the aforementioned best boxing betting sites to cast a bet based on the odds.
What is the easiest way to win when betting on boxing?
There are no guarantees when it comes to sports betting in general, but Over/Under and Moneyline bets are straightforward and easy to win if you're betting on the favorite.