As states continue to legalize sports gambling, sports betting apps will give fans the ability to make wagers at their fingertips. With the basketball and hockey seasons coming to a close and football yet to begin, baseball betting often takes center stage during the summer months and gives fans a drama-filled postseason in October.
A data-driven sport, baseball offers fans that do their homework a chance to turn a consistent profit. Not only is baseball one of the most popular sports in North America and around the world, but a typical season also features more games, allowing sports bettors to maximize their edge. For instance, Major League Baseball features a 162-game season, which gives bettors 2,430 games to bet on and an endless number of markets to take advantage of. The Korean Baseball Organization (KBO) also features a long, drawn-out season with a 144-game schedule. 
While leagues have been working on speeding up the pace of play in recent seasons, the pace of the game is another factor that makes baseball one of the most exciting sports to bet on. According to Bleacher Report, MLB commissioner Rob Manfred believes that the pace of play will be an advantage for bettors, as it gives them "an opportunity to be creative with respect to the types of wagers" that can be made in-play between pitches. 
Betting on baseball helps take fan engagement to the next level. Online baseball betting increases the importance of each pitch, making every ball and strike matter during the course of a game. It also gives fans the opportunity to take advantage of pre-game and in-play odds, where they can use their knowledge or make wagers on a hunch to turn a profit.
In order to maximize the return of a wager and their overall return on investment, bettors need to take advantage of lines across multiple sportsbooks. With new companies flooding the market, choosing the right sportsbook can be difficult, especially for new bettors. 
To help American bettors hit a home run and overcome the odds, our team has created a list of the best baseball betting sites currently operating in the US sports betting market. Using algorithms and expert analysis, we have ranked the best apps for betting on baseball in the US below based on very specific criteria, including banking options, brand recognition, ease of use, safety, security, and more. 
For your convenience, we have added a rundown of our top ten baseball betting apps below, along with a few reasons why they stand out from the pack.
This list will be updated regularly, so please feel free to check back for the most up-to-date information and rankings. 
$25 Free + 100% Bonus up to $1,000
$25 Free + 100% Bonus up to $1,000
Fantastic Mobile Betting Platform
Many Diverse Betting Markets Available
Earn $25 Absolutely Free
9.2
Claim Bonus

Free Bet Deposit Bonus up to $1,000
Free Bet Deposit Bonus up to $1,000
The Leading Sports Book in the US
All US Sports Covered + Global too
Legal in a Dozen US States
9.7
Claim Bonus
New customers only. Minimum deposit and bet of £10, at odds of 1/5 per multi selection. Free bets paid out in the form of 4x £5 tokens, which are valid for 7 days. Stakes not returned and no cash outs are available.
$250 Free Bet
Extensive Sports Markets Selection
In-Play Live Betting Available
Share Your Casino Account With Sports
8.6
Claim Bonus
$500 RIsk-Free Bet Bonus
Very Friendly User Interface
Available in NJ, PA, MI & CO
Play the FoxBet Super 6 for Free!
8.8
Claim Bonus
Up to $2,000 in Risk-Free Bets
Up to $2,000 in Risk-Free Bets
Points Betting Available
Easy to Use Interface
Make Your Own Bets - No Restrictions!
7.6
Claim Bonus
How We Rank Our Baseball Betting Sites
Our sportsbook rankings are based on a comprehensive set of criteria, which will be outlined below.
First, all of the sportsbooks that we recommend below are licensed to operate and offer odds in the US. These companies are 100 percent safe with strong reputations in the sports betting market. Users can feel comfortable knowing that they are using a reliable and trustworthy service and will not have any issues during the deposit or withdrawal process. 

We took a look at the various deposit and payment options available to users of some of the most popular sportsbooks. Which sites have the most deposit options and the fastest payout process?

Is your sportsbook trustworthy? We delved deeper into each company's reputation, taking into account customer experiences and feedback to see if they are taking care of bettors.

How user-friendly are the website and mobile app for betting on baseball? Does the design look clean and easy to use? What is the speed and functionality like during in-play betting? We've got all of these bases covered.

What is the customer service experience like? Are there several options to contact the company in case of an issue? Does the website or mobile app have a live chat option to help resolve problems instantly?

Ultimately, sports betting comes down to money and entertainment value. Does the sportsbook provide competitive odds, a wide range of betting markets, and any baseball-specific bonuses? 
Best Baseball Betting Sites
BetMGM
For bettors looking for an oddsmaker with a user-friendly interface, BetMGM is another sportsbook that features a very nice-looking layout and intuitive feel. With competitive odds, parlay boosters, and daily specials, Bet MGM is one of the go-to sportsbooks for baseball betting. Equipped with graphics and a live pitch-tracker, it also offers a very smooth in-play experience. At BetMGM, baseball bettors can wager on international baseball and college baseball in addition to the MLB.

What we like:
Competitive odds
Parlay boosters and daily specials
Comprehensive list of baseball game lines, props, and futures 
Strong brand recognition through MGM Resorts & Casino
Intuitive user interface with responsive in-play betting experience
Risk-free bet up to $600 for new customers
What we don´t like:
No baseball-specific offers at this time
No parlay insurance for baseball
Customer support and educational content is buried deep in the site
BetRivers
BetRivers has all the foundations of a great sportsbook but it falls short in some respects. With competitive odds, daily house specials, and a host of baseball-specific promotions, it offers a ton of value for bettors during baseball season. BetRivers also features the lowest bonus rollover requirement (1x) for its welcome bonus, which is as good as any reason to sign up. Our main qualms are that the user interface could be improved and the mobile experience still lags behind the competition. 

What we like:
Competitive baseball odds and markets
Daily house specials
Trustworthy brand with a reputation for customer satisfaction
Easy access to stats, trends, and tips
Excellent welcome bonus with low, 1x rollover requirement
MLB profit boost and Homerun hero insurance 
Strong rewards system for loyal customers
In-play graphics to help follow the action
Free-to-play site for beginners
Customer support options are easy to find and use
What we don´t like:
The user interface does not look as good or perform as intuitively as its competitors
Mobile experience is currently lagging behind its competitors
DraftKings
Starting with daily fantasy sports, the DraftKings brand has become synonymous with getting sports fans paid. Today, it has become one of the most recognizable sportsbooks in the US, offering some of the fastest withdrawal process times in the industry. By allowing bettors to wager on the result of every pitch, DraftKings has also taken its in-play betting experience to the next level. With easy-to-access educational resources and free-to-play games that earn fans cash prizes, DraftKings is perfect for sports fans and bettors of any skill level.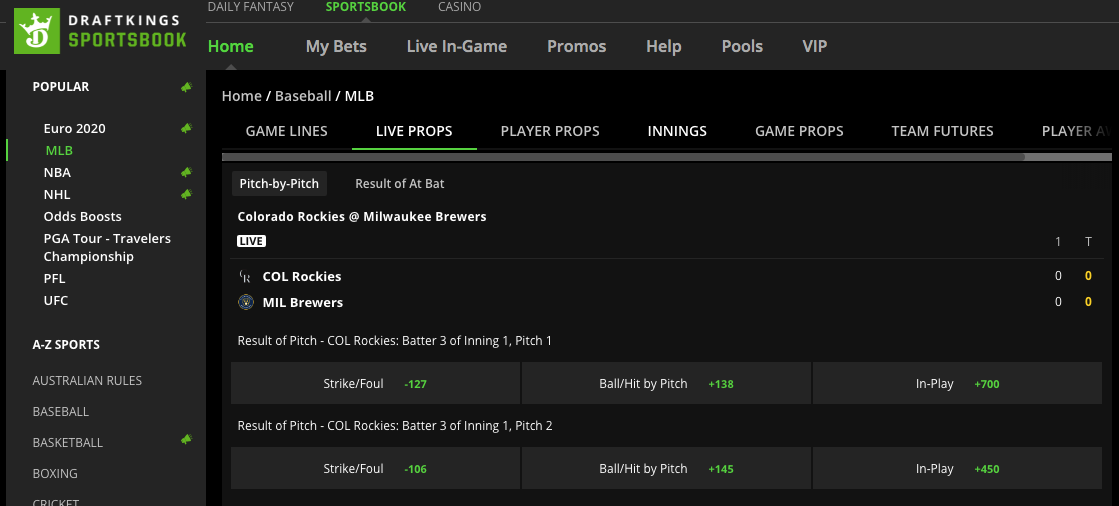 What we like:
Excellent odds and competitive markets
Comprehensive list of baseball game lines, props, and futures betting options
In-play betting on pitch-by-pitch results takes game experience to a whole new level
One of the most trusted and recognizable brands in the sports betting market 
Very fast withdrawal process times
Wide range of bonuses and rewards
Easily accessible stats, betting trends, and educational tools
Free-to-play pools for cash prizes
24/7 customer support
What we don´t like:
No baseball-specific offers at this time
No parlay insurance for baseball
No way to follow in-game results
FanDuel
Like DraftKings, FanDuel has transitioned from offering more than just daily fantasy sports to become one of the best sportsbooks in the US. No matter what you're looking for in a sportsbook, FanDuel likely offers it and more. Competitive odds, in-play pitch tracking, parlay insurance, and a host of baseball-specific promotions make it one of the best baseball betting apps on the market. Not only does it look great, but FanDuel's user interface is also easy to navigate and use too, providing a seamless betting experience. The $1000 risk-free bet for new users doesn't hurt either.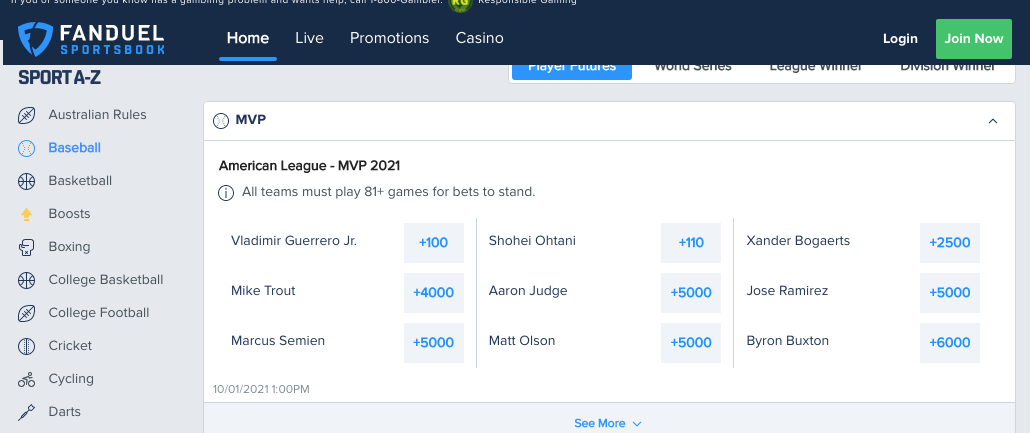 What we like:
Competitive odds with a wide range of baseball game lines, props, and futures 
One of the well-known and trusted brands in the sports betting industry
User-interface for both the website and mobile app is very intuitive and easy to use
In-play pitch tracker and graphics to help follow the action
MLB parlay insurance on parlays with 5+ legs
$5 Dinger Tuesdays during MLB season
Excellent promotions and rewards for new users
Wide range of banking options
What we don´t like:
Customer support is not as easy to find or use as its competitors 
No accessible game stats or betting trends
Educational tools buried on the website
Golden Nugget
While sports betting is not at the forefront of the Golden Nugget's online casino, it has one of the most underrated sportsbooks on the web. The Golden Nugget doesn't have as many promos or bonus offers for its sportsbook as its competitors. Instead, it is more of a no-frills oddsmaker that provides bettors value with the things that they care about most. Excellent odds, low vig specials, odds boosts, and strong brand recognition make the Golden Nugget one of the most trusted baseball betting apps.

What we like:
Some of the best odds and lowest juice on the market
Low vig specials, daily odds boost, and parlay boosts 
Trusted brand backed by Golden Nugget Casino
In-play scoreboard and pitch tracker to help follow the action
MLB Golden Lines offer increased odds on select markets
Simple and safe payment methods, including bank transfer, PayPal, and credit card
What we don´t like:
Promos and bonuses focus more on its online casino than its sportsbook
Currently only supported in Michigan, New Jersey, and Nevada
Website and mobile app open right to the casino section
No educational tools, stats, or trends for bettors
Not as many props as its competitors 
FoxBet
In partnership with PokerStars, FoxBet combines the brand recognition of a leader in sports broadcasting with one of the most trusted brands in the online gambling industry. It is one of the only online sportsbooks in the US that combines online poker, an online casino, and sports betting into one seamless experience. Baseball bettors will also benefit from a strong welcome bonus for first-time users, parlay bonuses, and the ability to request custom bets.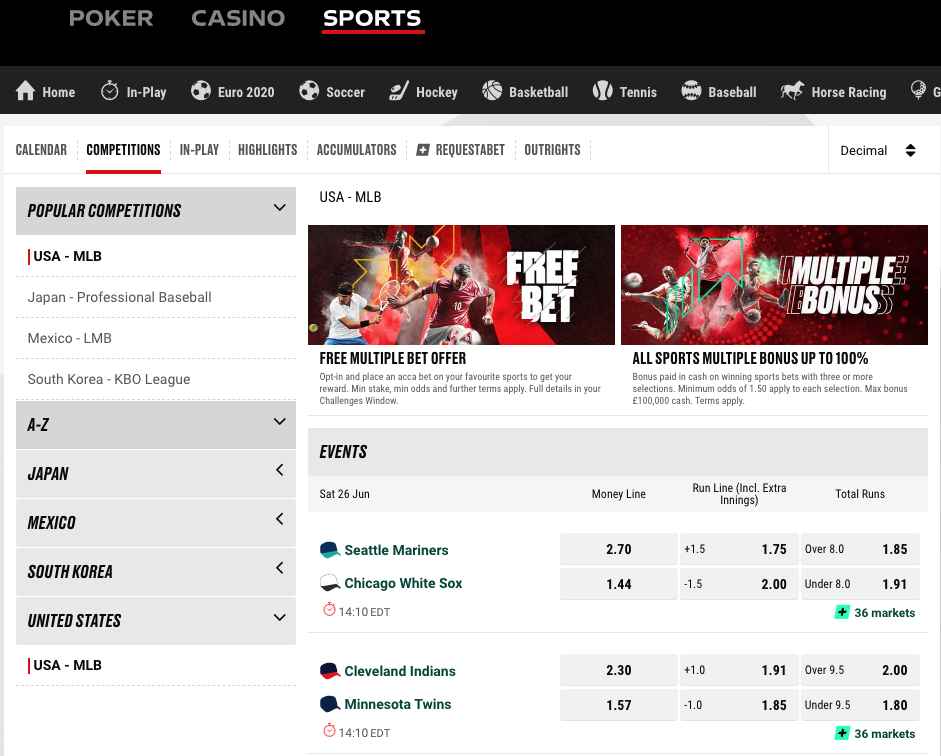 What we like:
Competitive odds for game lines and futures markets
Association with PokerStars and Fox make FoxBet a one-stop-shop for online gambling
Strong welcome bonus for first-time customers
Create custom bets
Parlay bonuses
Wide range of payment options 
Very fast withdrawal process
What we don´t like:
Website and mobile app are not as user-friendly as their competitors
No in-play graphics or pitch tracker hurts the in-play experience
Fewer props bets for baseball
Not enough promos geared towards sportsbook
No MLB parlay insurance
PointsBet
While PointBet is a relatively new name in the industry, it has risen to prominence in part due to its unique take on sports betting. In addition to traditional markets, PointsBet also offers PointsBetting, which allows bettors to increase the potential risk and reward of every bet. With daily odds boosters, parlay insurance, and excellent rewards for loyal customers, baseball bettors have plenty of reasons to sign up for an account. Not to mention, the site also offers one of the best welcome promos online with two risk-free bets up to $2,000, the most of any sportsbook on this list.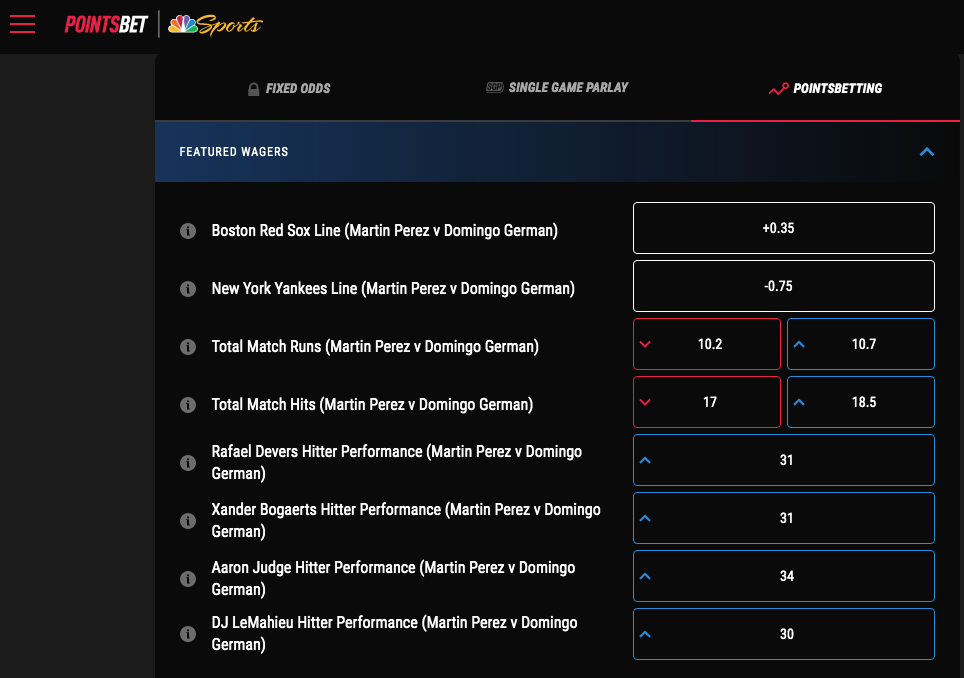 What we like:
Some of the best baseball odds on the market
Comprehensive list of baseball game lines, props, and futures betting options
Emerging sports betting brand with unique PointsBetting option
Responsive, easy to use mobile app creates an enjoyable betting experience
Ability to request custom bets
MLB parlay insurance up to $25
Two free bets up to $2,000 for new users
Long-term promos and rewards system for loyal customers
Daily parlay odds booster
What we don´t like:
In-play betting options not at comprehensive as the competition
No graphics or live pitch tracker makes it difficult to follow the game on the app  
TwinSpires
Owned and operated by Churchill Downs, TwinSpires is one of the world's premier sportsbooks for horse racing. Unlike some of the other sportsbooks that are licensed to operate in the US, TwinSpires is actually headquartered in America, which makes it one of the most trustworthy online oddsmakers. However, it is still relatively new to sports betting and some of the market offerings for baseball reflect that.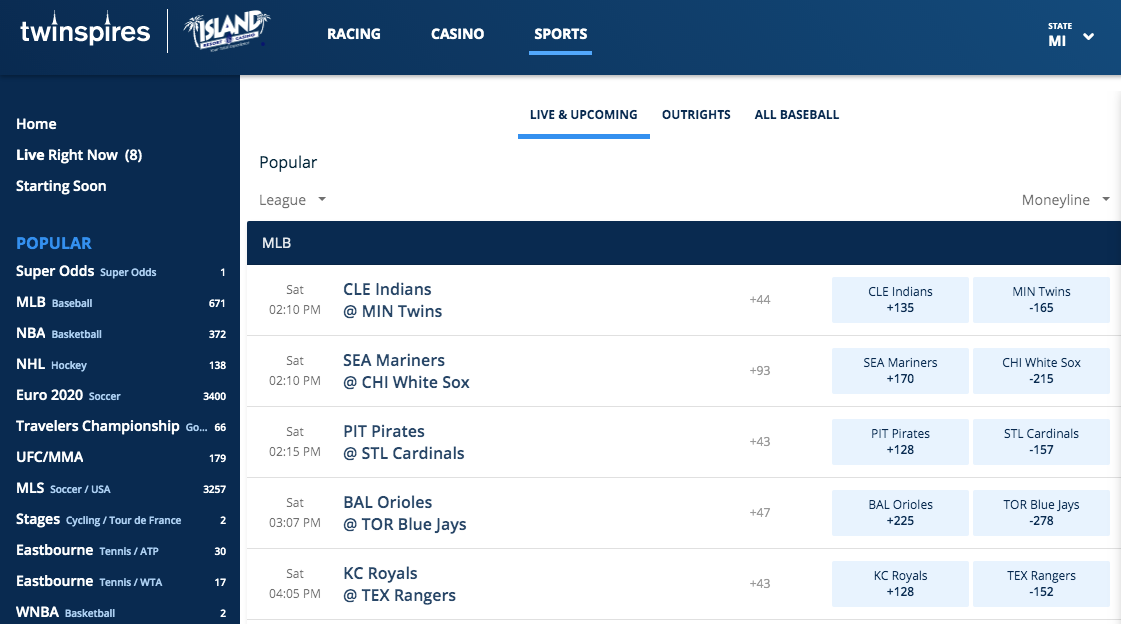 What we like:
Competitive odds for game lines and futures
Trusted sportsbook owned by Churchill Downs
$1,000 free bet for new users
Responsive, easy-to-use website and mobile app
24/7 customer support via live chat, phone, or email
Super odds and parlay boosters
5th-inning bet insurance
What we don´t like:
More focused on horse racing and casino than its sportsbook
Game props markets are lacking in comparison to the competition
No player props for baseball
William Hill
William Hill is a longstanding oddsmaker that Americans trust, so it is no surprise that it is also one of the best sportsbooks for baseball betting. While not quite as good-looking or user-friendly as its competitors, William Hill still provides bettors with a strong mobile experience with no major issues. In addition to competitive lines and markets, the sportsbook also offers very unique props bets and allows bettors to request odds for custom props, making it one of the best places to place props bets on baseball.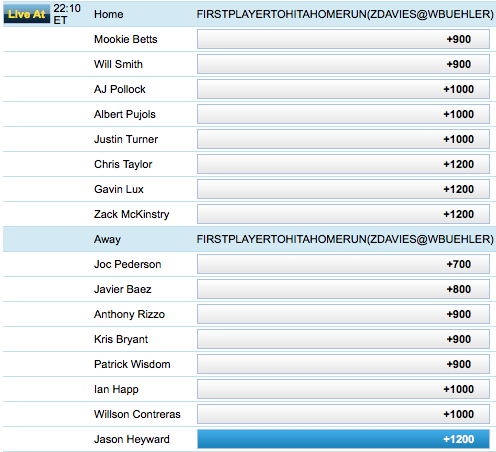 What we like:
Competitive odds for game lines, props, and futures markets
One of the best sportsbooks for props and futures betting with unique options that you won't find elsewhere
Very experienced and trusted bookmaker
Ability to request custom bets
Live scoreboard and stats make it enjoyable to follow the game on the website or mobile app
Good promotions for new and existing users
Simple, safe, and easy to use payment options
What we don´t like:
Website and mobile app do not look as good and are not as user-friendly as the top competitors
No baseball-specific promotions
How To Bet On Baseball
How Does Baseball Betting Work?
While props betting is beginning to gain steam, game lines are still the preferred option for most baseball bettors. Game lines are split into three main betting markets: money line, total, and run line (spread).

Money Line
Unlike other sports that rely on point spread betting, baseball is generally considered a money line sport. That means bettors can simply wager on the outcome of a game, choosing the winner at a determined price. As a result, baseball money line odds are normally priced relatively evenly, between +/- 100 to +/- 300 depending on the caliber of teams. 
Example:

In this example, we used a regular-season contest between the Chicago Cubs and Los Angeles Dodgers. Both of these National League rivals enter this game in second place in their respective divisions but the Cubs come into this contest as heavy +215 underdogs. Money line bettors might find some value on the Cubs in this game. While $100 bettors would profit $38 with a Dodgers' win, the same $100 wager on Chicago would earn bettors $215 profit if the Cubs come out on top. 
Total
When bettors don't want to predict the outcome of a contest but know if a game will be a high or low-scoring affair, betting on the total is a logical choice. Simply predict whether a game will go OVER or UNDER a projected number of runs given by the oddsmakers. If a bettor selects the OVER, their wager will be settled as a winner if the two teams combine for more than the projected total. Conversely, if they select the UNDER, their wager will be settled as a winner if the two teams combine to score fewer than the projected run total.
Example:

In the game we noted above, Chicago and L.A. are projected for a combined 8.5 runs. That means OVER bettors will need the teams to combine for nine runs or more to win while UNDER bettors will be rooting for the game to stay at or below eight combined runs. 
Betting on the total could be a strong play when bettors have a strong conviction that a pitcher or pitching staff will do well against an opponent. Over/Under odds are usually priced close to even money, which is another way bettors can find value when one team is heavily favored in a game. 
In this instance, Dodgers' starter Walker Buehler enters the game with a 7-0 record and a 2.38 ERA, making the under an attractive bet. He's allowed three runs or fewer 12 times this season while pitching into the sixth inning or later in each of his 14 starts. Under bettors also stand to profit $95 compared to $90 for Over bettors on a $100 wager.
Run Line
Point spreads are also available in baseball betting in the form of run lines. In baseball, run lines will designate odds for the favorite to win by -1.5 runs while the underdog will normally be set with odds at +1.5. This means that the favorite must win by at least two runs or more while the underdog must win outright or lose by only one run to settle the wager as a winner. Bettors must be extra careful when looking at run lines in baseball. Not only must they be mindful of which team is favorited but bettors must also be aware of the juice on baseball run lines, which will vary depending on the team and starting pitcher for every game. 
Example:

In this scenario, taking the Dodgers on the money line forces bettors to eat a considerable amount of juice. For every $100, bettors will only profit $38 with a Dodgers' win. Instead, the run line offers a more attractive option for bettors that are looking for more value but are still interested in taking Los Angeles to win the game. A $100 bet on the run line would net bettors a profit of $76, instantly doubling the gains of money line bettors if L.A. wins by at least two runs. The run line also allows underdog bettors the opportunity to minimize some of their risk at +1.5 runs.
Game Props
The best sportsbooks will offer a wide range of game props bets for most baseball games, including options to bet on the 5-inning money line, winning margin, correct match score, and more. Choosing a sports betting site that offers a lot of props betting options gives bettors an opportunity to spot inefficiencies.  
Example:

Using the same Cubs-Dodgers game, you can see that the 5-inning line varies slightly from the full game result. Betting on the 5-inning line can be a strategic move for bettors that want to rely on or bet against a particular starting pitcher. Once mastered, bettors can use game props to their advantage. Want to avoid a shaky bullpen? Betting on the 5-inning line can help bettors do exactly that. Do you think a pitcher is going to have a poor outing? Betting against them on the 5-inning line can help bettors avoid the possibility of a late-game comeback too.
Player Props
Baseball bettors can also use their knowledge of individual players to profit from sports betting. Several of the top sportsbooks offer player props for hitters and starting pitchers in each individual game. Bettors can select a starting pitcher to record the win or take a position player to hit a home run, among many other choices. 
Example:

Above, we used an example of a player prop from the same Chicago Cubs vs. Los Angeles Dodgers game. Bettors that don't want to eat the juice on Walker Buehler and the Dodgers on the money line can opt to take Buehler to get the win at nearly even odds instead. Similarly, Cubs' starter Zach Davies to record the win would net bettors +340. Spotting efficiencies like this one can help bettors increase their profits when their bets come through and increase their return on investment over time. 
Futures Bets
A futures bet is a type of speculative wager on an event that will take place in the future. In baseball, futures bets are normally offered during the preseason, regular season, and playoffs. Sportsbooks will allow bettors to predict the outright winner, league winners, and division winners. Betting on win totals before the start of the regular season is one of the most popular season-long baseball props. The best sports betting websites will also offer futures player props and season specials as well, including odds for MVP, Cy Young Award, and the player to hit the most home runs.  Shopping for the best odds is crucial when it comes to making futures bets, as odds for teams can differ significantly across various sportsbooks. 
Example:

To show the importance of shopping for odds on futures bets, we'll use the NL West-leading San Francisco Giants as an example. On one sportsbook, the Giants, who own the MLB's best record at the time of this writing, are a modest +1300 to win the World Series (see above). That means $100 bettors would take home a smooth $1300 in profits.

However, if that same bettor were to shop for odds at William Hill, they would have received +2200 odds at the same time. That would make a difference of $900, increasing their profits by over 69 percent. 
Parlay
A parlay is a single bet that ties together two or more wagers. If any selection in the parlay loses, the entire bet is settled as a loss. Some sportsbooks encourage bettors to take parlays by offering bonuses, boosted odds, and parlay insurance, which gives bettors their money back if only one of their selections loses. In a parlay, the odds of each selection are multiplied together, increasing the potential return on a single bet. 
Example: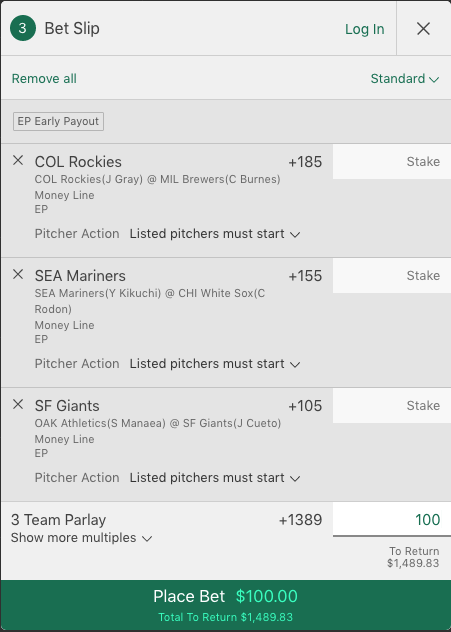 This example shows the power and profit potential of parlay betting. 
We executed a parlay bet on three underdogs to generate an exciting +1389 odds. 
If all three teams won, a $100 bettor would earn $445 in profit while risking a total of $300 on three single-game bets. 
Meanwhile, the bettor who won the parlay on the left would take home $1389 in profit while risking only $100. 
Many sites also offer parlay boosters and accumulator bonuses, helping bettors maximize their value when they win a parlay bet.
Baseball Betting Lines
The odds for the betting lines in baseball are moving constantly, usually based on the number of bets, the total amount of money coming in on either team and the amount of overall risk that a sportsbook is willing to take on for a particular contest. Line movement can also occur for reasons unrelated to betting. If a key player is injured, new information is released, or a starting pitcher is changed, it is not uncommon for sportsbooks to take the odds off of the market momentarily and change the game lines to a more suitable number.
The betting lines are often very sharp but the game lines at different sportsbooks will vary at different times. For this reason, serious sports bettors are advised to fund multiple accounts with two or more sportsbooks in order to shop for the best odds and maximize their overall returns. Once you've chosen the baseball betting sites that you are most comfortable with, simply select the best odds for the markets that you are interested in betting on. While an extra +5 or +15 tacked onto a money line wager might not seem like a lot, those small efficiencies can add up over time to help bettors turn a profit over the course of a full season. 
Example: 
Again, we'll use the same Cubs-Dodgers game as an example. As we noted earlier, one sportsbook was offering Zach Davies and the Chicago Cubs at +215 odds.

Meanwhile, at the time time, bettors could have earned +5 simply by opting to make the wager on William Hill instead.  

Over the course of a long baseball season, those small efficiencies can help bettors minimize the juice and maximize their profits.
Baseball Betting Odds
Major League Baseball is the world's most popular baseball league to wager on but it isn't the only market available to baseball bettors. In addition to betting on the MLB, bettors can wager on several different baseball betting markets, including college baseball, minor league baseball, the KBO, and more.

MLB Betting Odds
While props bets may vary, most sportsbooks will carry the standard game lines (money line, total, and run line) for all MLB contests. Betting markets are usually separated into game lines, main props, player props, innings props, team props, and game props.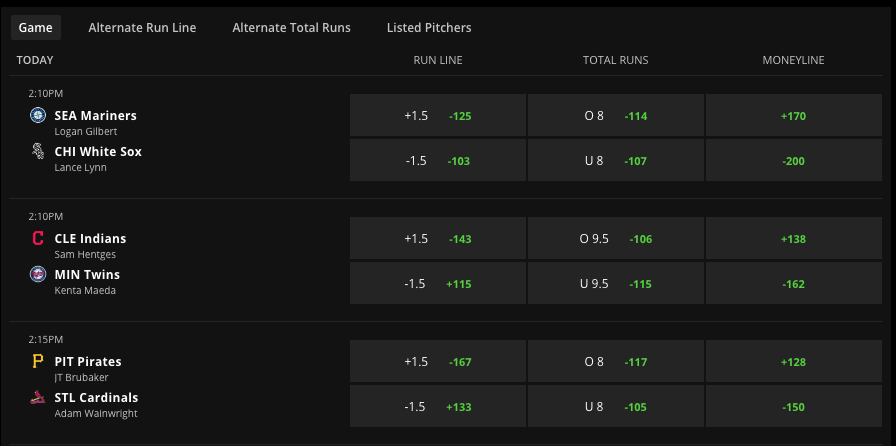 World Series Betting Odds
Every sportsbook carries futures odds for the World Series but they can vary greatly, especially as you go down the list. For sharps looking to bet on a specific team, it is wise to shop around for the best price at various sportsbooks. A little extra due diligence could pay off in a big way.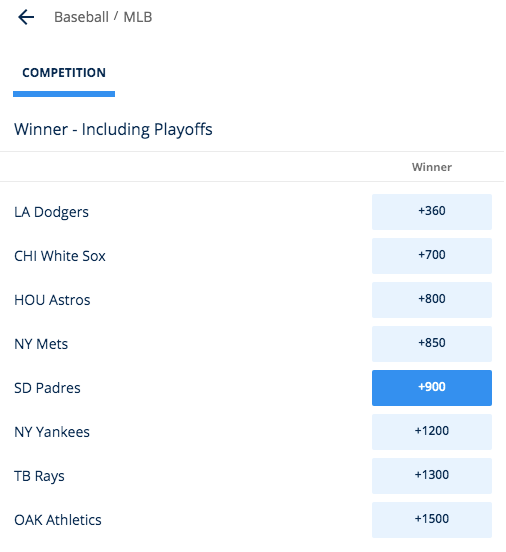 KBO Betting Odds
It seems like every season, a position player or pitcher from the KBO takes the MLB by storm. More fans are paying attention to the KBO than ever before and sportsbooks have accommodated bettors by offering game lines during the regular season and postseason. While the screenshot below is from FanDuel, WilliamHill, PointsBet, DraftKings and other sportsbooks also offer KBO betting odds.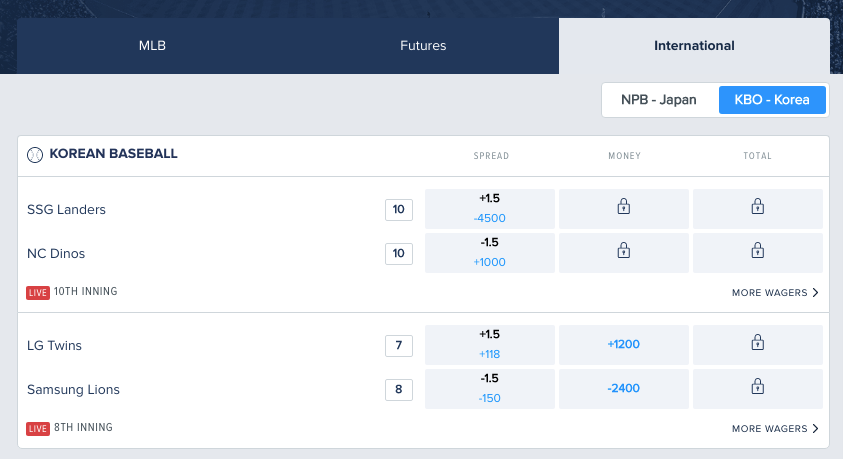 Minor League Betting Odds
Generally speaking, minor league baseball tends to feature softer lines and some of baseball's most talented up-and-coming prospects, making it equally exciting to bet on. Several sportsbooks offer game lines for minor league baseball contests, including DraftKings, William Hill, and more. 

Baseball Bettings Tips
When it comes to baseball betting online, bankroll management is one of the keys to long-term success. While everyone has different levels of risk tolerance, bettors should only risk what they can afford to lose. 
Baseball is arguably the most data-driven of all of the major professional sports, so bettors that do their research can gain an edge on the oddsmakers. Sharp bettors should evaluate pitcher matchups, offensive trends, and look for spots for regression throughout the season. 
Since the baseball regular-season schedule is long, small efficiencies can add up over time, making single-game betting a popular option for high-volume bettors. To help maximize any edge they might have, bettors should be signed up to multiple sportsbooks in order to shop around for the best prices.
Baseball Betting Picks
There are many sites that sell picks and touts that claim they can guarantee bettors a profit in certain sports. Whether a tout sells picks individually or as part of a larger organization, it's best to take these claims with a grain of salt. Not only is sports betting at a profitable level notoriously difficult, but the few individuals that do have an edge are reluctant to give it away. 
Any edge that a successful bettor might have is usually just a small efficiency that will only produce a considerable profit when employed at a high volume over time. As more people jump on the trend, oddsmakers adjust and the edge starts to disappear. That means anyone with a real edge stands more to gain from actually betting on the game than selling their picks or system.
With that being said, there are also several websites that offer free picks, in-depth analysis, statistics, predictions, and more. Reading up on picks from sportswriters and touts can help bettors that are on the fence take decisive action or identify value that they previously didn't know was there. Not to mention, it adds entertainment value and anticipation to the sports betting process.
Baseball Betting Forums
Want to discuss potential picks with fellow bettors and baseball fans? There are several platforms and forums online where bettors from the sports betting community communicate to talk about the games, discuss picks, and share their wins or losses. Even Reddit has a sportsbook subreddit dedicated to betting on sports where bettors of all skill levels can chime in for entertainment purposes.
Baseball Betting Systems
Like any other sport, there is no foolproof system that works in baseball year after year. However, there are certain trends that have made bettors a lot of money over the long run. Betting on underdogs is often considered the best route for long-term success and home underdogs tend to win more than road dogs. Successful baseball bettors also tend to target teams coming off of low-scoring wins and betting on teams in divisional play, where the sample sizes for historical data are larger and the opponents are more familiar with one another. 
During every season, certain trends also emerge, where teams and starting pitchers are generally undervalued by the oddsmakers, leaving plenty of opportunities to profit for sharp bettors. Below are two charts from Covers.com that show how certain teams and starting pitchers can generate value for bettors over the course of the season.
Example: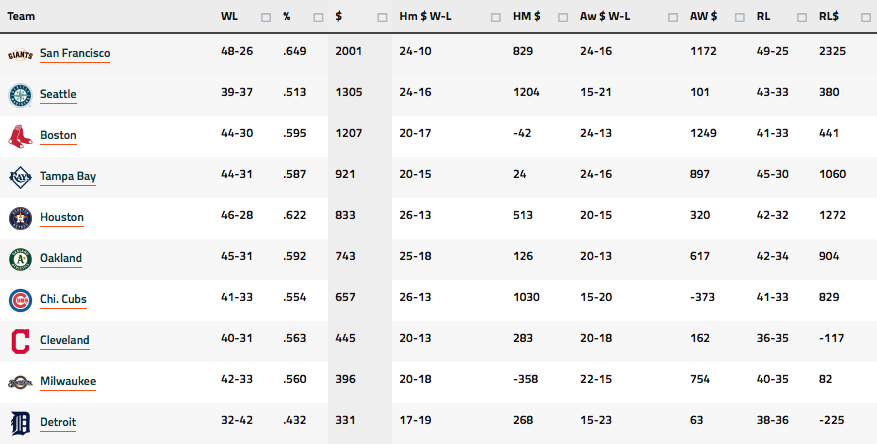 As you can see in the chart above, the Detroit Tigers have been one of the MLB's most profitable teams this season despite owning one of the worst records in baseball. Through 74 games, Detroit is 32-42 but prospective bettors would have still earned a +332 profit on their overall investment if they bet the Tigers to win every game.
With considerable hype surrounding the upstart San Diego Padres and the defending World Series champion Los Angeles Dodgers, the NL West-rival San Francisco Giants have earned prospective bettors a whopping +2001 return on their investment after racing out to a 48-26 overall record through 74 contests. 
The same kind of value can be found for individual starting pitchers.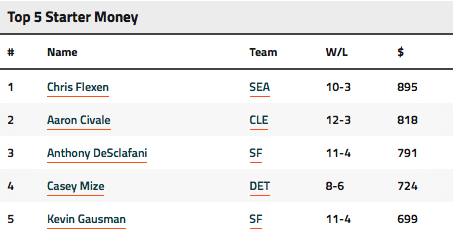 As you might have noticed, the most profitable pitchers aren't necessarily the best ones or the biggest names. Take Tigers' pitcher Casey Mize, for example. The Tigers are just 8-6 in Mize's first 14 starts this season but he's been the fourth-most profitable starter in Major League Baseball to this point. Topping the list is Seattle Mariners' right-hander Chris Flexen, who has brought in prospective bettors a +895 return on their investment. 
Baseball Betting Rules
Inclement Weather & Postponements
While the rules for betting on most sports are straightforward, betting on baseball has a few added nuances. Inclement weather often plays a role during the regular season and games are postponed or called final after a certain number of innings as a result. Other times, a starting pitcher can get swapped in at the last second without bettors or the oddsmakers having a chance to react properly. 
In these cases, different sportsbooks will have different rules about how your bet will be settled. Some will consider games final after five innings while others will only honor your bet if a full nine-inning game is played. Always be sure to read up on and become familiar with the rules for your preferred sportsbook before betting on baseball. 
Example: 
Sportsbooks tend to have different rules for what happens when a baseball game is suspended or called final due to inclement weather. On William Hill, all baseball wagers become official after a game has surpassed the five-inning mark. See the photo below for details. 

Meanwhile, on some sportsbook, this rule only applies to money line bets, whereas run line and total bets are subject to an 8 ½ innings rule. It is not uncommon for the rules for money line and run line bets to differ, as you can see below.

Note the difference between the rules in the photos shown for run line bets (above) and money line bets (below).

These types of rules also apply to futures bets and props bets as well. This is why it is important for sports bettors to read up on the rules their respective sportsbook has when it comes to betting on baseball online.
Pitcher Action
Another unique set of rules that applies to betting on baseball is the ability to set provisions for a bet to become null and void if the selected starting pitchers do not start the game. 
While it doesn't happen often, there are times during the regular season when a starting pitcher will be scratched ahead of their scheduled start. This can leave both bettors and bookmakers scrambling. For this reason, some sportsbooks give bettors the ability to void their bet if the expected starters do not pitch.
This option only applies to some sportsbooks and bettors can use it strategically to their advantage. 
Setting pitcher action allows bettors to add a provision for the bet to become void if both or one of the listed pitchers does not start. Bettors can also choose to set the provision to "action", meaning that the bet will be settled regardless of any changes to the projected starting pitchers.
This sort of rule can work both ways for bettors. In one case, it can help prospective bettors minimize risk in the case of last-second injuries or changes to the starting rotation ahead of game time. On the other hand, bettors can also set the rule to "action", which can be especially lucrative if you catch the announcement for a pitching change before the oddsmakers. 
Example: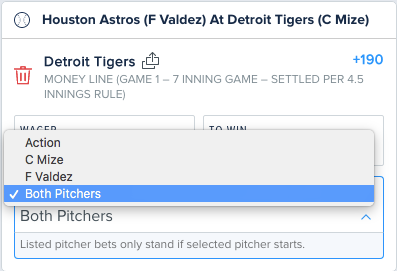 The screenshot above is from FanDuel, which is one of the many oddsmakers that allow bettors to add provisions for starting pitchers to their bets. As you can see, bettors have the ability to choose whether their bet will hinge upon one, both, or none of the starters taking the mound to open the game.
This particular game is part of an MLB doubleheader, meaning it will be played as a seven-inning contest. In the example above, FanDuel has noted that the game will also be settled per the 4.5-innings rule.
In some cases, a sportsbook may have "Action" as the default selection while other sportsbooks will have "Both pitchers" listed to start as the default option. 
Below, you will find a chart that breaks down some of the rules differences between various sportsbooks:
Baseball Rules for Top 10 Sportsbooks
4 ½ innings rule
8 ½ innings rule
Pitcher Action
BetMGM

✅Money Line

✅Run Line

✅Total

✅Available

BetRivers

❌Not Available

❌Not Available

✅Available

DraftKings

✅Money Line

✅Run Line

✅Total

✅Available

FanDuel

✅Money Line

✅Run Line

✅Total

✅Available

FoxBet

✅Money Line

✅Run Line

✅Total

❌Not Available

Golden Nugget

✅Money Line

✅Run Line

✅Total

✅Available

PointsBet

✅Money Line

✅Run Line

✅Total

✅Available

TwinSpires

✅Money Line

✅Run Line

✅Total

✅Available

William Hill

✅Money Line

✅Run Line

✅Total

✅Available
What is the best baseball betting site?
Ultimately, the best baseball betting site for individual users will come down to preference. 
The Golden Nugget, PointsBet, and WilliamHill are among the sportsbooks with the best odds, making them an attractive option for bettors that want to shop around. While the odds obviously play a large factor in where bettors place their wagers, there are several other reasons that people decide to use one oddsmaker over another. 
The user interface, design, and functionality of the apps often play a big role in the sports betting experience. Bettors that prefer to wager in-play or follow the games on their favorite sportsbook will likely prefer a site with a live scoreboard, pitch tracker, and graphics to help them make decisions without switching back and forth between apps.
Bonuses and loyalty rewards are another way that sportsbooks try to drive repeat customers. With the influx of new sportsbooks, bettors have a unique opportunity to reap the benefits of several welcome bonuses. Choosing the sportsbook with the right bonus and rewards structure for your style of betting can help increase your bankroll, return on investment, and overall enjoyment while betting on baseball. 
For example, parlay bettors would be wise to find an oddsmaker with daily parlay boosts, accumulator bonuses, and parlay insurance. Meanwhile, single-game bettors might opt for a bookmaker with the best odds or an early payout option.
Want to try betting on sports risk-free? Some sportsbooks even offer free-to-play options that can help novice bettors get their feet wet without risking real money. DraftKings and BetRivers are among the oddsmakers that have free-to-play contests, making them popular for beginners or fans looking to simply add some excitement to the game.
When done correctly, baseball betting can be a very lucrative investment over the course of a full season. In order to shop around for the best prices and maximize potential bonus rewards, we urge bettors to sign up for multiple sportsbooks.
Whether you are looking for the best bonuses or prefer to follow the games in-play on your sports betting app, choosing one of the top ten bookmakers is a safe bet to add value to your sports betting experience. 
Sportsbook Futures Odds Comparison
To illustrate the difference in futures odds between sportsbooks, we amassed 2021 World Series odds from each of the top-10 sportsbooks. Below, you will find a table to compare the 2021 World Series odds for 10 of the top MLB teams from the 10-best sportsbooks on the web. 
2021 World Series Odds* 
Bet MGM
Bet Rivers
Draft Kings
Fan Duel
Golden Nugget
FoxBet
Points Bet
TwinSpires
William
Hill
L.A. Dodgers
+350
+360
+360
+380
N/A
+375
+350
+360
+360
HOU Astros
+800
+800
+800
+700
N/A
+750
+700
+800
+900
SD Padres
+850
+900
+900
+850
N/A
+850
+800
+900
+850
CHI White Sox
+700
+700
+700
+700
N/A
+700
+800
+700
+700
NY Mets
+850
+850
+850
+850
N/A
+800
+900
+850
+850
TB Rays
+1400
+1300
+1300
+1400
N/A
+1200
+1200
+1300
+1400
NY Yankees
+1300
+1200
+1200
+1300
N/A
+1100
+1000
+1200
+1200
SF Giants
+1800
+2200
+2200
+2200
N/A
+1700
+2000
+2200
+2200
OAK Athletics
+1500
+1500
+1500
+1800
N/A
+1400
+1400
+1500
+1500
*All odds are as of June 26, 2021.