Along with the likes of the Grand National in the UK, and the Melbourne Cup in Australia, the Kentucky Derby at Churchill Downs is easily one of the most famous horse racing events in the world. This is obviously a great sporting spectacle in its own right, featuring many of the most successful owners, jockeys, and horses around. It also forms one third of the renowned Triple Crown, along with the Belmont Stakes and Preakness Stakes. Kentucky Derby betting, however, undoubtedly drives a lot of this popular attention. 
In this guide, you'll learn everything you need to know about Kentucky Derby betting right now. We'll list the top 10 sportsbooks which cover it, explain all the best relevant offers, give you top tips on how to actually make money, and plenty more besides. 
All
New Jersey
Pennsylvania
What to Look For in Kentucky Derby Betting Sites 
To get started betting on the Kentucky Derby online as quickly as possible, we'd advise you to simply go with one of the 10 sites we've recommended above.  If you want to carry out your own search though, there are a few guidelines you should definitely follow. These are the five factors which should be prioritised above all others.
Market Selection


It goes without saying that – for online Kentucky Derby betting – you need a sportsbook which covers the event itself. Ideally, that will include not only all of the races on Saturday – including the main event – but those on Kentucky Oaks Day (the preceding Friday) too. 

Better still, if you want to get fully involved in the build-up to the actual Derby Day, you can look for a site covering the 'Road to the Kentucky Derby'. This consists of a whole 35 different prep races, held at courses spread across the world, and only the 20 top scorers after these events will make the actual Kentucky Derby. 

Mobile Features


If you're an on-the-go bettor, or simply prefer the convenience of a mobile device, this is one of the first things you should check. After confirming a sportsbook provides online Kentucky Derby betting, download their app from either the App Store, Google Play, or the betting site itself. Both doing so and actually accessing the app should be completely free. 

Now, test the Kentucky Derby betting app extensively for yourself. Check the features it includes, and whether any notable tools from the desktop site are missing. Generally assess its usability, and its performance on your phone or tablet. Overall, you want to be positive the app will be both reliable and enjoyable to use when the Derby starts. 

Customer Service


Even on the best betting sites, you'll likely encounter an issue sooner or later. All that really matters is that you can get the problem solved as quickly as possible, so that you can still get your bets down on the right races at the right times. 

Your priority here should be checking the direct customer support options which a sportsbook offers. Live chat is the best one, as it not only gives you a direct line to an agent, but also allows you to instantly send screenshots of any problems. Phone support is a close second, while the likes of email and social media are much slower and less desirable. You can also check out the indirect support – whether delivered via an FAQ or Help Centre – for solutions to the most common issues.

Terms and Conditions


The first thing to check is whether a Kentucky Derby online betting site is supported in your state. If not, you'll need to find one which is, or you'll be forced to go to a physical location in another state where you can legally bet on the Derby.

With that established, there are a few other T&Cs to check. Most importantly, these include everything involving payments (transaction fees, withdrawal times, and so on). 

Special Offers
We'll cover this in the next two sections of our Kentucky Derby betting guide. In short though, just know that special offers can make your horse racing betting considerably more lucrative. This is obviously the overall aim of your betting, and – therefore – special offers should play a major role in deciding which bookmaker to go with. 
Kentucky Derby Betting Offers 
As briefly mentioned, special offers can play a major role in your Kentucky Derby betting online. If a certain site has good enough promotions, this can even be a legitimate defining reason in going for them over any other option. 
We'll investigate the different types of offers you can get when betting on the Kentucky Derby when you bet now fshortly. For now, however, these are three of the best deals you can take advantage of immediately. 
Kentucky Derby Betting Offers
All
New Jersey
Pennsylvania

Risk-Free First Bet, Up To $600

Risk-Free First Bet, Up To $600
Big risk-free first bet can be used on the Derby
Excellent mobile apps
Extremely fast withdrawals
9.8
Visit Site
Sign up and deposit at least $10. Must be in an eligible state. Losing first wager of up to $600 will be refunded. Refund given as a free bet, credited within 24 hours. Free bets must be used within 7 days.
Risk-Free Bet, Up To $500
Risk-Free Bet, Up To $500
Ante-post markets available for horse racing
Highly impressive international track record
Exceptionally good customer support
9.7
Visit Site
Promotion valid until December 31st 2021. If first bet loses, receive refund of up to $500 within 72 hours. Qualifying bet must be singles (i.e. not multiples). Refund awarded as free bet, to be used within 7 days.
Up To $500 Risk-Free First Bet
Up To $500 Risk-Free First Bet
Pre-match, live and outright soccer lines
American, fractional and decimal formats
Price boosts
9.8
Visit Site
New customers only. Offer applies to first real money cash sports wager. If first settled bet loses, full refund will be awarded, up to $500. Min stakes $10. Refund will be given within 72 hours.
Kentucky Derby Betting Online – Specials
The Derby is one of the biggest events around for betting in the USA. As such, bookmakers pull out all the stops with their special offers. Some will boost your Kentucky Derby betting payouts, while others simply help you to avoid making a loss. Either way, your bottom line gets boosted.
These are the most common special offers which can be incorporated into your Kentucky Derby betting strategy. 
Risk-Free Bet
If you're looking for a high quality welcome offer, this is one of the best types. As the name suggests, your first bet after signing up and making a deposit will be 'risk-free' (full T&Cs will apply, naturally). We'd recommend saving that bet for the Kentucky Derby itself, to maximize its benefit. 
With this offer, if your first wager wins, you collect your winnings as normal. If it loses, your entire stake (up to a certain limit) will be refunded, ready to be used all over again. This refund can come as either cash or a free bet. 
Deposit Match
This is another common welcome offer for online betting. Again, the name is pretty self-explanatory. With this offer, your first deposit with a bookmaker will be matched, up to a certain amount, either as a free bet or cash. If you deposit $50, for example, you'll be given a further $50 to wager with. Basically, your spending power for the Derby is being doubled immediately. 
Money-Back Special
Money-Back Specials are deals for existing customers. They don't boost your profits, but do refund your stake in certain circumstances, with the specifics varying between different Kentucky Derby betting sites. 
The most common version for the Kentucky Derby is 'Money Back if 2nd'. Bet on a runner here, and – if it fails to win, but your horse finishes second – you get your money back. A less common example involves parlays, where – if only one selection lets you down – your stake is also refunded.
Best Odds Guaranteed
This is one of the most straightforward deals for betting on the Kentucky Derby. It's also one of the most useful, helping you to secure maximum value on your wagers. 
This offer covers your standard win bets. If the starting price on your chosen horse is better than the odds you got, you'll automatically be given that superior price at the off. If it's not, you'll simply keep your original odds. 
Props
All major sporting events tend to come with a diverse range of specials, and it's no different with Kentucky Derby online betting. Different sportsbooks will offer their own particular props, which can often get very specific. You can bet on everything from the margin of victory, to an over/under on time taken for the first half-mile. Rather than betting specific horses, some betting sites will even let you wager on certain jockeys, owners, or trainers (like Bob Baffert) to have success. 
Kentucky Derby Online Betting Guide – How to Place a Bet
Online sportsbooks have come a long way in recent years. Nowadays, both signing up and using them to get some Kentucky Derby betting payouts is extremely easy, even if it's your first time. Here's a step-by-step guide on how to do just that. 
Step 1: Choose a Sportsbook
In states where online betting is completely legalized, you'll have a range of good options here, with our top 10 being the best of the bunch. Use the advice in our 'What to Look For' section, above, to help you decide on your most suitable choice. For the purposes of this example, we'll assume you're going with horse racing specialists TVG.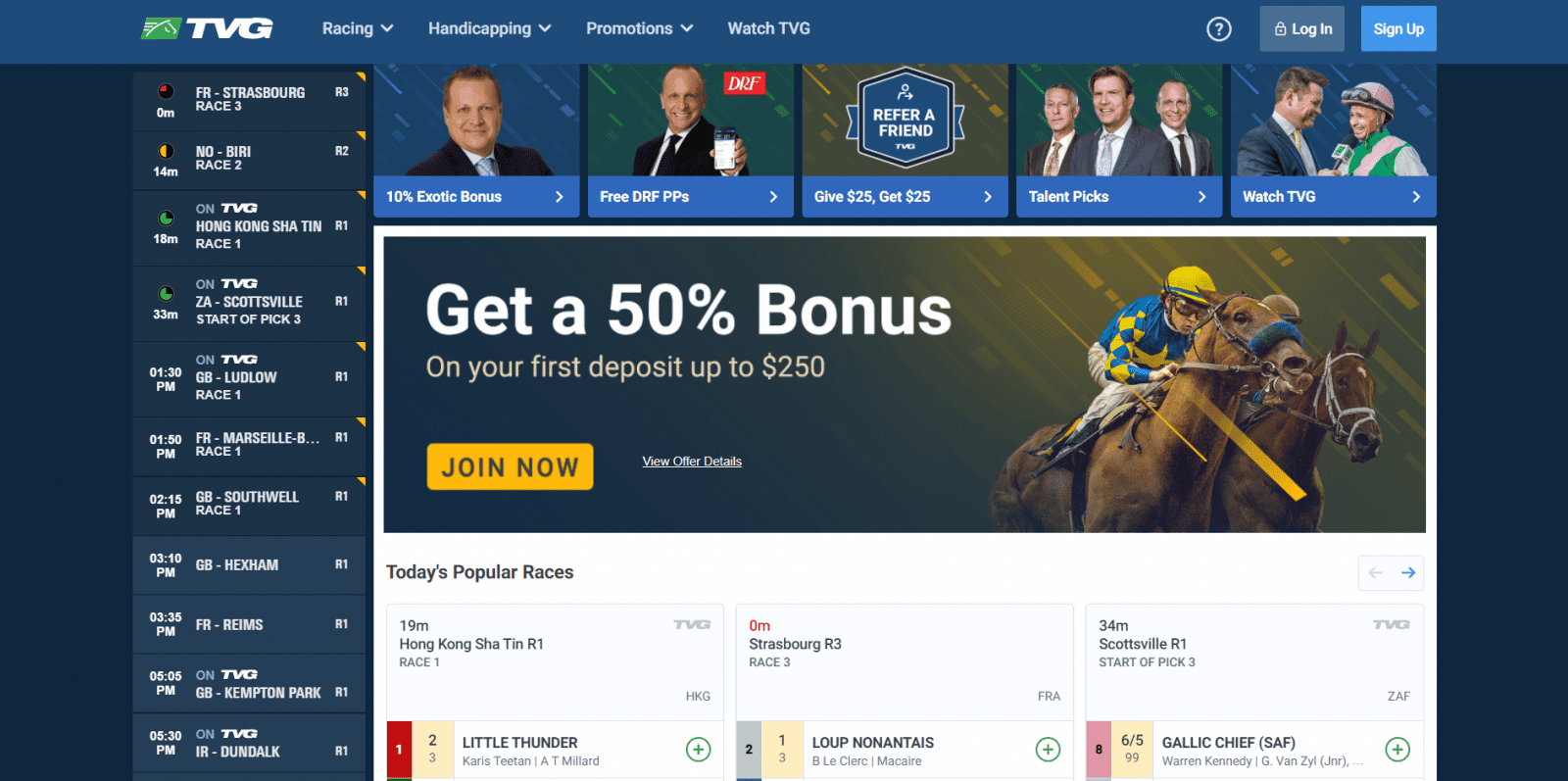 Step 2: Register for an Account
Most sportsbooks have a similar registration process to that on TVG. You start off by hitting the 'Sign Up' button, and will then be presented with a screen – or screens – with various fields. Insert your personal details – your name, email address, residential address, date of birth, and so on – into each relevant field.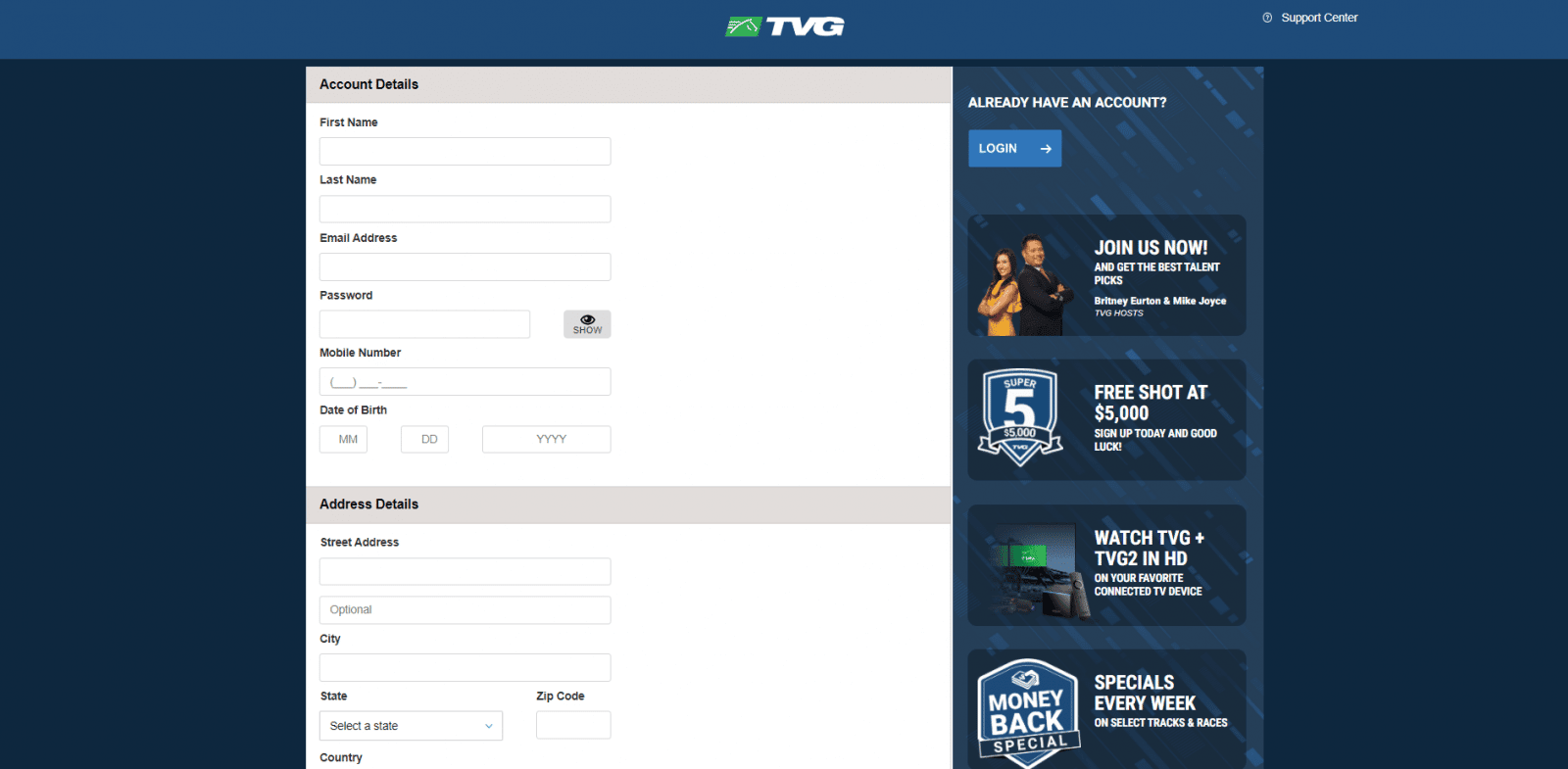 Once you're done, click the 'Complete Registration' button to finish the process, and create your account. 
Step 3: Make a Deposit
After creating your account, it's time to fund it. Log in, and you should see a button reading 'Deposit', 'Cashier' or similar in the main menu. Click it, then select your payment method of choice from the list of options. Remember that only certain methods may be eligible for that site's welcome offer.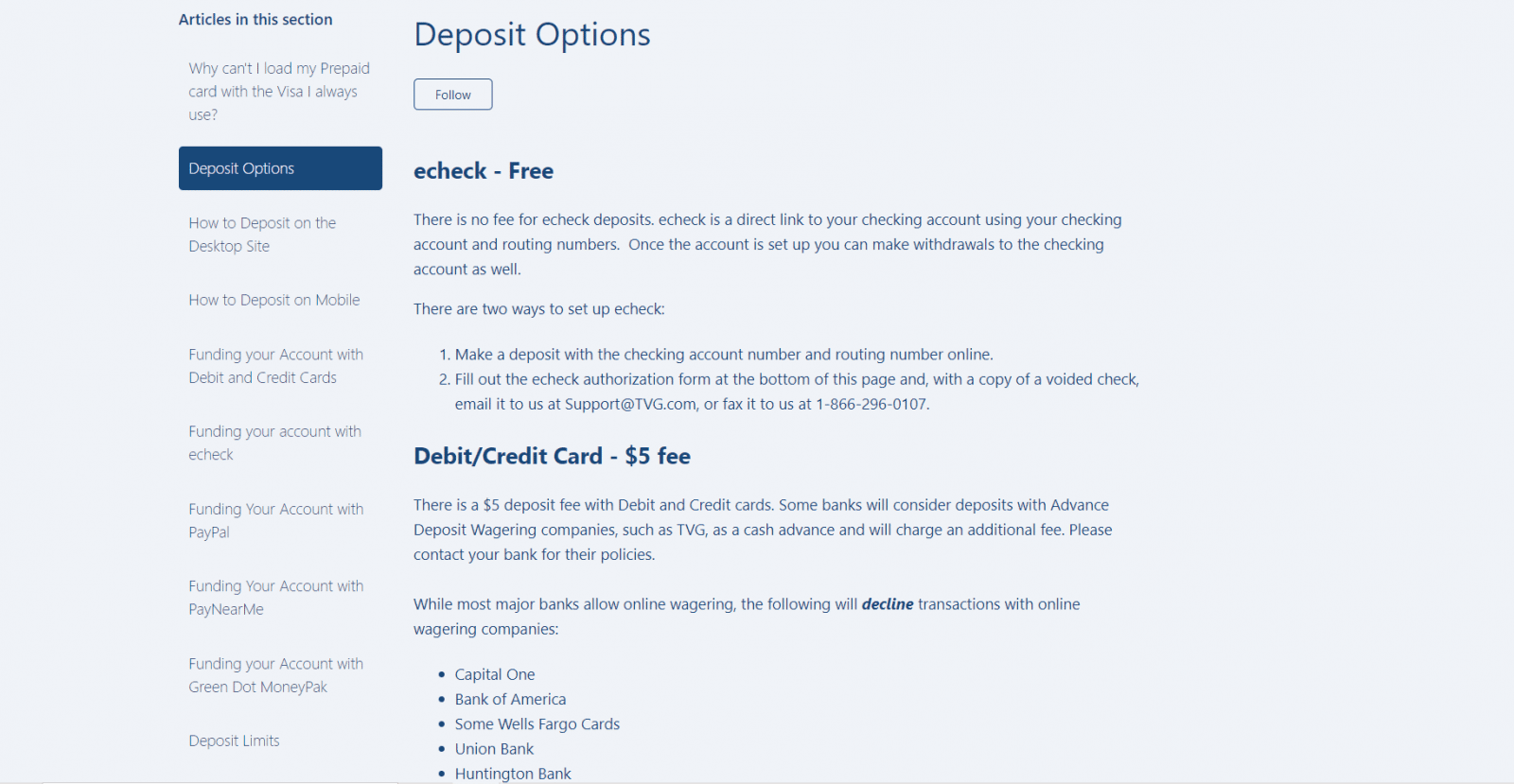 Enter the amount you'd like to deposit, and your details. Check everything through once more, then go ahead and confirm the deposit. For most payment methods, this should be processed instantly. 
Step 4: Find a Kentucky Derby Market
You'll usually have two ways to find the right markets here, whether using a desktop site or Kentucky Derby betting app. You can either browse through the list of menus – e.g. 'Horse Racing', then 'Kentucky Derby' – or simply use the search function. 
Either way, you should find the Derby's markets easily enough. These will be pre-race odds if you're checking just before the race, or Kentucky Derby future markets if you're looking further in advance.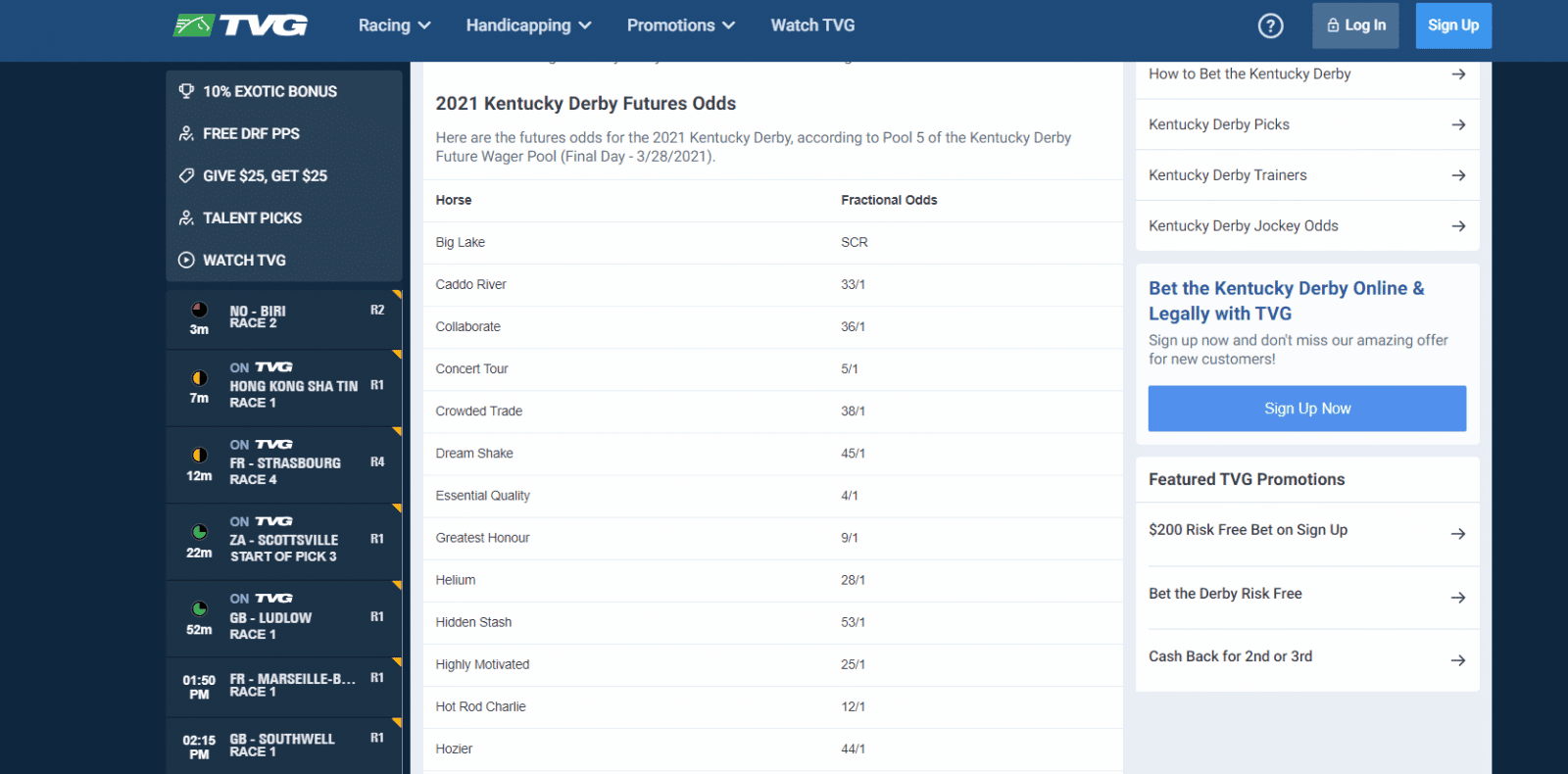 Step 5: Place Your Bet
The last part is the easiest of all. Look through all the odds available to you, and find the price you most like the look of. Then simply click the selection to add it to your betslip, set a stake, and confirm the wager.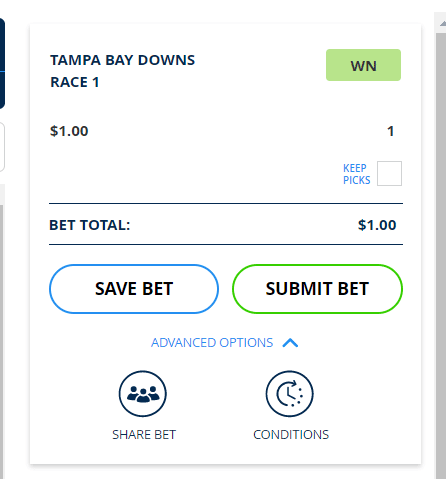 When Do Online Kentucky Derby Betting Markets Open?
The Kentucky Derby itself almost always takes place at Churchill Downs racetrack on the first Saturday in May. The 2020 edition was a rare exception, being delayed until September due to the Coronavirus pandemic. The 2021 race should go ahead on Saturday, May 1st though. 
Like other major horse races, ante-post (futures) betting markets will open months before. They will sometimes be available as early as November, but most sites should have them in place by February. The final field for the Kentucky Derby is typically announced on Monday or Tuesday prior to the big race. True pre-race betting markets will then open up around 24 hours before the event itself (so on Friday morning for the main Kentucky Derby). 
5 Ultimate Kentucky Derby Betting Tips
There's no shortcut to success in making money on the 'Run for the Roses'. That said, there are definitely steps you can take to significantly boost your chances. These five top Kentucky Derby betting tips should help you do just that. 
1. Have a Solid Base
If you want to just literally have one wager on the Derby, that's absolutely fine. Most bettors with any experience at all, however, will want to stick a few wagers down. 
Build a solid base under these wagers. By this, we mean the majority of your total stakes should go towards safer picks, which are more likely to deliver a return. This can be done in two ways. Firstly, focus on the favorite Derby contenders – as explained below, they are much more likely to triumph. Secondly, stick to the two most sensible bet types – race winner, and each ways (which include both a win and place bet). 
2. Mix in Some Long Shots
Bearing our previous point in mind, it's still both fun and potentially lucrative to mix in some higher stakes wagers. Again, these might be on Derby horses with longer odds, or on more exotic bet types. Examples of the latter include straight parlays, handicapping, and exacta, trifecta, and superfecta multiples, in which you must predict the top two, three, and four finishers respectively. 
All these wagers can deliver sizable returns, but are much harder to win. Remember to scale back on your stakes accordingly. 
3. Use Those Offers
Betting promotions are there to give you extra value, so take advantage of them wherever possible. You can use them to both boost your profits, and minimize your losses. 
Welcome offers tend to deliver the biggest rewards of all. This means a good strategy is to wait until a few days before the Kentucky Derby to see which sites have the best sign up deals, then create a brand new account with the top option. 
4. Look at the Form
As noted, to reach the actual Kentucky Derby in the first place, each horse has already run a sizable number of races. You can look at past performances at each of these 35 prior events to analyze which runners might be rounding into form at the perfect time, and which are showing worrying signs of decline as the Derby itself grows closer. 
5. Listen to the Experts
It's both more fun and more rewarding to do your own research in sports betting. This definitely doesn't mean, however, that you should simply ignore all other Kentucky Derby betting tips. Most of these will be available for free, with many coming from experts whose full-time job is to watch and analyze horse racing. 
You shouldn't blindly follow these tipsters, but you should definitely use them to either confirm or challenge your own thoughts. 
Kentucky Derby Betting Odds – Historical Analysis
We simply cannot overstate the importance of research in your Kentucky Derby betting strategy. There's a wealth of information out there, and you should use as much of it as possible to your advantage. One area you should definitely look at is historical Kentucky Derby betting odds, especially from the past few years. This can offer an extremely useful perspective on what might happen in the next Derby. 
In other races – such as the Melbourne Cup – the favorite actually tends to perform extremely poorly. This is not the case with the Kentucky Derby. In fact, since 1908, favorites have won the Derby 35% of the time, including famous examples like Secretariat. With 20 different thoroughbred horses competing each year, that's an astonishing success rate. In recent years, you've even been able to get good odds on these favorites – Orb won in 2013 at a generous +440, while Always Dreaming triumphed in 2017 at +370. 
While there are obviously no sure things in horse racing, taking a favorite in the Kentucky Derby – therefore – is actually a relatively safe play. 
States Where You Can Legally Bet on the Kentucky Derby Online
Up until fairly recently, there were only a handful of places in which you could act on Kentucky Derby betting odds, such as Atlantic City and the state of Nevada. Since the famous 2018 supreme court ruling, however, the floodgates have opened in this respect. 
Now, there are 17 different states in which you can legally conduct your Kentucky Derby betting online. These are:
Mississippi
Montana
Nevada
New Hampshire
Oregon
Rhode Island
Tennessee
Washington DC
This list is only going to grow with future Kentucky Derbies, with states like Maryland, Louisiana, and South Dakota already having voted to legalize gambling. 
Where to Watch the Kentucky Derby Live
Compared to other major sporting events in the US, you actually have a pretty wide range of options when you want to watch the Kentucky Derby live. 
NBC Sports is the flagship broadcaster for the race. Wherever you're based, your local NBC station should carry full coverage of the pre-Derby races, and plenty of analysis for the big race itself. You can watch along via the standard TV channel, or the NBC mobile app on your phone, games console, or Amazon FireTV. 
If you don't have a cable subscription, there are several online services you can use instead. These include YouTube TV, AT&T TV Now, and Hulu. Given that these sites generally offer free trials, you can actually watch the Kentucky Derby live here without paying a penny. If you want to watch directly with your sportsbook, then TwinSpires.com is easily your top option, via its excellent TwinSpires TV streaming service. 
Previous Kentucky Derby Winners
The main time frame for your Kentucky Derby research should be the recent past, focusing on the competitors' form in the weeks leading up to the big race. 
It can also be useful, however, to dig a little deeper into the history of the Derby. Specifically, you can check out the odds and form of each recent winner to try and find statistical trends. If that sounds appealing to you, here's a quick-and-easy list of the Derby's most recent winners.
| | | |
| --- | --- | --- |
| Year | Horse | Jockey |
| 2020 | Authentic | John Velazquez |
| 2019 | Country House | Flavien Prat |
| 2018 | Justify | Mike E. Smith |
| 2017 | Always Dreaming | John Velazquez |
| 2016 | Nyquist | Mario Gutierrez |
| 2015 | American Pharoah | Victor Espinoza |
| 2014 | California Chrome | Victor Espinoza |
| 2013 | Orb | Joel Rosario |
| 2012 | I'll Have Another | Mario Gutierrez |
| 2011 | Animal Kingdom | John Velazquez |
Bottom Line
The ceremony and history surrounding the Kentucky Derby is matched by very few sporting events around the world. Kentucky Derby betting gives you a unique way to experience this prestigious festival of horse racing, and partake in the excitement and attention it generates. 
There's no guarantee you'll make money while doing so, which – as ever – is why you must be realistic with your stakes. Bet responsibly though, do your research, and generally follow the advice in this Kentucky Derby betting guide, and you should be in for a highly enjoyable time. 
FAQs
Which site delivers the best Kentucky Derby betting payouts?
You can find 10 of the best Derby betting sites at the top of this article. Of all those though, TVG offers perhaps the most consistently excellent odds, on both futures wagers and pre-race markets.
How can I create a successful Kentucky Derby betting strategy?
You can find five top tips for doing just that above. In short though, you should place a good mixture of wagers - in terms of both odds and bet types (race winner, parlay, exacta bet, trifecta, and so on) - and do as much research as possible.
Which sportsbook has the best Kentucky Derby betting app?
TwinSpires has excellent mobile apps, for both iOS and Android users. It not only allows you to bet on the Kentucky Derby, but even stream the action live too via TwinSpires TV.
How can I watch the Kentucky Derby live?
Aside from the aforementioned TwinSpires TV, the main way to watch the Kentucky Derby is on NBC Sports. Shorter-term solutions include streaming services like Hulu or YouTube TV.
Is it legal to bet on the Kentucky Derby?
It depends where you live. There are currently 17 different states where it is legal to bet online on the Kentucky Derby. Elsewhere, you may need to bet at a physical sportsbook, or might still be forbidden from wagering at all.