In 2020, an average of 607,000 U.S. viewers tuned in to watch the F1 Grand Prix each week. And that was without there even being an American track on the schedule! Now, with the Aramco track in Austin, Texas, added to the F1 calendar (and a Miami track coming in 2022), the world-famous motorsport appears perched for continued success in the USA. These new tracks, coupled with the continued rollout of online sportsbook gambling nationwide, suggest that that the average American gearhead now needs to know the best F1 betting sites available in his/her state.
This is precisely where we come in. Our team has taken the time to traverse the internet in search of the best Formula One Grand Prix betting sites available to the American betting public. We've ranked these sites; detailed the pros and cons of each, and listed all the bonuses and offers the are currently available. We've also outlined our favorite F1 tips and betting strategies, and a whole lot more on top of that.
Furthermore, and perhaps most importantly of all, each site in our top 10 F1 betting sites is completely safe, trusted, and licensed to operate in select states. You can be 100% confident on that point.
All
New Jersey
Pennsylvania
Top F1 Grand Prix Betting Sites
(in alphabetical order)
Bet MGM takes the F1 seriously: customers are able to bet on practice sessions, qualifying laps, and, of course, the Grand Prix circuits themselves either ahead of time or live. The F1 lines for all three are deep – very deep. It's even possible to bet on driver head-to-heads during practice sessions, as well as winning time margin.
Bet MGM broadcasts competitive F1 Vegas odds and tends to get its futures for both the Drivers and Constructors Championship up early. Speaking of futures, the option to bet on the winning car manufacture besides the big two is a unique wager as well – in a nutshell, the optionality on this sportsbook is unreal.
BetMGM also offers up to $600 in the form of a risk-free bet to newcomers and is one of America's most trusted and established sportsbooks – the site and app are choices for F1 betting.


What we like:
Early to market for with F1 betting odds
BetMGM has incredibly deep markets for F1 betting, including many markets/props not commonly found elsewhere: practice sessions, drivers markets, best constructor outside of the big two, and many more
F1 live betting is available for practice, qualifying, and Grand Prix
One-Play parlay betting feature
Up to $600 in risk-free bets makes BetMGM an attractive proposition to a new bettor
Highly competitive F1 odds and lines for Grand Prix & qualifying
What we don´t like:
Hard to fault this site… we are struggling to switch from fractional odds to American lines though…
BetWay offers F1 odds on all the major markets: futures for the Drivers/Constructors Championship. Plus, the winner of the race, the fastest time in qualifying (where you can also wager on winning margin), podium finish, plus many more – the markets are very deep indeed.
F1 live betting is available during qualifying and the Grand Prix races themselves.
Betway also includes a cash-out option, so bettors can cut their losses or escape with partial winnings, and the sportsbook is currently offering a free $250 risk-free bet to newcomers.


What we like:
Risk-free $250 bet for newcomers to the site
A multitude of F1 betting lines: bettors can wager on futures for the race winner, championship winner, constructors championship winner, podium finishes, et al
Cash-out option
Parlay betting feature
F1 live betting is available for qualifying and Grand Prix events
What we don´t like:
Unlike some of the competition, it's not possible to bet on practice sessions at Betway
Limited availability (Only available in CO and IN at present)
DraftKings has the major markets you would expect to see on an established F1 betting app. It's possible for users to wager on futures, such as the constructors' championship and outrights on an individual Grand Prix. There are some race specials to enjoy too, such as fun bets on whether or not the safety car will be used.
DraftKings doesn't have the depth of markets some of the other sportsbooks have. But there is more than enough optionality for a beginner to enjoy – that's for sure.


What we like:
The famed fantasy site broadcasts odds for all the futures and outrights for Championships and Grand Prixs you'd expect to see on an F1 betting app (outrights and futures)
The site also features prop markets for race specials and driver to be classified (see image)
$1,000 risk-free bet for new users to the platform
Competitive odds on F1 futures
DraftKings offers a money-back feature on parlay bets, allowing users to cut losses or cashout early
DraftKings is the most easily accessible sportsbook in America, available in more states than any other at present
What we don´t like:
Unlike most other sports, DraftKings does not provide stats for F1 racing
Even the usually reliable DraftKings.nation has very little F1 content – you'll have to elsewhere to hone your F1 betting strategies, or to look for F1 betting tips
No live betting on qualifying
FOXBET has a stacked market for F1 futures: users can wager on the drivers and constructors' championships. The famed sports broadcaster is also one of only a few F1 betting sites to feature over/under lines on the outright market for the number of classified finishers at a race.
The F1 prop market isn't as deep as some of the competitions' is. But, FOXBET more than makes up for that with the coverage of the sport on its site (great for tips!). The fantastic $500 welcome bonus is a nice touch, too.


What we like:
Fox is one of the world's most recognized and reputable (and thus trusted) sports broadcasters
Futures markets for F1 drivers and constructors championships
Good optionality on F1 prop bets, including Over/Under market on the number of classified drivers to finish the race
Stylish-looking site and app
Tons of F1 news coverage on the website and app – great for F1 betting tips
$500 sign up bonus for new users to the sportsbook
What we don´t like:
Deeper F1 prop betting markets available elsewhere
Unable to wager on F1 practice rounds
Generally, there are better F1 odds available at other sportsbooks
Golden Nugget is another F1 betting option. The Las-Vegas based sportsbook has futures markets available for the Drivers Championship and the Constructors Championship. The odds are competitive and GoldenNugget broadcasts said odds nice and early, too.
Golden Nugget does have markets for Grand Prix outrights open. At the time of writing, the French Grand Prix is just a day away and the site professes to have two available markets. However, these markets are 'closed,' which is both unusual and unfortunate – perhaps GoldenNugget is awaiting the results of today's qualifying before it posts its updated odds; perhaps we're in the wrong state? Regardless, an explanation would be advisable.
The Golden Lines Parlay Boost a nice touch that enables users to place parlay bets and reap the rewards of advanced odds. This feature does work across different sports parlays, which is something not all sportsbooks allow. Plus, we also enjoyed the Next Bet On Us ($250 wager), which is a decent bonus for any newcomer to the site. It's just a shame there aren't that many F1 bets to wager it on!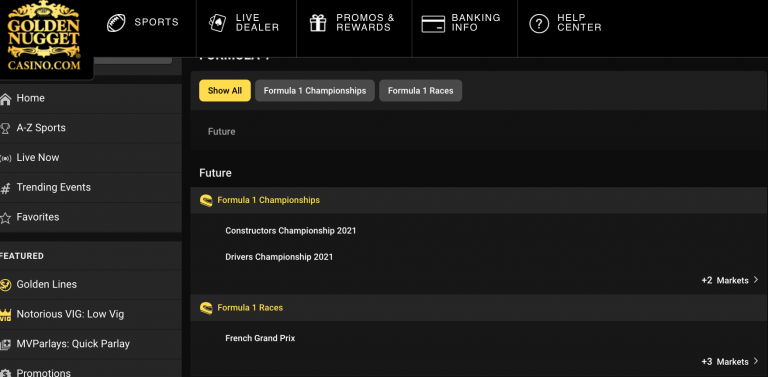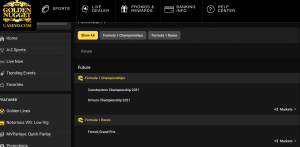 What we like:
Futures bets available for F1 Drivers and Constructors Championship
Bet Builder feature makes parlay betting quicker and easier
Next Bet On Us bonus feature ($250)
One of the first Las Vegas sports betting online platforms
What we don´t like:
F1 Betting lines for the French Grand Prix are listed but unavailable – likely due to the fact that qualifying is currently in session. But other sites allow us to wager.
No stats, graphics, blogs, or really any F1 content besides simple wagers
F1 live betting is unavailable
PointsBet continues to rank highly when it comes to odds: the F1 betting odds broadcast on the site for the Drivers Championship are very competitive (Max Verstappen at +100 is good value).
The PointsBet site and app do also allow for outright wagers on an individual F1 Grand Prix. But the odds aren't broadcast until the morning of the race, which is a bit of an issue when you consider that other sportsbooks have their F1 lines up for races days in advance.
That said, PointsBet does redeem itself with its fantastic $2,000 sign-up bonus for newcomers to the sportsbook. If you were thinking of wagering on the drivers championship, the great odds mentioned above, plus this $2,000 free bet makes the site worthy of consideration. With that much free cash, even a bet on the oddsmakers' favorite Lewis Hamilton would be worthwhile!


What we like:
Pointsbet has futures markets available or F1 Drivers and Constructors Championships
Awesome $2,000 risk-free bet for newcomers to enjoy
Stylish-looking site and app
Outrights on race winners is available – just late to market
Very competitive F1 odds and lines
What we don´t like:
Late to market with outright on Grand Prix
Limited markets: F1 is clearly not a big focus of this site
No F1 live-betting from what we can tell
Twinspires is a good F1 option for those wishing to bet on outrights. The odds for the French Grand Prix were up nice and early and seem to be of good value, too (Lewis Hamilton at +110!). Twinspires enables bettors to wager on the outright winner of the race and whether or not a driver will make the podium.
We particularly enjoyed the fact that Twinspires enables its customers to quickly access F1 stats before placing bets via a link on the F1 betting page. It's a useful, time-saving feature that many of the site's main competitors can boast. The F1 betting site also features race specials, including the first driver/constructor to retire, which is a betting option that tends to liven up the back of the pack for your viewing pleasure come race day.
At present, Twinspires is also offering up to a free $200 to any user that signs up and makes a deposit.


What we like:
Competitive, early to market F1 odds on outrights for Grand Prix races
Driver/Constructor stats available via a quick link on betting pages
Up to a $200 free bet available to new users who make deposits
The site contains race specials for F1 Grand Prix
What we don´t like:
Not much optionality on F1 prop betting market
Live Betting on F1 unavailable at present
No futures markets for Drivers/ Constructors World Championship
Alongside all the standard outrights for an upcoming Grand Prix (Race Winner, etc.) Unibet also has markets open for podium finishes, drivers to be classified in the GP, and race specials. The specials markets include Formula One betting options on the safety car (will, or won't it be used) and the first constructor/driver to retire from the race.
The site also allows patrons to bet on live F1, tends to offer competitive F1 odds, and Unibet offers a $20 free bet & a $250 risk-free bet to new customers, to boot.
We've searched the site but can't seem to find options for the F1 futures markets on the Drivers Championship, which strikes us as odd. But other than that, Unibet is a decent F1 betting site.


What we like:
Competitive, early to market F1 odds on outrights for Grand Prix races
Up to a $250 deposit bonus and a $20 risk-free bet available to new users
Site contains specials for f1 Grand Prix: first driver to retire, number of safety car appearances, etc.
Stylish looking website and app
F1 live betting is available
Easy to access F1 stats available from the main betting page via a link – a valuable resource for successful F1 betting predictions
What we don´t like:
Not much optionality on F1 prop betting market
No F1 futures betting available (or, if they are, they're hard to locate)
F1 racing is broadcast live on ESPN1 in America and William Hill just so happens to be ESPN's official betting partner. This means that it's William Hill's F1 odds and betting lines you see listed on-screen during the qualifying rounds and the Grand Prix.
William Hill has markets open for F1 outrights at the upcoming Grand Prix and also futures for the winner of the Drivers/Constructors championship. The prop betting market seems to differ from state to state; some states have deep optionality while others do not. But, overall, William Hill is a good F1 betting site for outrights and F1 live betting at the very least.


What we like:
Early to market with odds for F1 championship betting odds
Direct partnership with ESPN means it's William Hill's odds you'll see broadcast on-screen during the big race or in qualifying
Live-betting seemingly available in some states
Reasonably deep outright market for Grand Prix
Up to $500 risk-free bet for newcomers
What we don´t like:
Prop betting markets not as deep as some of the competition
No live streaming of F1 despite the partnership with ESPN
F1 Betting Tips
When it comes to F1 betting, there are generally three different types of markets available on most of the best F1 betting sites. These are futures, outright betting, and – a more recent addition – live betting in-play betting markets. To make solid, we-founded F1 betting predictions, it's important to have a good grasp of these markets.
Hence, we've detailed them in this next section for your convenience:
Long-term F1 betting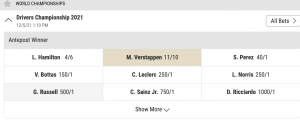 F1 futures markets are the long-term markets, or the markets in which a bettor has to wait for a long time, perhaps an entire racing season, to discover if his/her wager has paid off.
The most common F1 bets available on the futures market are the Drivers Championship, in which a bettor aims to predict the winner of the entire 23 race (in 2021) season. And the Constructors Championship, which is when the bettor tries to predict which car manufacturer (McLaren, Ferrari) will amass the most points over the racing year.
It's worth noting that the winner of the Drivers and Constructors Championship is often not a pairing since each car manufacturer enters two racers into the F1 Grand Prix event. Mercedes Benz, for example, has both Lewis Hamilton and Valtteri Bottas on its roster. That said, having the No.1 ranked driver on your team doesn't exactly hurt either…
F1 odds on both of the aforementioned markets can swing dramatically throughout the season, as different manufacturers tweak their cars with varying degrees of success. And different drivers hit form at different times, etc.
Outright betting on F1 races


The F1 outright betting market is straightforward. Rather than betting on which driver (or car manufacturer) wins the entire championship, this time you just bet on a race-by-race basis, or Prix-by-Prix, as it were.
You can see in the example above that Lewis Hamilton has been given fractional odds of 1/1 on BetMGM, which translates into American odds of +100, meaning if you wager $100, you win $100… if Hamilton wins the race.
It's also possible to bet on which drivers will finish on the podium (1st – 3rd). But, of course, the odds are reduced slightly when you do this as there is a much higher probability that Hamilton comes in the top three than there is he wins French Grand Prix.
It's also possible to place what's known as an each-way bet, which is where you bet on Hamilton to win but also bet on him to finish on the podium. This way you double your winnings if he comes first but also cover yourself if he's overtaken after a dodgy corner on the final lap and ends up finishing second. Placing an each-way bet is a common F1 betting strategy.
Live betting in Formula 1


Some of the more detailed F1 betting sites, such as Unibet offer F1 live betting, too. This market is self-explanatory really – you're simply betting on the race as it happens.
When betting live on F1 racing, the bettor needs to be quick-witted. It also pays to listen intently to what the commentators are saying: they know their stuff, and to keep an eye on pit stops, which is when the car visits the engineering team mid-race for refuel/ tire change, as this can be pivotal to the final standings.
F1 qualifying betting


It's also possible to wager outrights and live bets on the F1 qualifying rounds, which almost always happen the day before the big race (Saturday).
Qualifying generally consists of three separate sessions, in which drivers try to post their fastest, unchallenged times around the Grand Prix circuit. The fastest time posted after three attempts is then noted and the drivers are placed on the grid for Sunday's big race accordingly. i.e. the fastest qualifying time starts in pole position, and so on.
Watching the qualifiers to see how your man (and his motor) handle the circuit is great practice – we'd implore you to check the qualifiers before you bet on the race (unless you've found yourself some great odds somewhere).
Some of the common F1 lines open for the qualifying rounds are the driver's fastest time, constructor's fastest time, etc. Some of the best F1 betting apps have over/under markets available for this market, too (i.e. will the driver go over/under a certain time) – it's all good fun. Throwing down some dollars on the qualifiers certainly helps add to the excitement, at any rate.
F1 Prop Bets


At the Grand Prix event itself, and besides all the futures and outright, we already covered up page, there are countless other ways to enjoy Formula One betting. Prop bets are a good example.
Prop bets don't tend to require anyone to win the race. Moreover, they are just ways of wagering on possible variables that could happen during the race itself. A concept that lends itself brilliantly to F1 because of the unpredictable nature of the sport.
Below, we've outlined the most common prop bets you're likely to come across when F1 live betting.
Top 6 Finish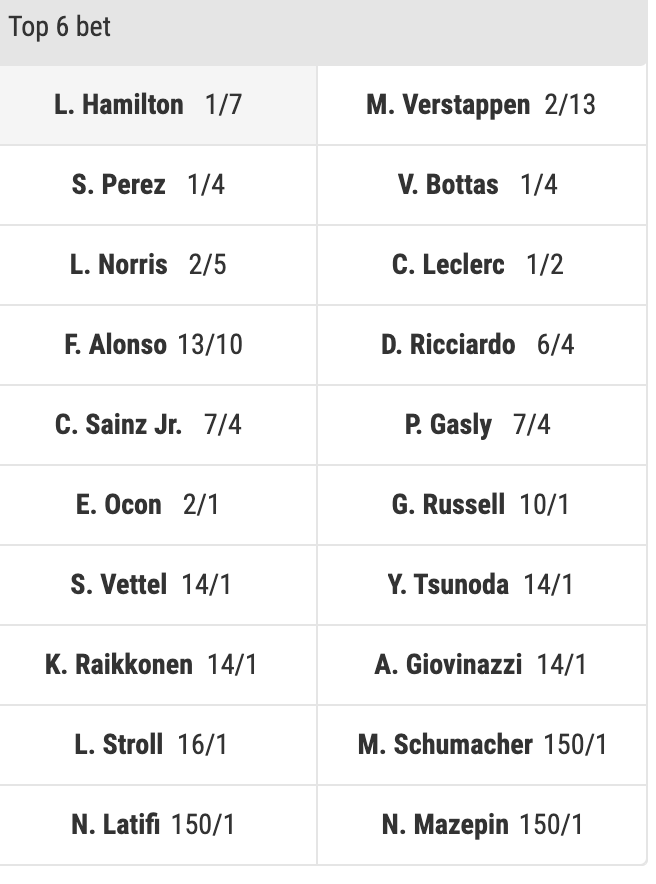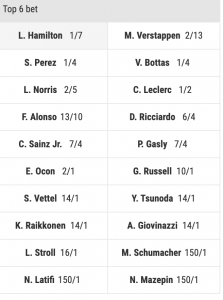 This is a great way to make money betting on the underdogs who aren't expected to rank well at the race. You could throw your money away on Max Verstappen to finish in the top six, with F1 betting odds of about -500. But, ideally, you'd be looking for a plucky underdog to come up big to get any value out of this bet.
Points Finish
At the end of an F1 race, the top 10 drivers are awarded points for their performance, which are then added to their totals in the Drivers Championship. The winner receives 25 points, second-place 18 points, then 15, 12, 10, 8, 6, 4, 2, and 1 going down from 3rd – 10th place.
So, a points finish bet is simply when you wager on whether or not a particular driver will finish up with any points. As with the top 6 finish prop betting market above, F1 odds are against you if you vouch for Lewis Hamilton here. Again, you are better off plugging for value and going for an underdog on his home track, etc.
Fastest Lap
Another simple enough F1 prop betting market: here, you just bet on which driver you believe will post the fastest lap during the Grand Prix. Most of the best F1 betting sites have this line available.
Qualifying Winning Margin
It's possible to bet on the qualifying winning margin, too. The wagering options tend to be restricted to Under 0.15 seconds, between 0.15 seconds – 0.25 seconds, and over 0.25 seconds.
Winning Car
Betting on the winning car is almost like being given an extra life when betting on the winning driver. As mentioned up page, each car manufacturer has two drivers out on the track during the Grand Prix, and either one of them can win – that is unless they happen to be driving for Williams Mercedes this year, apparently.
But you understand, right? Simply wager on the winning car to be a Mercedes Benz, and if either Hamilton or Bottas wins the race, so do you.
Betting on the Safety Car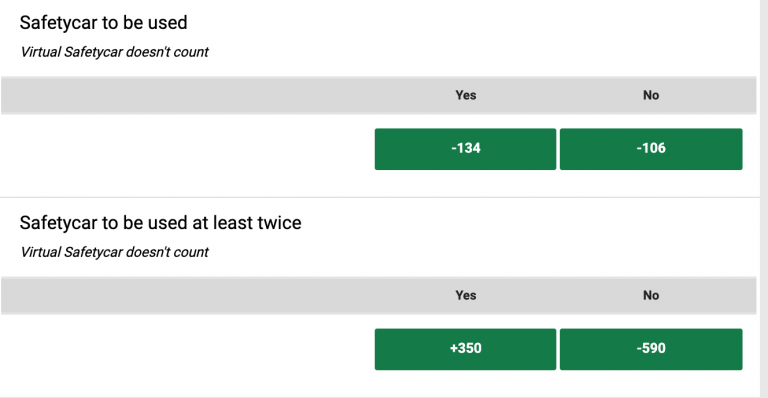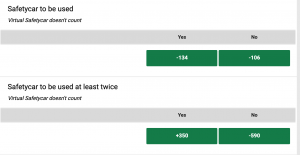 In terms of the spectacle, there are few things crazier to watch on TV than a high-speed crash during an F1 Grand Prix – yikes! When a crash happens, the safety car will come out to slow proceedings whilst the debris is removed from the track.
Most of the best F1 betting apps allow you to wager a simple yes/no on whether or not this will happen. Pro-tip: it happens quite a lot.
Driver Specials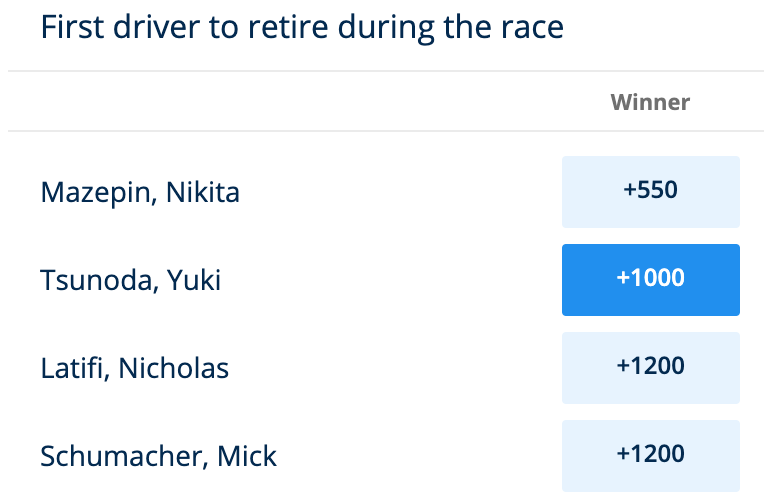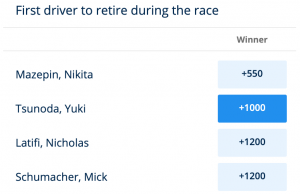 Driver specials tend to be a feature of either outright or live F1 betting, and there is plenty of optionality in this market. Bettors can wager on if a driver will get caught speeding in the pit lane, be the last driver to make a pit stop, or whether or not the driver will retire during the race (see above image). Plus, many others, too.
Number of Classified Drivers
This is an Over/Under option. A classified driver is a driver that is deemed to have finished the race. Of course, a large percentage of drivers who begin the race don't make it due to engine failure, penalties, crashes, et al. So, in essence, you're simply checking the F1 betting odds and wagering an Over/Under bet on the number of finishers in the race.
The rule of thumb here is that it's possible to bet on under 13, 13-14, or Over 14.
First Driver or Constructor to Retire
As seen in the image beneath the Prop Bet heading, it's also possible to bet on the first driver or constructor to retire from the race. The team at Williams is having an absolute nightmare of a season to date, so odds on that manufacturer to crash out first +650 tickles our fancy…
Best F1 Betting Strategies
There are numerous other betting tips that you could utilize as part of your F1 betting strategy on other pages of this site: UFC, tennis, et al. We implore you to read up and to strategies as much as possible, especially if you're hoping to bet on F1 for a living.
Find value: As with any other sport, it's important to look out for the best F1 odds before casting your bet. Why wouldn't you want to win more money if possible? Sift through your sportsbooks until you find Lewis Hamilton at +50 higher than he is anywhere else – then bet on that. Always seek to maximize your winnings.
Understand the track/circuit: Do your research! Some drivers perform better on different tracks; some cars do better on different wheels, or in different conditions – some drivers tend to win on home soil; others tend to blow it on home soil. A winning f1 betting strategy is to always do your research. Plus, you'll just feel better knowing that your F1 bet has a genuine chance of coming in.
It's usually better to wait until after qualifying: The qualifying laps on a Saturday tend to be pivotal to the race action on Sunday. If Charles Leclerc qualifies with the fastest time and starts in pole position on the grid, well, he's not a bad shout to win. If he spins out in qualifying and sets off at Monte Carlo from 12th place on the grid, you are in for a long day. Unless you locate some incredible odds, it's usually better to save your outrights until after qualifying.
Bet on multiple drivers during a race/ try each-way betting:  F1 odds tend to be generous. Consequently, it won't hurt too much to bet on several racers to win, or to lay down an each-way bet on Ferrari's Carlos Sainz to win and also to finish on the podium.
Key Dates For F1 Betting USA
It will be hard work making money if you're hanging out to bet on F1 Las Vegas (an event last held some 40 years ago). Obviously, it's important to know the key Grand Prix dates, so we've listed them for you below.
F1 Grand Prix Schedule (2021)
It will be hard work making money if you're hanging out to bet on F1 Las Vegas (an event last held some 40 years ago). Obviously, it's important to know the key grand Prix dates, so we've listed them for you below.
The schedule changes each year, as do several of the venues. So, we will update again in time for 2022 just in case you are late to the F1 championship betting party.
 Mar-26-28
Bahrain GP

Bahrain International Circuit

Apr 16-18
Emilia Romagna GP

Autodromo Enzo e Dino Ferrari

Apr 30 – May 2
Portuguese GP

Autódromo Internacional Do Algarve

May 7-9
Spanish GP

Circuit de Barcelona-Catalunya

May 20-23
Monaco GP

Circuit de Monaco

Jun 4-6
Socar Azerbaijan GP

Baku City Circuit

Jun 18-20
French GP

Circuit Paul Ricard

Jun 25-27
Austrian GP

Red Bull Ring

Jul 2-4
Austrian GP 2

Red Bull Ring
Jul 16-18
Rolex British GP

Silverstone Circuit

Jul 30 – 1 Aug
Hungarian GP

Hungaroring

Aug 27-29
Belgian GP

Circuit de Spa-Francorchamps

Sep 3-5
Netherlands GP

Circuit Park Zandvoort

Sep 10-12
Italian GP

Autodromo Nazionale Monza

Sep 24-26
Russian GP

Sochi Autodrom

Oct 1-3
Singapore Airlines Singapore G

Marina Bay Street Circuit

Oct 8-10
Japanese GP

Suzuka International Racing Course

Oct 22-24
United States GP

Circuit of the Americas

Oct 29-31
Mexican GP

Autodromo Hermanos Rodriguez

Nov 5-7
Brazilian GP

Autodromo Jose Carlos Pace

Nov 19-21
Australian GP

Melbourne Grand Prix Circuit

Dec 3-5
Saudi Arabian GP

Jeddah Street Circuit

Dec 10-12
Etihad Airways Abu Dhabi GP

Yas Marina Circuit
When are the Odds for the F1 Grand Prix Season Released?
The F1 odds for futures (Drivers & Constructors Championship) for this current 2023 season were originally broadcast early in January by those betting sites that live Formula 1 Las Vegas-style, such as BetMGM and William Hill. i.e. Vegas odds tend to be first to market.
It's always worth checking the early F1 Betting odds in January, as it's during this period that even the very best sportsbooks can get things wildly wrong, and there may be an opportunity for a canny bettor, such as yourself, to find some great value when F1 Championship betting.
Moneyline Betting: F1 Odds Comparison
It's always a good idea to shop around for the best odds before placing F1 bets. This is particularly true with regards to outright and futures markets, as there is a chance to get better value by being quick off the mark. The opposite is, unfortunately, also true with regards to being slow.
As mentioned in the F1 tips section, always try to get the absolute best value for your wager that you can. A few dollars here and there might not seem like much, but it all adds up over the course of the F1 year. And scoping out sportsbooks for those marginally better odds could make all the difference when it comes to assessing your profit/loss margin at the end of the year.
Below, we've compared the 2021 French Grand Prix odds on offer from five of our top ten F1 betting apps
Odds Comparison for 2021 French Grand Prix (Futures Odds as of June 17th)
| | | | | |
| --- | --- | --- | --- | --- |
| Sportsbook | Lewis Hamilton | Max Verstappen | Valterri Bottas | Lando Norris |
| Betway | +105 | +200 | +450 | +2800 |
| BetMGM | +100 | +175 | +600 | +3300 |
| Twinspires | +110 | +175 | +400 | +4000 |
| Unibet | +110 | +175 | +400 | +4000 |
| William Hill | +100 | +175 | +500 | +3300 |
As always, it's important. to note that we've only looked at four of a possible 20 or more drivers and that some of the sites we've not listed do have good odds, too. The table above is just to showcase the importance of opening up accounts on several of the best F1 betting apps and shopping around for the best F1 betting odds.
Case in point, if you were planning to bet on Lando Norris for a shock win at the French Grand Prix, and assuming the brit did win, you'd feel irritated had you wagered $100 on Betway and won $2,800 when you could have won $4,000 with the same bet at Twinspires, or Unibet – incidentally the two sites that came out on top in our comparison.
Always shop around for the best odds – gambling can be a rocky road and to come out on top, it's important to get value from the sportsbook market.
Best F1 Betting Sites – Conclusion
Ultimately, finding the right sportsbook can be a subjective pursuit. Most importantly, the best Formula One betting site or app is the one you feel most comfortable using; one that's licensed and available to use in your state, and, as we mentioned under the 'Best F1 Betting Strategy' heading, more often than not, the best F1 betting sportsbook is just the one that provides the best odds on the morning of the Grand Prix.
That said, we strongly feel the ten sites reviewed up page are the best available on the American market (even the ones with limited optionality still boast great F1 betting odds). So, we implore you to stick to one or two (or even three or four) of them.
That said, at the halfway point of the F1 season, our personal favorite at just might be:
$600 Welcome Bonus
Live, In Play Betting Available for Grand Prix & Qualifying
Deep Market of Prop Bets for F1 Racing
$600 Sign-Up Bonus
9.6
Claim Bonus
FAQs
How to bet on F1?
You can bet on an F1 Grand Prix Race, Qualifying Round, and sometimes even the practice sessions by registering at one of the top ten F1 betting sites listed up page (BetWay, for example). Then, once you've deposited some cash, place a wager on a futures bet for the Drivers Championship, or an outright bet for the winner of a specific Grand Prix circuit.
Can you gamble on F1?
Yes, you can. It's possible to place futures wagers on the winner of both the Drivers and Constructors Championship. You can also bet outrights on the potential winners of upcoming F1 Grand Prix events. F1 live betting is still relatively new, but is also possible on F1 betting sites such as BetWay.
Who is the youngest F1 driver in 2021?
Lando Norris is the youngest driver on the F1 Grand Prix circuit in 2021. The Brit is just 21 years old.
How many races are in F1 season?
In 2021, there are a record 23 races on the F1 calendar.
What is each-way in F1?
An each-way bet is simply when a bettor places down two separate wagers. In F1, this would tend to be on a driver, let's say Lewis Hamilton, to win the race with the first bet. But then a further bet on Hamilton to finish on the podium (top three). By placing an each-way bet, a bettor covers herself incase Hamilton fails to win. But also has a chance to win twice, since coming first is also a podium finish.