With online betting licenses now rolling out around the US, betting on the NFL is becoming ever more popular. In fact, in November 2020, in New Jersey alone, $433.3 million of $931.6m spent gambling was wagered on professional football at the best NFL betting sites.
So, to help the influx of new American bettors stay onside when wagering on their favorite NFL teams online, our team has scoured the internet to find the best sportsbooks available on the US market.
All sites listed are 100% verifiably safe and trusted for football betting. We've also assessed the crucial pros and cons of each site and app to help you make the right selection for your unique style and tastes.
Top Best NFL Betting Sites
(in alphabetical order)
BetMGM features a vast amount of futures options for NFL bettors, including NFL Offensive and Defensive Rookie of the Year. The site also has odds and lines for the 2022 NFL Draft No.1 overall picks (Spencer Rattler +300 and Kayvon Thibodeaux +250) which is very early indeed given the NFL Draft 2021 just happened five weeks ago!
Once the season gets underway, the famed Las Vegas-based sportsbook also features plenty of markets and in-play props for fans to enjoy, too. Some of the more unique options include next turnover, number of sacks, fourth-down conversions, and so on.
BetMGM also offers highly competitive odds.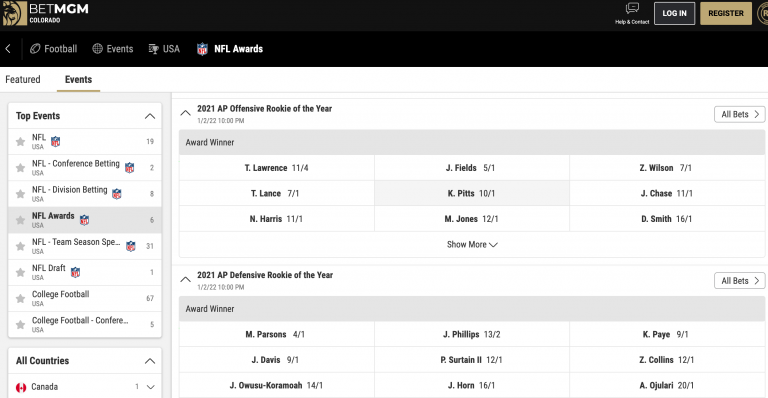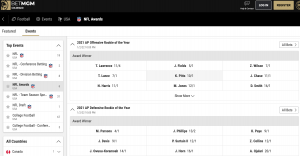 What we like:
Tons of optionality for NFL futures betting, including Super Bowl, Division and Conference winners, plus Player of the Year, Offensive Rookie of the Year, the 2022 NFL Draft and many more.
A deep market of prop bets available (score at the half, single drive, and many more)
The NFL sports betting page also broadcasts up to the minute odds and provides quick access to parlay betting (see above image)
Very competitive onboarding bonus for new users and plenty of free bets provided to patrons over time
Among the best football odds and lines
What we don´t like:
App and online sportsbook not as pretty as one or two of its main competitors
No live streaming of NFL games
Bet Rivers is one of the more football-centric sportsbooks available in the US, providing a multitude of futures and in-play odds to NFL enthusiasts.
The sportsbook is also famed for promotions and bonuses. Bet Rivers gifts Thursday Profit Boosts, odds boost, and enhanced parlay pay-outs to registered users.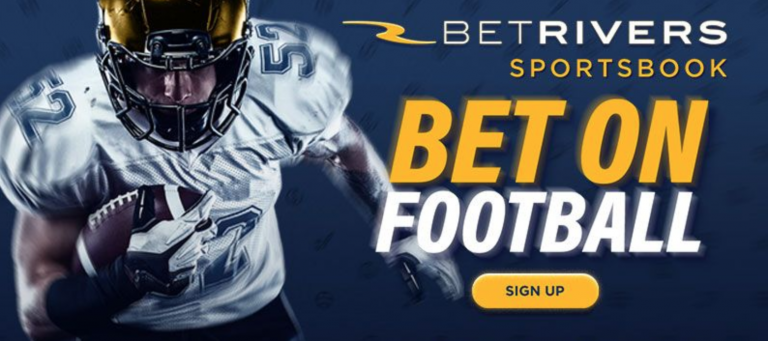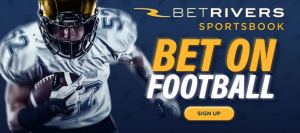 What we like:
Employs a legion of NFL greats as brand ambassadors, including Pittsburgh Steelers Hall of Famer, 'The Bus' Jerome Bettis
Offers an Early Buy-Out option, enabling bettors to cash out before the conclusion of a football game
Some of the best football odds and lines at the market with regards to futures (Super Bowl betting etc.)
The online blog does a great job of explaining betting jargon, such as NFL prop betting, to newbies
High pay-out on the NFL Pick'em feature (up to $500k!)
Impressive onboarding bonuses for new users and numerous promo codes and bonuses for registered users, including the much-vaunted iRush Loyalty Rewards Program.
What we don´t like:
The sportsbook can be tough to access out of state, often requiring a VPN.
Specializing in fantasy sports and football, it will come as little surprise to read that DraftKings offers possibly the most market optionality among all US NFL sportsbooks and is one of the very top live NFL betting sites as a result. Bettors can wager on team futures, player totals, how many yards a rookie quarterback will throw (over/ under), starting quarterback come Wk-1 of the regular season, and much, much more.
There is a multitude of live, in-play options for fans to get their teeth stuck into once the regular season rolls around. Plus, playing fantasy football for real money is a ton of fun!


What we like:
The most optionality available online for both futures and in-play betting – a plethora of ways to bet on football games that are not available elsewhere
Stylish site and app, containing up to the minute, easily accessible news and stats for all NFL games
A multiple parlay betting feature nicknamed Round Robin
Money-back feature for parlay bets
Site and app is easily accessible across the USA
Wagering on Fantasy Football is an incredible amount of (responsible) fun
What we don´t like:
Better odds available elsewhere
Both Fan Duel's site and app are visually outstanding, crammed full of stats and data, and easy to navigate – it's easy to see that online NFL betting is the company's main focus.
FanDuel tops, or comes near to the top of the pile with welcome bonuses for most sports we've covered at safebettingsites.com, and the NFL is no different. The NFL sports betting site offers a free $500 NFL bet to newcomers who deposit funds.
Once the season is up and running, the site features a ton of live in-play NFL betting options, and the fantasy aspect is great fun, too.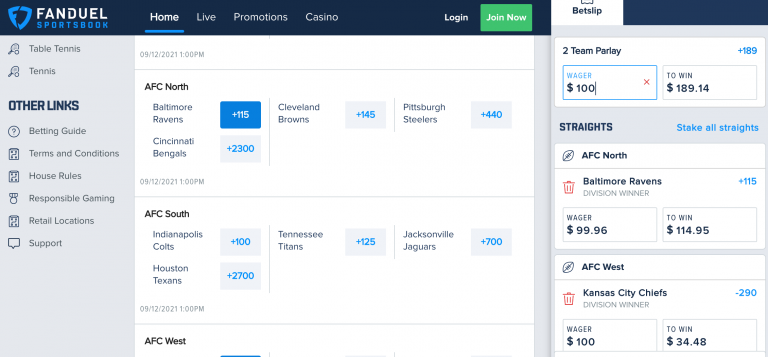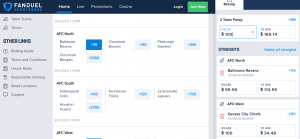 What we like:
Great looking, stylistically modern site and app that's easy to use and navigate
Great Fantasy Football option
A multitude of parlay betting options for NFL fixtures
FanDuel offers some of the best bonuses around: $500 free bet on NFL games for newcomers
An extensive list of futures available: MVP, Defensive Rookie of the Year, Conference winners, et al
Competitive NFL odds and lines
What we don´t like:
No live-streaming of NFL games on the site or app
The site and app aren't anywhere near as welcoming as some of the competition because Golden Nugget looks like a casino. That's not to say, however, that the New Jersey-based Golden Nugget isn't a dark horse when betting on NFL games.
The sportsbook has plenty of unique optionalities and bonuses, including Golden Lines Parlay Boost, and Next Bet On Us (up to a $250 free bet).
Golden Nugget also provides deep markets during the NFL offseason. At the time of writing, it's early June. But unlike the majority of other sites, Golden Nugget already has NFL betting markets up for Over/ Under: betting on total scores, team scores, etc. This is something bettors should take advantage of as plenty can happen between now (summer 2021) and September 9.
For betting on game day futures, Golden Nugget is a very good option.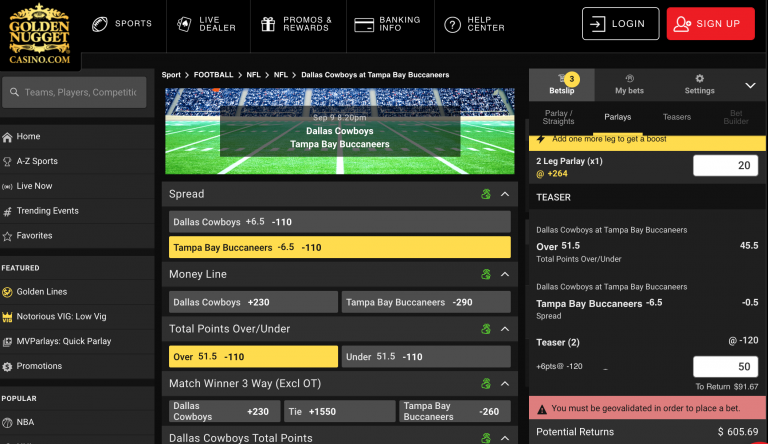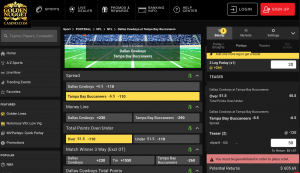 What we like:
Parlay betting boost when betting on football with Golden Lines
A deep market of prop bets for NFL games
Early to market with multiple odds and lines – great for offseason betting
Next Bet On Us bonus feature gifts users a free bet of up to $250
Over/ Under feature on games won in season (Arizona Cardinals to win +8, for example) – a unique feature during the offseason
Competitive NFL odds and lines
What we don´t like:
App and site not as visually enticing and more difficult to navigate than some of its competitors
No live-streaming of NFL games
FOXBET seamlessly links NFL betting with broadcasting and media. The site and app are littered with stats and data, helping bettors make more informed decisions with their money.
The FOXBET sportsbook offers a plethora of sign-up bonuses and special offers to football fans from September right through to February, not to mention an incredibly deep market for futures, gameday, and in-play wagering.
The live-streaming of countless NFL games also helps make FOXBET one of the best football betting sites available on the market.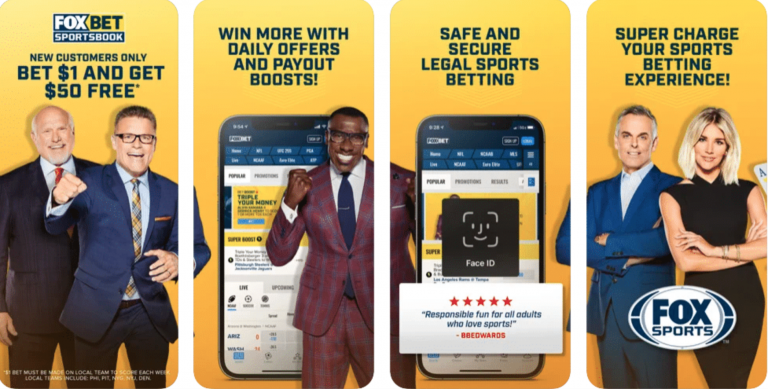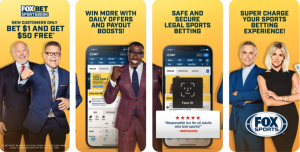 What we like:
One of the world's best-loved and most prestigious sports broadcasters
Superb coverage of everything NFL related via the site, app, and TV channels
Tons of market optionality for football futures, gameday, and in-play betting: player props, game props, spreads, totals, boosts, build a prop, et al.
Offers NFL streaming service via site and app for all games broadcast on FOX
Generous sign-up bonus and a host of promos and odds boosters throughout the calendar year – the 10x your money back Super Bowl (Bucs vs. Chiefs) promo was a particular favorite of ours last season
Super 6 parlay betting can be lucrative
What we don´t like:
Other sites offer better NFL odds
Now in partnership with NBC, it will be Pointsbets odds and adverts fans see when they tune in to cheer on their favored NFL teams. This will give the platform a real edge when it comes to live betting come September 9th – expect tons of optionality.
Pointsbet is also way ahead of the curve on futures betting. All the usual favorites are there (Super Bowl winner etc). But the sportsbook is already allowing bettors to wager on season totals for players, too. There are some great odds (seen below) on Matthew Stafford throwing +26.5 touchdowns, for example.
The partial cash-out option is another top feature. A feature we think should help elevate Pointsbet into the upper echelons of the best NFL betting sites once the 2022 season gets underway in the autumn.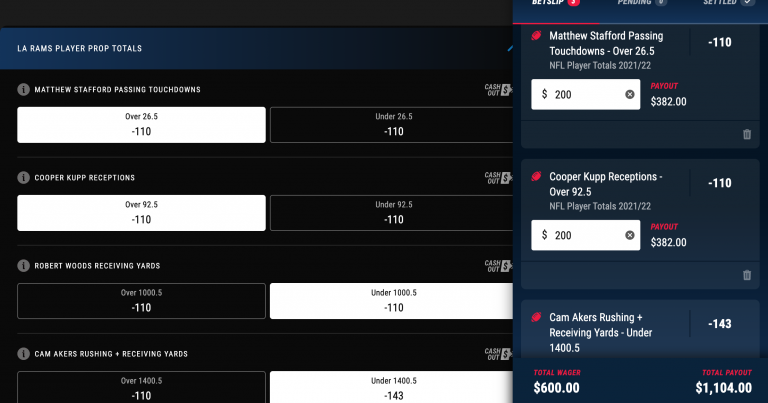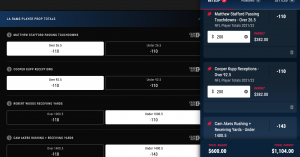 What we like:
One of the best NFL betting sites in terms of market depth; NFL prop betting options are numerous, too.
A deep market for players' futures during the offseason; many more than some rivals (see image above for unique L.A. Rams parley bet)
Offers a partial cash-out option
Some of the best football lines and odds available
Partnership with NFL franchises the Indianapolis Colts and Chicago Bears allow PointsBet to use licensed logos etc
A new partnership with NBC means it's PointsBets odds fans see on-screen during live NFL games broadcast on the channel.
What we don´t like:
Many bettors have reported that their bonuses have vanished after signing up
No news as of yet regarding live streaming of NBC's NFL games via the Pointsbet site or app (watch this space, mind).
Twinspires is famed for being the home of the Kentucky Derby. But the sportsbook does feature all a bettor would expect from a top NFL betting app, too. The football odds and lines are competitive and there are some great, unique betting opportunities for fans to enjoy, including Tim Tebow Specials (see above).
The site contains plenty of variety on the NFL  futures market: all teams have betting options available for a playoff birth and over/ under options for the number of wins. Live, in-play betting is also an option once the season gets underway.
The fact that team and player stats are so easy to dredge up both before and during the season helps bettors make better choices with their money, too.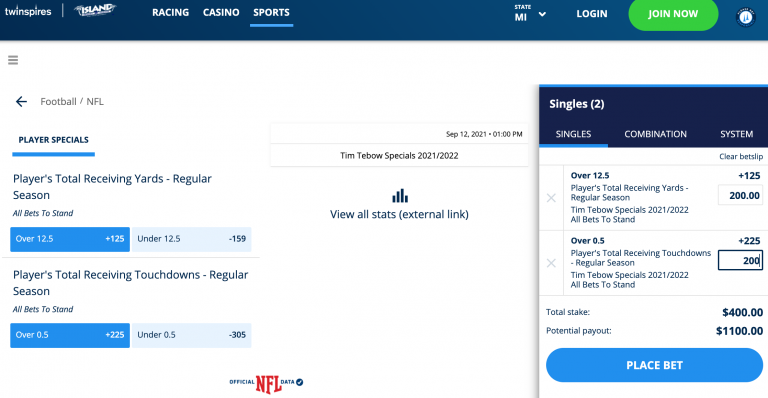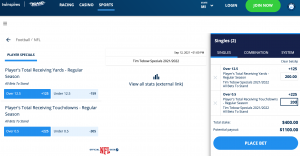 What we like:
Great bonuses and rewards for newcomers: in some areas Twinspires is offering up to a $1,000 free wager to rookie bettors
Variety of betting options available, including parlay betting
A deep market of NFL prop betting options during the season
Fun futures market: we loved the 'Tim Tebow Specials.'
Easy to access stats that help bettors make smarter decisions
Weekly NFL betting guide available to all
What we don´t like:
No live-stremaing of NFL matches
The site and NFL betting app aren't as good-looking stylistically as some of the competition
One of the best sites to visit to enjoy live, in-play betting on the NFL, William Hill offers a ton of optionality to its patrons. The site and app contain over/ under prop bets on passing and receiving yards, the number of touchdowns thrown. Multiple parlay betting options are available on the day of the big game, too.
William Hill is also the official betting partner of sports broadcasting titans ESPN. As such, the odds and lines discussed/showcased on the channel will be identical to those found on the William Hill sportsbook, making it easy for armchair fans to cast bets. Together with ESPN, William Hill is poised to become one of the top football betting sites in America.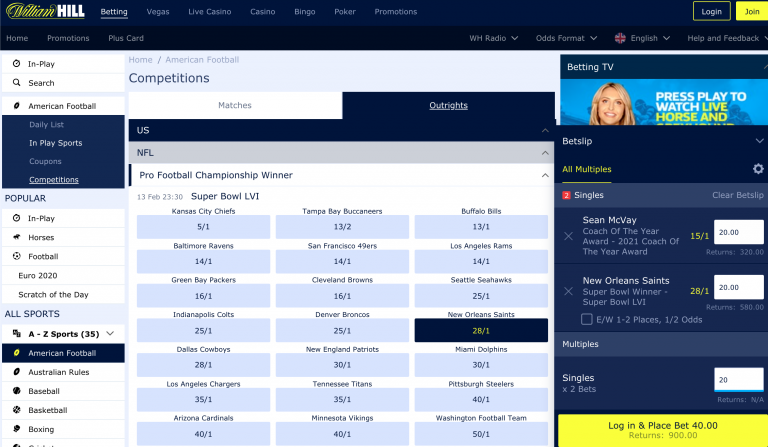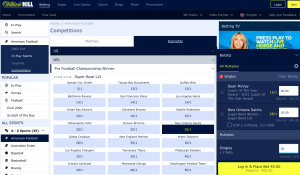 What we like:
Sportsbook offers a deep NFL market and tons of optionality
Both the site and app are easy to use and navigate
Easy to build parlay bets for all sports, including football
Offers plenty of bonuses and rewards to users over the course of an NFL season: $500 free bets, $250 free bets, etc.
Partnership with ESPN make William Hill's odds accessible instantaneously in live betting scenarios
What we don´t like:
No live streaming of NFL games just yet. But watch this space!
Best NFL Betting Tips
By far the most popular bets to wager on the NFL are on game lines and all the best NFL betting sites offer them. Game lines are split into three separate categories: the moneyline, point spread, and total points markets.
Bets on the game lines tend to be made on the morning of, or a day or two before the game gets underway in order to account for any late-to-press injury news – NFL players get injured… a lot! Remember that if you're new to NFL betting – betting on Patrick Mahomes to throw 5 TD passes in Week-7 vs. the Bengals when it's still Week-2 is highly unadvisable!
Moneyline


A moneyline bet is very straightforward: it's when a bettor attempts to predict which teams will win a specific game of football.
The best teams will have worse odds; the underdogs will have better odds.
In the image above, you can see the DraftKings odds for Green Bay Packers vs. New Orleans Saints, which is a game set for Week-1 of the NFL regular season on September 12, 2021.
In the third column along, you'll notice that the bookmakers have the traveling Packers listed as the slight underdogs (surprisingly!) at -112, while the Saints are the favorites at +137. A $100 wager on Green Bay to win would net you $212. A $100 bet on New Orleans to win would win you $173, and so on.
Without a doubt, a speculative wager on the moneyline at one of the best online NFL betting sites is the easiest way to profit when gambling online.
Points spread


The NFL points spread market is another fairly simple concept to grasp. The sportsbook's oddsmakers will issue each of the two competing teams an advantage or disadvantage come game day. The Points spread is just based on how those two teams are expected to do against their opponent.
The favorites are issued a disadvantageous points figure, in that they would need to defeat their opponents by more points. The underdogs are issued with an advantageous figure and need not lose the game by over a particular number of points.
In the image above, you can see the NFL points spread for Baltimore Ravens vs. Las Vegas Raiders. The Ravens made it to the divisional round of the playoffs last year and are the clear favorites for a W here, even on the road.
As such, the Ravens points spread is 4.5 with odds at -108 meaning that if a bettor wagers $100 on Lamar Jackson's team to win, and they do by more than 4.5 points, the payout is $193. If they win by less than 4.5 points, the bettor would lose his/ her original outlay.
The reverse is true for the Raiders, who need to lose by less than 4.5 points, or simply win the game in order for a bettor to make bank.
Total Points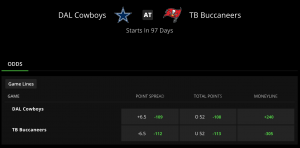 The NFL total points betting market is simple to grasp: the bettor must simply predict whether or not the final score of a specified game will be over or under the total projected by the sportsbook oddsmakers.
The first game of the 2021-22 season will see the defending Super Bowl champions the Tampa Bay Buccaneers take on the Dallas Cowboys at the AT&T in Texas. In the middle column of the above image, you'll notice the Total Points market: Dallas O 52 (-108) and Tampa U 52 (-113).
It's worth mentioning that 52 is the total number of points put on the board by both teams combined.
Up against a great Bucs defense, the Cowboys are the underdogs. So, if Dak and the boys can put the total points above 52 (let's say, Cowboys 25 – 30 Bucs), you win $193 on a $100 bet.
The reverse is true for a bettor wagering on the Bucs, of course. Devin White, Lavonte David, and co. want to keep the combined points down below 52. So a score of Bucs 21 – 10 Dallas (for example) would earn a bettor $189 on a $100 wager.
Other Options for Betting on the NFL
As mentioned, Game Line Bets tend to be made just prior to game-day. But the NFL is a sport of statistics, analytics, and data – that's why it's so great. As such, there are countless other ways to wager a bet on football at the top NFL betting sites.
Betting on NFL Futures


Betting on NFL futures is easy as pie. Essentially the bettor is aiming to predict something that will happen in the future, hence the name.
There are tons of markets for this specific kind of bet. In the example above, courtesy of the excellent Pointsbet, you can see a futures bet for rookie New York Jets QB Zach Wilson to throw less than 22.5 TDs in the 2021-22 season. But there is a multitude of other options available across the best NFL betting sites, including:
Betting on the Super Bowl winner
Betting on the conference winner
Wagering on the winner of the division (AFC North, South, East & West, and the NFC North, South, East & West)
Betting on the Most Valuable Player (MVP)
Offensive Rookie of the Year
Defensive Rookie of the Year
Wagering on whether or not a team makes it to the playoffs
Coach of the Year
Comeback Player of the Year
Betting on which quarterback will throw the most passing yards or touchdowns in a season
Over / Under on team wins and losses (+8 wins or less)
Wagering on the first overall pick at the upcoming 2022 NFL Draft (and many more)
In-Play NFL Prop Bets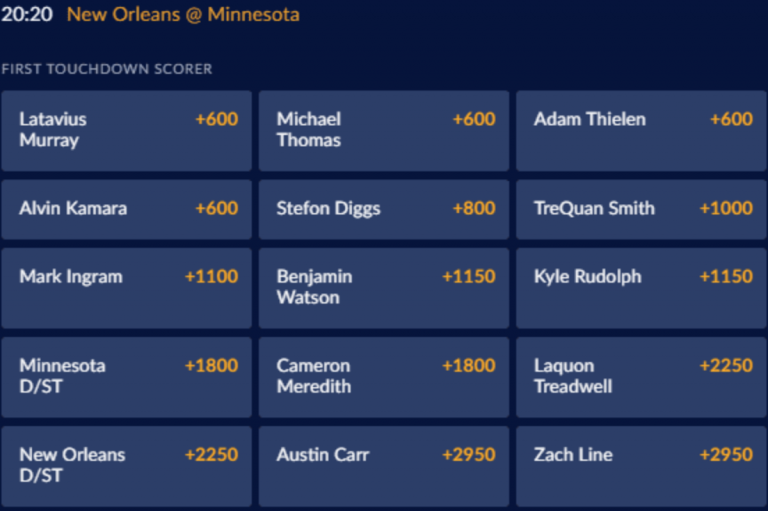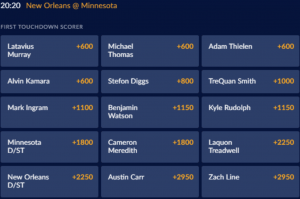 Another much-loved and (potentially) highly profitable sportsbook market is prop betting. NFL prop bets tend not to determine the final outcome of the clashes, instead focusing on a range of different potential variables that may or may not take place during a game of football.
Bettors can make NFL prop bets in tandem with game-day betting or live in-play betting during the game itself.
For example, a bettor might wager on the New Orleans Saints to win on the moneyline. But then parlay that bet with a prop bet in order to get better value on a potential win. As per the image above, let's say – Saints RB Alvin Kamara to score the game's first TD at +600, for example.
There are multitudes of options available for NFL prop bets and you can bet on both the team as a whole or on individual players. We've taken the liberty of listing some of the most common below. But do check your favored online betting websites for NFL games to see exactly what each has on offer nearer the time – things can get quite creative!
Examples of Options Available for Player Prop Bets
Offensive player to score the first touchdown
Number of touchdown passes thrown by quarterback
Number of RB rushing yards (usually +/- 100-yards)
WR receiving yards (usually +/- 100-yards)
Defensive player to hit a sack
Defensive player to intercept a pass
Examples of Options Available for Team Prop Bets
Will the team score on the drive?
Fourth-down conversions
Which team scores first?
Which team scores last?
Will the team that scores first win the game?
Will a safety be scored in the game?
Which team will convert a longer field goal?
Over/under on total field goals made
Spread bets on first downs made
Will there be a kickoff returned for a touchdown?
Will the first turnover be a fumble/interception?
Betting on the NFL Draft

Another fairly unique feature to the world of online NFL betting is wagering on the results of the NFL Draft.
The Draft takes place in late April of each year. But most of the premier NFL betting apps post odds for such markets as the No.1 overall pick before Christmas, and some, such as BetMGM (see above) already have them listed as early as May!
The three men options for wagering on the NFL Draft are as follows:
Betting on the No.1, No.2, No.3 (and so on…) overall picks: Most of the best online NFL betting sites have this market available. Some, such as FanDuel, DraftKings, and others allow for live, in-play NFL Draft betting, too.
Betting on whether or not a player will be drafted higher or lower (over/ under) another player: For example, QB Kellen Mond (No.66) over QB Davis Mills (No.67) was a popular bet at the 2021 NFL Draft, with odds at +155.
Wagering on whether or not a player will be picked over/ under a certain number: whether or not CB Asante Samuel Jr. would be taken before the No. 37.5 pick (odds of -112) was a popular bet of this type at the 2021 event.
Best Promos And Rewards Available at online NFL Betting Sites


It might be true that not many outside of Texas believe the Cowboys are America's team these days. But few would argue that football is America's game.
As such, the sportsbook arms race to lure in prospective bettors is highly competitive and there are countless bonuses, rewards, free bets, and promos being offered by all the best NFL betting sites to lure bettors to their pages.
Such promos come and go over the calendar year, so we urge you to shop around before you commit to signing up to a sportsbook. With that said, however, we've taken the liberty of listing a few of the best valued NFL sign up bonuses (as of June 2023) below:
PointsBet
PointsBet is offering two risk-free bets of up to $2,000 to new users who sign up to the sportsbook (see image above).
FanDuel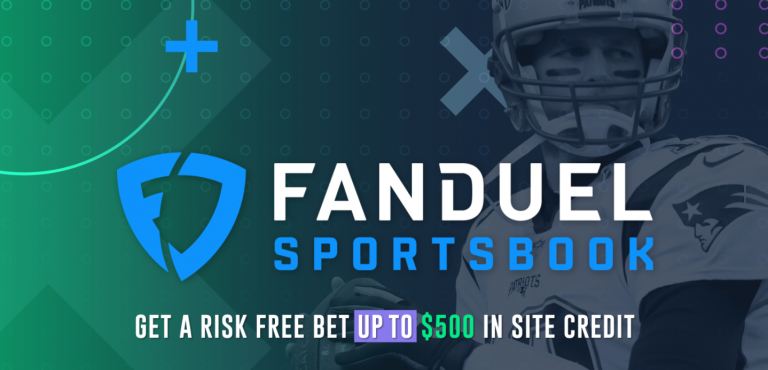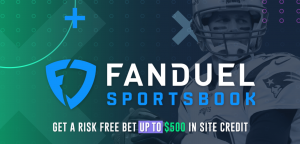 FanDuel offers a risk-free bet of up to $500 in site credit to new users. This offer applies to all sports on the sportsbook, including the NFL.
It's worth noting that FanDuel is also one of the best sites when it comes to bonuses and promotions. The sportsbook tends to offer a plethora of bonus codes and money-back options throughout the season, too. So, little wonder FanDuel is one of America's most famed NFL betting apps.
Most of the promotions and codes will be released during the season, which, at the time of writing, is still three months away. But one such promotion that FanDuel is already touting is seen below – parlay betting insurance.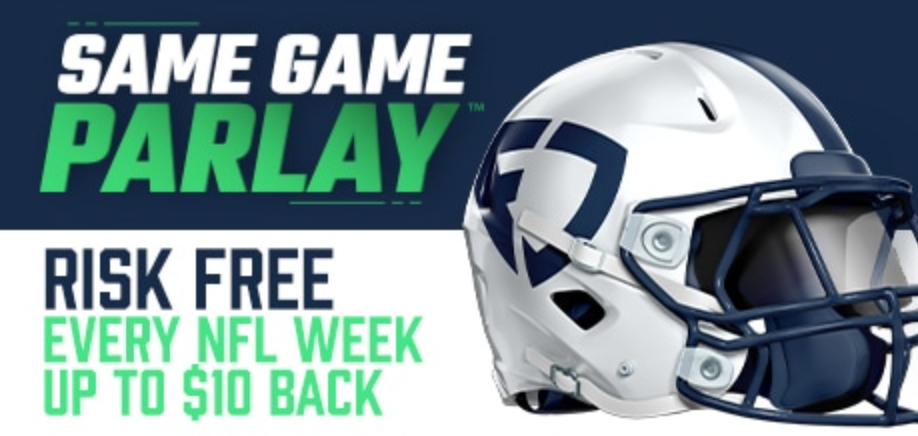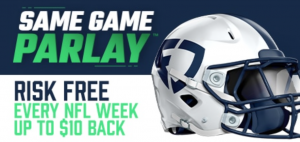 Every sportsbook featured in our Top Ten NFL Betting Sites Reviewed feature offers sign-up bonuses and promos etc. As mentioned, we strongly advise you to shop around them all at the time you wish to sign up and make a deposit.
FanDuel and PointsBet have some of the best bonuses available now. But that could all change by the time the new season gets underway… and during the season, for that matter! Try to keep an eye on the promotions that the best NFL betting sites offer throughout the football year, especially during the playoffs.
NFL Betting Strategy


It's difficult though not impossible to turn betting on the NFL into a living. But, like any profession, practice makes perfect. You aren't born with a knack for it; there is no get rich quick scheme, and it doesn't matter how nice a person you are. Gambling can be a cruel customer.
Below are our top seven tips for making real money wagering on football at the best NFL betting websites.
Try to Find an Edge – It's so easy to fall into the trap of betting on every single football game when NFL betting online. This is an unadvisable practice, however: a bettor is likely to be far more profitable only when he/she believes they have an edge or an upper hand in a situation. Perhaps the bettor knows the quarterback is playing on a dodgy knee up against a brutal pass rush unit; perhaps the bettor knows that a certain team almost never loses at home. Whatever. But avoid betting just for the sake of it, or on a whim – it rarely pays off.
Bet for Value – Imagine that during Week-8 of the 2020 regular season, a bettor saw that the 6-1 Kansas City Chiefs were up against the 0-7 New York Jets. Sure, said bettor could wager $100 on the Chiefs to win. But the profit would only have been about $10 – so it's not really a risk worth taking. Eventually betting on the favorite blows up in your face. Instead, look for value when casting your bet. To go back to the previous point, try to locate your edge. As an example, New Orleans Saints beat the Tampa Bay Buccaneers twice during the regular season in 2020. But Tampa QB Tom Brady rarely loses in the playoffs and the Bucs were racking up points in the midst of a five-game winning streak by the time the two teams squared off in the divisional round. Tampa was the betting underdog at +125 but the Saints have a poor record in the playoffs; Drew Brees wasn't fit and Payton's boys were without Taysom Hill… you get the picture. The Bucs won that game, and a $100 wager on the team to do so would have netted you a return of $225.
Manage Your Money Effectively – This rule comes straight out of the day-trading playbook and it's a simple one – don't bet more than you can afford. The general rule of thumb is to never invest more than 1-10% of your available capital on any specific bet. Doing this allows you to stay in the game longer. The longer a bettor is in the game, the more chance said bettor has of learning the trade, taking advantage of bonuses and promos offered by the sportsbook, and, ultimately, turning a profit. Plus, you'll want to have some capital left to make those Super Bowl bets come February!
Do Your Research – If a bettor opts to visit one of the top NFL betting sites to wager on a sport he/she knows nothing about, things are likely to go array. Let's introduce a real example here. The 12-3 Pittsburgh Steelers faced off against division rivals the 10-5 Cleveland Browns on the final day of the 2020 regular season. The Browns are listed at -125, whereas the Steelers are listed as the underdogs at +100. With those odds, if you didn't know football, you might be tempted to throw down real money on the Steelers since it's rare a 12-3 Roethlisberger loses at home vs. Cleveland. The odds are just too good to pass on, right? No. This would be a mistake. There was a reason for those strange odds – there always is. In this case, the Steelers had already qualified for the playoffs, and every woman and her dog who researched the game would have come to know that's why the Browns were the favorites. Big Ben and co. were due a rest. Mason Rudolph was always likely to start in the pocket that day; plus, the Steelers D was banged up and due a rest, too. It was always going to be the Steelers B vs. Browns A. In short, it pays to know these things – it's hard to win without a firm grasp of how football works and even harder to win with zero research performed. Ultimately, a bettor's job is scientific, in a sense: make predictions based on theory. It doesn't matter which of the NFL betting apps reviewed up the page that you visit, it's hard to make predictions without any knowledge.
Shop around for the Best Lines and Open up Multiple Accounts – Different sportsbooks excel in different areas and some do, by and large, offer up better odds than others. NFL betting websites such as William Hill, PointsBet and FanDuel are usually among the best for football odds and lines, for example. That said, any sportsbook could broadcast the best odds on a specific Sunday morning, so it's always worth checking to see what's on offer at DraftKings or FOXBet on gameday morning, too – you just never know. Most who make a career out of day trading the stocks will tell you that it's better to have a couple of different brokers since different brokers offer better/worse value on different stocks or commodities (for example). Wagering on football is much the same. So open up multiple accounts on the best online betting sites for NFL, and check the moneyline on each before you place a wager. Remember, when NFL betting online, the aim is always to win as much as you can.
Avoid Making Sentimental Bets on Your Own Team – This one is fairly obvious. We appreciate that sometimes it's nice to have money riding on your team of 30 years, and maybe you do have a hunch that this is THE year. But don't get carried away and bet your mortgage on the New Orleans Saints to win the Super Bowl every year – no matter how slick that Sean Payton offense looks. When it comes to the teams we support, it's better to bet in a more robotic fashion and to eliminate such emotions as hope and fear altogether.
Try to Get to the Game – Even the best NFL betting apps and sites experience a slight delay in broadcasting the latest odds. This can range from a few seconds to a few minutes, or, occasionally, even longer. Sitting at the Super Bowl and noticing first hand that 'the Chiefs offensive line looks shaky today,' before the oddsmakers have had a chance to factor it into proceedings, can make all the difference. Especially if betting on the NFL for a living is something you're serious about. NFL betting online is a lot of fun and can be lucrative. But to take your game to the next level, drag your iPad along to the big game with you.
As mentioned, there is no one way by which to make a living betting on the NFL. Our hope is just that by reading and living out the above tips, that you will have a better experience overall at NFL betting sites.
Key Dates For NFL Betting


Great odds are available on NFL gambling sites during both the NFL regular and postseason simply because competition across the league is so fierce.
That said, there's no doubt that the period in which NFL betting apps receive the most traffic is the playoffs. America stops to watch playoff football. And it's a great time to make money by visiting the top NFL betting sites reviewed up page.
The schedule for the 2021-22 NFL season was released in May. For your convenience, we've taken the liberty of adding the dates below. Most football takes place on the Sundays listed. But there are generally games on the Thursday prior and the Monday after, too.
A further point of mention is that the 2021-22 NFL season sees an expansion of regular-season games, from 16 to 17 games. The extra week provides more opportunity and is good news for everyone who enjoys NFL betting online.
NFL Regular Season Schedule
Week
Thursday Night Football
Football on Sunday
Monday Night Football
1
09/09/2021
09/12/2021
09/13/2021
2
09/16/2021
09/19/2021
09/20/2021
3
09/23/2021
09/26/2021
09/27/2021
4
09/30/2021
10/03/2021
10/04/2021
5
10/07/2021
10/10/2021
10/11/2021
6
10/14/2021
10/17/2021
10/18/2021
7
10/21/2021
10/24/2021
10/25/2021
8
10/28/2021
10/31/2021
11/01/2021
9
11/04/2021
11/07/2021
11/08/2021
10
11/11/2021
11/14/2021
11/15/2021
11
11/18/2021
11/21/2021
11/22/2021
12
11/25/2021
11/28/2021
11/29/2021
13
12/02/2021
12/05/2021
12/06/2021
14
12/09/2021
11/12/2021
12/13/2021
15
12/16/2021
12/19/2021
12/20/2021
16
12/23/2021
2 games on Xmas Day 12/25/2021 (Saturday)

12/26/2021 (Sunday)

12/27/2021
17
No games scheduled
01/02/2022
01/03/2022
18
No games scheduled
01/09/2021
No games scheduled
How Does the NFL Postseason Work?


Because the most exciting part of the NFL season is the playoffs, this tends to be when the best NFL betting sites provide deeper markets and extra optionality on prop bets.
In case you are new to NFL betting online, the postseason rounds are listed below
Wildcard Round: this is the first round of playoff competition. The conferences winners go through to the wildcard round. So too do the six best runners up. The No.1 ranked team in the NFC and the No.1 ranked team in the AFC sit this one out as a reward for being the best teams in their respective conferences. Last year's Super Bowl winners the Tampa Bay Buccaneers (2nd in NFC South) began their playoff journey by defeating Washington in the wildcard round.
Divisional Round: the outcome of the Wild Card games determines the Divisional round games. The lowest-seeded team in each conference travels to the highest-seeded team. The second-lowest seeded team travels to the second-highest remaining seed. The Buccaneers defeated division rivals the New Orleans Saints in the divisional round last season to move onto…
The Conference Championship: The two best teams in the AFC face off for the honor of being named conference champions. The same thing happens in the NFC where, last season, Brady's Bucs defeated Aaron Rodgers and the Green Bay Packers to move on to the NFL's flagship event – the Super Bowl.
The Super Bowl: This is, of course, the biggest night in the football calendar. The best team in the AFC squares off against the best team in the NFC for the honor of hoisting the Lombardi trophy.
NFL Postseason Schedule
| | |
| --- | --- |
| Round | Dates |
| Wildcard Round | 01/15/2022 & 01/16/2022 |
| Divisional Round | 01/22/2022 & 01/23/2022 |
| Conference Championship | 01/30/2022 |
| Super Bowl | 02/13/2022 |
NFL Betting Odds for Upcoming Super Bowl
Just to demonstrate the importance of shopping around for the best NFL lines and odds, we've assessed the outright Super Bowl odds given to four random NFL teams by five of the aforementioned best online NFL betting apps.
It's important to state that these odds are subject to change and that just because sportsbook X has better odds for team X, that doesn't dictate the same will be true for team Y and so on. We implore bettors to always shop around all NFL gambling sites for the best odds – we can't stress this enough.
(table)
| | | | | |
| --- | --- | --- | --- | --- |
| Sportsbook | New Orleans Super Bowl Odds | Kansas City Chiefs Super Bowl Odds | Jacksonville Jaguars Super Bowl Odds | Tampa Bay Buccaneers Super Bowl Odds |
| Golden Nugget | +2,500 | +500 | +10,000 | +700 |
| DraftKings | +2,800 | +500 | +8,000 | +650 |
| FanDuel | +2,700 | +500 | +10,000 | +650 |
| PointsBet | +2,800 | +475 | +8,000 | +650 |
| Twinspires | +2,800 | +500 | +8,000 | +650 |
(/table)
Golden Nugget and Fan Duel currently boast the best NFL lines and odds for outright Super Bowl betting. But, again, the 2021-22 NFL season hasn't even gotten underway yet – all this can (and likely will) change dramatically as the 18 weeks of action tick, beginning September 9.
Best NFL Betting Sites USA – Conclusion
There isn't one standout best NFL betting site per se. After hours spent researching the best NFL betting apps and sites, however, what we can tell you is that each of the ten sites featured up page is 100% safe, 100% legally allowed to operate in their specific states, and each is a very good option.
Ultimately, it just comes down to what you, the bettor, are looking for and, of course, which sportsbook is licensed to operate in your state.
If you want the very best odds, Golden Nugget, William Hill, and Fan Duel are ahead of the pack at present (but that could change).
If you want an awesome app that runs fantasy football comps for real money, DraftKings and FanDuel are way out in front. FOXBet offers the best NFL live-streaming service… and so on.
Pick the sportsbook and app that suits you and your gambling needs. But, again, we implore our readers not to stray too far offside – stick to any one of the aforementioned safe NFL betting sites or their respective NFL betting apps and you will be absolutely fine.
FAQs
What is the best site to bet on football?
The best online betting sites for NFL can vary depending on the odds and lines available for a specific game. Of course, you will want to visit one of the safe NFL betting sites mentioned up page. After that, DraftKings and FanDuel are ahead of the competition for useability and fun, and PointsBet and William Hill are great for odds, lines, and NFL prop bets. Ultimately, however, it depends on what the bettor is looking for from a sportsbook, which is why we encourage you to read through the entire article above.
Which is the most trusted NFL betting site?
All ten of the sites listed up page are 100% verified and trusted. Many of the sites listed are in partnership with America's most prestigious sports broadcasters, too: ESPN and William Hill, for example. Put simply, you can't go wrong with any of these ten sites - we stake our good name on it.
Can I bet on NFL games online legally?
Yes, you can. NFL betting apps and sites are legal to use in the specific states they are licensed to operate in. Not every state has licensed sportsbook gambling - Alaska, for example, has not legalized the practice. Then, there are some sportsbooks that are licensed in one state but another - FOXBET is legal in New Jersey but not legal in Iowa, for example. DraftKings is legal in both states. It's up to you to do your homework on which sportsbooks have been deemed legal in your state before you place your bet.
What should I look for in NFL betting sites?
First and foremost, make sure the sportsbook is legal in your state. Second, check the value on the odds and lines vs. some of the competition to ensure you are being offered a fair bet. Third, if you're interested in prop bets (number of touchdown passes thrown, for example), make sure the sportsbook has this market. Fourth, check to see what sign-up bonuses are on offer. Finally, pick the sportsbook you like the look and feel of, too; perhaps one associated with your favored broadcaster to give you quick access to updated odds and lines.