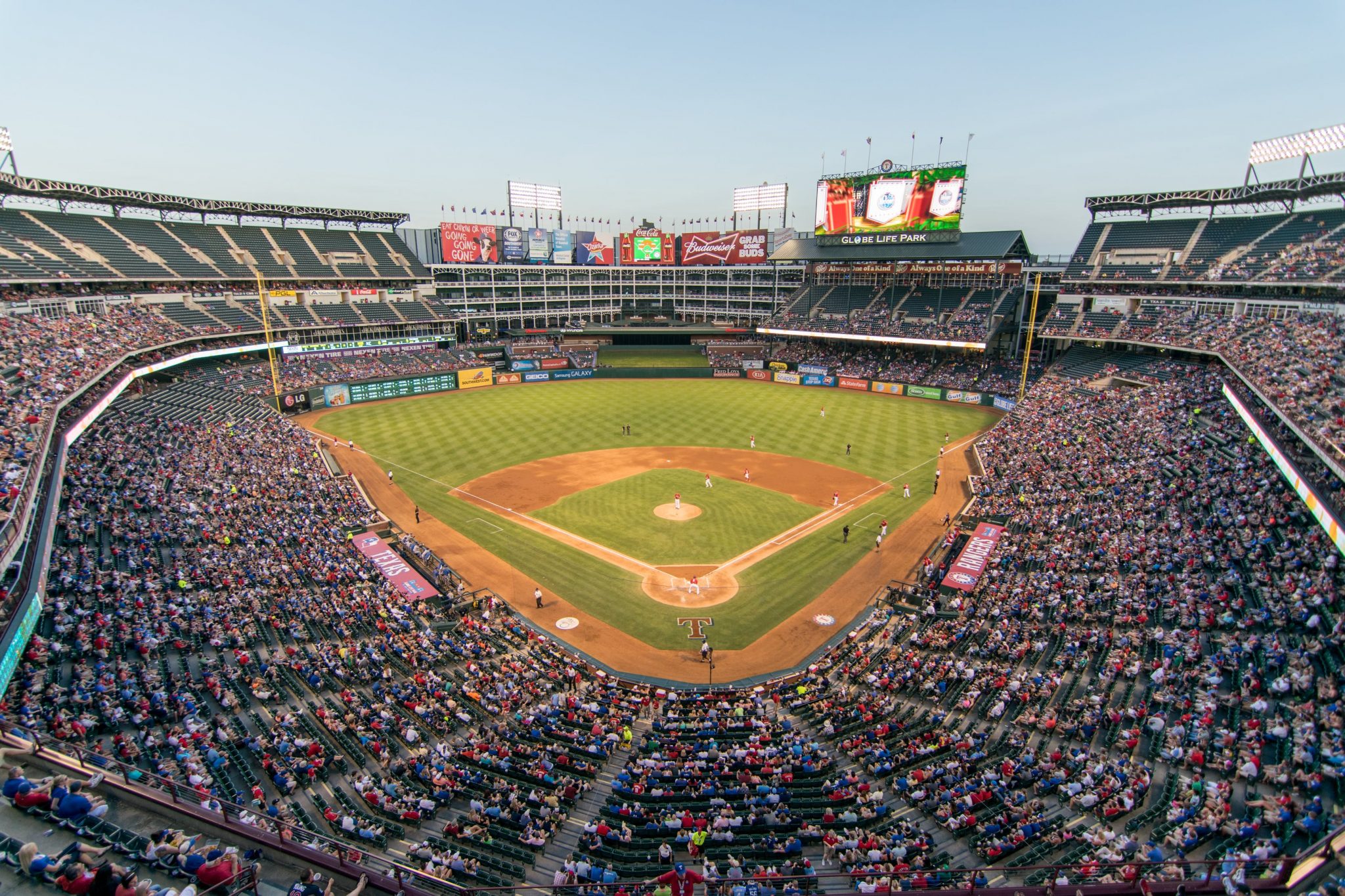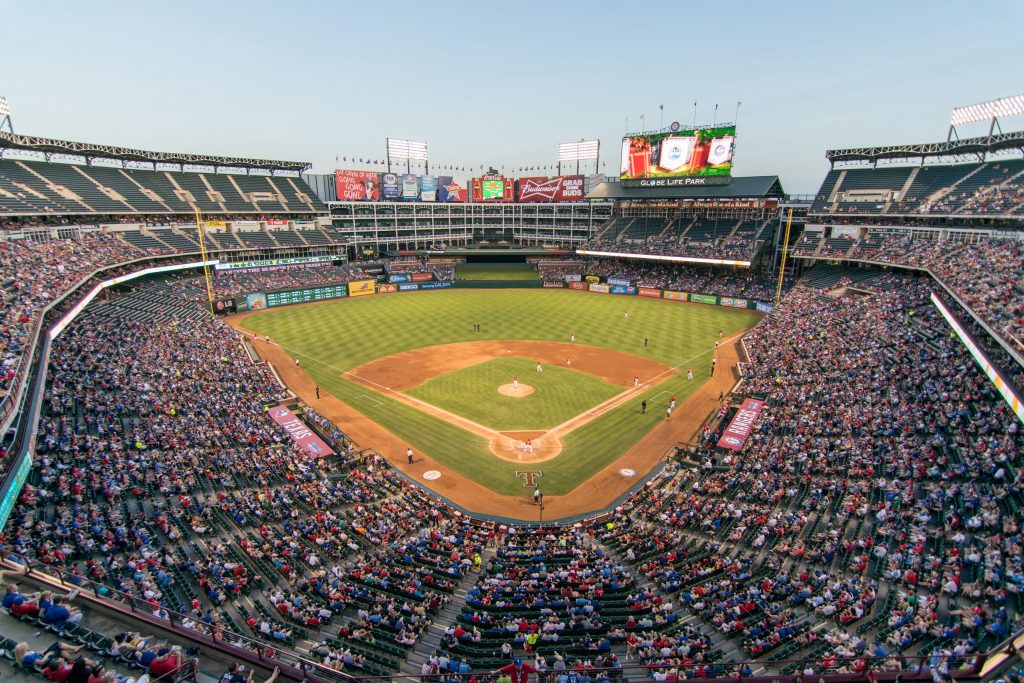 Baseball betting has moved into the mainstream in the United States now that sports gaming is legal on the federal level. States have been taking advantage of the opportunity to create new revenue streams, and this has attracted a lot of people that are new to betting baseball online.
There are moneymaking opportunities on the table every day, and it all starts with the MLB baseball betting app that you use. Like anything else, all sports betting sites are not created equal, and the quality will vary on a site-by-site basis.
A newbie is simply not going to know what to look for in a baseball betting site, but you have already taken the right first step. Our team has closely examined all the contenders, and we have identified the MLB betting apps that provide the most favorable environment.
The Best Major League Baseball Betting Sites
FanDuel
The first app that made the cut is FanDuel, and this is one of the most well-known names in the industry. Before sports betting was legalized, people all around the country became very familiar with FanDuel as one of the two major daily fantasy sports operators.
They had a well-developed organization before they expanded into the online sports betting realm, and it shows when you visit their site.
It is very well-designed, and you can head over to the fantasy side if you are into DFS, so they provide a convenient destination for one-stop speculation.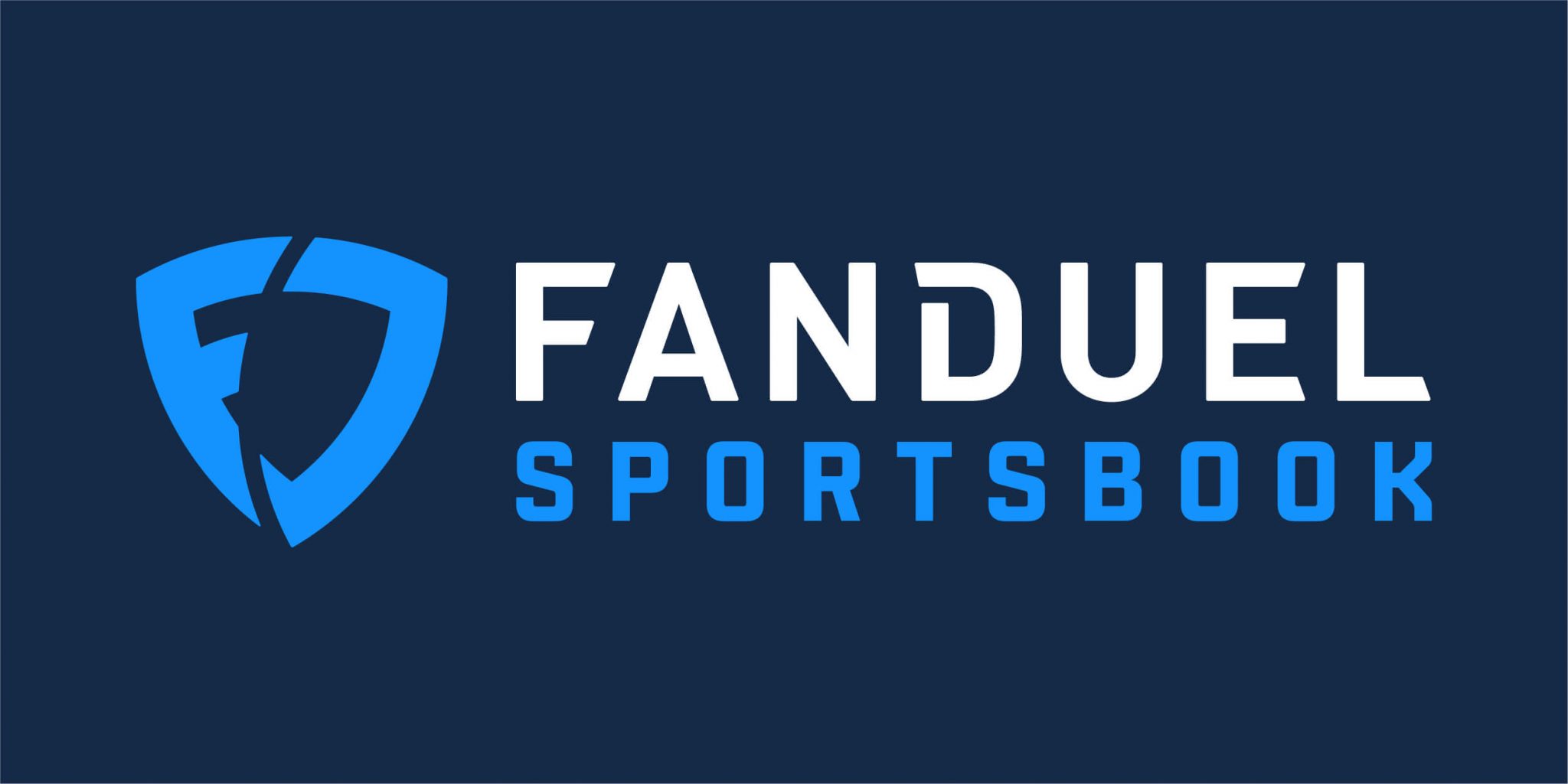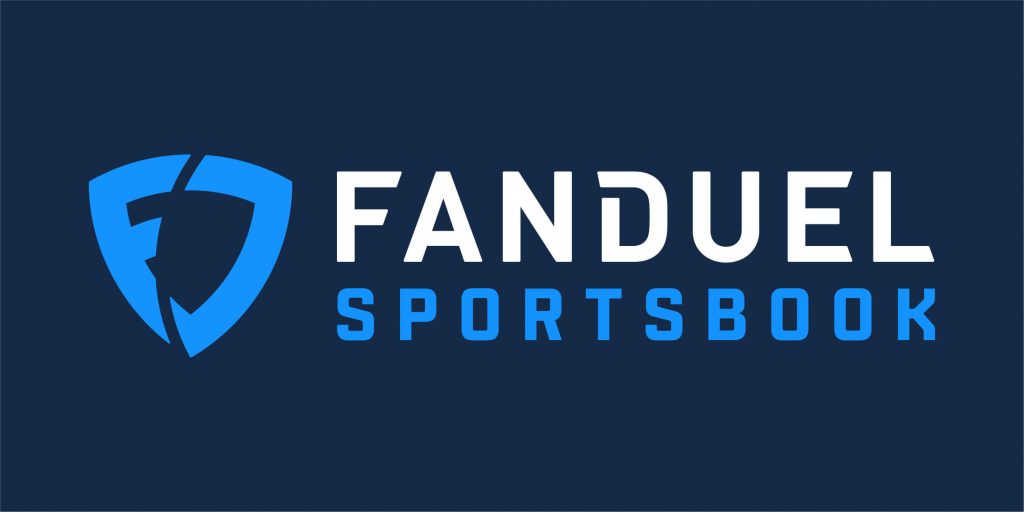 These are the features about the FanDuel MLB betting site that impressed our research team:
Many deposit options
Generous bonuses and promotions
Straightforward, intuitive betting board
Robust proposition bet menu
Point and click bet slip functionality
Same game parlays
Solid customer support

DraftKings
There has always been a two-headed beast at the top of the daily fantasy game, and the dominance has extended to traditional sports gambling. The DraftKings major league baseball betting app stands shoulder-to-shoulder with FanDuel.
When you are wagering your hard earned money at a virtual location, you are naturally going to have some reservations. It is reassuring to know that the site you are dealing with is completely legitimate, and DraftKings is a publicly traded company that stands on very firm footing.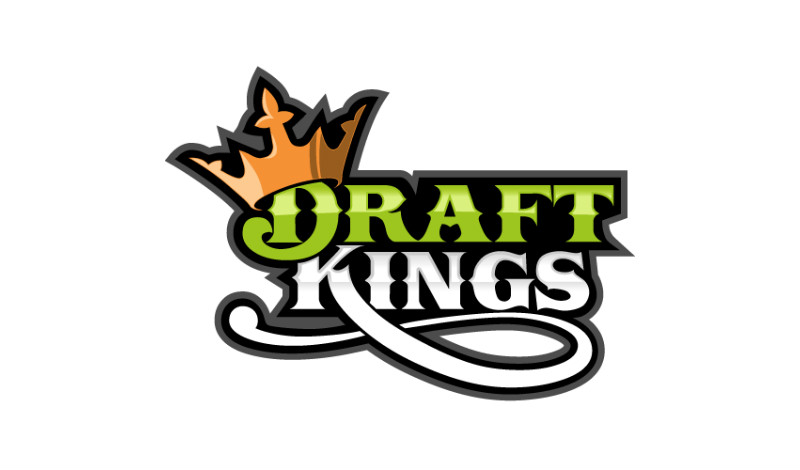 Here are some of the things that our people like about DraftKings:
Wide array of betting markets
Alternate odds with intriguing payouts
Hedging opportunities
News feature with timely insight and picks
Social interaction function
Top notch website design
No-hassle withdrawals

Unibet
Unibet is not a household name in the United States, but the company is highly regarded abroad. It was originally established in London in 1997, and they had presences in over 100 countries less than 10 years later.
Clearly, they are going to be around to pay you when it's time to collect, and they are fully licensed in the United States. They sponsor a number of major sports teams around the world, so they are firmly embedded in the firmament of the global sporting community.

These features got the attention of our team:
Impressive welcome bonus
Killer MLB mobile betting app
No-nonsense interface
Odds boost specials
Fast withdrawal transfer times
Readily available support

PointsBet
The first three baseball betting sites that made this list have been on the map for quite a while, but PointsBet is an upstart that is coming from a different direction. They have been operating legally in the United States since 2019, they have rapidly established a rock solid reputation.
There have been some revelations (like in-game betting), but for the most part, the core betting markets are the same as they were when your grandfather was placing wagers with his bookie.
PointsBet does not tolerate that same old, same old approach. They have adopted a disruptive philosophy, and they offer a truly unique product.
They specialize in PointsBetting, which can be described as a holistic interpretation of dominance. You don't win or lose based on the outcome against the point spread. Your profit or loss is based on exactly how right or wrong you were.

So a crushing win well above the point spread will be reflected in your return, and this works in the other direction when you are wrong.
PointsBet pros:
Innovative betting options
Lightning fast loading times
Next-generation mobile MLB betting app
In-depth tutorials with betting insight
Unrivaled quantity of baseball betting markets

BetMGM
MGM Resorts International is an iconic name in the gambling industry, and they operate some of the most prestigious properties on the Las Vegas strip. There are MGM casinos in a number of other states, and they have several casino resorts in China.
They joined forces with Entain Holdings to create BetMGM in 2018, and they have been expanding since then. They are known for luxury experiences, and you get the same feeling when you log into their MLB betting app.

Top BetMGM features:
Stunning high-definition graphics
Rapid loading
Numerous betting markets
Turnkey layout
Enticing promotions
Intuitive parlay generator

SugarHouse NJ
Another baseball betting site that should be on your radar is SugarHouse NJ. This app gets your attention right away with its aesthetically pleasing platform. There is a lot of information on the baseball betting page, but it is perfectly arranged.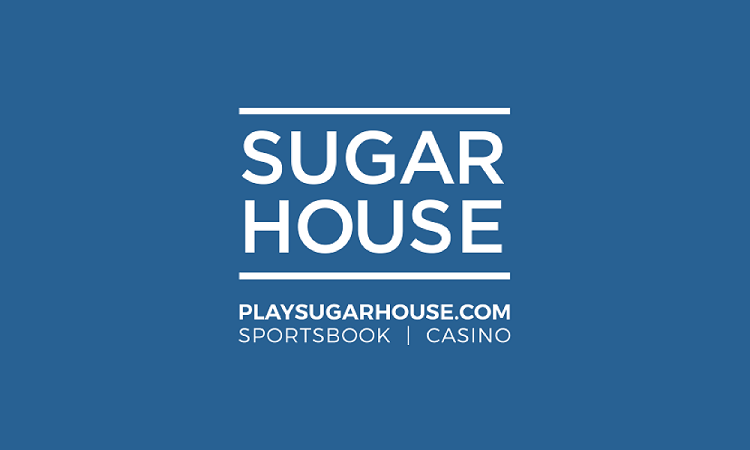 There are tabs on the main MLB home page for live, upcoming, and future wagers, which is a very cool feature. They also have links to relevant statistics and tips about each matchup, so there is a lot to like about this site:
Handicapping information at your fingertips
Neatly organized betting boards
Comprehensive markets
Profit boost bonuses
Useful FAQs and real time chat support

Hard Rock Online Sportsbook
When you mix rock 'n' roll with gambling, you come up with the Hard Rock Hotel & Casino concept, and the company is now jamming on the Internet with their sportsbook. They keep it simple, but the slimmed-down approach can be suitable for some players.
You can rest assured that they honor their commitments to their players, and they provide a quality product, so the Hard Rock MLB betting site has made our list.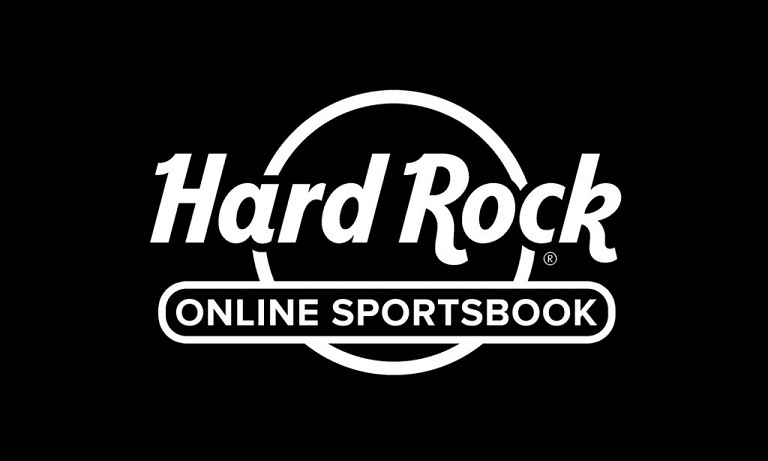 Standout features:
Favorable deposit and withdrawal policies
100% match sign-up bonus
"Starting soon" shortcut to prevent shut outs
Room comp betting rewards

How to Bet on Major League Baseball
Now that you know where you can bet on MLB baseball, you have to understand how to do it. There is somewhat of a learning curve if you have no experience, but at the end of the day, it's not rocket science.
How Does Major League Baseball Betting Work?
We are going to delve into more detail as we go along, but generally speaking, baseball betting is based on odds that reflect the win probability for the respective opponents. In most major sports in the United States, the same starters take the field every game, but baseball is different.
Starting pitchers rotate with four days of rest between starts in most cases, and the pitching matchup will have everything to do with the odds that are set for the game.
Even if the hitters for a particular team are superior to the lineup that their opponents are fielding, a better pitcher will even the playing field.
Let's look at the different types of bets that can be made so you can hit the ground running when you sign up at these baseball betting sites.
Futures Wagers
There are very few people that make a living betting on sports. It is a form of entertainment, and it is wise to approach it in this light. When you get a lot of action for your buck, the value equation will give you a better chance of success, and this what you get with futures wagering.
The sportsbook will post odds on each team to win their division, their league, and the World Series. If you can pick an underdog that defies the prognosticators, the payout can be considerable.
In addition to futures that focus on team accomplishments, you may also see futures wagers on individual award winners at some of the baseball betting sites.
Money Line Bets
There are no point spreads per se in baseball, so money line betting is the standard. The sportsbooks will evaluate a matchup and set the money line based on the perceived win probability. As we have stated, the pitching matchup will be the key factor.
This is an example of a money line that you may see on the betting board at an online sportsbook:
| | |
| --- | --- |
| Oakland Athletics (J. Smith) | +133 |
| Texas Rangers (J. Jones) | -167 |
This explanation will be based on a $100 base bet, but the ratio could be applied to any increment. On these betting boards, the home team is going to be on the bottom, and the visitor will be listed above the home team.
It's pretty obvious that the names in parentheses are the starting pitchers. The Athletics are the underdog, and the Texas Rangers are the favorite.
If you bet $100 on the Oakland nine, you would win $133 if they defeat the Rangers, so a total of $233 would be returned to you. In order to win $100 on the Rangers, you would have to bet $167, and this premium is the price that you pay for the team that is more likely to win the game.
An obvious question would be why the numbers are not equal with one being a plus and the other being a minus. The difference is called the "vigorish" in betting parlance.
This is the commission that the house gets for taking the bets. If they take equal action on both sides, they will keep the difference that is created by the uneven payout ratio.
Run Line
There is no point spread in baseball, but there is a cousin in the form of the run line. Take a look at this example:
| | |
| --- | --- |
| New York Mets (B. Johnson) | +1.5 -109 |
| Philadelphia Phillies (R. Richardson) | -1.5  -126 |
The Mets are getting an extra 1.5 runs, so if they lose the game outright by exactly one run, a run line bet on the Mets would be a winner. On the other side of the grid, if you take the Phillies on the run line, you lose unless they win the game by at least two runs.
Totals
The sportsbooks will post an estimate of the total number of runs that will be scored in a given game, and you can place a bet on the over or the under. Once again, there is a money line attached to each option, and it fluctuates along with the ebb and flow of the bets that are placed.
We will dive a bit deeper into the causes of and the reactions to the fluctuation in the Baseball Betting Lines section.
Props
This term is a shortened form of the word "proposition," and baseball prop betting online is a lot of fun. Many of the online sportsbooks offer a seemingly endless array of different proposition bets.
A prop is a wager on a specific outcome within a game. There are player performance propositions, so for example, you may be able to bet on whether or not a particular player will hit a homerun.
There are also game props, and they can be as random as the question of whether one of the teams will score a run in a particular inning. The best way to explore all the proposition bets that you can make is to sign up on the MLB betting sites and do some exploring.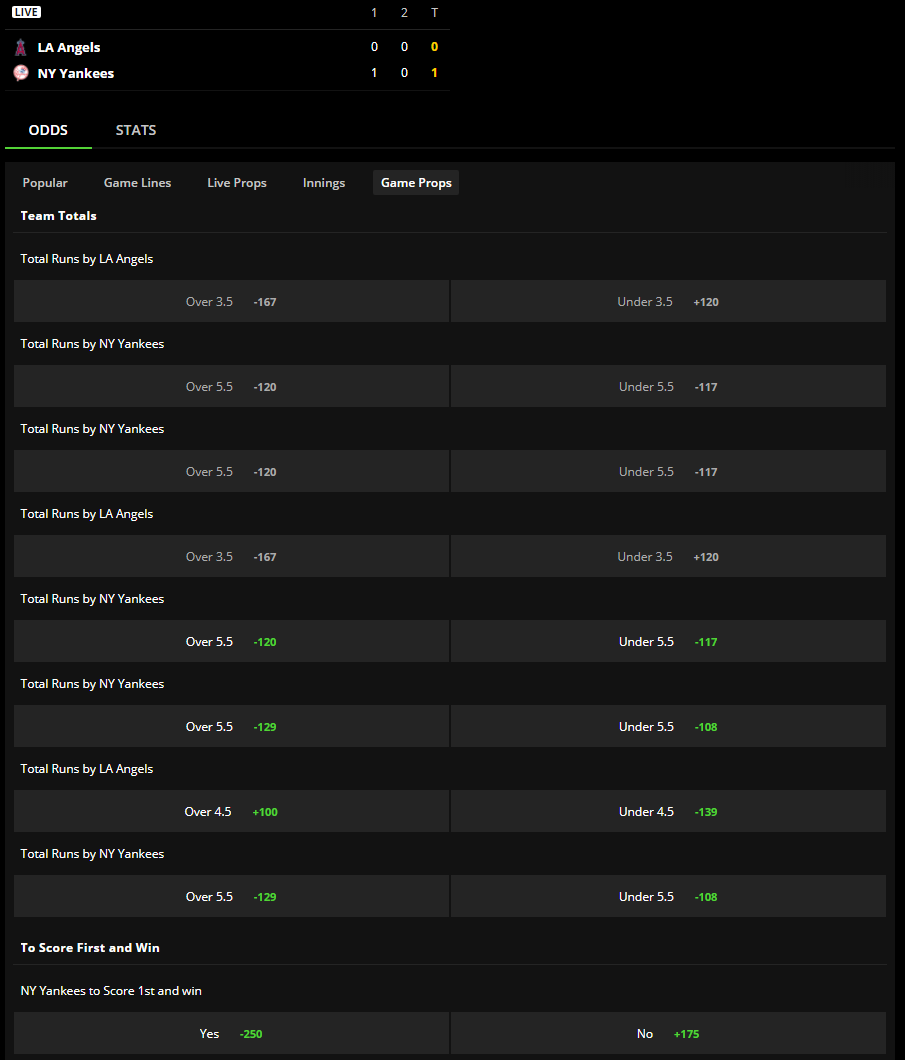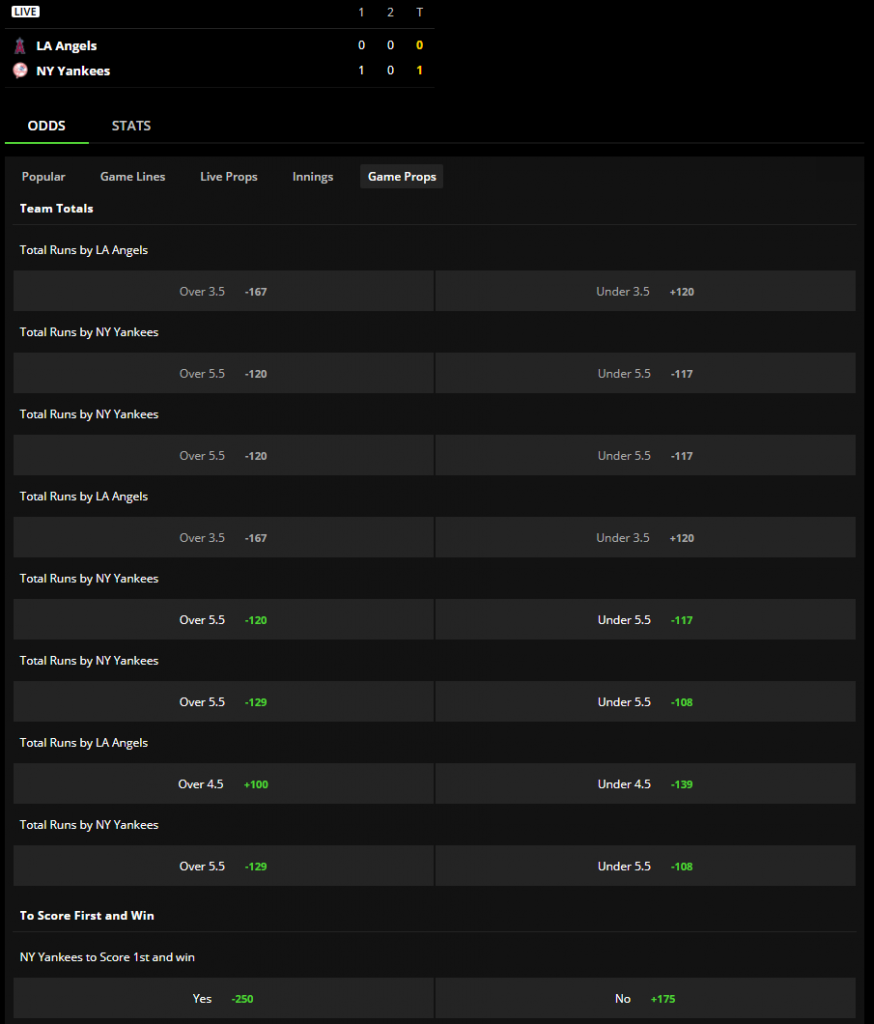 Proposition bets are fantastic for entertainment purposes. Let's say that you are excited about watching a certain baseball game after work. You think that it will be a pitcher's duel and you place a totals bet on the under.
As it turns out, you were completely wrong, and the two teams combine to score 10 runs in the first two innings. You would be out of action…but you would still be on the edge of your seat if you placed a couple proposition bets that are still in play.
Parlay Bets
A parlay is a wager that has two or more betting interests tied together. You can bet multiple teams on the money line or the run line, and you can parlay totals bets. It is also possible to combine different types of bets on the same parlay, including propositions at some sites.
PointsBet, FanDuel, and BetMGM are all offering single-game parlays. These bets are alternately referred to as one-game parlays or same-game parlays.
Traditionally, online sportsbooks do not take single-game parlays because they would be inherently exposed to losses in some cases. For example, if you wager on the over in a baseball game, there is a good chance that some home runs will be hit if the bet is a winner.
A sportsbook may not take bets on homerun propositions and totals in the same game, because they don't want to be at a disadvantage. The sites that take single-game parlays allow you to make these correlated wagers.
Many people like to bet parlays because you can potentially get a large payout for a small initial investment since you are letting your winnings ride. On the other hand, sportsbooks love to take these wagers because the odds are heavily stacked against the player.
It's hard enough to pick one winner, but when you need to be correct on two or more outcomes, the house maintains a sizable advantage. This being stated, baseball parlay betting makes more sense than parlays on other sports.
Why is this the case? It's all about the pitching matchups. You can take teams that are very likely to win outright based on the past performances of the pitchers, and you have a reasonable chance of success.
In-Game Wagering
In addition to proposition bets that will keep you in action if your original bet fails, there is another option that has become very popular. In-game wagering gives you the ability to make bets at any time while the game is underway.
The odds are constantly adjusted to reflect the circumstances that are in place at any given moment. Let's say a couple of men get on base to start an inning. At that juncture, the total will go up.
A favorite can become an underdog on the in-game betting board if they fall behind, so there are many possibilities.
This option will give you a chance to get some action after a game has already started if you missed the beginning. Plus, you can use in-game wagers to hedge your bets, and this is another concept that we will explain in more detail.
Major League Baseball Betting Lines
The most important thing to understand about sportsbooks and baseball betting lines is the fact that you are not betting against the bookmaker. They do not like to gamble; they are all about sure things, and this is why the gambling industry is so profitable.
We have already introduced you to the concept of vigorish. Sportsbooks want to take in an equal amount of money wagered on each respective outcome, but how do they accomplish this objective?
They do this with the betting lines. The bookmakers endeavor to make both sides of the offer equally enticing. They will change the line if more people are betting on one side to make the other side more attractive.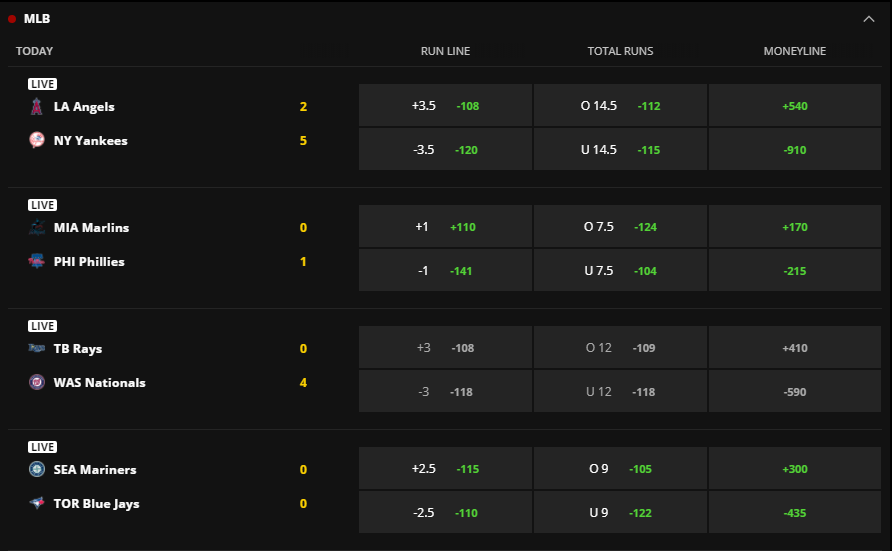 Traditionally, numerical power rankings are maintained based on performance records, and they are compared when two teams are going to play one another. The difference will represent the opening line. An allowance is added to account for the home or away factor.
Computer algorithms have changed the way that the power rankings are established, but they have always been remarkably accurate. You may think that it is all about current mathematic probabilities, and this is true, but there are hidden statistical realities.
One of them relates to human nature. Most people want to bet the better team, and this may seem like a no-brainer, but the odds even the score. Still, the average person will have a hard time betting the inferior team, regardless of the odds.
The book is going to anticipate more bets on the favorite in many cases, and that will impact the line making decisions.
They don't care if the betting line is completely out of whack from a purely mathematical standpoint as long as they are taking equal action on both sides.
Ultimately, after the initial line has been posted, the public sets the betting lines going forward, and the consensus opinion can be wrong. This is where the successful baseball betting opportunities can be found.
Finding the Best Lines
All the different MLB betting apps that we recommend do not necessarily post the same opening lines. And since bettors are the ones that move the odds once they have been posted, there are going to be different individuals making entirely different bets from site to site.
Granted, the patterns will be quite similar, but they will not be identical. As a result, you will see different lines for the same games, and the vigorish interval between the two payouts can be to a player's advantage or disadvantage.
With all this in mind, it is important to try to find the most favorable odds that are being offered on the games that you want to bet. This is why you should have accounts on multiple different baseball betting sites. In this manner, you can "shop for odds" to give yourself an edge.
Baseball Betting Odds
The online sportsbooks post odds for all the different markets. We have been providing an overview of the betting dynamic for the games that are played during the regular season, and there are some additional markets with unique dynamics.
MLB Playoff Betting Odds
When the cream has risen to the top at the end of the regular campaign, the MLB postseason begins in earnest. These are intense games that mean everything to the participants, and there is a lot of attention on them because there are limited playoff games on the schedule.
During the regular season, managers will give players time off to rest, and they may not remove a pitcher that is getting roughed up if they are way behind. This does not happen during the postseason, so you will definitely get a 100 percent effort from any team that you back.
You are probably not going to run into any surprises that compromise your odds, so this is a good time to place larger wagers if you are so inclined.
World Series Betting Odds
The intensity is at a fevered pitch when the Fall Classic is underway. There is a lot of excitement when a World Series game is on the schedule, and the oddsmakers are there to reap the rewards.
If you have a futures bet and your team is in the World Series, you are in the cat bird's seat. You can make some bets on the other side, and if you get the right odds, you can enjoy the action with the knowledge that you are a sure winner.
These are the preseason odds for the last 10 World Series winners:
| | | |
| --- | --- | --- |
| 2020 | Dodgers | +385 |
| 2019 | Nationals | +1600 |
| 2018 | Red Sox | +1150 |
| 2017 | Astros | +1175 |
| 2016 | Cubs | +660 |
| 2015 | Royals | +3300 |
| 2014 | Giants | +2500 |
| 2013 | Red Sox | +2800 |
| 2012 | Giants | +2000 |
| 2011 | Cardinals | +2500 |
All Star Game Betting Odds
The best MLB betting apps will post odds on the Major League Baseball All Star Game. A wager on this exhibition game can make it a lot more interesting to watch, but the outcome is very unpredictable.
Another option is a Homerun Derby bet, and there are many different prop bets offered on the All Star Game, so you can have wall-to-wall action.
Baseball Betting Tips
It may be overly optimistic to enter into the baseball betting fray with the idea you are going to get rich, but you can become a profitable player. There are some basic rules of thumb that you can follow, and if you exercise discipline, your account balance may start to grow.
Bankroll Management
The first thing to understand is the importance of bankroll management. If you embrace this concept from the outset, you will save yourself a world of hurt. Many, if not most, veteran bettors that do not turn a profit have never been able to manage their money properly.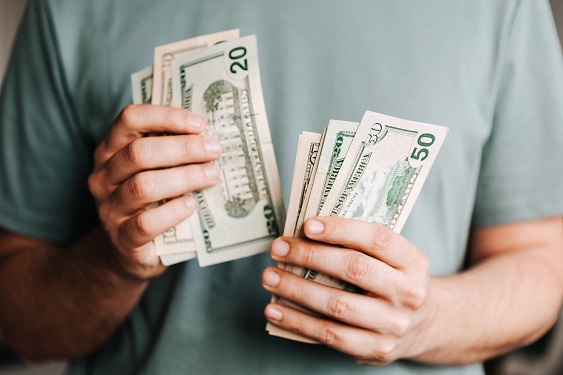 You should not intermingle your "real money" with your gambling bankroll. Before you get started, you should ask yourself what you can afford to lose on a monthly basis if it comes down to that. This is the amount that you should designate as your baseball betting bankroll.
After you have established your bankroll amount, you should calculate your standard base betting increment. This is the amount that you will wager each time you make a bet, and it should not exceed five percent of your overall bankroll.
If you are successful over a significant sample size, your bankroll will swell, and your base bet can grow along with it. This should be viewed as a long a game, and if you can manage your bankroll effectively, you will enjoy the activity and make money doing it.
Don't Get the Fever
The vast majority of gamblers have experienced "the fever," and for some, it is a chronic ailment. It will often be triggered by a very bad beat that sends you into a tailspin.
A closing pitcher will blow a three run lead in the ninth-inning, or a normally surehanded shortstop will commit an error that allows the winning run to score. You get angry, and you randomly start making in-game bets on the only game that is still underway late in the evening.
After you lose the first one, you make an unusually large bet the next time around, and you lose that as well. It spirals from there, and you have a severe case of the fever.
In addition to a single bad beat, an extended losing streak can propel you past the tipping point. Don't let your negative emotions get you into financial trouble.
Chasing Is Bad
The fever is an emotional malady, but you can take similar actions even if you are not really out of sorts. A lot of people will start to increase their betting increments when they have been losing, because they think that they are "due."
In reality, the due factor is not a thing. It is nothing more than a myth, and it may be propagated by sportsbook operators (not really, but you get the point). Don't fall for it.
Avoid Parlays
Even though there is some logic behind baseball parlay betting online because of the pitcher dominance factor, if you want to be a long-term winner, you should steer clear of parlays.
Think about the way that the numbers add up if you play parlays with more than two teams.
You can pick all winners with just one loser on the ticket, and you lose your money. On the other hand, if you make nothing but straight bets, you will collect much more often.
Consider Hedging
We briefly alluded to the concept of hedging in a previous section. This is a bet that is contrary to a wager that you have already made. In some cases, there can be a "middle" to shoot for, and you can potentially win both bets.
To illustrate, we will say that you bet $1000 on the Dodgers to win the World Series before the season starts, and you are getting 10 to 1 odds. You stand to win $10,000 if they walk away with the championship.
They make it to the World Series, and the Tigers are their upstart opponents. Oddsmakers do not like the Tigers chances, and they are 3 to 1 underdogs. Under these circumstances, you may decide to hedge your bet.
You still think the Dodgers are going to win the World Series, but you want to walk away with some money if they come up short. With this in mind, you bet $1000 on the Tigers to win the Series at 3 to 1. If they upset the Dodgers, you will win $3000.
Your original bet on the Dodgers in the futures was $1000, so you would be a $2000 net winner. Of course, if the Dodgers win, your $10,000 payout is reduced by $1000, but many would say that this is a small price to pay for the insurance policy.
This is just one example, but you can hedge under other circumstances. In-game wagering can provide hedging opportunities because the odds are always changing based on the game situation. You may recognize an opportunity to put yourself in a can't lose situation.
Accumulate Multiple Sign Up Bonuses
We pointed out the fact that you should open accounts at multiple different MLB betting sites so you can shop around for the best odds that are being offered on the games you want to bet. There is another very good reason why you should develop relationships with more than one site.
These baseball betting apps offer sign up bonuses, and they can be quite generous. Free money is hard to find, and if you are going to be a regular bettor, you will be making many deposits over the course of your life.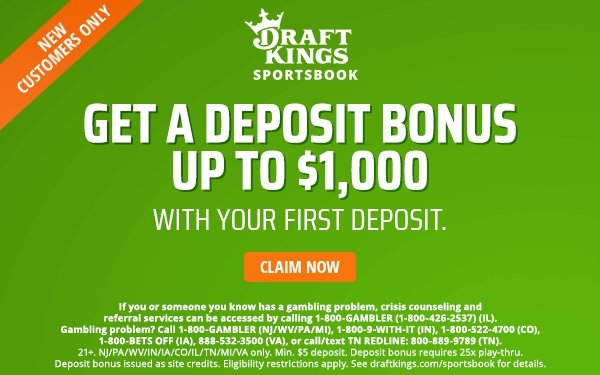 Why not make these deposits at different online sportsbooks that are offering welcome bonuses? You have to consistently bet on a site to collect your full bonus, but you can do this for a stretch of time to take full advantage of the opportunity.
There is another ancillary benefit. When you spend time getting to know each of these sites, you will invariably find that you like some of them better than others. If you can identify a single site that is your favorite, you can potentially stick to that app to accumulate loyalty rewards points.
Each site that has a loyalty program has their own policies, but you can potentially snag bonus cash or free bets, and you can earn the free room comps at the Hard Rock.
Make Research an Enjoyable Hobby
If you are a big baseball fan, betting on a game that you are going to watch on television is a supreme form of entertainment. You are glued to the screen for three hours or so, and you are invested in every pitch.
The activity itself is fun even if you lose, but winning is the goal, and it takes research to pick winners on a relatively consistent basis. There is a lot of information out there, and you should consume copious quantities of it if you want to win money betting baseball online.
Kids that are baseball fanatics have scoured the box scores and player statistics for generations, and they do it without any financial motivation. You can rekindle that same passion as an adult baseball bettor, and you can develop a taste for research if you have never had the experience.
Your odds go up when you are fully informed, and you no longer have to aimlessly surf the Internet looking for something interesting to read. You will always be able to put your spare browsing time to good use.
Baseball Betting Rules
The rules for baseball betting online are pretty straightforward in the big picture. You make your bet, and if you win, they pay you. That's the long and short of it, but there are some unusual circumstances that can enter the picture at times.
Sportsbooks Can Refuse Bets and Lower Limits
The MLB betting apps have the right to implement their own rules and regulations, but they are pretty uniform across the board. Most ordinary bettors do not run into this, but they can refuse your wager if they do not think it is a good risk.
They will definitely take notice if you make large bets and you are a frequent winner, and they will invariably limit your increments. If a baseball betting app simply does not want your business because you are too sharp, they have the right to ban you from their site.
Change of Venue
A home field advantage is a very significant factor when the lines are being created, and this is going to matter when you are handicapping the games. In some rare instances, the venue will change for some reason.
If you bet on a game and there is a venue change, it may or may not be voided depending on the house rules. FanDuel takes an approach that makes a lot of sense. They will void a bet if the team that was supposed to play at home becomes a visitor because of the venue change.
You should check out the rules at the sportsbooks that you visit if this is a source of concern for you. Most people never think about the implications of a possible venue change, and this may be the best approach to take since they are not very common.
Starting Pitcher Changes
When you bet a baseball game online, you can make it a "listed pitcher" bet or an "action" wager. When you make an action bet, it remains active even if the starting pitcher that is named does not actually start.
The listed pitcher designation is self-explanatory. Your bet would be voided if you make this type of bet and the announced starting pitcher is scratched.
Rainouts and Suspended Games
If you have a wager on a game that is not going to be played on the scheduled date, the bet will typically be void, but again, each sportsbook can make their own rules.
Sometimes a baseball game will be suspended due to rain or for some other reason after it has already started. A game becomes official after five innings, or four-and-a-half innings if the home team is ahead after the top of the fifth inning is in the books.
In these cases, the team that was leading after the last full inning was completed would be the winner.
The bet would be valid if it is a money line wager on a side, but total wagers and run line bets would be refunded.
MLB Betting Apps Conclusion
Betting on baseball online can enhance your enjoyment of America's Pastime. If you do your homework, you can turn your love of the game into cold hard cash, and it doesn't get any better than that.
We have identified the best Major League Baseball betting apps, and you can place your wagers at any of them with total confidence. Best of all, there is some free money waiting for you as soon as you sign up on your first site.