DraftKings is best known for its fantasy sports platform, which has been in operation since 2012. However, the brand also launched an online sportsbook in 2018. Available in a variety of different US states, the DraftKings sportsbook attracts new customers because of its sports coverage and competitive odds. Players in Michigan, Virginia, Tennessee, Illinois, New Jersey, Colorado, Pennsylvania, Iowa, Indiana and West Virginia can now legally sign up. Such players will be wondering about the current DraftKings promo code. 
Is there a DraftKings promo code? This page will outline the DraftKings sportsbook promo code. We have left no stone left unturned. Bettors will understand how to enter the DraftKings promo code and claim their reward having read the information below. Let's start by outlining the current welcome bonus available at DraftKings, as well as how it can be claimed.
Free Bet Deposit Bonus up to $1,000
Free Bet Deposit Bonus up to $1,000
Original and Most Trusted DFS Brand
Available Across America + Globally
More Contests Than Other DFS Brands
9.7
Visit Site
What is the DraftKings Promo Code?
At present, new customers are not required to enter a DraftKings promo code in order to claim their welcome bonus. This is different to some other US sportsbooks, where a bonus code must be entered at the time of registering or placing first bets. DraftKings is available in a host of different states, however the reward for new customers is the same throughout. DraftKings promo code entry is not required, so simply follow the links below instead.
DraftKings Bonus Offer
DraftKings Bonus Description
Requirements

DraftKings First Deposit

$1,000 deposit match bonus

A user's first deposit (min. $5) qualifies the user to receive up to $1,000 in bonus funds

DraftKings Free Bet

Up to $100

Refer your friends and you can both get a free bet up to $100!

DraftKings DFS

Deposit Bonus Up to $500

A customer's first deposit (min. $5) qualifies the user to receive up to $500 in bonus funds

DraftKings Casino

Deposit Bonus Up To $1,500

Bonus funds will be applied automatically to patron's account following their first deposit (min. $5)

How to Sign Up and Redeem a DraftKings Promo Code
At present, there is no DraftKings sign up promo code. As a result, registering and claiming your welcome bonus is made a little easier. Whether you are in
New Jersey
,
Iowa
,
Colorado
or another eligible US state, follow these steps in order to complete the process:
Step 1: Visit DraftKings
Whether it be on desktop or mobile, enter the DraftKings sportsbook. Enter draftkings.com for quick access. This can be achieved via your chosen browser or by downloading the DraftKings app. Visitors will immediately be greeted by information surrounding the DraftKings sign up offer. Next, click or tap on the "Sign Up" button.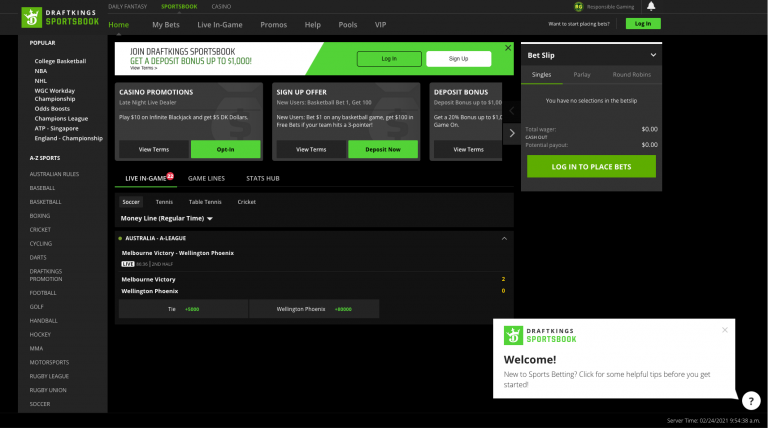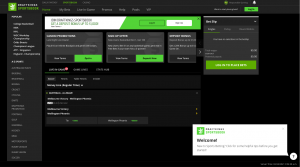 Step 2: Sign Up
On the relevant registration form, enter your personal details. This includes your email address. New customers must also create a username and password at this stage. There is a box titled "Promo Code". However, with no DraftKings free promo code being available to US sportsbook customers at present, this can be left clear. Read and accept the terms and conditions, before selecting "Next". Having completed all necessary fields, confirm your new account and verify it via email.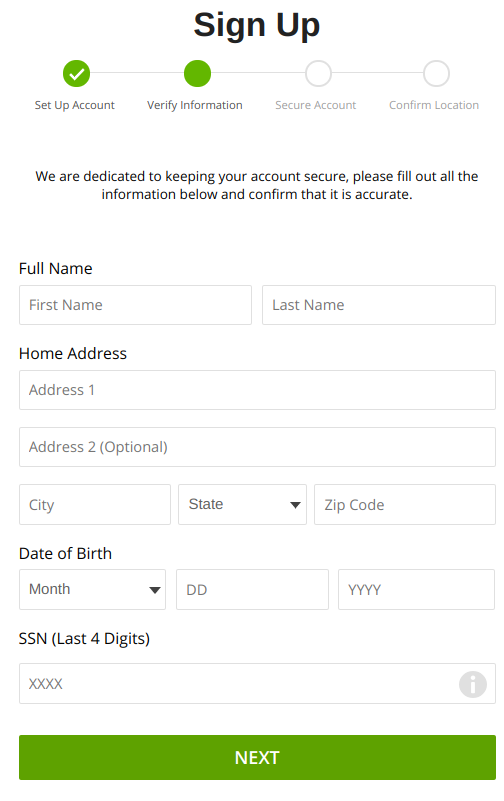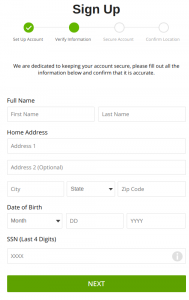 Step 3: Deposit Funds
Not that you are registered with DraftKings, it is time to deposit funds for the first time. A minimum of $5 must be deposited in order to qualify for your welcome bonus. A host of payment methods are available, with 20% of your deposit being matched, up to a maximum of $1,000. Terms and conditions are involved when it comes to the DraftKings sign up offer. We will go into greater detail on this further down on this DraftKings promo code page.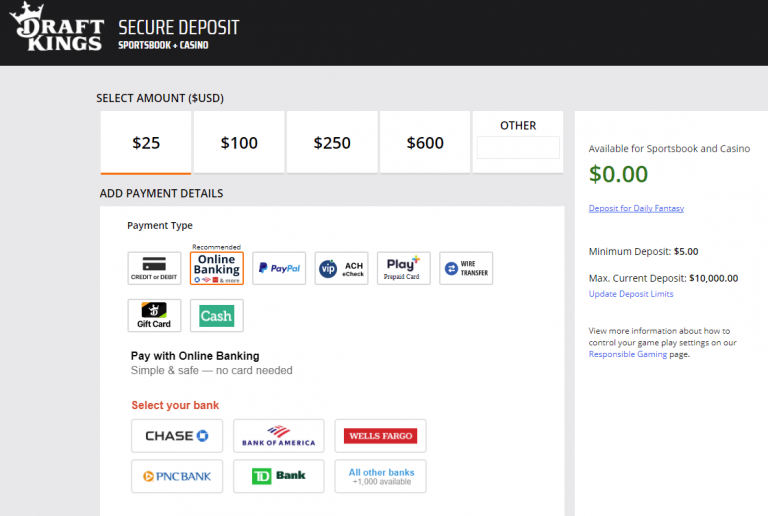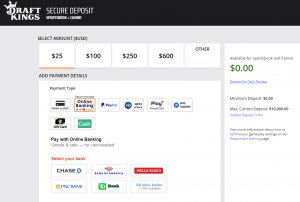 Step 4: Unlock Bonus
Customers can receive 20% of their opening deposit, up to $1,000. However, bets must be placed in order to unlock bonus funds. For each $25 bet on the DraftKings fantasy, sportsbook or casino platforms, $1 will be unlocked. Customers have 90 days to unlock the maximum bonus on offer. After this time, no additional funds as part of this promotion can be earned.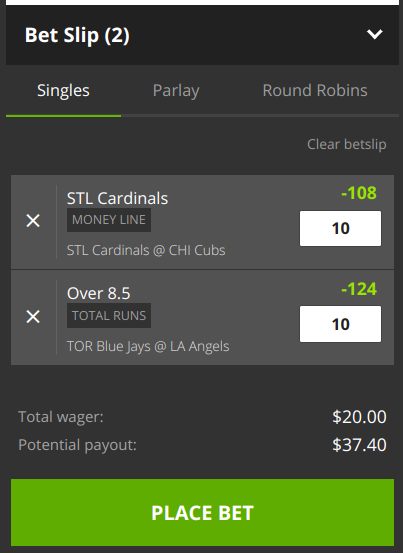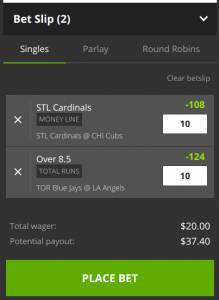 Why Join DraftKings?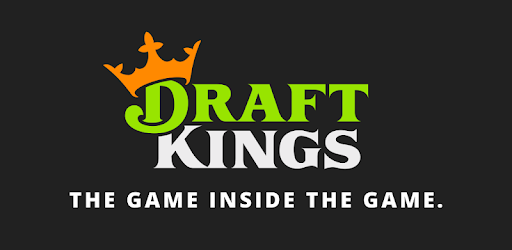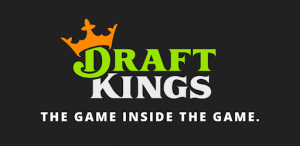 There are a number of reasons as to why DraftKings has been able to attract new customers to its sportsbook. The DraftKings brand name has long been well-known in the United States. Many who have enjoyed fantasy sports have made the transition to traditional sports betting. DraftKings is hugely reliable, with their sportsbook now being legal in a number of states. On top of this, a number of security measures have been put in place to keep player details safe. 
The DraftKings sportsbook performs well on both desktop and mobile too. However, it is the DraftKings app that is the platform of choice for many. Available on iOS and Android, the app offers a hugely efficient and entertaining experience on smartphones and tablets. The operator also offers 24/7 customer support. Support is available via telephone, email and live chat. On top of this, DraftKings also works hard to promote responsible gambling. Links to support avenues can be found easily on their sportsbook.
DraftKings certainly delivers when it comes to sports coverage and odds too. Bets can be placed on a huge number of sporting events. Basketball, football, baseball and hockey feature heavily, however the likes of tennis, soccer and motor sports are also found. For fans of college sports, DraftKings is one of the no.1 operators. Odds are competitive across the board too, with value being found when betting on outsiders in particular. Daily odds boosts are also available daily, making wagering with DraftKings all the more attractive.
Elsewhere, the DraftKings sportsbook is full of additional features. The Stats Hub offers useful data surrounding teams and players from around the world. This is especially helpful when the odds are too close to call. Such information is free to view.
DraftKings New Customer Sign-Up Offer
The DraftKings sign up offer is certainly one of the more generous available to US betting customers today. Catering for beginners and professionals, the offer is worth up to $1,000 in bonus funds. The bonus is worth 20% of your opening deposit. This means that an opening deposit of $5,000 is required to claim the maximum bonus. 
The offer does come with play through requirements however. For every $25 wagered on the DraftKings sportsbook, users will receive a $1 bonus in their player account. So, those depositing the maximum of $5,000 will have to play through $25,000! Bets can be placed on daily fantasy sports, sportsbook lines or casino products. However, it is worth noting that sportsbook lines must come with odds of -300 or greater.
Players have 90 days to meet such requirements, with this time starting after opening deposits are made. Finally, those who have previously deposited cash on any DraftKings platform will be ineligible for this offer. In order to make sure that you do everything required to claim your welcome bonus, the following are winning and losing examples of steps taken:
Winning Example:
Enter the DraftKings sportsbook.

Click on the "Sign Up" option. 

Complete the registration form, creating a username and password. 

Opt in to receive promotions.

Verify your new account via email.

Deposit $20 using a credit card.

Place bets in order to unlock bonus funds.

Unlock maximum bonus within 90 days.
Losing Example:
Enter the DraftKings sportsbook. 

Click on the "Sign Up" option.

Complete the registration form. 

Verify your new account via email.

Deposit $20 via PayPal.

Place a $5 bet on the NFL.

Miss out on unlocking bonus funds. 
DraftKings Free Bets
DraftKings is not a sportsbook that is known for its free bet offers. However, their refer-a-friend program does make it possible to earn free bets up to $100. In order to qualify, those invited must use their referral link, be a first time customer and deposit at least $25. Having qualified, both the referrer and newcomer will earn prizes based on deposits. Free bets earned are available for 30 days, with any winnings made being immediately available to withdraw. Refer-a-friend free bets are broken down into the following:
If the referral deposits $25-$49, both referrer and referral will receive one $25 Free Bet.

If the referral deposits $50-$99, both referrer and referral will receive one $50 Free Bet. 

If the referral deposits $100+, both referrer and referral will receive one $100 Free Bet.
DraftKings Promotions
Along with their generous welcome bonus, DraftKings also offers a small number of ongoing promotions. Available to existing customers, the following promotions were available at the time of writing this DraftKings promo code page:
MLB Profit Boost –

Customers at DraftKings will earn a 25% boost on all Major League Baseball bets. Looking for the best DraftKings promo code? This is another promotion that does not require one. Simply opt in when placing your qualifying bet. A maximum of $100 in additional winnings is up for grabs, with stakes up to $50 being eligible. This offer is available on both live bets and parlays. 

Free to Play Pools –

This free to play pools game is available daily at DraftKings. Climb the leaderboard and win cash prizes. Login and select the "Enter" option to get involved. No DraftKings free entry promo code is required either.
Casino players are also able to take advantage of promos at DraftKings. Sportsbook customers who have never placed a casino bet before can claim $100 in casino credits by hitting the "Play Now" option.
DraftKings Daily Fantasy Sports Bonus
Also available on the DraftKings website is Daily Fantasy Sports (DFS). DraftKings DFS is a unique way of wagering on sporting events. Here, new players signing up for a DraftKings account can take advantage of a bonus offer worth up to $500. New users will once again see their first deposit 20% matched. 
Such funds can then be used on contest entry, whether it be fantasy football from the NFL, college football or NASCAR. The offer is available on the DraftKings mobile app too. Customers will also receive a free $3 ticket to use on paid contests. Again no DraftKings DFS promo code is required. 
How to Withdraw Winnings at DraftKings
Whether it be via the DraftKings sign up offer or through a moneyline bet, payouts are simple and quick. Withdrawals are likely to take somewhere between 2-7 days. However, payouts are subject to federal tax in the US. It is recommended to use the same method that was utilized when depositing real money funds. This will ensure that payouts are processed as quickly as possible. To take home winnings, click on the "Withdrawal" option when logged in to your account. 
Is the DraftKings Sportsbook Safe?
All personal details at DraftKings are safeguarded by Secure Socket Layer (SSL) encryption technology. This is demonstrated by the padlock symbol on their sportsbook site and mobile app. As such, potential customers should have no concerns in this area. Only reliable and secure payment methods are in play too. Third parties will never gain access to your bank details or e-wallet login information. DraftKings also takes responsible gambling seriously. Links to support lines are easily accessible on their sportsbook. This is often the sign of a reputable operator.
DraftKings history
DraftKings was established by Jason Robbins, Matt Kalish and Paul Liberman back in 2012. The platform became one of the many daily fantasy sports sites available in the US. Thanks in part to investment from Major League Baseball, DraftKings became the biggest name in the market. In 2013, the operator acquired Draft Street, a former competitor. DraftKings followed this up by agreeing deals with other leagues and franchises, as well as ESPN.
FOX Sports and the Kraft Group were among the organizations to invest in DraftKings in 2015. The brand became a household name across the country, even advertising during the Super Bowl. It appeared that DraftKings and rival FanDuel were to merge in 2016, however this never materialized. This was due to legal issues and finances. Instead, DraftKings began to focus upon the development of its sportsbook. In 2018, DraftKings became the first company to launch a sportsbook mobile app. This followed the decision to overturn a ban on sports betting from the Supreme Court that had been in play since 1992.
Summary
The DraftKings sportsbook continues to grow. For many, bonuses and promos are the first thing in which potential customers will look at. While there is currently no DraftKings promo code, this does not mean that there are no offers for new and existing customers to utilize. With a bonus of up to $1,000 awaiting newcomers, along with a variety of ongoing promotions, there has never been a better time to register with DraftKings. So, be sure to check out what their sportsbook has to offer, following the steps above to claim your sign up bonus.
Free Bet Deposit Bonus up to $1,000
Free Bet Deposit Bonus up to $1,000
Original and Most Trusted DFS Brand
Available Across America + Globally
More Contests Than Other DFS Brands
9.7
Visit Site
Other US Sportsbook Promo Code Offers
FAQs
When was the DraftKings sportsbook launched?
The DraftKings sportsbook was launched in 2018. This platform follows the brand's fantasy platform, which has been around since 2012.
Which sports can I bet on at DraftKings?
Bets can be placed on a large number of sports. Lines are available on NFL, NBA, MLB and NHL. Elsewhere, odds are also found on events from the world of boxing, soccer and tennis. Wagers can also be placed on entertainment events, such as The Oscars.
Are all payment methods eligible for the DraftKings sign up offer?
Yes. Unlike some other betting sites, there are no strict terms and conditions surrounding payment methods at DraftKings. As such, opening deposits can be made via credit cards, e-wallets and bank wires.
Which US states is the DraftKings sportsbook legal in?
At present, DraftKings is available in the following US states: Pennsylvania, New York, Mississippi, New Jersey, Tennessee, West Virginia, Indiana, New Hampshire, Colorado, Illinois, Tennessee and Iowa.
How to enter the promo code on DraftKings?
As we have outlined throughout this DraftKings promo code page, there is currently no bonus code available to sportsbook customers. However, this does not significantly impact your ability to claim a sign up bonus.
Where to enter the DraftKings promo codesign?
When signing up at DraftKings, there is a box titled "Promo Code". However, this can currently be left empty by new customers. Instead, an opening deposit is needed to qualify for your bonus.
Is there a DraftKings promo code football for NFL fans?
The DraftKings sign up offer is available surrounding all sports. There is not a specific promo code or offer for American football.