It might not have a spot on primetime TV on Sunday afternoons, but each day in America, hundreds of thousands of dollars are spent wagering on table tennis. It doesn't matter if it's just a bizarre game between one unknown vs. another that's taking place in a tarped-out blue room, with zero commentary; old-school American bettors like to wager on a game of ping-pong. So, with online sportsbook licensing rolling out around the country and the sportsbook population growing, it's equally important that the new school of American bettor knows where to find the best table tennis betting sites.
To aid newcomers to the world of sportsbook gambling, our team has traversed the online world of table tennis betting sites and come up with a list of the premier options available to the American betting public.
To save you time, we've also listed out the pros and cons of each sportsbook and detailed as much as we can about all the markets, table tennis betting lines, big tournaments, et al, that one could expect to counter when wagering on this sport.
All
New Jersey
Pennsylvania
TopTable Tennis Betting Sites
(in alphabetical order)
BetMGM is another great option for table tennis betting lines: the famed Vegas-based sportsbook broadcasts odds for numerous tournaments, including the Russian Liga Pro, and the markets are very deep indeed.
Along with futures and match play, table tennis live-betting is a feature of the site. It looks great; the graphics are eye-catching, and there's an option to live-stream many of the games, too, which is a great feature. The live betting market is crammed full of optionality: bettors can wager on handicaps, Race To, and special bets. Plus, there are other more unique options, such as 'which player will score the 17th point of the final game,' and many more.
So far as the best table tennis betting sites go, BetMGM ranks very highly on our list – it really does have everything. And the table tennis betting odds aren't half bad either.


What we like:
Live betting offers an incredibly deep market for table tennis matches, including unique bets under the 'others' heading ('player to score 17th point of the final game, etc
Provides a live-streaming service of table tennis matches from site and app
Displays match stats whilst the game is in progress
Easy to build parlay bets
Very competitive table tennis odds and lines
Up to $600 deposit bonus for new users
What we don´t like:
We still can't figure out to switch BetMGM from fractional over to American Odds. That's not to say it's impossible, but it's certainly not signposted well.
BetWay is certainly a solid option for table tennis betting. The sportsbook is the only one on this list with match play/futures for the European Championship, rather than the Russian Liga Pro. The market is limited to just the moneyline for matchplay (which is common), though prop bets are generally available once the ping pong gets underway (live-betting).
It's easy to build parlay bets on BetWay's site and app, and the Round Robin & Add to Existing Bet features provide even more optionality for users who enjoy making a ton of picks to get better odds.
BetWay also provides a cashout feature and is currently offering a $250 risk-free bet to newcomers to the site.


What we like:
Enjoyable graphics for in-play tennis betting
Variety of parlay betting options available
A $250 free bet for newcomers
Betting markets open for the European Championship (not many other sites cover this event)
Great looking table tennis app and site
What we don´t like:
Limited availability: BetWay is currently licensed in just OH & IN
No markets open for Russian Liga Pro
DraftKings is a more than viable option for table tennis betting: the site is stylistically impressive and easy to navigate, and the live table tennis market contains plenty of optionalities. Prob betting is a particular favorite of the DraftKings brand and it shows where table tennis is concerned: DK features live props, match props, point props… the list goes on.
It was easy for us to build multiple match parlay bets on the Moscow Liga Pro, and the money-back feature, along with Round Robin are nice additions for the table tennis bettor.
DraftKings is also one of the best sites when it comes to promos and rewards and is currently offering up to a $1,000 deposit bonus to new members.


What we like:
Deep market, especially for live betting on table tennis featuring match lines, game props, live props, and many other markets
Easy to build multiple match line parlay bets & money back feature on parlay bets
Round Robin
Offers money back feature on parlay betting
What we don´t like:
No graphics for in play table tennis matches
Unlike other sports (NFL, for example), DK does not link stats for table tennis players
Fan Duel's might be more famous for its Fantasy Football & Basketball features, but the sportsbook does a top job with its table tennis betting, too.
The live betting feature at the Moscow Liga Pro offers plenty of table tennis game lines, including moneyline, over/under on the total points market for games, and spread betting. The prop market is also very detailed. It's possible to wager on all sorts of in-game variables, including Odd/ Even and Race To props.
The FanDuel app and website look fantastic and are simple to navigate. Plus, the famed sportsbook is currently offering a $1,000 risk-free bet for the month of June, so there's never been a better time to get involved.


What we like:
Offers all the table tennis lines you'd hope for: moneyline, over/under, & spread
Prop market is also deep: Race To and Game Total Points, etc.
A stylistically modern site and app that's easy to navigate
Live, in-play betting available on Russian Liga Pro
FanDuel provides parlay betting insurance
FanDuel is currently offering a $1,000 risk-free bet for the month of June
What we don´t like:
No stats for table tennis tournaments or players
No graphics for live, in-play table tennis matches
Based in New Jersey, the Golden Nugget sportsbook provides some optionality for table tennis betting. Golden Lines (daily odds boost), Parlay Boost, and Match Tracker are all effective tools to increase your profits should you choose to visit the site.
Golden Nugget allows its visitors to place bets on most major (and not so major) table tennis tournaments, including the Moscow Liga Pro. The table tennis odds are generally quite favorable, but the optionality is limited: Golden Nugget only enables moneyline betting on the live event, or the same line but as a matchplay wager a day or so earlier.


What we like:
$500 risk-free bet each time you refer a friend
Moneyline bets on match-winner available as live or match play bet
Odds boost with Golden Lines
Competitive table tennis odds
$250 risk-free bet for new users
What we don´t like:
Everything feels like a casino – not a great 'sportsbook' experience overall
Live-betting is available but only on the moneyline and there is no prop betting market
No live-streaming of table tennis matches
FOXBET is an excellent option for those wishing to wager on table tennis. The sportsbook contains a plethora of options for live, in-play table tennis betting, including Race To, points handicap, and odd/even scores on the game-winner.
FOXBET also does a tremendous job with its in-game statistics/graphics (see image below). It's possible to see player stats for the previous matches, head-to-head, and more whilst placing your bets, enabling bettors to make quicker and smarter decisions with their money – something we really like!
The famed sports broadcaster is also offering a $500 sign-up bonus to all newcomers and tends to offer tons of promotions and rewards throughout the calendar year.


What we like:
Highly prestigious and trusted sports broadcaster
Plenty of prop-betting options for table tennis matches
FOX website and app features plenty of content, enabling bettors to perfect their table tennis betting strategies
Most comprehensive sportsbook for in-game/ pre-game player/ match stats – a great help for those wanting to make accurate table tennis predictions
Provide early table tennis Vegas odds, enabling bettors to place their wagers quickly (and possibly with good odds)
$500 sign-up bonus and numerous promos released over the course of the year
What we don´t like:
No live-streaming of table tennis matches
Slow customer service response times
Pointsbet is another viable option for table tennis bettors. The sportsbook is famous for spread betting and, as you might expect, features table tennis lines for the match-winner, over/under on games, and, of course, handicap betting for the spread.
PointsBet tends to offer highly competitive table tennis betting odds, and bettors are usually at least able to wager on the moneyline during live matches. That said, optionality on the Russian Liga Pro can differ: inexplicably, sometimes all lines are open and the prop market is brimming, and sometimes not.
Where bonuses and promotions are concerned, PointsBet absolutely comes out near the top of the pile: the Australian sportsbook is currently offering a highly lucrative deposit bonus of up to £2,000.


What we like:
PointsBet features all the table tennis betting lines you would expect: moneyline, over/under and handicap (spread)
The $2,000 deposit bonus is the most lucrative available anywhere
Cash-out option for all sports, including table tennis matches
Above average value on table tennis odds; highly competitive
PointsBet live-streams some game from the Russian Liga Pro on its site and app
What we don´t like:
Table tennis lines constantly disappearing and reappearing for both matchplay and live, in play. Sometimes all lines are open for both markets; sometimes not – it's slightly confusing.
No graphics for table tennis live betting
Unibet is another solid choice for the table tennis betting enthusiast: the sportsbook has plenty of market optionality regarding futures and matches play bets. Plus, table tennis live betting is another feature.
The prop betting market for live games is deep, containing special markets, such as Race To and Action Betting (you'll need to be quick-witted to bet on the next point/break of serve in ping pong, but it is a lot of fun).
Unibet is also offering a $250 deposit bonus and a $20 free bet to new signups.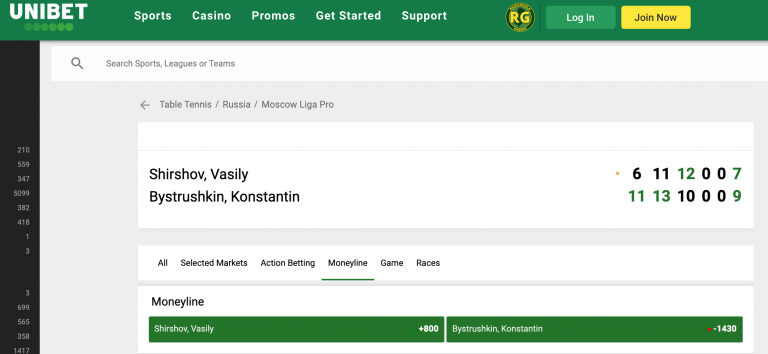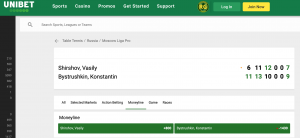 What we like:
A multitude of betting options and wagers for table tennis futures and match play games/tournaments.
Most major table tennis tournaments available to bet on
A plethora of prop bets available, including a Race To option (first to X amount of points, etc.)
Table tennis live betting is available
Live-streaming of table tennis matches is often available
Up to a $250 deposit bonus and a $20 risk-free bet available to new users
What we don´t like:
Compared to other sportsbooks, the live-betting isn't as fun: there are no graphics, fewer stats, etc.
No live-streaming of table tennis matches
William Hill is another table-tennis betting heavyweight. The sportsbook is particularly great for wagers on match play, with plenty of lines available. William Hill offers total points, odd/even, winning margin, and a whole lot more. Live, in-game table tennis betting is available in some states, too.
On top of the optionality, William Hill is often fast to market with great value, Vegas odds. This helps to make the site a top choice for matchplay betting since there is a chance of improved profits if the oddsmakers are inaccurate with their early predictions.
The site is also offering new customers a risk-free $500 bet to wager on any sport, which doesn't half hurt either.


What we like:
Sportsbook offers live, in-play table tennis betting in states
Fast market with table tennis Vegas odds
Easy to build parlay bets for all sports, including table tennis.
Risk-free $500 bet for new users
Plenty of market optionality for table tennis match play betting
Official betting partner of ESPN
What we don´t like:
Limited markets open for live, in-play betting in some states
Table Tennis Betting Tips


A full understanding of the different markets and table tennis betting lines available is the key to success when battling against sportsbooks for winnings. As with any walk of life, you won't get too far if you have no idea what you're doing – that much is certain.
For your convenience, we've listed out the vast majority of available options in this segment and, if you're a newcomer to the world of ping pong betting, highly suggest you read them all:
Table Tennis Markets: Match Play Bets, Futures Bets, and In-play Bets


There are three markets available to all bettors on the best table tennis betting sites. These are:
Futures: To be clear, futures bets on table tennis fixtures are conspicuous in their absence from practically all table tennis betting apps at present. The reason for this is the disruption caused to the calendar by COVID-19. Generally speaking, a futures bet is simply when you wager on the moneyline for a particular player or pair to win a tournament/ league far in advance of the competition itself. Unfortunately, if this is the type of bet that you'd like to wager, you may have to wait a while…
Match bets: Match bets are available across all the best table tennis betting apps. Here you make a wager either on the moneyline (winner of match/game); handicap (spread), or total points (over/under) game lines for a table tennis match that is about to get underway.
In-play bets: the favorite of the table tennis bettor – ping pong live betting is fast-paced, tons of fun (especially if your favored sportsbook incorporates modern graphics or a live-stream into the proceedings), can be quite lucrative. Whilst betting, live, on table tennis, expect to see the aforementioned match bets available, alongside many, many more prop bets and unique wagers. Sites such as BetMGM, DraftKings, and BetWay in particular provide near unending optionality for in-play wagers on live ping pong.
Betting On The Match-winner


Betting on the table tennis match-winner is easy as apple pie. Simply check the odds on the moneyline, pick your favorite to win the match, and place your bets.
Remember that a (+) number = an underdog, and a (-) number = a favorite.
In the above example courtesy of the excellent FanDuel, you'll see odds of +122 for Kim Sen Jr. (underdog) to win the match. All this means is that if we were to place a $100 wager on Sen Jr. to win (and he did win), FanDuel would pay out $122 in profit. Sen Jr.'s opponent, Sergey Kulikov is the favorite to emerge victorious with odds of -166. This just means that we'd need to wager $166 to win $100.
Betting On The Game-winner


Table tennis matches are split into five individual games, with the winner being the player who wins three. Particularly in table tennis live betting scenarios, it's possible to wager on the game-winner as opposed to the match-winner (or both).
Pro tip: the odds tend to plummet significantly should one of the players/teams break his/her/their opponent(s)'s serve, so try to get your wagers in early and be ready to cash out if things go array.
Handicap Table Tennis Betting


Handicap betting in table tennis is much the same as spread betting in the NFL (for example). Oddsmakers effectively gift the underdog extra points and then challenge the betting favorite to overcome it. Sportsbooks employ this market to keep perceived uncompetitive ties interesting and to encourage bettors to market.
In the above example courtesy of DraftKings, Nemashalko (the favorite: -125) has been challenged with overcoming a handicap of -6.5, meaning he will need to defeat his opponent, Pandur, by 7.5 (well, 8 really) points. If you bet on this result and Nemashalko wins by 7.5 (8) points, you win. If he wins but only by 1-7 points, you lose.
The same is true in reverse for Pandur: he must lose by less than 7.5 or simply win the match in order for your bet to come through.
Totals (over/under)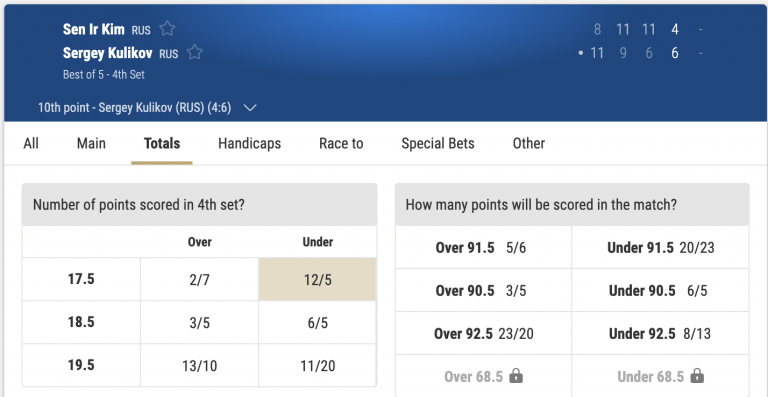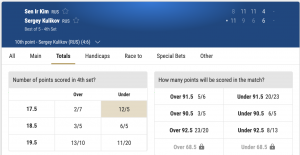 The third and final most common gameline for tennis bettors to wager on is the Totals (over/under) market. In the BetMGM example above, you'll see options to wager on both the total number of points scored in the 4th set & how many total points will be scored in the match?
You'll notice that we've placed a bet in the 'under' column for the 4th set (or 'game) to stay under 17.5 points. The odds are fractional (which is a tad confusing) but converted to the moneyline fractional odds of 12/5 is +240.
If the game stays under 17.5 points, we win. If it goes over 17.5 points, we lose. It's that easy. The same is true for the second option (points in the match) – effectively you are just playing your final hand on blackjack at the casino: it's win or bust.
These are the three main table tennis betting lines. But, of course, there are plenty more where they came from…
Correct Number of Games & Correct Score
Bettors can also try to guess the correct score of a game or match. This table tennis betting line commonly appears as a prop bet during live, in-game wagering. Guessing the correct score can win you a lot of money (+2000!)… but this type of bet is hard to predict and, ultimately, you're usually relying on lady luck to come through for you.
Winning Margin
Here, the bettor simply wagers on a player winning a game/ set by a particular number of points. You can see in the example above that we've wagered on Roland Balog to win Game 2 by exactly 2 points. If he does (and we had the good sense to place $100 on it), we win $350. There isn't much more to it than that.
Table Tennis Prop Markets
On top of all these regular match play markets, table tennis live betting provides deep optionality in the form of prop bets.
We've taken the liberty of listing out a few of the main ones below, but there are many more available. Check your sportsbook of choice to see what's on offer. But always ensure you know exactly what you are wagering on before you throw down your hard-earned dollars!
Extra Points
Point Betting
Race To (a specific points total)
Odd/Even Points
Tennis Betting Strategy
Of course, there isn't one ultimate table tennis betting system that guarantees you a win each time. It would be great if there was, but it's simply not the case – even the famed Martingale system tends to blow up in your face at some point or another. Hence why sportsbooks are still in business!
That said, there are a couple of ping pong betting strategies that professional gamblers like to employ at the bookmakers, and there are certainly people out there who have made quite the life for themselves via betting on table tennis for a living. That said, many of these experts are seasoned veterans.
Nonetheless, below are a few beginners' tennis betting strategies that we urge you to consider:
Do Your Research! – There is no substitute for solid research. Those who manage to make betting on table tennis for a living a reality have learned to follow and analyze stats and form correctly. You need to know who your player is; how your player plays vs. his opponent; what the record is between the two competitors; is anyone harboring any injuries? and so on. Cover all your bases! Do your due diligence on the research; visit a table tennis betting forum, or hit up a ping pong blog – whatever it takes: the more you know, the more chance you have of winning.
Open Up Multiple Accounts – To regularly wager on the best value table tennis lines, we implore you to open several separate accounts. Why? Well, one sportsbook might have great odds for the Moscow Liga Pro, while another might have great lines at the Olympics. Yet another will have the best ping pong spreads for ITTF tournaments, and another still might not even have ITTF spreads and you'll be out of luck on that live-wager you spent all the time researching completely. If you're signed up to three or four separate accounts, you'll be poised to a) take advantage of all the juicy deposit bonuses and risk-free bets, b) you're less likely to miss your chance at the market, and c) you'll be able to pick and choose the from the best ping pong odds available. Opening up multiple accounts is an absolute no-brainer in our opinion. And, 'no, I don't work on commission. '
Learn the Events – Some newcomers to sportsbook gambling make the mistake of assuming that the top players will compete to their best at every event. But this simply isn't the case. Just like with tennis, ping pong tournaments carry different levels of prestige. Ma Long will always show up at the ITTF World Championships, or at the Olympics. But the Chinese legend might treat a lesser-known event as a chance to practice some new trick shots, or work on a new serving technique. These are the ones where top players tend to shine, and some of the lesser-known players struggle to compete. Pay attention to, the African Championships, the Asian Championships, and the European Championships take place. These are big, prestigious tournaments in the ping pong calendar and the worlds best will mean business once they take the… table(?). And – just to come full-circle and return to the first table tennis strategy – DO YOUR RESEARCH! Not that he doesn't do well everywhere, but Ma Long (for example) is a nightmare to face in Asia – the man has amassed an almost uncountable amount of awards and trophies when playing in the far east. So, he just might be worth a flutter (as they say).
Betting On Table Tennis Events

The two major governing bodies of 'ping pong' are the International Table Tennis Federation (ITTF) and the European Table Tennis Union (ETTU). As such, it is tournaments under either banner that tend to be the most lucrative and draw in the most betting money.
However, due to the outbreak of the coronavirus in 2021, many of the ITTF and ETTU tournaments had to be canceled. This caused concern among sportsbook oddsmakers and left an opportunity for some of the smaller organizations – many of which stem from Eastern Europe – to swoop in and steal some of the limelight. As such, when visiting the best table tennis betting sites in June of 2021, most of the tournaments featured are lesser-known, non-ITTF/ETTU events from Russia and surrounding nations
Some of the most common tournaments to bet on this year have been as follows:
Moscow Liga Pro
Setka Cup
TTSTAR SERIES
Though many prospective bettors have voiced concern over the validity of the Moscow Liga Pro tournament, the matches do take place at undisclosed locations to keep the athletes away from no-gooders and prevent fraud.
Besides Russia, the Moscow Liga Pro series also schedules events in Belarus, Brazil, China, and the Czech Republic.
Asian ping pong players, and Chinese talents, in particular, have long reigned supreme in the sport. But, the emergence of the Eastern Europeans during the lockdown, and the sheer never-ending volume of matches being broadcast across table tennis betting apps around the world, has thrust the region's players into the spotlight. Many of them are slowly becoming household names – or, at least they are to your average ping pong betting enthusiast.
ITTF, WTT, & Olympic Table Tennis Schedule for the Remainder of 2021
June
Paralympic World Qualification Tournament, Laško (SLO): 3-5 Jun
LIEBHERR 2020 ITTF European Individual Championships, Warsaw (POL): 22-27 Jun
July
ITTF Fa20 Czech Para Open 2021, Ostrava (CZE): 1-3 July
2021 63rd European Youth Championships, Varaždin (CRO): 18 Jul – 1 Aug
Tokyo 2020 Olympic Games, Tokyo (JPN): 23 Jul-8 Aug
Tokyo 2020 Olympic Games – Table Tennis Dates, Tokyo (JPN): TBC
August
Tokyo 2020 Paralympic Games, Tokyo (JPN): 24 Aug-5 Sep
Tokyo 2020 Paralympic Games – Table Tennis Dates, Tokyo (JPN): 25 Aug-3 Sep
Eurominichamps, Schiltigheim (FRA): 27-29 Aug
South American Championships, Buenos Aires (ARG): 30 Aug-4 Sep
Central American U11 & U13 Championships, Acapulco (MEX): 31 Aug-4 Sep
September
ITTF African Championships, Yaounde (CMR): 1-7 Sep
ITTF-ATTU Asian Table Tennis Championships, Doha (QAT): 1-8 Sep
WTT Youth Contender, Varazdin (CRO): 4-10 Sep
WTT Youth Contender, Otočec (SLO): 4-10 Sep
First Commonwealth of Independent State Games, Kazan (RUS): 4-11 Sep
WTT Youth Contender, Tunis (TUN): 13-19 Sep
WTT Youth Contender, Cairo (EGY): 13-19 Sep
Central American Veteran Championships, Belize (BIZ): 16-18 Sep
South American U11 & U13 Championships, Salta (ARG): 21 Sep
South American Veteran Championships, Salta (ARG): 21 Sep
WTT Youth Star Contender, Lisbon (POR): 21-25 Sep
WTT Youth Contender, Belgrade (SRB): 27 Sep-3 Oct
WTT Youth Contender, Darwin (AUS): 27 Sep-3 Oct
2021 European Championships, Cluj-Napoca (ROU): 28 Sep-3 Oct
ITTF Egypt Para Open 2021, Alexandria (EGY): 30 Sep-3 Oct
October
WTT Youth Contender, Orestiada (GRE): 1-7 Oct
WTT Youth Contender, San Salvador (ESA):  1-7 Oct
ITTF Finland Para Open 2021, Lahti (FIN), 8-10 Oct
WTT Youth Contender, Muscat (OMA): 10-16 Oct
ITTF China Para Open 2021, Hangzhou (CHN): 13-16 Oct
ITTF Fa20 Costa Brava Spanish Para Open 2021, Platja d'Aro (ESP): 14-16 Oct
2021 Europe Youth Top-10, Tours (FRA): 15-17 Oct
ITTF Pan American U11 & U13 Championships, Cuenca (ECU): 18-24 Oct
WTT Youth Star Contender, Wladyslawowo (POL): 19-23 Oct
ITTF 12th Al-Watani Para Championships, Amman (JOR): 20-22 Oct
WTT Youth Contender, Lignano (ITA): 24-30 Oct
WTT Youth Contender, Cuenca (ECU): 25-31 Oct
ITTF Polish Para Open 2021, Wladyslawowo (POL): 28-30 Oct
WTT Youth Contender, Senec (SVK): 28 Oct-3 Nov
November
WTT Youth Contender, Szombathely (HUN): 1-7 Nov
WTT Youth Contender, Hong Kong, China (HKG): 1-7 Nov
ITTF Lignano Masters Open 2021, Lignano (ITA): 4-7 Nov
ITTF Pan American Championships, TBD (TBD): 8-14 Nov
ITTF SQY French Para Open 2021, Saint Quentin en Yvelines (FRA): 9-11 Nov
2021 European Under 21 Championships, Spa (BEL): 10-14 Nov
WTT Youth Contender, Eilat (ISR): 12-18 Nov
ITTF Dutch Open Para 2021, Stadskanaal (NED), 18-20 Nov
2021 World Table Tennis Championships Finals, Houston (USA): 23-29 Nov
Cali 2021 Pan American Junior Games, Cali (COL): 25 Nov-5 Dec
Cali 2021 Pan American Junior Games – Table Tennis, Cali (COL): 30 Nov-5 Dec
ITTF Para XVIII Copa Tango, Buenos Aires (ARG): 26-28 Nov
Pan American Veteran Championships, TBD (TBD): TBD
December
ITTF Chile Para Open 2021, Santiago de Chile (CHI): 2-4 Dec
2021 Finlandia Open, Lohja (FIN): 2-5 Dec
ITTF Copa Costa Rica 2021, San José de Costa Rica (CRC): 10-12 Dec
Table Tennis Betting Odds For June 22nd Moscow Liga Pro
To be clear, all of the apps listed on this page offer decent-great odds. But some do broadcast better table tennis odds than others, of course.
That said, odds, especially for a fast-paced sport like table tennis, are in a near-constant state of flux. So, just because a particular site comes out on top in our comparison below, that doesn't necessarily dictate that it will always offer the best table tennis betting odds.
We forever implore our readership to shop around and find the best odds for the specific match you're hoping to wager on.
On the other hand, the table below does give some indication of which sportsbooks tend to offer good odds – we've highlighted the best in bold.
Sportsbook

Zabrodin vs. Kulikov

Tsvetskov vs. Nemashkalo

 
Zabrodin
Kulikov
Tsvetskov
Nemashkalo
FanDuel

+260

-380

-102

-132

FOXBET

+230

-350

+105

-143

DraftKings

+250

-400

+100

-139

William Hill

+275

-400

+100

-137

Unibet

+250

-400

+100

-139
As you can see in the table above,  William Hill just about offers the best odds (overall) at the Moscow Pro Liga, but there isn't a tremendous difference. Many a pro-bettor might choose to take a small hit on the odds to watch the game live on Unibet (for example).
As mentioned, it's up to the individual to decide which sportsbook best serves his/her needs. But the odds should always be taken into consideration. Why wouldn't you want to win more money if you could?
Live-Streaming Table Tennis Sites


Betting on a match whilst watching it play out live can be a lot of fun. Plus, a bettor is much better positioned to make calls if he/she can see the action unfolding in front of his/her eyes.
It's for this reason that many of the sportsbooks ranked up page offer live table tennis streaming to patrons. For a complete overview of which of the best tennis betting apps and sites provide live streams, see the table below:
| | | |
| --- | --- | --- |
| Sportsbook | Offers live streaming of table tennis | Does not offer live streaming of table tennis |
| Bet MGM | X |   |
| BetWay | X |   |
| DraftKings | |  X |
| FanDuel | |  X |
| Golden Nugget |   | X |
| FOXbet | X |   |
| PointsBet | X |   |
| Unibet |  X | |
| William Hill | |  X |
In-Play Table Tennis Betting Sites


Because there are so many prop betting options available, probably the most popular method by which to bet on table tennis is to place a wager whilst the game is still in progress, in a market known as live-betting, or in-play betting.
The vast majority of sportsbooks featured in our top 10 enable live table tennis betting, but there's no doubting that some do it better than others.
Best In play tennis betting site for optionality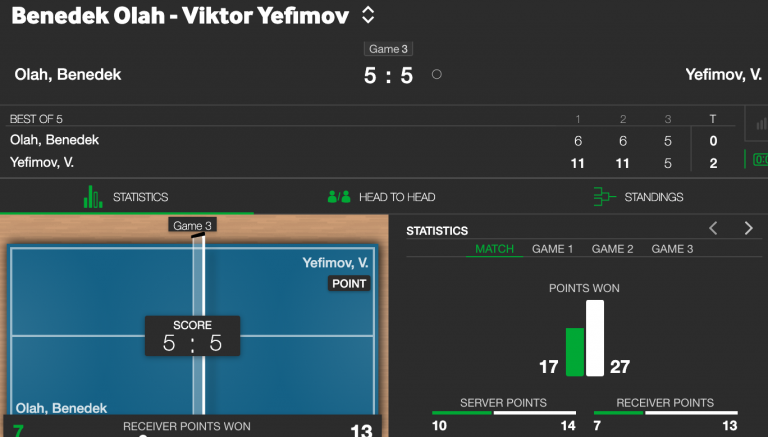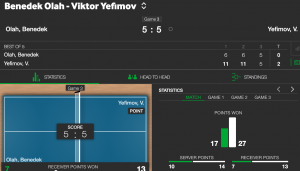 FOXBET, Unibet, and BetMGM run this sportsbook pretty close, but, in terms of the overall live, in-play table tennis betting experience, it's hard to look past BetWay. The sportsbook provides an in-play feature for practically every table tennis tournament you can think of; the on-screen graphics look fantastic; stats are provided for the players, including previous head-to-head meetings (see above image), and the markets are deep.
In our opinion, BetWay provides the best overall live table tennis experience for its patrons – we highly recommend giving it a go if you're the kind of bettor who enjoys the thrill of the live-wager.
Best Table Tennis Betting Sites – Conclusion
There isn't a lot between the best table tennis betting apps at the top of our charts. Each has its own perks and very few pitfalls.
FOXBET really impressed. us with the in-depth stats for table tennis matches/players/tournaments; Unibet probably have the deepest markets and, as such, the most optionality. Subjectively speaking, the best all-rounder though is potentially BetMGM – the sportsbook covers all table tennis bases and the odds tend to be enticing, which ebbs it ahead of the completion in our humble opinion. But it really is down to personal preference when there are so many exceptional options.
All
New Jersey
Pennsylvania
$600 Welcome Bonus
Live, In Play Betting Available for Table Tennis Competitions
Deep Market of Prop Bets for Russian Liga Pro
$600 Sign-Up Bonus
9.7
Claim Bonus
Risk Free Bet up to $500
Deep Market Optionality for Table Tennis Prop Bets
$500 Risk Free Bet for Newcomers
Live Table Tennis Betting
9.2
Claim Bonus
$250 Risk-Free Bet
Pre-match, live and outright soccer lines
American, fractional and decimal formats
Price boosts
9.8
Claim Bonus
After registering as a new user, you will immediately be receiving 2x $10 bets in your bet-slip. If your first settled cash bet loses, you will receive a refund to your account equal to the amount of your losing wager (up to $250). In order to be eligible for this promotion, you must be 21 years or older and physically be in the state of New Jersey. You must have registered for and obtained a valid and verified Unibet real-money account.
FAQs
How do you bet on table tennis?
Provided you understand the rules of the game, betting on table tennis is fairly simplistic. You'll need to open an account at one of the aforementioned best table tennis betting sites, and you'll need to make a small deposit. Next, simply wager a portion of your deposit on one of the three most common table tennis betting lines: moneyline, handicap (spread), or over/under (match points). If you are a newcomer to sportsbook betting, we strongly advise you to place a small wager on the moneyline, since this bet is easy to understand: you are just selecting which player will win. For a more detailed explanation of each table tennis betting line, please read up the page.
Is Moscow Liga Pro rigged?
Though the tournament hardly has the razzle-dazzle of the ITT World Championships or the Olympic Games, there is no conclusive evidence to suggest that the Moscow Liga Pro is rigged. That's not to say it never will be or never has been. Only that, to this day, there is no evidence of it. It's at least as safe to bet on as a lower-tier tennis match (where, once in a blue moon, a game is rigged), in our opinion.
Is table tennis betting good?
Yes, betting on table tennis is good. It's always better if your bet comes in of course. But, besides that, the sport is very fast-paced and dynamic, which lends itself perfectly to live-betting, where most of the money tends to come in. There are plenty of markets open and table tennis lines to bet on, and, if a bettor is well-studied, there is a chance to win money. Just be sensible!
What does +155 mean in betting?
If you see odds of +155 (or + anything, to be clear), it simply means that if you wager $100, you'll win $155. A + total is good odds, so, essentially, you are betting on the underdog to win.
Who is the best Russian ping pong player?
Maxim Shmyrev is the best Russian ping pong player, of the past couple of decades, having won gold at multiple events. Kirill Skachkov is the current Russian champion, however, having won the National tournament in April 2021.