Taking into account the rapid legalization of America's online gambling industry and the fact that some 16 million Americans tuned into last year's college basketball championship game, it's unsurprising that betting on NCAA basketball is a growing trend in the US. Nor that thousands of Americans are now trying to locate the best NCAA basketball betting sites available in their state of residence.
With that in mind, our team presents to you the top 10 best NCAA basketball betting sites legally entitled to operate in America.
Every site in our top 10 is 100% safe and trusted for college basketball betting. One is now even in direct partnership with an NCAAB team – the first time in modern history this has happened.
We've also listed out some of the important pros and cons of each basketball betting sportsbook to help you pick the right one for your tastes and requirements. They are all fantastic sites in their own right. But each is unique and some are better in one area than another, and so on…
Top NCAA Basketball Betting Sites
(in alphabetical order)
Las Vegas Based Bet MGM runs on Vegas odds. As such, it's little surprise the sportsbook got its NCAA basketball betting lines up for the outright division champions for 2021-22 nice and early.
Bet MGM allows its customers to wager on their preferred NCAAB teams live, in play, and offers deep markets, too – the premier game lines are all featured, along with a multitude of prop bets.
The sportsbook not long ago introduced a One-Play parlay feature for the NBA playoffs. This feature helps a bettor to hastily build a parlay bet, by listing out the best options. It's likely this will be available alongside next year's NCAA basketball betting lines, too.
Plus, those enticing NCAA Vegas odds don't hurt either – BetMGM tends to rank highly in the value-betting department.


What we like:
Early to market for 2021-22 NCAAB futures/ outrights
BetMGM contains deep markets, with numerous prop bets available for team, player, and match (once the season gets up and running)
One-Play parlay betting feature is a nice new touch
Up to $600 in risk-free bets makes BetMGM an attractive proposition to a new bettor
Highly competitive Las Vegas college basketball betting lines on offer
What we don´t like:
College basketball betting app doesn't tend to offer the very best odds
BetRivers is another of the top college basketball betting apps. The sportsbook features tons of market optionality, and it's a good choice for bettors wishing to wager on futures, games, and live in-play during the NCAAB season.
During the build-up to the NCAAB tournament come April, BetRivers goes to town on March Madness future bets & Mystery Madness bonus offers on tournament winners, top scorers, etc., and at good odds to boot.
BetRivers also has some enticing onboarding bonuses for new players – the site generally doubles a bettor's deposit bonus up to $250 (sometimes higher; just depends when you join).


What we like:
BetRivers live, in-play betting on NCAAB fixtures is among the best-looking and most responsive on the market
The sportsbook features an Early Buy-Out option, allowing bettors to cash out early when the anxiety gets to be too much
BetRivers' online blog is a useful resource to hone your college basketball betting strategies and to find out the best college basketball betting picks from the pros
Newcomers to the site will enjoy the numerous promo codes. Plus, the sportsbook dishes out several extra bonuses to long-time users, including the iRush Loyalty Rewards Program.
March Madness & Mystery Madness promos during the build-up to the NCAAB season offer high value
What we don´t like:
BetRivers has limited availability nationwide and can be tough to access out of state
Better odds to be found elsewhere (i.e. Las Vegas betting lines college basketball)
DraftKings is certainly one of the most stylish and enjoyable college basketball betting apps to frequent. DK looks great, the site interface is easy to navigate and it's user-friendly for all sports, including the NCAAB.
Once the college b-ball season gets back underway on November 9, you'll find DraftKings offers one of the deepest markets for NCAA basketball betting odds, lines, and spreads for the vast majority of games. The prop market is no less stacked: whether it's game, team, or player props, you'll likely find what you're looking for on DraftKings. Live, in-play wagering is another option on both regular season and NCAAB national tournament games.
As with the NBA, DraftKings lists college basketball prop bet markets next to the big, must-know stats heading into the game. Hence we called it 'user-friendly' earlier – it's almost like the sportsbook wants you to win… (but not quite, of course).
Futures for the 2021-2022 season are already up on DraftKings. Bettors can visit. the sportsbook right now to wager on the outright winners of the 2021-22 college national tournament. Plus, DK is one of very few college basketball betting sites that, at present, allow wagers on the final four. Gonzaga odds at +250 (see image below) is good value, too, considering they lost twice all year last season.


What we like:
Tons of optionality for NCAAB gambling: All college basketball betting lines & props a bettor could want are listed
DK's basketball betting app contains tons of vital gameday stats and allows users to wager on prop bets right next to those stats – a great and helpful feature (for regular gamblers, it saves a lot of time)
Now offering a money-back feature on parlay bets
DraftKings is the most easily accessible site in the USA, available in more states than any other sportsbook at present
Early to market with futures on national championship winners and final four
DraftKings.nation is a useful resource for college basketball betting tips/ strategies
A plethora of exciting betting options as part of the March Madness promo during the build-up to the NCAAB tournament (playoffs)
What we don´t like:
DraftKings odds are by no means bad, but there are usually better elsewhere
No live-streaming of NCAAB games
Parlay betting optionality can be further improved
FanDuel is another sportsbook that takes college basketball betting seriously. The sportsbook looks great; it's easy to navigate and the NCAAB fantasy option can be a lot of fun, too.
Both the site and its app offer deep markets for NCAAB fixtures once the season gets up and running, including one of the deepest NCAAB prop betting markets available anywhere. Users can bet live and in-play on the regular season and tournament games, and the college basketball betting odds are highly competitive. And that's regardless of whether it's a live, game, or an outright future wager (Gonzaga +750 for the 2021-22 title is as good as we've seen anywhere thus far).
During last year's March Madness mayhem, FanDuel was also offering new customers up to $1,000 free cash (matching your bet) if your first bet fell foul of the result.


What we like:
As far as basketball betting apps and sites go, FanDuel looks as good as anything on the market – very easy to use and navigate
Competitive college basketball betting lines and odds
Live betting on NCAA basketball games is a feature
New same game parlay (SGP) betting feature should be available for NCAAB games next season
Fantasy NCAAB is a lot of fun
Sportsbook contains all the key statistics for teams: key players, recent head-to-heads, top scorers, etc
FanDuel offered new users up to a $1,000 free bet during this year's March Madness
So many options on NCAA college basketball spreads, money lines, over/ under, and prop markets
Odds Boosts on prop market for all sports, including basketball
What we don´t like:
No live-streaming of NCAAB games
Unlike its main competitor, FD has no futures odds up for the final 4 (as of June 15)
Las Vegas-based Golden Nugget is another college basketball betting site that's worthy of note.
GoldenNugget has all the main markets a bettor would wish to see open in time for the basketball betting season: lines, spreads, and over/under are all featured. Plus, the prop market is fairly deep.
It's possible to gamble on NCAAB games live, in play but the market optionality is limited when compared to other sites: GoldenNugget often doesn't enable bettors to wager on the next point scored, etc. Plus, in-app, live betting can be clunky and users have to constantly click in and out to get back to the game they were following – this goes for all sports, including the NCAAB.
Golden Lines Parlay Boost is a fun betting feature that enables users to quickly parlay bets. But, with regards to NCAAB futures, Golden Lines doesn't allow users to parlay and it's hard to discern when you can and can't besides just trial and error, which can be a nuisance. Golden Nugget does run off NCAA Vegas odds, which keeps the lines competitive. The Next Bet On Us ($250 wager) promotion is something newcomers to the site will no doubt enjoy.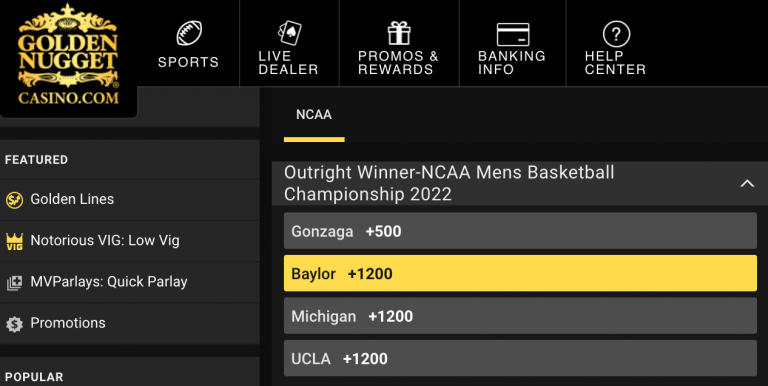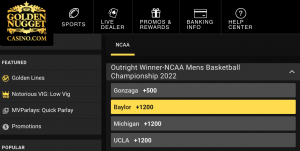 What we like:
Odds up for 2021-22 NCAA basketball tournament outright winners
Fairly deep market for NCAAB prop market bets
Bet Builder feature makes parlay betting quicker and easier
Next Bet On Us bonus feature ($250)
College basketball betting odds are competitive
What we don´t like:
GoldenNugget still looks too much like a casino for our liking
Bombarded with adverts to play casino games
No stats for NCAA teams available on site
FOXBET is one of the best college basketball betting apps when it comes to great sign-up bonuses and promos. The sportsbook offers a risk-free bet of $500 to new customers. The March Madness offers were also very competitive this year (5x your money, if either team scores a point, was a particular favorite of ours).
FOXBET features all the major markets for the NCAAB: point spreads, totals, moneylines, quarter and halftime lines, etc. Plus, there are a host of prop bets available, as well as conference and national title futures.
A relative newcomer to the sportsbook market, FOXBET is still one of the best basketball betting apps. FoxHoops games on Fox and FS1 include Big East, Big Ten, and Pac-12 fixtures, which are available for streaming through the app. Statistics and college basketball betting trends are available instantly, something that helps a lot when wagering live, in-play. The site and app look great and are enjoyable to navigate.
FOXBET also covers the NBA Draft and provides tons of market optionality there, too.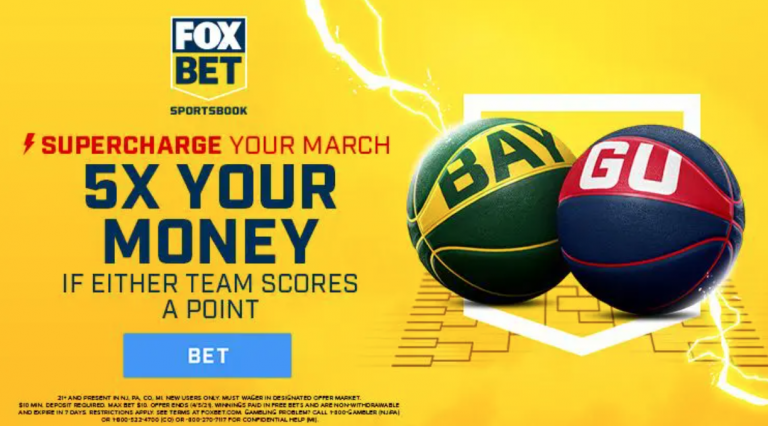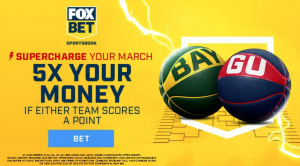 What we like:
FOXBET is one of the best college basketball betting sites in terms of trust and prestige – you know you can trust FOX.
Live NCAAB betting available
FoxHoops college basketball live streams via the app, including Big Ten, Big East, and PAC 12 fixtures.
Deep markets for college basketball, particularly futures markets and gameday betting
March Madness promos are very competitive. Plus, there are attractive sign-up bonuses throughout the year, including $500 cashback.
What we don´t like:
Other sites provide better value on college basketball betting lines
PointsBet is another of the best college basketball betting sites; certainly in terms of deep market optionality: PointsBet has all bases covered and the prop betting market is vast.
PointsBet is also one of the premier sportsbooks when it comes to bonuses during the sporting year: Juice Spreads are a particular favorite of ours – here PB basically just gives the favorite the same odds as an underdog (-100 > +100, for example) – you can't really go wrong with that! Plus, the basketball betting site is currently enticing new customers with two risk-free bets worth up to $2,000, which is just about the best value anywhere. Period… (you may have to spend it on the NBA playoffs though; what with the NCAA basketball tournament still five months away.
Pointsbet has already broadcast its NCAA basketball champion odds (2021-22) and, it must be said, the NCAAB futures odds we've been able to see look very good indeed – among the best available, in fact (Gonzaga +700!).
Another noteworthy pro of the New Jersey-based sportsbook is that it's the official betting partner of the University of Colorado – the first time in modern history a gambling company has joined forces with an academic institution.


What we like:
Official betting partner of the University of Colorado (the only such partnership between an NCAAB team and a sportsbook currently in existence)
Offers Juice Spreads for both NBA and NCAAB (-100 > +100)
Stylish-looking site and college basketball betting app
Pointsbet allows for partial cash-outs on parlay bets
Currently offering two risk-free bets up to $2,000 (most lucrative bonus on offer)
College basketball betting odds are highly competitive
Pointsbet has introduced a new single-game parlay betting feature which should be available for the next NCAAB season
What we don´t like:
A lack of game/betting stats available on the platform, especially when compared to some of the competition
Partnership with NBC not much use for college basketball streams since the broadcast provider does not have rights to NCAAB games
Twinspires was one of the first online basketball betting apps to include futures odds on the final four in the NCAAB tournament for the 2021-22 season. The odds are good value for bettors. So too are the odds on the national championship outrights (Gonzaga +700)
Visitors to Twinspires during the NCAAB season can expect to see tons of optionality on the gameplay betting markets. The college basketball betting odds are good value, too – among the best.
Twinspires also has one of the most highly ranked onboarding bonuses for new users – the site currently offers new patrons up to $1,000 in risk-free bets, regardless of what sport you want to wager on.
The sportsbook is also quite user-friendly, providing quick access to team stats on-screen to help bettors make the right picks. Plus the site and app look great and tend to be well-reviewed by patrons.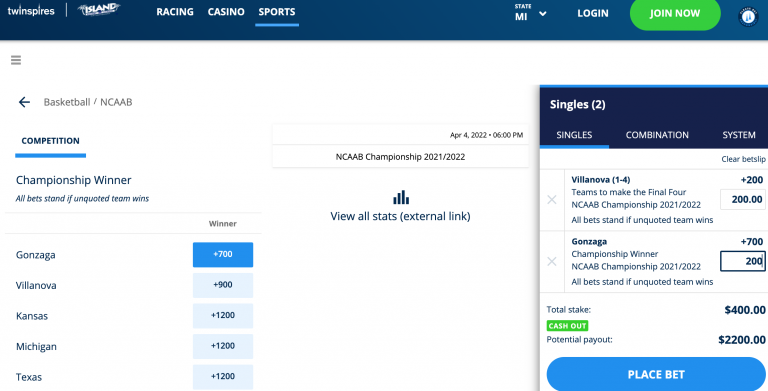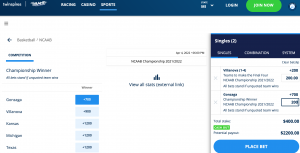 What we like:
Twinspires provides bettors with easy access to team stats when placing bets
Among the best college basketball betting sites in terms of bonuses and rewards for newcomers: Twinspires offers up to $1,000 in free wagers
Deep markets available for both regular season and playoff games: college basketball spreads, odds, lines, and many more
Weekly NCAAB blogs and vlogs that pour over all the betting lines college basketball has to offer
Competitive value; among the best college basketball odds and lines
What we don´t like:
No live-streaming
Difficult to place parlay bets on player prop + match bet
Team stats are featured, but no player stats
William Hill is the official betting partner of ESPN (and an official partner of the NBA for that matter), meaning that it's the sportsbook's college basketball betting lines you see listed on-screen during games. This partnership with ESPN also means that William Hill regularly live-streams college games (as well as NBA games) on its basketball betting app and site.
With ESPN at its side, William Hill is growing into a major player in the NCAAB gambling world, as evidenced by the sportsbook's massive $2,021 risk-free bet offered to newcomers during this year's March Madness period – a very high-value promo for a company not exactly famed for big cash giveaways.
Besides all that, the famed basketball betting app offers plenty of market optionality, live, in-play betting, and boasts some of the best NCAA Vegas odds around – it's also typically one of the first sportsbooks to broadcast odds, too.


What we like:
William Hill is quick to market with the newest and best college basketball lines and spreads
Plenty of useful articles, blogs, etc to help with your
Willaim Hill's odds are highly competitive across all the major markets (lines, spreads, etc)
Particularly with regards to NCAAB, William Hill offers up some great promos: the $2,021 risk-free bet during the March Madness future bets period was one of the most lucrative available anywhere
William Hill's odds are broadcast alongside ESPN college basketball games
Partnership with ESPN enables live streaming of select NCAAB games in select regions
What we don´t like:
Prop betting markets not as deep as some of the competition
Neither the site nor app is as visually appealing as some of the competition, and the app has been known to crash, too
Best NCAA Basketball Betting Tips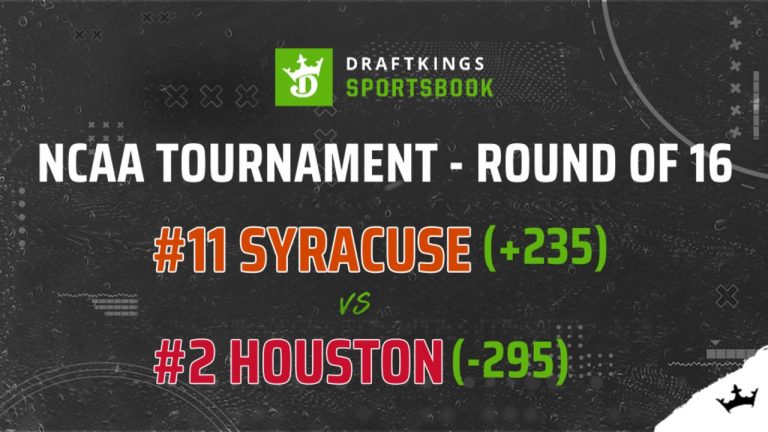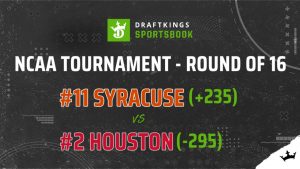 As with the NBA, the most simple way to bet on NCAA basketball is to put some money down on the game lines – the three most common of which are the moneyline, point spread, and total points markets.
We would always recommend doing some research before you throw money down on a whim or a gut feeling (though those do sometimes pay dividends, too): you'll feel less anxious about the game if you know you've done your homework, and you'll feel more confident about the game if you're sticking to a proven strategy or, at the very least, going off something you read on an NCAA basketball tips section.
Whatever your preparation, eventually, you'll come face to face with these three most popular game lines
NCAA Basketball Moneyline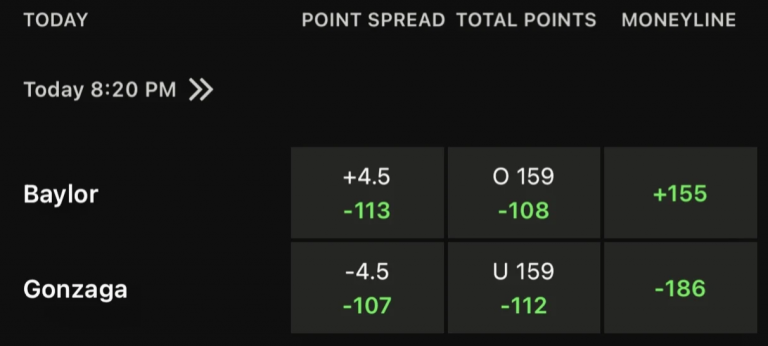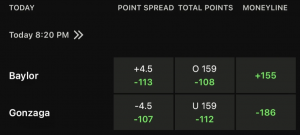 Wagering on the moneyline is a simple enough bet to make; that is so long as you understand the value of the lines you are betting on (+100/-100 etc)
On the moneyline, the bettor is simply trying to predict which team will win the game/half/quarter and betting accordingly.
In the example above from the excellent DraftKings, you can see the moneyline for the 2020-21 championship game between Baylor Bears and Gonzaga Bulldogs. The moneyline is the far right column.
After losing just one game all season, the Bulldogs were the clear favorites for the final. And the odds back that up at -186. All this means is that to win $100 wagering on Gonzaga, the bettor would need to put down $186. If the bettor put down $93 (half the amount), he/she would win $50, and so on.
The consensus agreed underdog for this game was the Baylor Bears, who were given great odds to distinguish exactly that, +155. What this means is that if you bet $100, you would win $155. If you bet $200, you would profit $310, and so on.
There's not much more to it than that. Just remember the underdog has better odds and will be listed as a number plus + sign (+155), whereas the favorites will have worse odds listed as a number plus a – sign (-186) and you are good to go!
NCAA Basketball Points Spread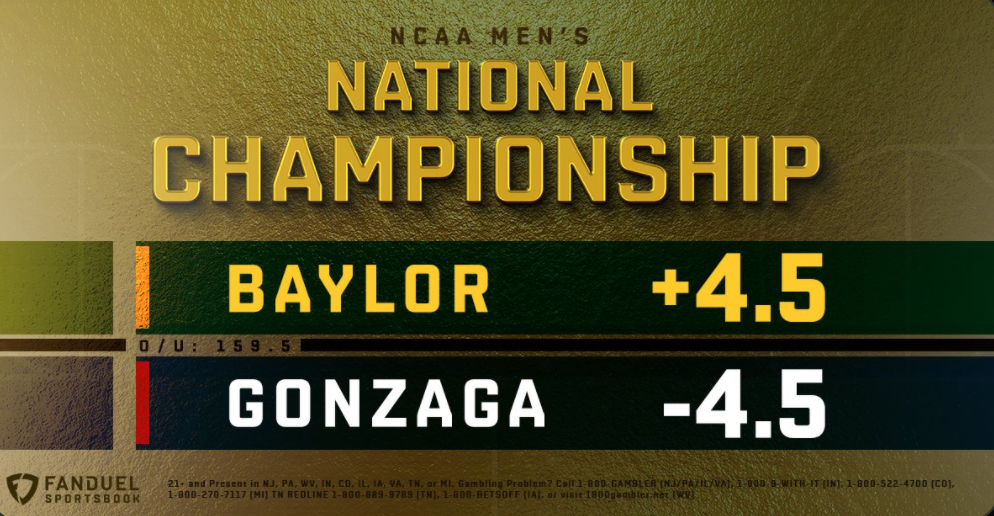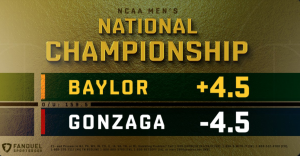 The points spread is another common market to encounter when wagering online at the best NCAA basketball apps and sites. Fortunately, it's a simple enough market to get to grips with, too.
The oddsmakers decide which team is the favorite and which is the underdog for a big game. Those same oddsmakers then work out the NCAA basketball spread based on how well they expect the match up on the court. The idea is to level the playing field slightly and, ultimately, to entice more bettors into action on the market.
You can see the points spread both in the FanDuel image above and in the DraftKings image below the moneyline explanation. The odds are the same. Baylor is the underdog and oddsmakers have challenged the Bears to cover the spread by losing by no more than +4.5 (-113) points. Gonzaga is the favorite at -4.5 (-107), meaning oddsmakers had challenged Jalen Suggs and co. to win the game by more than 4.5 points.
Of course, this epic championship showdown has already been played, which gives us an opportunity to look at how our bets would have gone down. The final score, as we all know, was Gonzaga Bulldogs 70 – 86 Baylor Bears.
If we had bet on Gonzaga to win by +4.5 points, of course, we'd be out of pocket. The Bulldogs lost and that's a wrap on that.
If we'd bet on Baylor to lose by 4.5pts or less and they had won, we'd win – they did better than expected and that plays into our hands.
For the sake of explanation, let's introduce a pretend score, too. Let's say it ended Bulldogs 82-81 Bears and we'd bet on the Bulldogs to win +4.5 on the spread, we'd still lose as Gonzaga won by only a single point and failed to cover the spread.
And so it goes…
 NCAA Basketball Total Points (Over/Under)


The total points (or point total) market is a simple one to explain. A bettor wagers on if the total combined points put up by both teams will be over or under the predetermined total set by the oddsmakers.
For all intents and purposes think of the total points market the same way you do a game of Blackjack at the Casino. It's much the same concept.
In the image above, you'll notice the point total is the middle market on the clipping taken from DK.nation, the excellent DraftKings blog pages (pro tip: it's a great resource!).
DraftKings' oddsmakers expected a fairly high-scoring contest for a college tournament quarter-final showdown and set the point total accordingly at 136.
You, the bettor, just need to wager on if the total points scored in the contest will be over or under the total set by the oddsmakers.
As it was, this game was a low-scoring affair: Michigan 49-51 UCLA, meaning just 100 points were scored in total.
If you'd put money down on the total points to be OVER 136, you would have lost. If you wagered it would be under that number, you would have won – that's really all there is to it.
Other Options for Betting on NCAA Basketball
With prop bets taken into consideration, there are literally hundreds of other options when it comes to wagering on college basketball games at the best college basketball betting sites.
Betting on NCAA Basketball Futures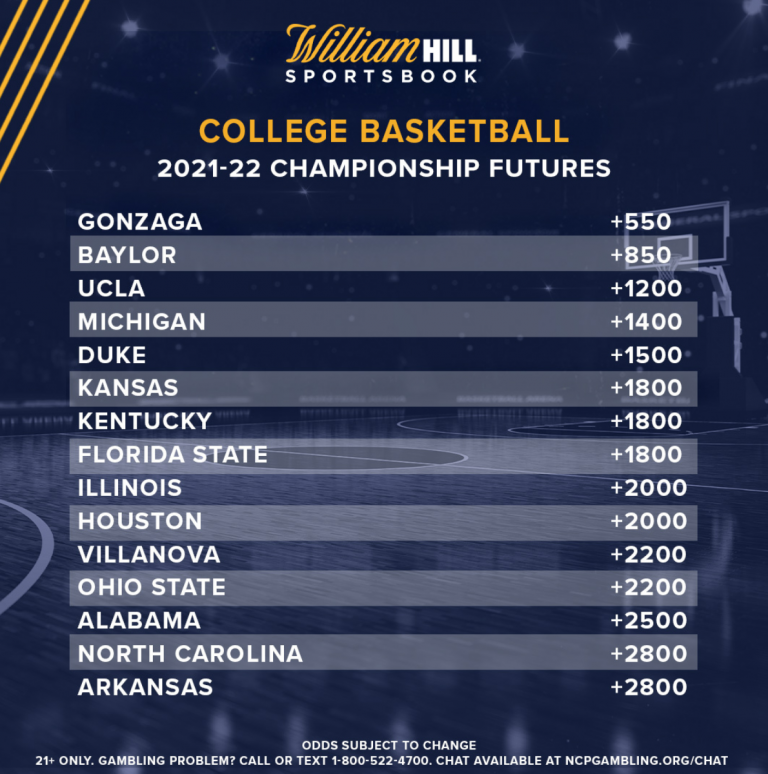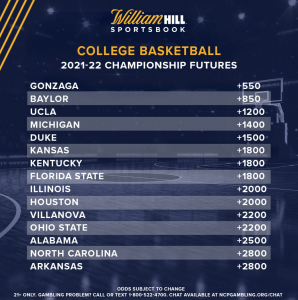 Futures live up to their name: you bet on a future outcome, typically with good odds as the actual result of your prediction will be some way off and, thus, it's unlikely you'll predict correctly.
When college basketball betting, there are both player futures and team futures. Team futures are things like the NCAAB tournament national champions, or the Big Ten division winners, etc.
Player future markets are things such as betting on the Most Outstanding Player of NCAA national tournament; most points scored in a season, most rebounds in a season, and so on.
It's always worth checking the futures the moment the NCAA Vegas odds are released: as one of the world's longest-running sports betting platforms, William Hill is usually one of the quickest sportsbooks off the mark with regards to NCAA Vegas odds. Regardless, even a site as prestigious and established as William Hill gets it wrong sometimes.
Case in point, in the table above, you'll notice odds for Villanova at +2,200.
William Hill is one of the most popular college basketball betting apps and was one of the very first sportsbooks to release its college basketball lines for the upcoming season and they have underestimated Villanova slightly here: we can tell because, by June 15, Villanova was down to +1,200, meaning there was some serious activity on this team that forced William Hill to shorten the odds.
Obviously, you'd rather place your bet at Villanova +2,200 as it's approaching twice as big a payout as the current odds (should they win, of course).
Again, always keep an eye out regarding release dates for NCAA Las Vegas college basketball betting lines – you might just find a power play.
In-Play NCAA Basketball Prop Bets


We are in the midst of the NCAAB offseason at present. Thus, it's hard to find a college basketball prop bet at this precise moment. Prop bets s run parallel to games and game lines, of which there are none.
Fortunately, prop betting is common in all sports (soccer, NFL, UFC, you name it) and, of course, the NBA. Prop bets generally come in three forms. A bettor wagers on a player, the team, or the game.
We've taken the images above from BetMGM. They are simply prop bets for the playoff encounter between the Milwaukee Bucks and the Brooklyn Nets (June 15): Kevin Durant to score +40 points (player), Bucks first to 20 points (game), and so on. There will likely be hundreds of other options available.
Remember that prop bets don't determine the victor of the basketball game Instead, they focus more on possible scenarios/variables/outcomes/totals that may or may not happen in a game of NCAA college basketball (or, in the above example, the NBA)
Many of the nest NCAA basketball betting apps allow bettors to parlay a prop bet, too. In the final of the NCAA basketball tournament, a bettor may have doubled the payout by betting on not only the Baylor Bears to beat the Gonzaga Bulldogs, but also wagered on guard Jared Butler to +20 points (he posted 22), for example.
Examples of Options Available for Player Prop Bets
The first player to score a field goal (2 points)
The first player to sink a 3-pointer
Will a certain player score over/ under a set amount of points (Ziaire Williams +/- 12 points, for example)
Number of rebounds (over/under)
Number of assists (over/under)
The number of steals amassed by a player … and so on
Examples of Options Available for Team Prop Bets
Which team will score the first point of the game?
Which team will scores last?
Winning margin (over/under)
Will the teams need to go to overtime?
Home team total points
Away team total points
Total rebounds (and. soon…)
March Madness and the college finals bring with it a plethora of extra options for prop betting.
Be sure to check back at your favorite NCAA basketball betting app nearer the time to see exactly what prop markets are on offer – sportsbooks get rather creative at this time!
Betting on the NBA Draft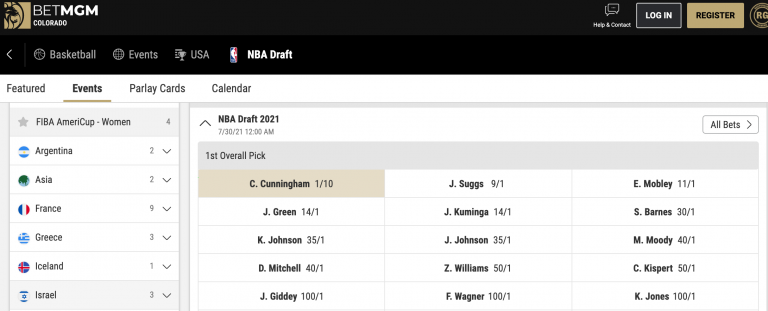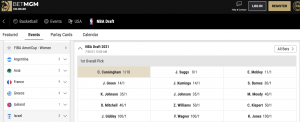 Most of the best NCAA college basketball betting sites also feature an option to place, at least, futures and, at best, live-in-play wagers on the NBA Draft.
This year's draft is set for Thursday 29 July. Expect to see the likes of Cade Cunningham (Oklahoma State) and Jalen Suggs (Gonzaga) go off the board nice and early!
Some of the best college basketball betting apps and sites already have futures odds for the No.1 overall pick listed for the 2021 NBA Draft. BetMGM, for example (see image above) has Cunnigham at 1/10 (meaning bet $10 to win $1).
It's only mid-June, so expect to see practically all the sportsbooks mentioned on this page open up markets for the NBA Draft with plenty of time to spare before July 29.
And when they do, the premier markets for the draft are listed below:
Betting on the No.1, No.2, No.3… overall picks: Most of the sportsbooks mentioned up page allow bettors to wager on each pick of the draft prior to the start of the event itself (all certainly will for the No.1 overall pick at any rate) Some, such as FanDuel and DraftKings typically offer live, in-play draft betting to boot.
Predicting whether or not a player will be drafted higher or lower (over/ under) than another player: This wager is pretty much self-explanatory, but just in case you're a newcomer… here, the bettor decided if one player will be drafted higher or lower than another. I.e. will Jonathan Kuminga (Congo) go above/ below Moses Moody (Arkansas)?
Will a player be drafted over/ under a certain number: A similar concept to the one mentioned above; only this time the bettor decides if a team will draft a player above/ below a certain pick. I.e. will Evan Mobley (USC) go above/below the No.3 pick?
We all love watching the draft. But there's no denying it can drag on a bit – betting on one of the three options above will, at the very least, keep things interesting for you; right up until Pick 60.
Best Promos And Rewards Available Online at the Best NCAA Basketball Betting Sites
College basketball is hugely popular in the US. As such, the sport lures in legions of bettors chancing their luck against the bookmakers.
But these bettors have a LOT of choices with regards to their preferred sportsbook. They can afford to shop around for the best deal. The online sportsbook market is far from a monopoly. And NCAA sportsbooks know this…
There are also just as many potential bettors deliberating on the bench, unsure as to whether or not they want to risk their capital on such a risky venture as NCAA basketball gambling. Sportsbooks know this, too.
The end result of these two points is that there is something of a neverending arms race with respect to sportsbooks pushing out as many promotions, sign-up deals, and cash giveaways as each can possibly afford to do. They want to lure you in. They want you to spend your money.
It's your job to take what you can get and stay in the game long enough to turn a profit.
Below are some of the most lucrative or enticing college basketball promotions/sign-up deals that are, or were, available to users at the best NCAA betting sites listed above during the 2020-21 season.
Expect to see similar offers in time for next year. But do of course shop around – all the best NCAA basketball betting apps and sites have run offers and promos all year round.
William Hill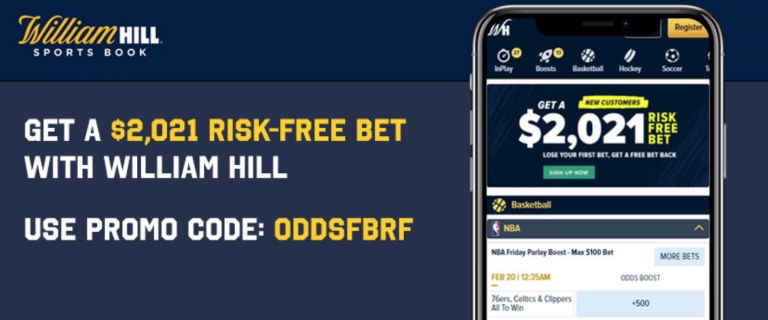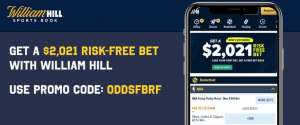 Valid for the month of March Madness during the build-up to the national college basketball tournament, this excellent William Hill promo is defunct… for now.
We include it because the chances are the NCAAB sportsbook will rerelease (or do something very similar) in time for the next NCAAB tournament in March of 2022.
A $2,021 risk-free bet could be life-changing. If you see this deal doing the rounds again come Springtime of next year, jump all over it!
DraftKings NCAA Betting Promo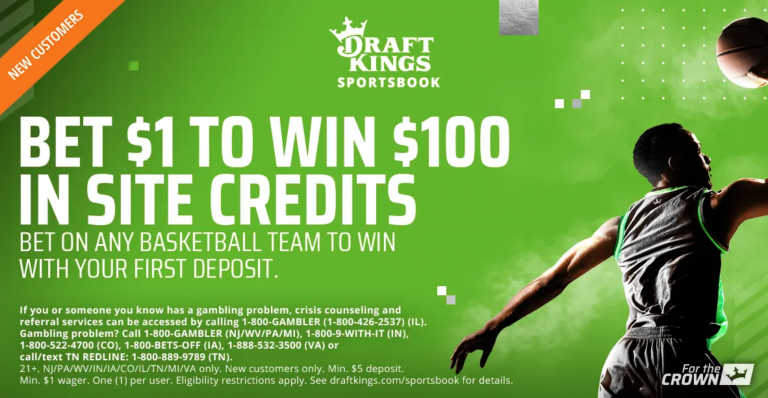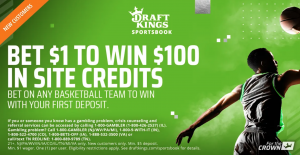 DraftKings is always at the front of the pack when it comes to great promotions and sign-up bonuses. Last year the famed sportsbook enticed in new bettors by allowing them to bet $1 to win an extra $100 in site credits.
This promotion is ongoing (as of June 15) and can also be used to wager on the 2021 NBA playoffs, too.
Best NCAA Basketball Betting Strategies


We've covered basic betting strategies in some detail in our NFL and tennis betting articles. If you click the links, you'll be taken to those pages, where you can read those basic practices in more detail. We've also listed a few of the best of them below:
Don't constantly bet on the massive favorite. The odds are rarely in your favor in the long run; every dog has its day
Try not to wager more than 1-10% of your account
Always do plenty of research. You can find plenty of college basketball betting picks at the best NCAAB sportsbooks
Try to find value on the market
Attending live games can give you a slight upper hand
Don't be afraid to open up multiple accounts on sportsbooks: always seek out the very best NCAA college basketball lines and odds
Frequently reading blogs and newsletters will help you to build your own NCAA college basketball betting strategy
Visit college basketball betting forums
We also covered the best NBA betting strategies for beginners over in the NBA basketball betting section of the site. The three strategies covered can be applied to the NCAA too, so it's well worth taking a look by clicking on the link.
In the interest of keeping things fresh and interesting, below are three more college basketball betting strategies. For the best results, use the strategies below in conjunction with the college basketball betting tips laid out in the bullet points above and the basic betting strategies laid out on the aforementioned pages.
And remember, there is no one way to guarantee success when it comes to betting on college basketball. The idea is to research thoroughly, be passionate about the sport, and try a few different strategies out to see which one works for you.
Using the Martingale System when betting on NCAA Basketball
The Martingale system is far from rocket science. It's a basketball betting strategy that simply requires patience, a large number of funds, and a high degree of risk.
All a bettor needs to do to implement the Martingale system into his/her betting strategy is to visit one of the aforementioned best college basketball betting sites and double down on the next bet each time he/she takes a loss.
You could implement the Martingale system in practically any NCAA basketball betting market. However, with a focus on the explanation and to keep things simple, let's look at a simple moneyline bet.
Back in January 2021, San Diego State played three games over a short period vs. Utah State (x2) and the US Air Force. San Diego (-130) was the heavy betting favorite vs. Utah in both games, with the latter listed at +1,300 underdogs on some sportsbooks.
Every dog has its couple of days though. Utah won both games. Obviously, the best bet here would have been to wager on Utah wins both times, where a measly $200 outlay ($100 per game) would have returned some $2,600. We didn't expect this result though and plucked for the favorites, San Diego.
Using the Martingale system, we bet and lost $130 on the first game. We doubled down on the next game, betting $260, which we also lost – a bad series.
In the next game against Air Force, San Diego were heavy favorites at -1,000, meaning to earn $100, we'd need to risk $1,000. Sticking to the system we tripled our wager at $3,000. San Diego won the game and we earned a $300 profit, putting us up $40 on our three-game series.
As stated, this is a high-risk betting strategy that requires a lot of money. But it has been known to work, especially on spreads and over/under wagers where better odds (and thus smaller wagers) tend to be available.
Use Against the Spread Stats Against the Oddsmakers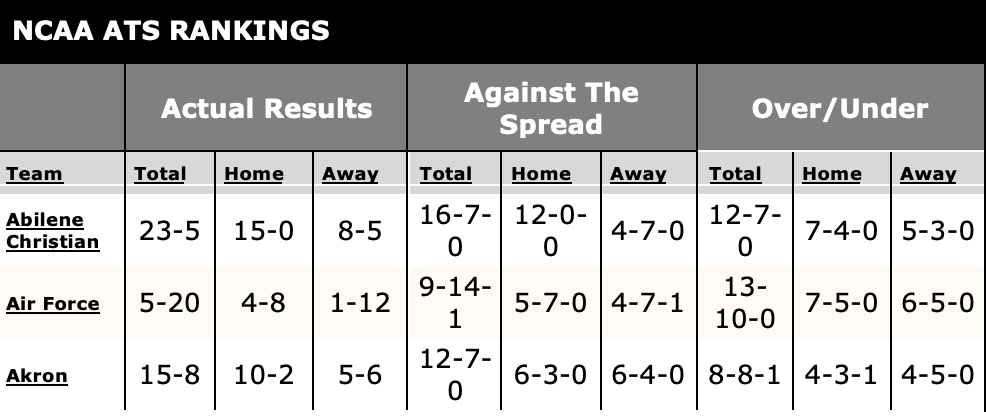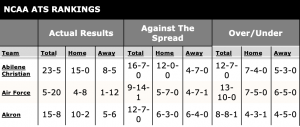 Another of the favorite college basketball betting systems is to use the spread stats against the oddsmakers. It requires plenty of research and basketball knowledge. But it can and does work.
Oddsmakers don't know everything. They might think and claim they do and, to be fair, they are often right. But each season there are one or two NCAA basketball teams (even one or two conferences) that the oddsmakers just can't get to grips with. This is true of even the very best NCAA basketball betting sites and especially regarding the spread.
Midway through the season, the stats section on many of the best basketball betting sportsbooks becomes an increasingly worthwhile read. It's here you can see how well a team is doing against the spread (or vs. the sportsbook, effectively).
In the table above, you can see that Abilene Christian is 16-7-0 against the spread. Chances are that the oddsmakers were scratching their heads when trying to ser the spread each week. And this is the exact kind of team a savvy bettor will keep an eye on.
This is your chance to research that team further and to try to gain an upper hand on the oddsmakers.
Is the team better than expected on the road? Does the team bounce back well from defeat? Is a key point guard serially underrated? Try to learn about this team and use this college basketball betting line against the oddsmakers.
Betting on Trap Games in the NCAA
Trap games happen, and not just in NCAA basketball either. You see trap games in the NBA, the NFL, soccer leagues, and just about everywhere else. Trap games are a known phenomenon in the world of sports betting.
In essence, a trap game is just when a premier team in the league has a big game coming up on a Saturday vs. a fellow tournament contender but has to deal with an average team the Wednesday prior (the trap).
The logic of the trap game is that the big team will struggle against the underdog in the game immediately before (or after) the big game.
Studies that have been performed on trap games are damning on it being a worthwhile strategy. It turns out that teams that have an above .500 win rate tend to win vs. teams with a below .500 win rate 85% of the time in trap games. This win percentage is statistically similar to how often those teams would win in a game not considered a trap.
That said, trap games do happen and it is possible to predict which teams will be found guilty of looking past their perceived weaker opponents.
However, you need to do a ton of research and have an innate knowledge of not just the team and its analytics, but the players on the team and their personalities – perhaps you've noticed your own team, the team you support, has this nasty habit…
Conclusion
As mentioned in the introduction, above are three more college basketball betting strategies that you may or may not want to implement when wagering money on the best NCAAB betting sites. There are many other tips mentioned over on the NBA section of this site, and even some of the strategies outlined over on the boxing and tennis sections could help you to piece together one of the better college basketball betting systems.
But, at the end of the day, each bettor must forge his/her own path in the competitive world of sportsbook gambling and that's probably one of the best college basketball betting tips we can give you.
What works for one person doesn't always work for another, and so it goes…
Key Dates For NCAA Basketball Betting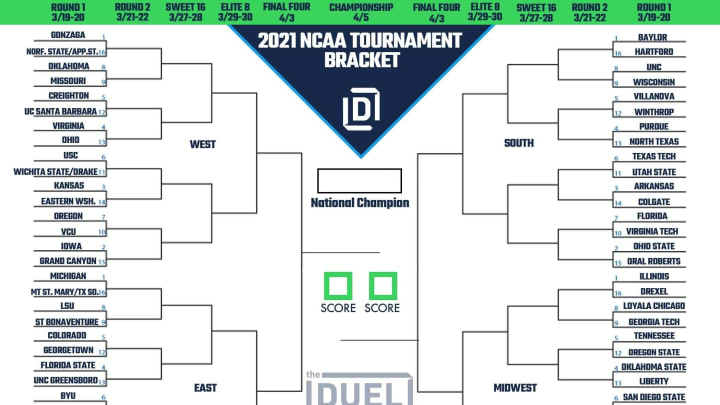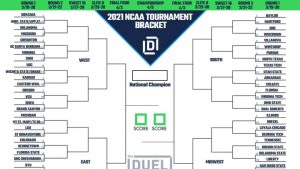 When wagering on any sport, the bettor needs to keep a keen eye on both the fixture list and key dates that sportsbooks tend to release odds – the NCAA is no different.
NCAA Basketball  Schedule for Regular Season and Division 1 Tournament
The NCAA Division I men's basketball season begins on November 9, 2021, and ends on March 6, 2022
The 2022 NCAA Division I Men's Basketball Tournament (or college playoffs)  begins on March 17, 2022, and ends on April 4
When are the Odds for the NCAA Basketball Season & Playoffs Released?


The opening odds for outright future winners of the NCAA Division 1 Men's Basketball Tournament come out nice and early, usually a few weeks after the conclusion of the current season.
The 2020-21 season ended on April 6 when the Baylor Bears defeated the Gonzaga Bulldogs 86-70 at the Lucas Oil Stadium. Sites such as PointsBet had outright futures up for the 2021-22 championship winners just a few weeks later (early May). Some sites are lagging behind slightly though.
The odds for the playoffs are generally released ASAP at the end of the regular season/ a few days after the play-in fixtures are completed, so Mid-late March.
Sportsbooks that run on the Las Vegas odds, such as BetMGM and William Hill tend to broadcast playoff odds first. So it's always worth checking nice and early to see if you can find yourself a good deal. That is before the big money starts rolling in and adjustments are made to the college basketball lines.
Moneyline Betting Odds Comparison
When betting on college basketball, it's important to shop around and find the best NCAA betting lines. After all, why make $10 when you could make $15? Ultimately, the similarities between sportsbook gambling and the fast-paced world of day trading on the stock market are very similar. And, as the best traders do, bettors need to find an upper hand vs. the market at any cost if they hope to come out on top at the end of the day/ year.
Again, open up multiple sportsbook accounts. Make small deposits. Reap the rewards of those sweet deposit bonuses mentioned earlier and bet using the best NCAA college basketball betting odds you can find – you really can't lose. People make an entire career doing this.
To show the importance of research, we've put together a quick table. The table shows five of our top ten best NCAA basketball betting apps' outright future odds on winning the 2021-22 NCAAB national championship. The odds listed are for the following four teams: Gonzaga, Villanova, Baylor, and USC.
| | | | | |
| --- | --- | --- | --- | --- |
| Sportsbook | Gonzaga | Villanova | Baylor | USC |
| DraftKings | +700 | +900 | +2,000 | +2,500 |
| FanDuel | +750 | +1,200 | +2,000 | +4,000 |
| PointsBet | +700 | +1,200 | +1,600 | +2,500 |
| Twinspires | +700 | +900 | +2,000 | +2,500 |
| William Hill | +700 | +1,200 | +1,400 | +5,000 |
As you can no doubt work out from the above table, FanDuel and William Hill are among the best sportsbooks when it comes to futures bets on next year's college basketball tournament. William Hill's bet $100 to win $5,000 on USC is a great value bet. And if you fancy Gonzaga to avenge last season's shock tournament final defeat to Baylor, FanDuel's +750 line is ahead of the pack.
With that said, there isn't exactly a massive difference between the sportsbooks. If we were to continue to do this for all the teams and sportsbooks, we're confident that every sportsbook would provide the best odds on one team or another.
For you, the bettor, it's simply about doing the research and finding the best odds for your wager. So, if you fancy Gonzaga Bulldogs to win next year, go to FanDuel; if you fancy the Baylor Bears to make another run at it, don't go to William Hill, and so on.
Best NCAA Basketball Betting Sites USA – Conclusion
We've presented the ten best NCAA basketball betting sites currently on the market in the USA.
Each of these sportsbooks is is 100% safe, verified, and fully licensed to operate in select states. We stake our own reputation on that.
Nevertheless, do be sure to double-check that the sportsbook you're hoping to join is licensed to operate in your state before making a deposit.
Each sportsbook mentioned up page comes up trumps at one thing or another. The sportsbooks mentioned are the very best websites for college basketball betting.  DraftKings and FanDuel provide tons of market optionality and possibly have the best user interfaces on their college basketball betting sites and apps. William Hill is quick to market with the freshest NCAA Vegas odds and tends to broadcast some of the best college basketball betting odds and lines to boot. FOXBET actually live-streams NCAA games throughout the season… and so on.
People want and expect different things from their NCAA basketball betting apps. So, ultimately, it's all about finding the right sportsbook for your needs.
At present, we would strongly recommend…
Risk-Free Bet up to $1,000
Risk-Free Bet up to $1,000
Offers a $1,000 Risk-Free Bet to New Customers
Very Competitive College Basketball Odds and Lines
Deep Market of Prop Betting Options for College Basketball
9.8
Claim Bonus
What we would say though is that each of the ten college basketball betting sites mentioned up page is about as good as it gets. So we implore you to shop around and find the one that ticks the most boxes for you, personally.
FAQs
Where can I bet on the NCAA?
There are plenty of options available to American bettors when it comes to betting on NCAA basketball. Some of the most popular sportsbooks featuring NCAA betting lines are DraftKings, FanDuel, and PointsBet. But there are many others, too.
Can you gamble on college sports?
Yes, any American living in a state that has legalized online sportsbook gambling can wager on college sports. This includes NCAA basketball. However, to protect the integrity of college sport, the NCAA does prohibit student-athletes from wagering money on any NCAA sports. I.e. Cade Cunningham couldn't visit a top NCAA basketball betting site to wager on an Oklahoma win/loss last season.
What states can use FanDuel sportsbook?
FanDuel is available online in the following states: Illinois, Virginia, Colorado, Pennsylvania, Indiana, West Virginia, New Jersey, Iowa, Michigan and Tennessee. More states are expected to be added to this list soon...
Can you bet on women's college basketball?
During the postseason, DraftKings is one of many sportsbooks that allow bettors to wager on NCAA women's basketball.
What is a risk-free bet?
Sportsbooks often run promotions such as risk-free bets. A risk-free bet is when a sportsbook refunds the price of a bet up to a certain dollar amount if you lose. Generally, the sportsbook refunds the value of your bet in the form of a free wager or site credit.