With authorities granting sportsbook betting licenses across states in the US, it's little surprise that betting on basketball games is becoming increasingly popularized around the country. Or, for that matter, that thousands of Americans are now trying to discover the best NBA betting sites available to them.
With that in mind, our team has sifted through the internet to present to you the top ten best NBA betting sites available for use on the American market.
Each of the sites listed on this page is 100% safe, verified, and trusted for NBA betting. In fact, basketball fans will likely be familiar with several of them already since one or two are in direct partnerships with the national basketball association.
Because each sportsbook is unique and has strengths and weaknesses in different areas, we've also listed out the key pros and cons of each basketball betting app to help you make the right selection for your needs.
Top  NBA Betting Sites
(in alphabetical order)
Bet MGM is in partnership with the NBA, which explains why the site, which is more famous for boxing, has so much optionality for pro basketball.
The Bet MGM sportsbook live-streams NBA games, meaning bettors can wager on their favorite teams live, in play, and the markets are deep, too. Looking only at player prop bets for tonight's playoff clashes, there are maybe 100 options on the prop market: points, assists, rebounds, steals, blocks… and for every other player.
The site also recently introduced a One-Play parlay feature that effectively helps a bettor to quickly build a parlay bet, listing out the best options on his/her behalf.
All in all, where prop bets and deep markets are concerned, BetMGM is absolutely is one of the best basketball betting sites.
Plus, the NBA Las Vegas odds don't hurt either – BetMGM provides good value.


What we like:
A plethora of options for NBA live-betting, pre-game, and futures
A deep market of prop bets available for both team and player
One Play parlay betting feature
BetMGM offers a very attractive bonus of $600 worth of risk-free bets to all new users and is known to lay up tons of free bets to regular bettors on the site
Live-streaming of NBA games, including the playoffs, is available
What we don´t like:
NBA betting app doesn't tend to offer the very best odds
BetRivers has a deep basketball betting market. There are NBA odds, lines, and spreads for all the regular season fixtures & playoffs and a decent amount of prop bets to boot.
The BetRivers sportsbook allows bettors to place wagers on futures well in advance of the season. The site and NBA betting app also contain a live, in play betting feature, so you place wagers whilst your NBA game is unfolding in front of your eyes.
BetRivers runs off the Kambi engine, generally broadcasts competitive NBA betting odds as a result, and is usually quick to market, behind sites offering Vegas odds only.
All in all, BetRivers is a good option for NBA lovers and the tidy deposit bonuses (seen below) don't half hurt either.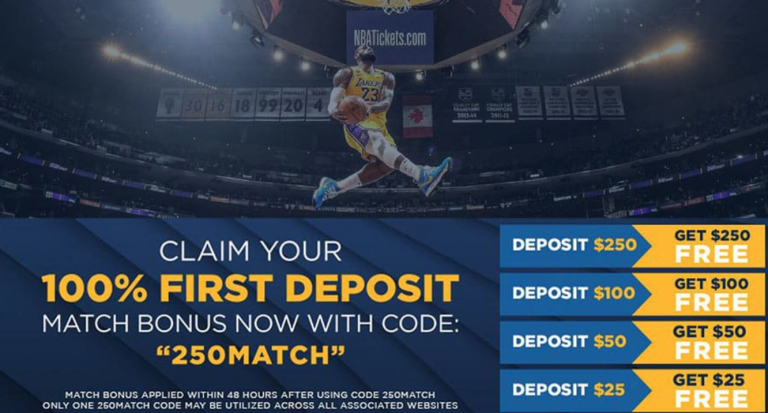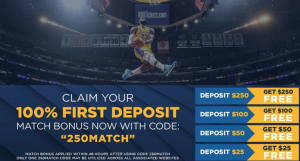 What we like:
BetRivers is one of the best NBA betting apps to place wagers live, in play.
Offers an Early Buy-Out option, which means patrons can beat the buzzer and cash out early
The sportsbook boasts legendary, former Seattle Sonics and Golden State Warriors head coach George Karl as a brand ambassador – highly trusted
BetRivers' online blog is a valuable resource for those wishing to master the art of NBA gambling
New users can expect to be greeted by various promo codes and the sportsbook offers tons of bonuses to registered users, including the iRush Loyalty Rewards Program.
What we don´t like:
BetRivers is one of the more difficult sites to access out of state
Not that the NBA spreads and odds are bad, but there are often better on offer elsewhere
If optionality, fun, and a great combination of easy-to-access stats alongside all your prop bets are what you're after from a sportsbook, DraftKings is the way to go.
DraftKings became an officially licensed betting partner of the NBA in 2019 and, as such, provides an incredibly deep market of basketball betting odds, lines, and spreads for all fixtures. As well as countless prop bets.
We love the fact that DraftKings lists prop bets right next to the big stats heading into the game – it makes life so much easier from a research perspective. You can see an example of this in the image below, in which it's clearly signposted that' Jrue Holiday has made two or more 3pointers in each of his last three home games vs. the Nets. Then, you can seamlessly place an NBA over under 1.5 bet on him to hit three-pointers in the game.
A betting site can't make life much easier than that – great for both beginners and pros.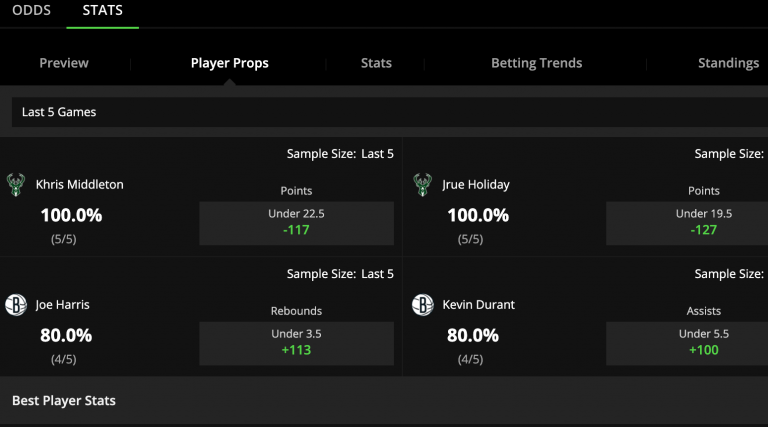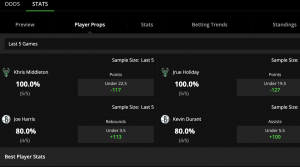 What we like:
An incredible amount of optionality for the NBA playoffs: team props, player props, game props, parlays – whatever. Draft King has it covered
A very stylish NBA betting app containing all the vital gameday stats and even prop bets alongside those stats for ease of use. DK is a truly user-friendly sportsbook
DraftKings has a multiple parlay betting feature nicknamed Round Robin
Official betting partner of the NBA
Money-back feature for parlay bets
Most accessible site in the USA
Great playoff-related bonuses: bet $1 and win $100 of your team wins was a particular favorite of ours
What we don´t like:
Better odds available elsewhere
Hard to parlay player prop bets with moneyline bets on game outcome
Being that it is an official partner of the NBA, the FanDuel site and app look great. And the sportsbook is chocked full of stats and data, helping basketball fans make safe bets based on the analytics as opposed to sentiment.
FanDuel's betting market for the NBA playoffs is deep – very deep. There are hundreds of NBA markets and prop bets open. The new same game parlay (SGP) feature provides even more optionality, making it easy for basketball fans to construct the exact wager they wish to place.
The NBA betting site also enables live, in-play NBA betting. We tend to think that the on-screen graphics during live betting is among the best in the market, too – a nice touch.
Plus, there's fantasy NBA, which is a lot of fun and can earn you some $ to boot.


What we like:
Great looking, stylistically modern site and app that's easy to use and navigate
Live betting on NBA is available
New same game parlay (SGP) betting feature simplifies parlay betting and offers great value (see image above)
Statistics for teams in play, key players, historical fixtures, etc easily visible to the bettor – helps speed up the research
FanDuel lays up some of the best bonuses: $500 free bet on NBA games for new users
Deep markets. 100s of variations on NBA spreads, money lines, over/ under, and prop markets
Odds Boosts on prop market for all sports, including basketball
FanDuel is an official betting partner of the NBA, giving the sportsbook access to all the logos etc
What we don´t like:
No live-streaming of NBA games
Better odds located elsewhere for those who bet on NBA games
Golden Nugget has deep markets for all NBA games, both in the regular season and during the playoffs. All the usual suspects are available: moneyline, NBA points spread, over/ under, and plenty more, including a multitude of prop bets
Golden Lines Parlay Boost is a fun and potentially lucrative combi-betting feature. Golden Lines makes it simple to combine NBA bets with other sports bets to boost odds. In the image below, we bet on Phoenix Suns' Chris Paul to score more than 16 points vs. Denver Nuggets, in parlay with France to win the EURO 2020 soccer tournament, for example.
Next Bet On Us, which is a free $250 wager, is another of our favorite features.
Golden Nugget does feature live, in play NBA betting, too. It's not as slick an engine visually as some of the competition. But live betting is always a great feature for bettors.
What we like:
The Golden Lines feature enables bettors to combine different sports on the betting slip at boosted odds, quickly and easily.
Prob betting market for NBA games is deep
The bet Builder feature makes it easy to construct parlay bets on NBA games: moneyline + first scorer + Chris Paul to score more than 16 points in playoffs game etc.
Next Bet On Us bonus feature gifts users a free bet of up to $250
Very competitive NBA lines and odds
Affiliated with the Houston Rockets
What we don´t like:
For an NBA betting site, GoldenNugget still looks too much like a casino for our liking
No betting partnership with the NBA means no team logos (besides partnership with Houston Rockets)
No stats for NBA teams/ players accessible from the site (or if they are, we can't find them)
The FOXBET sportsbook offers great sign-up bonuses to basketball fans throughout the year, including a risk-free bet of up to $500 for new sign-ups. And some more interesting ones, too: bet $1 get $100 if the 76ers score 76 points, for example.
FOXBET has a very deep market for futures, gameday, and in-play wagering. Bettors can wager on outright winners of divisions, conferences, and finals; bet on the prop market with plenty of optionalities, or simply wager on the moneyline, points spread, over/under markets. The prop betting market is also substantial – FOXBET covers all bases.
FOX Bet also allows its patrons to wager on the NBA Draft every June. Bettors can select which draft prospect will be the No.1 overall pick. Plus, which players will be lottery or first-round picks.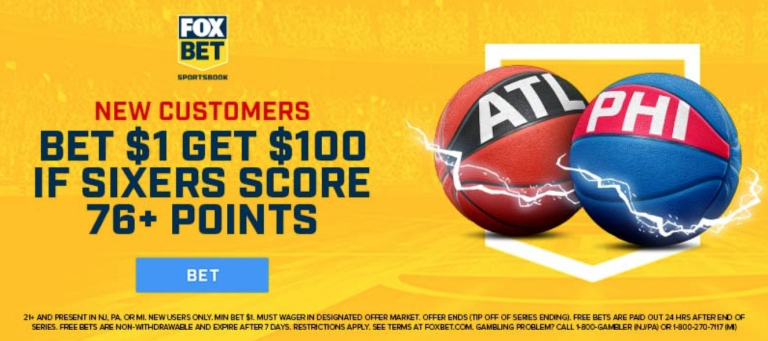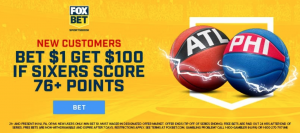 What we like:
Being one of the world's best-loved and most prestigious sports broadcasters makes this NBA sportsbook highly reputable
FOXBET is an authorized sports betting operator of the NBA, providing it with access to all the official league data and allowing the sportsbook to partner with NBA teams
In a direct partnership with the NBA's Philadelphia 76ers
Live NBA betting available
Deep market optionality for basketball futures, gameday, and in-play betting
Attractive sign-up bonuses. Tons of promos and odds boosters throughout the year (see image above)
Super 6 parlay betting can be lucrative
What we don´t like:
Other sites have better NBA odds
No live-streaming of NBA games
PointsBet is another official betting partner of the NBA and broadcasts its win probability metric across major NBA platforms, including NBA.com and the app. These are the same metrics PointsBet uses to generate odds, so well worth checking out!
The sportsbook has deep markets available for playoff betting. There were over 270 separate wagers available on the Philadelphia 76ers vs. Atlanta Hawks quarter-final clash, for example. Bettors can wager on the series result and game result. Plus, there are a multitude of parlay betting options available (team, player, & game) and it's easy to build a parlay using PointsBet's new single-game parlay betting feature (see image below)
The NBA betting lines and odds are competitive and the partial cash-out option is another top feature, too.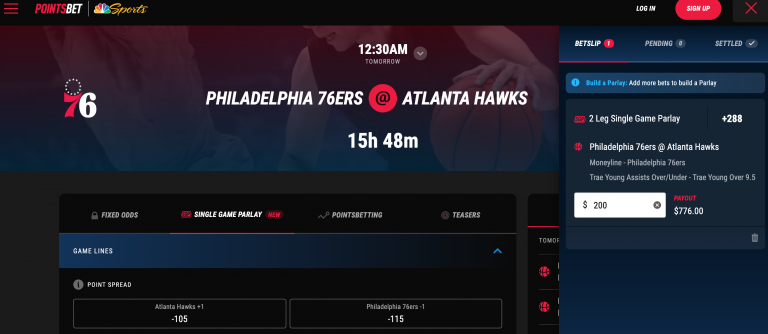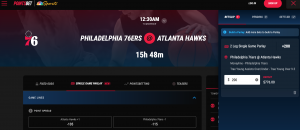 What we like:
Authorized betting partner of the NBA: PointsBet's win probability metric broadcast across all NBA platforms
Stylish-looking NBA betting app
Pointsbet offers a partial cash-out option
NBA betting lines and odds are typically good value
New single game parlay feature enables bettors to cast multiple wagers on a single game at better odds (see image above)
What we don´t like:
No stats for NBA teams or players – other sites offer this service and it really does help
No live streaming of NBA games.
Twinspires is best known as the betting home of the Kentucky Derby. That said, though Twinspires isn't an official betting partner of the NBA, the sportsbook does a great job helping bettors wager on the sport:
Twinspires patrons can bet on NBA Futures (conference winners, championship winners, etc.) and all regular and playoff games are listed. There are a plethora of betting options available: NBA lines, odds, and spread. Plus, player and team prop bets; over/ under … the list goes on.
Twinspires also does its customers a service by proving all the vital team metrics on screen to help you make better decisions – no player stats though, which we found odd?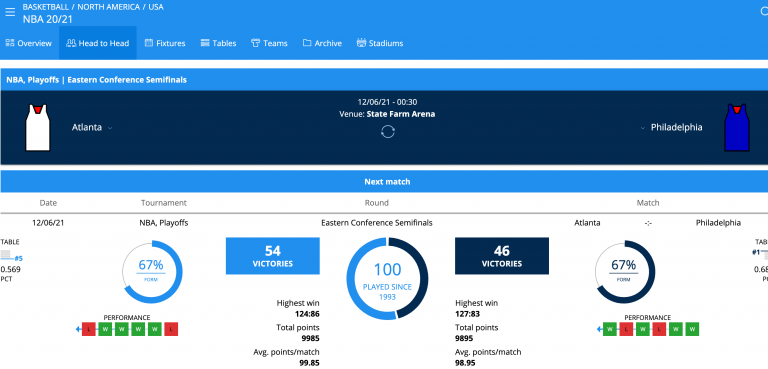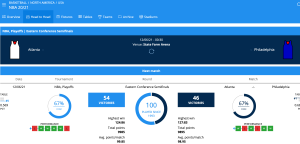 What we like:
Vital team stats available onscreen when placing bets, with more available at the click of a button
Twinspires is an NBA betting site that caters for live, in play NBA betting
Aesthetically, the site and app look and feel great
Lucrative bonuses and rewards for newcomers: Twinspires offers up to $1,000 in free wagers to newcomers
Deep markets available for both regular season and playoff games: NBA spreads, odds, lines. Plus player specials, player points, points total at end of 1st, 2nd, 3rd and 4th (and more)
Weekly NBA betting guide and NBA
Competitive NBA odds and lines
What we don´t like:
No live-streaming of NBA games
Parlay betting for player and match unavailable (Atlanta Hawks to win vs. Philadelphia 76ers with Joel Emblid to finish as top scorer, for example)
Team stats are featured, but no player stats
William Hill is an official betting partner of the NBA, giving the sportsbook license to use NBA & NBA team logos, etc. The famed NBA app is also the official betting partner of sports broadcasting heavyweight ESPN.
William Hill provides all the markets you would expect to find at an official NBA betting partner (NBA lines, odds, and spreads). But there is a distinct lack of optionality when compared with some of the competition, particularly regarding NBA props. The sportsbook does offer odds boosts (Simmons triple-double with 76ers to win, for example), but not much else.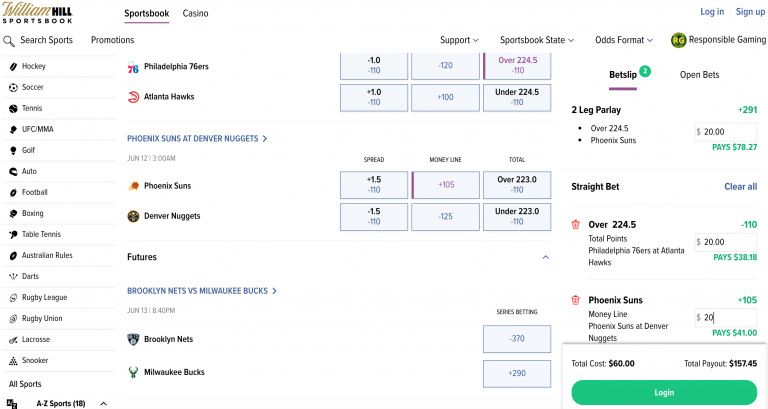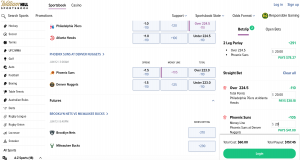 What we like:
Sportsbook offers NBA Las Vegas odds – it's quick to the market with NBA lines and spreads
Some of the best odds on the market for NBA futures and on the moneyline for games
William Hill offers plenty of bonuses and rewards to its patrons over the course of the NBA season: $500 free bets, $250 free bets, etc.
Partnership with ESPN make William Hill's odds accessible instantaneously in live betting scenarios
What we don´t like:
Player and team prop betting markets not as deep as some of the competition
Best NBA Betting Tips


The most popular and easiest way to place bets on NBA games is to wager on the game lines. There are three game line markets, which are as follows: moneyline, point spread, and total points.
Of course, a bettor is free to place a wager on the NBA betting lines at any time. But we strongly advocate waiting until a day or two before the game to place bets on the Lakers vs. Celtics (for example) and also in doing a spot of research first. You don't want to cast a bet a week before the game only to learn two days prior that LeBron James has gone down injured. Not that that often happens. But of course, such news could affect the result.
Once you are confident in your research, go ahead and bet on NBA games by using one of the three most popular game lines.
Moneyline


Placing a money line bet on NBA betting sites is the easiest wager of all.
All a bettor needs to do is check the NBA odds on the moneyline, decide which team he/she thinks will win the game/half/quarter, and then place a bet accordingly.
In the example above, you can see the moneyline in the middle column for the outright winner of the NBA clash between Phoenix Suns vs. Denver Nuggets.
The Nuggets are the favorites and the NBA odds of -118 show us that. Here a bettor needs to bet $118 to win $100. The Suns are the slight underdogs at +100. A $100 bet on Phoenix to win would win the bettor $100.
There's not much more to it than that.
Points spread

All of the best NBA betting sites ranked on this page contain the points spread as an NBA betting option.
Here, oddsmakers get together to decide which NBA team is favorite/ underdog for a specific game. They then figure out the NBA spread based on how well they expect the teams to perform against one another.
In the above image from PointsBet, you can see that the spread on the Utah Jazz vs. Los Angeles Clippers game (left column) is Jazz +3 (-110); Clippers -4 (-110). Despite taking a 2-0 advantage in the series, this game is in L.A. and the Utah Jazz are the betting underdogs. As such, the Jazz has been challenged to lose to the Clippers by less than 4 points. If Donovan Mitchell and co. lose 113-110 (or simply win the game), and the bettor called it, said bettor would win, with odds at -110.
The same is true but vice-versa for the Clippers. If a bettor wagers on the NBA spread for Reggie Jackson and the boys to win by -4, they need to do that to make said bettor some money – a 113-110 win (for example) would not be enough. The Clippers need to win by more than 4 points
This option exists to provide better optionality and value. You typically see better odds on the NBA points spread than you do on the moneyline when betting on NBA games.
 Total Points


The total points market is easy enough to get to grips with. Here, a bettor wagers on whether or not the total combined points scored by both teams will be over/ under the total set by the oddsmakers.
In the image above, you can see that the central column for the Philadelphia 76ers vs. Atlanta Hawks NBA playoff quarterfinal third-leg is the total points column.
Both teams possess high-scoring offenses, so oddsmakers have set the total score at 224.5. We have placed a $500 single bet on the score at the buzzer to be under that number – for ease of reference, think of it like you do Blackjack at the casino.
If the final score is 76ers 99 – 100 Hawks, we win $950. If the final score is 120-106, we lose our $500 outlay.
Betting on NBA Basketball Markets


Besides the game lines, there are a plethora of other options available to basketball fans when it comes to NBA betting.
The best NBA betting sites will also feature futures, prop markets players, prop markets for teams, and live, in-play betting.
Betting on NBA Futures


A simple enough bet to wager: a futures bet is when a bettor aims to predict the outcome of a future event (hence the name).
There are both player futures and team futures. A couple of solid examples of team futures would be betting on the conference winner and betting on the championship winner. DraftKings has odds on the Phoenix Suns being named the NBA championship winner at +650.
Players' futures are numerous. It's possible to wager on the most points, assists, rebounds in a season, or during the playoffs. And, of course, you can wager on the NBA MVP. Giannis Antetokounmpo is currently at +1800 to receive the honor.
There are other options for future bets, too. But, at the time of writing, the excellent James Harden and the like are in the midst of the playoffs, and the futures market tends to contain much more depth at the start of the season. So, be sure to check back closer to the start of the new season  (Christmas time) to see better options on the NBA futures market at the best NBA betting sites.
In-Play NBA Prop Bets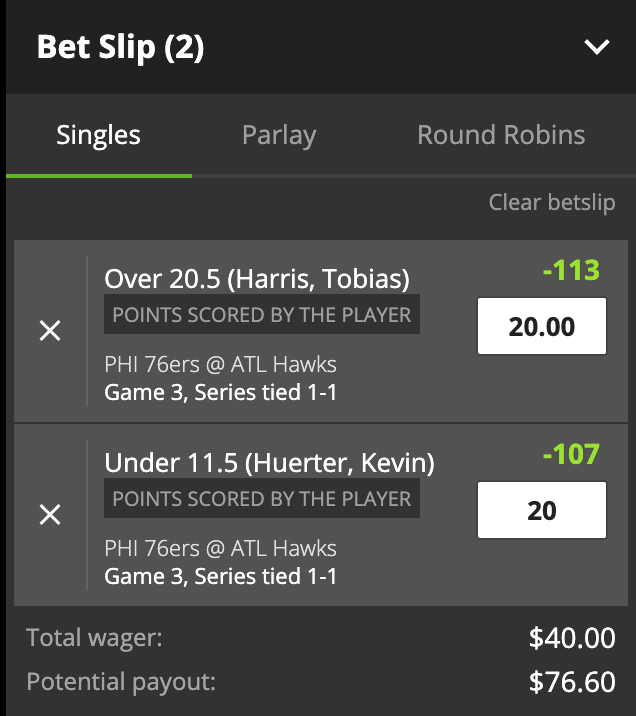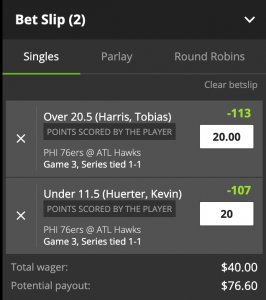 Prop betting is another term that you'll frequently encounter when wagering on basketball games at the best NBA betting sites. Prop bets don't determine the outright winner of the contest. Instead, they tend to focus more on the possible team/player variables that may/may not happen in a game of basketball.
NBA prop bets tend to get placed on the day of or a day before the action begins. It's also possible to wager on prop bets during the game itself –  this is called live, or in-play betting.
There are hundreds of prop bets available for NBA games. Many sites allow you to parlay a prop bet, say LeBron James to score 30+ points, alongside a money line bet or an NBA spread bet, say Lakers to lose within +4 points.
Examples of Options Available for Player Prop Bets
The first player to score a field goal (2 points)
The first player to hit a 3-pointer
Will a certain player player score over/ under a set amount of points (Stephen Curry +/- 25 points, for example)
Number of rebounds (over/under)
Number of assists (over/under)
The number of steals amassed by a player … and so on
Examples of Options Available for Team Prop Bets
Which team scores first?
Which team scores last?
Winning margin
Will there be overtime?
Home team total points
Away team total points… and so on
Particularly during the NBA play-ins, playoffs, and championship games, the prop markets offer more optionality than ever. So just be sure to check them out before you cast a bet on an NBA betting line. And don't forget to parlay your bets to boost your odds.
Betting on the NBA Draft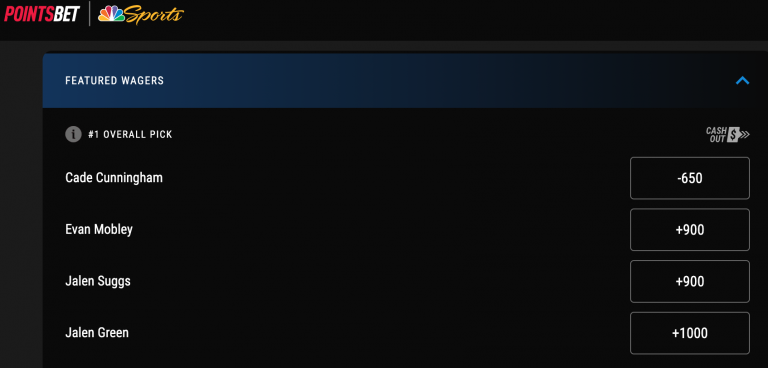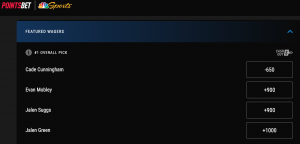 Another option available across all the best NBA betting sites is wagering on the NBA Draft.
The 2021 NBA Draft is set to take place on Thursday 29 July, and the likes of Keon Johnson & Jaden Springer (Tennessee) and Moses Moody (Arkansas) will finally get to make their dream moves to the world's most famous basketball league.
Most of the best NBA betting sites already have futures odds listed for the draft, at least in the form of the No.1 overall pick. In the image above you can see that PointsBet has Cade Cunningham as the favorite to go first off the board at +650, for example.
At the time of writing, it's early June expect to see more markets open up over the next fortnight or so.
Generally speaking, the main options for the NBA Draft are as follows:
Betting on the No.1, No.2, No.3 (and so on…) overall picks: Most of the best online NBA betting apps allow bettors to wager on each pick of the draft. And NBA sites such as FanDuel and DraftKings have been known to offer live, in-play draft betting to boot.
Will a player be drafted higher or lower (over/ under) than another player: For example, will Cade Cunningham be drafted higher or lower than Evan Mobley
Betting on whether or not a player will be drafted over/ under a certain number: for example, at. the2021 NBA Draft, will Jalen Suggs be drafted over/under Pick No.4, and so on…
Best Promos And Rewards Available Online at the Best NBA Betting Sites
As with every other sport, there are many bonuses and promos on offer to bettors who enjoy risking their hard-earned dollars on NBA betting lines.
These often lucrative offers are designed to entice you in, sure. But that doesn't make them any less appealing: who doesn't want to cast a free $500 bet? It's a win-win.
Each of the best NBA betting sites mentioned in the top 10 up page will offer its own unique deals. Just find one that appeals to you and enjoy the free spin on behalf of the house.
PointsBet Promo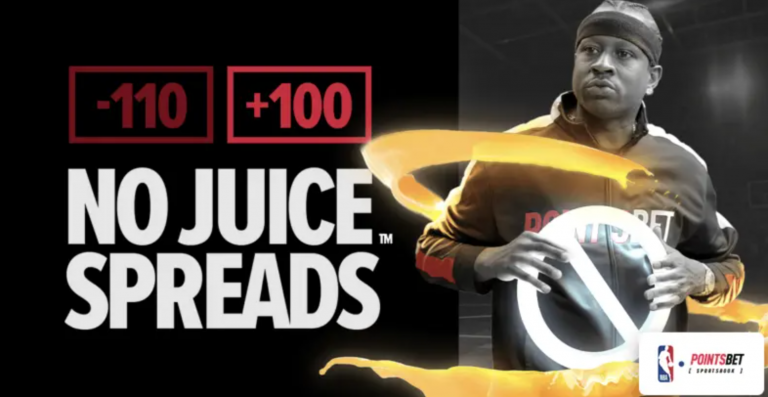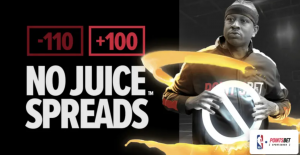 Besides offering up to $1,000 in free bets to new patrons using its deposit match scheme, PointsBet also has some great NBA playoff promotions available right up until August 2021.
Our favorite is the NBA promo seen above: No Juice Spreads.
PointsBet's "no juice" offer just means that all spread bets will have +100 odds, instead of the -110 odds you'll often see elsewhere.
This is obviously a great deal if you fancy a betting favorite to win the game but were put off wagering because of the poor NBA betting odds.
DraftKings NBA Promo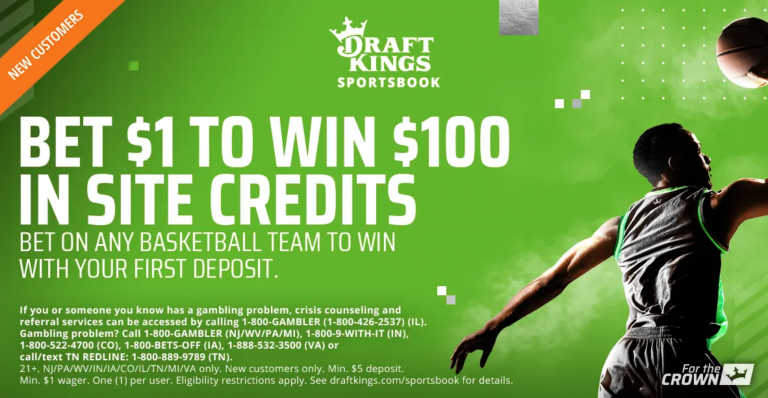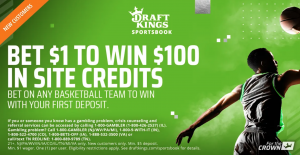 Rarely to be outdone, DraftKings is running a great offer of its own. Exclusive to newcomers, a $1 bet on any basketball team stands to earn the bettor an extra $100 which can then be used to make more bets.
You can use the free money to bet on any of the NBA basketball lines listed, and you can even wager it on the NBA points spread for tonight should you wish.
Best NBA Betting Strategies


We've covered simple betting strategies in some detail in our NFL and tennis betting features. You can access these more universal strategies by clicking on the links to a get more complete picture. But we've taken the liberty of listing a few below, too:
Don't just bet on the favorite – eventually, it will blow up in your face
Manage your money – never wager more than 1-10% of your account
Do your research
Look for value
Try to attend live matches
Open up multiple accounts on multiple sportsbooks to find the best odds
Read blogs to evaluate the pro bettors NBA consensus picks
Not wanting to keep repeating ourselves, however, we've decided to up the ante a bit for the best NBA strategies.
So, assuming you want to bet on NBA games and feel more confident about actually winning money, here we present our top 3 NBA betting strategies for beginners.
Use the strategies below in conjunction with the basic betting strategies laid out on the aforementioned previous pages.
Bounce Back System
Teams coming off poor offensive games have an unusually strong record for bouncing back in their next home game.
Bet Labs studied 250 games where was this was the case and found that the projected points total for the next game went over that set by the bookmakers 62% of the time.
What this means is that it's a good strategy to seek out teams that underperformed with their field goal shooting percentage in the previous games, generally, teams that finished the game with under 40% accuracy, and to bet on those teams in the total points market (over) for the upcoming fixture.
To put it in more simple basketball terms, take a look at these two Chicago Bulls' results from May 2021.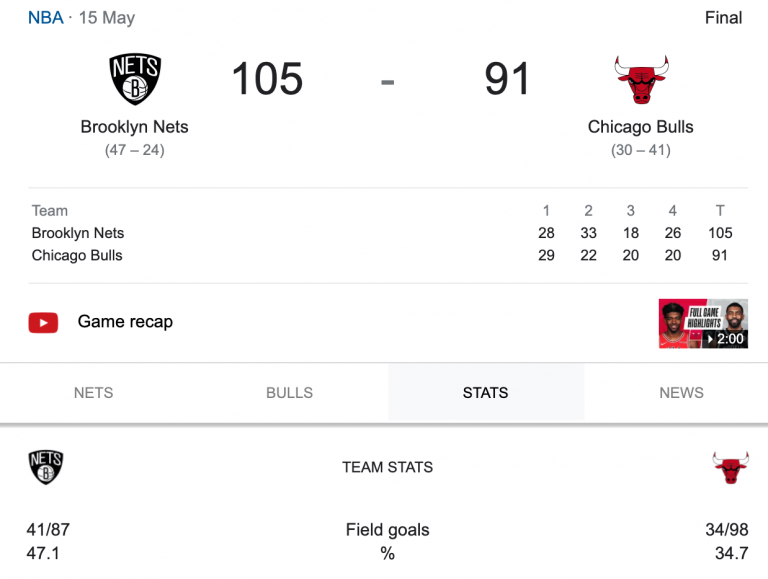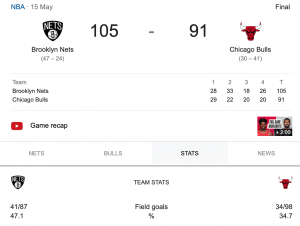 The first game is a tough defeat for Chicago vs. Brooklyn Nets. The Bulls' field goal percentage was a lowly 34.7%. Such a poor performance saw oddsmakers set the total points market at .223 for the Bulls next game vs. the Milwaukee Bucks.
Which is when this happened…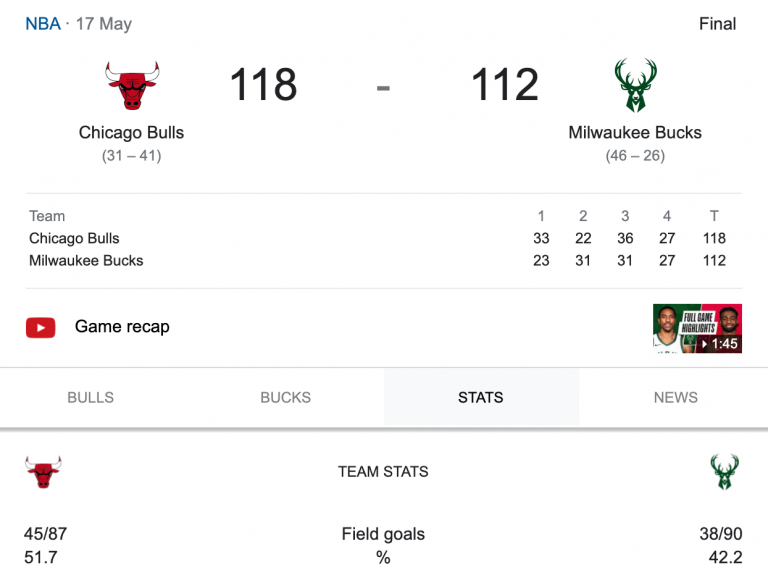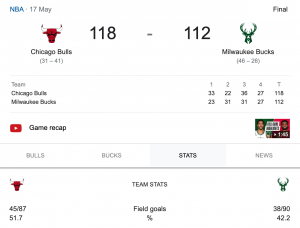 As happens, 62% of the time, the Bulls rebounded well at home with 51.7% field goal accuracy. The total points in the game: .230, meaning a bet on Bulls/Bucks total points to go over the .223 set by the bookmakers would have won anyone following this NBA strategy some dollars.
Back-to-Back-to-Back Games System
In recent years, the NBA has done its utmost to lower the number of back-to-back fixtures played by teams. But, despite its best efforts, teams playing three games in four days is still a regular occurrence.
Gambling enthusiasts discovered that teams playing such a volume of matches over such short periods of time would go over the total points margin set by oddsmakers at a rate of 58.8%.
Again, the numbers speak volumes: tired defenses tend to ship points. So, simply bet on the teams to go over on the total points market, put on your lucky socks and cross your fingers for good luck.
No Back-to-Back Blowouts
This one is a bit like the opposite of the bounce-back system mentioned earlier.
If a team wins big one week, and that's by more than 15 points, (let's say, 120-103), you may find said team has been made a 10+ total point favorite for the next game, particularly if the next game is scheduled to take place at home.
Bet against this team to repeat the level of success on the spread market for the next game, since the stats say it's only likely the team replicates the blowout 42.5% of the time. The team might win the game. But that doesn't matter: you're only betting against the team to not win by more than 10 points.
Conclusion
Pro-bettors utilize many more NBA betting systems than just these three. Some are just as simple, and some are much more complex and risky. But, if you are a beginner looking to dabble in NBA betting lines for the first time, or simply a novice bettor looking to improve his/her luck wagering on the NBA points spread, the above are three great systems, to begin with.
Key Dates For NBA Betting
It's hard to make a success of your basketball betting experience, even on the best NBA websites, if you're unsure when the NBA regular season begins, or when the NBA Vegas odds are released.
As such, we've listed all the key dates here as a useful resource:
When are the Odds for the NBA Season & Playoffs Released?
Most often, the opening odds for the next season come out shortly after the conclusion of the current season. NBA Futures for every team in the league (conference champion, national champion) and player futures such as MVP are usually the first odds released.
This current season is expected to finish slightly later than usual due to COVID-19. But most expect the championship games to take place in late July/ early August. So expect the first wave of NBA vegas odds for futures bets up on your favorite sportsbooks certainly before September, likely a fair bit earlier.
The odds for the playoffs are generally released ASAP at the end of the regular season/ a few days after the play-in fixtures are completed, so Mid-late March.
Sportsbooks that run on the Las Vegas odds, such as BetMGM and William Hill tend to broadcast playoff odds first. So it's always worth checking nice and early to see if you can find yourself a good deal before the big money starts rolling in and adjustments are made to the NBA lines.
NBA Regular Season Schedule
Preseason games: Dec. 11-19, 2020.
The first half of the regular season: Dec. 22, 2020-March 4, 2021.
All-Star break: March 5-10, 2021.
The second half of the regular season: March 11-May 16, 2021.
Play-in tournament: May 18-21, 2021.
NBA Playoff Schedule
NBA playoffs and NBA Championship Finals: May 22-July 22, 2021.
Moneyline Betting Odds Comparison for NBA Playoff Quarterfinal: Philadelphia 76ers vs. Atlanta Hawks
Ass mentioned it's always important to shop around the best NBA betting sites to look for the very best NBA lines for today (June 11) available.
On Friday, June 11, 2021, the Philadelphia Eagles will take on the Atlanta Hawks in game 3 of their playoff series, currently tied at 1-1.
Below you can see a comparison table of the moneyline odds available for both teams as broadcast by six of the best ranked NBA betting apps reviewed today.
Do remember that we've done the comparison purely to show the importance of shopping around. Just because sportsbook X offers the best NBA odds today, doesn't mean it will tomorrow… or even on another NBA game line for that matter.
Plus, sites not listed below  offer competitive odds, too. Remember, it's up to the individual bettor to do the research!
NBA gambling is about beating the oddsmakers at any and all costs, and every cent counts.
| | | |
| --- | --- | --- |
| NBA Sportsbook | Philadelphia 76ers | Atlanta Hawks |
| Bet MGM | -125 | +105 |
| FanDuel | -120 | +102 |
| DraftKings | -122 | +104 |
| PointsBet | -121 | +100 |
| Twinspires | -122 | +104 |
| William Hill | -120 | +100 |
As you can see from the above table, it's the sportsbooks that utilize NBA Vegas odds that come out on top in terms of value on the NBA moneyline. At least they do for this particular playoff encounter: William Hill at -120 for the 76ers, and BetMGM at +105 for the Hawks. FanDuel offers -120 odds on a 76ers win, too. But, though FanDuel isn't directly linked to the NBA Vegas odds, it does base its lines, etc on sportsbooks that are – take from that what you will…
In truth, there isn't a huge amount of difference between any of the sportsbooks, particularly not if you are just betting $10-$20 for fun. But for pro bettors who lay down huge sums of money (think pro boxing star, Floyd Mayweather, for example), these minor discrepancies can add up fast.
Plus, as we said, every cent counts – why wouldn't you want to make more money on the NBA Vegas lines if you could?
Best NBA Betting Sites USA – Conclusion
We've put in the legwork to share with you the 10 best NBA betting sites available in America at present. Each of them is 100% verifiably safe and licensed to operate as a sportsbook in select states. However, don't forget to check the sportsbook you're planning to use is licensed to operate in YOUR state before you make a deposit: you don't want to be flying to New Jersey or Colorado every other weekend just to place bets!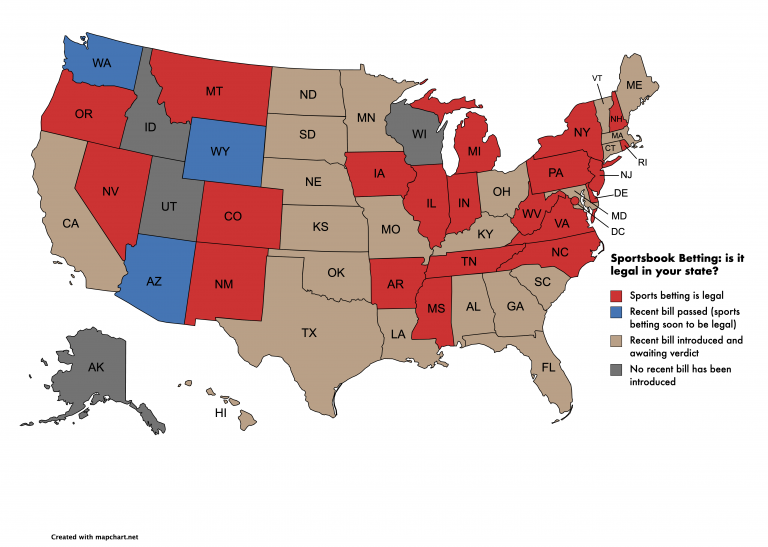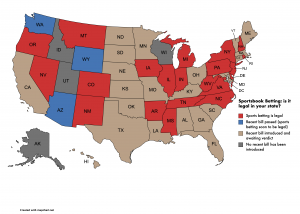 From FOXBET (and beyond), each of the best NBA betting sites listed today offers plenty of optionality, good-great odds, and a dynamic user experience on both the site and its respective app. You can't really go wrong with any of them – ultimately it's just going to come down to which of the sets of pros listed up page is most akin to your betting needs.
That said, we personally enjoyed…
Risk-Free Bet up to $1,000
Risk-Free Bet up to $1,000
Offers a $1,000 Risk-Free Bet to New Customers
Very Competitive NBA Odds and Lines
Deep Market of Prop Betting Options for NBA + Fantasy
9.8
Claim Bonus
FAQs
How can I bet on basketball?
The best way to place a bet on an NBA basketball game/season is to open an account on one of the best basketball betting sites listed up page (DraftKings, for example). Once you've familiarized yourself with the site and its app, the easiest ways to place bets are on the NBA game lines, typically: moneyline, spreads, and total points markets (over/under). If you are new to betting, we suggest beginning with a simple wager on the moneyline (i.e. which team will win the game).
How do you bet moneyline in NBA?
To bet on the NBA moneyline, simply pick the team that you believe will win the game. If a team is +100, this means that the bettor stands to win $100 for each $100 wagered. If the favored team is listed at -100, this means that a bettor has to bet $200 to win $100, and so on. For a more detailed explanation and examples, see up page under the heading of Betting Tips.
What does +1 mean in basketball?
Typically, you will see +1 (and the sort: +2, +2.5, -2.5 etc.) listed under the NBA spread section of your chosen sportsbook. +1 means a team is considered the underdog for the game/competition. -1 means a team is considered the favorite. For a more detailed explanation of NBA points spreads, please read the section on Betting Tips.
How often do NBA favorites win?
Because competition in the NBA is so stiff, the winning percentage of the betting favorite is just 49.4%, meaning that, generally speaking, you have just as good a chance of winning by betting on the underdog.