Traditionally, to place a bet, a punter has had to seek the services of a bookmaker. The bookie sets the odds and the punter places the bet. Nowadays, this is no longer the only option, such is the world of online gambling. Betting exchange sites allow players to bet on sports, as well as other things, in a slightly different way.
Standard betting sites still dominate, at least in terms of sheer market share, though there's no shortage of betting exchanges. Choosing an exchange can be tricky, especially for the inexperienced punter. Fortunately, we've simplified things by compiling a list of the top five betting exchange sites.
Our Recommended Betting Exchanges
Exchnage
Welcome Bonus
Features
Claim Free Bet

How we rank betting exchange sites
There are several things to consider when compiling our lists. The criteria used for selecting the top five betting exchanges can be seen below.
Safety – As we always say, safe betting is of the utmost importance. Sites must make use of up-to-date technology to keep their customers safe, while they must treat customers fairly and adhere to regulations. Only betting exchanges that fall into this bracket feature in our top five.
Commission – With exchange betting, commission is key. Due to the person-to-person nature of a betting exchange, winning players are charged commission. Those who excel in charging low commission rates generally rank as the best betting exchanges.
Markets – What betting exchanges in the UK offer in terms of markets is of critical importance. The more markets, the better. Those exchanges that offer a wide variety of markets rank highest.
Promotions – Bonuses must also be considered. Whether it is sign-up offers, commission holidays or free bets, exchanges need to be performing well in this area to feature highly on the list.
Odds – Offering plenty of markets is a good starting point, but betting providers must also offer good odds on a consistent basis. Fortunately, betting exchanges are known to often beat standard bookmakers in terms of odds, which one of the benefits.
Liquidity – This is a big thing to take into consideration when choosing a betting exchange. Some betting exchanges may offer just what you're looking for in terms of market and odds, but if they offer poor liquidity, then it's likely to be difficult for punters to place their desired bets.
Features – Extra features can help exchanges rank above their competitors. Useful features such as cash-out, specific stats, great content, live streaming, and tips are now a must. Sites that make use of innovative and eye-catching features are what we're looking for.
Usability – It's one thing for a betting exchange to offer a great selection of markets, provide great odds and bonuses, but they also need to be easy to use. If a betting exchange rates poorly in terms of usability, then everything else they have to offer becomes slightly irrelevant. Only sites/mobile apps that requite little effort to navigate and that are up to date in terms of design feature on this list.
What is a betting exchange?

For those new to betting, the concept of betting exchange sites can be a little confusing. Where a traditional sportsbook/betting site operates on a bookmaker-to-bettor relationship, a betting exchange facilitates a betting relationship between two bettors. In standard sports betting, the punter is trying to beat the bookmaker, but on the exchange, punters take on each other.
The one key difference is that on a betting exchange, players can lay bets by offering odds to other players. In other words, they can bet on selections to lose as opposed to win. This essentially allows players to adopt the role of the bookmaker. Betting exchange UK sites also aren't looking to beat players to make profit, as they simply make a profit by charging a small commission on all winning bets.
There are other differences between standard sports betting and exchange betting, such as liquidity. When playing at a sportsbook, the punter simply selects a bet, enters a stake, and the job's done. On the exchange, players must ensure that there's enough liquidity in the market. In other words, if there's not enough money on the other side of the market that you're looking to bet on, then your bet will be unmatched, either partially or in full.
For example, let's say you want to have £20 on Tottenham to beat Arsenal at odds of 2.5. To get this bet on, there needs to be £20 in the market from players looking to bet against a Spurs win. "Back" and "Lay" are the terms used on an exchange. Like the stock exchange, to back is to buy, while to lay is to sell. Essentially, to buy a Spurs win, there needs to be enough money from those who've sold a Spurs win at the same price.
Betting exchange sites vs traditional sportsbook
Are betting exchanges better than traditional sportsbooks? There are certainly pros to using a betting exchange instead of a sportsbook, though it really depends what you're looking for. For a simple comparison of the two, see below.

| | | |
| --- | --- | --- |
| Criteria | Exchange | Sportsbook |
| Set own odds | ✔️ | ❌ |
| Back bets | ✔️ | ✔️ |
| Lay bets | ✔️ | ❌ |
| Trading | ✔️ | ❌ |
| Restrictions | ❌ | ✔️ |
| Liquidity issues | ✔️ | ❌ |
Pros and cons of a betting exchange
There can be no denying that betting exchanges have their place in the world of online gambling, though that's not to say that there aren't pitfalls as well as benefits. See below for the pros and cons of exchange betting.
Pros:
Ability to lay bets as well as back
Trading opportunities
Set your own odds
Cons:
Liquidity can be an issue
Commission can negate small profit margins
Odds often move very quickly

Betting exchange trading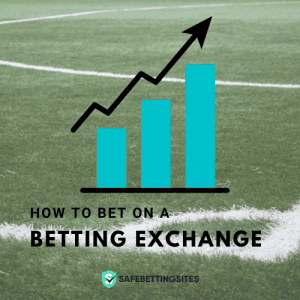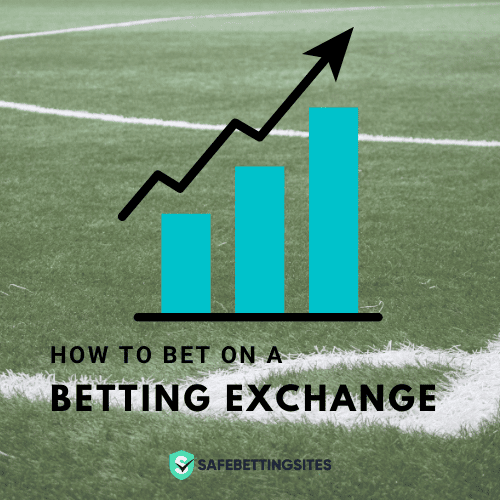 Betting on an exchange also offers the opportunity to trade. Many people who're not really interested in analysing sporting events from a betting perspective, trade on betting exchange sites, much like you might do on a stock exchange.
In short, sports trading or betting exchange trading is simply placing two opposing bets on the same selection, to create a profit regardless of the outcome of the event. As mentioned at other points in this article, trading on a betting exchange is not dissimilar to trading on the stock exchange. Rather than buying and selling, traders on betfair, smarkets, betdaq or matchbook, are concerned with backing and laying.
The real draw of trading on an exchange, at least for many, is that there's no need to care about the winner and loser of an event. All the trader is concerned about is price movements. In stocks, the aim of the trader is to buy low and sell high, thus making a profit. The principle is the same for betting exchange traders, but in reverse. Lay low, back high.
A 3 Step Betting Exchange Strategy
The key advantage of trading, as opposed to traditional betting, is that we can bet on something to both happen and not happen, and thus profit can be secured regardless of how things end up. The premise quite simple: back, wait, lay. So, we back at a certain price, wait for that price to fall, before laying off at a shorter price. Having done this, profit has been secured.
Step 1: Back
Identify a selection and back at a certain price, say 2.3
Step 2: Wait
Wait for the price of the selection to drop
Step 3: Lay
Identify an exit point, say 2.05, lay at this price, locking in profit.
Here's a brief example.
Let's say we feel that a selection will soon drop in odds, so we back that selection for £20 at odds of 2.3.
We wait a short while. Before long, the price has dropped to 2.00, which means that he opportunity to lay has arisen.
If we lay the same selection for a stake of £23, we lock in a profit of £3.00. It's not much, but such trades soon add up.
After all, as the saying goes, Rome wasn't built in a day….
Betting Markets Guides
Want to improve your betting skillset? We bring you the best sports betting guides and expert winning strategies across the most popular markets and sports. So be sure to check out the following articles designed to help punters with placing bets online.

Bottom line
If you're serious about betting, then using a betting exchange is a must. Some betting exchanges offer markets that are not available with many sportsbooks, such as a variety of Asian Handicap markets, while there's no risk of being restricted, as by their nature, exchanges encourage winners.
Trading opportunities and the ability to lay bets as opposed to just backing are other reasons as to why a punter would have at least one exchange account. There are fewer betting exchanges than traditional sportsbooks, but the choice can still be a tough one. So, which is the best betting exchange? After much deliberation, we arrived at the conclusion that betfair, generally considered the king of exchange betting, is the best exchange in terms of overall quality, though both Smarkets and betdaq are viable alternatives, especially when it comes to low commission rates.
FAQ
What is a back bet?
In exchange betting, a back bet is simply where you bet to win. For example, in football, you can back either side to win the match. Similarly, on a betting exchange, to back is like to buy on the stock exchange. You can back something to happen at a certain price, much like you would buy stock at a certain price.
What is a lay bet?
A lay bet is the opposite of a back bet. If you lay a selection on a betting exchange, you're essentially betting on that selection to lose by offering odds to another play who wishes to bet on the same selection to win. To lay on a betting exchange is like to sell on a stock exchange.
What is the difference between a matched bet and an unmatched bet?
On a betting exchange, for a bet to count it must be matched. For example, if you want to place a £20 back bet at a certain price, then there must be enough layers' money available at the same price. You can request a different price to the one currently visibly available, and wait to see if it becomes matched, though if the bet is not matched by the time the event that you're betting on takes place, then the bet will not stand. Therefore, an unmatched bet is one that is yet to go through, while a matched bet is a bet that has been completed and will stand.
Do betting exchanges take a percentage of any profit?
Yes. Betting exchanges charge winning punters a small commission. Since exchange betting facilitates person-to-person betting, the exchange itself isn't winning any money like a traditional bookmaker. Charging a small commission is how betting exchanges make a profit.
How much commission will I pay?
The level of commission varies. For example, on betfair, the standard rate of commission is 5%, though this can go down depending on the level activity on the account. Regular bettors can see their commission go down as low as 1%. There are alternatives to betfair, such as Smarkets, who charge a very reasonable starting commission of only 2%.