You may heard about sports spread betting, but when you delved a little deeper you found it all too confusing at first glance to really get into it. Why not have another go, enlightened by the information we are about to present to you and our sports spread betting tips? Once you've had sports spread betting explained, you'll also learn about the best sports spread betting firms to head towards in order to place your wagers.
Having grown in popularity in recent years, spread betting sports allow punters the opportunity to try something that's not only different to traditional fixed odds betting, but also has the potential to generate greater profits. Be warned though – it's very important to understand the basics of sports spread betting before getting involved as big losses may be generated too!
The Best Sports Spread Betting Sites in the UK
Here at kick off, check out what we consider to be the top two sports spread betting UK sites – Spreadex and Sporting Index – highlighting their best features and seeing the current welcome offers they have for new customers.
Top Sports Spread Betting Sites in 2021
Platform
Welcome Bonus
Features
Claim Sign-Up Bonus
A huge range of markets available
Spread betting and fixed-odds betting both available
Large welcome bonus
Reviews
A risk-free demo account is available
Spread betting and fixed-odds betting both available
A great mobile App
Reviews
Let's take a closer look at each of these sports spread betting firms in turn and see what their specific pros and cons are when it comes to a sports spread betting review.
1. Spreadex – Best Spread Betting Platform Overall (Get Up to £25 in Free Bets)
Spreadex were founded in 1999 and have been at the forefront of sports spread betting ever since. They were the first spread betting sports company in the UK to also offer fixed odds wagering and you can easily switch between the two different types of betting at their site.
For those new to spread betting, Spreadex has a hugely beneficial section entitled 'Get Started' which walks punters through every sport offered at the site, and the various spread betting markets that are available. This section includes video tutorials and an excellent widget that allows punters to see how a sports spread bet works in different markets.
Alongside rivals Sporting Index, Spreadex dominates the spread betting sports scene in the UK with the competition between the two companies creating competitive odds for spread betting fans. Currently, for new customers Spreadex are offering up to £300 cashback on qualifying sports spread bets or a free iPad.
What we like:
Competitive odds
Bet-Builder option that allows you to construct your own football bets
Huge range of sports and markets
Intuitive and user-friendly site
What we don't like:
Fixed odds prices can be uncompetitive
2. Sporting Index – Best for Sports Spread Betting Beginners (Free demo account + £75 to Spread Bet with)
Sporting Index are the pioneers of spread betting, having launched in 1992. They remain one of the market leaders today, offering a vast range of sports and spread betting markets to get involved in, alongside fixed odds wagering.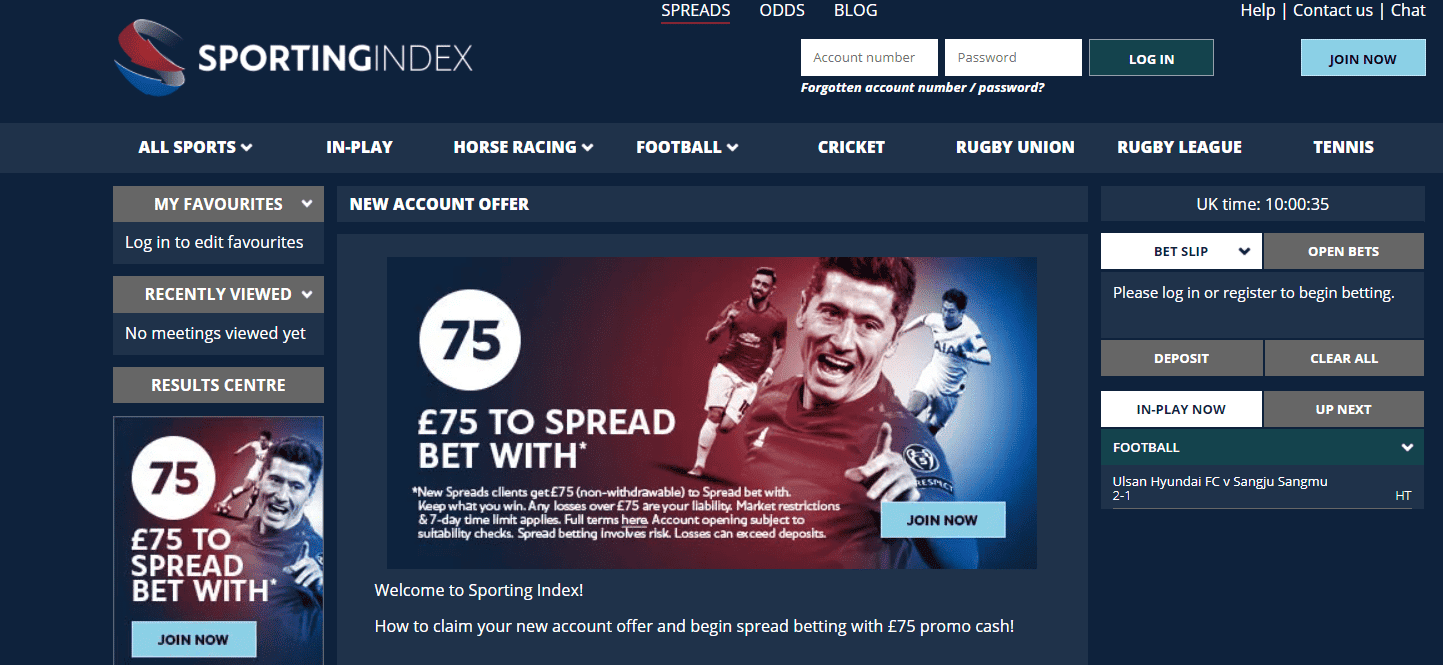 For customers looking to try spread betting for the first time, Sporting Index offers an insightful 'Training Centre' that contains walkthroughs with instructions on how to trade plus numerous video tutorials. Being one of the top two spread betting companies in the UK, punters can be sure of competitive prices via spread markets as they go head to head with rivals Spreadex.
If you're looking to join Sporting Index, they're offering new customers £75 to spread bet with – any profit you make is yours to withdraw and enjoy!
What we like:
Competitive odds
New customers can open a demo account with no risk
Huge range of sports and markets including in-play
Regular promotions for existing customers
What we don't like:
Website could be easier to navigate
Sports spread betting review – how these platforms compare
| | | |
| --- | --- | --- |
| FEATURE | SPREADEX | SPORTING INDEX |
| Sports Spreads | ✔️ | ✔️ |
| Financial Spreads | ✔️ | ✔️ |
| Fixed-Odds Betting | ✔️ | ✔️ |
| Welcome Offer | ✔️ | ✔️ |
| Live Streaming | ✔️ | ✔️ |
| In-Play Betting | ✔️ | ✔️ |
| Results Service | ✔️ | ✔️ |
| Bet-Builder | ✔️ | ❌ |
| Betting App | ✔️ | ✔️ |
| Casino | ✔️ | ✔️ |
Sports spread betting UK explained: What is sports spread betting & how does it work?
Most sports bettors will be familiar with the concept of fixed odds betting. A football match, for example, will have odds for a home win, a draw or an away team win. You can also bet on such factors as both teams scoring during the game, or a particular player scoring the first goal or a goal at any time during the match.
Say Liverpool are at home to Everton. A Liverpool win is at 1.44 (4/9), a draw at 4.33 (10/3) and an Everton win at 6.5 (13/2). If you bet £2 on Liverpool and they win, you would get back £2.88 (88p in winnings and your £2 stake).
Spread betting works differently. Spread betting companies UK will offer an expected 'range' of the values of a factor of an event. In our example above, it could be the number of goals scored in total. For this, the range given is 2.45 to 2.65. We'll learn how a team can score .45 of a goal later.
If you think the game will have less than 2.45 goals, then you take the 'sell' price (which is 2.45). If you think the game will have more than 2.65 goals then you take the 'buy' price (which is 2.65). For our example, you decide to 'sell' at £10.
Selling
Now, this is where things can become a little complicated. To work out how much you stand to lose or win, you multiple your stake by the price minus the value, which in this case is the number of goals.
Let's say the game ends as a 0-0 cure for insomnia, so there are zero goals. Your winnings are therefore the odds (2.45) minus the number of goals (0, which is 2.45) multiplied by your stake (£10). This means you have won £24.50.
However, let's say Mo Salah, Dominic Calvert-Lewin and company go to town and the game ends 5-5. This time your 'winnings' are the odds (2.45) minus the number of goals (10, which is – 7.55) multiplied by your stake (£10). Your winnings are -£75.50, which means a loss of £75.50.
Buying
Buying works the other way around, in that the odds are negative and you add on the value (or you subtract the odds from the factor). If you buy at 2.65, expecting there to be at least three goals, then for a £10 stake your 'winnings' in a 0-0 draw are -2.65+0 (-2.65) multiplied by £10, which is -£26.50, a loss of £26.50. If the game ended 2-2, then for a £10 stake your winnings are -2.65+4 (1.35) multiplied by £10 = £13.50.
Unlike fixed odds betting where you are either correct or incorrect in your prediction, in sports spread betting it matters how correct or incorrect you actually are as will be shown below.
Stop Loss/Stop Win
You can prevent making big losses by indicating a 'stop loss' factor in your bet. The record for the number of goals in an EPL game is 11, so if you had sold at £50 at a price of 2.45, they you would be looking at a loss of £427.50 plus your original stake. The only downside to this facility is that if you limit your potential losses, then you must limit your potential wins by the same amount. The stop loss/stop win facility is not available on every single bet, though.
You may also be able to 'cash out' a bet if it is losing and you do not want to lose any more. This facility is not available all the time though. If you sell at 2.5 you cannot cash out as soon as three goals are scored, as that would not be fair on the sports spread betting fims.
How to Place a Spread Bet on Sport
Now you've had sports spread betting explained, you're probably eager to place a bet. Placing a spread bet on sport is much the same as placing a fixed odds bet. Here we will talk you through the common steps of placing a spread bet.
Step 1: Register an account
Sign up to one of our recommended sports spread betting sites and make a deposit. You do not need to deposit a high amount of money, and if you are new to sports spreading betting it is best to keep your stakes low.
Step 2: Analyse the markets
Conduct a sports spread betting review, looking at the markets and options available. You will find there are many dozens of events on which to bet on, and over 100 markets per event. We are going to return to our original match, Liverpool at home to Everton.
Step 3: Add bets to your betslip

You notice that the sell price for bookings is 37, and the buy price is 41. Remember, it is 10 points for a yellow card, and 25 points for a red card. As this is a local derby, you feel it will be something of a feisty affair with yellows and reds a-plenty. You opt to buy at 41, so you click on the 'buy' price.
Step 4: Choose stake
The bet is added to your betting slip. All you need to do is add your stake. Note that there is no option to set a stop loss/stop win (not offered all the time). As you do not want to risk a huge amount of money, you decide to risk £1. Enter £1 in the text box and click 'Place Bet'. Your bet is now placed.
Step 5: Collect your winnings
During the game Liverpool receive three yellows and Everton four yellows and Jordan Pickford is sent off for a foul outside the box on Roberto Firmino. That's a total of 95. Your winnings are 95 minus 41 (54) multiplied by £1 = £54! Result! Note if there had been no bookings or sendings off, you would have lost £41.
The difference between spread betting on sport & fixed odds betting
When placing a fixed-odds bet you are wagering on a simple win/lose outcome such as Celtic to beat Rangers. If Celtic beat Rangers then your bet wins and you are paid out at the odds quoted when you placed your bet. If Celtic don't win then your bet is a loser and you lose only your stake invested.
Unlike fixed odds betting where you know how much you will or win or lose as soon as you have placed your bet, how much you win or lose on spread betting sports depends how accurate you are. As seen in the example above, the more correct you are the more you will win, but on the flip side, the more wrong you are, the more you can lose.
The difference between spread betting and points spread betting
If you're reading this and you have some experience of sports betting markets in the US, then you're probably scratching your head wondering what we are talking about. In US there's a thing called spread betting, but it's different to what people around the rest of the world may take as spread beating. In truth, the correct term for what people in the US call spread betting is 'points spread betting'.
In terms of US spread betting 'the spread' is – in effect – an artificial handicap given to the underdog of any sports event. The idea is that the playing field is essentially levelled to create a more even contest. It is the task of the sports bettor to decide which team will now win, given that one team has been given a handicap, and the other a boost.
In terms of the EPL, let's say Manchester City are playing West Bromwich Albion. City are the heavy favourites, so are given a handicap of two goals. The Baggies are therefore given a boost of two goals, so the spread is between +2 and -2. If you placed a bet on City, then they would have to win by three goals in order to be successful. If you bet on West Brom, then any win or draw from them, or even a single goal defeat would win you your bet.
Unlike spread betting your returns are not scaled depending upon the game's final score line. If – somehow – the Baggies won 3-0 you would not win anything above what you would have won if they had lost 1-0.
Understanding spread betting prices
If you've come from fixed odds betting, then you might struggle to get your head around sports spread betting prices. Fixed odds can be in one of three formats: Traditional or Fractional (5/2), Decimal (3.5) or American (+250). Converting from one to another is very easy.
Sports spreading betting prices are very different, and not only is conversion difficult, it is also sometimes impossible because your winnings and losses are not fixed.
One thing you will begin to notice though is that buy/sell prices are usually consistent. The total goals prices, for example, will always be around 2.5 to sell and 2.7 to buy, unless, say, Manchester City are playing Marine in the FA Cup. Goal supremacy will usually always be less than one to sell, and more than zero to buy.
The 'skill' when it comes to spread sports betting is deciding whether to sell or buy, and working how much you are willing to risk bearing in mind how much you can lose if things don't go as you expected them to.
Popular spread betting markets
Sports spread betting is available on a number of sports such as football, horse racing, cricket and golf. By far and away the most popular sport is football, with some matches having over 350 spread betting markets available on them, truly offering something for everyone.
The most popular spread betting markets on football are:
Supremacy – The goals difference between the winning team and the losing team
Total Goals – The total number of goals in a match
Shirt Numbers – The total of the shirt numbers of all the goalscorers in a match
Total Corners – The total number of corners in a match
Bookings – The total number of bookings points in a match; 10 points are awarded for a yellow card and 25 points are awarded for a red card
Win Index – the same as betting on a team to win. Teams are awarded 25 points for a win, 10 points for a draw and 0 points for a defeat.
Total Goal Minutes – the total of all the times of goals, added together.
Goal Rush – the total number of 'points' generated by each goal scored, added together. The first and second goals are worth 10 points each, the third 13, the fourth 17 and so on.
1st Match Goal – the time of the first goal. If the goal is scored in 'time added on' the goal time is given as 90 minutes.
Rainbow Goals – a bet on there being few goals or lots of goals. 0 or 5+ goals is worth 25 points, 1 or 4 10 points and 2 or 3 goals 0 points.
When it comes to sports spread betting UK, if anything can be measured then you can place a spread bet upon it. You can even bet on any individual player heading a goal or more than one goal during a game. Some bets are just plain strange – such as betting on the added total of the shirt numbers of one team's goalscorers.
You also place spread bets on long-term events, such as the number of points an EPL team will end up with at the season's end, or the number of goals a player will score during the season.
All the above examples belong to football, but the same principle can be applied to any market. For example in snooker you could place a spread bet on the number of points scored during a frame, or the highest break, or the number of points from fouls. In darts, the number of points scored during a leg, or the number of points from trebles, or the highest (or lowest) checkouts during a tournament.
In short when it comes to sports spread betting, if there is anything that can be measured during an event that is down to the performances of the competitor(s) then you can place a spread bet upon it.
Bet like a Pro: Expert sports spread betting tips
As with all forms of gambling, there are some important rules and sports spread betting tips to follow to make sure your betting experience is enjoyable – and hopefully profitable!
When it comes to this type of betting, our top sports spread betting tips are:
Take your time – ensure you fully understand the markets you are looking to trade in before getting involved and risking actual cash.
Don't bet too much – don't make the mistake of thinking your stake is all you can lose, like fixed odds betting. If things really go wrong, you could end up losing substantial amounts of money.
Keep it simple – bet on your usual markets at first, such as 1X2 (known as 'win index' in the sports spread betting world). Once you become more comfortable, you can add in extra markets.
Use stop loss/stop win orders when available – by doing this you ensure that any losses you do incur will be at a limit you are comfortable with.
Shop around – traders take a different view on all sorts of events so spreads can vary between the main sports spread betting companies.
Cash out – like with fixed-odds betting, you may have the option to cash out an in-running profit on a spread.
Pick a niche – look to educate yourself on a specific sport and market and become a betting expert on it. Because of the sheer amount of markets available, you can be as specific as only betting on the EPL, or the WTA tour.
Visit UK's Best Sports Spread Betting Platform Today
Bookmaker
Welcome Bonus
Features
Claim Your Bonus
A huge range of markets available
Spread betting and fixed-odds betting both available
Large welcome bonus
Reviews
Pros and Cons of spread betting on sports
Spread betting is an exciting opportunity to pit yourself against the traders in the hope of banking some profit. Unlike traditional fixed odds wagering though, it is vastly more volatile with a far larger risk and reward on offer.
Pros:
The more correct you are with your selection, the more you win
A huge range of events and markets are on offer
In-play betting allows you to cash out a profit, or limit losses
Cons:
The more incorrect you are with your selection, the more you can lose
Limited number of sports spread betting companies UK currently
Final thoughts
Although having grown in popularity in recent years, spread betting on sports is still avoided by a large number of punters.
The main reason being is that they don't fully understand the way that it works. For those who do take the time to educate themselves though, then sports spread betting UK offers an exhilarating betting experience. The perception is that you can lose a large amount of money when spread betting, but by utilising stop loss/stop win orders, you can limit any loss amount to an amount that you are comfortable with.
And of course, the more you are correct on a specific market, then the more you can win!
Spread betting on sports may not be for everyone, but with some fantastic training and educational guides available plus tempting welcome bonuses for new customers, there's never been a better time to get involved.
FAQs
Is spread betting on sports legal in the UK?
Yes, like standard fixed odds betting, sports spread betting is fully regulated and authorised by the UK Gambling Commission.
How can I open a sports spread betting account?
You have to apply for a sports spread betting account and they will contact you once your application has been successful and your account has been opened. They may also offer you a credit limit on your account but keep in mind that this will show on your credit report
Can I deposit with a credit card?
In line with other gambling sites, sports spread betting sites do NOT accept deposits from credit cards. You can easily deposit into your account by debit card, eWallet or bank transfer.
Can I make money from online spread betting on sports?
Although there is no guarantee, just like on fixed-odds betting, sports spread betting gives you the opportunity to make a profit while enjoying the sporting action.
Do I have to pay tax on any winnings?
No! As with fixed odds betting, any winnings on sports spread betting is tax-free.