Betting odds are arguably the most fundamental part of sports betting. Based on our experiences though, they are frequently misunderstood. Even experienced punters can be unsure about exactly how betting odds are calculated, or what the different odds formats signify.
In this article, you'll learn everything you need to know about betting odds. We'll explain how they're calculated, how they actually work, what different types you can use, and where to find the best prices on all major sports.
How are Betting Odds Calculated?
Considering how important prices are to gambling success, surprisingly few people actually understand this basic part of how betting odds work. It is vital that you don't fall into this category.
If asked, the vast majority of punters would say that betting odds are based on probability. This is partly true. Bookies do base their odds primarily on the actual chances of each outcome happening, according to a massive range of statistics. It's only one of three major factors, however.
Another crucial consideration for bookies is driving betting action. In short, they must create prices which are good enough to tempt punters. In addition to being a part of sportsbooks' original thinking, this is also a massive reason why odds change over time. If a betting site sets the odds at a certain price, and everyone is taking one side of that market, the bookie will adjust its price to drive action on the other side.
The third main factor in how betting odds are calculated is actually the prices available from the competition. A bookie's original odds will be set with the first two factors in mind. After that though, it's not uncommon to find out that bookie's odds are very different to its competitors.
In this case, the bookie will start adjusting accordingly. If its price was too low, it must raise the odds to bring in more wagers. If it was too high, it may need to lower those odds to avoid the public piling in on that market, and potentially taking a major loss.
Finally, you should be aware that – when a sportsbook's betting odds have been calculated – their implied probabilities will never add up to 100%. Instead, they will end up higher than that – at 110%, for example. This is called an overround, or vig. It's not exactly 'fair' on punters, but it helps bookies to ensure that they make a profit over the long haul. Betting exchanges do not include an overround in their prices, but do charge a commission on your profits instead.
Understanding Betting Odds
If you're just starting off on your betting journey, don't worry. Let's scale things down to the absolute basics, and look at how to actually read betting odds.
There are a few different ways of presenting odds, as you can see in the next section. In the UK, however, you will almost always see fractional odds – 1/2, 5/1, 20/1, and so on. The smaller the fraction is here, the lower the odds are. In turn, that means you will make less money from your betting.
The profits from your wagers are calculated by multiplying your stake by the odds on your selection. In some cases – when the odds are 10/1, for example – this is very straightforward. You simply multiply your stake by 10 to see your profit. Often though, it's a bit trickier, so you'll need to use a betting odds calculator to work out exactly what you stand to make.
Also remember that – if you win a wager – your stake will also be returned to you. This is not 'priced into' the odds, exactly, but is important to bear in mind when calculating your profits. Stick a tenner on a winning 10/1 wager, for example, and you will get £110 back – £100 profit, plus your £10 stake.
Different Types of Betting Odds
Almost every betting site nowadays will let you choose the way in which you want to see your odds. This will default to fractional by default, in the UK, but can easily be adjusted if you prefer a different format. Let's take a quick look at each of the three main types in turn.
Fractional
With fractional odds, your stake is the denominator (the right/bottom side). You then multiply this by the numerator (the left/top side) to calculate your profits. With a £2 stake on simple 5/1 odds, for example, you multiply 2 by 5 to reach a £10 profit.
One common term you'll hear with fractional betting is 'odds-on'. This means the denominator is actually higher than the numerator – e.g. 2/5, 3/10, and so on. As you can guess, your profits on these wagers will be significantly smaller. Place our previous £2 stake on 1/5 odds, for example, and we only get a £0.40 profit.
Fractional odds are the most common form in the UK. They're actually relatively complicated to work out compared to other formats, however, so don't be afraid to switch it up for some easier calculations.
Decimal
For decimal odds, you multiply your stake by the decimal which has been given to identify the money you can make. If the odds are 1.50, for example, and you're betting £20, you can make a £30 profit (20 x 1.50).
As you can probably tell, decimal odds are much easier to calculate than fractional ones. You can immediately see which prices are higher or lower, whereas with fractions – like 4/6 versus 8/13 – it can take a little longer. Decimals are available in smaller increments too, allowing you a greater degree of control over your betting.
Decimal odds are the default format on British betting exchanges, like Betfair and Smarkets. They are also the most common form, by far, in continental Europe.
American
American odds are written with a minus or plus symbol, followed by a number. Favourites are given a minus (e.g. -100), and underdogs are given a plus (e.g. +100).
For a favourite, the number you're shown is the amount you must wager to win $100 (or whichever currency you're betting with). With a -250 favourite, for example, you must bet $250 to make a $100 profit. For an underdog, you're shown the amount you'd win by staking $100. At +400, for example, you'd make a $400 profit from a $100 stake.
Compared to fractional, American odds give you a quicker idea of underdogs, favourites, and the extent to which the bookie does or doesn't like them. When it comes to actually calculating profits, however, they are slightly trickier to use than decimal odds.
How to Convert from One Format of Odds to Another
Most sites will allow you to switch from one format of odds to another, but just in case you are at one that doesn't, or if you are working out your own bets while not at a sports betting site, here is how you convert from one format to another: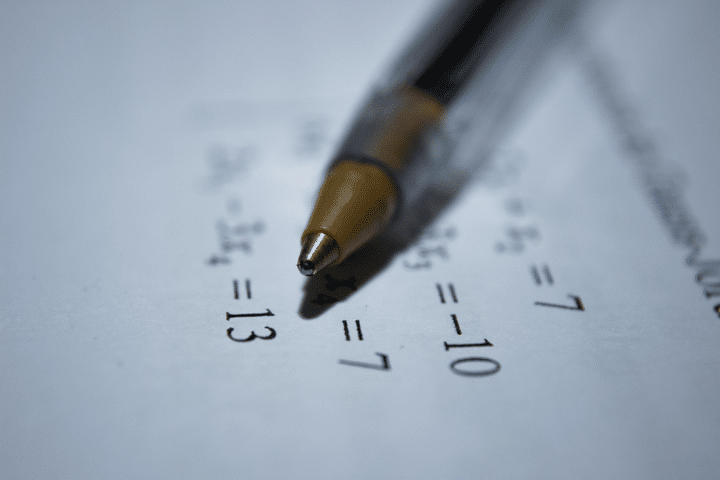 Fractional to Decimal: Calculate the fraction as a decimal and add one (example: 5/2 = 5 ÷ 2 = 2.50 + 1 = 3.50)
Fractional to American: If 'odds against' calculate the fraction as a decimal and multiply by 100 then add a plus sign (example: 5/2 = 5 ÷ 2 = 2.50 * 100 = +250). If 'odds on' rotate the fraction, then as above but add a negative sign (example: 2/5 = 5/2 = 5 ÷ 2 = 2.50 * 200 = -250).
Decimal to Fractional: Subtract one, add '/1' as the denominator and simplify (example: 3.50 – 1 = 2.50 = 2.5 / 1 = 5/2).
Decimal to American: If two or over, subtract one, multiply by 100 and add a plus sign (example: 3.50 – 1 = 2.50 * 100 = +250). If below two, subtract one and divide 100 by the result, then add a minus sign (example: 1.40 = 0.4 > 100 ÷ 0.4 = -250).
American to Fractional: Remove the sign, add '/100' as the denominator and simplify (example: +250 = 250 / 100 = 5/2). If the sign was negative, rotate the fraction (i.e. -250 = 5/2 > 2/5).
American to Decimal: If positive divide by 100 and add one (example: +250 = 250 ÷ 100 = 2.50 + 1 = 3.50). If negative divide 100 by the odds and add one (example -250 = 100 ÷ 250 = 0.40 + 1 = 1.40).
Where to Find the Best Sports Betting Odds
When deciding which bookie to sign up with, the quality of each brand's betting odds should be a major factor. If the prices you're being offered are unfairly low, then there will always be a cap on your potential profits. Below, you can find out exactly where to find the best sports betting odds on all the biggest markets in the UK.
Football Betting Odds
Football is not only the most popular betting sport in the world, but also the one with the best coverage among sportsbooks. There's a huge amount of competition between bookies to persuade punters to pick them over the other options, so – compared to other markets – you can typically find very strong odds here.
Golf Betting Odds
The four majors attract the vast majority of betting action on golf, but both men's and women's tour events take place throughout the year. There's an almost constant stream of golf betting odds available.
Horse Racing Betting Odds
After football, horse is the UK's most popular sport to bet on. The best sportsbooks will cover every single race in both the UK and Ireland, and cover courses across Europe, the USA, Australia, and more.
NBA Betting Odds
The popularity of basketball has grown exponentially in the UK over the past decade or so, not just for watching and playing, but for betting too. Of the many leagues around the world, the NBA is the best in terms of both quality and betting action.
Snooker Betting Odds
Snooker is one of the UK's most enduring pastimes, and it's definitely grown as a betting market over the decades too. Nowadays you can easily get pre-match and outright markets on all the biggest tournaments, with the Masters and World Snooker Championship being the standout events.
Cricket Betting Odds
The best cricket betting sites won't solely limit you to the biggest international matchups in the summer and winter. They will also provide markets on a constant stream of domestic tournaments from around the world, including the Indian Premier League and Big Bash League.
Tennis Betting Odds
Tennis is a consistently underrated sport for betting, but the top bookies certainly don't make this mistake. Instead they provide tennis betting odds not only on the four slams, such as Wimbledon, but on tour events throughout the year.
Boxing Betting Odds
While boxing bouts take place almost constantly, there's no doubting that the few marquee clashes each year draw the enormous majority of the betting action.
UFC Betting Odds
The UFC's popularity has simply exploded in recent years, and sportsbooks have capitalised on this in a big way. The athleticism and brutality of mixed martial arts contests is usually thrilling enough, but placing a wager takes the excitement to a whole new level.F1 Betting Odds
Thanks to improved coverage, and the popularity of a certain Netflix series, Formula 1 has rapidly drawn in a huge number of new fans.
NFL Betting Odds
As a whole series of successful games at Wembley has proved, the NFL definitely has a big fanbase in the UK. Most Leading sports betting sites will offer cutting-edge odds during the NFL season.
Darts Betting Odds
Thanks to a combination of charismatic stars and electric atmospheres, darts has become must-see TV for many sports fans. Wagering on the likes of the World Championship and Premier League only heightens the enjoyment.
Betting Odds Explained – Final Thoughts
It doesn't matter whether you're a complete betting novice, or you've been wagering for years. Understanding betting odds is still one of the absolute keys to making money over the long-term.
After reading this article on betting odds explained, you should have a good idea of how betting odds work, and where you can find the best ones. Picking one of our recommended brands ensures you get highly competitive prices on your favourite sports, and – in turn – significantly increases your potential profits going forward.
FAQ
How do betting odds work?
They are calculated using a combination of factors. Sheer probability is the main one, but driving betting action and competitors' odds are also important.
Why do betting odds change?
Sometimes, bookies will change their odds if they differ significantly from those on other sportsbooks. More often, it is done to drive more action on a market, or even a specific outcome within that market.
Do I need to use a betting odds calculator?
Yes - your chances of making a mistake are significantly reduced when using a calculator. Every sportsbook will provide a basic one for you within your betslip, but you can find more powerful calculators for free online.
Where can I get the best betting odds?
It varies from sport to sport. Check out our 'Where to Find the Best Sports Betting Odds' section, above, to discover which brand provides the best prices on your chosen sports.
What are the different types of odds?
There are three main types: fractional, decimal, and American. Fractional is the most popular on British sportsbooks, decimal odds are used on betting exchanges, and American odds - as the name suggests - are used almost exclusively by brands in the USA.
Was this article helpful?