Football is, by far and away, the most popular sport in the UK. It also rivals horse racing in the UK as the most popular sport to bet on. But what if want to place a bet on football and you've never bet on football game online? How do you place an online bet on football?
This page will tell you all about how to bet on football online, where to bet in the UK, how to give yourself the best chance to place a bet on football and win, and how to keep yourself safe so you can prevent football betting from having any kind of detrimental effect on your life, and instead keep it fun and entertaining.
How to Bet on Football Online – the Basics
Placing a bet on football games online is extremely easy. To bet on football games online, you just sign up for an account at a safe and secure betting site that has a valid UKGC licence. Once you have your account up and running, fund it by adding a debit card or eWallet, and then find the event you want to bet on. Click on the odds of the specific wager you are interested in to add it to your betslip, set your stake and hit 'place bet' – that really is all there is to it!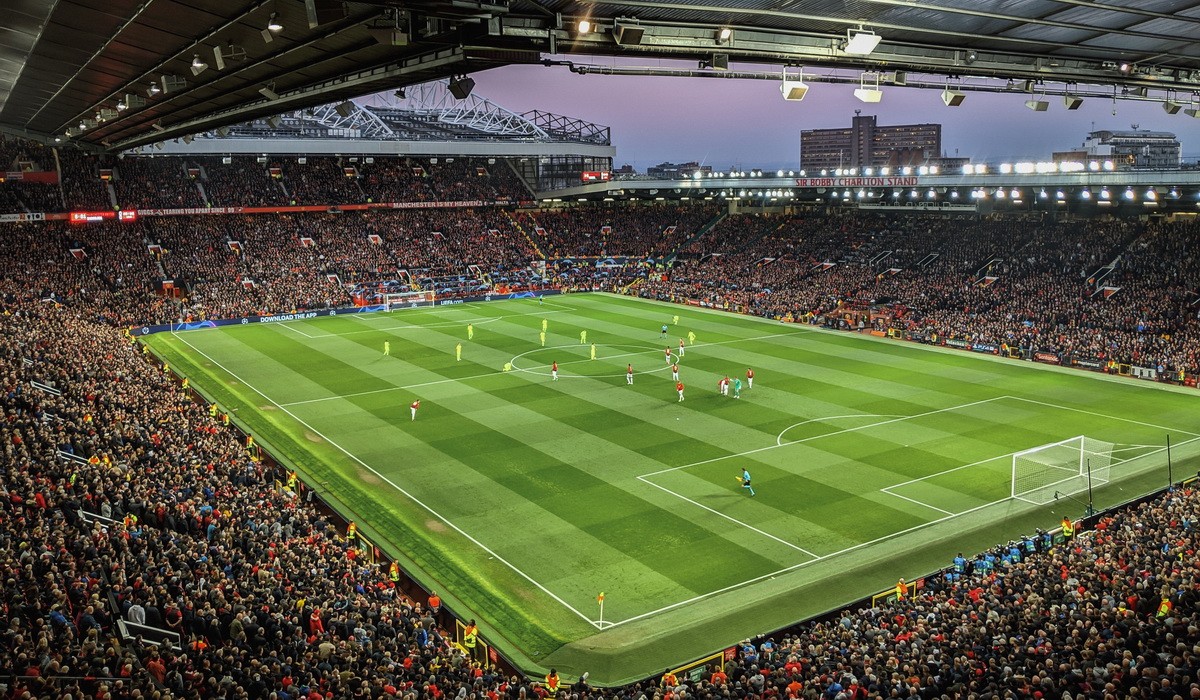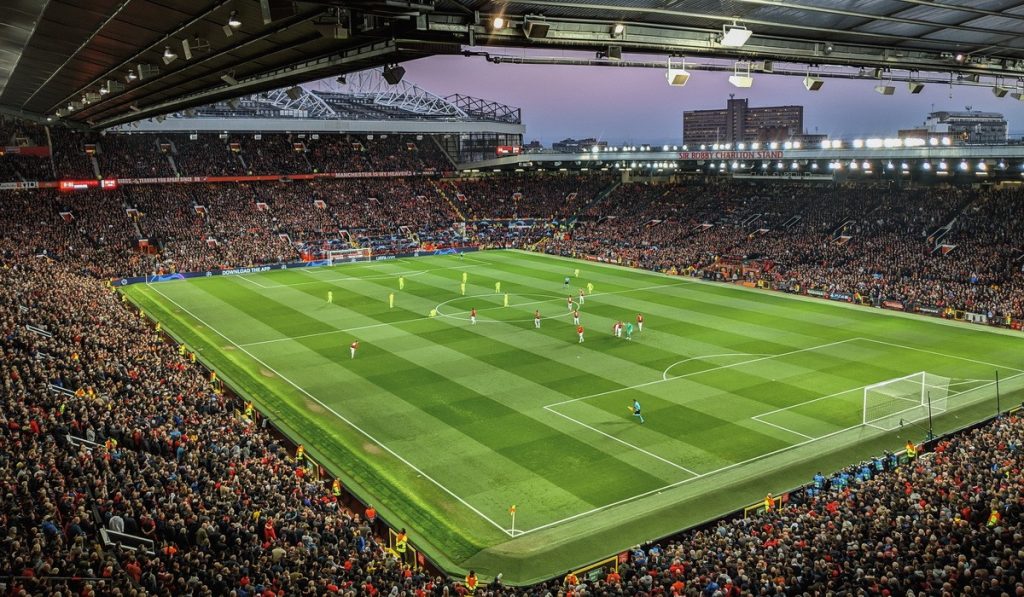 The majority of punters in the UK who want to bet on football games online do so by trying to pick winnings teams. This is known by various terms, but '1X2' is the most common. This term stems from the old football pools days, where '1' means 'home win', 'X' means draw and '2' means 'away win'. There are though plenty of other ways that you can place an online bet on football, and we are going to look at your options later on.
How to Place a Bet on Football Online
Let's quickly go through an example of how to place a football bet online. We are going to place a BTTS bet (both teams to score) on a Euro U21 match, the Czech Republic v England. We are going to be using bet365 to place our bet.
Once we have logged on to our account, we hunted through the football options until we found the game we were interested in. The '1X2' odds can be seen below: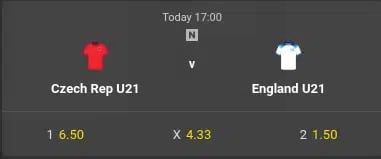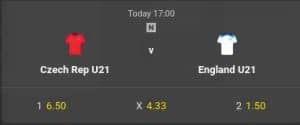 As the odds for an England win (we we think is what will happen) are so tight, we decide to go for BTTS yes instead as we think England will fail to keep a clean sheet. We click on the information as shown above and scroll down until we find the BTTS odds, as shown below.

There are two options – BTTS to score yes, and BTTS to score no. We decide to go for BTTS yes. We click on the odds to put them on our betslip.

The final step is to set our stake. This will be £5, as shown. All we need to do now is click 'Place Bet' and that is it, our bet is placed! This example is tailored to bet365, but the principle is the same at most UK betting sites.
Best Football Betting Markets
There are plenty of football betting markets beyond '1X2', and plenty of ways to learn how to bet on football and win if you come up with a working football betting strategy. Below is a quick list of the most popular football betting markets.
1X2 – the most common football bet. Bet on a team to win, or a draw
Double Chance – combine two outcomes – '1X', 'X2′ or '12'
Goals Over/Under – bet on total goals scored, usually over/under 2.5
Both Teams to Score (yes/no) – wager on both sides scoring, or not
Result/BTTS – combine a 1X2 and BTTS bet
Correct Score – bet on the final score of a game
HT/FT – bet on the winning team (or a draw) at half-time, the same at full time
Draw No Bet – betting on the winning team with a draw being a push
Asian Handicap – wager on the winning team with an artificial handicap applied and draws not possible
Goal Line – bet on a specific goals total, over or under
Handicap Result – bet on the winning team with an artificial handicap applied but draws still possible
Alternative Handicap Result – as above but select your own handicap
First/Last/Anytime Goalscorers – bet on a player to score the first goal, the last goal or at any time
These are just the most popular football betting markets. Most popular football matches (such as those in the EPL and UCL) will have over 200 individual possible bets available, and even less popular ones will have between 50 and 100.
Early Cash Out in Football Betting
One of the aspects of football betting made possible by the internet has been live betting. This is where you bet on an aspect of a game that's already in progress. It can be mundane (the final result) or very specific (team to win the next throw in).
Cash-out, where accepted, is part of live football betting. This is where you can 'cash out' a winning bet before the event you have bet on has been settled. The price you pay for this is a reduction in your returns.
For example, say you bet on Arsenal to beat Fulham and the Gunners are winning 1-0 with 15 minutes to go, but then they have Aaron Ramsdale sent off and he's replaced by Rúnar Rúnarsson. For Fulham, Aleksander Mitrovic is beginning to look menacing and you're not convinced that Arsenal will hold on. You would win £20 if you hold your nerve, but you are offered cash-out returns of £12, which you decide to take.
As it happens, Mitrovic scores twice in the last ten minutes to secure a Fulham win. By cashing out, you got £12 back. If you'd let the bet run until full time, you would returned nothing. Cash-out is a superb way of returning money from bets that otherwise would have lost.
Use Football Accumulators
Football accumulators (or 'accas' or 'parlay bets' as they are also known) are very popular among football bettors. An acca is a string of single bets that are chained together to create a multiple bet, usually with high odds. If all legs of your acca win, then the overall bet wins. If any leg loses however, your entire acca loses.
Working out potential returns from an acca is easy, if you use decimals odds. Say you have five singles in your acca with odds of 2.0, 1.5, 2.5, 3.0 and 4.0. To get the overall odds you just multiple the numbers to get 90. This means a £1 acca would win £90. If you prefer fractional odds then you would have to calculate each step individually and then add your stake on too.
It is best with football accas to keep your stakes low and the legs manageable. Football is not that predictable, so expecting to get eight legs correct is like living in dreamland (but you never know!). We think six legs is a good level but it really is up to you.
You can add power to your acca with profit bonuses and acca insurance, as offered by many UK online bookies. A profit boost will add a slight percentage of winnings to your successful accas, while acca insurance will refund your stake as bonus money should one leg of your acca fail. These are good benefits as long as you maintain a sensible number of legs, and keep stakes low.
Look for Value in Football Betting Odds
The key to football betting is finding value in betting odds. This where the odds offered by a bookie do not match the probability of an outcome occurring.
For example, let go back to our Arsenal v Fulham example above. You might think that Arsenal have an 80 percent chance of winning that game. To convert from probability to odds you just divide one by the probability, which in this case is 1 / 0.8 = 1.25, or 1/4 in fractional. Therefore, if a bookie is offering more generous odds (say, 1.50) then that becomes a value bet and is worth a punt.
Finding value bets can be hard though, as bookies are very exact when it comes to calculating their odds. They have amassed huge databases of past performances and use them to work out probabilities. They also employ people to tailor the odds should some real world factor be an influence, such as Tottenham's chances of winning if Harry Kane is injured, or a team suddenly under-performing due to fatigue or some other factor, such as Arsenal towards the end of the 2022-23 season losing the title to Manchester City after leading the EPL for so long.
In-Play Football Betting
We have already delved into in-play football betting a little, but now it is time to take a closer look. In-play betting is only really available at UK betting sites online, and it allows you to bet on a match that has already started. In-play betting is actually permissible on most sports at UK bookies, except for horse racing, greyhounds and a handful of others.
To bet 'in play' you just head to a site and find a game that's already begun. Most markets available pre-match will still be available unless they've already settled. For example, you can't place a 'BTTS yes' bet if both teams have already scored. You will though be able to bet on the match winners right up until the final whistle.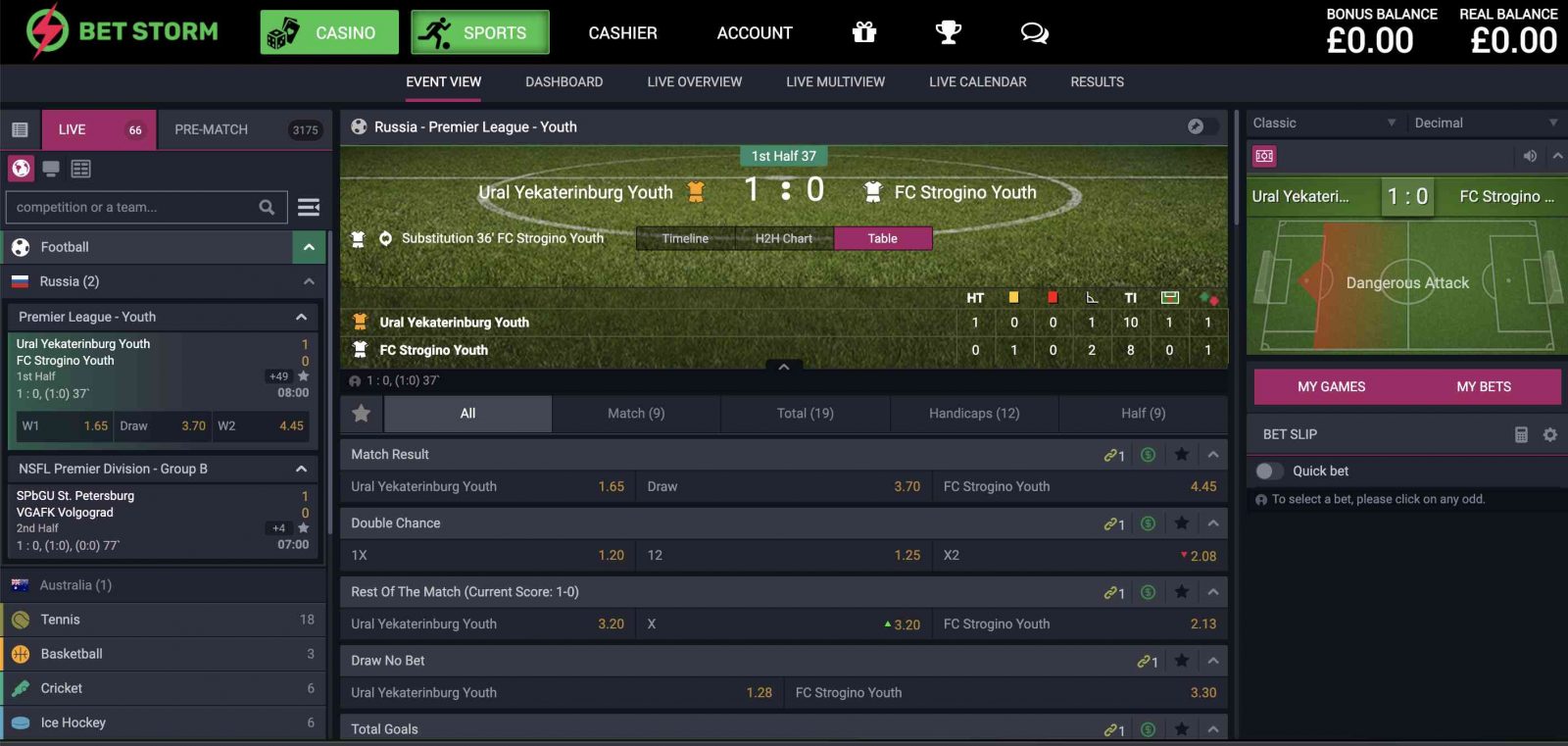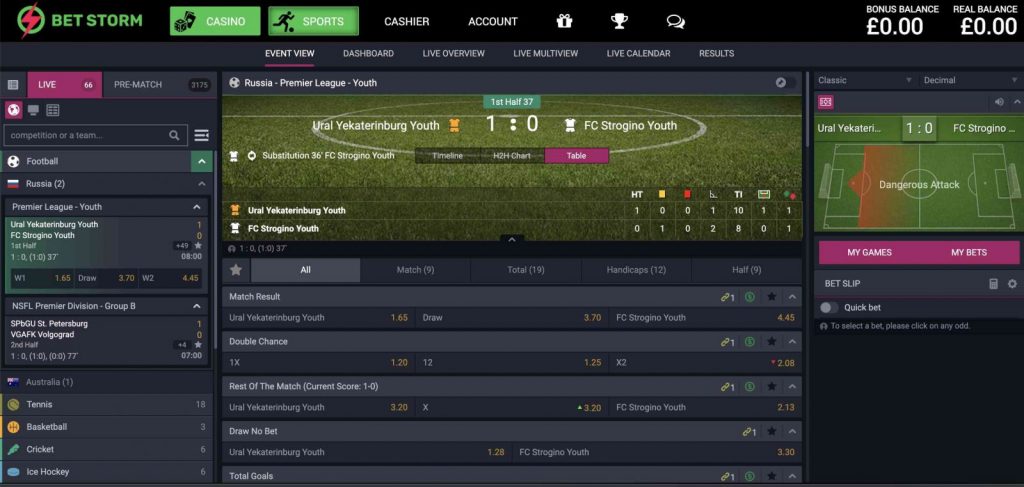 There will be plenty more to bet on. Indeed, most aspects of a football match that are measurable can be bet on, such as the number of corners, yellow cards, red cards, total cards and so on. You can also bet on the next team to score, the last team to score, whether a team will keep a clean sheet – any live football match in-play at a UK bookmakers will commonly have between 100 and 200 in-play markets.
In-play football betting is a very good way of betting success if you really know your football. Don't forget the 'cash out' option when it comes to live football betting, as described above.
Best Football Betting Strategies
Betting on football is not just about betting on football – the aim of placing a bet on football games online is to bet on football and win, and you will only do that if you come up with a successful and consistent football betting strategy. Below are listed some factors that you should give consideration to:
Analyse Football Matches and Teams
There is no going away from it – you will only bet on football and win if you do your homework. Stick to what you know, consider current form and other factors, take into consideration the human factor (football is played by human beings, after all) and … well, that's just the start.
Take Forest v Arsenal towards the tail end of the 2022-23 season. On paper, second-placed Arsenal were hot favourites to beat relegation-haunted Forest. But! Forest were on their best run of form for the season with striker Taiwo Awoniyi on a rich scoring-streak, and Forest had been decent at home all season. Arsenal, having fallen behind title rivals Man City despite leading the EPL table for most of the season, were looked tired and lacking in confidence. A wise man would therefore have thought this an unlikely Forest win, and they would have been right, with no prizes for guessing who scored the only goal of the game!
Look for the Best Odds
No matter how accurate your football predictions become, you will only get the best returns when learning how to bet on football in the UK if you get the best odds. Use odds comparison sites to pick the bookies who consistently deliver decent odds. In addition, look for enhanced odds deals or profit boosst to add a little extra cash to your returns.
Football Betting Bankroll Management
With all forms of betting, bankroll management is key. You should never let your betting eat into money you've reserved for other factors in your life, such as rent, mortgage payments, utility bills and money for entertainment and your interests.
It's a good idea to come up with a monthly figure – the amount of money you are comfortable with losing should you experience a betting nightmare. Once that money is gone, then wait until next month before you start betting again.
If you find it hard to not bet on football games online, then you may be developing a gambling issue. Please consult our responsible gambling page for information.
Managing Emotions and Making Rational Decisions
Football is an emotive aspect of life in the UK, with fans becoming maniacal about the successes and failures of their favourite teams and players. It is crucial that you keep emotion out of the decision-making process when it comes to football betting. Emotion leads to bad decisions more often than not, so it is important that your betting remains rational at all times.
Emotional betting is another sign of potential responsible gambling issues, and organisations such as GAMSTOP can help.
Creating a Football Betting System
People who just randomly pick football teams to win games on a haphazard basis seldom remain profitable, which is fine if you just consider football betting as a fun and unimportant part of your life. However, if you want to bet on football and win, you are going to need to create a football betting system.
Consider all potential betting options, not just '1X2'. BTTS yes/no and over/under are also good options, as are draw not bet wagers. Think about where your football betting talents may lie.
Spend at least one month or even longer placing football bets 'on paper' using your system and see how much money you would have made (or lost) if you had actually placed bets. If you are in the black, then put your football betting system into operation, but keep your stakes small at first. Don't be swayed by thoughts of big stakes on outlandish odds. The key mantra to remember is 'win small but often, not big but infrequently.'
Common Mistakes to Avoid When Betting on Football Online in the UK
We've already covered a lots of errors that you could fall foul of when you bet on football games online in the UK, but just for your convenience we have summed them up (and added a couple of others) in the bullet list below:
Not Managing Your Bankroll – only bet with money you can afford to lose
Irrational Betting – don't bet when irrational, or 'under the influence'
Not Doing Your Homework – successful punters study the form
Using Insecure Sites – only bet online using sites with UKGC licences
Not Having a System – ill-considered bets are not the key to success
Not Looking for the Best Odds – you'll only get the best returns from the best odds
Ignoring Advice, Not Seeking Help – if someone says you have a gambling problem, then you do. Seek help before it's too late
Football Betting Terminology
Here now is a quick guide to some important football betting terms that you are likely to encounter in your football betting journey.
| | |
| --- | --- |
| Term | Definition |
| Asian handicap | Handicapping system where the draw is eradicated |
| 3-way handicap | Handicapping system that includes a bet on a tie |
| Over/Under | Bet on the number of goals scored in a match |
| HT/FT | Bet on the 'result' at half-time, and then at full-time |
| Double chance | A wager on two possible match results |
| Accumulator (Acca) | A string of combined single bets |
| Outright | Overall winner of a competition |
| Each way | A bet on a team to win a competition, or finish second |
| Scorecast | A wager on the final score and a goalscorer |
| Wincast | A wager on the final result and a goalscorer |
| No Goal No Bet | A bet where your stake is refunded if the final score is 0-0 |
| Draw No Bet | A bet where your stake is refunded if the result is a draw |
| Early payout | Usually, a bet that is settled if your selection goes two goals up |
| Team to go through | A bet on a team to go through to the subsequent round of a competition |
| Spread betting | A bet where you win more for accuracy, or lose more for inaccuracy |
| Betting exchange | A betting site where your bet is exchanged with punters betting the opposite way |
| Bet builder | An acca created by betting on single outcomes in the same match |
| BTTS | Both teams to score, you can bet yes or no |
| Odds-on | A price that's less than Evens and you win less than you bet |
| Returns | Money from a winning bet, winnings + returned stake |
Where to Place a Football Wager Online in the UK
Every single safe and secure, properly UKGC-licensed betting site available in the UK will accept bets on football. You will never have any issues wondering where to bet on football online in the UK, as all UKGC-licensed sites have multiple football markets.
The choice can be a little overwhelming though, so take a look at our list of recommended sports betting sites.
Wrapping Up
So, know you know how to place a bet on football, including how to bet on football accumulators, and where to bet on football online. You should also have received some valuable tips on the best ways to attempt to bet on football and win, and common mistakes you should be wary of when you bet on football games online.
The best of luck with your football betting, but please remember to always gamble responsibly.
FAQs
What is the most popular bet on football games online?
That would be the straight '1X2' bet. It's a bet on the home team to win, the away team to win, or for the game to end in a draw.
My team won AET but I didn't get any winnings? How come?
Football bets are settled after 90 minutes + time added on for stoppages. If your backed team was level after 90 minutes but won in extra time, then the bet will be settled as a draw.
What does over/under 2.5 goals mean? How can a team score half a goal?
They can't. A half goal is used to create a definite split between two goals and three goals. 0, 1 or 2 goals is under, 3 or more goals is over.
Do penalties count for first/last/anytime goalscorer?
Yes, but only during game time. Goals scored in penalty shoot-outs do not count for first/last/anytime goalscorer bets.
What's the best way how to bet on football accumulators?
Keep the legs to a minimum (three to six) and the stakes small. Accas rarely win but when they do, they win big. These is no pointing risking a large stake on a high number of selections in the hope of winning millions.
Was this article helpful?