LiveScore Bet Review UK 2023 | Bet £10 Get £20 Free Bet
Overview
The British betting scene is always evolving, with fresh brands constantly arriving to challenge the older, established online bookmakers. LiveScore Bet is one of the newest sportsbooks to enter the fray. In our comprehensive LiveScore Bet review, you'll learn everything you need to know about this young bookie. We'll evaluate its special offers, security measures, mobile app, betting markets, and a whole lot more besides. 
What is LiveScore Bet?
LiveScore Bet is an extremely young sports betting site, having only launched in 2020. With that said, there is a decent amount of experience behind the brand, courtesy of its connection to the LiveScore Group. This parent company has a track record stretching back to 1998, and previously also contained Virgin Bet, which is now its own successful sportsbook.
LiveScore Bet is a British brand, specifically targeted at customers in the UK. While its headquarters are in Gibraltar, it holds a full license with the United Kingdom Gambling Commission (alongside one with the Gibraltar Gambling Commissioner). 
We'll be focusing heavily on the sportsbook in this LiveScore Bet review, which is the clear main priority for the brand. There is also a fully-featured casino section in place though, and – if you open one LiveScore account – you can switch between the two at will.
Is LiveScore Bet Safe?
Safety and security are both enormous focuses for us here at Safe Betting Sites, as you can probably guess by our name. You can rest assured that – if we didn't believe a sportsbook took its security seriously – we would never recommend it. 
While many betting sites are reluctant to discuss their safety measures, LiveScore Bet does actually provide a few good details here. 128-bit SSL security is in place, providing strong protection for your personal details which only authorised employees are allowed to access. The security for payments is also taken extremely seriously. Not only are they processed by third-parties, but a further third-party service is also used for fraud-checking purposes.
As noted in the previous section of our LiveScore Bet review, this bookie also holds licenses with regulatory bodies in both the UK and Gibraltar. This ensures that LiveScore Bet is held to the highest standards for both security and fairness, giving you – in turn – all the peace of mind you could ask for.
LiveScore Bet Sportsbook Offers
As a new sportsbook, one of the quickest ways to grow your customer base is to provide plenty of special offers. LiveScore Bet have certainly ticked this box, with a welcome offer plus a decent selection of ongoing promotions in place.
LiveScore Bet Welcome Offer
We only found LiveScore Bet welcome offer available for the sportsbook section during this LiveScore Bet review, although casino users can benefit from a couple of other deals. Sports bettors, though, are free to take advantage of the 'Bet £10 Get £20 in Free Bets' LiveScore Bet sign up offer. 
To qualify for this, you must deposit and bet at least £10 within 14 days of creating your account. That qualifying wager can be on any sport you like, but must be placed at odds of 1/2 (1.50) or greater. 
Once your first bet has settled, you'll be awarded £20 in free bets. Pleasingly, these are split across two £10 tokens, rather than being given as one lump sum. While the free bets must be used within seven days, there are almost no other restrictions, with each-ways being the only ineligible bet type for using these tokens. 
In short, this is an excellent sign up offer. It's very clearly-explained, and there's nothing in the T&Cs to catch you out. Most importantly, it also provides clear value, giving you a 2:1 return on your initial investment. 
Ongoing Promotions
In addition to the excellent welcome offer, LiveScore Bet also rewards its existing users with a few regular, ongoing promotions. There isn't a huge amount of variety here, with only two deals for sports bettors right now, but we were impressed with the offers which are in place at the time of writing this LiveScore Bet review.
£10 Free Acca Bet
'Free Bet Clubs' are usually only found on the biggest sportsbooks. We were both surprised and pleased to find one on LiveScore Bet, therefore. 
To qualify here, you must opt-in then place two pre-match accumulators of £10 or more. These require at least four legs, with minimum overall odds of 5/1. Whether your acca wins or loses, you will then be given a £10 free bet. That's already extremely good value, but – better yet – this offer can be triggered three times per week, for a total of up to £30 in free bets.
Best Odds Guaranteed
This is an extremely common offer type. It's also one, however, which horse racing bettors are always pleased to see.
As usual, if the starting price for your chosen horse is superior to your original price, you'll automatically be given the better odds. If the SP is the same or worse than your initial odds, your wager will remain untouched. 
LiveScore Bet's Best Odds Guaranteed deal covers both win and each-way wagers on all UK and Irish horse races. It applies to wagers placed after 10am on race day, and can boost your profits up to an impressive maximum of £50,000 per day.
Casino Deals
While we didn't find a LiveScore Bet welcome offer in place for the casino while writing this LiveScore Bet review, there are several ongoing betting promotions. The most eye-catching is for the Rainbow Riches slot game, which gives you a £10 free bet, although you must spend a hefty £50 to receive it. 
Elsewhere, LiveScore Bet gives away free spins on a different slot every day. There's also a Lucky Number offer for roulette, awarding you a £5 on correct number guesses, and a loyalty scheme for blackjack players.
LiveScore Bet Review
We've focused exclusively on special offers so far in our LiveScore Bet review, but it's high time to get stuck into the details. Let's see how this young brand stacks up in some of the most important areas for any up-and-coming sportsbook. 
What Sports Can I Bet on with LiveScore Bet?
On a typical modern sportsbook, you'll typically expect to find between 20 and 30 sports to wager on. LiveScore smashes expectations here, with a whopping 40+ different markets in place. For a bookie as young as this one, that really is incredible. 
Football leads the way, as you'd expect, with the most individual betting markets by far. Horse racing is also included, with races not just in the UK and Ireland, but in countries like France, South Africa, Australia, and the USA covered too. 
Following those two dominant markets, there's a whole host of other sports you can bet on. Old British favourites like tennis, golf, cricket, and rugby are all in place, as are boxing, motorsports, greyhound racing, and darts. The NFL and NBA are also featured, the eSports section is strong, and there's also a nice selection of more niche markets, including beach volleyball, archery, and gaelic football.  
LiveScore Bet Odds and Value
It's not just the quantity of a bookie's markets which is important, of course, but the quality too. We're pleased to say we were also impressed during this portion of our LiveScore Bet review. 
The odds you're given here aren't necessarily 'industry-leading'. We compared the prices on a whole series of the biggest markets to those being offered by the competition, though, and found the ones on LiveScore Bet to generally be in-line. There are also Price Boosts available each day, which significantly inflate the odds you're given on certain football and horse racing markets. 
Bet Limits
LiveScore bet has a minimum stake requirement of £0.05 (5p), which applies to all betting markets. While it's technically possible to find sites supporting 1p bets, this is still significantly lower than the industry-standard £0.10. 
As with most bookies, there is no consistent maximum stake amount. Instead, the upper limit varies depending on the event, and you will simply be given a notification in your betslip if you enter a stake exceeding it. The same system applies for maximum payouts, which also vary from market to market. 
In-Play Betting
Live betting features have gone from being a luxury to a necessity on modern betting platforms. Once again, LiveScore Bet absolutely excels here. 
While the range of live markets is obviously slimmer than that for pre-match, it's still very impressive indeed. It's not just the biggest sports like football and tennis which receive detailed coverage here, but also less-heralded markets like badminton and handball.
During our testing for this LiveScore Bet review, we found the tools for both placing and cashing out live bets to be highly-responsive. When you're offered certain odds, you can usually lock in that price before it changes. Crucially, those prices themselves also offer a fair reflection of the latest goings-on in live games. 
Live Streaming
LiveScore Bet reviews on the internet are trying to provide a balanced opinion in this. The truth, however, is that this young bookie continues to excel, and this is yet another area in which we were impressed. 
Despite being less than two years old, LiveScore Bet already has live streaming in place. This is available for football matches from around the world, plus tennis, cricket, horse racing and more. In most cases, watching these is completely free, although – for racing – you will need to wager at least £1 on the event you want to stream. The quality of the streams themselves is solid, and they can be accessed on both the desktop site and mobile betting apps.
Other Functionality
Even in addition to all the other features we've looked at during this LiveScore Bet review, this bookie has a couple more tricks up its sleeve. The most eye-catching is called 'Squads'. This is a free-to-play game, in which you are assigned five football players for your fake team each day. If they score, you earn cash rewards. There's a lot of randomness here – including the players you're given, and the amount you're awarded per goal – but, given that the game is free, you really can't complain. 
Elsewhere, there's a significant database of free stats and other information to inform your betting. There's also a bet builder for same-game multiples, plus a virtual sports section which includes football, horse racing, and greyhound racing.
Customer Service
LiveScore Bet ticks every box when it comes to customer service, with all the main bases being covered. Most importantly, live chat is provided, and can be accessed easily via an icon in the bottom-left of your screen. A phone number is also provided, or – if your enquiry is less urgent – you can simply send an email instead. We sent multiple test enquiries during our research for this LiveScore Bet review, and received helpful, friendly, and quick replies in each case.
For indirect assistance, LiveScore Bet also provides a Help Centre. Like most other things on the platform, this is excellent. While the sections could be arranged more intuitively, a search function allows you to quickly find what you're looking for anyway. The articles themselves are well-written, and cover a very wide range of topics. 
How to Get Started on LiveScore Bet
LiveScore Bet is a pretty user-friendly platform in general, making it extremely straightforward to get started. To help you on your way though, here's a simple step-by-step guide on how to do just that.
Step 1: Visit LiveScore Bet
To get the ball rolling, you must head to the home page for either the LiveScore Bet desktop site, or go and get the mobile app. The former can be accessed via the link below, while the latter can be downloaded via the App Store or Google Play.
Step 2: Create an Account
LiveScore Bet's sign up process is quick and easy to complete. Assuming you're using the desktop site, begin by clicking 'Join Now' in the top-right of the home page. You should now be presented with the first of three screens – 'Personal' – in which you should enter your name, date of birth, and email address. You'll need to provide further information on the second screen – 'Contact' – before setting your username and password on the third one, 'Account'. Once you've done all that, just accept the main T&C's and click the 'Create Account' button to finish.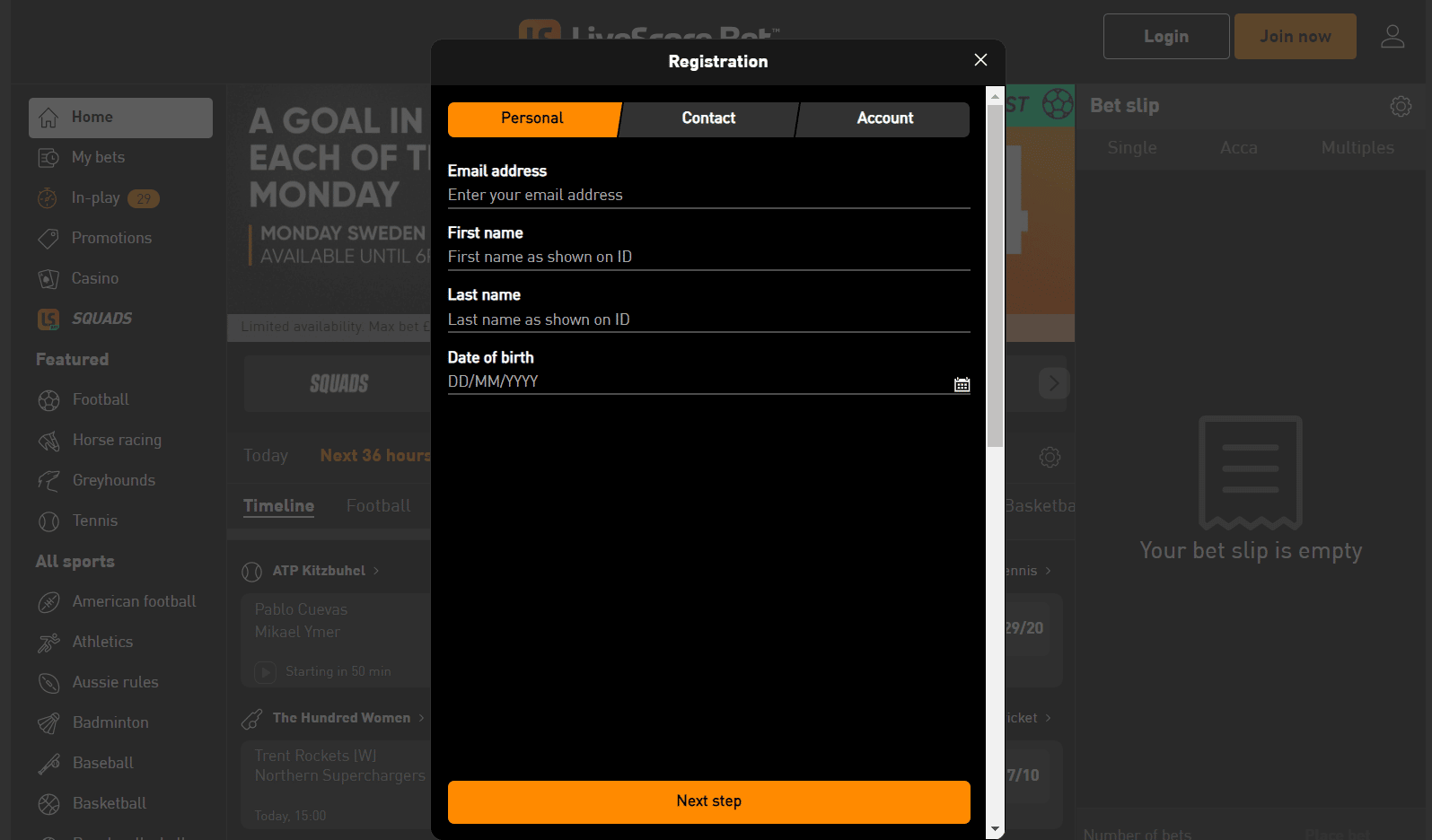 Step 3: Verify your Identity
Normally, you don't need to verify your identity with a bookie until you make a withdrawal. LiveScore Bet, however, has taken the unusual step of requiring this before you even make a deposit. In fairness though, doing so is pretty easy. When you go to make a deposit, you'll automatically see the document uploader tool. You can then use this to upload photos of two of the three accepted pieces of ID: passport, driving license, or utility bill/bank statement.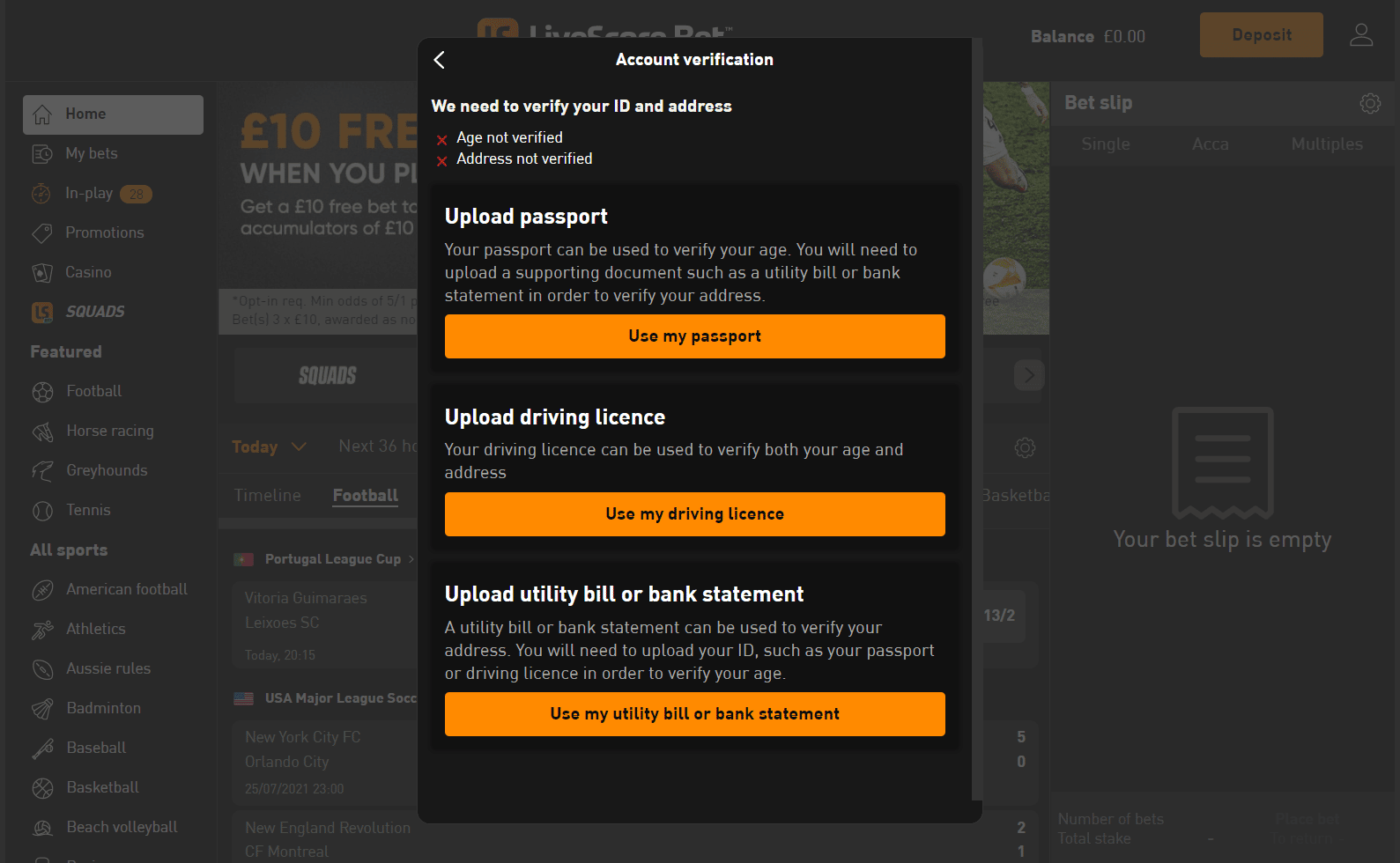 Step 4: Make a Deposit
Once your identity has been verified, you can fund your account. Click 'Deposit' in the top-right, and pick your preferred method from the options you're given. Now just provide the required payment information, enter the amount you want to deposit, and complete the transaction. The funds should appear in your account straight away. 
Step 5: Place a Wager
With some money in your account, it's finally time to start betting. Head to the home page, then select the sport you want to wager on from the long list on the left, e.g. 'Football'. Now pick the competition, then the individual matchup, in which you're interested. You should see a list of all the bet types available for that game. Click the odds for the exact market you want to add that selection to your betslip, on the right. Now set your stake amount, check everything is in order one last time, and hit the 'Place Bet' button.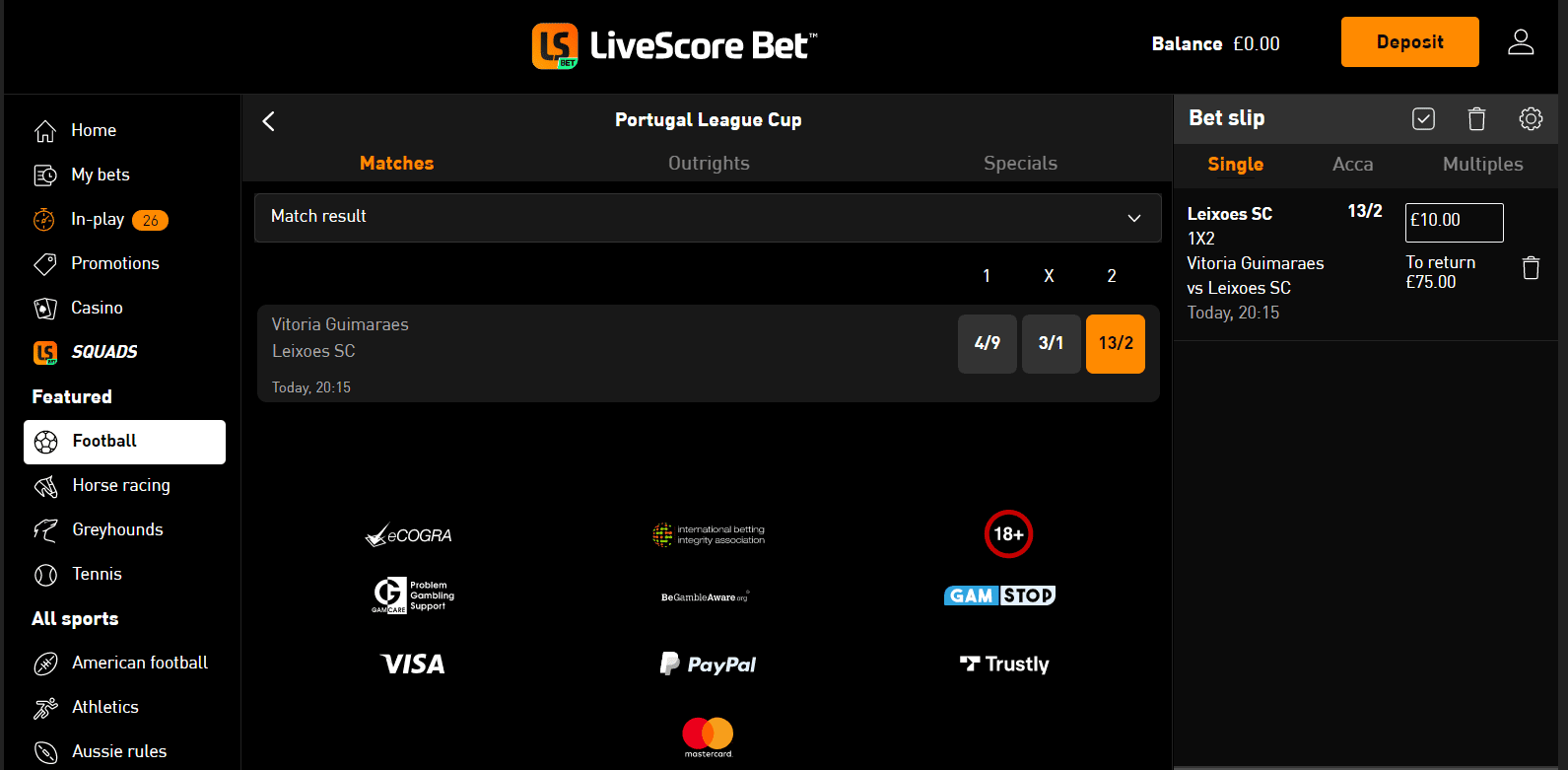 Step 6: Make a Withdrawal
Given that most bookies don't ask to verify your ID until this stage, making a withdrawal is actually quicker than usual on LiveScore Bet. Assuming you have funds remaining, you can click the head icon in the top-right of your screen to access the 'My Account' area, then click the 'Withdraw' option. Select an eligible payment method, enter the amount you want to withdraw, then confirm the transaction. 
LiveScore Bet App
Most of our testing for this LiveScore Bet review was done on the desktop site, which we found to be very straightforward to use. On-the-go bettors, however, will be pleased to know that LiveScore Bet also has mobile apps in place. These are available for both iOS and Android users, and can be downloaded directly from the App Store or Google Play respectively. 
This is yet another part of our LiveScore Bet review testing which we found extremely impressive. In general, the app does an excellent job of replicating the desktop site. All of the most exciting features have been ported over, including the Squads game and live streaming. Naturally you can also place and cash out live wagers, access all the same pre-match and outright markets, and take advantage of the same promotions. A couple of extra features have even been added, including the ability to log in using Face or Touch ID on your phone.
This app wasn't the quickest we've ever tested, on either WiFi or mobile data, but it's not slow either. Pages load smoothly enough, and – crucially – the live betting tools remain responsive enough to let you lock in the prices you want. 
LiveScore Bet Bonus Code
At the time of writing this LiveScore Bet review, there are no bonus codes available. Instead, all the offers are triggered directly, with no need to input any additional information. 
Outside of LiveScore Bet, however, you can find dozens of great bonus code betting offers available at any one time. We've curated a selection of the very best ones you can use right now, each of which provides clear and appealing value for British bettors. 
Betting Promo Code & Free Bet Codes
All
£30 Free Bet
New!
Paypal
£5 Deposit
Derby betting
Each Way Bet
Enhanced Odds
Free Spins
Live Streaming
patent bet
Placepot bet
Trixie
Yankee bet
Cash Out
£25 Free Bet
£50 Free Bet
New Free Bets
£10 Free Bet
£20 Free Bet
£40 Free Bet
More Filters
LiveScore Bet Payment Methods
We've been almost entirely positive throughout our LiveScore Bet review so far. Here, though – finally – we find one area in which this young bookie drops the ball. 
The selection of payment methods on LiveScore Bet right now is unimpressive, to say the least. In fact, there are literally just two options – debit card and PayPal. Bank transfer is mentioned as an alternative elsewhere on the site, but seems to have been removed for some reason. We reached out to the customer service team, and a representative confirmed that only Visa, Mastercard, and PayPal can currently be used. 
From a modern-day sportsbook, this is extremely disappointing. Even younger brands tend to offer the likes of Skrill, Neteller, bank transfer, and Paysafecard. We strongly hope that LiveScore Bet can fix things here quickly, and provide plenty more payment options for its users.
| | | | | |
| --- | --- | --- | --- | --- |
| Banking Method | Min Deposit | Max Deposit | Min Withdraw | Withdraw times |
| Debit Card | £5 | £10,000 | £10 | 1-3 Working Days |
| PayPal | £10 | £10,000 | £10 | 24 hours |
LiveScore Bet Pros and Cons
No sportsbook is perfect, and even this one – which we've been enthusiastic about through much of this LiveScore Bet review – has its pros and cons. Let's get a quick overview of the most important strengths and weaknesses of this brand. 
What We Like:
Considering how young LiveScore Bet is, the range of special features you can already access is frankly ridiculous. All the basic boxes are ticked, from live betting tools to a bet builder for helping you craft same-game multiples. In addition though, you also get virtual sports to bet on, live streaming of big-time events, a full range of helpful statistics, and more. 
The interfaces on both the desktop site and mobile apps for LiveScore Bet are modern and streamlined, making them easy to use from the very first time you log on. While there's no search function, the intuitive nature of the navigation means you don't really need one. In short, this is an extremely accessible platform, regardless of your experience level.
The range of betting markets here is incredible. Even having 30 different markets is generally impressive for a bookie, but LiveScore Bet takes this to a whole other level by providing over 40. The inclusion of British, Irish, and international horse racing is particularly noteworthy, given the difficulties bookies can encounter in licensing the 'sport of kings'. 
On-the-go betting is the preferred method for many modern punters, meaning a bookie's mobile features are extremely important. We found the mobile app to be easy and fun to use during our testing for this LiveScore Bet review, and even the mobile website serves as a solid substitute.
What We Don't Like:
This is, by far, LiveScore Bet's biggest weakness. Having been blown away by the variety elsewhere, particularly in the selection of betting markets, we were extremely surprised to find that only two payment methods are currently available. 
The special offers which LiveScore Bet does provide are good. Right now, however, there simply aren't enough of them, with only two ongoing promotions backing up the welcome offer. As with payment methods, we'd hope and expect to see some additions here soon.
LiveScore Bet UK – Final Thoughts
Quite simply, new sportsbooks aren't supposed to be this good. We've come across many positive LiveScore Bet reviews, despite this brand has existed for less than two years. Despite this, it already has more to offer than the vast majority of older sportsbooks on the scene right now. 
The 'Bet £10 Get £20' welcome offer creates a great first impression. This is ably backed-up by the exceptional range of betting markets, plus several noteworthy features, with live streaming being the most exciting of all. The mobile app is just as impressive as the desktop website, and we also enjoyed both the speed and quality of the customer service. 
LiveScore Bet isn't perfect, of course. The selection of payment methods needs to be expanded dramatically, and we'd also like to see a few additions to the range of ongoing promotions. Even in its current state though, we have absolutely no problem in recommending LiveScore Bet. Take advantage of the aforementioned LiveScore Bet welcome offer, grab your £20 in free bets, and take things from there. We're highly confident that you won't be disappointed. 
FAQ
What is LiveScore Bet?
A brand-new sportsbook, which was only launched in 2020. It's a part of the LiveScore Group, which previously included Virgin Bet too, and holds licenses with the UK Gambling Commission and Gibraltar Gambling Commissioner.
What sports can I bet on?
There are over 40 different markets available here. Most notably, these include football, horse racing, tennis, golf, cricket, and rugby. You can also wager on motorsports, boxing, eSports, and much more.
What is the LiveScore Bet sign up offer?
It is a 'bet and get' offer, in which you must place a £10 qualifying wager, and will be rewarded with £20 in free bets. Your qualifying bet must be at odds of 1/2 or greater, and you have seven days in which to use your free bet tokens.
Is live streaming available?
Yes. Horse races can be streamed live each day, as long as you place a wager of at least £1 on that event. You can also stream the likes of football and tennis for free, with no qualifying bet needed.
How can I get a LiveScore Bet £10 Get £20 free bet?
Aside from the LiveScore Bet welcome offer, you can also use the '£10 Free Acca Bet' deal. This works similarly to a free bet club, in which you place at least two £10 wagers, and are rewarded with a £10 free bet. You can trigger this three times each week, for up to £30 in free bets.