If you're curious about what does 2.5 goals mean in betting terms, then this guide provides a full explanation. You'll soon get your head around it all with our experts' help. They lift the lid on Over Under betting so you understand what it's all about, how its works and when to wager in the market.
What Does 2.5 Goals Mean in Betting?
When a threshold is set by traders working for online bookmakers at 2.5 goals, then that exact amount cannot happen. This is down to the scoring system in team sports that use goals as points. Any betting outcome will either be above, i.e. Over, or below, namely Under, this number. It's because goals are awarded to teams in full integers, not halves.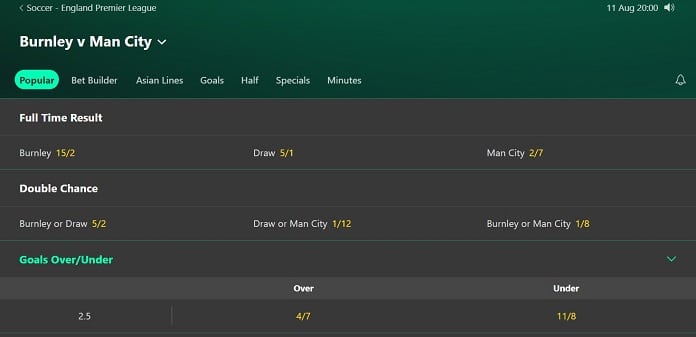 While we could be talking about drop goals in rugby, field goals in American football or the hockey scoring system, it's football betting that we're concerned with here. Goals can win matches for the teams scoring them, but also cost the opposition conceding. All you have to decide when taking a punt is whether you think there will be more or less than 2.5 in the football game in question and/or scored by the team you're backing.
Get the Over Under bet you place right, and you win. If not, then you've lost your stake. This isn't like sports spread betting, where the more accurate you are with your prediction, then the more you win and can lose more if the result is different to what you expected. With fixed odds Over Under betting markets like 2.5 goals, it's just a matter of putting your wager down on the right side of the threshold.
What Does Under 2.5 Goals Mean?
Faced with the simple choice of going above or below 2.5 goals in this popular betting market, selecting Under means you're taking a certain view of that game or team. Placing such a wager means you expect low scoring. The Under 2.5 goals meaning is that you think there will be two or fewer goals scored in the match or by your chosen side.
A team cannot get more than two goals and any wager be successful. If the market in question is total goals in the game, then any combination of these final scores pays out as a winner:
2-0 Home win
2-0 Away win
1-1 Draw
1-0 Home win
1-0 Away win
0-0 Draw
We're now going to work through a Under 2.5 goals meaning example just so everything is clear in your mind. Let's say that Liverpool and Arsenal play each other at Anfield. Your wager is for there to be Under 2.5 goals in the match.
Looking back through recent Premier League head-to-head history, you'd likely get some good odds for this outcome. That's because you have to go back almost a decade to November 2013 (as of the start of the 2023-24 season) for the last fixture between the two at Anfield where there were Under 2.5 goals.
A couple of EFL Cup encounters on Merseyside offers some hope, however, as their last two meetings there in that competition ended goalless. Anything more than a 2-0 win for either side and your bet loses. Only six possible results, those listed above, end in success.
What Does Over 2.5 Goals Mean?
Choosing Over this many goals in the case of Liverpool v Arsenal would probably be wiser. When you go this side of the 2.5 threshold, you're gambling on there being plenty of goals. At least three to be precise. The Over 2.5 goals meaning really is that simple. Three, four, five, six and so on. If the net bulges three times or more, then your bet is a winner.
With the total goals market for the entire match, any final score line of 2-1 and up to either team, or 2-2 score draw or better, pays out. So long as the forwards having their shooting boots on, then there are more possible successful outcomes.
Let's look at another Over 2.5 goals meaning example just to underline everything. The Manchester Derby between Manchester City and Manchester United when played at the Etihad Stadium in each of the last two seasons would've been a winner if this was your bet on the match total. This is because Man City defeated United 6-3 (nine goals) and 4-1 (five goals). In fact, five of the last six Premier League games away from Old Trafford had results equating to a winning bet.
Pros & Cons of Over Under Betting
Now that you fully understand what does 2.5 goals mean in betting in terms of the Over and Under market, there are some obvious upsides to wagering on it. That being said, there are also drawbacks. This is because there's no such thing as the perfect bet. So long as you can accept that there is always risk and some negatives balanced against the potential returns and benefits, then you're on the path to gambling wisdom. Our experts look at the positives and disadvantages:
Pros:
Good to include in football accumulators
Half-goal threshold negates draws
Simple wager for punters to follow
Useful options for same game multis
Cons:
Head-to-heads & trends get bucked
Injuries & red cards can impact bet
Only two possible outcomes
Prices may not always be value
Popular Leagues & Competitions for an Over Under Bet
With the Over/Under 2.5 goals betting meaning and pros and cons clear in our minds, the next matter is which football leagues, cups and tournaments are such wagers most popular on? Check out the list including top European leagues below:
Over Under Betting Strategies
While appreciating what does 2.5 goals mean in betting is important, the next step is for you to realise when to employ Under/Over wagers like this. Luckily for you, our experts are at hand with helpful hints and advice on betting. Their strategies should more often than not work out and help you reach better decisions when taking a punt. While we can't promise a winner every time, let's see what they have to say about strategy for an Over Under bet:
Combine Over Under Betting with Other Markets
You aren't just limited to an Over/Under 2.5 goals bet on the match as a standalone wager. The football markets that online betting sites offer have become a lot more sophisticated these days. You can combine this together with the 1X2 betting on the match result, for example, without resorting to a same game multiple.
Over Under betting on individual teams, halves and these combined with the result are also options are your disposal. If you fancy a side to score three or more goals before half-time and naturally go on to win the upcoming match, then it's also available as a constituent part of Bet Builders for punters. Make use of these tools as you can increase the odds on offer.
Follow the Form, Results & Team News
There is no substitute, pun intended in this case as we're talking about football, for keeping up to date with the beautiful game if you're going to bet on it and want to win while you're at. If you're naturally curious and interested, then that helps. Your knowledge helps you reach informed choices when wagering.
By following the form of teams by looking at recent results and past head-to-heads for their upcoming fixtures, plus the latest teams news and injuries, you can identify opportunities for an Over Under bet that can pay off. You can't expect a goal-fest, for instance, if a key forward serves a ban for picking up too many bookings.
Go Under 2.5 Goals When a Team Has a Good Defensive Record
There's an art to defending and the best players at that side of football take their craft seriously. From the murkier, craftier side of fouling opposition players and getting away with it to making genuinely good tackles, interceptions and blocks, if a team turns their home ground into a fortress where they don't concede goals, you must pay attention to that.
It's part of the wider point about following football form and results made above, but you can't expect the net to bulge in matches involving this side at home. You definitely want to be coming down on the underside of Over/Under 2.5 goals here. Believing that even talented attacking players on the opposition team can breach a strong, determined and organised defence isn't sensible gambling wise.
Best Bookies for an Over Under Bet
All bookmakers providing football and acca betting will have Over/Under 2.5 goals among their markets on offer. It's as commonplace as the full time result, correct score and other staples of gambling on this sport today. No one bookie is better than any other in this regard with the only metric separating them out being the prices, i.e. odds, offered.
FAQs
What odds can you expect for Over/Under 2.5 goals?
Why is it Over/Under 2.5 goals and not 2?
Is Over 2.5 goals a good bet?
Are there other Over/Under betting markets available?
Is it better to bet Over or Under?
What is the secret to winning Over/Under bets?
Do Over Under bets include extra time?
Was this article helpful?