The Double Chance is a betting market available on team sports where you can wager on two of the three possible final results together. You've got not one, but two chances of your bet being settled as a winner. If you've ever caught yourself wondering what does Double Chance mean in betting terms, then ponder no longer. We're here to expand on it and explain all to you. With our help, you'll soon figure out the Double Chance meaning and see how it works.
What Does Double Chance Mean in Football Betting?
So, precisely what does Double Chance in betting mean? It's a type of wager you can place on the UK's most popular sport. Specifically associated with betting on football matches and their outcomes, a Double Chance bet allows you to cover two potential results at once. That's right, you get two goes in the same wager at saying what you think will happen on the pitch.
What is a Double Chance Bet – Your Three Options
Now that you've got to grips with the basics of what does Double Chance mean in betting terms, you need to understand the options available to you. There are only three permutations to consider that comprise this market. This is because a Double Chance wager combines two of the match result possibilities together.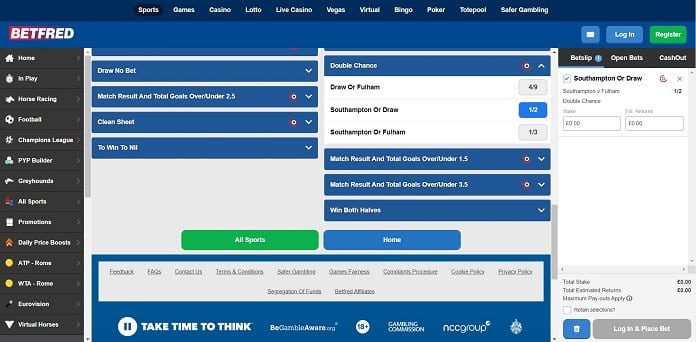 In traditional 1X2 betting, you can either back the home team to win (1), the away side for victory (2) or the game to end in a draw (X). Double Chance betting lets you group two of these outcomes together, so you've got more bases covered in terms of the match result. You can thus either bet on a home win or draw (1X), home win or away win (12), or away win or draw (X2).
How Does Double Chance Betting Work?
Provided the outcome you didn't include in your Double Chance bet isn't the end result, the wager pays out regardless of which other options you put together. Let's say that you backed Manchester City and the Draw in their away game with Liverpool. So long as the visitors avoid defeat at Anfield, then you've got yourself a winner and you don't end up with a void wager like you do with Draw No Bet if the game finishes level..
You can see now when asked what does Double Chance mean in betting terms, that the answer is relatively simple. It's an opportunity for you to cover two of three potential outcomes of a football game. Punters should also be aware that a Double Chance bet only covers the regulation 90 minutes and stoppage time of matches, not the outcome following extra time and after a penalty shootout.
Pros & Cons of a Double Chance Bet
With what is Double Chance in betting terms crystal clear in your mind now, it's a good time to consider the upsides and drawbacks of this wager. Like any form of gambling, it's not all positive, nor is it all negative. As we shall see, the Double Chance bet has its uses, but first let's take a look at the benefits and disadvantages of this particular punt:
Pros:
Covers more bases than match result bets
Mitigates potential losses for cautious punters
Useful wager for tricky games on paper
Cons:
Available odds shorter than match result
Larger stakes are thus needed accordingly
You can still lose a Double Chance bet
When Should I Use Double Chance Betting?
Getting your head around what does Double Chance mean in betting is only the beginning. The seasoned punter knows when this wager comes in handy. With this particular bet type, however, covering more than one of three possible outcomes is only really useful when you aren't confident in your prediction about a match result.
Your first port of call before considering a Double Chance bet needs to be the regular 1X2 market. If there's not much in it between a home win, away victory and the draw, it's at this point when alternative wagers come under consideration. The Double Chance betting market makes sense now with no clear consensus in the market about the final outcome.
One thing you should prepare yourself for here are short betting odds. After all, a Double Chance bet lets you wager on two of the three possible results on the game. Most prices offered are going to be odds-on and that's inevitable. You will have to decide for yourself if there's any value betting to be had with the Double Chance or not.
Double Chance Betting Strategy & Tips
Strategies have their part to play in smarter gambling. While we can't guarantee that our experts' advice will be right every single time, you should still consider what they have to say regardless. After all, it's thanks to them that you fully comprehend what does Double Chance mean in betting and those doing the explaining also know a thing or two about how to make such wagering work for you. Follow their advice, and you'll make better, more informed decisions more often.
The FA Cup Giant-Killing or Forcing a Replay
First up among our Double Chance betting tips is a staple of the world's knockout football competition. One of the perils with FA Cup betting is big teams being upset by sides from lower divisions raising their game and rising to the occasion to get a result. If ever there was a scenario where the Double Chance bet comes recommended, then it's this one.
Looking back over the storied history of the FA Cup third round, it's littered with shock results and many have become famous. Every tie is a banana skin for the top clubs who enter the competition at this stage. It might be a giant-killing where the minnows eliminate the big guns, or they force a money-spinning replay at the heavyweights' home ground. Double Chance betting comes into its own here as you can combine both the upset and a draw together.
On the Second Leg of a European Knockout Phase Tie
The FA Cup doesn't have exclusive rights on being the most useful place for a Double Chance bet, however. You should also give it every consideration when continental club competitions reach the knockout phase. All European ties from this point onwards have two legs. The complexion of them can change an awful lot, depending on what happens in the first game.
It could be smart Double Chance betting strategy to think carefully about placing such a wager once both sides know what they have to do in order to advance from the tie. Teams cannot book their places in the next round after the first game, but they sure can lose it or make it more difficult to qualify. Should a club only need a draw minimum to progress from the tie's second leg, then the Double Chance bet can suddenly look like a logical punt.
By far the most popular European competition in gambling terms is when people bet on the Champions League as the biggest clubs and best players are involved. Some teams have histories of famous comebacks from seemingly impossible positions in these games. While the drama and excitement on the field can reach fever pitch, a look at the Double Chance market makes sense.
For Dead Rubber Games
Most football fans will admit they've witness meaningless league games towards the end of the season. In these matches, neither competing team has anything left to play for. They're in no danger of relegation, but there's no realistic chance of promotion or finishing in European places or challenging for the title. Mid-table mediocrity can be a minefield for punters.
The last of our Double Chance betting tips you should consider is employing this wager in these dead rubber matches. There are no stakes on the pitch per se, so you need to make sure you're careful with what you bet on and how you approach such games. A Double Chance lets you cover both the home team and/or away side, plus a bore or entertaining draw in these unpredictable circumstances.
Best Bookies for a Double Chance Bet?
All of the top betting sites in the UK right now include Double Chance among their football markets. It's a staple among the wagers you can place on the beautiful game. Our advice is to pick a site that caters to your preferences, and if you want to narrow down the selection a bit we have several great betting sites reviewed who all provide double chance bets to their customers from our starting page. And with that, we hope that you had use of this article and now have a grounding in what a double chance bet is and know how to use it and want to wish you good luck in your future betting!
FAQs
How to place a Double Chance bet?
When is Double Chance betting available?
How do I calculate Double Chance odds?
Is Double Chance betting profitable?
How is handicap betting different from Double Chance betting?
Is a Double Chance bet worth it?
Was this article helpful?