Price boosts offer enhanced odds on specific betting markets. Available at an increasing number of betting sites, bookmakers introduce such promotions in an attempt to make said markets more appealing to punters. Also known as enhanced odds, price boost offers are always well received. 
UK's Top Betting Offers of 2022
All
Enhanced Odds
New!
Paypal
£5 Deposit
Live Streaming
Cash Out
Placepot bet
More Filter
On this page, we will explain exactly how price boosts work. We will also outline where to find the best price boosts today and how to profit from them. Below are the leading bookmakers currently offering price boost promos. As always, recommended betting sites are completely safe and legal for punters in the UK.
All
Paypal
No Deposit Bonus
New!
What Are Price Boosts?
Simply put, a price boost is when an online bookmaker delivers greater odds on a particular sporting event or market than normal. The exact increase ranges between betting sites. However, this type of promotion allows bettors to claim enhanced winnings when successful. For example, ahead of a Premier League clash between London rivals Chelsea and Arsenal, the Blues could be boosted from 4/6 to 8/11. It is likely that a maximum stake will be allowed, which is normally around £20. Those placing the max bet allowed would win returns of £34.55, instead of £33.30. 
Types of Price Boost Offers
Boosted odds would appear to be a fairly simple promotion to understand. However, there are a few different types of price boosts available to punters in the UK today. Those operating at our recommended betting sites will likely come across the following enhanced odds offers:
Single Price Boost
Here, the odds on a specific market will be boosted. Examples include a particular scoreline in a football match, the first goalscorer or a horse to win at the weekend. The enhanced price will generally be introduced shortly before the start of the event, around 24 hours prior. The original odds will then be unavailable. Odds can be enhanced significantly, however they are generally not massive. Single price boosts are available with an increasing number of bookies. However, we recommend Mansionbet, due to the number of sports covered.
Treble/Multiple Price Boost
Whether it be a double or accumulator, here, price boosts are available on multiple selections. For example, two runners at Aintree to win on the same day or both Liverpool and Everton to win their respective matches on Super Sunday. All picks involved must win for winnings to be received at the boosted price. For multiple price boosts, be sure to check out BetVictor. 
Double Delight/ Hat-Trick Heaven
A select few bookies offer this type of promo. Here, price boosts are dependent on your pick scoring two or more goals in a football match. For example, if your first goalscorer pick goes on to score two, odds will be doubled. Should they score a hat-trick, odds will be trebled. This can significantly enhance the winnings received. Betfred is the leading bookie for this type of offer.
How to Find the Best Price Boost offers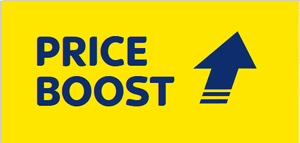 Price boosts are often overlooked by punters. However, they should be viewed as one of the most valuable betting promotions found online today. The first step is to find them! While some bookies make enhanced odds offers clear from the off, others will keep them more hidden. After browsing our recommended sportsbooks, the next stop should be the Profit Accumulator Price Boost Thread.
This page has over 5 million views, with near 30,000 price boost offers having been posted in total too. With this site being hugely respected, be sure to keep an eye on their updates. Be sure not to miss out by clicking on the bell logo, before selecting the "Watch" option. However, with price boosts generally disappearing quickly, you need to be quick! 
Here at Safebettingsites, we also endeavour to keep our readers up to date with the latest promotions. The betting sites listed on this page are ones to look out for surrounding price boosts, so be sure to regularly visit such sportsbooks or login to your account. If registered already, be sure that you are signed up to receive updates about promotions. 
How to Profit From Price Boost Offers
It is one thing taking advantage of a price boost offer, but it is another thing in actually profiting from them. So, in order to give yourself the best chance of beating the bookies through this promo, be sure to follow these betting tips:
Boost Your Own Bet – In some cases, punters will be able to decide upon exactly which bets to boost. This feature is available with a small number of top UK bookmakers, putting customers in greater control of their wagers. For example, one bet boost per week may be available.
Be Selective

– Enhanced odds offers are increasingly common online. As such, punters should avoid the vast majority. It is only worth taking advantage when the price boost is on a match you were considering wagering on anyway. For example, despite their being a boost on a Premier League tie between Manchester City and Liverpool, stick to the Arsenal vs Aston Villa clash if this is where your interest lies.

Play the Field

– There is nothing stopping you signing up on a host of betting sites. Doing so will put you in a position to regularly take advantage of the best prices. This is whether price boost offers are in play or not. You can also take advantage of the welcome bonuses on offer too!

Time Your Bet Right

– Depending on the bookie, you could be paid out at the boosted price, regardless of when your bet was placed. So, based on the terms and conditions, it could be worth waiting until just before the start of the event, to see whether enhanced odds are set. 

Time Your Bet Right

– Depending on the bookie, you could be paid out at the boosted price, regardless of when your bet was placed. So, based on the terms and conditions, it could be worth waiting until just before the start of the event, to see whether enhanced odds are set. 

T&Cs

– No matter how extreme the price boost is, be sure to check out the terms and conditions before wagering. As we will discuss in greater detail later on, a number of factors can impact your success. Maximum winnings and max stakes are the most common. 

High Profile Events

– When it comes to a World Cup match involving England or the Wimbledon final, several bookies may well boost the odds. While maximum stakes will likely be in play, there is nothing to say that you cannot utilise all offers. 

Cash Out

– Price boost offers can generally not be used in conjunction with other promos. Meanwhile, they are also likely to be limited when it comes to other features too. For example, cashed out bets will not take into account the price boost. As such, the reward for settling your bet early may not be as appealing as expected.

Multiples

– The vast majority of enhanced odds offers are for singles. However, as we discussed at the top of the page, multiple boosts are also found from time to time. Remember that this requires all picks involved to win. If you are not comfortable with the likelihood of this occurring, give it a miss. 
Bookmakers With The Best Enhanced Odds Offers This Month