Ultimate Fighting Championship (UFC) is the biggest Mixed Martial Arts (MMA) promotion in the world. Due to this, it has also grown in popularity for sports bettors to place wagers on, too. And if this is something that you are new to, then a guide to UFC betting will be quite helpful. Through our UFC betting guide, we will walk you through some of the best UFC bookies in Australia. These sites accept AU bettors and allow you to deposit in AUD. We'll also inform you on how to place profitable UFC bets through the best UFC betting sites, such as Unibet.
All
Cash Out
Each Way
Harness racing
PayPal
Enhanced Odds
Live Streaming
More Filters
Deposit $50, Receive $50 Bonus
Deposit $50, Receive $50 Bonus
Fast payments via PayPal
Live streaming
Dedicated mobile betting app
9.5
Visit Site
T&Cs apply
Great selection of MMA events
Great selection of MMA events
Informative details on all UFC events
Massive range of betting markets
Speedy payout
9.8
Visit Site

Competitive MMA odds across the board
Competitive MMA odds across the board
UFC events promoted as featured sports
Good selection of payment options
Useful blog posts
9.7
Visit Site
200% up to $100, 100% up to $250 or first racing bet match up to $250
200% up to $100, 100% up to $250 or first racing bet match up to $250
Live greyhound streaming
Virtual greyhound betting
Regular specials
9.6
Visit Site
T&Cs apply
Daily adjusted promotions
Daily adjusted promotions
Good odds on UFC markets
Regularly offers best odds
Full market coverage via apps
8.7
Visit Site
How We Rank the Best UFC Betting Sites
It is one thing for an online sportsbook to provide players with a range of sports to wager on, but quite another to ensure that the odds are of the highest quality, too. This is why we always recommend platforms with the best betting odds for you to benefit from. You can then expect the best sort of payouts from your MMA betting activity.
One of the best Aussie bookmakers to feature exceptional betting odds on UFC events is the Betfair platform.
The Greatest Selection of UFC Markets
There is always a number of UFC events taking place every year, and Fight Night stands out as being one of the most popular. Airing on ESPN+, this features a selection of fights leading up to the Main Event. Different weight classes, including light heavyweight, flyweight, bantamweight, featherweight and strawweight. Therefore, we seek out the UFC betting sites that provide wagering on all of these.While all of the sites that we have recommended to you come with an excellent selection of UFC markets for you to bet on, some stand out more than others. If this is a prime focus for you, we recommend checking out Bookmaker more so than others.
While placing your bets on UFC fights is one part of accessing an online sportsbook, it is also the case that some players want additional features to benefit from. This means that live betting, cash outs, bet builders and so on should be made available. Because many Australian-based sportsbooks are restricted with the offers they can provide, the extra site features can often make up for this loss.
The Betfair site comes with a fantastic mobile betting app that you can download and bet on UFC through. Meanwhile, the cash out function that is also available at Betfair adds to the betting experience.
Everyone wants to be able to place bets at any time, which is why it is important that a sports betting site is accessible on a mobile device. All betting lines should be available through a mobile version of the site or even a mobile app download. Online betting UFC should cater to all types of bettors, and we found that Ladbrokes offers one of the best mobile apps for you to download and use. This features swift connectivity to the UFC markets and an ideal layout.
All of the platforms that we have mentioned can be accessed via a smartphone or a tablet. However, one of the very best sites for this is Sportsbet, which comes with a perfect mobile app to download.
Nobody wants to have a bad experience when choosing their UFC betting picks. The best UFC betting sites will always provide a top-quality user experience, from the moment that you login through to the time when you're withdrawing your winnings. The greatest user experience comes when you can also utilise UFC betting tips at your chosen sportsbook. And this exceptional experience should be felt online and in a mobile sense, too.
When it comes to getting the best user experience from your chosen sportsbook, one of the best sites to join is Bookmaker. Not only is the site well-designed and easy to use, but the same is true of its mobile app.
Support for a Number of Payment Methods

Joining an online sport betting site should not restrict you when it comes to depositing and withdrawing your money. This means that we seek out the platforms with the largest range of supported payment methods. So, we recommend the sites with support for credit and debit cards, e-wallets, cryptocurrencies and so on.Being able to deposit via a method that works for you is quite vital for some players. If this relates to you, then one of the best AU bookmakers to sign up to is PalmerBet, which supports card payments, e-wallets, POLi and other options.
UFC Betting Basics & The Best UFC Betting Wagers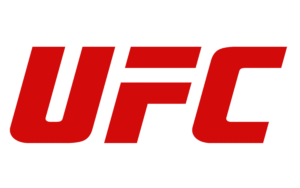 There have been some big names created from the world of UFC, such as Luke Sanders, Loma Lookboonme, Conor McGregor, Kai Kamaka, Ion Cutelaba and Israel Adesanya. And if you know enough about any of these top-name fighters, then perhaps UFC betting will come quicker to you. However, should you not be that well-informed, then perhaps a UFC betting guide for beginners will work perfectly for you.
The most popular UFC bet is therefore placing a wager on which fighter you believe will secure the victory over the other. With a UFC moneyline wager, you simply choose the fighter that you think will be the winner. Let's say that Charles Oliveira is set to take on Gabriel Benitez in an upcoming Fight Night. Bettors simply choose which of these two they think will win and then place their moneyline bet after checking into the UFC betting odds for the match.
The moneyline bet is not the only one you can go for, though. Some others can be quite profitable, such as round betting. The bookmaker platform offers some great odds on round betting too. You just need to bet on if you think the round will last longer or shorter than the given time. The method of victory is another one that, if you know enough about the fighters participating in an event, you can frequently guess the outcome of. And even if you don't, you can benefit from reading about the latest UFC betting odds. Check out the site TAB UFC betting, which works well in Oz by providing tips and hints about upcoming fights.
Let's have a closer look at some of the popular and profitable UFC bets. They include the following:
Fight Winner
As noted, this particular sports bet sees you wagering on which fighter you believe will be the winner at the end of the event. In this instance, the bookmaker willput odds on each fighter to win, with one being the definite favourite and the other as the underdog. When the odds are even for two opponents who are evenly matched, this is known as a Pick'em event. In the example below, Charles Oliveira has been given odds of 1.77 while Michael Chandler has odds of 2.05 for their upcoming fight.


Visit Unibet for the best Fight Winner odds on UFC
Round Betting
If you opt to partake in UFC round betting, then the sportsbook sets a line on how long the fight will last. Essentially, you need to wager on if you believe the match will go on for a longer or shorter time period than stated. At the same time, round betting allows you to wager on which fighter you believe will win rounds 1, 2 and 3 separately. In the example below, you can see that betting is available for Tucker Lutz or Kevin Aguilar to win each of the upcoming match's rounds.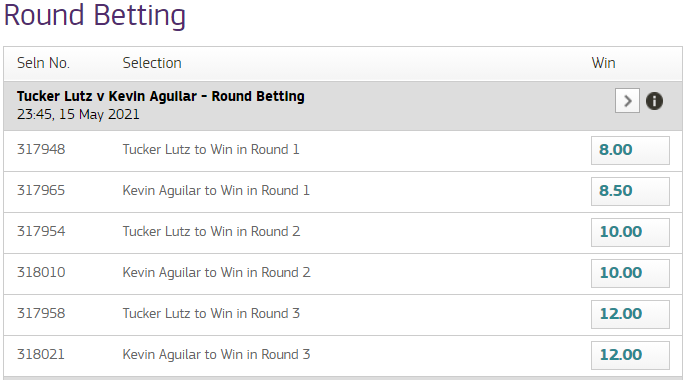 Visit Bookmaker.com for the best UFC Rounds odds
Method of Victory
This is similar to the other sports bets, but in this one, odds are set by the sportsbook based on the predicted outcome of the fight. Bouts can end by decision, draw, knockout, submission etc. You simply bet on how you believe the fight will come to a close. Take a look at the example below where Tucker Lutz is set to take on Kevin Aguilar. There are various method of victory bets that you can place.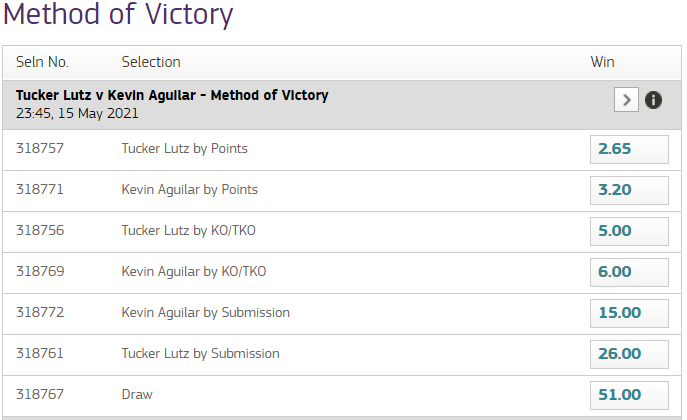 TABtouch offers excellent Method of Victory odds
Parlay Bets
Something else that stands out as being a popular bet for many UFC bettors is a parlay option. Parlay bets will result in a higher return if you manage to get them all correct. Of course, should one of them be a losing wager, then the entire stake will be lost. So, you need to be sure that the matchups you are including in your parlay wager are fairly certain of such an outcome.
How to Read UFC Betting Odds
In general, most sports odds are displayed in the same way, and you get to decide upon how you want to view them – decimal or fractional, for the most part. The favourite in a matchup is usually represented by the lower numbers, while the underdog features the higher digits. The best way to describe the odds is with an example, so let's take a look below. UFC 261 just recently passed in April and the upcoming event is UFC 262, where Gina Mazany will be facing off against Priscila Cachoeira.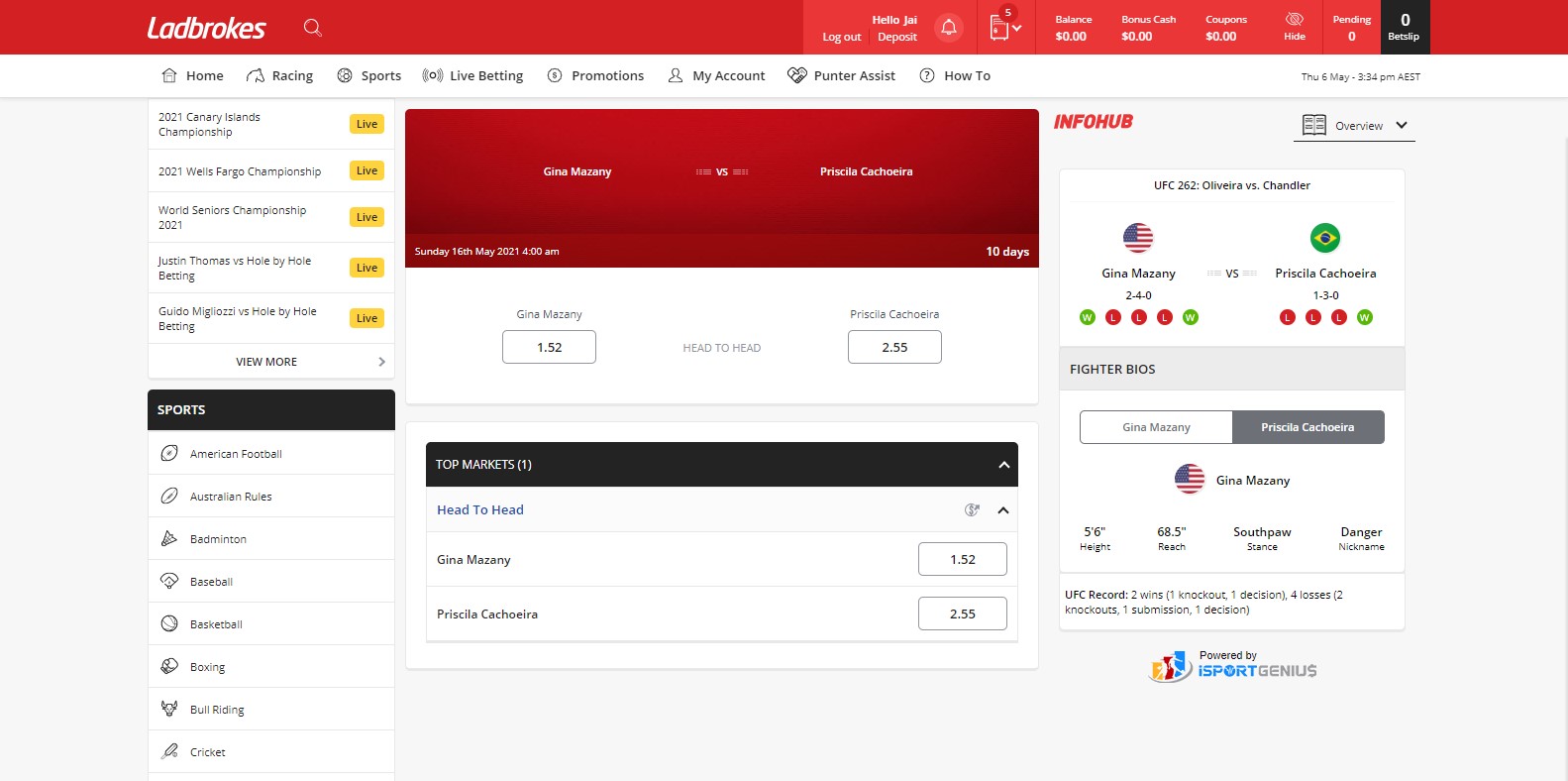 Mazany is the favourite to win the fight, with odds of 1.52 given to her, while Cachoeira has been given odds of 2.55. In this respect, if you were to place a $100 bet on Mazany, and she then went on to win, you would receive a payout of $152. On the other hand, if you placed that same bet on Cachoeira being the victor and she managed to secure the win, you would receive a return of $255.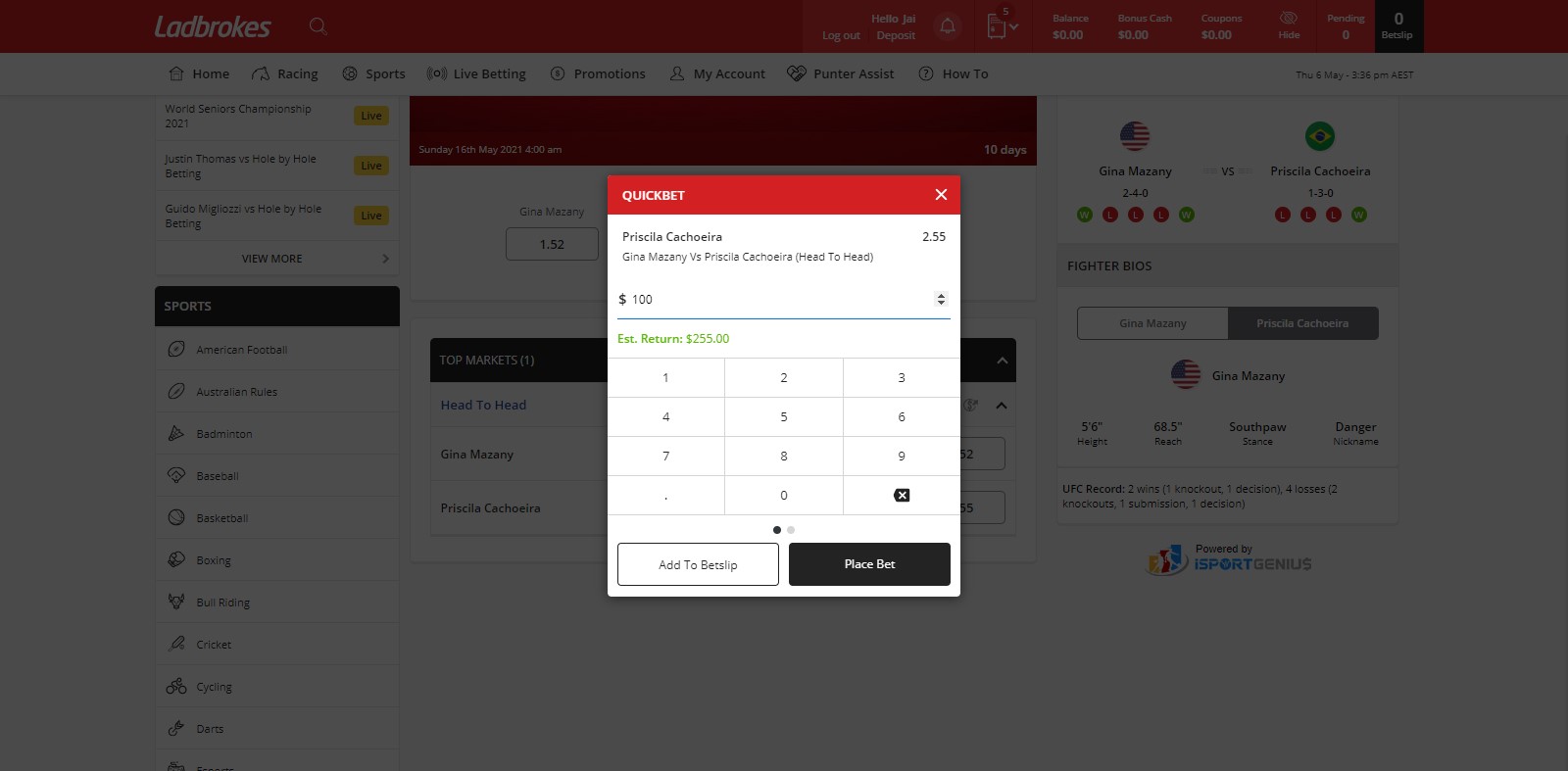 Those figures would be differently represented if you were viewing the site with fractional odds or American odds, but the potential payout from a winning bet would remain exactly the same.
Where to find the best UFC betting odds in Australia:
TABtouch – a specialist in UFC betting
Sportsbet – Utilises excellent early fixed odds.
Live Betting on UFC Fights
One of the very best ways to partake in UFC betting is to do so in a live format. This is because it can be quite hard to handicap the fight before it takes place, and therefore figuring out how things will proceed is not something that you can get much insight into. Live UFC betting, on the other hand, allows you to place wagers while the matchup is taking place, and hedge any bets made beforehand.
Online bookmakers will keep a running line on the fight as it progresses onwards. Depending upon how each of the fighters looks and how the rounds proceed, the odds will alter. As a result, you can benefit from live betting if you are watching the fights unravel as well. You're free to place a live bet at any time, so when the odds look appealing, you stand the chance of guaranteeing yourself some profit.
Through participating in live UFC betting, you can see how things are panning out with the fight before you make a wager. And if you have already made such a bet and you don't like how things are going, you can utilise the live betting options to hedge that bet and limit the losses you experience.
One of the very best UFC betting sites for participating in live betting is Ladbrokes. Can it be said that Ladbrokes is the best UFC betting site? Well, it certainly exists up at the peak of the rankings, and there is little doubt that its live betting possibilities help with this.
4 Ultimate UFC Betting Tips to Use
It is important to have some sort of knowledge behind your UFC bets, and this includes knowing about the fighter participating in each of the fights. This is why it is ideal to utilise a specific strategy for your UFC wagering. As part of this UFC betting guide, we have some details on how to properly go about deciding upon your bets.
Tip 1: Look at UFC Betting Trends
Take a look at each of the fighters' momentum going into a bout. This often provides invaluable information about where they currently are in their respective careers. Khabib Nurmagomedov, while now retired, holds the record for being the longest-reigning UFC lightweight champion, for example. He held the title from April 2018 to March 2021 and retired with a record of 29-0 to his name.
Therefore, if you were betting on any of his matches by the time he'd won 6 or so fights in a row, you would realise that there is a trend there.It's also prevalent to look at how the fights are ending as well. If a fighter has won his or her last five or six fights by finishing off an opponent in the first round, that stands out as being quite the dominant performance. On the other hand, if a fighter has won three bouts by split decision from the judging panel, this shows that perhaps they aren't quite as strong as their record would have you believe.
Tip 2: Who Have They Fought Already
While looking at a fighter's history, you should check into who they have faced off against already. Have they taken out a string of less dominant fighters or are they actually taking on big names in the industry? Looking at TJ Brown and his record for example, you will see that he has won 15 fights and lost 8. His latest win was against Kai Kamaka, who is a big name in his own right. He has also taken on fighters like Danny Chavez and Ken Beverly though, who aren't quite as well-known.Some MMA fighters can build up a vast winning streak by fighting in smaller promotions, but that does not mean they will also be dominant in UFC events. After all, this is the elite organisation in the mixed martial arts world. Take note of who they have fought already and how the events ended.
Tip 3: What Fighting Style Do They Have?
There are multiple different fighting styles when it comes to the UFC, so it's ideal to study some of the fights a little to figure out what their strengths and weaknesses are. So, if you find out that a fighter is excellent when it comes to knocking their opponents out, but terrible when it comes to partaking in grapple fighting, this is something of note. Francis Ngannou for example, is known for being the hardest recorded puncher in the history of UFC.
However, Derrick Lewis is known for being a Brazilian jiu-jitsu style fighter, and he is one of three people who have defeated Ngannou before.It is also noteworthy to check into how a fighter has secured his wins and losses in previous bouts. So, if they are prone to being knocked out or submitted and they're facing a fighter who is prolific in either of those areas, it could be a sign of things to come.
Tip 4: Who is Physically Better Off?
Knowing about a fighter's physical traits is another step towards understanding the probable route that a matchup will take. Broadcasts of the fights will usually display stats on the Reach of a fighter, which is an important trait. A fighter with a longer reach is able to keep their opponent at bay with lengthy punches and kicks, for example.Weight is another trait to keep an eye on, because heavier fighters tend to have a lot more power in their attacks, but they're slower on their feet most of the time. The fighters' ages should also be checked into, because sometimes youth can prove to be a lot more beneficial than experience.
UFC Betting Australia – How to Watch It Live
You can enjoy the biggest live sports and entertainment from around the world with MAIN EVENT. This is Australia's pay-per-view event channel, and it features events from the sectors of boxing, WWE, concerts and UFC fights. However, you can also utilise a much cheaper option than this by live streaming it online.
To partake in this, you can use such services as Foxtel iQ, Foxtel Now, Kayo Sports or Fetch TV. Furthermore, the UFC Fight Pass official streaming service is something else that you can make use of in Australia. This 24/7 platform allows you to tune into live events and even watch past fights again and again.
Summary
Many people may think that UFC betting is similar to wagering on the NBA or NFL, for example. However, while the idea behind it is the same, wagering on mixed martial arts can be a lot mor exciting. It benefits much more from the live betting side of things, so anyone who is a fan of in-play wagering can certainly find a lot to do at UFC betting sites. As long as you gamble responsibly and learn about the fights and fighters before betting, you stand a much better chance of getting the most out of your bets. And if you register at one of our recommended UFC betting sites, you will have the best experience with it.
FAQs
Do UFC Underdogs Often Beat the Favourites?
Anything can happen in the world of MMA, and UFC events have witnessed some stunning upsets over the years. This has resulted in some sports bettors bagging themselves huge wins. For example, Holly Holm outdid Ronda Rousey at UFC 193, ending her undefeated streak. Another big upset came when Matt Serra defeated Georges St. Pierre at UFC 69, claiming the welterweight title in the process.
Who Are Some of the Biggest Names in UFC?
Over the years, UFC has witnessed some of the best fighters come to light. These include names like Dustin Poirier, Jiri Prochazka, Jorge Masvidal, Kamaru Usman, Andreas Michailidis, Gabriel Benitez, Giga Chikadze, Dominick Reyes, Felipe Colares, Dustin Jacoby, Jon Jones, KB Bhullar, Marcos Rogerio de Lima, Randa Markos and Luana Pinheiro to name just a few.
Which UFC Fighter Has Reigned for the Longest?
Anderson da Silva stands out as holding the record for the longest title reign in UFC at 2,457 days. He held the UFC Middleweight title, and his reign began in 2006 before ending in 2013 when he lost the belt to Chris Weidman in Las Vegas, Nevada.
How Long is a UFC Fight?
Championship fights tend to last through five rounds of 5 minutes each, equating to 25 minutes in total. Non-championship events go for 15 minutes over three rounds.