The term hedge your bets is a very well known and commonly used phrase. If you are looking to find out everything you need to know about hedge betting for Australians you have definitely come to the right place. We have put together this comprehensive guide to this top betting strategy. Hedge betting has been employed by Aussie bettors for many years now to help guarantee profits so if you don't want to miss out, read on to pick up the best hedge betting tips.
All
Cash Out
Each Way
Enhanced Odds
Harness racing
Live Streaming
PayPal
More Filters
First rate customer service
First rate customer service
Live greyhound streaming
Virtual greyhound betting
Regular specials
9.6
Visit Site
T&Cs apply
Respected Aussie bookmaker
Respected Aussie bookmaker
Good free bet bookie
Useful mobile features
Great odds & enticing betting promotions
9.7
Visit Site
Withdraw Winnings Fast from Sports Betting
Withdraw Winnings Fast from Sports Betting
Good selection of payment options
Same race multis for horse racing
Both Australian and oversea horse racing available
9.6
Visit Site
T&Cs apply
Extensive Live Streaming Choices
Extensive Live Streaming Choices
"Assist Me" feature
Very good mobile apps
Frequent special offers
9.6
Visit Site
T&Cs apply
How We Rank The Best Hedge Betting Sites
The online gaming industry is a very crowded market place for Aussies which is no bad thing because it means that we are spoilt for choice when it comes to our betting options. Such a situation does mean, however, that it can be tricky to find the right online bookmaker. In the case of hedge betting, you will actually need much more than one betting account, but you can rest assured that any betting sit we recommend has been thoroughly vetted for its performance in the following areas.
Each of the best hedge betting bookmakers will offer as many bettng markets as they possibly can to their customers because not every sporting event is suited to hedging. Ideally you want a sporting event where only two outcomes are possible, such as tennis or basketball. Because of this you want to find a sportsbook where there are plenty of betting markets as is the case at Unibet.
Another key factor in hedge betting is the odds that are involved. In fact, hedging hinges on its betting odds. You will want to look for online betting sites that routinely promote the best value in their prices. Because of this we only work with online bookmakers that are known to offer great value in the betting odds they provide for their markets. Online bookmakers like Ladbrokes.
Betting promotions such as free bets can be a great way of building a bankroll, something that you will most definitely need if you are going to start hedge betting. There are plenty of other cracking promos out there that the bookies are currently running and even more that are sure to add soon. Some of the more common offers include price boosts, money back offers and acca insurance clubs.
As we mentioned earlier, the world of online betting is incredibly competitive and crowded. This has forced the bookies to raise their game when it comes to what they offer to their customers. For us this means a whole range of new and exciting betting features that were previously unimaginable with traditional betting. It is not an exaggeration to add that we couldn't live today without bet builders, live streaming, cash outs and all of the other features we have become used to. This is why we will only ever promote betting sites that offer all of the above, some of which were first launched by the innovative online bookmaker.
In case you need them for whatever reason, it is very important that betting sites are contactable at all times. Ideally this would be 24 hours a day, seven days a week and by email, chat and telephone. Unfortunately, this isn't always the case, but we do our very best at all times to source out online betting sites where this is the case. This is certainly true of BetStar.
What is Hedging Betting?
Hedge betting hails from the world of finance which is where it also takes its name from. The idea behind the strategy is to lock in profits by placing two bets on both of the potential outcomes of the same betting event. The best place to get this done is on a betting exchange where punters go to back and lay for and against two opponents. To back a team or individual player is to bet on them to win. On the other hand, when we lay against a team or solo player we are betting on them not to win. The profit that you make is what is occupying the middle ground between both of those outcomes.
This betting strategy also helps to lock in a win by acting as an insurance policy. If you are betting on an event where there are only two outcomes possible, and you have both of them covered, then, so long as there is enough value in both of the odds, you will make a return on investment. At the very least it can help to reduce losses which some of the time are inevitable. By placing a lay bet with odds as close to the back odds as possible we cut losses if the lay bet odds are not as generous as the back odds.
You should also consider that you will need to use more than one bookmaker in order to be able to hedge. In most cases, it will be impossible to make a hedge bet without the need to use multiple bookmakers making having more than one account essential. All of the most successful bettors will have many accounts with online bookmakers, and you should too.
Examples of Hedge Betting
To give you an example of a hedge bet let us suppose that Daniil Medvedev is 10/1 to win the Australian Open title and a bettor puts $100 down for that to happen. In this scenario, let's assume that Medvedev reaches the final where he is scheduled to play Rafael Nadal who the bookies see as the favourite and price the Spaniard up at 7/10 to win the match and take down the title as a result. This would mean, under normal circumstances, that you would end up losing your $100 stake money. By hedging our original bet, we can mitigate that risk by laying against it. So, if we back the favourite Nadal before the final with a $500 wager we will get back $350 if he wins. And if we then deduct the $100 that we placed on Medvedev earlier on we have made a total loss of $350. However, if we put down a $1,000 pre match on a Nadal win, we have doubled our return. Of course, if Medvedev wins we will pocket $500 by the time we have taken out deductions.
How To Calculate Your Hedge Bets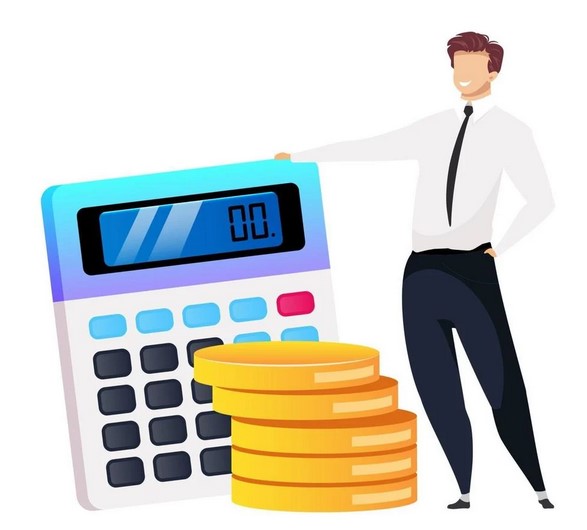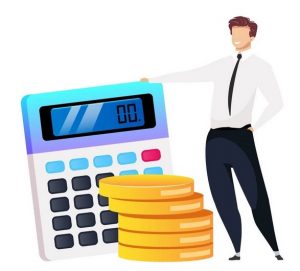 There is an abundance of hedge betting calculators that are available for you to use for free online. With these all you need to do is simply enter the stake and the odds of your back bet followed by the stake and the odds of your lay bet and the calculator will generate the amount of difference between the two that will need to bridge. However, if for whatever reason, you can't get to one of these hedging calculators then try following the step by step instructions outlined below to learn how to calculate your own hedge bet.
Let's say that you want to place $50 on Novak Djokovic to win his opening round match at the Australian Open. Let's also say that he is at odds to win of Evens (1/1). His opponent, Nick Kyrgios is at odds of 6/1. The first thing we need to calculate is how much to wager on your lay bet. The equation for this is the back odds multiplied by the back stake which is then divided by the lay odds.
So, this would give us have the following equation:
1/1 x 50 / 6 = £8.33
This is the amount you would need to place for your lay bet.
A Step By Step Guide To Hedging Bets
1. – Choose your betting.
2 . – Fill in all of the required boxes, this will involve inputting some of your personal information. After this you can ose your method of payment and add some funds to your new betting account.
3. – Find your betting market, we have chosen the Twenty Twenty World Cup final between New Zealand and Australia.
5. – Place a back bet AND a lay bet.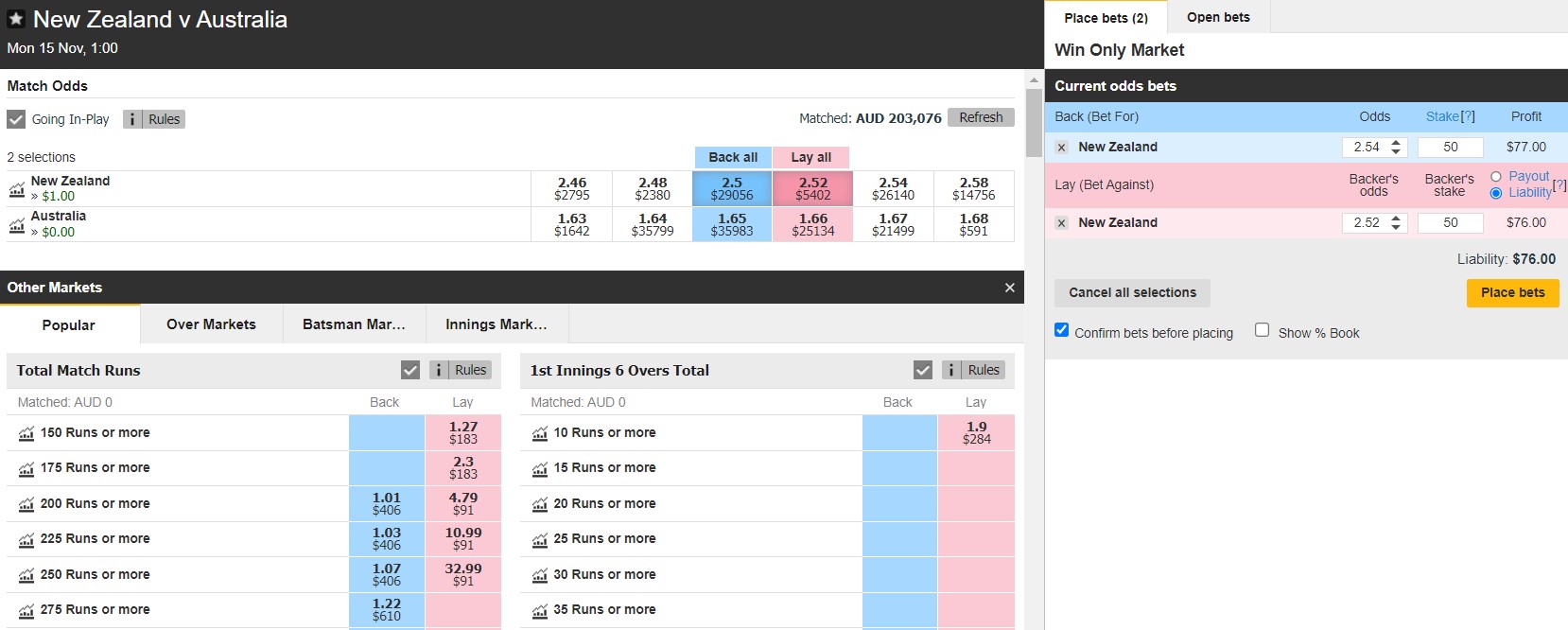 6. – Enter an appropriate stake for both and place your bets.
What's The Difference Between Arbitrage Betting And Hedge Betting?
Whilst at first sight hedge betting might seem similar to arbitrage betting or arbing, they are actually subtly quite different from each other. The main difference between hedging and arbitraging is that with hedge betting, punters are placing an additional bet on the outcome of the original bet whereas arbitrage betting is placing at least two more bets on different outcomes. When arbing you would normally use two separate bookies that are offering different odds which you are aiming to exploit for profit.
Hedge Betting And In Play Betting
The availability of live betting offered by most online betting sites today means that hedging can be done in play too. Hedge betting in play is simply when you place more than one wager on the same live betting event in order to ensure a profit or cap losses when gambling in play. Hedging live bets over the long term is a good idea because of the unpredictable nature of sports markets which can make any wager vulnerable to a loss. When we hedge our bets in the live markets it provides us with the opportunity to vastly reduce the losses that we make and increases our chances of picking up a win.
A Race Against Time
The biggest problem you will come across when it comes to hedge betting in play is that you have a very small window of opportunity to get your bets in because of the time involved. As you might expect, hedging bets can be timely because you are looking for the right odds to make it work correctly. That is all well and good when you are hedge betting pre match, but hedge betting in play doesn't give you the luxury of time because the game in question is ongoing and can change at any moment.
Even with a hedge betting calculator, finding the right amount to bet on each action can take a bit of time. Time you don't always have. However, when you do find live sport bets that you are able to hedge it will result in a guaranteed profit so it will have been worth it. As an example, let's say you backed the underdog to win and they take the lead, you can bet in play on the favourites to come from behind to win at better odds guaranteeing a profit. Cashing out a live bet is another way of reducing loss and ensuring a return.
What we like:
Offers ecellent
Guaranteed profit
Reduced losses
Relaxed wagering
What we don't:
Limited time to get your bets on
Markets moving too fast
Our Top 5 Tips For Hedge Bets
If you want to hedge your bets successfully, and why wouldn't you, then there are a few steps you should consider taking in order to ensure that you do. Here are our top five tips for successful hedge betting. These tips will help you properly employ this strategy and add it you arsenal in the future.
Have a Hedge Betting Plan Before You Start
Hedging can be done on the fly but has a much better chance of working out successfully if you have a plan in place. Bettors are advised to always have a general hedging plan in mind before they make a bet. This means that they should already have decided to hedge their bet and possibly when they will do it too. This way when they are closing in on a win, they aren't stumbling around trying to figure out what to do next while they run out of time. By planning ahead, punters will have a general idea of the direction that they want to do with their wagers.
Always Weigh Up Risk And Reward
This is an important hedge betting aspect to get right because essentially this is what hedge betting boils down to. There can sometimes be a temptation to be overly cautious which can lead to deductions away from your profit. Similarly, you do not want to be reckless either. There is no need to know the winner of an event with hedging, but it does help. However, it is critical that develop a feel for which way the odds are going to fluctuate that you can hedge for profit.
Keep A Calculator Handy
For those of us that always hated maths, it is a good idea of to keep a calculator nearby at all times. To be fair, most of us have smartphones these days and these all come with a calculator app so this shouldn't be a problem. Hedging bets can take time to work out, but there are plenty of good hedging calculators that you can find online, and the vast majority are free to use. These allow potential hedge punters to enter the odds for the back bet as well as the odds for lay bet before hitting the calculate button to find out their margins.
Make Sure You Have The Bankroll To Hedge
Since you are essentially betting on each event twice, hedge betting requires you to have additional funds that you are able to bet with. If you're hedging against the massive underdog then you will likely need to have a lot of funds available in order to make this work. You should be one of the first things that you consider. In fact, include it in you pre hedge betting action plan. Technically speaking, you should see the money again because your definitely getting some back, but you still need to have a certain amount to begin with and you always need to be careful.
Check For Accuracy
Make absolute certain that you have everything – odds, edge, stakes, etc – correct when you are preparing to hedge bet. If you make a mess of the calculations, things could end up proving to be very costly for you. One way of ensuring this is to run through every possible outcome to make sure that you are not missing anything. You can even walk yourself through each step of the hedge betting process and calculate the money as you go.
Hedging is not overly complicated and can make for fairly easy maths at times, especially when it's just for two teams or outcomes, but it is still very easy to make a mistake especially if you are looking at more options which makes the maths much more confusing. Basically, find the time to make certain that you have everything correct before you go ahead and place your bets.
If you can, perhaps even ask a friend or family member that you know is good with maths to double check your numbers. In addition to making sure that your maths are on point, you also need to check the parameters of each bet. This means ensuring that your margins are in the right place to make sure your hedge bet will work. You have to be certain that you are making the correct hedge against your other bet.
Hedging Bets On Mobile Apps
Betting on mobile is great for so many reasons, chief of which is the ability that it gives us to wager on the go. This is particularly true when we hedge our bets. Hedging our bets can take a bit of time so it is handy to be able to do it through a mobile app or apps because it means that we can do it anywhere. So, if we started our hedge betting prep work at home but then had to go out for some reason, we can continue backing and laying our bets while we are out.
All
Cash Out
Each Way
Harness racing
PayPal
Very Good Aussie Betting Site
Very Good Aussie Betting Site
Great source of free bets
Massive range of betting markets
Fast pay out processing
9.6
Visit Site
T&Cs apply
Very good mobile app
Fast payments via PayPal
Live streaming
Dedicated mobile betting app
9.5
Visit Site
T&Cs apply
App is a great place to punt & chat
App is a great place to punt & chat
Competitive betting 'tournaments' for mobile
Over $300,000 won weekly
Good selection of betting markets
9.6
Visit Site
T&Cs apply
Is Hedge Betting Against Terms and Conditions?
No, there is nothing wrong, illegal or immoral with hedge betting. In fact, hedging your sports bets can be an extremely sensible strategy that counters risk, guarantees a return and means that you will have some funds to bet with on another day. In short, hedge bettors need not worry about it, this is perfectly fine.
Final Word
By now you should have a good idea of what hedge betting is and how it is done. When we hedge our bets we are betting against ourselves as an insurance policy that will either reduce our losses or generate profits. It is a great betting strategy when bets are under threat, when the odds move or when an event really can go either way. We have also learned that we are able to hedge bets in play after an event has started. There are just so many options and reasons why this betting strategy can be useful and come in handy.
First rate customer service
First rate customer service
Live greyhound streaming
Virtual greyhound betting
Regular specials
9.6
Visit Site
T&Cs apply
FAQs
Will I Need Multiple Betting Accounts?
Is Hedge Betting The Same As Arbitrage Betting?
What Is The Difference Between Arbing And Hedging Then?
Is It A Good Idea To Hedge A Bet?
Do Bookmakers Hedge Their Bets?