Sports betting inevitably comes in many forms and guises. Some systems are arguably more complex than others. As a punter however, you will always be seeking out an approach that consistently delivers profits over the long term, and enriches the betting experience. Well, fear not, because we may have a solution for you. If you haven't already done so, matched betting is something you ought to consider, and matched betting is deemed to be lower risk.
In this comprehensive matched betting guide, we will explain how no risk matched betting works, and how matched betting in Australia is used by bookmakers. After you have leafed through this guide, you will feel more confident in making more money through matched betting. You will also be able to spot free bets and exciting promotions to take advantage of. Read on to find out more.
What Is Matched Betting?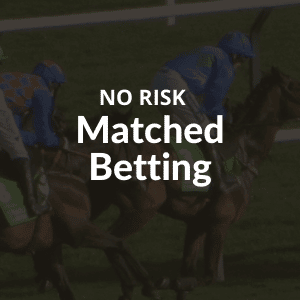 Essentially, matched betting is a type of 'guaranteed profit' betting strategy where punters can bet on both outcomes of one event. Otherwise known as 'bonus hunting' or 'no-risk betting', bettors who take advantage of any free bets that come their way will be abreast of all the key markets, and they will bolster their chances of winning big.
No risk matched betting site can be carried out on different sites, and you don't even need to possess sporting knowledge in order to take part. As the name suggests, no risk matched betting ensures that whatever happens, you will walk away with money once you have filled in a betting slip.
How Does Matched Betting work?
There are several different strands to matched betting. In order to master no risk matched betting in Australia, you need to understand a couple of key factors. Firstly, you need to bear in mind the components of matched betting, and then you will need to know as to where to place bets.
In this section, we will look at the three parts of the matched betting system, and how they function.
Backing a Bet
Backing a bet is part and parcel of what you would find at most sportsbooks. In short, punters are betting on what they think the outcome will be in a game. The notion of 'back bet' is used to distinguish itself from a 'lay bet' which is what you'll find on betting exchanges, and this will be discussed in more detail shortly.
The best way to explain 'back bets' is by providing an example. So let's say Tottenham are facing Crystal Palace in the Premier League. You may think there will be plenty of goals, so you decide to indulge in the Over 2.5 Goals market at an online bookmaker. This is a relatively simple bet, because if there are three goals or more, then your bet will win, and the first half of your matched bet will have been successful.
Laying Bets
In stark contrast to back bets, lay bets involve betting against the chances of something happen in the game. This is quite common at betting exchanges, such as Betfair. With lay bets, the aim is to provide liquidity, and make it easier for the whole platform to operate.
If we go back to the original example. This time, you could lay against the Over 2.5 Goals market, and so here you will be matching your bet. Remember, you will have to carry this out on a different site from the first bet you placed.
Final outcome
Although you may have taken both sides of a bet, matched betting in Australia is never always that straightforward! The example we used before isn't guaranteed to make you a profit, as some betting exchanges may well pass on commission fees to punters for winning bets. With the lay commission, you may have to pay a percentage of any bets won.
Some matched betting Oz sites will offer rather unflattering odds for certain events. Nevertheless, exchanges over time return more profits compared to standard sportsbooks.
Using Free Bets for Matched Betting
When you first sign up to a new sports betting site, you will be flanked with new promotions and offers. Upon registering, your first bet will be known as a 'qualifying bet' which in turn enables you to make yourself eligible for a free bet. With free bets, you will be unlikely to make any money.
Once it has been triggered, you will then need to wager real money before you notice any returns. Then, you will be able to use any free bet bonus for your next matched bet.
And here is where the 'no risk' element comes to the fore. This is, because one of your two bets will have been used without wagering your own money, so now you will be guaranteed to make a profit regardless of which one of your bet hits. If we revisit the Over 2.5 goals market, you are likely to be offered odds of approximately 2/1 on the sportsbook and the exchange.
So if you place a bet of £20 on the sportsbook site, then you will get £40 in return (your free bet stake will be excluded here). And if you try your luck on the exchange, then you will get back £60, and commission will be deducted from your winnings. A matched betting calculator Australia will have already notified you of any potential returns. Whatever way you want to look at it, you will have only spent £20, so you will either make £40 or £60, and that is how no risk matched betting works.
How To Place A Matched Bet
At this point, you will be beginning to feel more confident with the techniques of matched betting. But before you proceed further, you will need to do three things:
An account with a betting exchange
Free bets from a sportsbook
Matched betting software
They're not too complicated, but this is how each one works:
Betting exchanges
If betting exchanges are an alien concept, don't worry too much. With regular sportsbooks, they will determine the odds and set it themselves. But with a betting exchange, you are going 'against' the bookie, and you decide which of the odds you want to bet on.
With betting exchanges, you can pretty much get any types of odds or price on the market of your choice. That is as long as somebody is willing to lay that bet, and accept the challenge of take the other side of the wager. The main betting exchange you will find in Australia is Betfair, and this has been illustrated below. 
| | |
| --- | --- |
| Criteria | Betfair |
| Commission | 5% |
| App | Android/iOS |
| Available sports | 25 |
| Welcome offers | £20 risk-free bet |
| Support hours | 24/7 |
Betfair is the most reputable betting exchange around, and was a pioneer in this regard. Currently, it is only the betting exchange available in Australia, however it is fantastic for matched betting as it provides the most markets and is very liquid.
Free bets
As mentioned before, free bets are appealing to new bettors, and they are an instrumental part of no risk matched betting. If you haven't used free bets before, there's not too much to them. In fact, it's a form of credit, as you are basically betting with free money.
In contrast to regular stakes, your free bet stake won't be returned with any winnings. Also, they will frequently be attached with specific T&Cs. This either relates to the expiry period, so for example, you may have to use the free bet within 7 or 14 days. Or it will relate to wagering requirements whereby the punter will have to play through the bonus with certain minimum odds.
Accessing free bets is quite straightforward, and you just need to head over to the sportsbook, and search for the welcome offer. This should be clearly signposted, so you can get yours. It will usually be a free bet, such as 'Get $50AUD in free bets' or 'Bet $50AUD and get $100AUD in free bets'. With matched betting in Australia, bettors will be able to use the free bets for their following wager with that sportsbook in question, while simultaneously taking on the other element of the betting exchange. The matched betting calculators will do some of the hard work for you, so all you have to concern with, is making sure your bets come through.
Best Matched Betting Software
In the past, no risk matched betting was done manually, however it was a painstaking process. Bettors were forced to do the research themselves, and they had to conduct their own calculations to the nearest decimal. Of course, this probably wasn't the most practical process, and it increased the chances of mistakes popping up.
Nowadays, with matched betting in Australia, you can get to grips with some of the leading matched betting software where there will be a matched betting calculator that will take care of things for you. This will entail working out the odds, and potential winnings you stand to make.
To minimise the chance of mistakes happening, and to boost your profits, we advise looking into matched betting software. These are the three pre-eminent no risked matched betting sites around that we have come across.
1. Bonusbank – The Best All-Round Matched Betting Software (25% off the first month of a premium subscription)
Bonusbank is virtually a one stop shop when it comes to no risked matched betting in Australia. The betting app is compatible for both Apple and Android users, and you will be able to access all the information you want at your fingertips.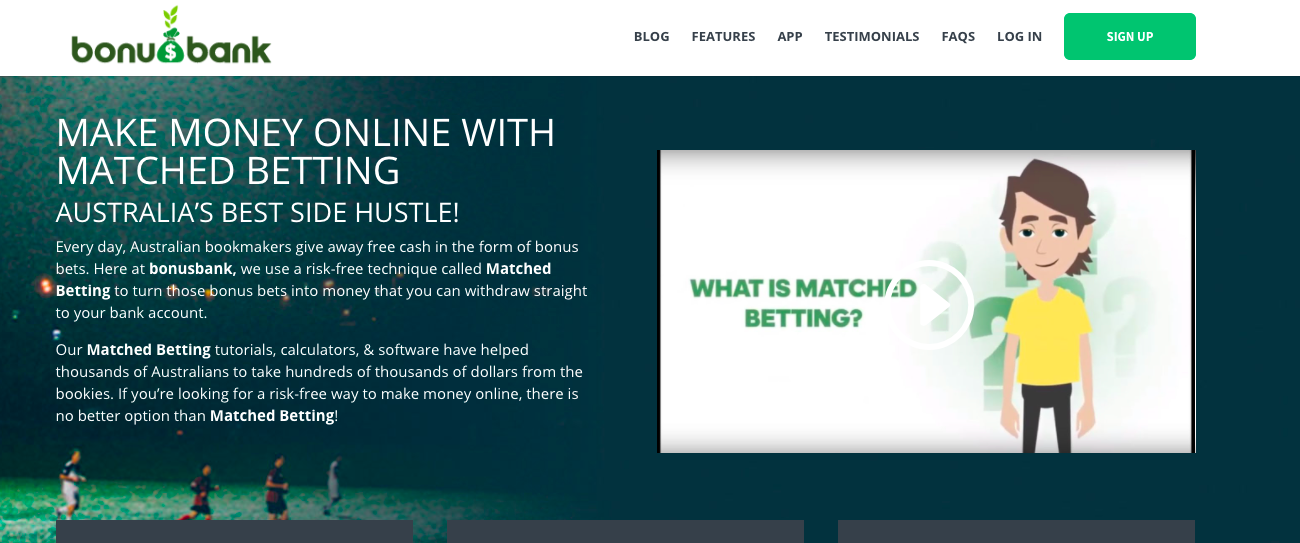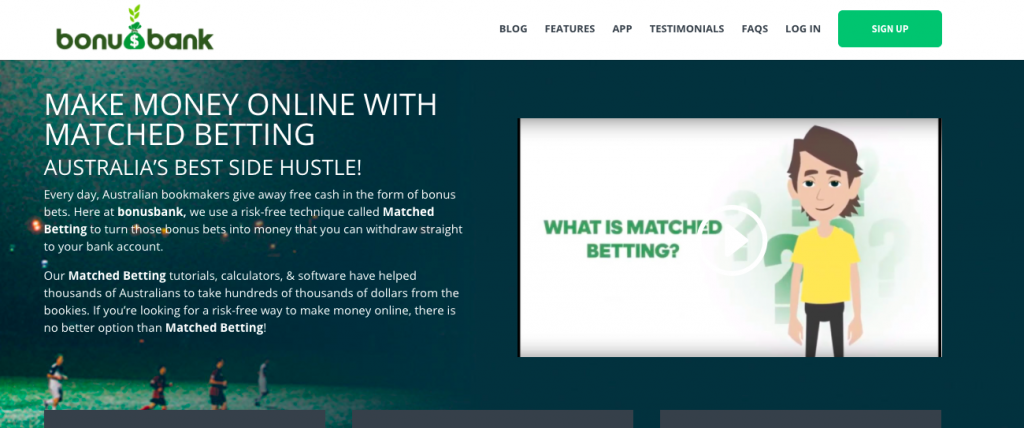 At Bonusbank, you can check out a wide range of tutorials where you can refine and polish your matched betting techniques. There is a blog where you can glean insight from matched betting experts, and the site is very easy to navigate. On the customer support side, you can get in touch via the live chat facility. There is a comprehensive FAQs section too which should tackle any pressing concerns.
And if that wasn't enough, the testimonials section has published feedback from customers that have used the site, and have benefitted from it. Some have tripled their investment since they joined bonusbank. You can be rest assured that the site has a matched betting calculator that will take care of your sums for you.
What we like:
Bonusbank has plenty of learning tools for those new to matched betting
Can track profits with Bonusbank's spreadsheet
Excellent customer support 
What we don't like:
Virtually nothing – Bonusbank provides great value for money
2. Profit Accumulator – Great User Experience (Sign up for a free trial)
Having developed a winning formula in the UK, the model has been transported and tailored for matched betting in Australia. Profit Accumulator curries favour with bettors, and it is one of the most trusted matched betting sites in the world.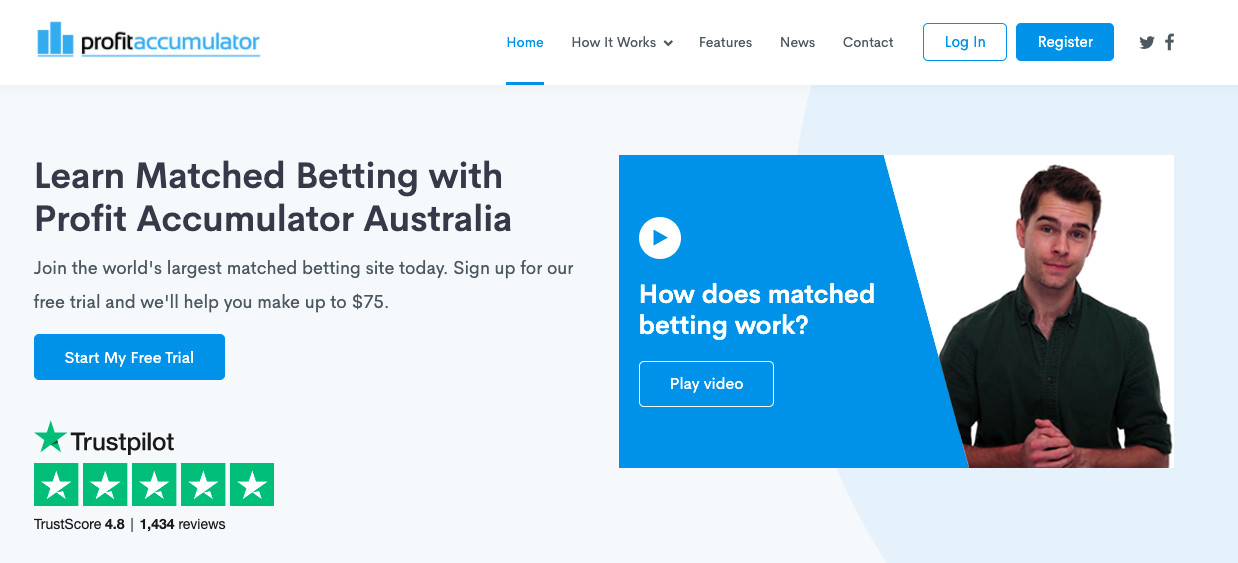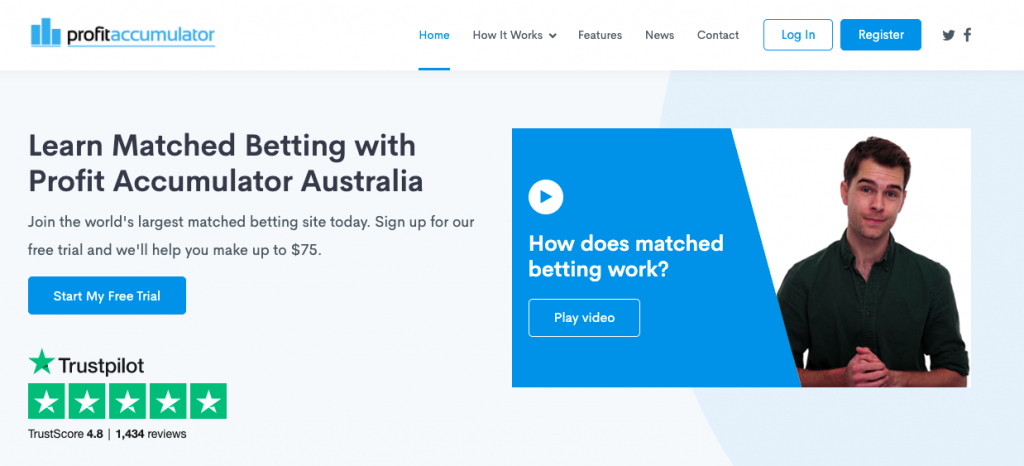 With an average score of TrustPilot of 4.8 stars, it's not hard to see why matched betting in Australia and Profit Accumulator go hand in hand. Once you reach the site, there are tabs that has everything you could possibly want, including a matched betting calculator, as well as a matched betting guide. In essence, Profit Accumulator does the hard work for you, and it simplifies no risk matched betting, so you can refine and polish your skills. Getting in touch with the team is easy too, as you can speak to an agent via email or Facebook messenger.
Added to that, Profit Accumulator has teamed up with Betfair to provide an integrated model where bettors can seamlessly lay bets on the Betfair Exchange. In turn, this syncs up your Profit Accumulator and Betfair Exchange accounts.
What we like:
Simple platform to use
Impressive range of video tutorial content
Have a thriving community of punters involved
What we don't like:
Not always thee quickest loading times
3. Bonusmoney – Specialise in horse racing (Learn how to make money the easy way)
Bonusmoney is renowned for horse racing betting, as there is a tab labelled 'Matcha money' where bettors can be taught how to profit from bookmakers providing horse racing promotions.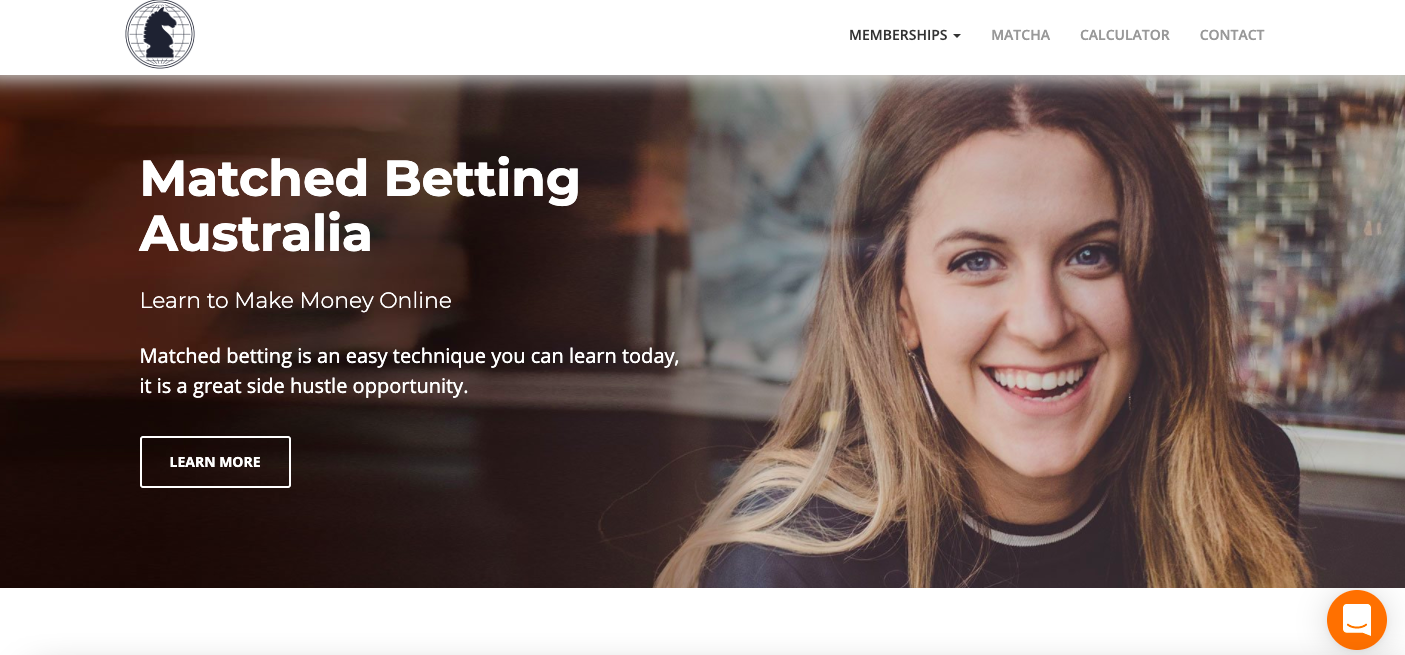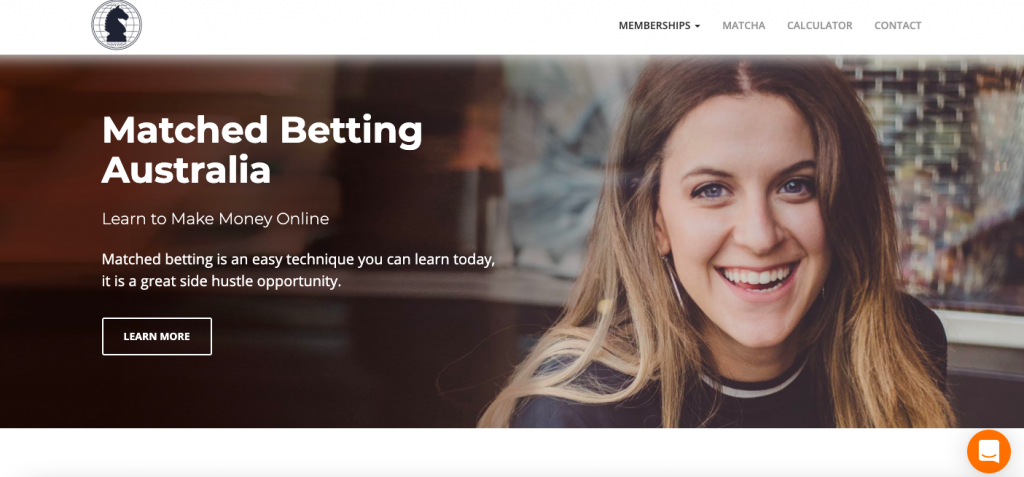 At Bonusmoney, you will be equipped with all the tools needed to succeed for no risk matched betting in Australia. For example, the matched betting calculator will detail the bet type, the back and lay odds, as well as the lay commission. By entering the lay odds, you will be told exactly the figure you will need to use if you were using the Betfair exchange.
Getting in touch is also straightforward, as there is a live chat facility. Alternatively, you can email Bonusmoney and there is a Facebook group.
There are two types of membership available at Bonusmoney – free and pro. With the pro money, you will be expected to pay $49AUD a month, but with Bonusmoney, you get value for money. In many respects, it is very similar to Bonusbank, and it is worth exploring further.
What we like:
Sophisticated calculator for matched betting
Free to sign up
Interactive guide to teach you how to use the software
What we don't like:
Live chat facility not always readily available
Free Matched Betting Sites
As you will have seen, the sites we mentioned are subscription-based websites. We have chosen these, because we believe you will get the most from these sites, which in turn will enrich your matched betting in Australia experience. It is therefore a case that you will reap the rewards if you put the sufficient time and effort in. With bonusbank, there are four different types of membership packages. These range from the basic, free subscription right up to the premium annual deal which equates to $450 AUD per year.
While the free package for example, provides introductory no risk matched betting tutorials, as well as a matched betting calculator, it is worth investing in a package where you will get value for money. After all, you are going to be doing your utmost to try and boost your playing bankroll in the long term.
There are some free tools knocking about, but some of these aren't good as you will miss some of the tricks you would get from a paid subscription-based package. By signing up for free, you may not be fulfilled from a betting perspective. While some of the subscriptions with matched betting oz sites can be quite expensive, ultimately you will be able to get more matched betting opportunities from these that you won't be able to get elsewhere.
How Much Money Can I Earn With Matched Betting?
This can be quite tricky to answer as there is no definitive figure. Ultimately it depends on a few things. Firstly, you have to be willing to spend money on subscriptions at somewhere like Profit Accumulator or bonusbank. These sites have worked hard to provide you with all the requisite tools to excel in matched betting, so they are definitely worth checking out.
In addition, you can earn more money if you have the budget to place big stakes. Put more simply, the higher the stakes you wager, the more you are likely to winning, so you have to be prepared to be bold and chance your arm.
Also, as the saying goes, time is money. But the more committed you are to finding value for money with your bets and search for the best betting offers with sportsbooks, then you will be richly rewarded. So, take the time to explore the best promotions and bonuses that are served up.
Is Matched Betting Legal?
Yes, matched betting in Australia is entirely legal, and the Australian gambling industry has always been regulated by State and Territory authorities. It is worth remembering that many of the sign-up bonuses or welcome offers are restricted to particular sites. There has however, been efforts made to address the rate of online gambling in Australia. Many bookmakers, as mentioned, will have sign-up bonuses, but they have ignored State laws by incorrectly referring to them as 'loyalty bonuses' and paying bonuses regardless.
As long as you are at least 18 years old, you will be able to partake in matched betting. For matched bettors, they simply just want to take advantage of the best promotions that are offered bookmakers. Punters are always eager to seek out value bets, and boost their bankrolls.
Of course, if you have won big over a long period of time with certain sites, this will act as a red flag. A sports betting site may choose to 'gub' your account. While it is not formally recognised as an official term, this means your account could be suspended if there is suspicious activity. As discussed in our matched betting guide, it is best to spread your bets around at a variety of bookmakers to prevent this from happening.
If you are an Australian resident, and wish to access a betting exchange while you are abroad, you will have to use a VPN (Virtual Private Network). This will enable you to access the site of your choice, and bypass any existing geoblocks.
Matched Betting Australia Reddit – Keep Up To Date with the Latest Bets
Matched betting in Australia is growing all the time. And the best way to keep the community connected is through forums and various channels. While platforms such as Facebook and Twitter can harness chats about matched betting, there is a Reddit group which keeps the conversation going.
You will find post threads which tackles everything related to matched betting, from how to use a matched betting calculator to software to use. The Reddit group contains useful nuggets of information, so if you wish to learn more about matched betting oz, this is a good port of call.
Summary
From what we have seen, no risk matched betting can be a great way to make money, however like with most things, it requires patience as success won't happen overnight. If you are prepared to invest time and money to refine your skills, then you will see your profits from gambling begin to rise. The matched betting software sites that we have suggested in this guide are sophisticated and easy to use.
With tools like a matched betting calculator, you will be able to get a glimpse of how odds work in real time, and what your potential returns may be with both the lay and back components of a bet. Once you feel more comfortable with how matched betting works, you can begin to put into practice what you have learned to the test.
Matched Betting FAQs
What is no risked matched betting?
Matched betting entails betting on both sides of an outcome. It is considered no risk, because whichever of the two bet wins, you'll end up making a profit.
How does matched betting work?
There are two key components to matched betting. Firstly, there is backing a bet which would you do at any regular sportsbook, and then there is laying which is the opposite. Here, you will bet against a particular outcome. Once combined, you will have taken both sides of the market.
How much money can you make with matched betting?
You can do well for yourself, however this depends on how much money you are prepared to wager. The higher the stake, the bigger the returns are likely to be.
How do I do matched betting in Australia?
Matched betting in Australia is extremely lucrative. To make the most of it, keep your eyes peeled for all the latest bonuses and promotions offered by Australian bookmakers. Sites such as Bonus Money allow you to look at the odds of Betfair, and can enable you to make cheaper qualified bets.
Which exchange should I used for matched betting in Australia?
At the time of writing, Betfair is the only betting exchange available in Australia. Betfair, however, is a pioneer for exchange betting, and they are stocked with plenty of markets across a wide range of sports.