Cricket is not the most popular sport in a lot of countries. However, it is one of the biggest sports in the likes of Australia and the UK. It is played across the world at all times of the year in different formats. Whether it is international Test matches, T20 games, or local leagues, there is a lot of excitement associated with following the cricket world. It is an ideal sport for in-play bettors in particular as there are ample opportunities to place bets in between overs. This article will take you through all of the key aspects associated with taking part in cricket betting in Australia.
All
Cash Out
Each Way
Enhanced Odds
Harness racing
Live Streaming
PayPal
More Filters
Easy to Use Platform
Live greyhound streaming
Virtual greyhound betting
Regular specials
9.6
Visit Site
T&Cs apply
Massive Collection of Cricket Markets
Massive Collection of Cricket Markets
Hundreds of markets for each cricket game
Sleek platform experience
Australia-focused bookie
9.4
Visit Site
Australia-Focused Cricket Offering
Australia-Focused Cricket Offering
Good emphasis on Australian sports
Simple to use site
Offers competitive cricket odds
9.2
Visit Site
Online Cricket Betting: How We Rank the Best Cricket Betting Sites
All of the leading Australian bookies are going to have some sort of cricket offering. Some will have more comprehensive ones than others. It can be difficult to try to narrow down these different options.
That is where our team of experts comes into play. They are avid cricket fans who have been betting on the sport for many years. They have carefully assessed the merits of each of the leading cricket betting sites. Here is a look at the main criteria that they use as part of this evaluation process: 
First of all, you want to know that a given operator is going to provide you with access to a wide range of cricket events. This might mean having the ability to bet on local leagues like the Big Bash League or on the Cricket World Cup. You also want to be sure that these events will have a suitable range of different types of betting markets. One of the best operators for all-around support for cricket betting is Ladbrokes.
Once you know what operators have the best range of cricket offerings, you will then want to take a look at the general level of cricket betting odds that they offer. This allows you to be sure that you are getting the most out of your bets. Betfair cricket betting is known for generally having some very good odds for betting on cricket games.
A lot of the leading Australian bookies these days offer you the chance to watch live streams of certain sports. Sometimes you need to place a bet on the given event or just have an account with a positive account balance to view these streams. Cricket is often one of the best-supported sports for live streams with Australian betting sites.
While you don't get to avail of welcome offers as an Australian bettor, you are able to get regular bonus offers. Some sites will give you the chance to get cricket-related promotions, especially for the bigger tournaments. These could be moneyback offers, insurance on parlays, or enhanced odds. Ladbrokes is always running some exciting cricket-related promotions.
Live betting is supremely popular for most sports, but particularly cricket. This is because the nature of the sport lends itself well to providing plenty of unique opportunities to place bets during games. It is less manic as a sport than the likes of AFL or NRL. We look at the range of markets offered during cricket games by operators, as well as the availability of key stats and betting features in-game. PointsBet has great support for live betting.
We check to see if an operator looks after its customers. This involves checking to see what ways you can contact them, the speed and quality of the responses. This means that any issues you run into can be resolved nice and quickly. PalmerBet always has a supportive customer support team.
Key Features of the Best Cricket Betting Sites
| | | | | | |
| --- | --- | --- | --- | --- | --- |
| Sportsbook | Live Betting | Live Streaming | Handicap Betting | Cashout | Cricket Markets |
| Ladbrokes | | | | | 160+ |
| PointsBet | | | | | 195+ |
| PalmerBet | | | | | 5+ |
Best Cricket Betting Markets
There are many great types of cricket betting markets that will be available on almost every match that you come across. It is a good idea to familiarize yourself with the most popular options as you can then incorporate them into your overall strategy. Here are a few of the main markets you'll see:
Match Winner
The most popular market for almost every sport is going to be cricket match betting. You are wagering on the team that you believe is going to be victorious in a given fixture. Some games can also end on a draw, with this being an option to bet on with a match-winner bet. You will also often come across handicap betting markets of leading cricket games. This allows you to make it viable to place bets on mismatched games.


Top Batsman
One of the most exciting aspects of watching cricket is seeing all of the great batters taking the field. With this betting market, you are trying to guess which player is going to finish the game with the best record as a batsman.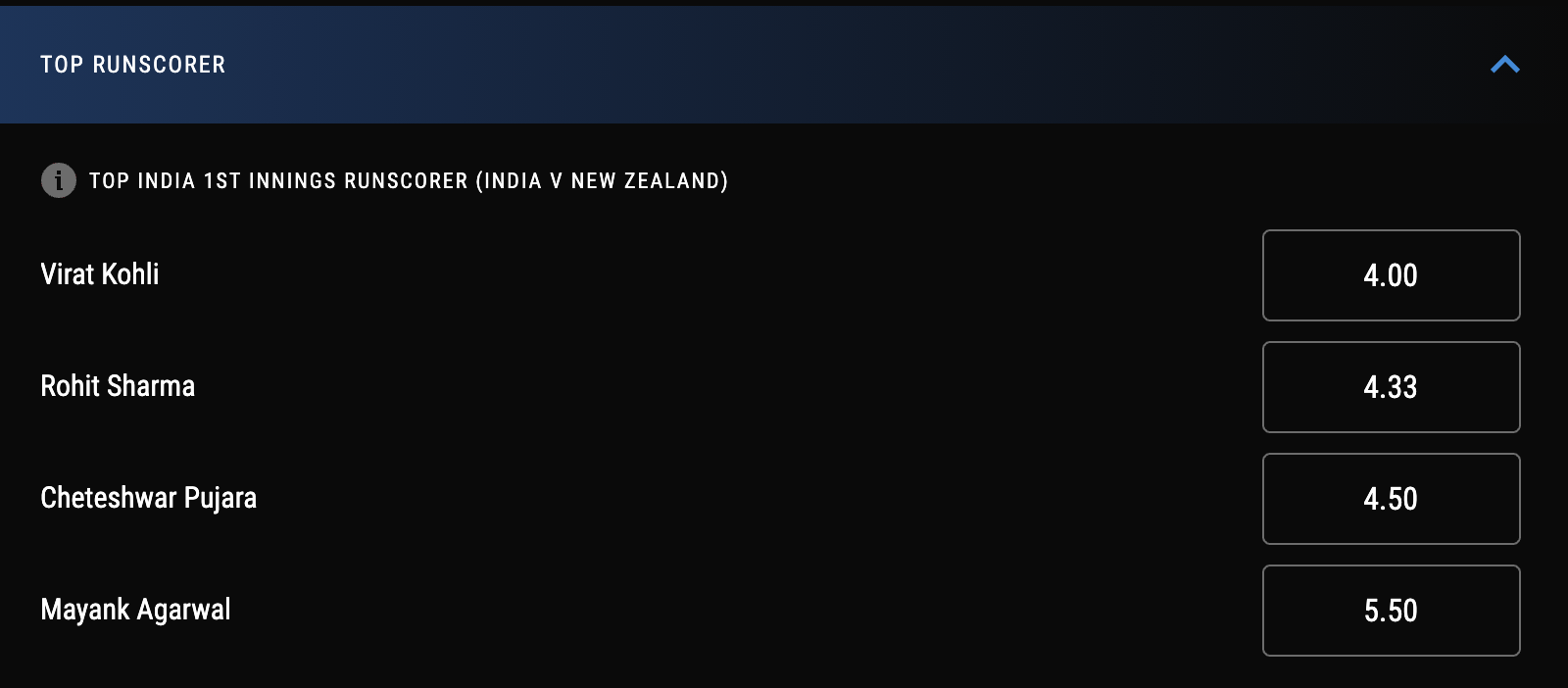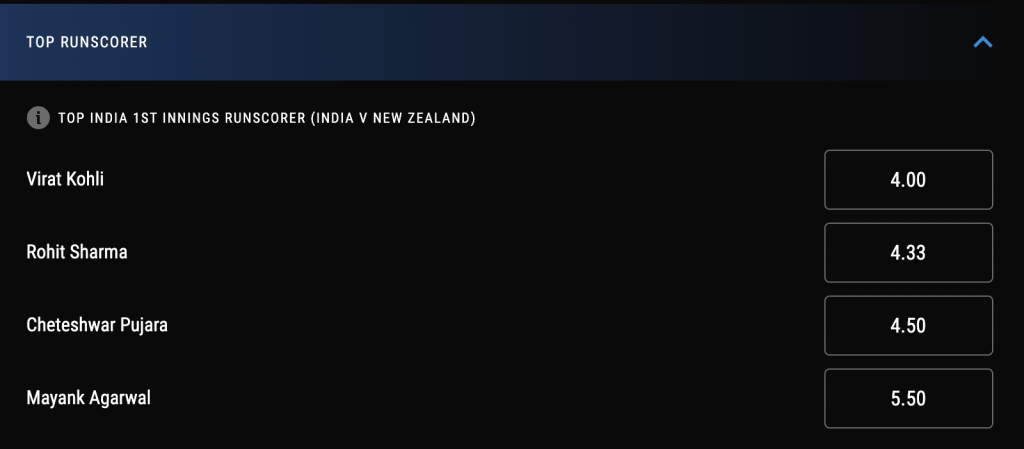 Top Wicket Taker
On the other side of the equation to the batsmen are the bowlers. You are looking to bet on which player you think will take the most wickets during the course of a given match.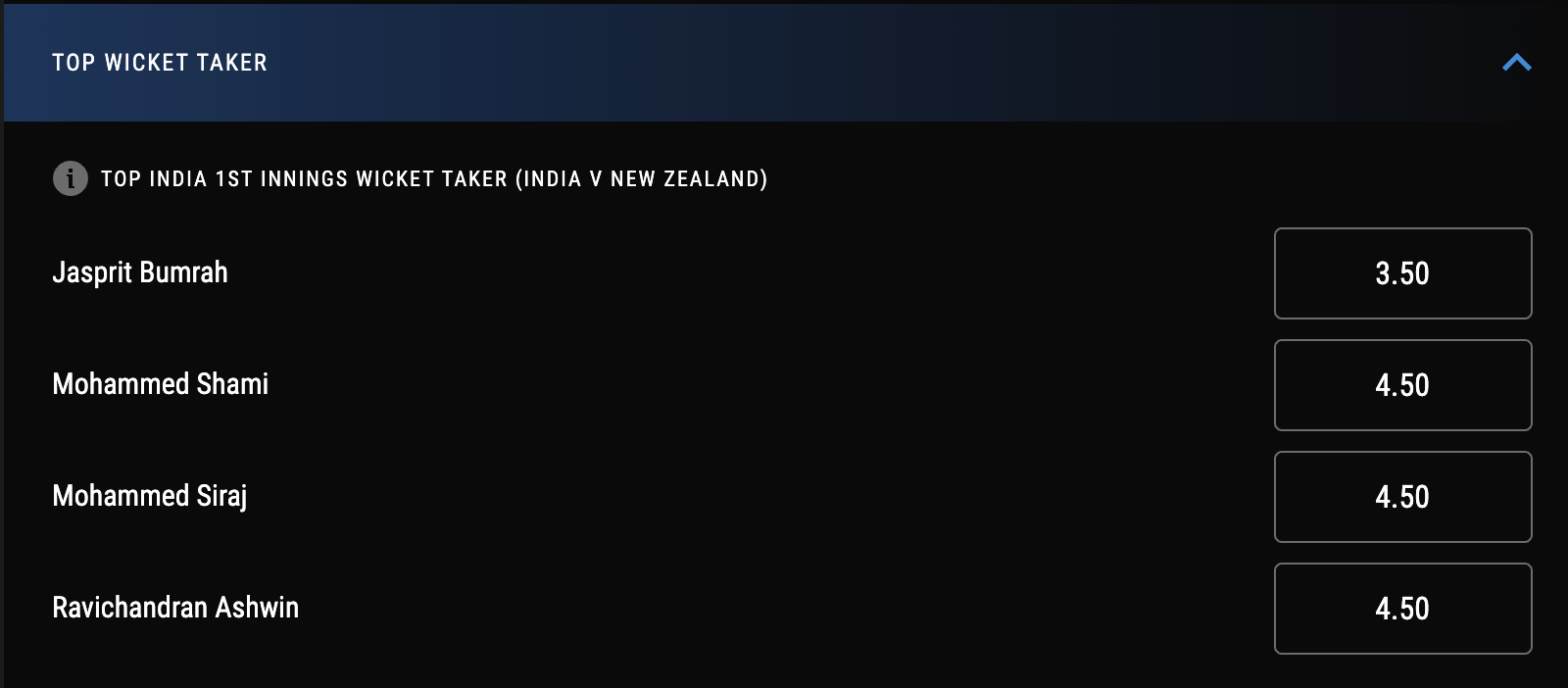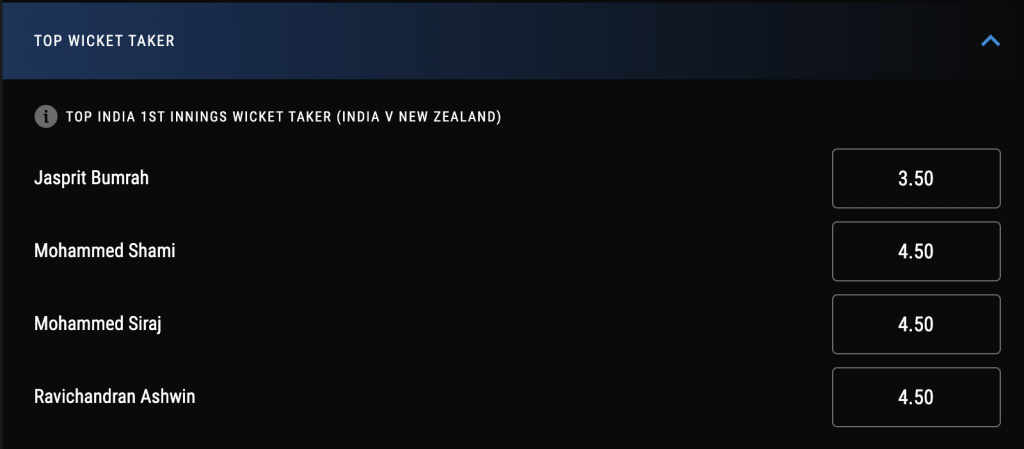 Outright Winner
A lot of people enjoy trying to predict the outcome of a given tournament or league instead of betting always on individual games. This means that you will be trying to predict who you think will win the Cricket World Cup or the Big Bash League.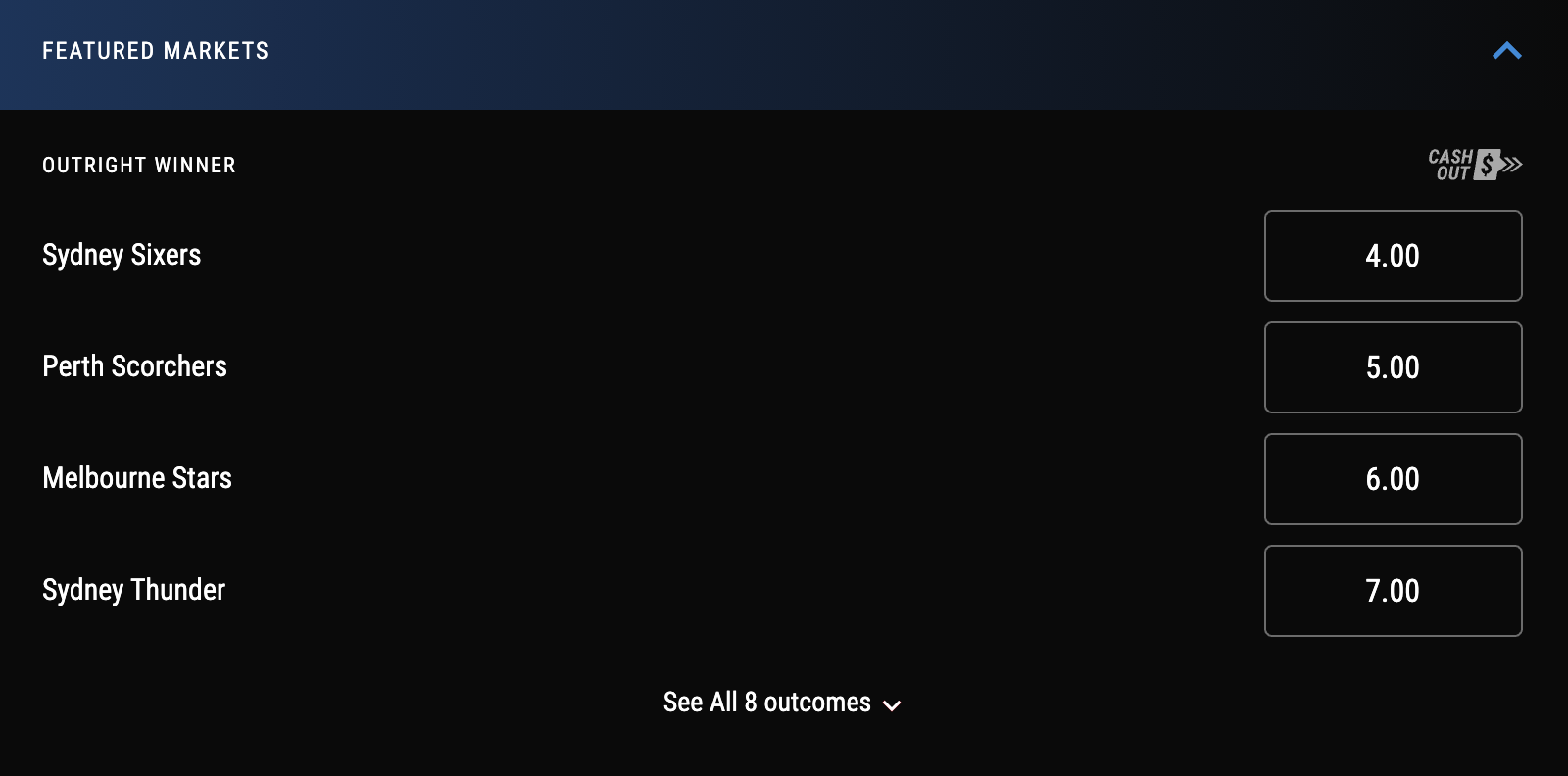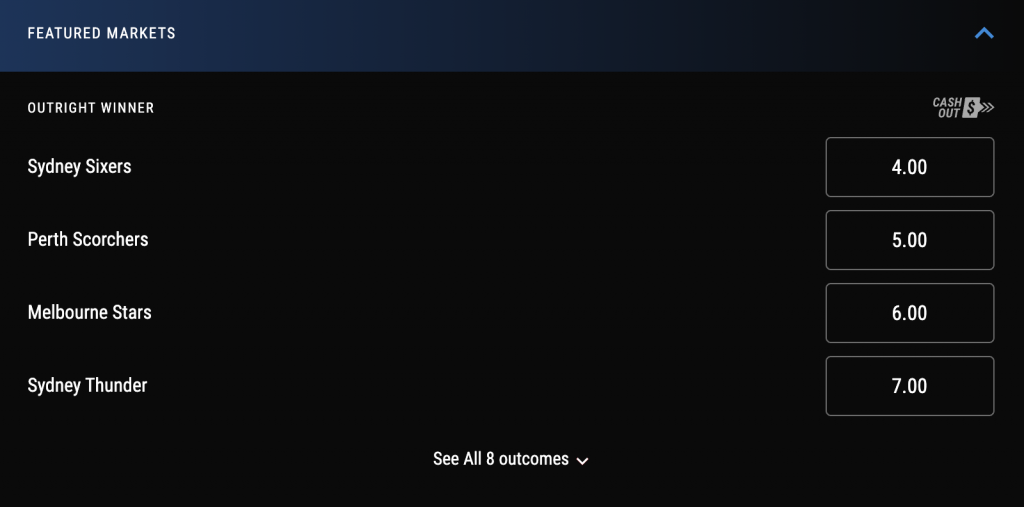 Prop Bets
Prop betting is becoming a lot more popular in cricket betting. This sees you wagering on specific aspects of an individual player's performance during a match, such as the over/under runs they get or how long they manage to stay batting without conceding a wicket.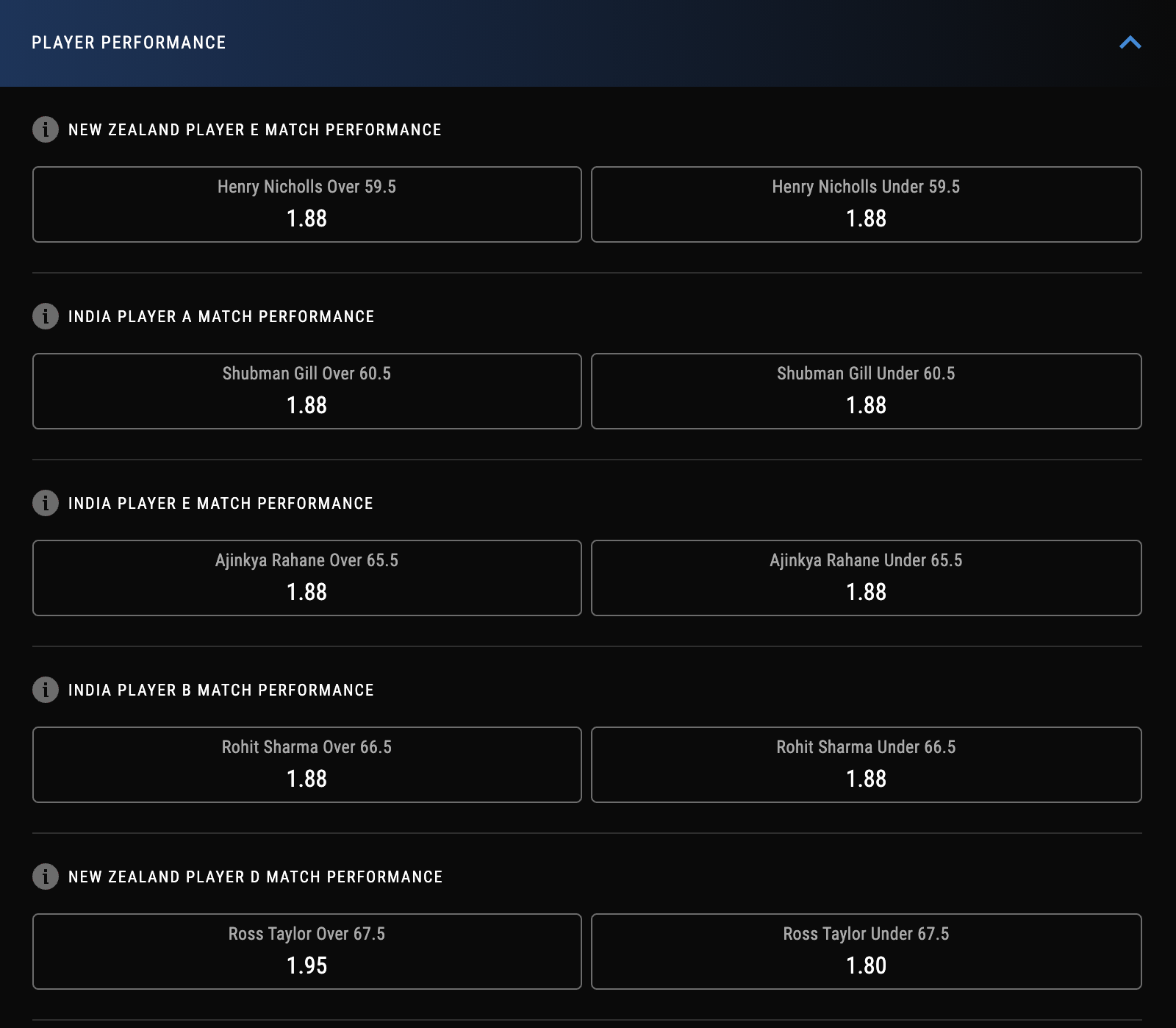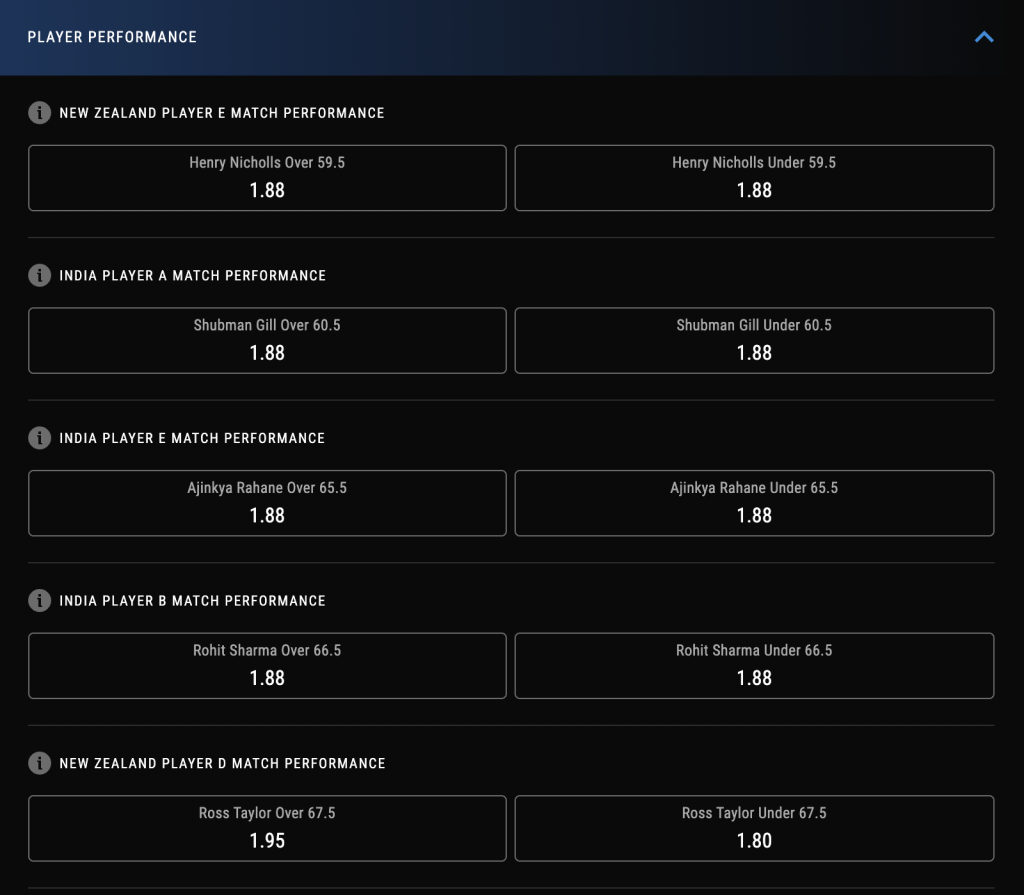 Live Cricket Betting
Live cricket betting is a very popular way to place wagers on the sport. It allows you to react in the moment during games to the unfolding action. You can bet on what might happen next or you might want to try to hedge one of your pre-game bets. Whatever the case may be, most online cricket betting sites will have extensive live betting capabilities. Paired with live streams, this can be a very good way for you to further develop your betting strategy.
Where to Find the Best Cricket Betting Odds
There are so many leading cricket wagering sites available to Australians. However, some will stand out from others when it comes to the odds that they offer. While they will not have the best odds for every single market, they consistently will offer a nice price for bettors. Here are some of those leading betting sites for cricket odds:
Ideal For Cricket Betting Beginners
Ideal For Cricket Betting Beginners
Very user-friendly platform
Plenty of support for Australian cricket leagues
Competitive odds
9.8
Claim Bonus
Best Cricket Betting Apps in Australia
Having the ability to place bets while you are away from your computer is ideal. It provides you with a lot of flexibility. You might be sitting in the cricket arena, watching it on television in the pub, or simply lying in bed. Whatever you are doing, you can just use your mobile device to place a wager.
Many of the best operators have mobile apps that you can download to your iOS or Android device. Others will also offer a web-based website so you do not have to download anything if you don't want to.
Cricket Betting System: How to Make Profitable Wagers on Cricket
Placing bets on cricket games can be very enjoyable. It means that you have some skin in the game when you are watching a given game. However, bettors ultimately are hoping to be profitable. Nobody likes losing money and cricket fans like putting their knowledge of the sport to the test to see if it can pay off. One of the keys to being a successful cricket bettor is taking your smaller profits over time and building up a consistent cricket betting system.
As cricket is a very measurable sport, there is a lot of scope to utilize statistics when you are deciding which bets to place. Cricket is a sport that lends itself to more inconsistent performances than other sports. The top player is the games aren't going to be getting centuries each and every game. No batsman has managed in his career to have a batting average that is over 100 even the likes of legendary Australian batsmen x.
Different teams are going to have different styles. This is why some bettors prefer to mainly focus on certain fixtures, whether this is Big Bash League games or international fixtures. This allows them to get familiar with the specific style of certain teams and their players.
Certain bowlers are very aggressive in their approaches to the game, while some are more conservative and try to outthink the batsmen. These approaches can have a knock-on effect on your betting decisions. The same goes for batsmen, with some being more aggressive than others. Many other variables have to be considered, such as the weather on the given day, hours of light, and time of day.
Getting a Plan in Place
As soon as you have all of your research done, it is then time to place your cricket bets. You need to have a good plan in place so you know how many bets you should place and what your staking strategy should be. This process of development can take some time, so you need to be diligent and patient. It will need regular refining as you learn what works well and what should be avoided.
Regularly reviewing your cricket bets is a good way to see what went wrong and what went well. Most online betting sites will provide you with detailed information about your historical bets. You can go back and see what types of fixtures or betting markets you performed the best at over time and what wasn't profitable.
You will often be surprised at the outcome of this analysis. This might lead to you seeing that you don't perform well when betting on Australia, perhaps because too much emotion is involved in your decision-making. However, you might be consistently profitable with Big Bash League bets as you can leverage your local knowledge to good effect.
There are also free cricket betting tips from certain respected experts that can play a part in your plan. They can help provide you with interesting insights to incorporate into your decision-making. However, it is usually not advisable to blindingly follow cricket betting predictions without doing your own research. By making your own picks, the process will ultimately be more rewarding when you are successful.
Most Popular Cricket Events & Tournaments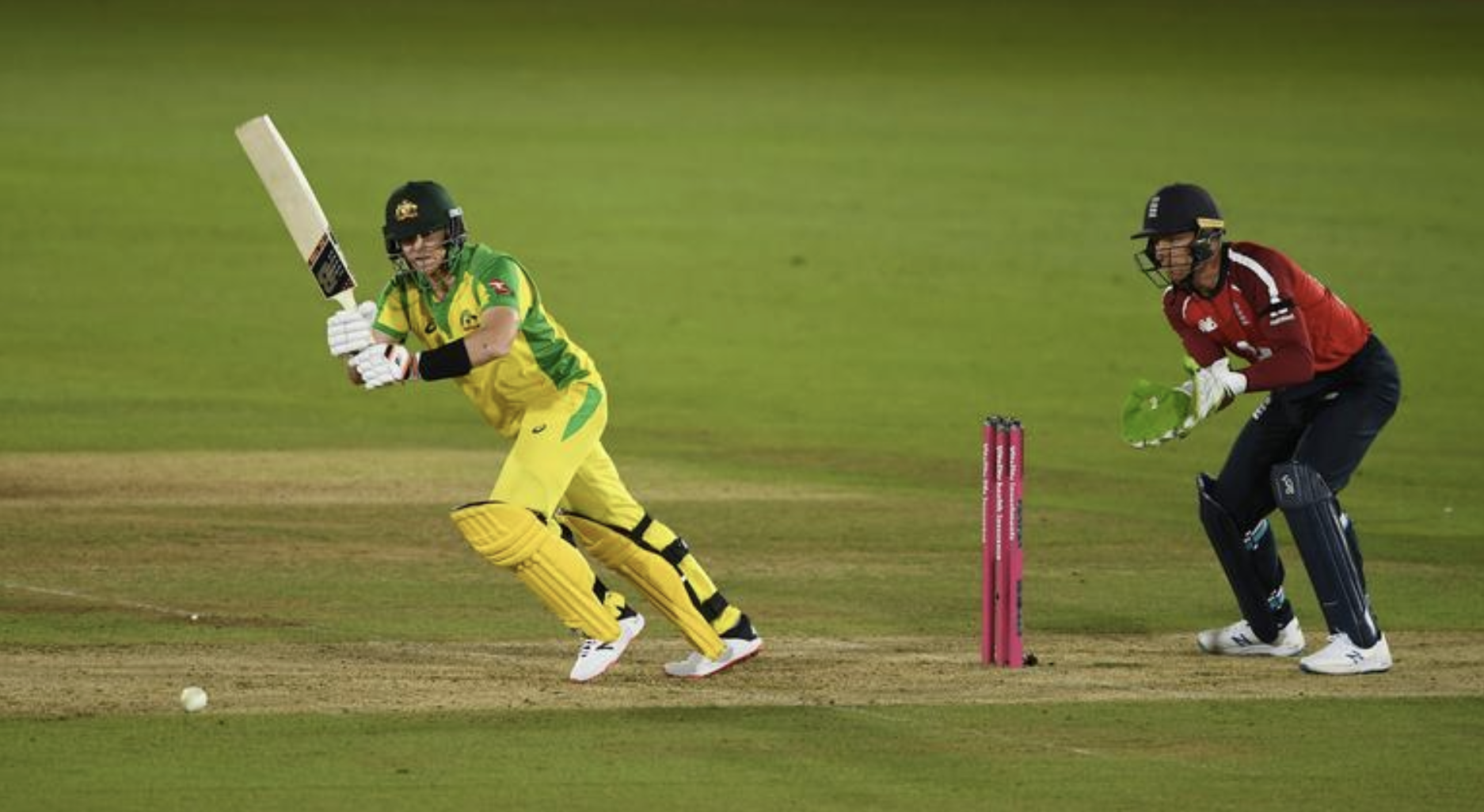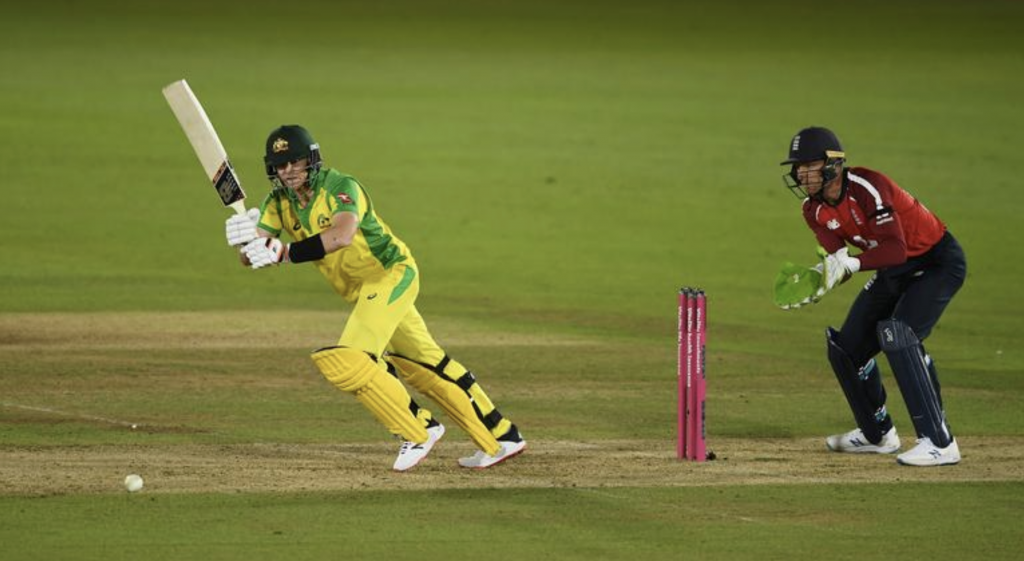 There are many significant cricket tournaments and events that take place each year. Depending on what time of year it is, there will likely be some sort of major competition for you to tune into. This ranges from club cricket to international Test games. Here are some of the biggest events to look out for each season:
Cricket World Cup Betting
The ICC World Cup only takes place every four years. Therefore, it is one of the most anticipated tournaments that take place in the cricket world. The leading countries come together and battle it out for the ultimate glory.
The format of this event can often vary. In 2018, there was a round-robin system in place for the group stages, with the best four sides making it into the semi-finals. The host nation England ultimately won the most recent World cup after beating New Zealand in a dramatic fashion.
IPL Cricket Betting
The Indian Premier League is one of the most prestigious club competitions in the cricket world. All of the best players in the world tend to gather in India each year to compete in this competition.
It is played in a T20 format, allowing for plenty of fast and exciting action. There are eight different cities in India represented with teams. An auction takes place each season to decide what teams the players play for, which is always exciting in itself to watch.
Big Bash League
The Big Bash League is the main club competition for cricket in Australia. It follows a T20 format and works off a franchise system. Having been played since 2011, there are eight cities represented. It is one of the biggest domestic leagues in the sport, only lying behind the IPL in terms of attendance numbers. The games take place between December and February normally each year.
5 Ultimate Free Cricket Betting Tips: How to Profit From Betting on Golf
As well as having a good strategy in place for your cricket betting, being aware of certain useful tips can also be handy when it comes to cricket online betting. Here are a few relevant tips to keep in mind when you are engaging in online betting on cricket:
1. Find a Focus
It is easy to spread yourself too thin and try to bet on tons of different cricket matches all across the world. Every day there will be no shortage of these games to wager on. You end up spreading your focus too thin and not placing smart bets.
Instead, it is often a good idea to only focus on the tournaments or teams you know inside out. Therefore, you might decide to focus solely on Big Bash League games or Test matches that involve Australia. This allows you to build up your in-depth knowledge of the players and teams that are involved.
2. Don't Forget About Live Betting
Cricket live betting is a great way to boost your overall approach to wagering on the sport. The cricket betting odds are going to fluctuate throughout the game and you can often spot opportunities to take advantage of these movements. You can also make moves that will hedge your pre-match bets. If you can follow a cricket match closely, then this can pay dividends if you start to place in-play wagers.
3. Always Get the Best Odds
One of the easiest ways that you are able to make sure that you are getting the best bang for your buck with your cricket betting is by always getting the best odds. To do so, you will need an account with each of the best cricket betting sites. You simply decide on what bet you are going to place and use an odds comparison tool to see which operator has the best odds for that particular bet.
4. Do Plenty of Research
The way in which you are going to be able to get ahead with your cricket betting is by putting in plenty of homework. This allows you to know the given teams and players in a certain fixture inside out.
You will know the different playing styles that are in place, as well as recent track records, head-to-head historical matchups, and what the weather conditions are going to be. You can see which players are coming into the game with an injury or which individuals are on a hot streak. All of this information can then be combined in order to make smart bets.
5. Don't Put All of Your Eggs in One Basket
Smart betting means having a good staking strategy in place. This means that you will be able to protect your account balance in case you have a bad week. You don't want to place too much money on a single bet or on a fixture in case things go pear-shaped. The key to being consistently profitable is staying in the game and not taking excessive risks.
Bottom Line
There has never been a better time for Australians to place wagers on cricket games. The best betting sites all offer a huge range of markets for each and every game. You will be able to access fixtures from all across the world and often be able to live stream them directly through the bookie. Getting started just takes a minute or two before you can begin placing your cricket bets.
Superb customer service
Live greyhound streaming
Virtual greyhound betting
Regular specials
9.6
Visit Site
T&Cs apply
FAQs
What is the best market for cricket betting?
Do most cricket betting websites have live streams of games?
What is the best site for cricket betting?
Is it good to use cricket bonuses?
How long does it take to sign up for a cricket betting platform?