From the paddock to the track, there is always a hive of activity on race day with F1. Containing 23 races each year, the roadshow jumps from country to continent, and there is always a frenzy of excitement both from a sporting and betting perspective.
Australia is usually the curtain raiser for the start of the new F1 season, and you won't be hard pushed to find a bookmaker that serves up a wide range of markets for this sport. At SafeBettingSites Australia, we've unearthed five of the best F1 betting sites. Within that, we will explain why they are so highly recommended, provide a snapshot of the basics on F1 betting, as well as discuss the various bonus and promotional offers served up. So, read on to find out more.
All
Cash Out
Each Way
Enhanced Odds
Harness racing
Live Streaming
PayPal
More Filters
Favourite of Australian F1 Bettors
Favourite of Australian F1 Bettors
Excellent range of F1 Betting Markets
Speedy payout
Competitive F1 odds provided
9.6
Visit Site
Some Great Betting Promos
Some Great Betting Promos
Weekly promos
Sleek interface
Great for Multibets
9.5
Visit Site
World Renowned Betting Site
World Renowned Betting Site
Live greyhound streaming
Virtual greyhound betting
Regular specials
9.6
Visit Site
T&Cs apply
Popular Aussie Bookmaker
Ownership has plenty of pedigree
Low minimum deposit
Attractive, modern website
9.1
Visit Site
T&Cs apply
High-Performance F1 Betting Platform
High-Performance F1 Betting Platform
Beautifully designed platform
Competitive F1 betting odds
Good selection of betting features
9.1
Visit Site
Best F1 Betting Bookmakers Reviewed
1. Sportsbet.com.au – Intuitive bookmaker for F1 betting
If you are in search of a smart Australian bookmaker, then Sportsbet.com.au delivers. While F1 perhaps doesn't naturally lend itself to multi bets like football or horse racing, you will be able to find combo multis at Sportsbet.com.au, including 4 folds, Trixie, and Patent style systems.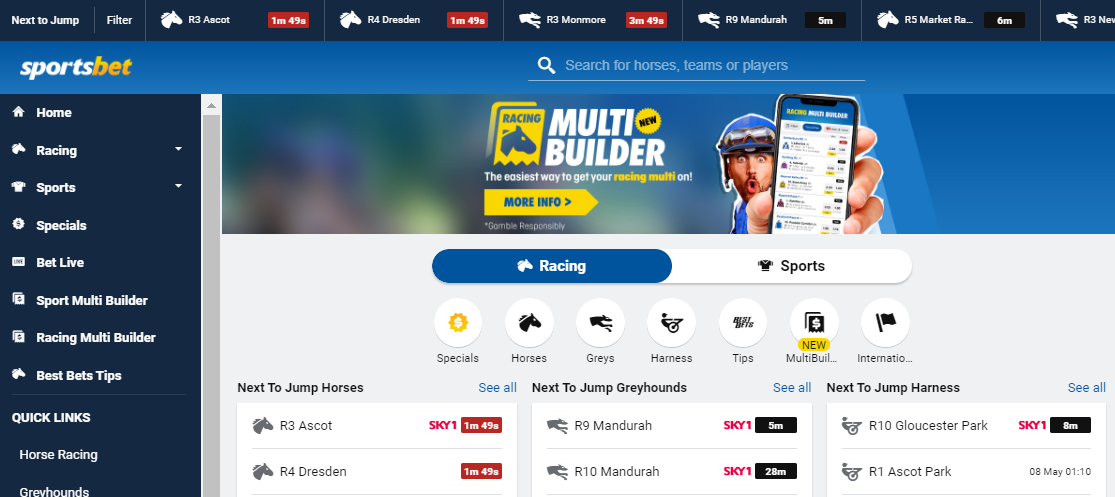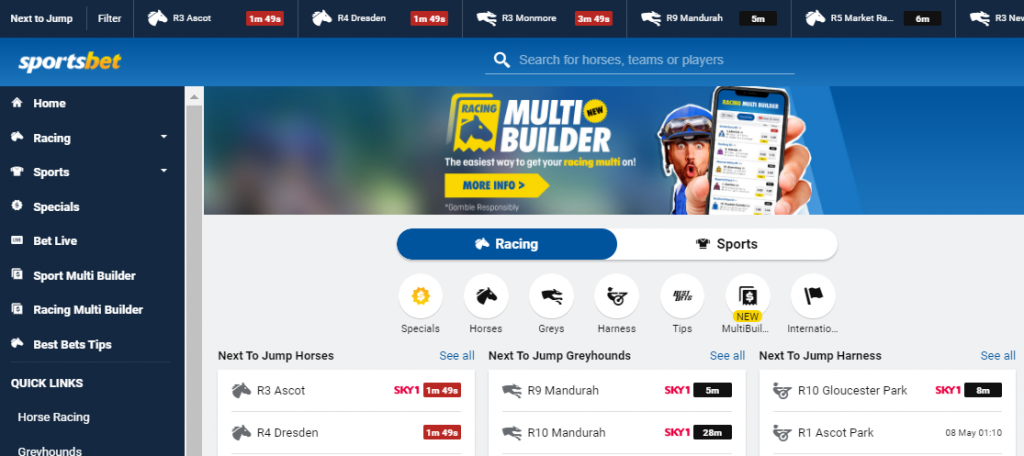 Sportsbet keeps F1 bettors abreast of all the key markets, whether it be specials such as Quickest Lap, or future markets such as who will be crowned F1 champion. Once again, live betting is only available via phone, and there are low turnover requirements. Sportsbet.com.au is a well-established brand, so you should be able to tap into some excellent F1 betting tips.
There is also a stats section for motor racing enthusiasts that want the inside track of what is going on. Sportsbet is held in high esteem, and it is one of the best betting sites for F1 we have come across in Australia.
What we like:
Extensive range of F1 markets
Multi bet features
Stats section
App available for Apple and Android
What we don't:
2. PalmerBet – F1 betting site with competitive odds
PalmerBet prides itself on trying to provide the most competitive F1 odds around. For those that have a registered account, they will be able to glean expert insight as well as F1 betting tips from the in-house writers.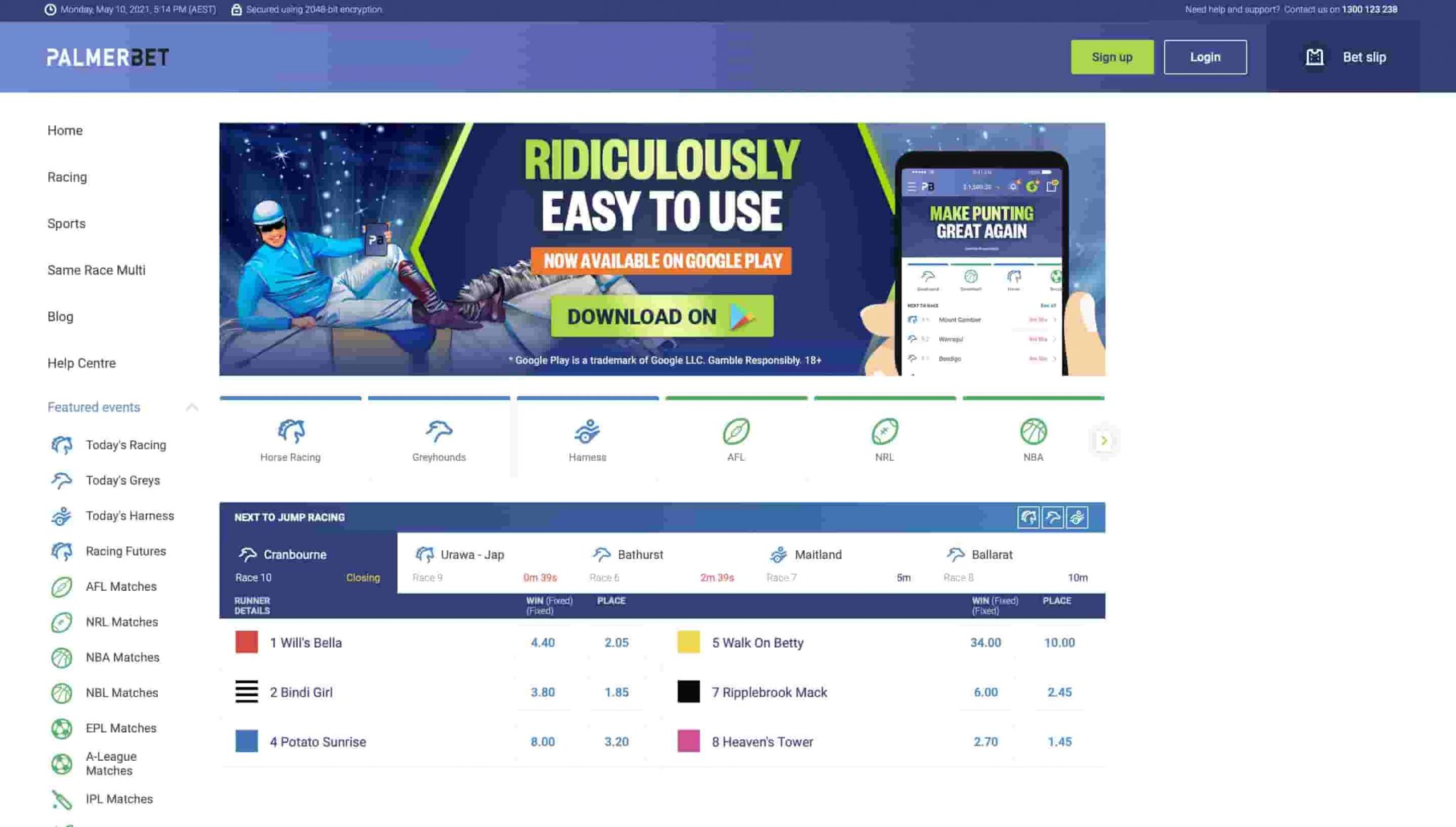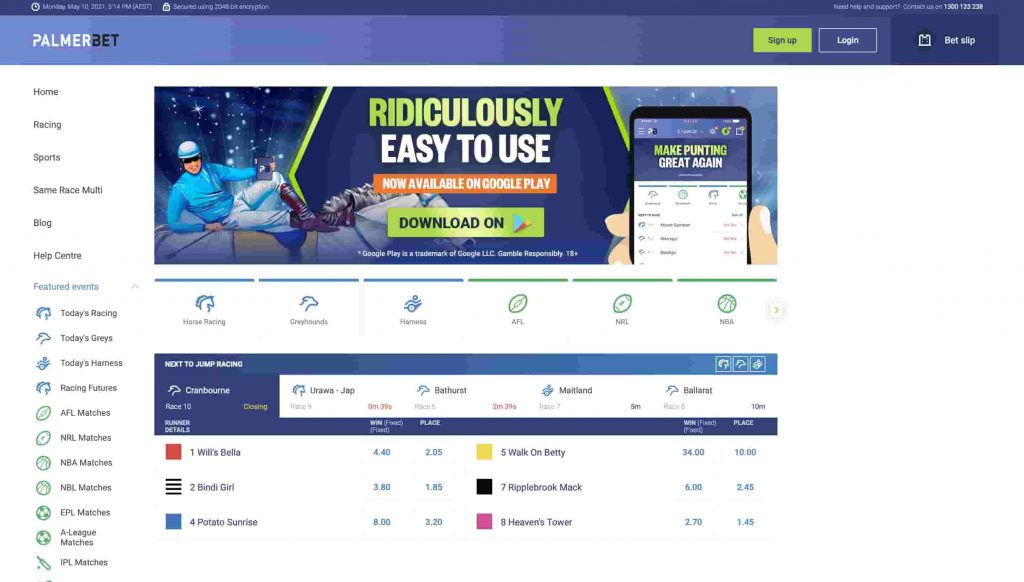 After being established over 30 years ago by Ted Palmer, PalmerBet is synonymous with the Sydney betting ring, and the site is therefore fully Australian owned and licensed. Using the betting slip to place F1 bets shouldn't be too taxing, as it clearly lays out the stake, and prices, as well as any pending bets.
PalmerBet will appeal to more experienced bettors, as you can place multi bets on a wide range off specials on race day. The interface of PalmerBet is rather intuitive, and pages load quickly on the desktop version of the website. It's the same story on the mobile side of things, and the betting app is also very secure.
At PalmerBet, the payment options are slightly more sparse, although you will be able to find traditional payment methods to bankroll your account, including VISA, Mastercard, and PayPal.
What we like:
Reputable Australian sports betting brand
Intuitive interface
Competitive odds
Diverse range of F1 markets
What we don't:
No live chat facility for bettors
3. Ladbrokes – Stacked with plenty of F1 markets
Ladbrokes is perhaps one of the best F1 betting sites in Australia, because it has an array of betting options, and the range is almost exhaustive. It also supports a wide range of other sports, such as tennis betting and golf betting. Whether you wish to bet on practice sessions or race day itself, you won't have much trouble locating the markets of your preference here.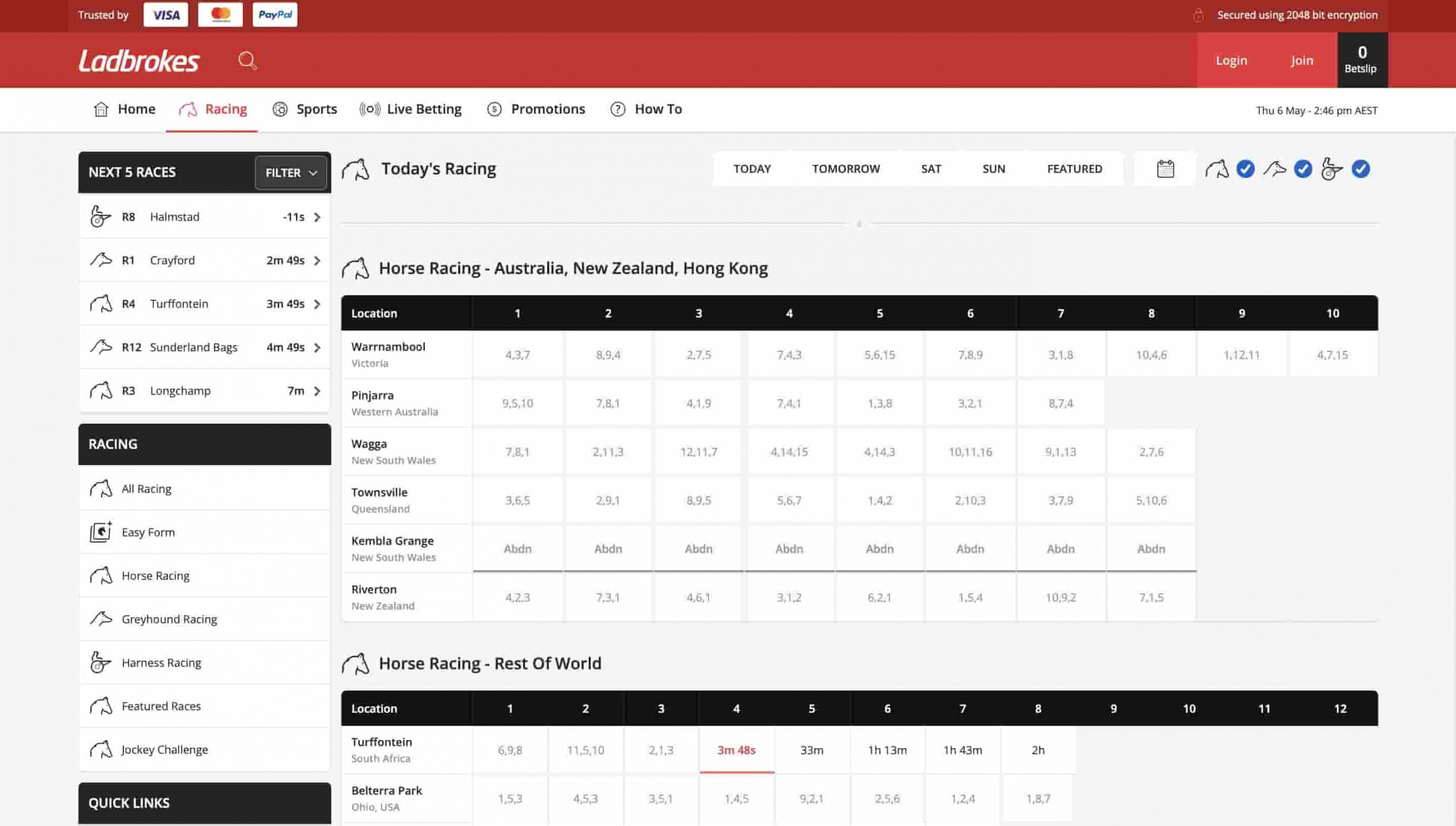 Everything is also neatly put together in one tidy package here at Ladbrokes. The online bookmaker has paid close attention to enhancing the live betting experience for punters, and depositing money into your playing account is quite straightforward. There are several payment options for making deposits and withdrawals at Ladbrokes, and this includes but is not limited to: VISA, Neteller, and Skrill.
Other key features you can expect to find here at Ladbrokes are Cash Out, Edit Bet, and Bet Builder. When it comes to F1 betting Australia, Ladbrokes is a tour de force and worth exploring further.
What we like:
Plenty of payment options
Cash Out
Edit Bet
Very secure
What we don't:
Minimalistic design may not appeal to some players
How We Rank the Top F1 Betting Sites
When it comes to Australian bookmakers, punters have plenty of choice, especially for motor racing. While the list might not be as extensive as their pommie chums in the UK, wehave carried out meticulous research to provide you with the best possible options.
We have already curated our list of best F1 betting sites. In order to gain more insight, we have selected some strict criteria for which we judge renowned bookmakers on, so you can find the site that best suits your needs.

Range of F1 Betting Markets – Whether it is betting on the race winner or specials, such as the first retirement of the race, you want to be rest assured you can locate the most competitive F1 betting odds. PalmerBet is rather extensive in this respect, and worth checking out.
F1 Betting Odds – It won't matter how many promotions or bonuses a bookmaker runs on their site, if the odds are much higher than that of their competition, that will be off putting to punters. From our research, we have discovered
PalmerBet
is among the best F1 betting sites in Australia as their odds are rigorous.
Usability & Features – If you are a punter that is constantly on the move, and prefers to place bets on the go, then you will want it to mirror the desktop experience. Features, such as Cash Out and Bet Builder will be common, and Sportsbet.com.au is held in high esteem here.
F1 Bonuses & Promotions – Any bookmaker that is worth their salt will have a range of promotions that can punters can get their teeth stuck into. With F1, it is no different.
Safety – A premium is placed upon providing punters with an enriching, but also a safe experience. Many bookmakers will have SSL (Secure Sockets Layer) certificate, so the personal data of their players aren't compromised. This will also be reflected when new players sign up to a site.
Key Features of the Best F1 Betting Sites
| | | | | |
| --- | --- | --- | --- | --- |
| Sportsbook | Live Betting | Bet Builder | Cashout | F1 Markets |
| Ladbrokes | | | | 10+ |
| Sportsbet.com.au | | | | 7+ |
| Palmerbet | | | | 12+ |
| Ladbrokes | | | | 7+ |
| NEDs | | | | 8+ |
| Sportsbet | | | | 10+ |
F1 Betting – The Basics
F1 is generally very tactical, as teams pit their drivers against each other. New rivalries surface, but a lot of the action takes place in the first, and last laps of each race. As mentioned, there are 23 races in the calendar each year. Usually, there are two practice sessions on the Friday of a given race week. This is followed up by qualifying on the Saturday, with the race 24 hours later.

Those drivers that finish in the top three will be called up to the podium, and points are awarded after each race. The system for points scoring has changed over the years, although the winner receives 25 points, while a 10th placed-finish receives a solitary point. A bonus point is also dished out to the driver who completes the quickest lap.
F1 Betting Odds & Markets
To fully understand how F1 betting odds work, you will need to be aware of the types of markets you can place wagers on. Below are seven of the most popular F1 betting markets if you wish to chance your arm.

F1 Drivers Championship – This is what every driver dreams of! Every sinew is strained, and currently Lewis Hamilton is the most decorated active driver in the sport, as he has been crowned world champion on seven occasions. This prize is awarded to the driver who amasses the most points throughout the season.  For the likes of Hamilton, the odds will be quite short, however the odds will change throughout the season to reflect how things play out on the track.

F1 Constructors' Championship – This is the second most prestigious accolade on offer in F1. Here, Mercedes have had a stranglehold on the Constructors' Championship, and have been masterminded by the tactical brilliance of team principal Toto Wolff. Each team will have two drivers, but whoever accumulates the most points over the course of the season will win this award, and the odds will oscillate.

Race Winner – The best F1 betting sites in Australia will have this 'Moneyline' market where you simply have to predict who will take the chequered flag. Betting on the winner will often carry higher odds before the race starts.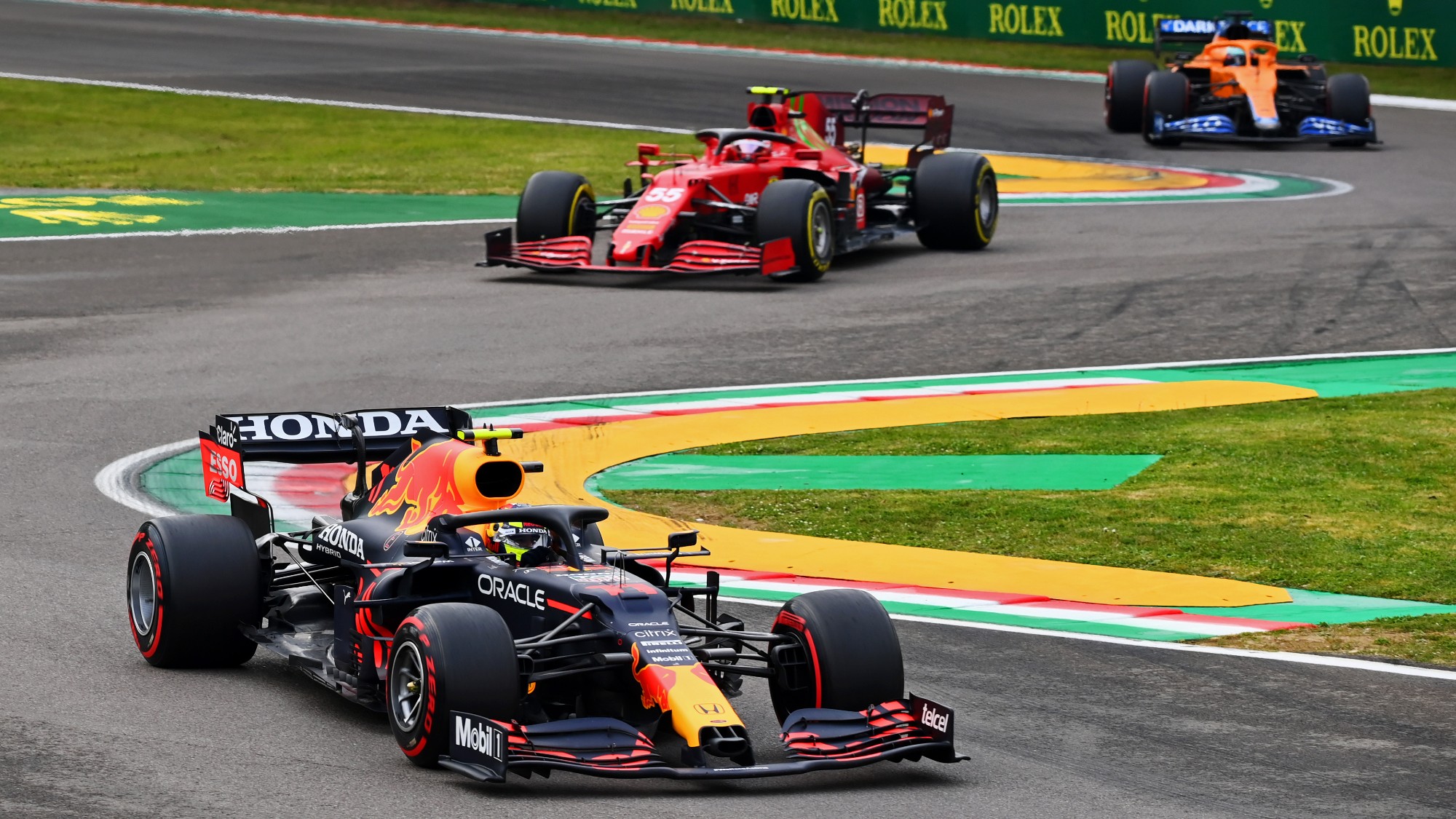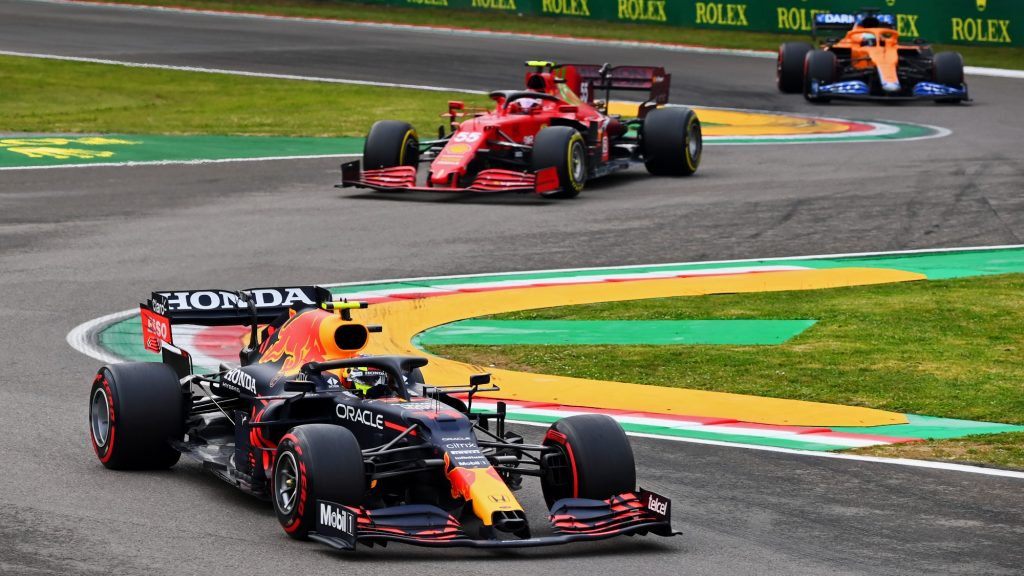 Podium finish – As mentioned, to guarantee a spot on the podium, a driver will have to finish in the top three on race day. The payout for a podium finish is generally not as high as the race winner market. Sometimes, tyre compounds can influence the outcome, especially if a driver has to take an unexpected pit stop during the race.

Pole position – Every driver finds themselves jostling for the best position on the grid come race day. A Mercedes one-two is usually a common sight!

Fastest lap – Ultimately, the course will dictate who achieves the quickest lap as some have tighter corners than others, while some make it easier to manoeuvre overtakes. The fastest lap usually provides some fun odds, and the unpredictability enables punters to find value here.

Driver vs Driver Match Bets – While inter-team rivalries are well documented, there are usually heated between drivers of opposing teams, such as Hamilton and Red Bull's Max Verstappen. There are popular bets that can be placed such as 'Verstappen to finish above Hamilton', and the odds are quite competitive here.

Will A Safety Car Appear? – This always isn't a common market to come across. Nevertheless, this is a simple 1×2 bet, and factors such as weather conditions or a crash will determine whether you receive a return on your bet.
Live F1 Betting
You don't just have to place your bets before F1 races begin. There's also the chance to bet live on races as they take place, meaning you can base your bets on how the races pan out. Of course, this means you can get better or worse odds depending on how you place your bets.

Some of the best betting sites in Australia even allow you to live stream F1 races if you place a bet on them, allowing you to watch the action unfold. If you want to bet on F1 live, check out the top bookmakers below.
Overall Best F1 Betting Site

Overall Best F1 Betting Site
Good mobile apps
Fabulous promotions
Live betting options
9.9
Claim Bonus
F1 Betting Site with 24/7 Support

F1 Betting Site with 24/7 Support
Awesome selection of F1 markets
Wide range of payment methods
24/7 Live chat support
9.7
Claim Bonus
Some Great Betting Promos

Some Great Betting Promos
Weekly promos
Sleek interface
Great for Multibets
9.5
Claim Bonus
F1 Betting Bonuses
Aside from providing regular F1 betting odds, the best F1 betting sites in Australia will be well versed in running regular promotions and bonuses. For those that have recently signed up to a site, they will be welcomed with a nice deposit bonus, and betting sites will tend to match your initial deposit by a fixed amount.

However, for specific races such as the British Grand Prix, which takes place every summer at Silverstone, you may well stumble across enhanced odds. Also known as flash odds, the prices will be generally more appealing, and will also yield greater profits if you return a winning bet.

Alternatively, some of the best F1 betting sites may refund losing bets as an incentive to join. Before you proceed further, it is always best to check the T&Cs before getting too carried away with bonus bets.
F1 Free Bets
Free bets will be well sign posted. The most popular free bets will tend to gravitate towards the action on race day, and they may well focus on specific markets, such as Race Winner. The best F1 betting sites will run betting offers, such as AU$40 in free bets which essentially allows you to use credits without losing real money while wagering on popular F1 markets.
F1 Free Bets No Deposit
While usually you may be required to place a minimum deposit into your playing account to tap up free bets, these type of bets take that element away. Of course, there can be cruel twists of fate that can scupper your bet, such as a driver crashing out or having to retire following a tyre blowout. Nevertheless, free bets no deposit may help to retain the loyalty of a new bettor.
Key Terms of F1 Bonuses
When you sign up to a betting site, there will be T&Cs that will convey how the bet applies for your chosen market. Below are some of the key terms that you may encounter.

Minimum odds – This refers to the lowest odds you can bet to convert the bonus into tangible cash. Odds wise, these tend to be around the 1.50 to 2.00 mark if presenting odds in decimal format.

Wagering requirements – Essentially, this is the amount of money (usually a multiple bonus amount or bonus winnings) that a player must wager before they will be allowed to cash withdrawal. Bookmakers may present this as 30x or 40x for a specific market.

Account limits – Typically, this means the maximum amount a player can deposit or withdraw from their playing account at any one time.

Validity period – With bonuses, you may be required to use it within a certain period of time or you could forfeit the right to apply it. This may be highlighted as 'Bonus must be used with 14 days' at an Australian bookmaker.
F1 Betting Tips
F1 betting tips are readily accessible at most established bookmakers. However, in order to improve your chances of more regular success with your wagers, there are a few things you should bear in mind. Indeed, the below four F1 betting tips may well come in handy.

1. Understand circuit history – Look at how a driver has performed at a certain track. If a particular driver has a certain affinity towards a track, and has fond memories of doing well there, then you may well gravitate towards them.

2. Keep an eye on lap times – As mentioned before, the driver that records the quickest lap time on race day will be awarded a bonus point, so take note of the speed merchants out there!

3. Practice means everything – While a lot of the focus is on qualifying and race day, don't forget to pay attention to what happens in practice. If a driver performs smoothly during the practice sessions, this may well transpire to qualifying and the race day itself.

4. Don't forget the team dynamics – Individual drivers will usually grab the headlines, but the team engineers are often the unsung heroes. The engineers set the drivers up perfectly, and they will weigh up what tyres to use for each track. Also, they are quick at turning around cars that come in for pit stops, and in this respect, F1 is a very tactical sport. Drivers have to time their pit stops well.
F1 Betting – The Bottom Line
Historically, F1 has captivated audiences worldwide, and the sense of excitement is palpable on race day. If you are a punter, you will be able to find plenty of sites in Australia replete with some great F1 betting odds, as well as great F1 betting tips. Regardless of whether you prefer to stick to the futures section or the race day markets, there is something for everyone. So, go check out the sites we have discussed in this guide, and see what all the fuss is about.
Betfair – Best Aussie F1 Betting Site
Favourite of Australian F1 Bettors

Favourite of Australian F1 Bettors
Excellent range of F1 Betting Markets
Speedy payout
Competitive F1 odds provided
9.6
Claim Bonus
FAQs
What Are The Deposit Limits for Australian Bettors?
The minimum deposit varies, depending on the site, and the payment method. Typically, it usually starts from around $10.
What Are The Most Popular F1 Betting Markets?
There are plenty of cracking markets to check out, however the most popular are the 'Race Winner', and the 'Podium finish', which requires guessing who will finish in the top three on race day.
Can I Place Live Bets on F1?
Yes, however with most Australian bookmakers, you will have to do this over the phone.
What Payment Methods Can I Use On Australian Betting Sites?
This varies from bookie to bookie. However, many will offer traditional methods, such as VISA and Mastercard, while others will have e-wallet options, such as Neteller and Skrill.
What Are The Best Australian Betting Sites For F1?
There are some great sites for F1 betting, but we recommend using CyberBet and Sportsbet.com.au.