A lot of Aussies like to stick to the more straightforward markets, such as match-winner and correct score offerings. However, handicap betting is also very popular. One of the reasons for its popularity is that applying a handicap to a given matchup can even the playing field in what would otherwise be a big mismatch.
While handicap betting might initially seem confusing, it is actually quite an easy concept to grasp when you are shown a few examples. That is exactly what this guide aims to do – making sure that learn everything you need to know about this type of betting, as well as becoming aware of the best handicap betting sites in Australia.
All
Cash Out
Each Way
Enhanced Odds
Harness racing
Live Streaming
PayPal
More Filters
How We Rank the Best Handicap Betting Sites 
Aussies have just a wide selection of betting sites to choose from that it is often impossible for people to know where they should start. We have compiled a list of the best operators that offer handicap betting. We proceeded to review and test all aspects of these offerings to see which offer the ultimate handicap betting experience. Here are some of the areas that we closely look at in order to compile an objective and useful review:
Security – We only consider betting sites that have a good reputation for protecting players and following all of the relevant rules and regulations from the Australian regulatory bodies. We look at their licensing, as well as making sure that proper security protocols are in place. This includes segregation of player funds, encryption technology, and responsible gambling tools.
Handicap Betting Markets – We then want to make sure that a platform has ample opportunities to place handicap bets. You want to see what sports and specific events will offer handicap betting. There are also other types of handicap markets, such as Asian Handicap betting that also need to be considered. We like having the flexibility to access a wide range of handicaps for the same even and not have to stick to just one.
Handicap Betting Odds – In order to maximize your profits for winning bets, you are going to need to get the best possible odds. We take a look at the general odds for handicap betting markets that a given operator provides to get a good overall feel of what we can expect.
Live Handicap Betting – Live betting has become more and more popular among bettor as the years go by. With improving technology, there are more stats available during games, access to live streams, and betting markets that update in real-time. We look to see if a given operator offers handicap betting markets for live games.
Mobile – Bettors want to have the flexibility to place wagers no matter where they currently are. This is why mobile betting options are highly important. We check to see which operators have the best mobile betting apps or web-based platforms.
Bonus Offers – Unfortunately, Australian bettors are unable to get their hands on welcome betting offers when they create a handicap betting account. This is due to local rules and regulations. However, operators make up for this by making sure to offer regular bonus deals for the current customer base. These can come in many different shapes and sizes.
Performance – Being able to quickly and seamlessly use a given sports betting site has a lot of benefits. You will not be wasting time looking for a given market and you can make sure that your bets can get placed quickly. Otherwise, the slow processing of bets can have negative consequences on your odds.
Key Features of the Best Handicap Betting Sites
| | | | | | |
| --- | --- | --- | --- | --- | --- |
| Sportsbook | Live Betting | Live Streaming | Handicap Betting | Cashout | Bet Builder |
| SportsBet | | | | | |
| Ladbrokes | | | | | |
| PointsBet | | | | | |
| TAB | | | | | |
| TopSport | | | | | |
| Unibet | | | | | |
Handicap Betting Explained – How Does Handicap Betting Work? 
Handicap betting sees a penalty being applied to one of the two parties in a given game or event. This person or team will need to overcome this deficit in order for the handicapped bet to be a winner. The logic behind applying a handicap to a given fixture is that it can help to even the playing field for a matchup that is otherwise lopsided. Usually, people will not bother placing a bet on a heavy favourite as the odds will not be good enough. Once the handicap has been applied, these odds will become much more viable.
For example, if the Sydney Swans are playing St. Kilda, the Swans might be the strong favourites and have odds of 1.3 to win. However, if you apply a handicap of -21.5 points on the Swans, the odds then change to 1.91. This means that the Swans will need to win the game by at least 22 points in order for the bet to be successful. 
Beginners Guide to Handicap Betting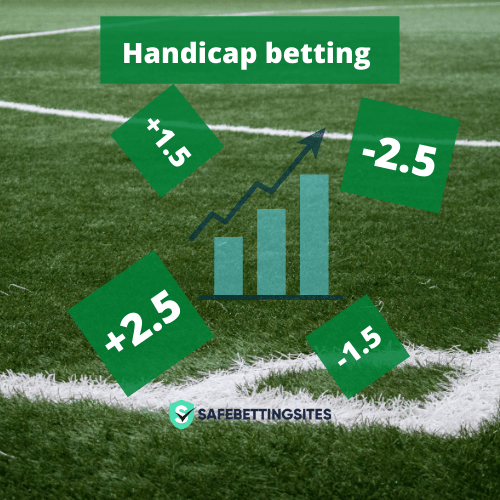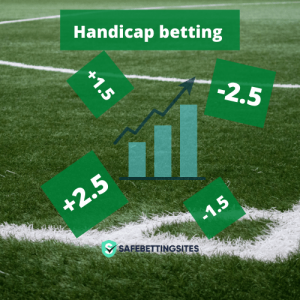 Handicap betting is a very useful tool for people to have as part of their betting arsenal. It increases the range of viable betting opportunities you have access to games that were previously too lopsided to make a worthwhile bet suddenly come to the fore. Once you do some research, you can start using handicap betting very effectively as part of your overall betting plan.
If you are a beginner, it is important to start small and ease yourself into using handicap betting. You want to make sure that you fully have the basics nailed down before betting too big or trying to place complex bets.
Some Australian betting sites are even now offering handicap betting on futures markets. This means that an operator might offer you the chance to apply a -3 points handicap on the Australian rugby union team winning the Rugby Championship.
Nice Price
There are plenty of mistakes you need to try to avoid when it comes to placing handicap bets. Betting odds can change quickly, especially for handicap betting. If you have missed a good price for a certain event, you shouldn't try to chase this missed value by trying to increase the size of the handicap.
It is also important to consider the handicaps in the context of the given sport. For example, in rugby, there is a big difference between a -2.5 handicap and a -3.5 handicap as a penalty in a game counts for three points and this is often the margin by which a game is decided. Therefore, even a small change in the handicap can have a big difference in your chances of winning the bet.
Some people also pay too much for the handicap that they want to get. Even if the handicap seems like a good option, the odds being offered might not make the bet worth your while. Finally, people should make sure that they use handicap betting as part of a more all-around approach and not solely rely on this bet type.
Types of Handicap Betting
The online betting market is constantly growing and new types of features and bet types are regularly hitting the scene. The same goes for handicap betting, whereby you have a number of different variations of these bet types open for you to use. Here is a look at some of the most popular options in this regard:
Asian Handicap
You will likely have heard the term 'Asian Handicap' if you have done some betting in the past. This is the most popular type of handicap betting you will come across. Standard handicap betting is going to deal with whole numbers, such as +1 or +2. With the Asian Handicap, there will be decimals involved, like +0.5 or +1.5. These types of Asian Handicap markets are usually seen in sporting events where a draw is a possibility.
With this example, Melbourne is the favorite and the Asian handicap is 3.5 points. Therefore, Melbourne needs to defeat Brisbane by at least 4 points for this wager to be a success.
European/Split Handicap
This type of bet gives you a bit more flexibility with your handicap wagering. You will be splitting your wager between two different potential outcomes. If the Sydney Swans is +1.5, +2.0 in a game against the Adelaide Crows, this means that half of your stake will go on the +1.5 bet and +2.0 on the other bet. If the Swans lose by two goals, then this side of the bet is going to be a push, with the +1.5 bet being a loser.
Handicap League
This type of bet sees a handicap being placed come the end of the season. This is usually a market that is only available before a season begins. For example, you might be betting on what team will win the regular AFL season. Therefore, you might think that the Bulldogs will get within 10 points of the top of the table and place a bet on the Bulldogs at +10 in the final league standings.
Popular Sports For Handicap Betting
The beauty of handicap betting is that it can be applied in some shape or manner to most popular sports. This means that it is very likely that your favourite sports are going to be well looked after in this regard. Here are a few of the sports where handicap betting is particularly popular:
Handicap betting soccer
Perhaps the most obvious sport is soccer handicap betting. The handicap system is very simple, as it is a goal-based approach. Asian Handicaps are normally used for the likes of soccer betting. An example of handicap betting on a soccer game is that Melbourne Glory is -1.5 goals to beat Brisbane Roar. This means that the Glory has to win its game by a margin of at least 2 goals in order for the bet to be a winner.
AFL handicap
Aussie Rules is a very popular choice for bettors when using handicap betting. This could see the Sydney Swans being +7.5 to beat the Richmond Tigers. this means that your bet will be a winner if the Swans don't lose by more than 7 points.
Rugby handicap
Both rugby league and rugby union games will have plenty of handicap betting opportunities. Football handicap betting is highly popular across the major leagues and international games in the region. You might see an NRL game between the Penrith Panthers and Sydney Roosters whereby the Roosters have a -6.5 points handicap. This means that the Roosters need to win the game by at least 7 points for the bet to win.
Tennis handicap betting
With tennis handicap betting, the deficit can be applied to each individual game or each individual set in a given match. For example, you might place a bet on Ashleigh Barty winning a match in the Australian Open by +1.5 sets. This means that Ashleigh Barty will have to win the overlap match by at least two sets.
Handicap betting basketball
Handicap betting is common across most forms of basketball, including NBA games handicap betting. This will be similar to most other sports. For example, if the Los Angeles Lakers have a -6.5 points handicap against the Utah Jazz, the Lakers need to win this game by at least seven points for the bet to be successful.
Cricket handicap
With cricket, the handicap is going to be applied to the final result as usual. This will be based on the total number of runs that is the difference come to the end of the match. For example, Australia might have a -20.5 runs handicap when playing the West Indies. This means that Australia needs to win by at least 21 runs for this bet to be successful.
The Best Handicap Betting Strategy

There is not going to be one single handicap betting strategy that is better than all of the rest. You won't come across the perfect handicap betting system, no matter what people on the internet might be promising. However, there are ways that you can use handicap betting to your advantage and to hopefully boost your bottom line. Here are some useful handicap betting tips that you can consider:
1. Conducting Proper Research
A key way in which you can get ahead with handicap betting is by making sure that you do your proper research. One of the key areas to look at is the previous head-to-head matchups between the two teams or players. For certain matchups like local derbies or rivalries, the current form goes out the window. You might see that a certain side ups their game when coming up against a particular opponent.  If one of the teams seems to dominate the fixture, then handicap betting could be the ideal bet type for this situation.
2. Current Form
As well as looking at historical head-to-head matchups, you should also take the time to see what the recent results have been like for a team. This is particularly important if you have little to no historical form to go by. You can see which teams tend to be high scoring and winning by big margins and which teams are consistently scraping through games or coming out on the wrong side of the result. This knowledge can then often be leveraged into making smart handicap bets.
3. Don't Get Too Greedy
Another important aspect of using handicap betting as part of your overall strategy is making sure that you are not getting too greedy with your bets. Some people will tend to push their luck a bit and try to go for bigger and bigger handicaps.
While this will improve the odds you will get paid out at if the bet is a winner, you are also making it harder to actually win this bet. It is usually better to take a slightly more conservative approach in terms of the size of the handicap you are making. This is particularly the case if you are doing a multiples bet with numerous individual handicap betting selections.
4. Shop Around
It is always a good idea to shop around to see what operator is providing the best odds for a given bet. However, this goes a step further with handicap betting. One betting site might have the Sydney Swans at a -5 points handicap at odds of 2.00. However, a competing bookie might go a step further and offer the Sydney Swans with a handicap of -4 at the same odds.
Therefore, you are getting the same odds in both these instances but your odds of winning the bet are smaller when the handicap is bigger. This is a common trend that you can come across and something to definitely consider as part of your overall betting strategy.
5. Stay Disciplined
A universal piece of advice when betting on sports in Australia is making sure that you take a disciplined approach. You need to have a clear plan in place and stick to it. The worst thing that can be done is to chase losses, as you can sink yourself into a deeper hole. You will likely start placing riskier bets and not make optimal decisions.
It is also important that you are not risking too much of your bankroll on a small number of bets. Finally, taking the time to assess your handicap bets after the fact is a good idea. You can see what you did well and what can be improved upon over time when you are choosing what bets to place.
Bottom Line on Handicap Betting
Handicap betting is a massively popular way to place bets on Australian betting sites. It is available across most popular sports and offers a huge amount of flexibility to bettors. You have access to many more types of bets than you otherwise would. With a lot of great value out there to be had, it has never been a better time to get started with handicap betting. You can sign up to one of the handicap betting sites found on this page and straight away start putting into practice what you have learned.
Myriad of Handicap Options
Myriad of Handicap Options
Very competitive handicap betting odds
Fast withdrawals
Good range of handicap markets
9.4
Visit Site
FAQs
Are there are any popular sports that do not offer any form of handicap betting?
For the most part, every major sport is going to have some sort of handicap system in place. This means that you are always going to have great flexibility with your betting and place viable bets on matchups that are a bit one-sided.
Can you use free bets on handicap bets?
A free bet is an ideal way to get a risk-free way to try to generate a profit. These offers will come in a lot of different forms and will carry their own terms and conditions. You will likely have to place the bet on a selection of certain odds. There might also be exclusions on what type of betting markets you can use the bet on. However, handicap betting is usually a possible market with free bets.
What betting site offers the best handicap betting offering?
There is no definitive answer to this question. Some platforms will have a better all-round handicap betting offerings than others. However, it is always a good idea to shop around for each bet to see which site offers the best odds or handicap margin for a given selection. This ensures that you are always getting the best deal possible.
Is online handicap betting legal in Australia?
Yes, many legit online sports betting sites are licensed and regulated by authorities in Australia. This allows them to offer a wide range of different types of sports betting markets including handicap betting. It would be hard to find an operator that does not have any sort of handicap betting.
Can you decide on the handicap yourself?
While most operators will showcase the handicaps for a given game and allow you to simply place a bet on the outcome, some offer you the chance to set your own handicap. The bookie will then automatically generate the odds for this outcome occurring. Many sites also have a bet builder feature that allows you to combine handicap bets with other types of betting markets.
Do Australian betting sites offer a welcome offer to new customers?
As part of the rules and regulations governing the online betting landscape in Australia, betting sites are not legally able to offer welcome offers to customers. However, there will be usually regular offers for current account holders. These can range from price boosts, accumulator insurance, and free bets.