PayPal is one of the most popular online payment systems in the world today. Founded back in  1998, PayPal has developed an excellent reputation because of its speed, security and convenience. PayPal betting sites are now very common, with punters in Australia having a host of options. On this page, we will compare the leading Australian bookmakers offering PayPal as a payment method.
Operators include well-known international names and domestic bookies. On top of this, we will also outline the benefits and limitations of betting sites that accept PayPal. This will include information surrounding PayPal fees and processing times. We will kick things off by listing our top ranked sports betting sites that accept PayPal.
Why Use PayPal?
Whether you have used it or not in the past, you will only not have heard of PayPal if you have been living under a rock. The online payment system is now commonly associated with both online sportsbooks and casinos. But just why are PayPal betting sites so popular? As always, the first thing we consider is safety.
Depositing and withdrawing funds using PayPal is extremely secure. This is mainly due to the fact that rather than entering your bank account or card details to your betting account, punters must simply login when they wish to make transfers. On top of this, PayPal is also an excellent option for those wishing to keep their betting activity private. Rather than your bookmaker appearing on bank statements, only PayPal transactions will be noted.
Safety and Speed is Key
Elsewhere, PayPal is incredibly easy to use. Signing up takes a matter of minutes, with transfers then being simple to complete. The PayPal app makes making payments on the go easy too, with an iOS and Android version being available. Online betting with PayPal is more convenient than many other payment methods.
How does PayPal work? The simplicity of PayPal is very attractive. Deposits at PayPal betting sites are instant, while withdrawals are likely to be completed in under 24 hours. In terms of e-wallets, there is no bigger name than PayPal. Their reputation has been developed over a period of two decades.
As a result, the number of online bookmakers accepting PayPal payments is growing quickly. The list includes international bookies and Australian operators. The majority of betting sites also ensure that there are no fees involved when using PayPal.
How to Deposit & Withdraw Funds at PayPal Betting Sites
While PayPal is one of the simplest payment methods available to betting customers in Australia, it still takes a few minutes to get your head around. This is why we have written the following step by step guide. The guide covers everything from signing up and depositing funds to withdrawing winnings. So, be sure that you are comfortable with the process before getting involved:
Step 1: Open a PayPal Account
The first step for punters is to open a PayPal account. So, enter Paypal.com or download the PayPal app. Click or tap on the "Sign Up" button, located in the top-right hand corner of the page. Select the "Personal Account" option. Next, enter your mobile telephone number, followed by your personal details. Complete the registration process by verifying your new account via email or SMS.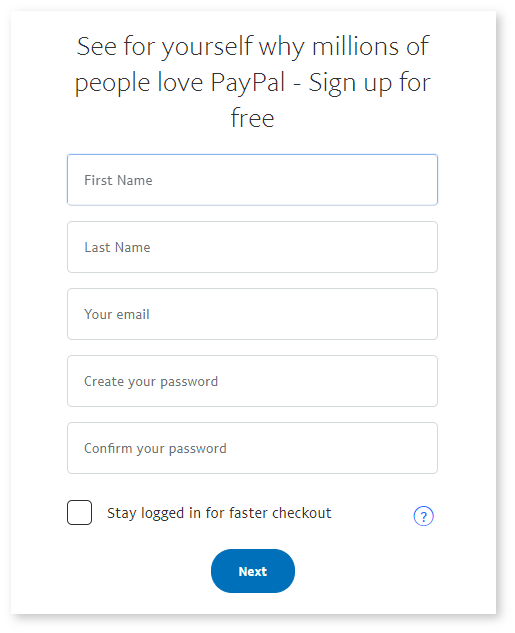 Step 2: Fund Your PayPal account
In order to upload funds to your PayPal account, users must first link a bank account or card. Choose your preferred option, before entering the necessary details. Banks will then need to authorise this before payments can be made.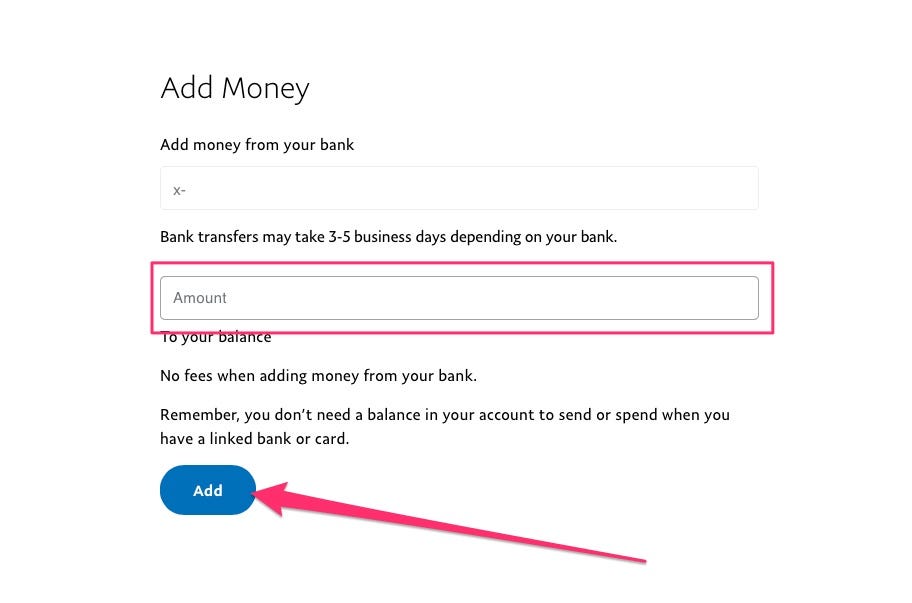 Step 3: Select your PayPal online Betting Site
From our list of recommended PayPal sports betting sites, select your preferred bookie. Weigh up the pros and cons of each, before deciding which best meets your needs. There is nothing stopping punters signing up on more than one site. Complete the registration for bookie/s, before verifying your account.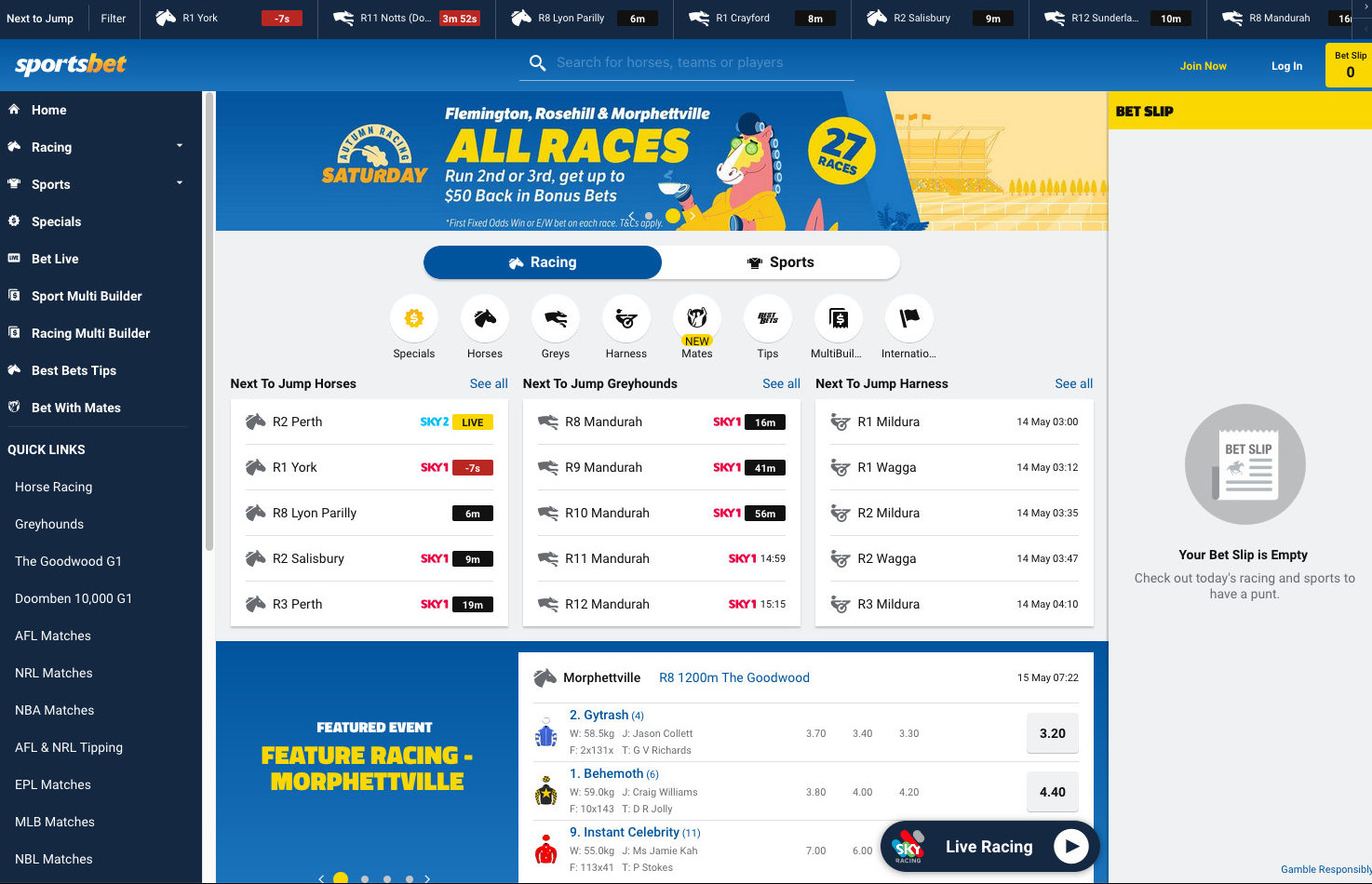 Step 4: Fund Your betting account
Enter the cashier page of your chosen betting site when logged in. Select the "Deposit" option, before choosing PayPal as your chosen payment method. Enter the amount you wish to deposit, before confirming. This will open a pop-up window. Here, punters must enter their PayPal username and password. Again, confirm your deposit.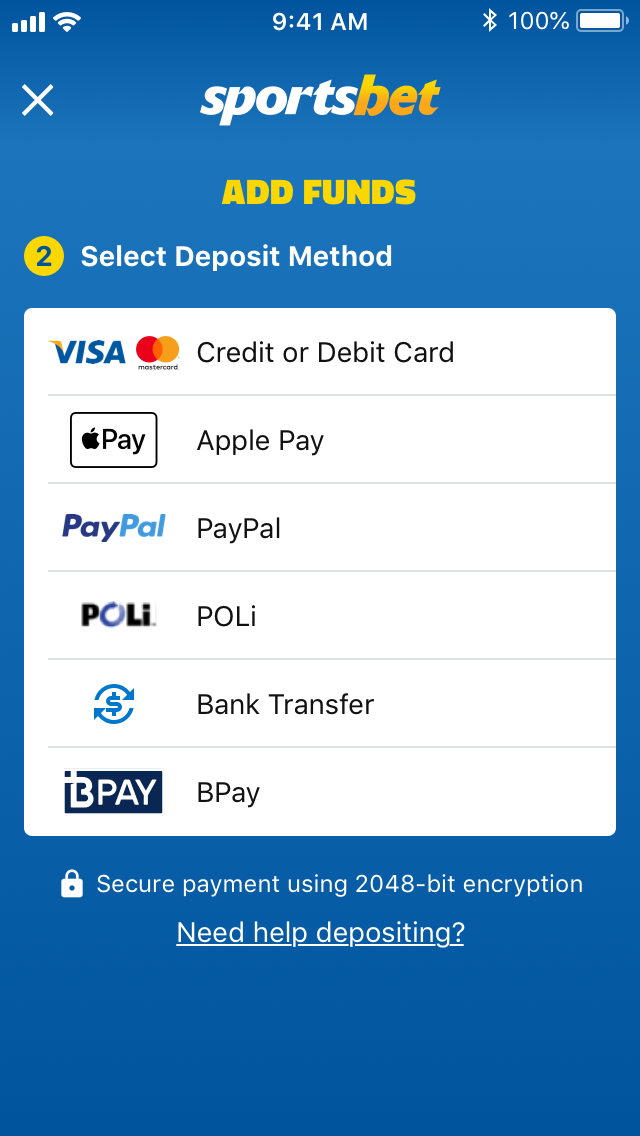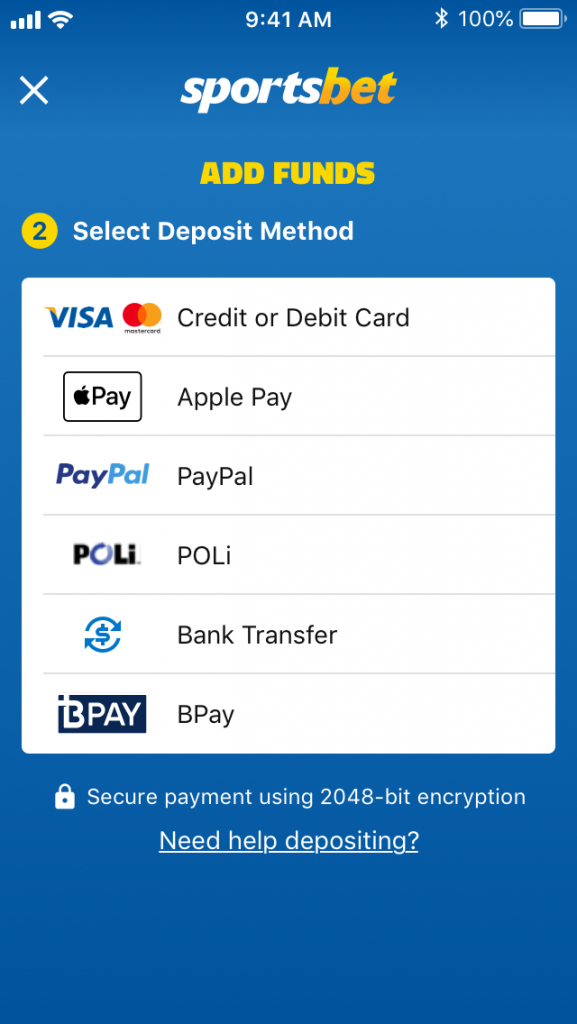 Step 5: Withdraw Funds to PayPal
When a winning bet has been placed, punters must decide whether to invest on future bets or withdraw funds. If the latter is your choice, the best option is to use PayPal once again. So, enter the cashier page of your betting site once again. Select the "Withdraw" option this time. Enter the amount you wish to withdraw, based on your available balance. Select PayPal from the list of payment methods. Enter your PayPal login details on the pop-up page if necessary. Funds will likely appear in your PayPal account in under 24 hours.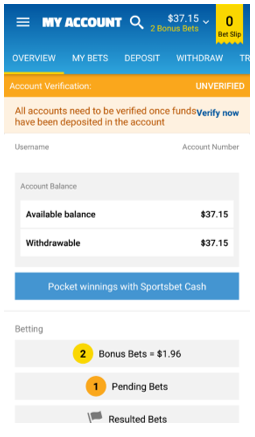 Step 6: Transfer Funds from PayPal to Your Bank Account
Once funds are available in your PayPal account, one option is to transfer cash immediately to your bank account. Click or tap on the "Transfer Money" button. Select your chosen bank account or add an account for the first time. Wait a matter of hours for funds to appear in your bank account.
PayPal Betting Sites Fees, Limits & Processing Times
Deposits made at PayPal betting sites are instant. Meanwhile, withdrawals are likely to take anywhere between 1-3 days. However, payouts are often made in just a matter of hours. The majority of bookmakers accept deposits via PayPal from as little as $5, however this can rise to $10 on some sites. Meanwhile, limits should also meet the demands of customers
The maximum deposit amount can be well over $1,000. It is worth noting that substantial deposits may well have to be verified before they are processed. Finally, while fees are rarely involved, charges of between 1-3% could be incurred when using a credit card. This is rare though.
PayPal Betting Sites Pros & Cons
As with all payment methods, PayPal comes with its benefits and limitations. While the advantages certainly outweigh the disadvantages, it is important to understand what to expect. So, based on extensive testing, the following are the main pros and cons of PayPal betting:
PayPal Pros:
Ease of Use – Depositing and withdrawing funds at PayPal betting sites is simple. Unlike other e-wallets, PayPal has ensured that signing up, logging in and processing transfers are all easy tasks. Whether you are operating on desktop or mobile, it is unlikely that you will ever have any issues surrounding usability.
Safety – When selecting PayPal as your preferred method of payment, there is no need to enter your bank/card details. This adds another layer of protection for customers. As a result, third parties and fraudsters will never be granted access to sensitive information.
Availability – Betting sites accepting PayPal are very common. Punters in Australia will not have to look hard to find a bookie offering this payment method. As you can see from the list at the top of this page, betting sites that accept PayPal include local Aussie betting sites and major international bookmakers.
Speed – PayPal represents the quickest way to transfer funds to and from your betting account. Deposits are instant, while it normally takes just a matter of hours for winnings to be available in your PayPal account. Cash can then be spent directly from PayPal or moved to your bank account.
PayPal Cons:
Bonus Terms – While welcome bonus bets are not available to Australian betting customers in the same way as other countries, it is still important to understand the T&Cs surrounding promotions. Sometimes, deposits made via PayPal will mean that punters miss out on a potential reward.
Fees – We cannot guarantee that punters transferring funds at PayPal betting sites will not be charged. While the majority of payments are processed without incurring fees, some bookies will not cover the charges involved. So, be sure to look at the small print before signing up. We have tried our best to recommend PayPal betting sites that do not incur fees.
Alternatives to PayPal
If you are not completely convinced by what you have read on this page so far, it is worth noting that there are a number of other payment methods available. Each comes with its own unique method, as well as pros and cons. So, before signing up at a PayPal betting site, be sure to take a closer look at these alternatives first:
Neosurf
Neosurf is a voucher-based payment method available to punters in Australia. Available to buy online and in supermarkets, gas stations and kiosks, the provider is also associated with Neteller and POLi. Vouchers are available in different amounts, with customers having to simply enter the relevant code.
Benefits of using Neosurf include there being no need to sign up, instant deposits and security. However, Neosurf is not available when it comes to withdrawing funds. There are stricter limits, while it is not universally accepted by bookies.
BPAY
Another alternative is BPAY. BPAY offers quick and secure payments, whether it be via phone, online or mobile banking. With over 20 years of experience, BPAY is a well-known and trustworthy operator in Australia. BPAY is associated with 150 banks and building societies, while also being accepted by an increasing number of bookies.
Unfortunately, BPAY is again only available for depositing funds to your betting account. Meanwhile, it will also likely take 48 hours for cash to appear in your account. However, it does offer 100% secure payments, while there are no fees to worry about. BPAY is available on many betting sites today, with PalmerBet as a popular option.
PayID
One of the newest payment options available to punters in Australia is PayID. A PayID number is used to process payments, rather than your account or card number. All payments are fully encrypted, while they are also processed quickly. An account is required to be opened before transfers can be made. PayID is operated by New Payments Platform and is available at many betting sites, including Neds.
FlexePIN
Another voucher style payment method is FlexePIN. Offering instant and secure deposits, FlexePIN is a good option for those looking for anonymity. You can find your local outlet on the FlexePIN website, with a 16-digit PIN being used to confirm payments. However, be sure to keep vouchers safe, as there is no way to prove ownership if lost. Betstar is one of the leading Australian bookmakers accepting FlexePIN payments.
Bottom Line on PayPal Betting Sites Summary
If you have not already, PayPal is likely to be a payment provider that you have considered using to transfer funds on betting sites. Available for both deposits and withdrawals, PayPal is an excellent option when it comes to speed, usability, fees and mobile. With a reputation built over 20 years, PayPal is accepted on the majority of betting sites today. Also offering an element of anonymity, be sure to check out our recommended PayPal betting sites. Each is completely safe and legal in Australia. PayPal could well save you time and effort when operating with online bookmakers.
Range of payment methods
Rapid PayPal withdrawals
Variety of ongoing promotions
9.7
Visit Site
PayPal Betting Sites FAQ
What is PayPal?
PayPal is a platform that allows users to both send and receive money online. Available on thousands of websites, PayPal is now a key part of online betting. Online betting with PayPal is now very common. Betting sites accepting PayPal are attractive due to their security, speed and convenience.
What is the PayPal login process?
PayPal login Australia is simple. Enter the PayPal website or app, before entering your email address or mobile number. Then, enter your password and click or tap on the "Log In" button. On some occasions, verification may be required to enter your account. A text message or email will be used to do so.
Are all betting sites accepting PayPal safe?
All of the PayPal betting sites found on this page are completely safe. We have carried out strict testing and reviews to ensure that this is the case. All bookies are fully licensed, while they also use state of the art security tools. Meanwhile, using PayPal means that you do not have to upload your bank or card details to your betting account.
Are PayPal fees incurred?
The majority of payments made through PayPal are processed free of charge. However, fees may be incurred when withdrawing funds from your betting account. This ranges between sports betting sites that accept PayPal. So, be sure to look at the terms and conditions before signing up.
How long do PayPal sports betting withdrawals take?
Withdrawing winnings at betting sites that accept PayPal can take as little as a few hours. In most cases, payouts are processed in under 24 hours. This is one of the main selling points of PayPal betting sites.
What is the PayPal contact number?
Those looking to get in touch with PayPal can ring 1800 073 263. Meanwhile, alternative methods of communication include a message feature, the PayPal community and Help Centre.