This is where you can learn all about the each way bet for horse racing in Australia. Each way betting is about mitigating some of the potential for bets losing. Discover what does each way bet mean and we are here to help explain this to you in our detailed guide to all things relating to this type of wager.
What is an Each Way Bet?
The question what is each way bet may be on your lips. We're here to provide the answer, and that all important each way bet meaning so you understand. It's not too complicated once you get your heads around it. We are talking about when you want to put on a fixed odds horse racing bet for your chosen horse both to win and finish in a place on the same wager. That is the each way fixed bet meaning as simple as that. You may also be able to do this through pool betting services like the Tote too. This is despite the fact that separate pools of money are staked by people betting for the win and for a place.
How Does an Each Way Bet Work?
Now it is time to discover how to place an each way bet on one of the top Australian betting sites available in the region today. This is a key part of having the each way bet explained to you, so you understand how it works in practice. To this end, we're going to walk you through an example of how to bet each way on SportsBet – one of the leading gambling platforms in Australia. An each way bet works as two wagers in one. Remember, you back a horse both for the win and a place on the same betslip. Your unit stake doubles as a result and you can get a profitable return just from the place part.
How to Bet Each Way on SportsBet
This is how an each-way bet SportsBet wager works. Find the horse race you want to bet each way on and hit the odds to add it to your betslip. In the case of an each-way bet SportsBet wager, you can either click the fixed odds win or EW box. If you choose the first way, then make sure you select "Each Way – Fixed" from the dropdown menu as below.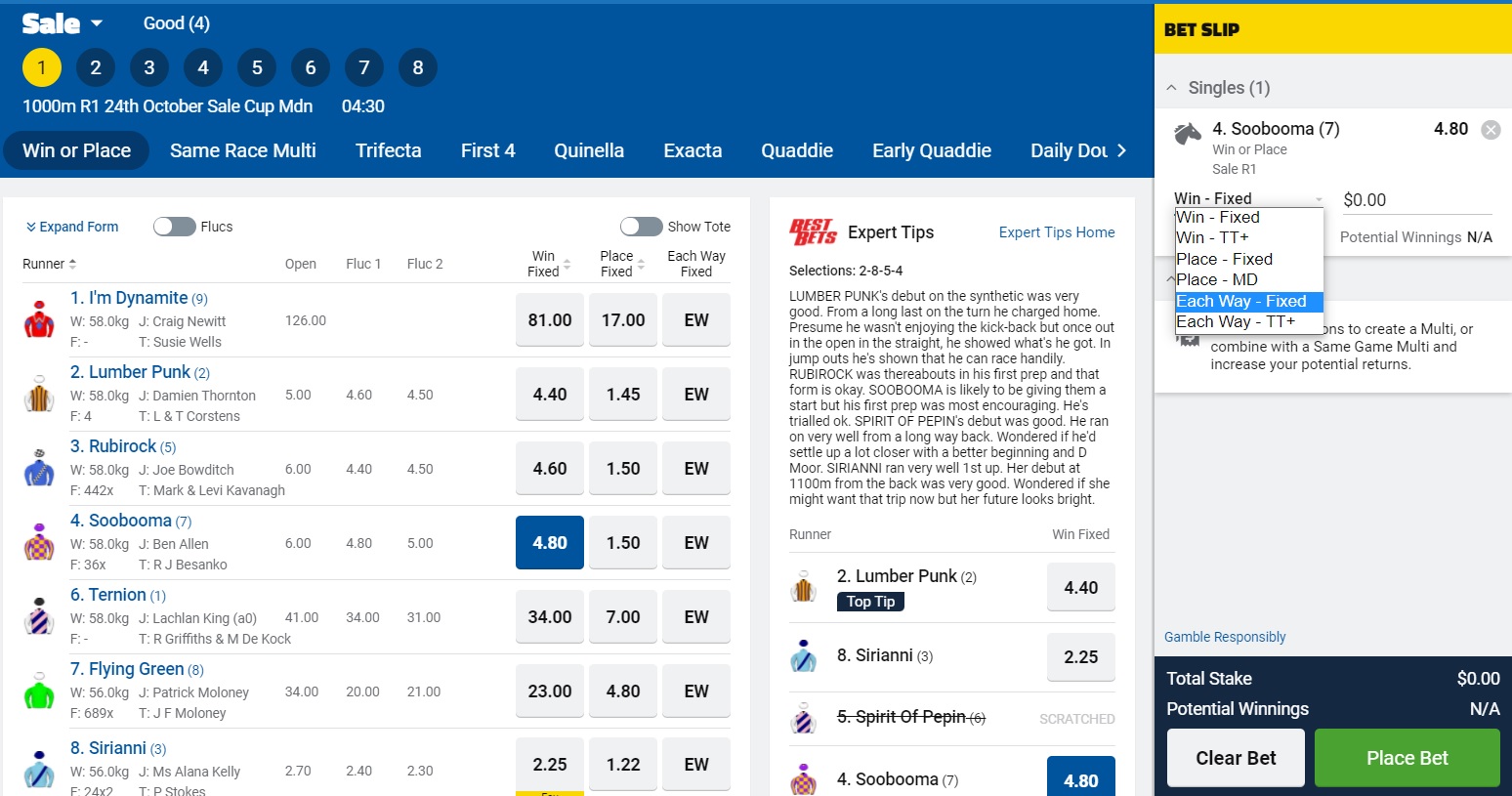 Note also that you have the option of a bet each way through the Tote. You can toggle this form of pool betting on and off through SportsBet. Next, enter your stake. As each way betting involves both the win and place parts of the wager, your unit stake doubles. A $5 bet each way sees $10 gambled in total. Once you're happy with your wager, then hit place bet and it's on!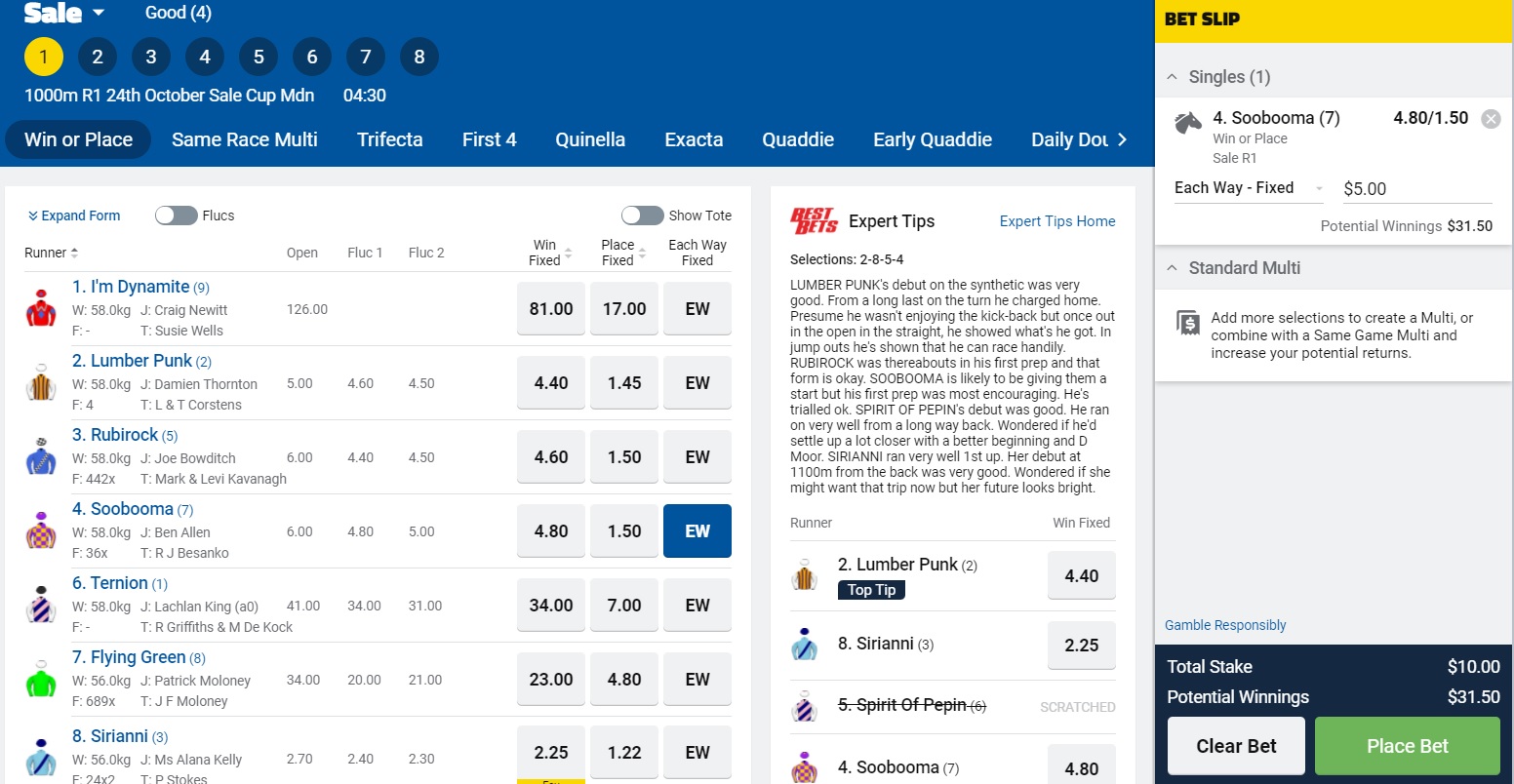 That's all there is to it really. The next thing you need to get your head around is what they call place terms. These are an integral part of any each way horse bet you place, so we can help you figure that out.
Each Way Place Terms
So, you understand what is an each way bet on one of the top horse racing betting sites Australia has to offer. You also know how does an each way bet work in terms of placing it, but what about the terms? Did you know that these change depending on the number of runners and type of contest. Place terms can also alter if there are scratchings following the announcement of final fields. There is a bit more to learn about the each way bet meaning here, then.
If there are four or fewer runners in a race, then no each way betting will be offered at all. Place terms may also be different depending on which betting services in Australia you use. Wagering through pool betting services like the state sponsored Totes depends on how much market interest from amongst the pools horses attract. The win and place pools are separate but invariably the smaller the returned dividend in the win pool, then that reflects the place pool.
Fixed odds bets use fractions of the outright win price. These are either a quarter or or a fifth depending on how many horses are in the race and the type of event as above. When looking at the each way fixed bet meaning with place terms, the table below shows what bookies offer:
Place Terms for an Each Way Bet Explained
| | | | |
| --- | --- | --- | --- |
| Number of Runners | Type of Race | Fraction of Outright Odds | Number of Places |
| 5, 6 or 7 | Conditions or Handicap | A quarter | 2 places |
| 8 or more | Conditions | A fifth | 3 places |
| 8, 9, 10 or 11 | Handicap | A fifth | 3 places |
| 12, 13, 14 or 15 | Handicap | A quarter | 3 places |
| 16 or more | Handicap | A quarter | 4 places |
Most handicaps pay out a quarter of outright odds for a place when you bet each way and conditions races a fifth. There can be exceptions to this, however. The most notable in Australia would be the each way bet Melbourne Cup market. More on this in a moment.
Each Way Bet Calculator
Wondering how to calculate each way bet wagers you placed? The maths isn't too complicated. Our experts were surprised to find the lack of an each way bet calculator on leading Australian bookmaker websites. Doing the calculation manually shouldn't be that difficult, though.
For the place part of each way bets, divide the outright odds by four or five depending on the type of race and number of runners. For example, an each way wager struck at 9.00 (8/1)  would pay 3.00 (2/1) if the terms were a quarter. If they are a fifth, then the place pays at 2.60 (8/5). The difference between those here off a $5 stake is just $2. Your total return on the place part of a $5 each way bet at 9.00 would be either $15 or $13 depending on the terms.
Either way, you are in profit on the overall wager that cost $10 in total to place. If the horse finished first and won, then there is the win part to calculate each way bet wagers on too. A $5 win at 9.00 returns $45 with $40 profit. The total return is either $55 or $53, then as you add both the place and win wagers together. That should now be the each way bet explained fully.
Biggest Races to Bet Each Way on in Australia and Worldwide
You know now how to place an each way bet but what are the biggest races both in Australia and around the world for this wager? The table below highlights six of the biggest each way betting races across the globe.
| | | | | | |
| --- | --- | --- | --- | --- | --- |
| Race Name | Country | Track | Code | Distance | When |
| Dubai World Cup | UAE | Meydan | Flat Dirt | 2,000m | March |
| Grand National | UK | Aintree | Jumps | 6,900m | April |
| Kentucky Derby | USA | Churchill Downs | Flat Dirt | 2,000m | May |
| Prix de l'Arc de Triomphe | France | Longchamp | Flat Turf | 2,400m | October |
| Melbourne Cup | Australia | Flemington | Flat Turf | 3,200m | November |
| Breeders' Cup Classic | USA | Varies annually | Flat Dirt | 2,000m | November |
It's interesting that the big horse races for each way bets all take place during springtime in either the Northern or Southern Hemisphere. Dirt and turf surfaces seem equally popular with punters. Each way betting doesn't just happen on individual races but across specific meetings and horse racing festivals too. This next table lists the most popular galas in the sport for each way bets:
Race Meeting
Country
Track(s)
Code
When

Cheltenham Festival

UK

Cheltenham

Jumps

March

Dubai World Cup Night

UAE

Meydan

Flat Dirt / Turf

March

Royal Ascot

UK

Ascot

Flat Turf

June

Arc Weekend

France

Longchamp

Flat Turf

October

Spring Carnival

Australia

Caulfield, 




Moonee Valley,




Flemington

Flat Turf

October / November

Breeders' Cup World Championships

USA

Varies annually

Flat Dirt / Turf

November
Each Way Bet Melbourne Cup Wagers
Australians enjoy Melbourne Cup betting an awful lot, otherwise it wouldn't be known as the race that stops a nation. It is also a race with interest from around the globe as many raiders from Japan, Europe and the British Isles take part. Such an intense spotlight on the Melbourne Cup means each way bets are plentiful. The best bookmakers in Australia or elsewhere in the world will offer enhanced place terms on the race. This is so you have extra incentive to bet on it.
Trying to equate form from all over Planet Earth in this 3,200m handicap at Flemington on the first Tuesday in November is part of the challenge. It's not unusual for the bookies to pay out on fifth place with Melbourne Cup each way bets, so make sure you look around for special deals.
Each Way Betting Promotions on the Best Australian Betting Sites
One of the difficulties with betting in Australia is that bookies native to the region cannot openly advertise their promotions and offers. Even big global firms like Unibet, Ladbrokes and Betfair are subject to state gambling laws in the country. That makes it difficult to know whether you can get deals when you want to bet each way on horse racing.
Bet365 Horse Racing – Each Way Extra
Australian punters wagering on British and Irish horse racing can take advantage of the Each Way Extra promotion, however. This offers enhanced place terms with a trade-off between the price you take and the number of places a bet pays out on. Each way betting is now in your control. Taking the Each Way Extra market means you won't receive the Best Odds Guaranteed or Price Promise. Terms offered subject to change in the event of scratchings. Each Way Extra is available between 7pm and 9pm British time the night before races.
Each Way Betting on Other Sports in Australia
While the each way horse bet is clearly the most popular, this isn't the only place on a sportsbook where you can find them. This wager also commonly occurs for outright betting markets on team sports competitions. You won't find them in individual match odds but, taking the season as a whole for events like soccer, cricket betting on the Big Bash League and the codes of Australian rugby and football, they exist.
In global sports with wide popular appeal, each way bets also prove popular. Here, we are talking about the golf betting for the Majors and tennis betting on Grand Slams like the Australian Open. This each way betting is quite different to horse racing, however. You may get extra places on your golf wagers, but with the tennis it'll be a bigger fraction of outright odds on finishing a tournament first or second. In other words, your fancied player must make the final for the wager to pay out
That is also often the case with team sports too. An Australian rugby league team will need to make the Grand Final for any outright each way NRL betting you do to be successful. These are long-term futures bets that you will have to sit on for potentially several months. Patience is certainly a virtue with betting each way.
Each Way Betting Tips
Before you bet each way on any horses, there is the matter of strategy to think of. Most gambling experts will tell you just putting an each way bet on in the first place is a good move. These mitigate some of the potential for loss that comes with a win only wager. Follow these each way betting tips and you should end up making smarter decisions:
Consider Place Terms Before Betting

You know how to place an each way bet but ignoring the place terms offered would be a mistake. These are never final until the race is off. Scratching can still happen following final declarations. This may be for any number of reasons. The horse may be found lame in its stable on the morning of the race. It may refuse to enter the starting gate. A vet may examine the horse and say it is not medically safe for the animal to compete. Scratching can reduce the number of places available that each way bets pay out on. Be particularly wary of races with eight or nine declared runners in.

Check That You Can Break Even from an Each Way Bet

Each way bets return something provided the horses run into a place. There is nothing worse than a wager paying out less than you staked on it, though. Depending on those all-important place terms for a fixed odds bet, there is a certain threshold in terms of price where you can break even with your punt. When it is a quarter of outright odds, that price is 5.00 (4/1). For terms of a fifth, it is 6.00 (5/1). Betting each way on horses are shorter prices than these guarantees a return of a loss if it places. You need them to win the race outright to ensure profit.

Take on Hot Favourites with Each Way Alternatives

There comes a point where backing a horse that is favourite to win isn't value. That goes for both fixed odds betting and through the Tote. If you can't double your money, in other words a horse is odds-on to win, then the value lies in betting each way on something else. Chances are that the place part of the wager alone has better odds than simply siding with the market leader. Remember, favourites are beaten on average around two-thirds of the time in horse racing. Always be on the lookout for each way alternatives.
The Bottom Line
So what does each way bet mean on horse racing? It's a wager for your fancy to both win and place. You know now precisely what is each way bet and how to place an each way bet too. More importantly, you know where, when, how and why to put each way bets on. Make sure you bet through through one of the best in class in Australia.
#1 AU bookie for each way betting
Top Australian Betting Site for Each Way Bets
Top Australian Betting Site for Each Way Bets
Fast payments via PayPal
Live streaming
Dedicated mobile betting app
9.5
Visit Site
T&Cs apply
FAQs
What is an Each Way Bet in Horse Racing?
Each way bets are where you back a horse both to win and place in the race. This is two bets in one.
How Does an Each Way Bet Work?
The unit stake on each way bets is double an ordinary win only wager. This is because you are backing a horse both to win and place.
Is an Each Way Bet Worth it?
It certainly can be. Each way bets are worth it because they mitigate the potential for loss.
How Many Places Pay Each Way?
The place terms on each way bets depend on the number of runners involved and the nature of the race. Sometimes, a bet pays out on just two places. If there are a lot of runners, then it could be as many as four.