If you are Australian, then you are likely already aware of POLi. The online payment provider is fully regulated and secure. As such, it should come as no surprise that POLi betting sites are hugely popular. On this page, we will explain how POLi payments work. We will also compare the best POLi betting sites, including Aussie bookmakers and international operators. On top of this, we will answer the important question – Is POLi Safe?
Why Use POLi?
POLi is associated with the leading banks in Australia. Helping punters to make quick and simple deposits at betting sites, POLi was founded in 2006 in Melbourne. There are a number of reasons as to why POLi is a popular payment method at online bookmakers. Firstly, POLi is an Australian provider. As a result, it is a good option for those who like to support domestic businesses.
Elsewhere, POLi is a free service, with payments not incurring any fees. Depositing at POLi betting sites also doesn't involve the sharing of any personal details. This adds another form of protection, along with the security measures put in place by the payment operator.
Payments are linked to user bank accounts. ANZ, Bank of Melbourne, Bankwest, BOQ, CitiBank, ING Direct, NAB, Suncorp and Westpac are among the banks helping to facilitate payments at POLi betting sites. There is no need to sign up for an account with POLi, however, it is the preferred option for many. Users can decide whether to continue as a guest or auto-fill payment details to speed up the process.
How to Use POLi for Betting
POLi supports payments in Australian Dollars. Instant deposits are available at POLi betting sites, with the process being very quick and simple. Creating an account with POLi is an option, however, it is not mandatory. All that is required is an account with a bank linked to POLi.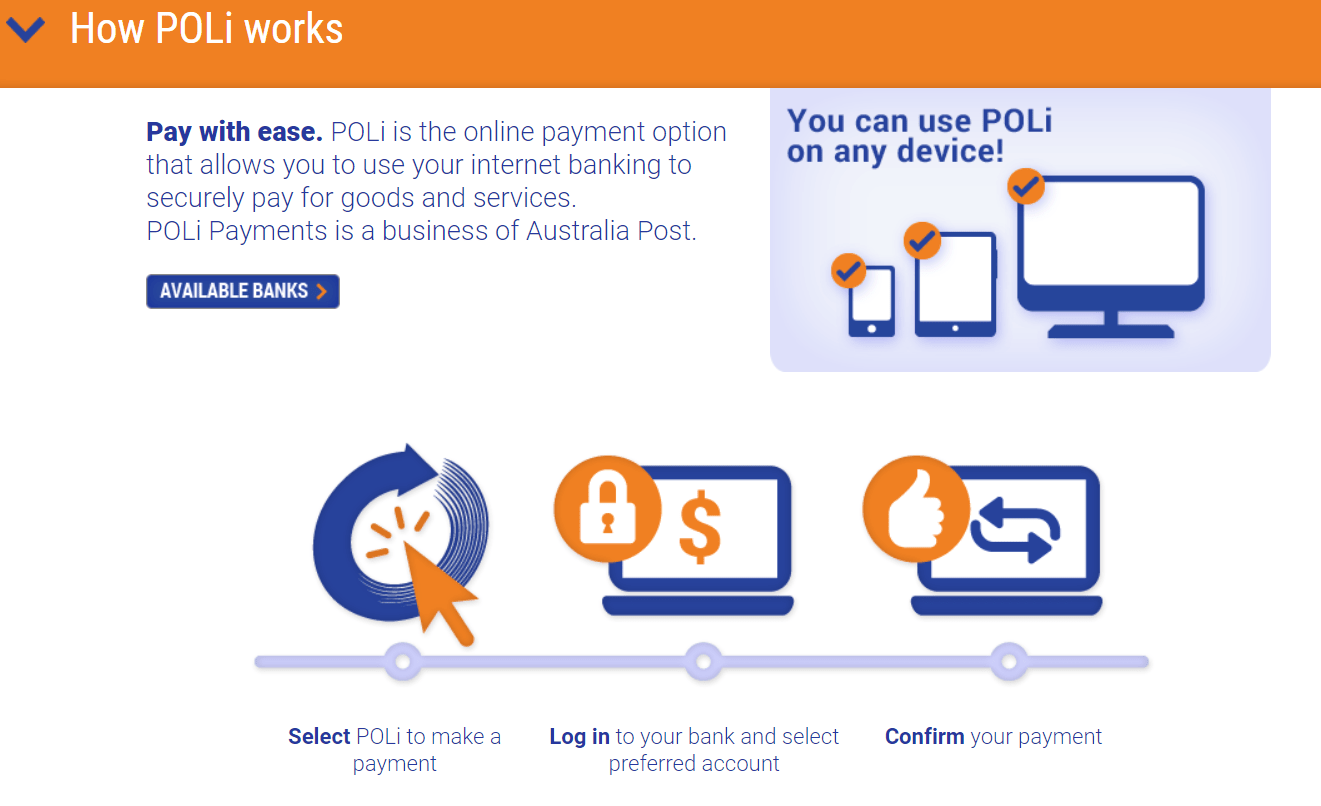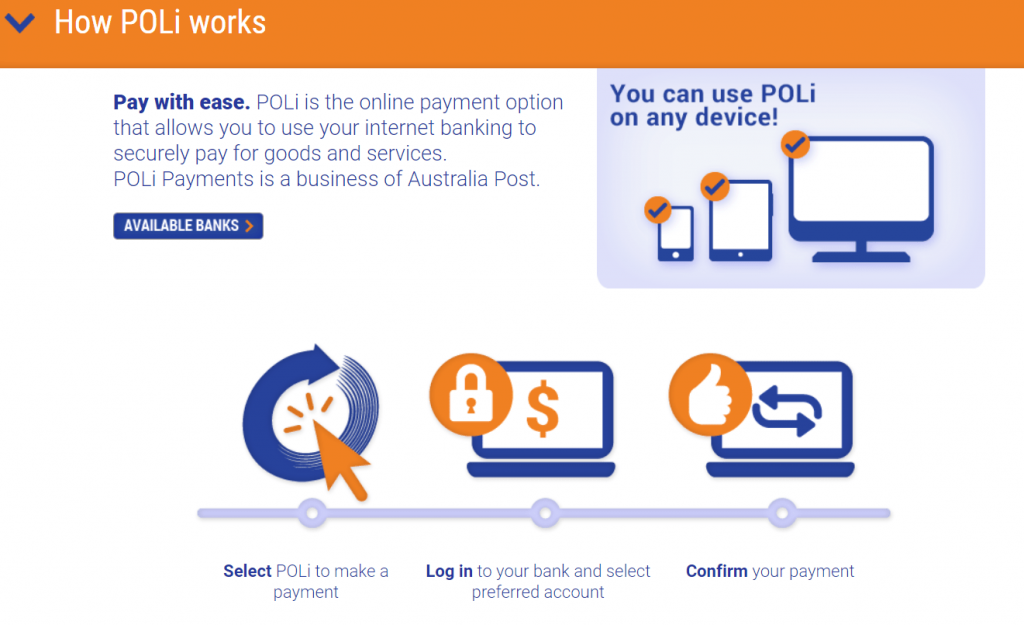 With this in place, the following is a step by step guide surrounding exactly how to use POLi with online bookies:
Step 1: Open a Poli Account
As we have already mentioned, this step is not mandatory for betting customers. However, it is something worth doing if you intend to use POLi regularly for reasons aside from payments at betting sites. This is generally reserved for businesses and non-profit organisations. Here, a host of information is required, including the trading name, address. Bank and email.
Step 2: Fund Your POLi Account
There is no need to add funds to your POLi account before transferring it to your bookmaker account.
Step 3: Select Your POLi Betting Site
We recommend selecting a POLi betting site from the list at the top of this page. By doing so, punters can rest assured that all bookies are completely safe and legal. Weigh up the markets and features on offer, before looking at the pros and cons of available sites. Factors such as markets, odds, payment methods, customer service and promotions are worth considering. There is nothing stopping you from registering on more than one sportsbook either. So, complete the registration process, before verifying your new account.
Step 4: Fund Your Betting Account
When logged in to your account, head to the cashier page. Select the "Deposit" option and enter the amount you wish to transfer. Be sure to be responsible at all times and stick to a strict budget. Next, select POLi from the list of available payment methods. On the relevant pop-up window, enter your online banking details. Complete the process by confirming the payment.
Step 5: How to Withdraw Funds If You Have Used POLi to Deposit
Unfortunately, one of the drawbacks of POLi is that it cannot be used to withdraw funds from betting sites. As a result, when entering the cashier page to take home winnings made, POLi will not be listed as an option. An alternative must therefore be found. We will outline some of the other payment methods available at sports betting sites in Australia today later on.
POLi Fees, Limits & Processing Times
POLi is often the preferred payment method of betting customers because of its low fees. Simply put, a 1% transaction fee is involved, which users will be able to view before confirming. For example, a deposit of $100 will come with a fee of just $1. Aside from this, there are no surprise charges to worry about. However, it is worthwhile depositing more, less often.
Unlike other e-wallets, no maintenance fees are found with POLi. However, POLi is generally only available with Australian-based bookmakers, although a small number of international brands offer the payment method too.
A maximum of AUD $50,000 can be sent via POLi over a 24 hour period. Meanwhile, there is a limit of $50, 000 per transaction. Deposits at POLi betting sites are instant, meaning that there are no frustrating waits. Unfortunately, the style of this payment method means that withdrawals are not available. As such, an alternative must be found for taking home winnings made.
Poli Pros & Cons
What's POLi? In order to answer this question, it is perhaps best to look at the benefits and limitations of this payment method. Having taken an in-depth look at POLi payments, we believe that the following are its main pros and cons:
What We Like:
Speed – Depositing funds at POLi betting sites is very quick. Like the majority of payment methods, adding funds to your betting account is instant. Upon confirming payments, money will immediately be available to bet with. This is especially important when it comes to live betting markets, where the odds are constantly changing.
Usability – Getting to grips with POLi takes just a matter of moments. The clever design and efficient performance make moving between pages simple. Meanwhile, payments are processed easily, with minimal information being required. This does not impact the safety of users and their details.
Minimal Fees – While those with smaller budgets may not agree, the 1% transaction fee with POLi is unlikely to put many off. There are no maintenance fees to concern yourself with. Meanwhile, as with other e-wallets, you will not be charged for not using your POLi account for extended periods.
Mobile – POLi offers a dedicated mobile app. Available on iOS and Android devices, the app makes processing payments on the go easier than ever. Alternatively, the POLi website is fully functional on smartphones and tablets.
What We Don't Like:
Credit Cards – The only way to deposit funds through POLi is directly from your bank account. As a result, the payment provider does not facilitate credit card payments. While this will not affect all users, it is a disappointing aspect of POLi betting sites.
Reputation – POLi's reputation is not as good as other providers. While we have found no justification for criticism received, some have questioned whether POLi payments are completely safe.
Alternatives to POLi Payments
Given the pros and cons listed above, it may be that you have concluded that POLi is not for you. If this is the case for you, it will be important to consider the alternatives. At Australian betting sites, a good number of payment methods are available. Available options include popular domestic platforms, as well as international operators. The following are among the most popular alternatives to POLi:
PayPal
Established in 1998, PayPal is a world-leading e-wallet. Facilitating both deposits and withdrawals, PayPal betting sites are easily found in Australia. PayPal has an excellent reputation when it comes to safety. Meanwhile, payments made in this way are also fast and convenient. A PayPal mobile app is available to download, making transferring cash on the move simple too. The likes of Palmerbet are one of the Aussie bookies offering PayPal, along with the internationally renowned Unibet.
BPAY

BPAY is another popular Australian payment method. Founded in 1997, BPAY has an excellent reputation when it comes to safety. While not being available for withdrawals, as is the case with POLi, BPAY has attracted a large number of punters. This is thanks in part to the fact that it is linked with 150+ banks and building societies. BPAY deposits will take a bit longer than normal, with punters having to wait up to 48 hours in some cases. However, many customers signed up at PalmerBet utilise this payment method.
Visa
American-based financial services corporation Visa helps to facilitate payments via both credit and debit cards. Visa is a must for any betting site looking to cater for punters in Australia. A good option for both deposits and withdrawals, Visa transfers are completely safe. Deposits through Visa are instant, while withdrawals will take up to 3 business days. All of our top-ranked betting sites on this page accept Visa, including Neds and DraftStars.
Flexepin
Operated by FlexeWallet, Flexepin is a top-up voucher that can be used to upload funds to your betting account. There is no need to use a credit or debit card, with Flexepin also being a good option for anonymity and speed. Vouchers can be purchased anywhere from $20 to $500. As such, Flexepin is a good option for beginners and high rollers. Flexepin is regulated by the Australian Securities and Investment Commission. They also hold a license from the Australian Financial Services. Betstar is perhaps the standout bookie offering Flexepin payments.
POLi Betting Sites Bottom Line
With 15+ years of experience, POLi is a firm part of the Australian online scene. Facilitating quick, secure and convenient payments via your online banking, it should come as no surprise that POLi has moved into betting. Many of the leading Australian bookmakers now offer this form of payment, along with some international operators.
While POLi cannot be used to withdraw funds, it is an excellent option for deposits. With minimal fees and excellent usability, POLi is the preferred option for many punters today. So, be sure to check out our recommended betting sites that accept POLi. As always at Safebettingsites, our top-ranked picks are completely safe and licensed.
Fast payments via POLi
Dedicated mobile betting app
Excellent bookie for horse racing betting
9.7
Visit Site
POLI Betting Sites FAQ
What is POLi?
POLi is an online payment system that enables users to use their internet banking in order to pay for items. This payment option can also be used to fund sports bets. POLi betting sites are now very common in Australia.
Is POLi safe?
Yes. POLi has a number of safety measures in place to ensure that payments are processed securely. None of your personal or banking details will ever be stored, offering another layer of protection.
How long does a POLi transfer take?
Deposits made through POLi are instant. As with the majority of other payment methods, this means that punters are not made to wait longer than a few seconds.
What is the POLi deposit limit?
A maximum deposit of AUD $50,000 has been set when using POLi. As a result, the vast majority of betting customers will never have any issues in this area. However, there may be limits in which the bookies themselves set. So, be sure to read the terms and conditions beforehand.
Is POLi login available on mobile?
Yes. POLi payments can be made via both smartphones and tablets. The speed of transfers is not impacted at all. As a result, it is simply to deposit funds to your betting account when on the go.
Does POLi pay facilitate withdrawals from betting sites?
No. One of the few negatives of POLi is that it cannot be used to withdraw funds from your betting account. As a result, an alternative method must be selected in this scenario.
Is POLi internet banking available outside of Australia?
POLi is currently only available in Australia and New Zealand. This is why it is normally only domestic bookmakers that accept this method of payment. However, a handful of international brands have recognised its popularity.
Which are the best alternatives to POLi?
If POLi does not quite meet your needs or if you need an alternative for withdrawing winnings at betting sites, a good number of alternatives are available. The majority of betting sites in Australia will offer PayPal, PayID, Flexepin and BPAY. Traditional methods such as Visa and Mastercard are also available.