Harness racing betting in Australia is more popular than you might think. This tells you all need to know about wagering on this specific code of horse racing. From the top sites for betting on harness racing to markets and more information about the sport, we can put you in the picture.
All
Cash Out
Each Way
Enhanced Odds
Harness racing
Live Streaming
PayPal
More Filters
How we Rank Sites with Betting on Harness Racing
There is plenty of choice when it comes to places to bet on Australian harness racing right now. It can be difficult for those of you who are new to gambling to know what the best looks like. We asked experts who bet on both horse racing betting sites in general and Australia harness racing specifically for what to look out for. It's these key factors that you should consider before joining any harness racing betting site today:
The standard Win and Place harness racing markets don't go far enough. A top betting site provides you with a range of what they call Exotic bets like Quaddies, Quinellas and more. Lookout for futures betting on big harness horse racing events and Same Race Multis too.
Whatever harness racing Australia provides, you should have the choice of betting on regular fixed odds with a sportsbook, or going down the pool betting route with the various state Totes in the country. The top sites provide a median average of these called the Mid Tote. You should always have a choice.
Support is something you may never think you need, but it is good to know that it's there. Customer service should be friendly and helpful with multiple forms of communication available 24/7. That is what our experts say you should be able to fall back on in the event that something goes wrong. A big international bookie like Ladbrokes is always on hand with top notch customer service.
As a bare minimum, betting sites in Australia should furnish you with a harness racing results service. A full calendar of events that tells you what is on, where and when is also helpful when you're looking forward to wagering on this sport. Previous harness racing form and the silks worn should be on digital racecards too. In this area, TABtouch have lots to recommend them.
In Australia, there are different rules and regulations governing gambling depending on the state you live in. From harness racing hotbeds New South Wales (NSW) and Victoria to Queensland and Tasmania, you need to know that the betting sites you wager on are legal and licensed in the territory. All of our recommended bookies for harness racing are fully authorised to operate in Australia.
Australia has seen the mobile revolution arrive, and harness racing betting should be part of that. A smart, free to download sports betting app from bookies must be available, so you can wager on the go. The Unibet betting app makes mobile gambling streamlined and straightforward.
What is Harness Racing?
You may be wondering just what is harness racing and how does it differ from regular horse racing? It is important to understand the basics of any sports event before you start betting on it. With Australian harness racing but not in other countries, there are two types of gait for the competing horses. Trotting and pacing. At the trot, horses move their four legs in diagonal pairs. With pacers, the leg movement is lateral. See similarities and difference between harness and horse racing below:
What's the same:
Horses compete on the track over set distances
There are both handicaps and conditions races
Harness racing has many trainers with a license
Barriers or standing starts begin races
First past the post is declared the winner
What's different:
Competing horses are Standardbred not Thoroughbreds
Harness races have drivers rather than jockeys
Horses pull a two-wheeled cart called a bike, gig or sulky
Whip type lighter and use rules stricter
Average harness racing fields are larger
Where Can You Bet on Harness Racing in Australia
The great thing about Australian harness racing betting is that there are plenty of tracks to go at. There are more than 110 different venues that host Australia harness racing events. Well over half of those are in the states of New South Wales (NSW) and Victoria alone. Here are lists of them in full state by state:
New South Wales
Albury
Armidale
Bankstown
Bathurst
Blayney
Broken Hill
Bulli
Canberra
Coolamon
Cootamundra
Cowra
Dubbo
Eugowra
Fairfield
Forbes
Goulburn
Griffith
Inverell
Junee
Leeton
Maitland
Menangle (Tabcorp Park)
Muswellbrook
Narrabri
Newcastle
Orange
Parkes
Peak Hill
Penrith
Tamworth
Temora
Wagga
West Wyalong
Young
Victoria
Ararat
Bacchus Marsh
Ballarat
Benalla
Bendigo
Birchip
Boort
Charlton
Cobram
Cranbourne
Donald
Echuca
Elmore
Geelong
Gunbower
Hamilton
Horsham
Kilmore
Kyabram
Maryborough
Melton (Tabcorp Park)
Mildura
Mooroopna
Nyah
Ouyen
Robinvale
Sebastian
Shepparton
St Arnaud
Stawell
Swan Hill
Terang
Wangaratta
Warragul
Warrnambool
Wedderburn
Yarra Valley
Yarrambat
Western Australia
Albany
Bridgetown
Bunbury
Busselton
Byford
Central Wheatbelt
Collie
Geraldton
Gloucester Park
Golden Mile
Harvey
Narrogin
Northam
Pinjarra
Wagin
Wanneroo
Williams
York
Queensland
Albion Park
Marburg
Redcliffe
Rockhampton
South Australia
Gawler
Globe Derby Park
Kadina
Kapunda
Kimba
Mount Gambier
Port Augusta
Port Pirie
Strathalbyn
Victor Harbor
Whyalla
Tasmania
Burnie
Carrick
Devonport
Elwick
King Island
Launceston
Scottsdale
Spreyton
St Marys
Australia Harness Racing Betting Markets
You may notice that many of the harness racing betting markets available are similar to those for regular horse racing wagers. Newbies may not be aware of either, though, so let's take a look at the most popular ways that people in Australia bet on harness racing today with explanations.
Win
The most common form of harness racing betting Australia has to offer is backing a horse for the win. You can either do this using a fixed odds betting service provided by the bookies themselves, or through the Tote pool betting options available.
Place
Place betting on harness racing is where you wager on the horse finishing in a place. The number of runners in harness racing fields determine how many place a bet pays out on. This will be either two, three or four, or none at all if there aren't enough horses running after being scratched.
Exotics
There are also a series of wagers collectively known as Exotic bets available for harness racing betting in Australia. These all involve backing multiple horses in the same race and also concern the finishing order. Exotic bets include:
Exacta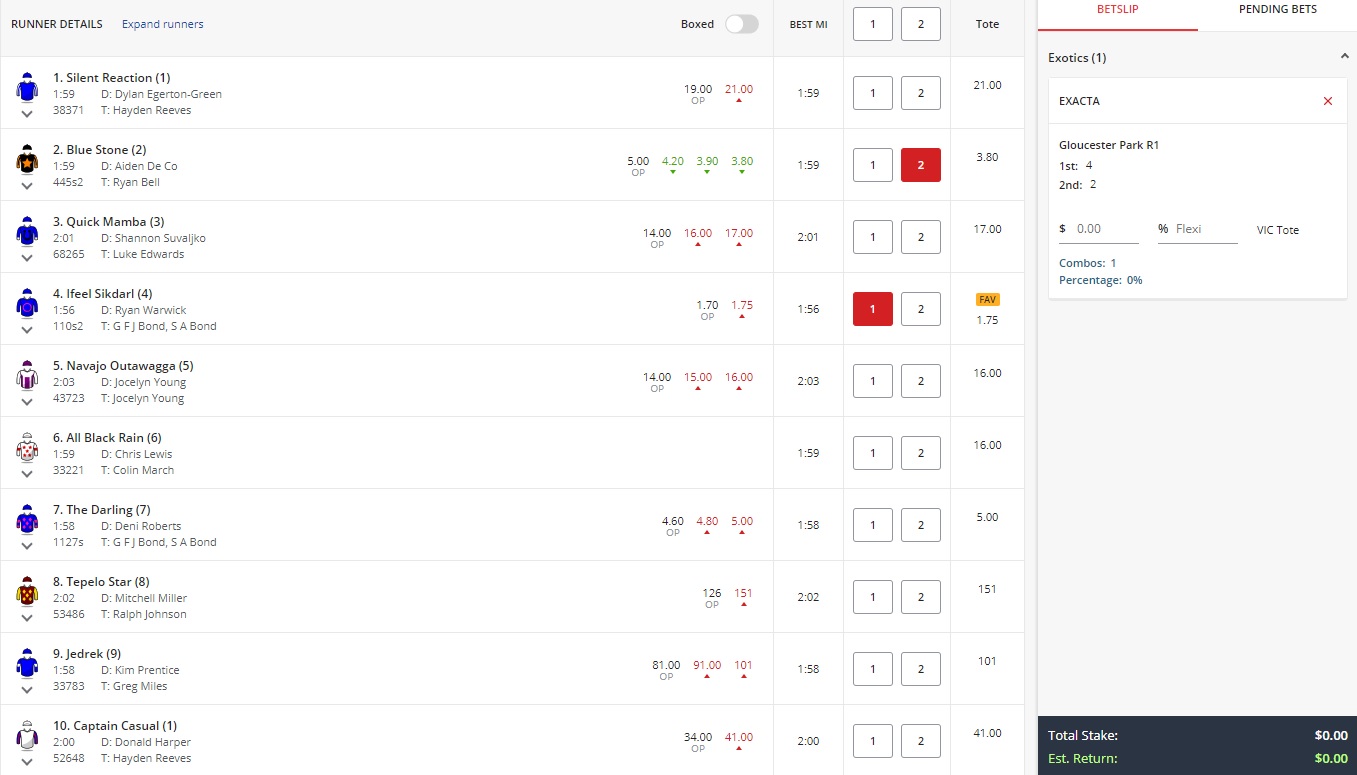 An Exacta sees you name two horses to finish first and second in a harness race in a specific order. That must be the precise result for the wager to pay out. In Australia, the Exacta and other Exotics are most associated with the pool betting that happens through the Tote.
Quinella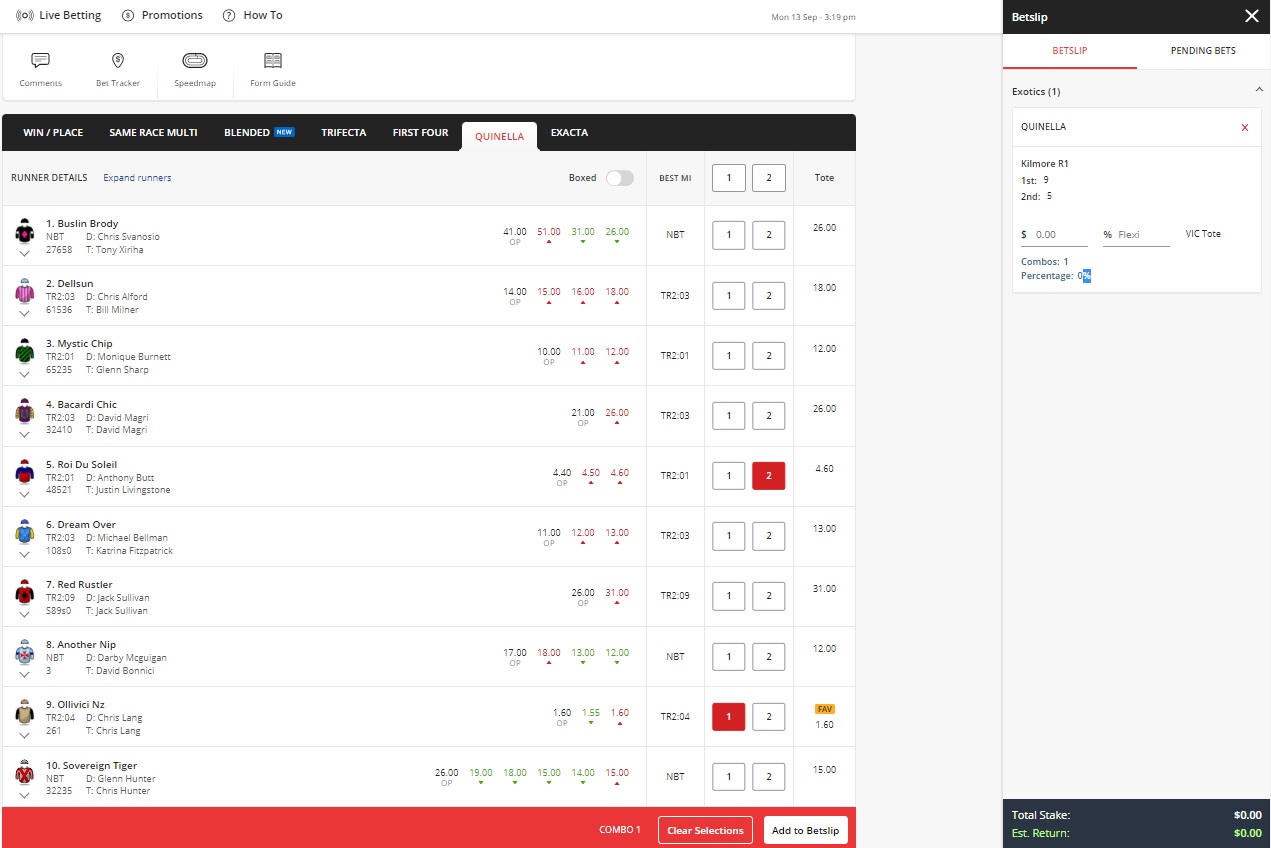 The Quinella is actually two bets in one as you take the two named horses from an Exacta and don't specify the order. It doesn't matter which comes first, so long as that combination fills the first two places. Be aware that at least one permutation of the wager is guaranteed to lose. A Quinella is effectively a boxed Exacta with two selections in it.
Trifecta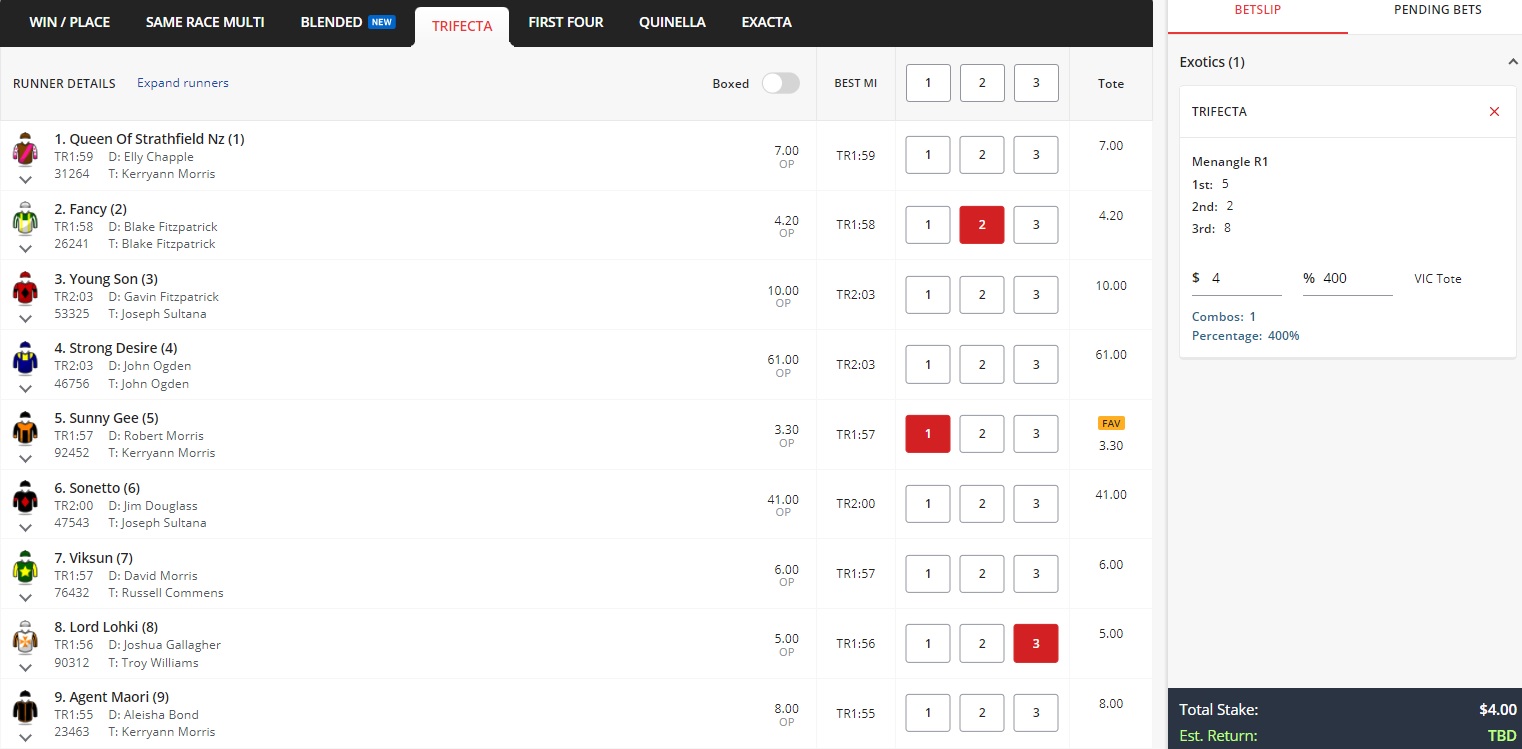 A Trifecta is like an Exacta but with a named horse to finish third as well. You bet on certain horses finishing first, second and third in a set order. As there is an additional place in this wager, it is more difficult to win. You can box a Trifecta. That means adding selections and increasing your unit stake but it allows you to cover more horses and potential outcomes.
First Four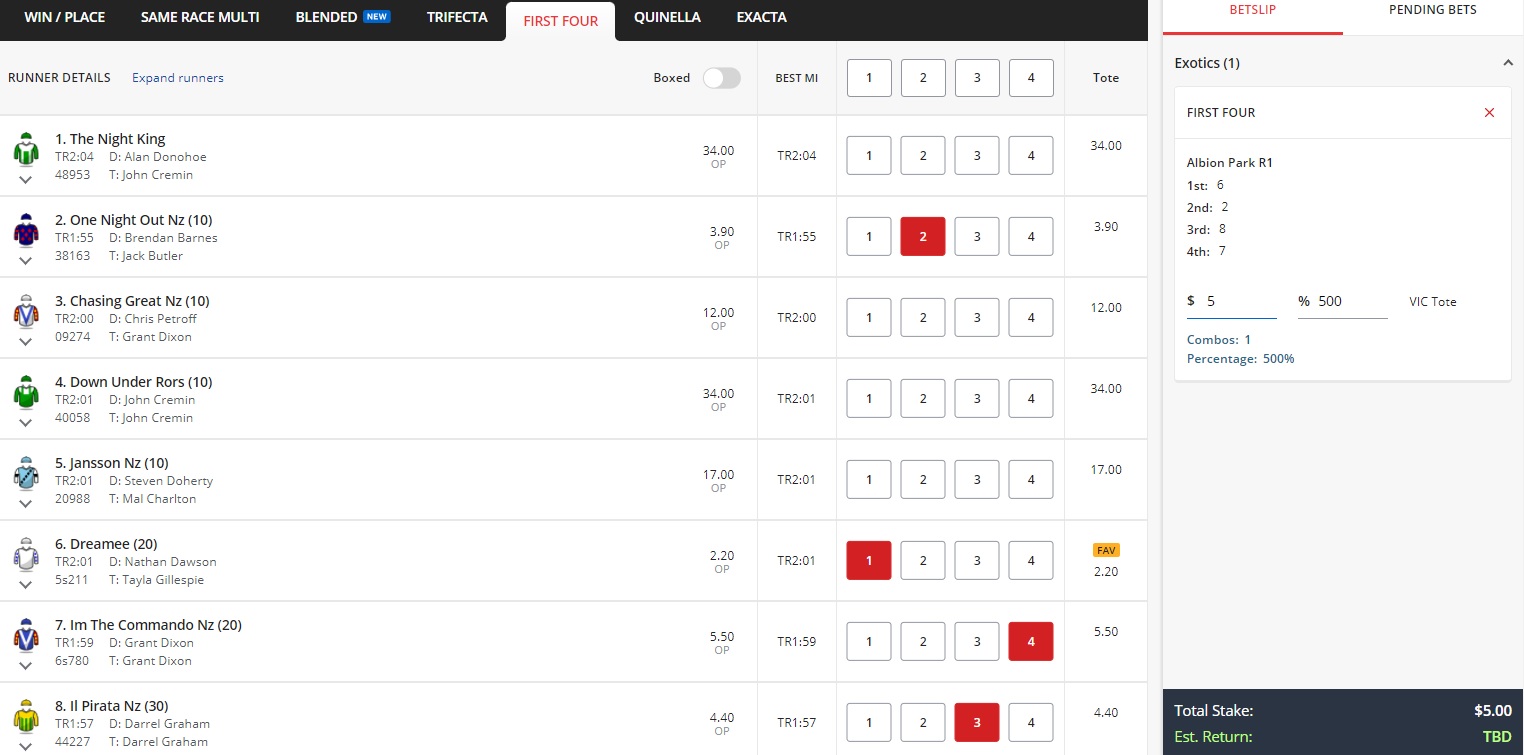 The most complicated of all Exotic bets, a First Four sees you name four horses to first, second, third and fourth in a given order. Pulling off such a wager on harness racing is highly difficult. You can box a First Four and add more selections, so you cover more permutation but the unit stake multiplies.
Same Race Multis
One of the newest innovations in harness racing betting for Australian punters is the Same Race Multi. Here, you wager on various things happening in the same event. For example, Horse A to win, Horse C to be placed but Horse B not to be placed. This provides you with the opportunity to get bigger prices for a race than standard win and place wagers.
Multis
A short form of multiples, the standard Multis involve betting on horses across two or more races. These can apply to harness betting as much as regular horse racing depending on the Tote services offered by Australian bookies. Here are the main multis you can place:
Daily Double
The Tote will name two specific races from the same meeting that you have to find the winners of. Their returned dividends are multiplied together to give the combined price. Both your chosen horses in the selected races must win for the wager to pay out.
Running Double
If you can find the winners of two consecutive races at the same track, then this wager works in the same way as a Daily Double. Again, the returned dividends from the Tote get multiplied and that is how your return is calculated.
Treble
A Treble requires you to pick the winner of three specific races from the same meeting with Tote dividends again multiplied together from leg to leg. This is tougher than both the Daily Double and Running Double because you must be right three times with your selections.
Quaddie
Also called a Quadrella, this time it is four specific races at the same track in one wager. Doubly difficult than either of the Doubles listed above, all four selections in named events must win for this to pay out to you.
Harness Racing Glossary
If you want to understand harness racing betting properly, then you need to know key terms and what they mean. This goes far beyond answering the question what is harness racing and is about defining certain jargon. Every sport has it, and the harness racing Australia has to offer is no different. Get yourself clued up on these terms:
The last lap of a harness race. As harness racing fields approach their final circuit, a bell is rung like in track events in athletics.
A position occupied one place wide of the leader in a harness race. It is notoriously difficult to win from this spot.
The human being steering the horse in a harness race. Unlike jockeys, they occupy the sulky that horses pull rather than riding upon the backs of the animals.
How a horse moves it legs. With harness racing today in Australia, there are two types of gait: pacing and trotting.
Leather straps that tie the front and rear legs of a horse together so that they can pace in a harness race. Their average lengths is about 58 inches.
The horse in front of a harness race on the pegs. Around 40% of leaders go on to win, so it's a desirable position.
Any horse tracking the Death Seat from behind is said to be in the One-Out-One-Back position.
Horses that do pacing harness races. These wear Hopples that tie left fore and rear legs and right fore and rear legs together. These encourage lateral movement which is the required gait for pacers.
Rubber pegs located on the inside of track. Running closest to these in a harness race means you save the most ground and cover the shortest distance. Luck in-running is often needed for drivers and their horses racing up the pegs.
The type of horse that contest harness racing in Australia. These are different from thoroughbreds in their more relaxed nature but also smaller in size and stature. Standardbred horses can be more durable in terms of how they take their racing and versatile in the distances covered.
Also called a bike, gig or spider, this is the cart in which the driver sits and horse pulls around in a harness race.
Horses that run in trotting harness races. A trot is diagonal movement of the horse's legs leading on either fore left and rear right, or fore right and rear left. Drivers must ensure this gait is maintained in the course of a race.
The Biggest Australian Harness Racing Events
Just like with Melbourne Cup betting in regular horse racing, there are certain valuable and historic harness races that people in Australia wager on. There are more events for pacers than trotters in this region, so that is reflected in the program of racing offered. The table below contains four of the biggest harness races in Australia. Each of these harness racing results shapes the Inter Dominion Pacing Championship or Inter Dominion Trotting Championship:
| | | | | |
| --- | --- | --- | --- | --- |
| Race | Distance | For | Track | Month |
| Miracle Mile | 1,609m (1 mile) | Pacers 3yo+ | Menangle (Tabcorp Park) | October |
| Victoria Derby | 2,760m | Pacers 3yo only | Melton (Tabcorp Park) | October |
| Victoria Cup | 2,575m | Trotters 3yo+ | Melton (Tabcorp Park) | December |
| A G Hunter Cup | 3,000m | Pacers 3yo+ | Melton (Tabcorp Park) | February |
Harness Racing Betting Tips
There are plenty of so-called harness racing betting systems out there you could follow. How do you know what advice is best? We asked our experts to give their top harness racing tips to consider before betting. This is what they came back to us with for you. Follow these three harness racing betting tips and you will stand a better chance of finding more winners:
1. Study Harness Racing Form
The most failsafe of harness racing betting systems is to know your stuff. That means getting to grips with harness racing results and closely studying form. There is no substitute for it. The more you can learn about the sport, then the better your betting decisions will be. You can at least make more informed choices about which horses to back and why.
2. Check Harness Racing Results
Next up, another of harness racing tips is to interrogate results closely. How solid does the harness racing form look? Was there an unlucky horse in the death seat that may have won if positioned better? Do past results stack up? You may be able to identify horses that do particularly well on a certain track or at a specialist distance.
3. Find the Best Harness Racing Betting Odds
Many of the top bookies in Australia offer fixed odds markets on harness racing. These are different to the Tote betting in that different sportsbooks may have different prices. It pays for you to shop around for the one with the biggest odds for your fancied runner. You aren't beholden to any bookmaker, so lookout for the top fixed odds prices.
The Bottom Line on Harness Racing Betting
So, that is that for betting on harness racing in Australia now. It is surprisingly popular with so many venues and races to wager on. Australian harness racing today is in a great position, so long may that continue. Now that you understand what it is, have picked up a few harness racing betting tips and know more about markets, you should make better choices about where to place your bets.
Among Leading Sportsbooks Native to Australia
Among Leading Sportsbooks Native to Australia
Toggle between fixed odds and Tote prices
Same race multis and Exotic bets options
Bet on domestic and international races
9.7
Visit Site
T&Cs apply
FAQs
How do You Bet on Harness Racing?
Betting on harness racing is much the same as regular horse racing. Find the meeting and race you wish to bet on, add your selection(s) to the betslip when logged in to your online betting account and enter your stake. Confirm your wager before placing it.
Does Harness Racing Still Exist?
The harness racing Australia has to offer is alive and well. There are well over 100 tracks dedicated to staging harness races in Australian states, the majority of which can be found in either New South Wales (NSW) or Victoria.
Which Harness Race is Faster: Pacer or Trotter?
Pacers are faster harness races than trotters. This is because of the lateral gait allowed by hopples that tie fore and rear legs on the same side of a horse together. Trotters must move their legs diagonally.
What is a Harness Racing Driver Called?
It would be wrong to refer to a harness racing driver as a jockey, because in Australia they do not ride on the horse's back. Instead, a two-wheeled cart called a sulky is pulled by horses in harness races and occupied by the driver. Those who aren't driving their own horses are called catch drivers.