Bet365 Golf Betting
Bet365 is one of the leading bookies for any type of sports these days. It has many interesting golf-related markets that you will not find on a lot of competitor sites. There are also plenty of regular promotions and live betting opportunities to make the most of.
The Best Golf Betting Markets 
One of the great things about betting on golf tournaments is that there are a lot of different types of markets available for you to bet on. This means that you can many approaches to your golf wagering. Here are a few of the leading markets that will be on offer with most tournaments:
Outright – This is the main type of bet you will place on a golf tournament. You are betting on what golfer you think will be victorious come to the end of the event. You can also place each-way bets. This combines a place bet and an outright bet. Half your stake goes to each of these bet types. The number of places that the bookie will pay out on will vary. Visit PointsBet to place an outright golf bet today.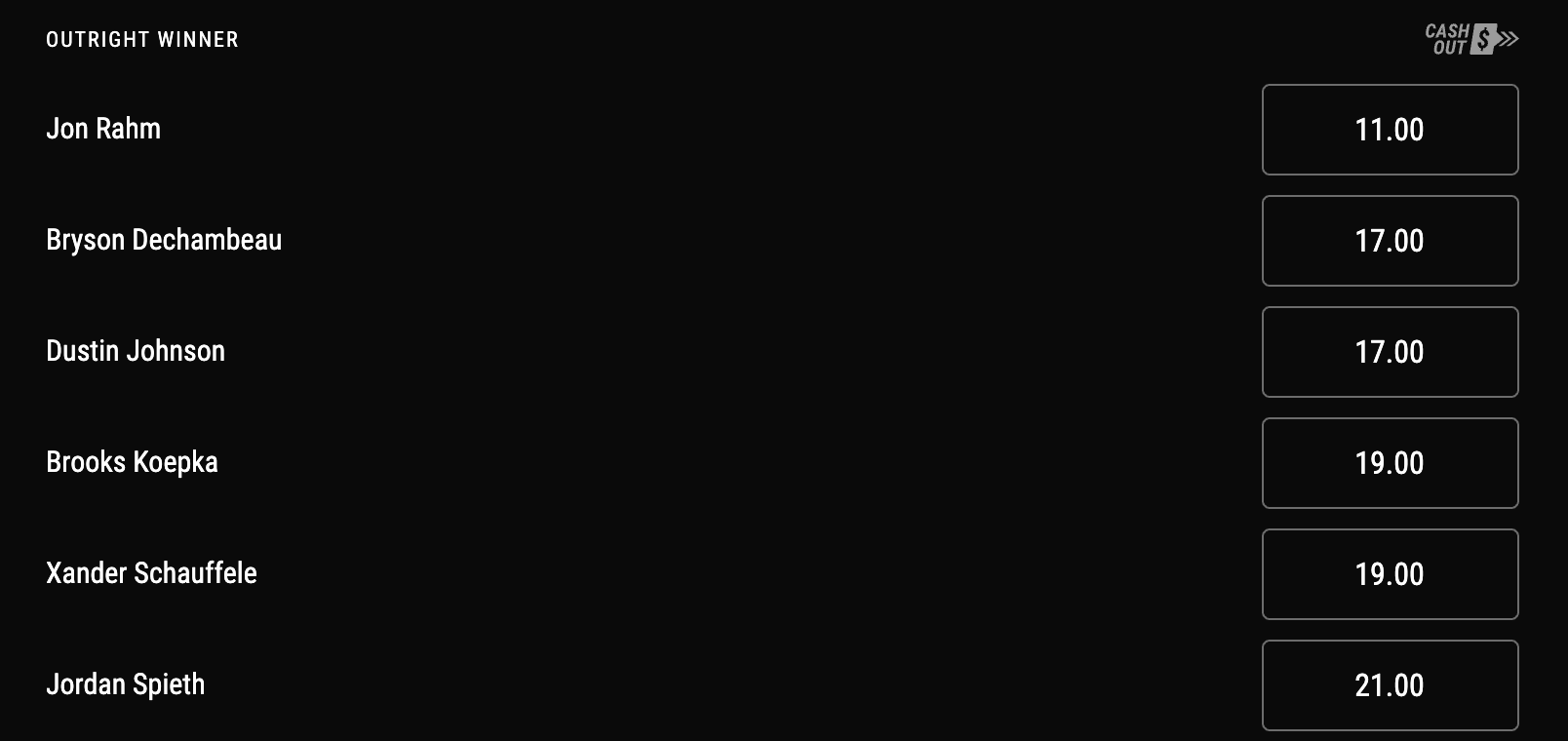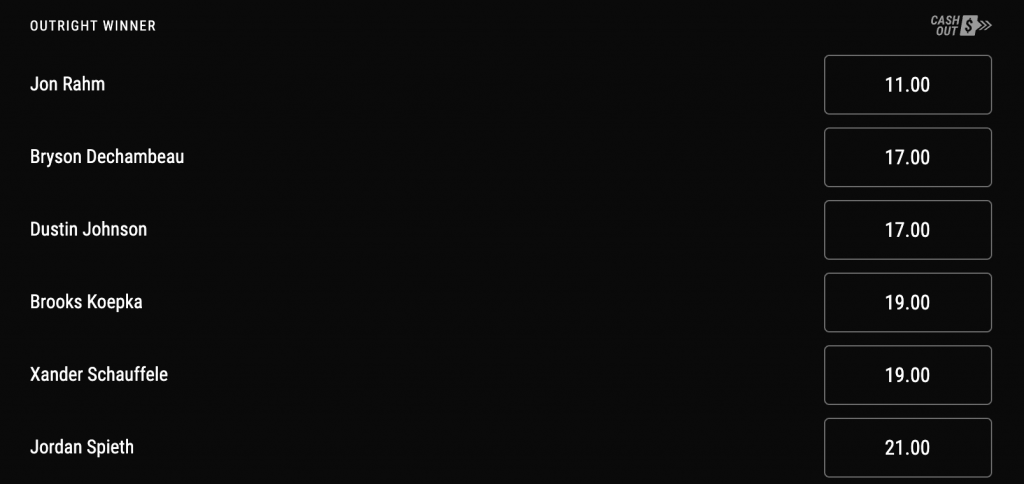 2-Ball/3-Ball – You will have the ability to bet on which player you think is going to come out on top in a given 2-Ball or 3-Ball matchup. You can also bet on a draw happening. These types of selections are often combined into multiples bets to create bigger odds. Visit PointsBet to place a 2-ball/3-ball golf bet today.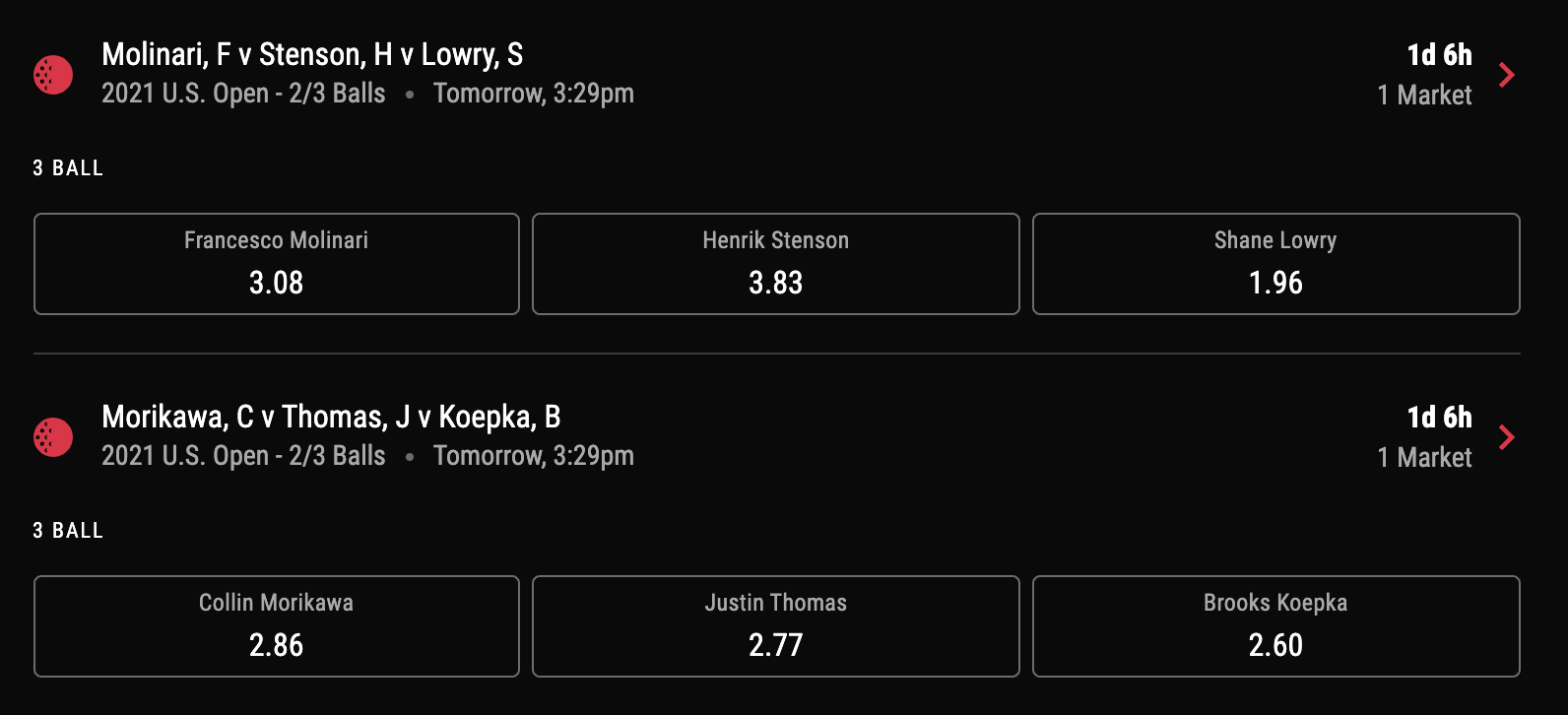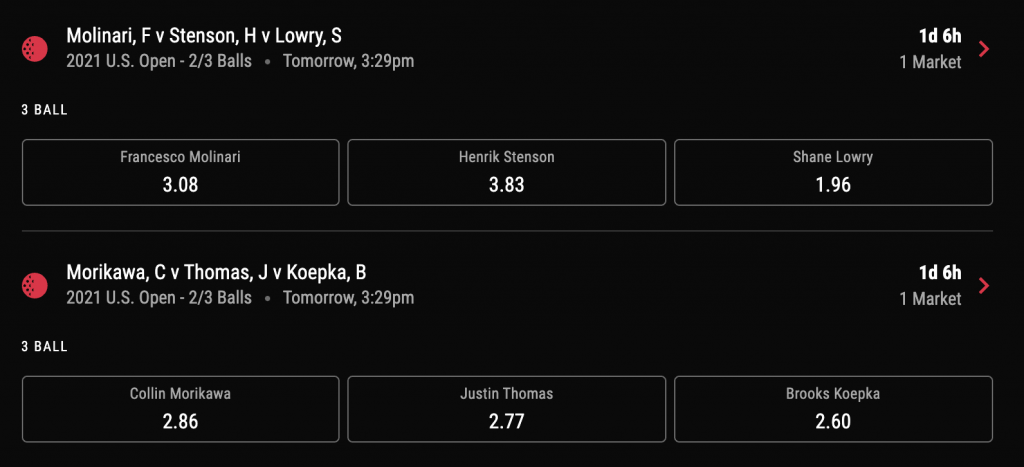 Top 10/Top 20 – Another popular way to place bets on golf tournaments is betting on a player finishing inside a certain number of places of the winner. These days, you can usually bet on a player finishing in the top 5 places all of the way to the top 40. Visit PointsBet to place a top 10/top 20 golf bet today.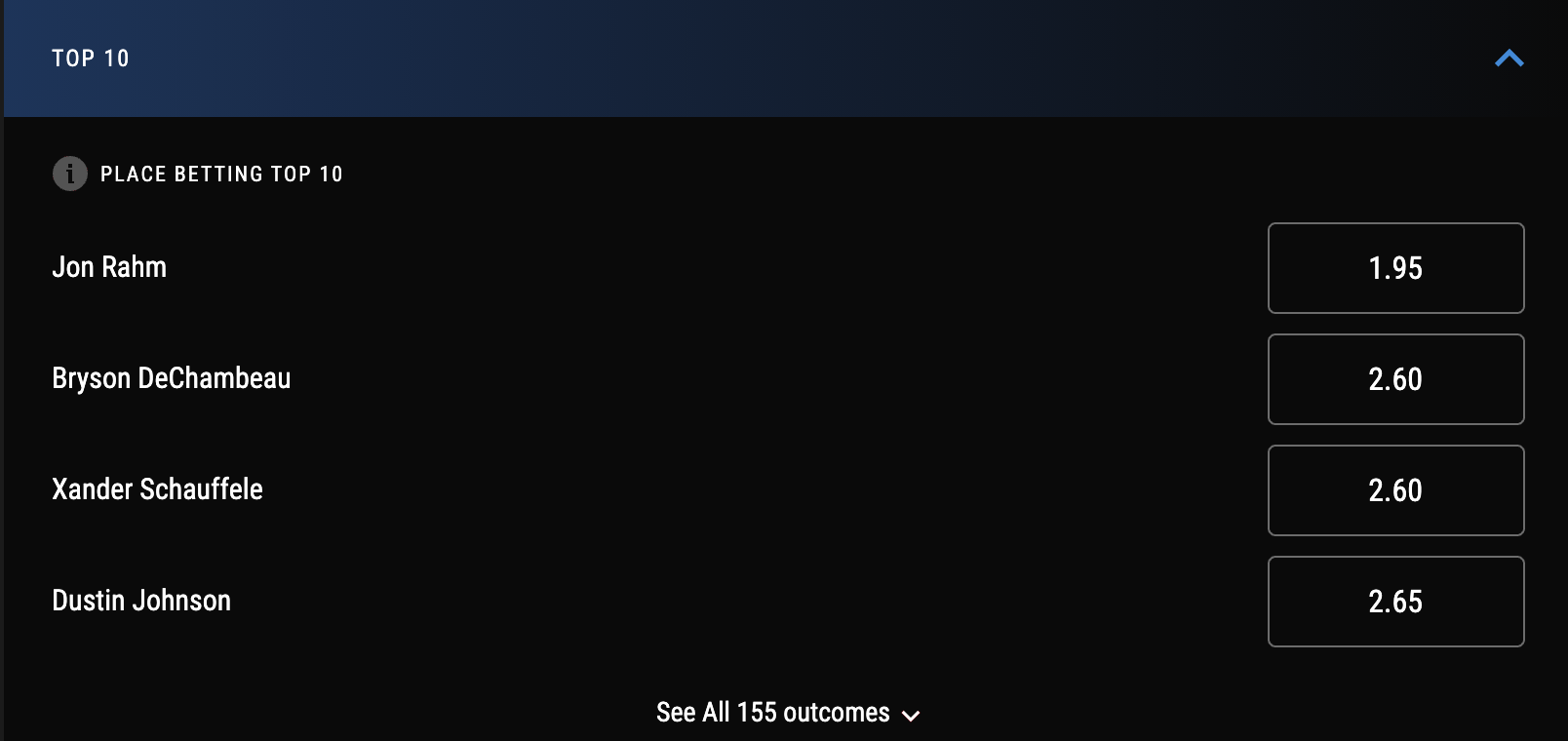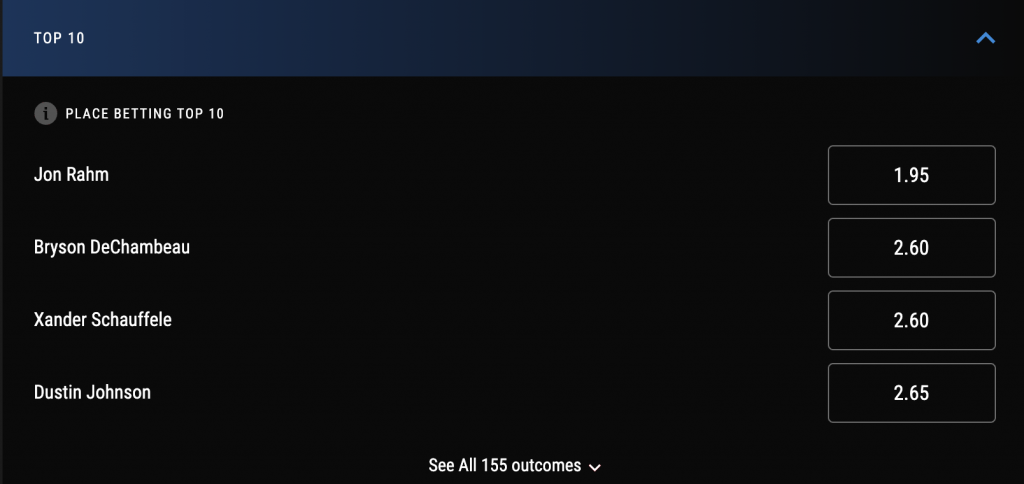 First Round Leader – Some golfers have a good record of having a hot start to a tournament. While they might not last the distance, they will often be a good bet in the first-round leader market. You can place each-way bets also with this bet type. Visit PointsBet to place a first round leader golf bet today.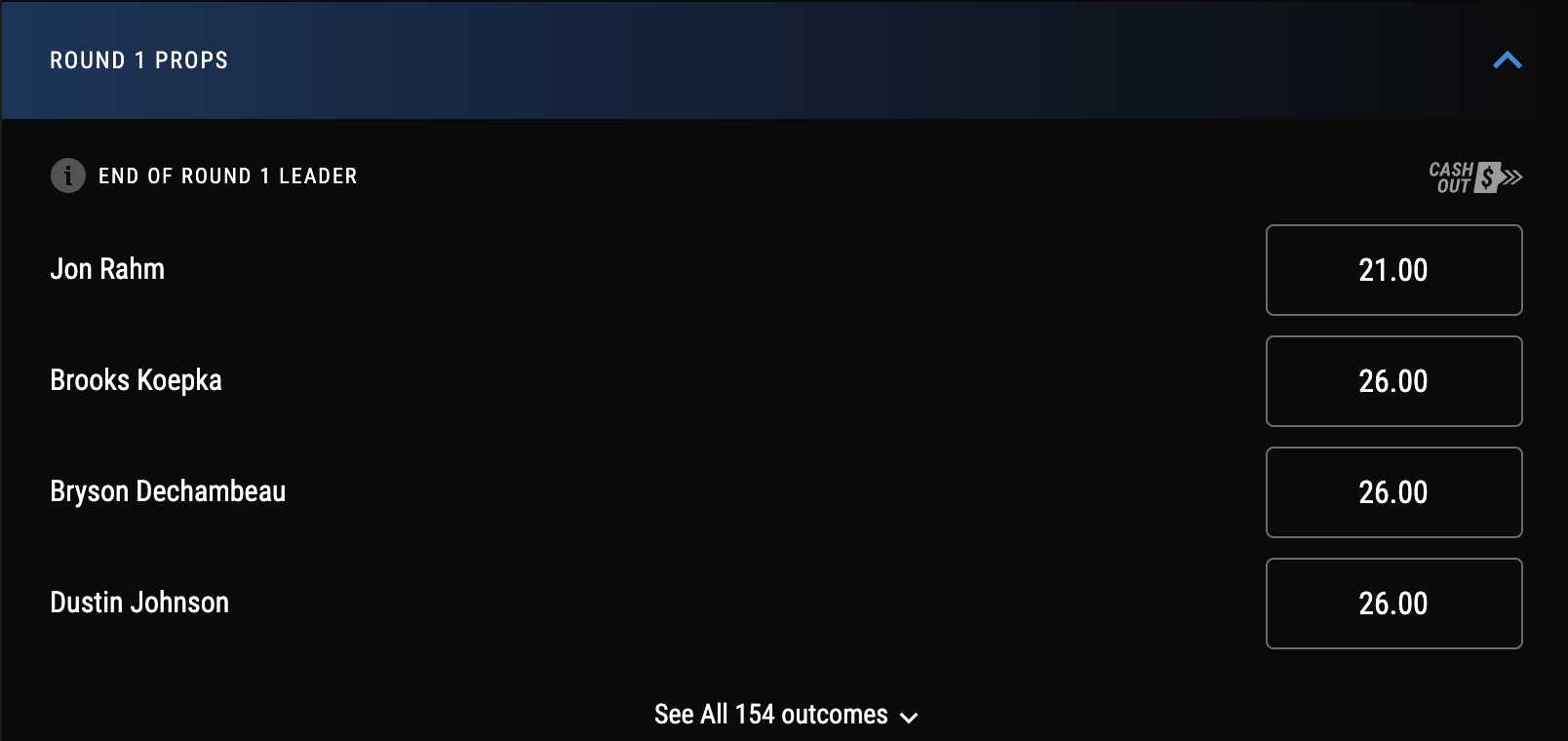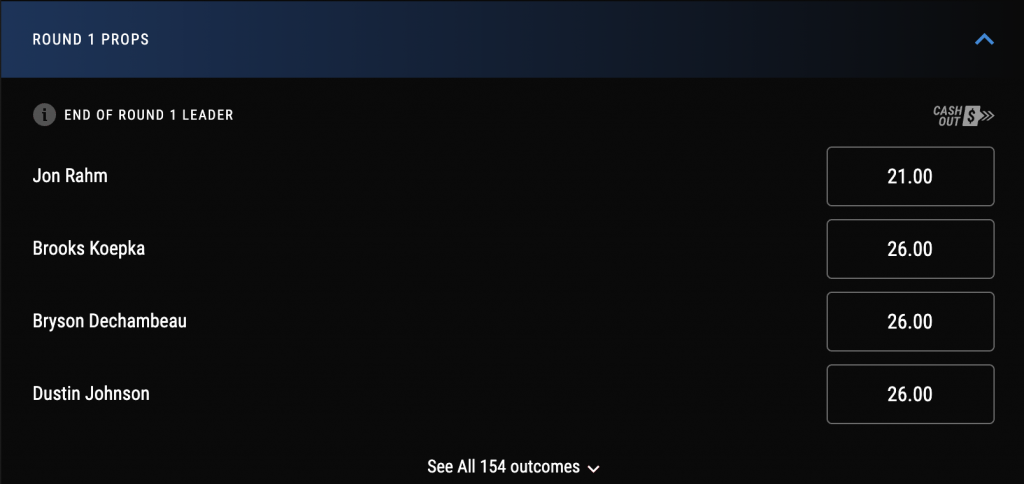 Make/Miss the Cut – Most bookies will offer you the chance to place bets on a given player making or missing the cut. This can be a useful market when players are in a certain run of form or have a track record at the same course over the years. Visit PointsBet to place a make/miss the cut golf bet today.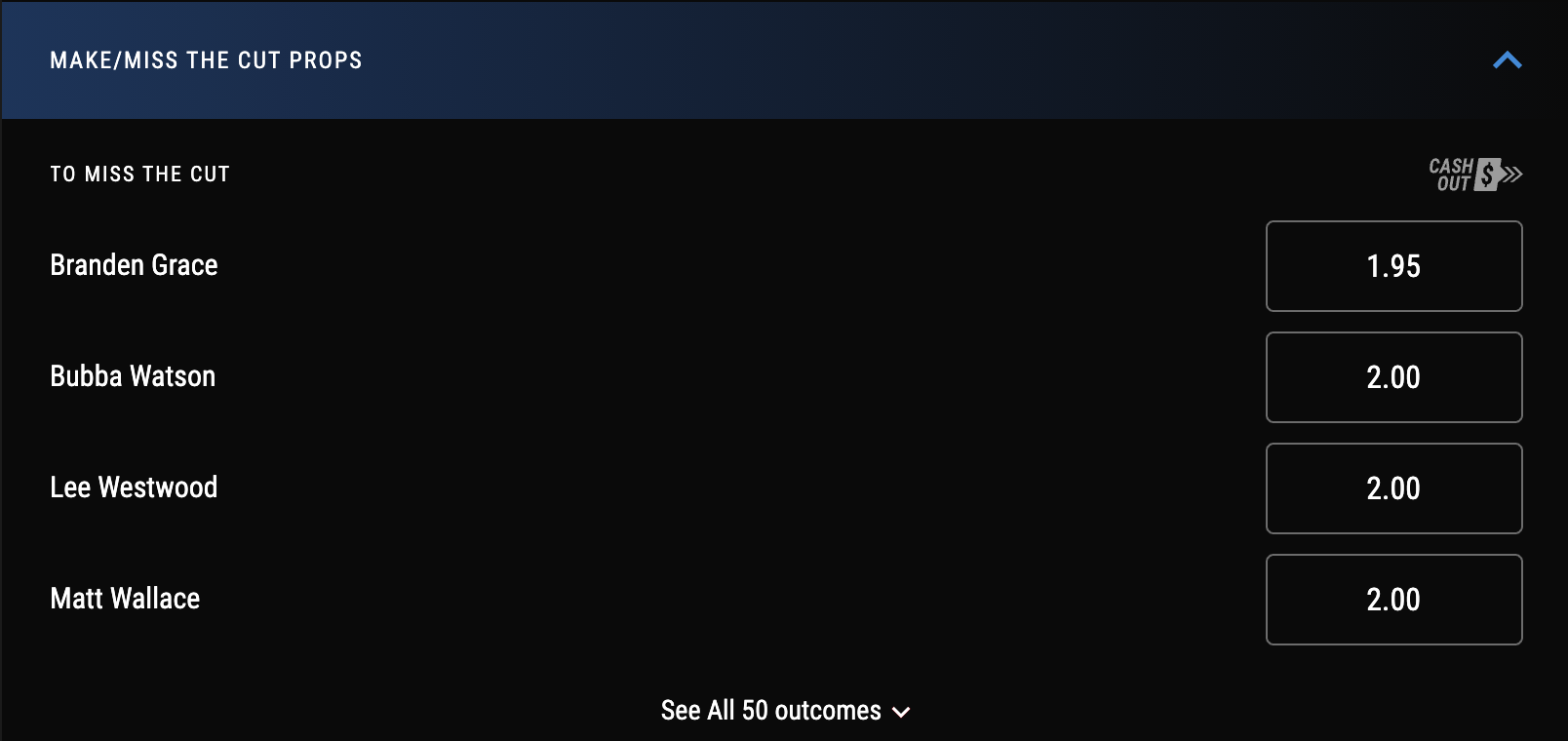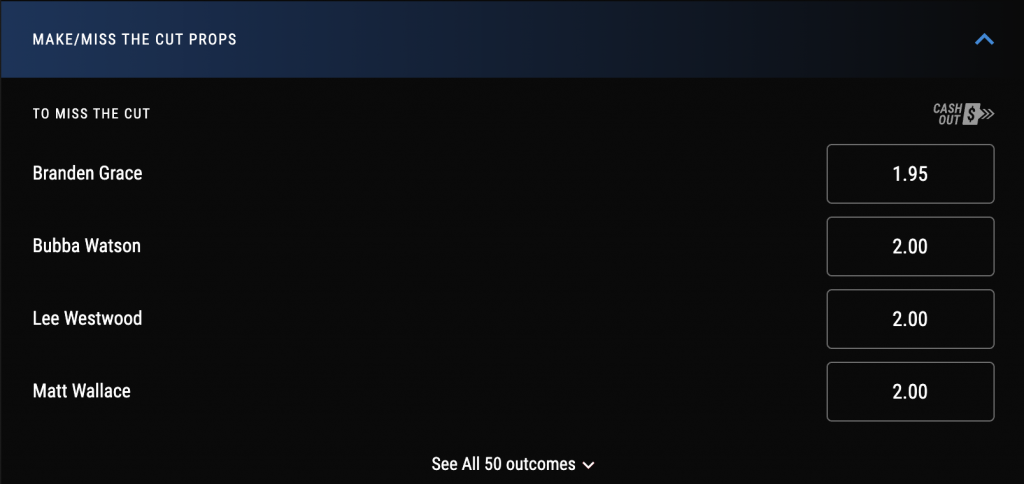 Top Nationality – You have the ability to bet on the best finisher of a given nationality. For example, you can place a bet on Jason Day being the top Australian at the US Masters. Visit PointsBet to place a top nationality golf bet today.


Hole in One – One of the best sights in golf is that of a hole in one. Most bookies allow you to bet on whether or not you think that a hole in one will happen during a tournament. You can often even bet on which hole it will happen or during which round of the tournament. Visit PointsBet to place a hole in one golf bet today.


Where to Find the Best Golf betting Odds
Best Golf Betting Odds
All
$1 Deposit
Each Way
Enhanced Odds
Live Streaming
PayPal
Cash Out
Harness racing
More Filters
Extremely Good Golf Betting Odds
Extremely Good Golf Betting Odds
PayPal one of many available payment methods
Fast payouts
24/7 customer support
9.7
Visit Site
The Best For Live Betting
The Best For Live Betting
Live greyhound streaming
Virtual greyhound betting
Regular specials
9.6
Visit Site
T&Cs apply
Golf Betting Odds Comparison
It is a good idea to make sure that you compare the odds available for a given event between different operators. This means that you will be maximizing the return you will get from your successful bets. Here is a quick look as to how the odds can vary from operator to operator for a big event likes the US Open: 
| | | | | | |
| --- | --- | --- | --- | --- | --- |
| Golf Betting Site | John Rahm | Bryson DeChambeau | Dustin Johnson | Brooks Koepka | Xander Schauffele |
| Bet365 | 9/1 | 18/1 | 16/1 | 18/1 | 18/1 |
| Betfair | 8/1 | 14/1 | 14/1 | 16/1 | 16/1 |
| Ladbrokes | 9/1 | 16/1 | 14/1 | 16/1 | 18/1 |
| PointsBet | 11/1 | 17/1 | 17/1 | 19/1 | 19/1 |
Golf Betting System
There is no hard and fast way that you can guarantee to be a profitable golf bettor. However, there are some ways that people manage to consistently turn a profit each and every year with their golf betting. When there is long-term success, this means that luck is usually taken out of the equation and there is skill involved in finding the best bets.
The basis for most successful betting systems is doing extensive research. This means that you are watching a ton of golf and are familiar with all of the players who are taking part in the events each and every week. Golf betting systems will take. Deep dive into recent form, course form, and their performance on courses with the same type of grass.
Bettors will even check the weather forecast to see which players are on the best side of the draw, as well as looking at how certain golfers play when they are paired with someone who tends to be slow to get around the course.
Being successful
Therefore, to be a successful golf bettor, you need to put in the work to find undervalued betting opportunities. This allows you to take advantage of mispriced markets and to hopefully turn a profit over time.
For example, you might see that a given golfer has a good track record on poa annua greens. They might also tend to perform well at a certain time of the season and they have been tweeting on social media about how their game is nearly around the corner.
By getting information from a wide range of different sources, you can find good wagers. Even if a player has not played at a course before, you can see what characteristics are needed to perform well and see if the given player's statistics match up to this type of course.
Live Golf Betting 
Live betting is very popular across all types of sports these days. It allows you to react to the action as it is unfolding. With golf, you can place bets while the players are still on the course or after the round when there are still further rounds to go. This allows you to take advantage of potential opportunities that you have noticed during the course of the tournament.
It also allows you to get some skin in the game if your pre-event picks have not gone to plan or if you did not manage to place any bets before the tournament began. You might also have some bets that are in good positions and want to hedge your bets to lock in some profit.
Most bookies will offer a great range of different live betting golf markets. Some platforms will even offer live streaming capabilities for leading events. Here are some of the best bookies for live golf betting in Australia:
All
Cash Out
Each Way
Enhanced Odds
Harness racing
Live Streaming
PayPal
$1 Deposit
More Filters
The Best For Live Betting
The Best For Live Betting
Live greyhound streaming
Virtual greyhound betting
Regular specials
9.6
Visit Site
T&Cs apply
Extremely Good Golf Betting Odds
Extremely Good Golf Betting Odds
PayPal one of many available payment methods
Fast payouts
24/7 customer support
9.7
Visit Site
Best Golf Betting Apps 
Betting apps give you the flexibility to place wagers no matter where you might be. If you are playing golf yourself, sitting in a pub, or just relaxing at home on the couch, you can now use your phone to get bets placed with no hassle at all.
The mobile offerings of the leading golf wagering sites will vary. Some will offer a mobile app that you can download and place your bets through, while others will only have mobile websites that can be accessed through a web browser. Then there are those operators that give you a choice of both options.
It is entirely down to personal choice as to which of these options you go for. Betting apps tend to be a bit easier to use and responsive than if you are using a browser-based website. They also do not take long to download and don't use up much storage space on your device.
However, others prefer to have a clutter-free phone and not have to download anything. This is especially the case if they have accounts with a number of different bookies. Instead of downloading a number of different apps, they prefer to just access the offerings through a web browser. If you are looking for the best mobile golf betting experience, then here are three of the best options on the market today:
All
Cash Out
Each Way
Harness racing
PayPal
One of the Most User-Friendly Betting Sites
One of the Most User-Friendly Betting Sites
Fast payments via PayPal
Live streaming
Dedicated mobile betting app
9.5
Download App
Ideal Choice For Beginners
Ideal Choice For Beginners
User friendly offering
Strong mobile offering
Good range of golf betting events
9.4
Download App
Betting on Golf: Most Popular Events & Tournaments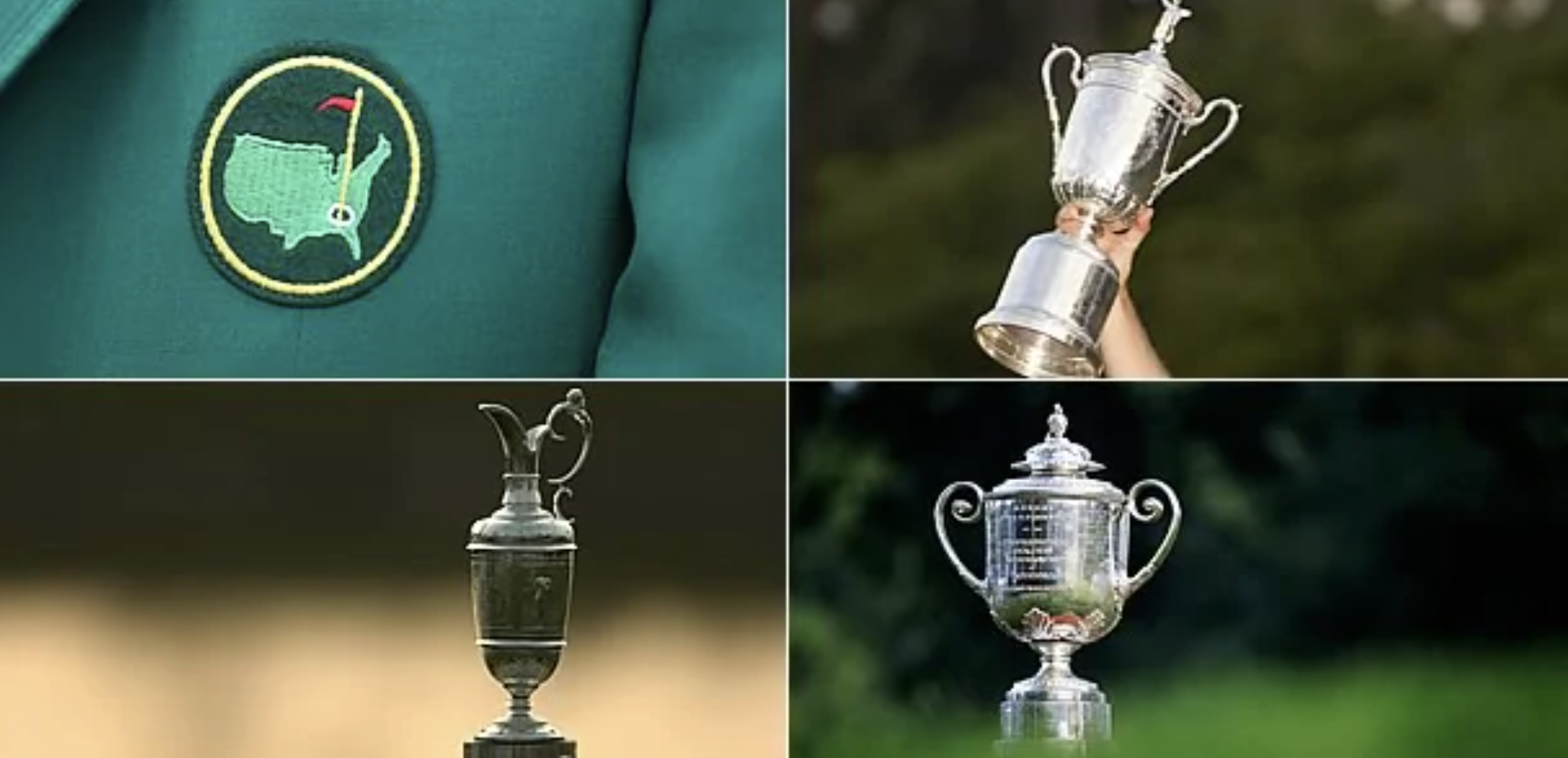 The beauty about betting golf is that almost every week of the year there are numerous events taking place for you to place bets on. As well as the big tours like the PGA and European Tours, you also have regional tours like the Australasia and Sunshine Tours to consider. However, the events that attract the most attention from golf bettors is the four majors.
Each of these events has a huge amount of history and players are going all out to join the elusive ranks of being a major champion. Then you have the likes of Tiger Woods chasing down the record number of majors. Here is a look at those high profile betting events:
US Open golf betting
US Open betting is perhaps one of the toughest tasks as there are many variables at play. The US Open is notorious for being extremely tough, with most players failing to break par for the tournament. Tight fairway, long rough, and fast greens are the port of call when it comes to US Open betting. This is why accuracy reaps dividends.
While the event does not take place on the same course every year, there is usually some course form that you can consider from past US Opens or other tournaments that took place at the same venue. This is a serious test of discipline and endurance, with the champion usually being well-deserving after outlasting the rest of the field. 
US Masters golf betting
The US Masters is one of the most iconic events in all sports. The amazing green fairways and rolling greens light up the television screens each year. It is the only one of the four major championships that take place at the same venue each year. Therefore, you will have plenty of course form to look at.
This is a course that suits long hitters, with many big boomers winning over the years. Adam Scott became the first Australian to win the US Masters, doing so back in x. Since then, a number of other Australians have gone close.
British Open
The British Open is the only major that takes place outside of the United States. It is usually played on a links-style golf course. This means that conditions are almost always windy, often wet, with rock-hard greens and fairways.
A different type of approach is needed here. Players who have performed well in the wind do well here and there is always plenty of excitement throughout the tournament. This makes it one of the best events for live golf betting.
PGA golf betting
The PGA Championship has often been the forgotten major, but it has been the basis for many great spectacles in recent years. Phil Mickelson became the oldest ever major winner in 2021 when capturing the PGA Championship at Kiawah Island. The courses tend to vary in terms of their characteristics, so it depends on what course is on the rota for a given year that will help you decide on what players you should back in your PGA golf betting.
5 Ultimate Golf Betting Tips: How to Profit From Betting on Golf
While betting can add an extra level of excitement to the viewing experience of golf tournaments, people ultimately still want to turn a profit. They are always looking for the best free golf betting tips to help them get an edge. Here is a look at some useful advice to keep in mind when it comes to placing golf wagers:
1. Find the Right Players
Being successful at golf betting is finding the right fitting players for a given course. Each track is going to have its own nuances that are going to suit different types of players. Everything from the type of grass that is used on the greens to the size of the fairways, and the length of the rough will all play into which players you go for.
Look at the historical form at the same course, as well as on similar tracks to get an idea as to what players might do well. You can look at the statistics of the winners of the previous events to see what part of their game needs to be in tip-top shape to win. Some weeks the best putters will win, while other courses are dominated by lengthy players. Whatever the case may be, golf is very often a horses for courses type of sport.
2. Consider the Weather
The weather can have a big impact on a golf tournament. As players are going to be on different sides of the draws, some can get penalized for having to play in the heavy wind or rain in the morning while others will get away with not having to deal with these conditions during the afternoon. Therefore, it can be a good idea to take a look at the weather conditions and the tee times for certain players before placing bets. This is particularly helpful when it comes to betting markets like the first-round leader. 
3. Look For Value
There will often be strong favorites for a given event. All of your research might point towards them winning, but their odds might be too small to justify a wager. Therefore, you always need to consider value when it comes to betting on golf.
Finding a golfer who you think has a good chance of winning and the bookies are offering odds that appear to be too big is a way to get value. If you think that Adam Scott is a 50/1 shot to win the Players Championship and the bookie shave him at 80/1, then there is good value to be had. 
4. Don't Forget In-Play Betting
A lot can change in golf form during the round. By watching the action, you can keep an eye on how different players are doing. Seeing numbers on a screen paints a different picture than actually watching the action.
You might pick up on certain trends that you could take advantage of. Alternatively one of your picks might seem to be sliding out of contention and you can quickly cash out your bet to get some return on your wager before he or she fully falls out of contention. 
5. Focus on a Few
As the odds are so big a lot of the time with golf tournaments, people get tempted to place bets on a lot of different players. However, this often leads to them spreading their betting too thin.
Their returns from even one successful bet might just barely cover their combined stake. This is why it is usually advised that you focus on just a handful of players during a given week. You can focus your resources on those golfers that you are most confident about. This allows you to maximize your returns.