Betting offers provide added excitement to an already fun activity. They vary in size and scope across the industry but normally serve to reward players for signing up and staying loyal to a particular bookmaker. In this betting offers Australia guide, we will provide you with a detailed overview of the bonuses and walk you through the types of the offers available to the Australian bettors today. You will also learn how to claim these offers and the important terms to be aware of.
All
Cash Out
Enhanced Odds
Live Streaming
Harness racing
PayPal
Each Way
More Filters
Offers protest payouts
Live chat, email, and phone support
Good choice of racing bet types
Founder Michael Sullivan is highly respected
9.9
Visit site
T&Cs apply
Best Bookie for beginners
Best Bookie for beginners
User-friendly layout
Very good mobile apps
Good customer support hours
9.8
Visit site
T&Cs apply
Offers Live streaming of local races
Offers Live streaming of local races
Some of the best odds around
Massive range of betting markets
Speedy payout
9.8
Visit site
T&Cs apply
A trusted & local bookie
Weekly cricket promos
Good selection of payment options
Same-race multiples are easy to place
9.7
Visit site
T&Cs apply
Superb customer service
Live greyhound streaming
Virtual greyhound betting
Regular specials
9.6
Visit site
T&Cs apply
Lowest minimum wagers
Fast payments via PayPal
Live streaming
Dedicated mobile betting app
9.5
Visit site
T&Cs apply
Designed for Android & iOS
Designed for Android & iOS
Useful mobile features
Strong horse racing section
Powerful partnership with Ladbrokes
9.4
Visit site
T&Cs apply
Fast withdrawals
Focus on spread betting
Helpful customer service
Straightforward user interface
9.3
Visit site
T&Cs apply
A great place to punt & chat
A great place to punt & chat
Competitive betting 'tournaments'
Over $300,000 won weekly
Good selection of betting markets
Visit site
T&Cs apply
Specialises in horse racing
Specialises in horse racing
Ownership has plenty of pedigree
Low minimum deposit
Attractive, modern website
9.1
Visit site
T&Cs apply
Pick your own odds
Platform is very well designed
Highly competitive odds
Minimum stake is only $0.50
9.0
Visit site
T&Cs apply
Extensive live streaming choices
Extensive live streaming choices
Track record with betting shops
Very good mobile apps
Frequent special offers
8.9
Visit site
T&Cs apply
Top Fantasy Sports Bookie
Top Fantasy Sports Bookie
Fantasy sports betting specialists
Covers a good selection of sports
Excellent mobile app
8.9
Visit site
T&Cs apply
What Are Online Betting Offers?
Online betting offers have been around since the dawn of online bookmakers. They are commonly provided by online bookmakers looking to attract or retain customers. The benefit from the customer's point of view is pretty simple; they can get some form of gift, such as a reload bonus, after fulfilling a certain requirement.
In general, sports betting offers are easy to understand. This is important since complicated conditions or confusing rules can easily put off any potential punting. As a result, most offers do not require entry of any bonus code.
Whereas in other countries sportsbooks would be promoting welcome bonus bets loudly, Australian gambling laws forbid this practice. We will explain this in more detail later on in this guide, but for the time being, you should be aware that you cannot see any specific betting signup offers if you're an Australian punter. Instead, you need to choose an online bookmaker based on its brand, its markets, and its support features. This is certainly different from the betting offers in the UK for example.
Sports Betting Offers
Sports betting offers are some of the most popular ones in Australia. With such a large number of sports punters, the industry has been booming for some time, leading to intense competition amongst bookies. This is all positive news for you, but since you cannot see any specific promotions you will need to open accounts with multiple sportsbooks in order to compare their sports betting offers.
The following are some of the most popular betting offers found at Australian bookmakers:
Betting Sign Up Offers
These offers are available after you have registered an account and are normally linked to your first one or more deposits.
Free Bets
These can take many different forms, but in essence, provide the punter with the opportunity to place a bet without spending any additional money. This bet has now been outlawed for Australian punters. You can learn more about free bets on our dedicated page.
Reload Bonuses
Similar to betting signup offers, reload bonuses are used to encourage existing customers to place a fresh deposit and get a reward in return.
Cashback Bonuses
This betting offer provides a return to a punter based on a previously placed bet. Different money back bonuses may only consider lost bets, whilst others don't make any distinction. Unfortunately, the availability of this betting offer has also been significantly restricted due to Australian gambling laws.
Odds Boost
This is one of the few betting sites offers to remain following the introduction of the 2019 law. Odds boosts are normally available for specific games, usually very popular ones, and provide a significantly higher return for correct predictions.
Refer-a-friend Bonus
This offer encourages you to invite friends to the online sportsbook in exchange for a free gift, such as a free bet. Usually, both you and your friend receive a gift. Unfortunately, even this bonus is no longer available to Australian users.
How To Unlock The Best Betting Offers In Australia
Getting hold of a sportsbook's bonus bet offers is normally a simple and straightforward process. To help you out, we've listed a step-by-step process that is based on our experience. You might find that a particular bookmaker may require a different process, but in general, these are the steps you will need to follow:
Register an account with an online bookmaker.
Complete the registration process, including verification.
Visit the promotions or free bet offers page.
Click or tap on one of the offers you are eligible for and interested in.
Fulfil the requirements of the bonus, ensuring that you read the relevant terms and conditions beforehand.
Place your first deposit, ensuring that you comply with the bookie's and offer's minimum.
If you have any trouble claiming your sports betting bonus offers you should get in touch with the bookmakers's customer care team.
Key Terms Of The Best Betting Sites Sign Up Offers
Although in a perfect world, an online bookmaker might reward you with a gift with no strings attached, the real world is quite different. In order to receive a bonus or to withdraw it, you will normally need to fulfil certain conditions and adhere to the betting offers' specific terms.
Sportsbook offers and their conditions vary significantly. However, they are likely to involve some or all of the following:
Minimum odds
This is a very common condition present in most betting offers in Australia. Most minimum odds vary between 1.50 and 2.00. This means that in order to make a qualifying bet to receive the offer you would need to place a wager on a market featuring odds of this minimum value or higher.
Minimum stake
Similar to the previous condition, this term refers to the minimum value of your real money bet. In some rare cases, you might be allowed to place multiple smaller bets which add up to this minimum, but this is generally not allowed.
Turnover/wagering requirement
This outlines the number of times that you would need to use your bonus before being able to withdraw it.
Expiry date
Your betting offer normally comes with an expiration date. You will need to fulfil any conditions, such as placing a minimum bet or fulfilling turnover requirements within this time or you will lose your offer altogether.
Applicable territories
Many of the best betting account offers are limited to particular territories or, on the flip side, excluded from specific territories.
Applicable payment methods
Similarly to the term above, some offers outline which payment methods may or may not be used in order to remain eligible. It is common to find that eWallets are excluded, whilst debit cards are normally ok.
Making The Most Of Best Betting Account Offers
It is important to remember that betting offers are simply a way to enhance your entertainment when using online sportsbooks. They are not meant to be a source of income or any guarantee of profit. With that said, it helps to understand different ways to make the most out of betting offers.
Watch out for betting app sign up offers. Some bookies will reward you with an extra bonus if you download their app and use it to place your first deposit or wager.
Set your sights on longer odds. Long odds provide the highest probability of any reasonable payout since bookmakers keep initial stakes. Remember, that there is nothing to lose when you use a free bet or similar bonus, so might as well go with your gut and take an unlikely chance.
Shop around for the best terms. Australia's new gambling laws have certainly made it harder to compare online sportsbook betting offers. However, by opening accounts with multiple platforms you will be able to compare deals and terms. Remember to check out the best betting apps offers Australia.
Focus on what you know. If you wish to increase the likelihood of a successful wager, you should bet on sports and teams which are familiar to you. If available options are limited, consider spending some time researching teams or players in upcoming matches. Having a little knowledge about game participants can go a long way towards placing a successful punt.
Pros And Cons Of Betting Offers Australia
Pros:
Make sports betting even more entertaining
Are easy to use if you read the applicable terms
Can give you an opportunity to place a greater number of bets
Cons:
Are subject to wagering requirements and other conditions
Are normally tied to a real money deposit
Have limitations, such as on territories or payment methods
Bookmakers With The Best Betting Offers in Australia
You can find betting offers at practically all online bookmakers in Australia. Even before the new gambling law removed the advertising of promotions, choosing between bookmakers based on betting offer alone was very hard. This is because the value and structure of the offers were increasingly similar.
This, however, was not bad news for players. Apart from benefiting from an ever greater lucrative opportunity, punters in Australia can look forward to receiving superior customer service, a greater choice of payment methods, and a number of value-added features, such as live streaming and cash out options.
There are many international sportsbooks, including Betfair, Unibet, and Betway which offer some sort of sign up bonus to Australians. Here are a few examples of local Australian bookmakers whom we know to offer the best betting sites sign up offers.
1. Sportsbet – Live Streaming Of Local Races
One of the best online bookmakers Australia provides to the world is BlueBet. Billing themselves as the "true blue Aussie bookie" on the homepage is far from an idle boast. With weekly promotions aplenty once you log in, the key sporting events have pride of place atop the main menu on the left-hand side. BlueBet have developed a reputation as one of the leading sports betting agencies in the region, because they have their fingers on the pulse. Racing and general sports tabs let you toggle between the horses and other popular events Down Under like AFL and NRL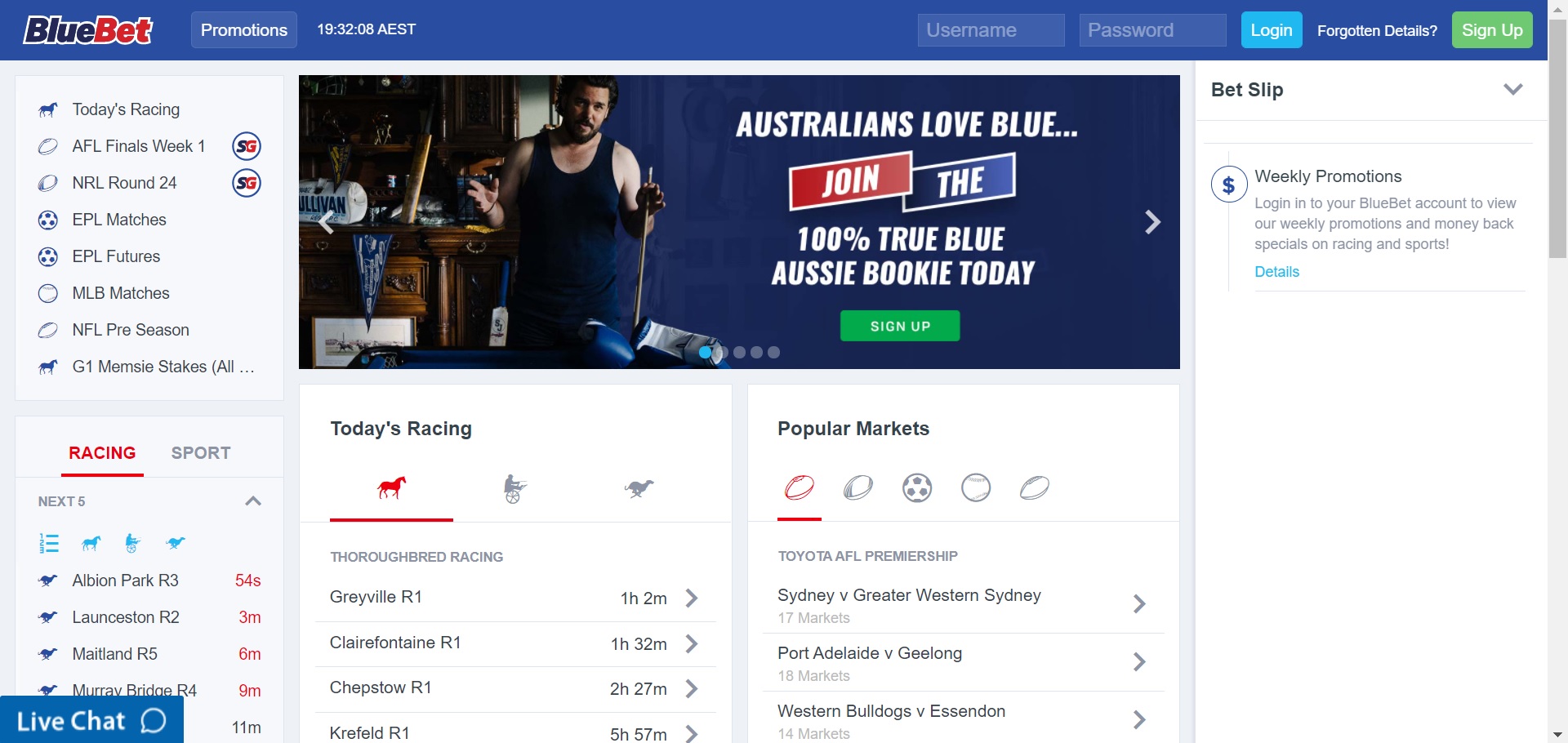 BlueBet are a big deal and took their public profile to new heights in 2021 when they began sponsoring NRL franchise Penrith Panthers and leant the brand name to their stadium. Few online betting agencies around the world can boast such a partnership. As online bookmakers Australia has to offer go, this brand is publicly listed. The Rapid Multi function allows you to place such bets quickly and easily. With all they have to offer, BlueBet give any of the new betting sites Australia has seen launched in the region recently a run for their money.
What we like:
Publicly listed Australian betting agency
Protest Payouts promotion really handy
Rapid Multi function catches the eye
Great range of customer support options
Big variety of AU and global sports oddse
What we don't:
Lack of live streaming is a shame
eSports betting markets missing
2. PalmerBet – Great Weekly Cricket Promotions
PalmerBet is a user-friendly online bookmaker which also offers the convenience of mobile apps. Fully licensed and respected in Australia, it is known for offering racing bonus bets and promotions to existing players.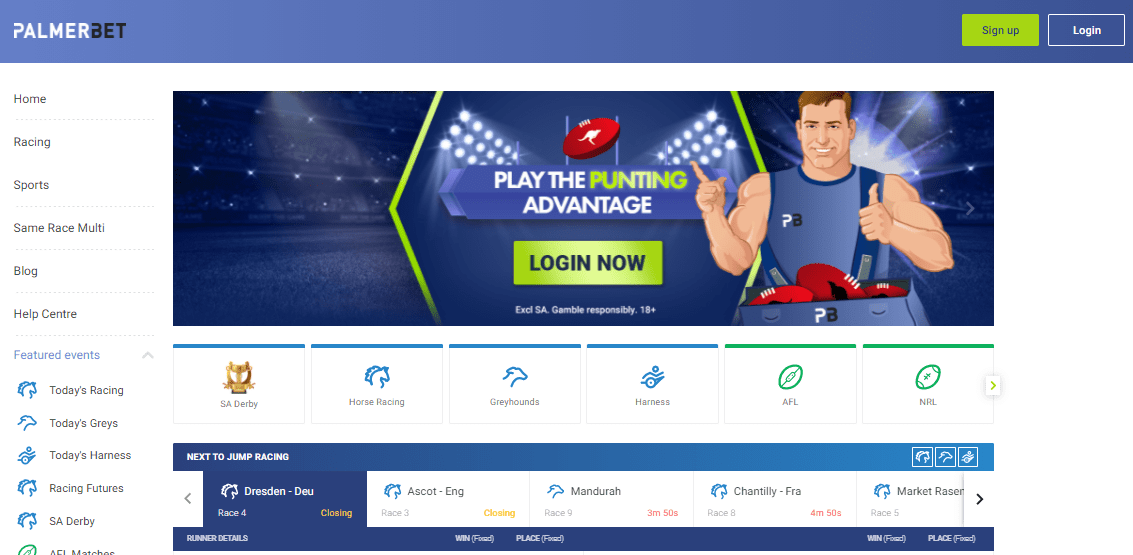 This relatively smaller online bookmaker offers a good choice sporting events which include horse racing, greyhound racing, and rugby. It offers same race multiples along with several other special bet services. PalmerBet's choice of markets is equally decent, allowing you to place a bet in just a couple of clicks. In addition, this sportsbook is known for offering a good choice of payment methods, including PayPal, as well as offering a comprehensive help centre to answer most of your punter questions.
What we like:
Huge range of betting markets
Horse, greyhound and harness races covered
Excellent betting odds
Large number of future markets
What we don't:
Only bank transfer as a withdraw option
Live streaming is not available
3. SportsBetting – Wide Selection Of Local & Global Sports
SportsBetting is known for offering clients long term satisfaction by offering choice and convenience. Rather than focusing simply on betting offers, this Australian bookmaker has curated a comprehensive range of sports and events from across the globe and delivers customer service which is second to none. This is a great site to bet on an upcoming horse race, whether in Australia or in New Zealand.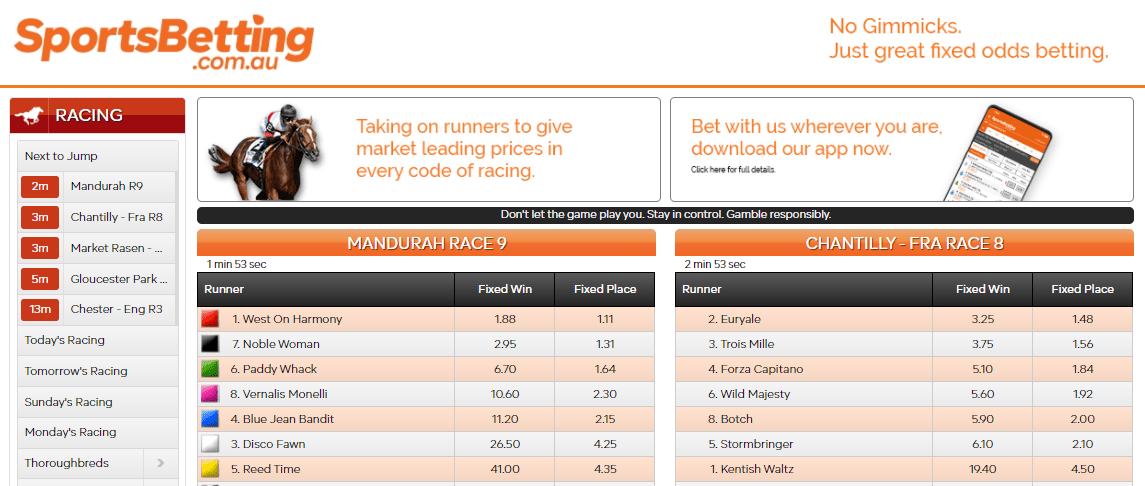 The bookmaker offers numerous enticing features, including its fast withdrawals and no-nonsense fixed odds. In fact, whilst it may not offer the most generous rewards, it does offer extremely competitive odds since it relies on an independent market setting. In addition, SportsBetting can be easily accessed from your computer or using one of its user-friendly mobile apps.
What we like:
Exceptionally good racing fixed odds
Extensive selection of payment methods including POLi
Strong track record
Great mobile betting app
What we don't:
No odds boost offers
No Sign-Up offers for new customers
The legality Of Betting Sign Up Offers
We've hinted towards Australia's most recent gambling laws throughout this betting offers a guide. Now, we are going to explain exactly what this is and how it affects you. The following is only relevant to players in Australia. If you are located elsewhere, this shouldn't apply to you.
Until the law passed in 2019, most online gambling laws in Australia were left to each individual territory. However, the federal government passed a law to streamline rules across the entire country. As a result, online casinos have effectively been rendered inaccessible to players in Australia. Online bookmakers could still sign up Australians, however, numerous restrictions came into force.
One of the most impactful effects of this law is that online platforms were no longer allowed to promote or offer bonuses to unregistered players. As a result, online sportsbooks, as well as recommended sites such as SafeBettingSites, had to remove all reference to specific promotions. Today, the only way you can view any of the betting offers available at an online sportsbook is to register an account with them.
Whilst the new law certainly added some inconvenience to Australian punters, it also created a level playing field where all sporting platforms had to compete using alternative features. This has led to improved customer support, a wider choice of payment methods, more sports, and better odds, amongst many other improvements. At the same time, however, betting offers did not disappear. Rather, they have become less easily visible.
The National Gambling Framework is not, perhaps surprisingly, the strictest gambling law in the land, however. In fact, two states have laws that are even stricter.
Understanding Betting Signup Offers in New South Wales
NSW gambling laws are regulated on a state level by New South Wales Liquor, Gaming, and Racing. As a result, online bookmakers wishing to attract residents from this state will need to abide by strict rules regarding betting offers. These include not offering sign up offers, cashback or referral rewards.
In fact, when reading the platform's full t&cs, you will likely come across exceptions for residents of NSW. Unfortunately, there is no way to get around this law, so punters in NSW must look for bookmakers which offer them the best odds and overall service.
Understanding Betting Signup Offers in Victoria
Similar rules exist for residents of Victoria. Online bookmakers are not allowed to provide most betting offers to punters who live in Melbourne and surrounding regions. However, these rules have been in effect long before the 2019 federal law passed, so it should make little difference in reality.
If you are looking for betting sign up offers in Victoria you will be happy to know that you can still avail of odds boosts, match deposit bonuses and cashback offers. In any case, however, you should still read the applicable terms and conditions to avoid any disappointment.
Using Betting Offers Responsibly
There is no doubt that these promos enhance your betting experience, but it's important to always gamble responsibly. New customers may be distracted by the flashy offer, but you must remember, that no offer is ever completely free. T&Cs apply, and it is important to keep playing fun. If you ever need to find out more about how to play responsibly you can always check out www.gamblinghelponline.org.au.
The Bottom Line Of Betting Offers Australia
As you will probably notice after reading this guide, Australian laws significantly limit the accessibility to online gambling for residents. Fortunately, online sportsbooks are still allowed to operate and offer their services to Australians, although they must abide by strict rules, especially when dealing with betting offers.
Even with the famed law, you will still be able to find a good choice of sports betting offers once you register an account with a bookmaker. These promotions are there to enhance your entertainment and not to provide any payout or profit. It is important that you understand this in order to enjoy yourself. Remember to also read the terms and conditions to ensure that you comply with the betting offer and receive the gifts associated with it.
Betting Offers FAQs
Where can I find the best betting account offers?
Finding the best offers has become significantly harder ever since the new gambling law came into force. On this page, we have listed some of the best online bookmakers in Australia, known for offering great service, choice, and betting offers.
What is the best type of online betting offers?
It is difficult to appoint a particular type of offer as the best since they all hold value. In the end, it depends very much on what you are looking for and what terms are associated with a particular offer. Sometimes, having great terms on a small offer can be better than having a large offer with an endless list of T&Cs.
Are betting signup offers banned in Australia?
The short answer is yes. No one can advertise or offer new registration bonuses to Australian players. However, you can still receive sports betting offers once you have registered an account.
Can I get an offer for downloading a bookie app?
In some cases, after registering an account, you will be invited to download a mobile app in return for a gift. We cannot promote specifics regarding the best betting apps offers Australia, so you would need to check for yourself by registering an account.
How do I get betting offers in Australia?
In order to receive offers and promotions, you need to open an account with one or more online bookmaker and then visit the promotions page to see what's available.