After being released in 2017, Fortnite quickly took the world by storm. Fast forward a few years, and it's still enormously popular – not just to play, but to both watch and gamble on. Fortnite betting is one of the biggest eSports gambling markets, and – in this article – you'll learn everything you need to know about the subject. 
Read on to learn about the 10 very best Fortnite betting sites. We'll also tell you the bet types you can place, give you some top tips on making a profit, explain the big-time bonuses that you can claim, and a whole lot more. 
All
Cash Out
Derby betting
Enhanced Odds
Live Streaming
patent bet
Paypal
Placepot bet
Trixie
£50 Free Bet
Each Way Bet
Free Spins
Yankee bet
£30 Free Bet
£5 Deposit
£10 Free Bet
£40 Free Bet
More Filters
Top 10 UK Fortnite Betting Sites
If you're looking for a new site for betting on Fortnite, you've got a whole lot of options available to you. Sorting through all of these can be tiring and time-consuming, which is why we've done the hard work for you. Here are the 10 very best brands you can go with right now:
Bet365 – Your #1 Destination for Fortnite Betting
William Hill – Prestigious Brand for Your Fortnite Betting
Betfred – Very Good Betting Odds for Fortnite

Betway – Specialists in eSports Betting, Including Fortnite

888sport – Get a Free Bet to Use Each and Every Week

BoyleSports – Prestigious Bookie with Free Bet Offers

BetVictor – eSports Betting Site With Excellent Track Record

Unibet – Impressive Free Bet Bundle for Newcomers 

BetUK – Streamlined, User Friendly Fortnite Betting Site

10Bet – Get Your First Deposit Matched for Up to £50
Our Favourite Five Fortnite Sites Reviewed
You've already seen our list of the top 10 Fortnite betting sites above. Now it's time to zoom in on the very best of the best. Below, you can find out what makes the five sites so special. 
1. Bet365 – #1 Overall Site for Fortnite Betting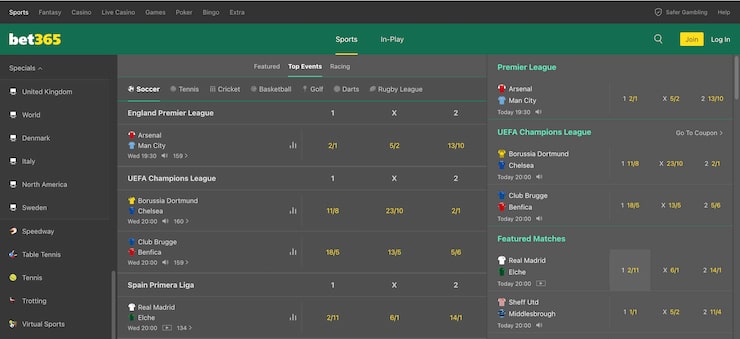 Since launching at the turn of the century, Bet365 has enjoyed an incredible success story. Nowadays it has a strong argument for being the best all-round online sportsbook in the UK. That's a debate for another day, but – for now – it certainly tops our ranking of the best Fortnite sportsbooks. 
Quite simply, Bet365 provides everything you could realistically ask for. Its selection of betting markets is simply enormous, with eSports being one of the many areas it covers, and Fortnite being a key part of that offering. The tools for placing and cashing out live eSports bets are particularly outstanding here, and – to further help your in-play betting – Bet365 also lets you watch the action unfold via live streaming. 
Elsewhere, Bet365 doesn't just tick every box you'd expect from a massive site for eSports betting in the UK, but does so in style. The iOS and Android apps, for example, are easily some of the best around. The user interface on the desktop site is also fantastic, with exceptional stability and loading speeds. The customer support is also responsive and helpful, and Bet365's track record – combined with its strong security features – gives you perfect peace of mind that this is a safe and legitimate place to wager. 
What We Like:
Outstanding track record
Live eSports streaming available
Exceptionally good live Fortnite betting tools
Brilliant mobile betting apps
Solid welcome offer
What We Don't Like:
Not the widest range of payment options
2. William Hill – Prestigious Brand for Your Fortnite Betting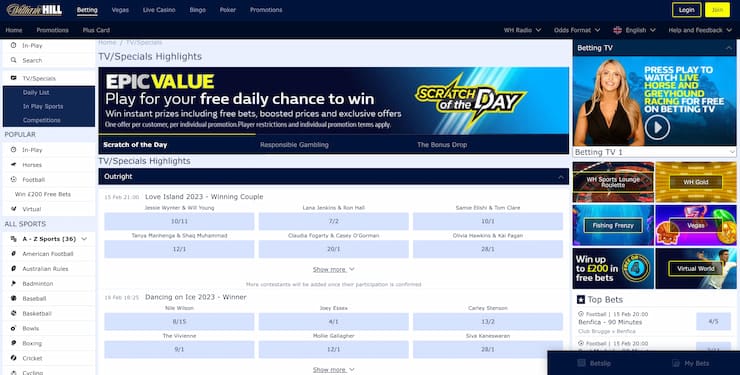 We're certainly confident in having Bet365 as our number one overall pick for Fortnite gambling. If there's one brand that truly pushed it all the way, however, then it's William Hill. This is easily one of the most prestigious bookies in the UK, with a track record stretching back decades. It's done an incredible job of moving with the times, however, and this is clearly shown by its excellent eSports betting section. 
Most of the biggest video games are represented here, including Fortnite. As they are elsewhere on the sportsbook, the odds here are excellent, providing you with clear and fair value. This also applies to the prices you're offered for placing and cashing out live wagers, with the tools being just as responsive – if not more so – than those on Bet365. 
Elsewhere, William Hill provides you with the creature comforts that you'll typically get from a big-time brand like this. One great example is the bet builder, which is exceptionally easy to use, and – when you do so – you'll often have the chance to boost your odds. William Hill also provides you with multiple accumulator deals, including insurance and winnings boosts, and both the desktop platform and mobile betting apps are smooth, professional, and easy to use. 
What We Like:
Incredible track record
Very good odds on eSports
Multiple accumulator-based special offers
Excellent mobile apps
Top-notch customer support
What We Don't Like:
Lack of live streaming integration
3. Betfred – Very Good Betting Odds for Fortnite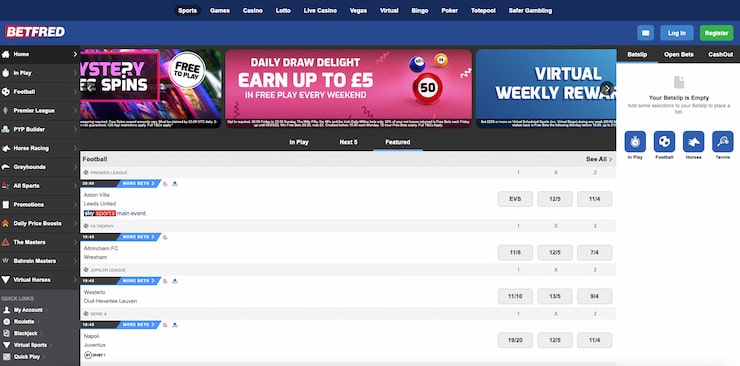 If there's one brand on our list which can compete with William Hill's track record, it's Betfred. Betfred's history doesn't go back quite so far ('only' to 1967, rather than 1934), but it's still pretty darn impressive. Like its older competitor though, Betfred has absolutely kept up with the changing times, and nowadays provides Fortnite fans with one of the most well-rounded and professional sportsbooks around. 
The Betfred user interface is faultlessly intuitive, whether you're using the desktop website or one of the fantastic mobile apps. You'll certainly have no trouble navigating straight to the eSports section, where you'll find the Fortnite betting markets waiting for you. The prices for these will typically be highly competitive, whether you're wagering pre-game, in-play, or with some longer-term outright picks. 
In addition to all that, Betfred has a few more tricks up its sleeve. Similarly to William Hill, the bet builder here – called Pick Your Punt – is fantastic, and allows you to craft multiples with ease. The brand's track record and security features should also provide tremendous reassurance that your money and personal information are being looked after, and – should you encounter any issues – you'll find speedy and helpful customer support waiting for you. 
What We Like:
Prestigious brand with a long history
Great prices for Fortnite betting
Very good mobile betting apps
Excellent bet builder
Customer support is responsive and helpful
What We Don't Like:
Lack of live streaming for eSports
4. Betway – Specialists in eSports Betting, Including Fortnite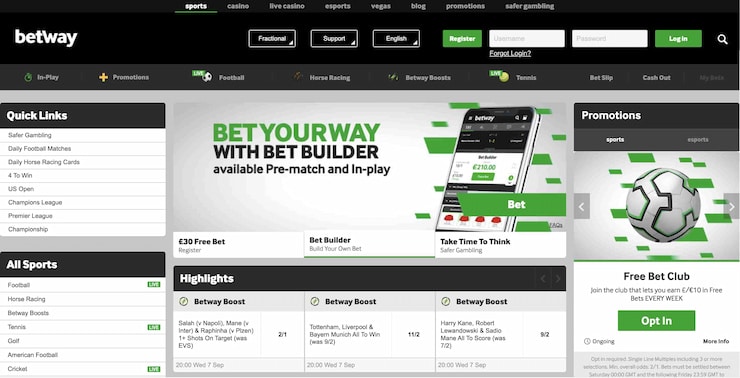 Betway might technically be the youngest brand on this list, having launched in 2006, but that's still a very impressive track record in the hyper-competitive world of sportsbooks. For years now, Betway has made a special commitment to the growing popularity of eSports betting, and this has paid dividends. Nowadays, it ranks as easily one of your top destinations for Fortnite-related betting. 
Betway's commitment to eSports is clear, with video game betting given its own entire section of the website, complete with separate branding. Naturally Fortnite tournaments are covered, and you can place wagers on them pre-game or in-play. If you like to dabble in betting on other games too though, you'll find everything from CS:GO (which is a massive eSport in its own right) to Warcraft III in place here.
Betway is the only brand on this list to provide an eSports-specific welcome offer, further displaying its commitment to gaming. eSports markets are eligible for its famous Free Bet Club too, which gives you a £10 free bet every week if you meet the wagering criteria. Live streaming of matchups for Fortnite and other games is also provided, making your in-play betting that much easier, and all of this and more can be accessed via either the desktop website or the excellent mobile apps. 
What We Like:
Clear commitment to video games betting, including on Fortnite
eSports-specific welcome offer
Trigger a £10 free bet offer each and every week
Very good mobile apps
Live streaming integration
What We Don't Like:
Desktop website could be streamlined somewhat
5. 888sport – Get a Free Bet to Use Each and Every Week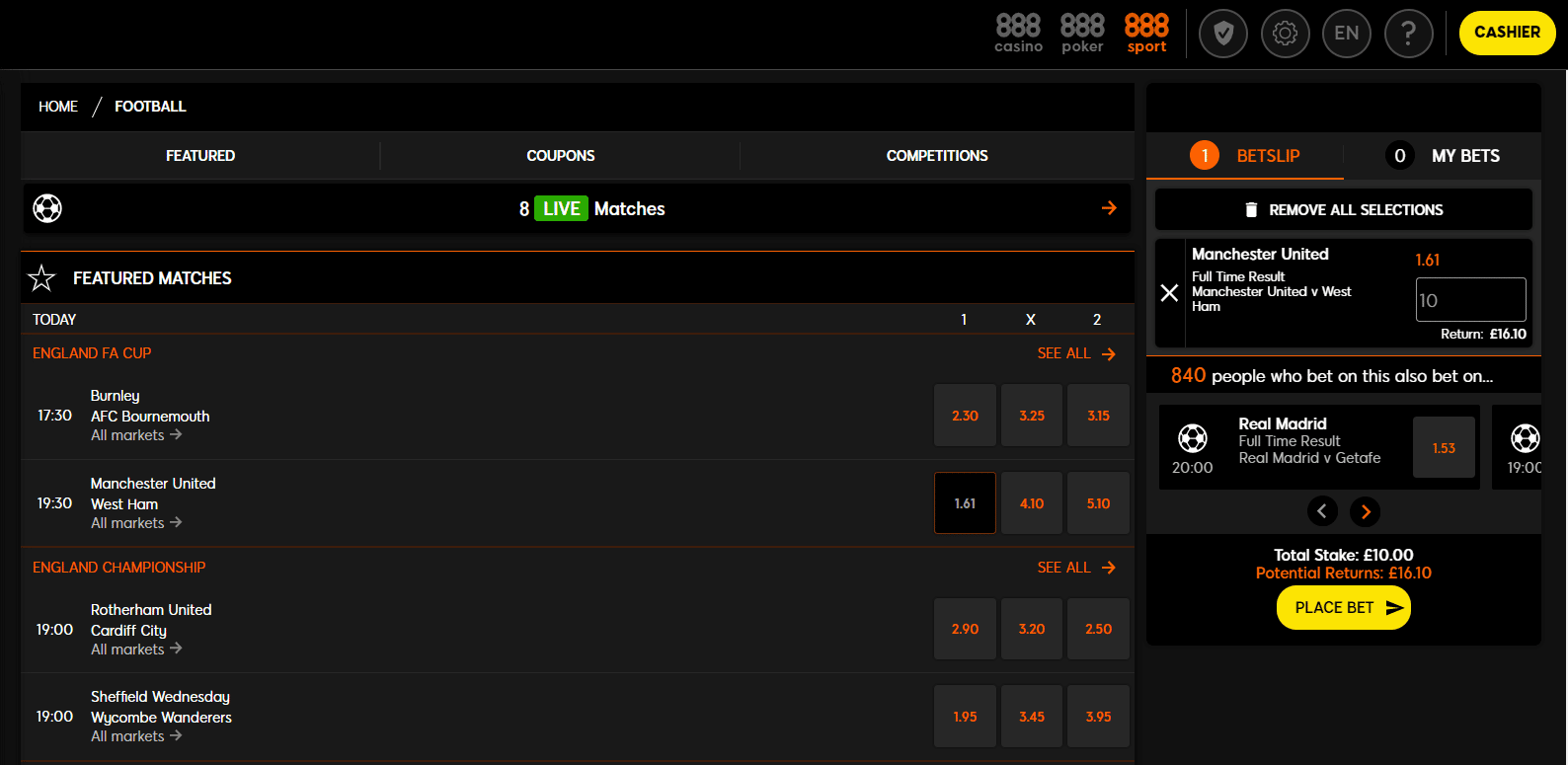 888sport's track record is roughly comparable to that of Betway, with the sportsbook having launched in 2008 (after a couple of the brand's other gambling verticals were already in place). It's also enjoyed a similar level of success to Betway, although – it must be said – it has yet to commit fully to eSports (no major brand has). 
The eSports section on 888sport is still highly respectable, though. There isn't quite as much variety as in Betway's, but the major titles are still covered, most importantly including the biggest competitions in Fortnite. Pleasingly, 888sport lets you wager not only match-by-match here, but also via longer-term outright wagers covering the outcome of entire tournaments. Should you decide to go shorter-term, however, you'll be able to do so pre-game or in-play. The latter will provide you with particularly responsive tools to use, and – either way – you'll be given highly competitive prices. 
Elsewhere, in addition to excellent customer support and mobile apps, 888sport has some very good promotions in place. Things get off to a good start, via the solid Bet £10, Get £30 welcome offer. This is then followed up by a series of ongoing promotions, including a free bet club (for which eSports markets are eligible), and regular boosted markets. 
What We Like:
Solid welcome offer
Bet on eSports competitions pre-match, in-play, or outright
Regular boosted odds
Get a free bet to use every week
Brand has an excellent reputation
What We Don't Like:
More payment options available elsewhere
Fortnite Betting Sites Compared
The standard of UK online sportsbooks has genuinely never been higher. In large part, that's because new brands are opening all the time, almost all of which – incidentally – will provide eSports betting markets. In turn, this forces the existing brands to up their game, thus raising the overall quality of the sports betting scene. 
All 10 of our recommended sportsbooks for Fortnite sit right at the top of this super-competitive pile, and each will provide you with a safe and modern betting experience. Some excel in certain areas more than others though, and – below – you can see them compared in three of the most important areas for Fortnite gambling.
| | | | |
| --- | --- | --- | --- |
| Bookie | Welcome Bonus | Live Fortnite Betting | Live Fortnite Streaming |
| | Bet £10, Get £30 in Free Bets | ✔️ | ✔️ |
| | Bet £10, Get £30 in Free Bets | ✔️ | ❌ |
| | Bet £10, Get £40 in Free Bets | ✔️ | ❌ |
| | First Deposit Matched Up to £10 | ✔️ | ✔️ |
| | Bet £10, Get £30 in Free Bets | ✔️ | ❌ |
| | £25 Free Bet Bundle | ✔️ | ✔️ |
| | Bet £5, Get £10 | ✔️ | ❌ |
| | Money Back as Free Bet if First Bet Loses | ✔️ | ✔️ |
| | Bet £10, Get £30 in Free Bets | ✔️ | ✔️ |
| | 50% First Deposit Match, Up to £50 | ✔️ | ❌ |
Is Betting on Fortnite Legal in the UK?
Residents in some countries struggle with legal issues with their betting. We're pleased to say, however, that this really isn't the case in the UK. Sports betting – in-person, as well as online – is completely legal, as long as you're aged 18 or over. There are absolutely no exceptions for eSports betting either, whether on Fortnite or any other game – this form of gambling is just as legal as regular sports betting. 
Of course, just because betting on Fortnite is legal does not necessarily mean that it's safe. To ensure this is the case, you must still use a legitimate and secure sportsbook. 
The quickest way to do this is to check that the site is licensed and regulated by a reputable authority, such as the United Kingdom Gambling Commission or Malta Gaming Authority. To get a licence such as this, the bookie must have passed strict tests for both security and fairness. You can rest assured that all the sportsbooks we've recommended here not only follow this rule, but also have their own strong security features in place, and also possess sterling track records. 
Fortnite Esports 101 – How Betting On Fortnite Works
You've already seen the 10 best Fortnite betting sites, and gotten in-depth reviews of the five top brands. Now though, it's time to zoom out a little bit and take a broader look at what Fortnite actually is. If you're not already familiar with the game, consider this your crash course. 
Fortnite is an online-focused game which was released back in mid-2017 by Epic Games. It is a free-to-play game, which quickly amassed millions of players. Similarly to PUBG – another smash hit –  it follows the 'battle royale' formula, in which individual players and teams compete to be the last one (or ones) standing. 
In the regular Fortnite Battle Royale mode (the focus for eSports), each round features 100 players being dropped into a large map. The map then gradually shrinks, forcing the players closer together. Players can attack each other out with a variety of weapons, and there are no respawns – once you're out, you're out. 
The popularity of Fortnite isn't just driven by what a fun game it is to play. It's also been down to the incredibly-competitive eSports scene, which has thrived in conjunction with the Twitch streaming platform. The most famous player of all, Ninja, currently has a massive 18.5 million followers on Twitch. The potential rewards on offer for top players like Ninja are also enormous, with the Fortnite World Cup, for example, having a prize pool of over $15 million at its peak. 
Betting Markets for Fortnite Fans
If you're used to wagering on other video games, you might find that betting on Fortnite has a little less variety than you're used to. The number of available bet types is limited by the logistics of Fortnite as a game. With CS:GO, for example, you've got two teams, five individual players per team, multiple maps, multiple rounds per map, and so on, none of which Fortnite really has. 
With all that said, if you're a bettor who suffers from 'analysis paralysis', you may actually welcome this more focused approach. Also, the cupboard isn't completely bare here, with the main bet types you can place listed below.
Money Line
This is the most straightforward Fortnite bet type of all. We'd recommend not only starting off with it, but making it the foundation of your gambling on the game. 
Quite simply, this involves picking which specific player you think will win. Note that – in most tournaments – players will need to win a few different matches to progress through each round. You need to be clear, therefore, whether you're wagering on a player to win an individual match, or progress to the next stage of the competition. 
Player Props
For Fortnite tournament betting on smaller competitions, your options will be somewhat limited. For the larger contests, however – such as with Fortnite World Cup betting – you'll have more choice available to you, which might include a few player props. 
Player props involve wagering on a specific player to achieve something. Arguably the most common example for Fortnite is for a player to get a certain number of kills (usually given out as an over/under market. You may be able to back someone to finish within a certain range though, such as in the top 10, as you might in golf.
Outright Wagers
The previous two major bet types we looked at focus on individual games, or at least rounds in a tournament. If you prefer to take a longer-term view of things, however, you should check out outright markets. 
Outright bets in Fortnite cover the duration of an entire tournament. The most obvious example is simply predicting which player will win the whole competition. Obviously, with multiple rounds involved and upsets always possible, these are somewhat risky wagers, but – if you find good value – the upside can definitely be worth it. 
Fortnite Live Betting Really Is a Thing
The days of being limited to placing wagers pre-game are long gone. Nowadays, in just about every sport, the actual start of a matchup simply signifies that a new raft of betting opportunities just opened up. We're pleased to say this is definitely the case with eSports too, and with Fortnite specifically. 
As soon as a round of Fortnite begins, you'll find the live betting markets immediately becoming available. As with pre-match, your options here will be somewhat limited, mainly to simple money line wagers. That being said, you're being given the opportunity to take advantage of any momentum swings you see coming, the surprising survival of underdogs mid-round, and so on. 
If you possibly can, we'd recommend pairing your Fortnite in-play betting with live streaming. This makes it vastly easier to spot your opportunities for placing and cashing out wagers. Fortunately, you can usually do all of this easily enough, and for free, either via your sportsbook or Twitch. 
Overview of Betting Markets At Fortnite Sites
Generally speaking, all 10 of our recommended sites for Fortnite game betting are strong all-rounders. The quality of these sportsbooks across the board tends to be extremely high, in all the most important aspects. 
That said, some differences do still exist between their offerings, including the betting markets they provide. Below, you can see how our 10 chosen sportsbooks stack up in this area.
| | | | | | | |
| --- | --- | --- | --- | --- | --- | --- |
| Bookie | Moneyline | Props | Parlays | Futures | Live Betting | Same Game Parlays |
| | ✔️ | ✔️ | ✔️ | ❌ | ✔️ | ✔️ |
| | ✔️ | ✔️ | ✔️ | ✔️ | ✔️ | ✔️ |
| | ✔️ | ✔️ | ✔️ | ❌ | ✔️ | ✔️ |
| | ✔️ | ✔️ | ✔️ | ✔️ | ✔️ | ❌ |
| | ✔️ | ✔️ | ✔️ | ✔️ | ✔️ | ✔️ |
| | ✔️ | ✔️ | ✔️ | ✔️ | ✔️ | ✔️ |
| | ✔️ | ✔️ | ✔️ | ❌ | ✔️ | ❌ |
| | ✔️ | ✔️ | ✔️ | ✔️ | ✔️ | ❌ |
| | ✔️ | ✔️ | ✔️ | ✔️ | ✔️ | ❌ |
| | ✔️ | ✔️ | ✔️ | ❌ | ✔️ | ❌ |
Know The Betting Odds for Fortnite
Many punters place sports wagers for years without actually knowing how the odds they're given are calculated. We believe that the better your understanding of betting, the better your chances of making smart picks and turning a profit. In that spirit, it's time to discuss how Fortnite odds are actually calculated. 
You might think that Fortnite odds are simply a reflection of the probabilities of a certain outcome. This is definitely a factor, with odds-makers taking plenty of stats into account in an effort to make their Fortnite predictions for each matchup. 
That being said, sheer probability isn't the only factor. You may notice, for example, that the odds change over time. A player might be 4/1 to win one day, then 3/1 the next. The probabilities obviously haven't changed in that time. Rather, one of two things has happened. 
Firstly, the bookie might have adjusted the price to account for the action that market is getting. In this case, it might have lowered the odds since too many people were backing that player. If the player wasn't getting enough money on them, the bookie might raise the price instead to 5/1, in an effort to entice punters. Secondly, the bookie might have adapted its odds to better fit in with its competitors. If its price was 4/1, for example, but everyone else was offering 5/1, then obviously they're not very appealing odds. 
Our Favourite Betting Tips for Fortnite Punters
As with all forms of gambling, both offline and online, there's never any guarantee you'll make money from betting on Fortnite. That said, there are definitely steps you can take to improve your chances, with these being five of our top Fortnite betting tips. 
Start Slow
You'll feel a whole lot of excitement when you first start out with your Fortnite betting, particularly if you're already a fan of the game. That's perfectly fine, but it's imperative that you still keep a level head and place smart wagers. 
The best way to do this is to impose strict limits on yourself to start with. Tell yourself, for instance, that you're only going to place one wager per day, or that you're going to use the minimum permissible stakes for the first week. Then, once the initial excitement has passed and you feel calm and confident, you can start to ramp up your Fortnite betting. 
Do Your Research
'Sure things' certainly don't exist in Fortnite, for either the tournaments themselves or betting purposes. For the latter, however, you can give your chances a major boost by doing as much research as possible before each contest. 
The internet is awash with Fortnite stats, recorded games and streams you can watch online, expert analysis and previews, and so on. Consume as much of this as you can to inform your picks, and give your Fortnite predictions the best chance of success. 
Watch Along
We really can't stress enough what a difference it makes to watch the Fortnite action unfold for yourself, whether via Twitch, the sportsbook you're using, or any other method. There are two main reasons for this. 
The first is that it's simply more fun and exciting to watch your wagers play out in real time. Perhaps more importantly though, this is also the most effective way – by far – to spot opportunities to either cash out existing wagers, or place new ones in-play. 
Mix and Match
For the most part, we'd advise sticking to safer wagers with your Fortnite betting in the UK. You should not, however, limit yourself too strongly in this regard. 
If you always place wagers at low odds, then your potential profits will be limited in turn. Sensible, safe picks should certainly form the bedrock of your betting, but you should also balance these out with higher-risk, higher-reward wagers. That might be backing an underdog to win, placing an accumulator, or sticking down an intriguing player prop. Even if these only hit occasionally, they can help to make up for any losses incurred elsewhere. 
Play For Yourself
Watching Fortnite is obviously fun, as shown by the big viewing numbers on platforms like YouTube and Twitch. Actually playing it, however, is not only fun in a whole different way, but will also greatly inform your understanding of the game, and thus help your Fortnite predictions for betting purposes. It'll deepen your understanding of the maps and weapons, the playing styles of the entrants in each competition, and help you in a number of other, less tangible ways too. Also, since it's completely free to play, there's really no downside here. 
Fortnite Tournaments You'll Want to Wager On
The Fortnite action never exactly stops, since most of the biggest and best players are constantly streaming. In terms of your actual gambling, however, this will definitely revolve around Fortnite tournament betting. Here are three of the main competitions to keep an eye out for. 
Fortnite Champion Series (FNCS)
The Fortnite Champion Series – typically abbreviated as the FNCS – is arguably the biggest ongoing Fortnite competition around. It's organised directly by Epic Games, and the latest edition at the time of writing has an impressive prize pool of $4 million. 
Teams from all around the world will juke it out for the top prize here. The series consists of four individual Majors – each of which can be wagered on, naturally – culminating eventually in the Grand Finals which decide the overall champion. If you're looking to go straight to betting on the top Fortnite action around, this is a great starting point. 
Fill Cup
The Fill Cup isn't exactly on the same scale as the FNCS, but it's a whole lot of fun in its own right. Primarily, this is because – rather than being a solo-focused event – it's a team-based tournament. The Fill Cup actually has both duos and trios-based competitions, each of which offers a wildly different viewing experience. In turn, some of the Fortnite betting sites might let you wager not only on overall results and individual players, as normal, but on the teams involved too. 
Contested
The two previous tournaments we've looked at have very much been international affairs. If you'd prefer to specifically target a UK-based tournament, however, then Contested – sponsored by energy drink giants Red Bull – is your best option.
It's the UK's first major LAN tournament for Fortnite, meaning that – if you so desire – you can actually attend the event in-person, and make your Fortnite betting even more exciting than usual. From a gameplay perspective, while this is a solos-only event, it still features an intriguing twist on the usual points-based system you'd find at most Fortnite competitions. 
The 5 Best Fortnite Esports Teams in the World
'Who's really the best team?' is a debate that's alive and well in real-world and virtual sports. Obviously it's one that'll never be solved, but that's part of the fun. For Fortnite specifically, one of the issues is that there are a few different ways to define 'the best' team. Some base it purely on how much money each side has won. Others use a points-based system, while some prefer to give weight instead to wins at the bigger tournaments. 
Currently, Fortnite teams are in a strange place, following the long break from major tournaments caused by Covid. Below though, we've selected five of the top teams to ever play the game. 
| | | | | |
| --- | --- | --- | --- | --- |
| Team | Country | Players | Notable Wins | Total Earnings |
| Lazarus | USA/Canada | Kreo, Crimz, Hornet, etc. | 2019 World Cup | $3.6 million |
| FaZe Clan | USA | Nate Hilll, NickMercs, Bizzle, K1NG | FNCS Trios 2020 | $3.4 million |
| Team Liquid | USA | Pulga, Persa, Seeyun, etc. | FNCS 2020 | $1.5 million |
| 100 Thieves | USA | rehx | FNCS 2021 | $3.1 million |
| Ghost Gaming | USA | Sean, nanolite, Assault | FNCS 2022 | Unknown |
Fortnite Fanatics – The Best Esports Player
Above, we gave you a quick rundown of some of the most successful Fortnite teams of all time. At its heart though, it's fair to say that Fortnite isn't really a 'team-based' game, especially compared to something like CS:GO or Dota 2. While duos and trios are certainly a thing, the focus in Fortnite – for the biggest prizes – has always been on individual play. 
Some people thrive in conditions like these more than others. In the following table, we've collected arguably the five very best Fortnite players right now for you. 
| | | | | | |
| --- | --- | --- | --- | --- | --- |
| Player | Nickname | Country | Earnings | Notable Tournaments | Team |
| Kyle Giersdorf | Bugha | USA | $3.5 million | 2019 World Cup (Winner) | Sentinels |
| Matthew Faitel | Mero | Canada | $470,000 | FNCS C3 S1 (Winner) | Dignitas |
| Shane Cotton | EpikWhale | USA | $1.7 million | 2019 World Cup (3rd Place) | TSM |
| Harry Pearson | Veno | UK | $550,000 | 2023 Cash Cup (Winner) | Tundra |
| Aleksa Cvetkovic  | Queasy | Serbia | $785,000 | 2023 Duos Cash Cup (Winner) | Galaxy Racer |
Now that you know the top players to look out for, here are a handful of the biggest upcoming Fortnite tournaments for the rest of 2023:
Different Bonuses to Stretch Your Betting Bankroll
Special offers certainly aren't a silver bullet to success for your Fortnite betting in the UK. With that said, high quality offers – combined with smart and skilful usage on your part – certainly can have a significant, positive impact on your bottom line. 
There are two main types of offer you can trigger for Fortnite. Welcome offers tend to deliver bigger bonuses, but can only be triggered one time. Ongoing promotions can be triggered repeatedly, but the actual rewards tend to be a little smaller. 
In both cases, you'll actually find a nice amount of variety among our recommended Fortnite betting sites. Here are some of the very best offer types to look out for:
This is the most common welcome offer by far among UK sportsbooks, and so it proves with our recommended sites here. To trigger these deals you simply ensure your wagers pass a certain minimum threshold, and – if they do – you'll be rewarded with free bets. 
This welcome offer is more popular elsewhere in the world, but you can still find it in the UK. It involves the bookie giving you a bonus which 'matches' your first deposit, albeit only up to a certain percentage and maximum amount. 
These can come as ongoing promotions, but are more often found as welcome offers. With them, if your first wager wins, you keep the winning as normal. If it loses though, you get your stake refunded, typically in cash. 
Free bets are digital tokens that you can use to place real-life wagers, without risking any of your actual cash balance. Free bet clubs are the best way to continuously claim them – you just need to stake a certain amount each week, and will get free bets in return. 
Winnings boosts increase the profits on your successful wagers, up to a certain maximum amount. Odds boosts, meanwhile, artificially inflate the prices on particular markets, and increase your potential winnings in the process. 
The main type of accumulator deal is called 'acca insurance'. This means that – if just one leg of your Fortnite acca fails – you'll get your stake back rather than losing the whole thing. 
This is another fairly common type of accumulator-specific offer. It boosts your winnings on successful accas, with the size of the boost increasing depending on the number of selections your wager had. 
This is the most flexible offer type of all, which just about every Fortnite betting site will have in place. The specifics vary from brand to brand, but – in general – you'll progress through the program the more you wager, and enjoy progressively better rewards. 
So, they're the main types of special offer to look out for in the course of your Fortnite betting. Below, you can see how all 10 of our recommended brands compare when it comes to their one-time welcome offers. 
| | | | | | |
| --- | --- | --- | --- | --- | --- |
| Bookie | Sports Welcome Bonus | Promo Code | Wagering Requirements | Minimum Deposit | Expiration |
| | Bet £10, Get £30 in Free Bets | N/A | N/A | £10 | 7 days |
| | Bet £10, Get £30 in Free Bets | R30 | N/A | £10 | 30 days |
| | Bet £10, Get £40 in Free Bets | N/A | N/A | £10 | 7 days |
| | First Deposit Matched Up to £10 | N/A | 1x, Min odds 1.75 | £10 | 7 days |
| | Bet £10, Get £30 in Free Bets | 30FB | N/A | £10 | 7 days |
| | £25 Free Bet Bundle | N/A | N/A | £10 | 7 days |
| | Bet £5, Get £10 | N/A (Opt in required) | N/A | £5 | 7 days |
| | Money Back as Free Bet if First Bet Loses | N/A | 3x, Min odds 1.40 | £10 | 7 days |
| | Bet £10, Get £30 in Free Bets | N/A | N/A | £10 | 7 days |
| | 50% First Deposit Match, Up to £50 | N/A | 8x | £15 | 60 days |
Final Thoughts
Having been released well over a half decade ago now, Fortnite remains one of the most popular online games around. Having taken a hit during the Covid pandemic, the competitive scene is now getting going again in a big way, making now the perfect time to dive into Fortnite betting. Do so, and you'll find a fast-paced, unpredictable, and potentially lucrative gambling experience waiting for you. 
After reading this article, you should have all the information you need in order to start betting on Fortnite for yourself. Now you simply need to choose one of our recommended sportsbooks, create an account, grab the welcome bonus, and start having fun. 
FAQ
What are the best sportsbooks for betting on Fortnite?
What Fortnite tournaments can I bet on?
What bet types can I place?
Is it legal to bet on Fortnite in the UK?
Was this article helpful?